Slovenia's capital Ljubljana has all the right ingredients for the perfect city break. Famous for its magnificent baroque and art nouveau buildings and numerous restaurants and cafés lining the picturesque banks of the emerald-green Ljubljanica river, Ljubljana has something to offer for everyone.
There is a wide array of options for accommodations in Ljubljana, including hotels, guest houses, bed and breakfasts, self-catering apartments and hostels. With so many accommodation options to choose from, narrowing it down to a final decision can be a bit of a challenge. There are many factors that influence your decision including price, location and facilities. When booking any holiday, it's always very important to find the best accommodation that will suit your personal needs.
Look through the accommodation options below and find some place to suit you as you visit the beautiful capital of Slovenia. Whether you want a luxury hotel or a budget bed and breakfast, we hope you'll find the best accommodation for your needs.

Places to stay in Slovenia's capital Ljubljana that we recommend
The accommodation options in Ljubljana can be divided into five main categories: hotels, guest houses, B&Bs, self catering apartments and hostels.
HOTELS IN LJUBLJANA THAT WE RECOMMEND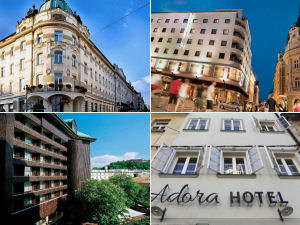 Finding a hotel that suits your needs and fits your budget can be a hassle. That is why we have reviewed and rated the most popular Ljubljana hotels that offer good value. If you're planning to visit Ljubljana, read on and find a hotel that best suits your needs and budget.
GUESTHOUSES IN LJUBLJANA THAT WE RECOMMEND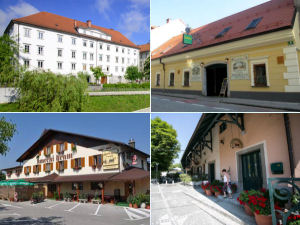 Ljubljana guest houses are a nice, safe option as they are both comfortable and homely, with owners who take an interest in their guests. Ljubljana guesthouses are generally on the small side, offering a warm and cosy ambience and a personalized, welcoming atmosphere. A lot of proprietors live on-site, so they are immediately available to answer all guest's questions about the local area and address any concerns/issues the guest may have.
APARTMENTS IN LJUBLJANA THAT WE RECOMMEND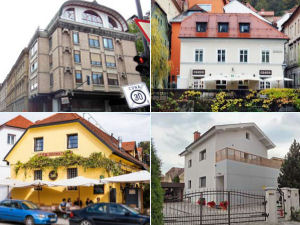 If you are looking for something a bit more private, many local residents in Ljubljana, Slovenia offer apartments for rent in their houses. You'll find all the comforts of your own house, as well as plenty privacy. Generally, all self-catering apartments in Ljubljana are fully furnished and supplied with household equipment such as linen, towels, cutlery and crockery. Rates vary widely, so always do your research beforehand.
BED AND BREAKFASTS IN LJUBLJANA THAT WE RECOMMEND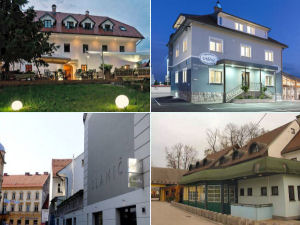 Ljubljana bed and breakfasts are usually small, family-run places with fewer amenities but more character than a hotel. Most bed and breakfasts offer up to four rooms in the hosts' own house, though they can range from large guest houses with more than a dozen rooms to small homes renting out a single spare bedroom.
HOSTELS IN LJUBLJANA THAT WE RECOMMEND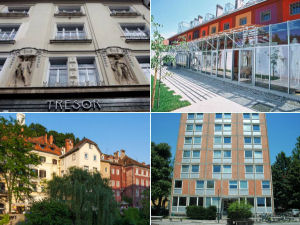 Hostels are a popular option for those seeking fun low-cost accommodations in Ljubljana, the capital of Slovenia. Most spaces and amenities are usually shared, but there are also some facilities that provide en-suite rooms. While you might not get as much privacy, Ljubljana hostels are generally cheap and of great value.
FARM STAYS NEAR LJUBLJANA THAT WE RECOMMEND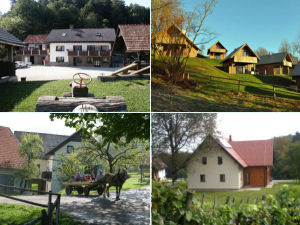 Stay close to Slovenia's capital Ljubljana on a farm stay and you'll combine the best of both worlds. The kids will love it too. There are a few really great tourist farms in the vicinity of Ljubljana that offer much more than a place to stay, as the rural environment is a real experience in itself for most visitors – especially families with children.
All You Need To Know To Visit Ljubljana
LJUBLJANA – the small but beautiful capital of Slovenia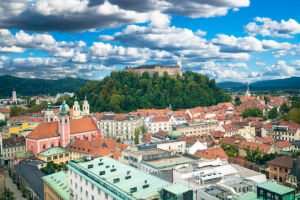 Slovenia's capital Ljubljana has all the right ingredients for the perfect city break. It's one of the youngest and most liveable capitals in the European Union. It's a city with a medieval heart, a city of the Baroque and Art Nouveau, with numerous picturesque bridges across the Ljubljanica river and the vast green Tivoli park, which stretches into the very city centre.