From luxury hotels to more wallet-friendly guesthouses, B&Bs, apartments, and farm stays to even more budget-friendly hostels and environmentally friendly camping and glamping sites, we have made a list of the best places to stay in Slovenia. Whatever your budget, look through the accommodation options below to make your choice on where to stay during your visit to Slovenia. Whether you want a luxury hotel or a budget bed and breakfast, we hope you'll find the best accommodation for your needs.
Places to stay in Slovenia that we recommend (by destination)
LJUBLJANA PLACES TO STAY THAT WE RECOMMEND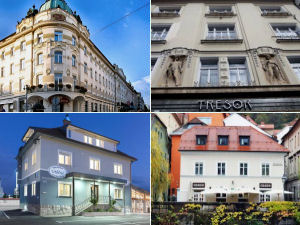 Slovenia's capital Ljubljana has all the right ingredients for the perfect city break. Famous for its magnificent baroque and art nouveau buildings and numerous restaurants and cafés lining the picturesque banks of the emerald-green Ljubljanica river, Ljubljana has something to offer for everyone.
LAKE BLED PLACES TO STAY THAT WE RECOMMEND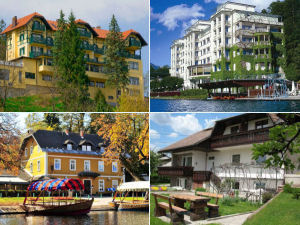 With an incredibly beautiful glacial lake surrounded by the peaks of the Slovenian Alps, an iconic church nestled in a tiny island in the middle of the lake and a medieval Gothic castle built on a 100-meter cliff overlooking the lake, Bled is possibly the most beautiful and remarkable Alpine resort in Europe.

PIRAN PLACES TO STAY THAT WE RECOMMEND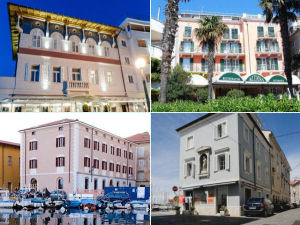 The charming coastal town of Piran is a medieval jewel on the Adriatic coast, situated at the cape of the Piran peninsula on the northern side of Istria, with Italy on the horizon.
KRANJSKA GORA PLACES TO STAY THAT WE RECOMMEND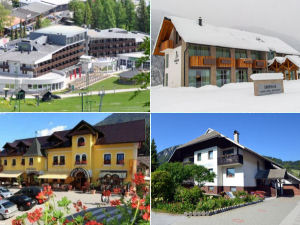 Kranjska Gora is a beautiful alpine village and the most famous Slovenian ski resort situated on the northern tip of the Triglav National Park in the Slovenian Alps, just a mere 5 minutes by car from both the Italian and Austrian borders.
PORTOROZ PLACES TO STAY THAT WE RECOMMEND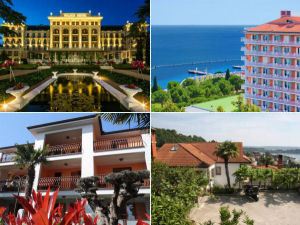 Portoroz is the most important tourist centre on the Slovenian coast with beneficial Mediterranean climate that invigorates you and makes you want to come back for more.
MARIBOR PLACES TO STAY THAT WE RECOMMEND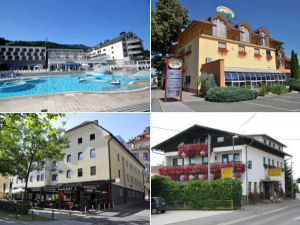 Maribor is a beautiful city filled with lots of friendly people and wonderful sights and monuments. It is Slovenia's second largest city and the economic, educational, cultural and sports centre of the north-eastern part of the country. At the same time Maribor is an ideal base for tourists from which to discover what eastern Slovenia has to offer.
BOHINJ PLACES TO STAY THAT WE RECOMMEND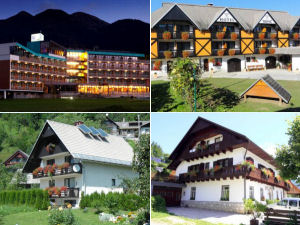 The area of Lake Bohinj is stunningly beautiful with magnificent views of the lake, the picturesque Bohinj mountains, and charming alpine villages.
BOVEC PLACES TO STAY THAT WE RECOMMEND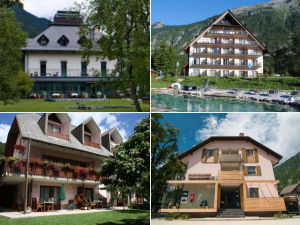 The friendly and relaxed town of Bovec is the adventure tourism capital of Slovenia. Situated in one of the most beautiful and unspoiled valleys in Europe, the River Soca valley, the town is packed with travel agencies offering a variety of water activities, including rafting, kayaking, canoeing, canyoning, and hydrospeeding. Besides being a haven for water-sports enthusiasts, Bovec also attracts nature lovers and those seeking rest and relaxation.
POSTOJNA PLACES TO STAY THAT WE RECOMMEND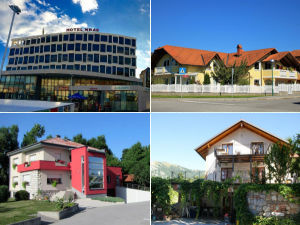 Postojna is a modern town in southwestern Slovenia, where most people come to visit the Postojna Caves, an awe-inspiring 24-kilometre-long cave system. Thanks to Postojna's transformation into a tourist town, there are now five hotels and many other guesthouses, bed and breakfasts and private accommodation options for every traveler's budget in the town.
PTUJ PLACES TO STAY THAT WE RECOMMEND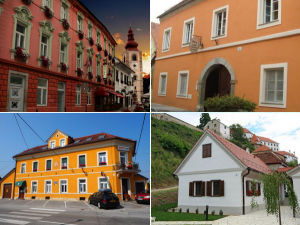 Ptuj is the oldest town in Slovenia with a population of about 18,000. It is also one of the most beautiful towns in Slovenia. It has a lovely town centre with many beautiful historic buildings, several interesting churches and monasteries, a couple of lovely squares, a wonderful castle built in the mid-12th century, Slovenia's oldest wine cellar, a lovely thermal spa, and one of the most impressive carnivals in Europe called Kurentovanje, which draws tens of thousands of visitors each year.
PODCETRTEK PLACES TO STAY THAT WE RECOMMEND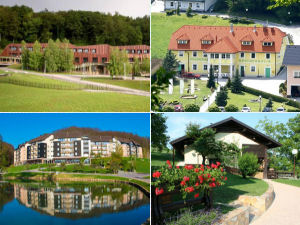 Podcetrtek is a charming village on Slovenia's eastern border with Croatia in Obsotelj, the heart of Kozjansko, where most people come to relax at the Terme Olimia thermal spa.
IDRIJA PLACES TO STAY THAT WE RECOMMEND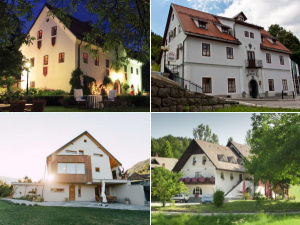 Idrija is a lovely small town in western Slovenia, best known for three things: mercury mines (the reason for Idrija's spot on UNESCO's World Heritage list), lace-making (Idrija has the biggest and oldest lace school in the world) and delicious zlikrofi (the first Slovenian dish with a protected geographical status).
MORAVSKE TOPLICE PLACES TO STAY THAT WE RECOMMEND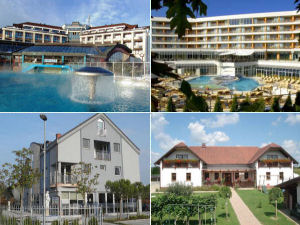 Moravske Toplice is a small, but very friendly village surrounded by unspoilt nature and blessed with an abundance of thermal mineral water, which is known to have several beneficial effects on human health. The village is located in the northeastern corner of Slovenia in the middle of the Prekmurje region, which is known as the breadbasket or the granary of Slovenia because rolling corn and wheat fields cover much of the fertile land.
IZOLA PLACES TO STAY THAT WE RECOMMEND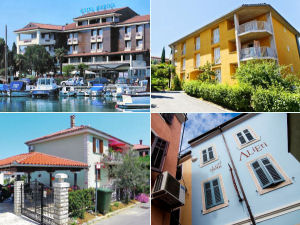 Slovenia's coastline lays on the beuatiful Adriatic Sea, but despite its short length of a little more than 45 kilometres, it's very attractive and every one of the towns along it has a distinctive and different character and layout. And Izola is no exception. It's a romantic little Venetian port town with beautiful old architecture and breathtaking nature.
STRUNJAN PLACES TO STAY THAT WE RECOMMEND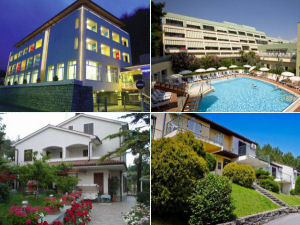 Strunjan is a charming old salt-making village on Slovenian coast, located between the magnificent Venetian old town of Piran and the charming old fishing town of Izola.
Places to stay in Slovenia that we recommend (by type)
The accommodation options in Slovenia can be divided into six main types: hotels, guest houses, B&Bs, self catering apartments, hostels and farm stays.
HOTELS IN SLOVENIA THAT WE RECOMMEND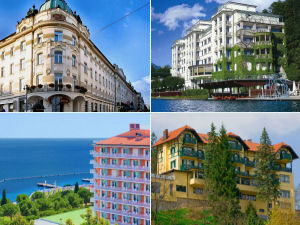 Slovenia has a range of hotels for all tastes and budgets, from major chains to stylish, small, family-run boutique hotels in Slovenia's holiday hot spots. Some hotels are housed in ancient castles or romantic historic buildings, others are modern and offer all the latest facilities one could wish for (business services, room service, spa and wellness facilities, swimming pool, gym, childcare, games room, Wi-Fi, etc). Major hotel chains found in Slovenia include Kempinski, Best Western, Design Hotels, Four Points by Sheraton, Austria Trend Hotels, Liburnia Riviera Hotels, Minotel, and Apollo.
GUEST HOUSES IN SLOVENIA THAT WE RECOMMEND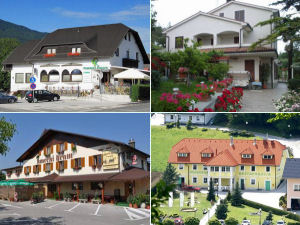 A guesthouse is usually a privately owned residence, which in part or whole, has been converted into living quarters for guests. Guest houses are a very popular form of lodging in Slovenia and have been in use for many decades. That popularity demonstrates the convenience and affordability of this type of lodging - Slovenia guesthouses are always a great, safe option as they are both comfortable and homely, with proprietors who really take an interest in their guests. Many owners live on-site, so they are immediately available to answer your questions about the local area and address any concerns you have.
APARTMENTS IN SLOVENIA THAT WE RECOMMEND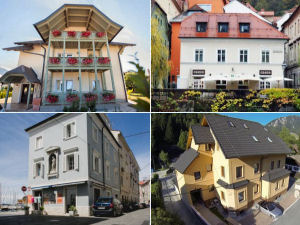 Many local residents in Slovenia offer apartments for rent in their houses. It's like home away from home - you can live as you usually do, but in your new surroundings. Generally, all apartments in Slovenia are fully furnished and supplied with household equipment such as linen, towels, cutlery and crockery so you can cook your own meals, do your own laundry and enjoy the privacy of having your own space while on vacation. The kitchen facilities allow you to cook with ingredients picked up from local markets and help you travel for longer on your budget.
BED AND BREAKFASTS IN SLOVENIA THAT WE RECOMMEND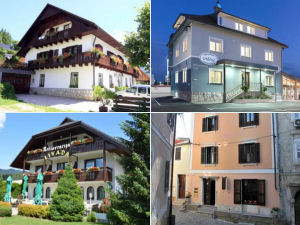 Bed And Breakfasts are a popular option for spending your holiday in Slovenia. In essence you get a room in someone's house, with breakfast included in the price. The arrangements at a B&B can vary, although the majority of the time they are bedrooms in someone's private home and include at least one meal (usually breakfast). In some cases, the proprietors of a bed & breakfast will include two meals with the price of the room – usually breakfast and dinner – and it is often a real treat to have dinner with the homeowners. In Slovenia bed and breakfasts are generally on the small side and owned and operated by your hosts so you can expect personal service.
HOSTELS IN SLOVENIA THAT WE RECOMMEND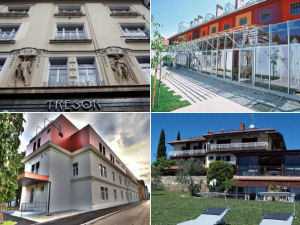 Hostels (also known as backpackers) are a popular form of cheap accommodation for the budget conscious traveler. They are ideal for groups, youths and single travelers as they are designed to help you meet and interact with other travelers. Slovenia hostels are almost always in great locations - in cities they are generally very well located close to public transport lines and tourist attractions and in coastal areas they are usually within walking distance to a beach and with great views. Most spaces (like bedrooms, bathrooms, kitchens and lounges) and amenities are usually shared. While you might not get as much privacy, hostels are usually cheap and of great value.
CAMPING AND GLAMPING SITES IN SLOVENIA THAT WE RECOMMEND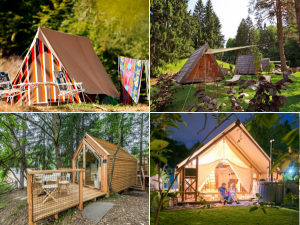 The beautiful nature in Slovenia is a perfect setting for camping or glamping. Around the country, sites offer great accommodation with all the modern amenities a guest needs to be comfortable. Next time you visit Slovenia, instead of a hotel or guesthouse, stay at one of the wonderful camping and glamping sites.
FARM STAYS IN SLOVENIA THAT WE RECOMMEND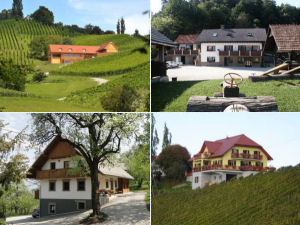 Vacation usually means relaxation, time for yourself, and perhaps a little adventuring. While researching your next vacation destination, a farm may not immediately come to mind. Farm stays, are gaining popularity across Slovenia and may just be the perfect balance for your family's next vacation. Take a break from your everyday routine and recharge with an authentic farm experience in one of the many farm stays scattered across Slovenia. Farm stays are ideal for family holidays, romantic getaways or solo travelers wanting to experience the great outdoors among stunning rural scenery.