About The Photographer
Denis Sodrznik is a passionate landscape and nature photographer born and raised in the beautiful town of Slovenske Konjice in the Styria region of Slovenia. He strives to capture photographs that convey the beauty of the Slovenian landscapes he explores in his spare time with his fiancée Karmen. His intention is to show the viewer details that we often overlook.
Denis' passion for photography started in 2009, when he bought his first DSLR camera, and since then, he has been creating lots of truly stunning works. He soaked in everything he could about photography by reading books, studying the works of others, and going out to shoot as much as he could. Whether in the surroundings of his home town Slovenske Konjice, or during his trips across Slovenia, he continues to seek out the beauty in landscape photography. Furthermore, although known primarily as a landscape and nature photographer, Denis has also explored other fields of photography, including architecture, portraits, and close-up macro photography.
You can see some of Denis' finest landscape and nature photos from all over Slovenia here below, and you can also visit his photography blog or his Facebook profile and enjoy more of his wonderful images.
Photo Gallery
A beautiful picture gallery containing 30 incredible landscape photos from all over Slovenia by Denis Sodrznik.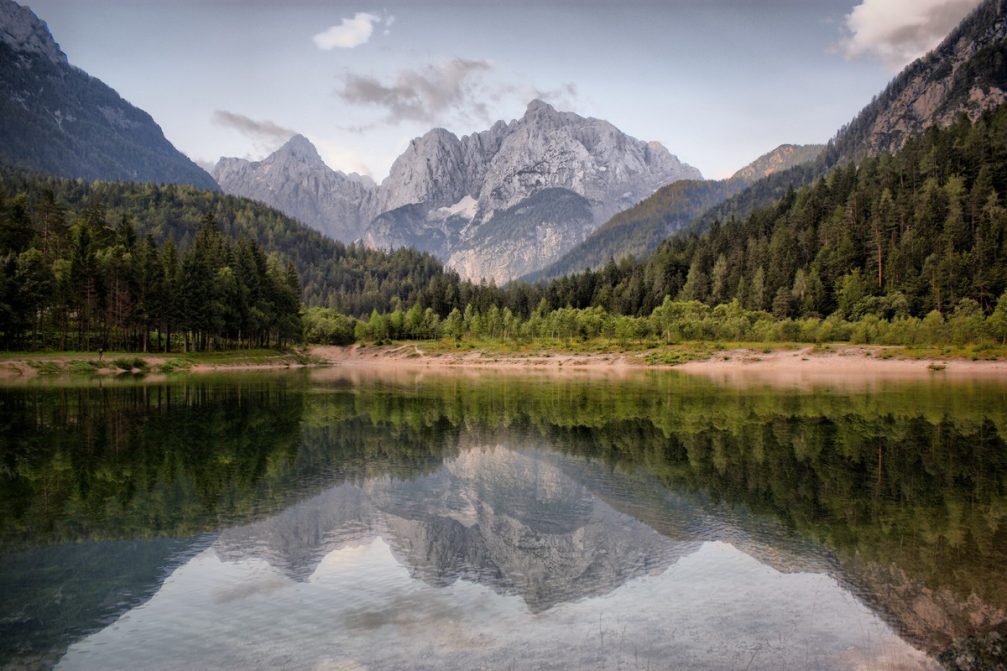 Lake Jasna is a picturesque and very tranquil lake located near the the village of Kranjska Gora in the alpine area of northwestern Slovenia, close to the Austrian and Italian borders. It can offer spectacular reflections of the surrounding mountains of the Julian Alps on a crystal-clear surface.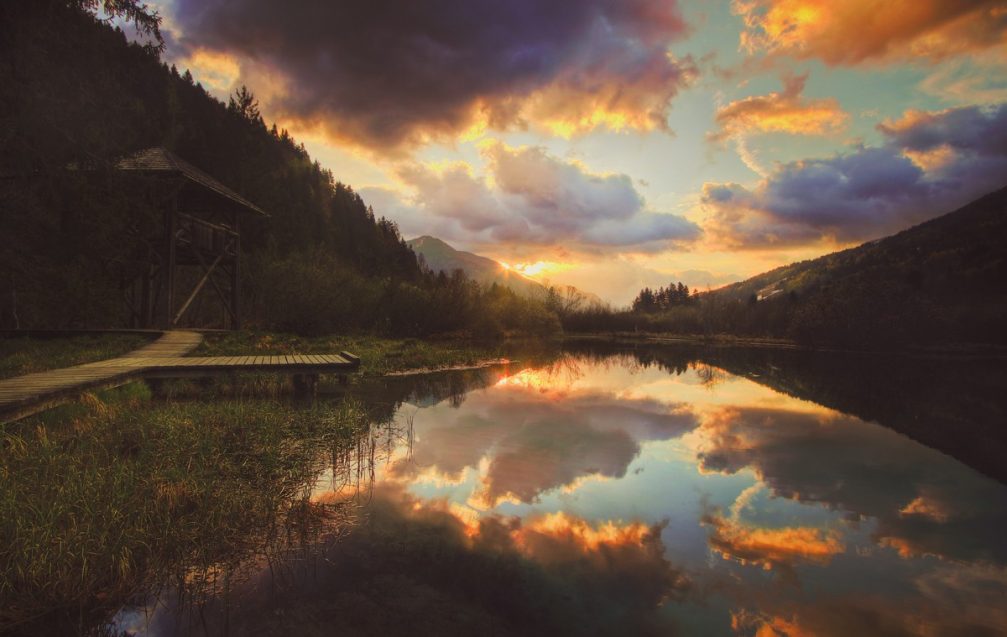 Another gorgeous natural wonder near the Kranjska Gora village is the Zelenci lake, which is part of the Zelenci Nature Reserve. Its serene atmosphere is surrounded by many diverse and endangered plants and flowers and the water is so clear and calm. Following a wooden footbridge, you can walk through the nature reserve and to the lake without doing nature any harm. And if you climb up the wooden observation tower you get fantastic views of the whole area.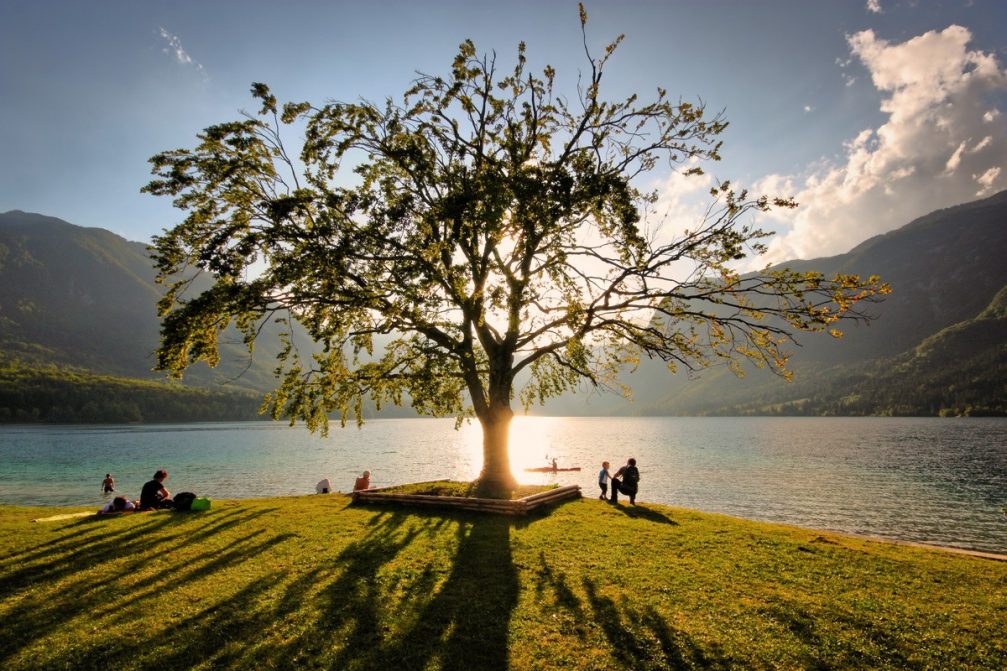 The most photographed tree in Slovenia stands alone by Lake Bohinj, which is Slovenia's largest glacial lake located in the heart of the Triglav National Park below the mountains of the Julian Alps. Its crystal clear waters are ideal for swimming, kayaking, fishing or just admiring the fairytale landscape.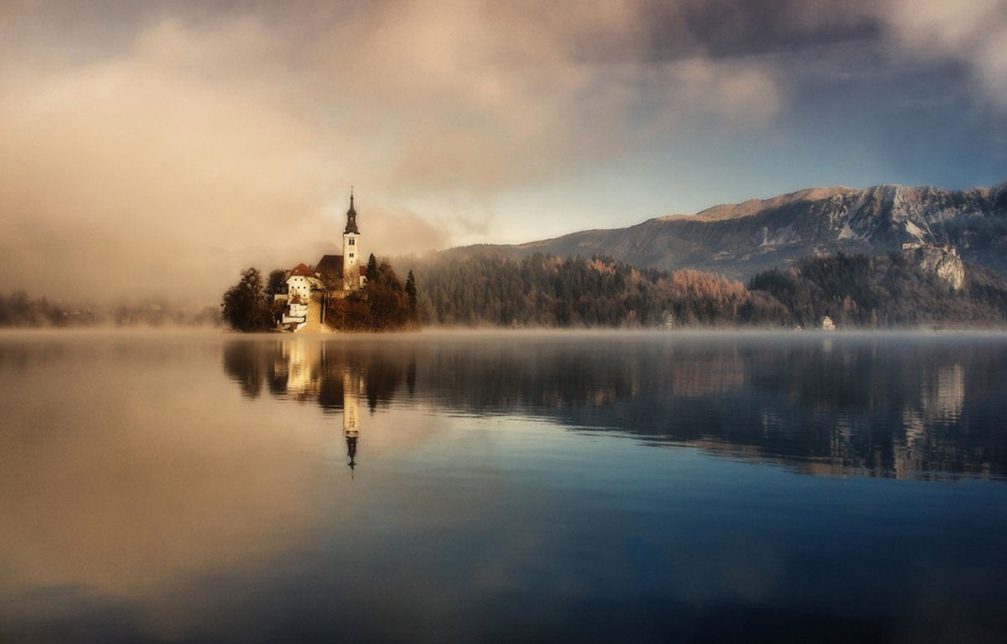 Lake Bled is a 2,220 meters by 1,380 meters lake of glacial and tectonic origins, with a maximum depth of almost 30 meters. It's hemmed in by the stunning Julian Alps and famous for looking like it's straight out of a children's storybook with its little tear-shaped island in the middle of the lake, the medieval cliff-top castle and incredible panoramic views of the surrounding mountains.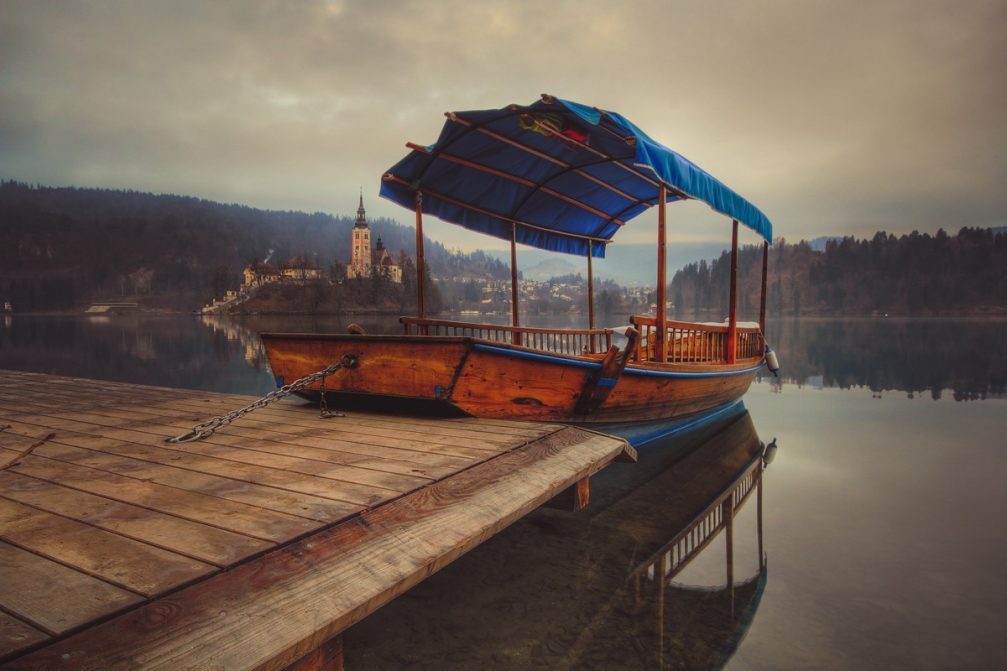 The Pletna boat has become an important symbol of Lake Bled and taking an excursion on Pletna is a lovely way to spend an afternoon. The cost is €14 per person round-trip including a half an hour of time to explore the island and visit the idyllic Church of the Assumption of Mary on the island. Pletnas are wooden, about seven meters long and two meters wide, with a wooden seating bench on both sides, and have a colored roof canopy. Like the similarly iconic gondolas of Venice, these boats carry on a many-generations-long tradition, and are still hand-built according to the same centuries-old designs. The boat is operated by the Pletna oarsman who rows standing up, which can be pretty difficult on windy days, as the flat-bottomed boat has no keel so the oarsman needs to be extremely skilled to steer it.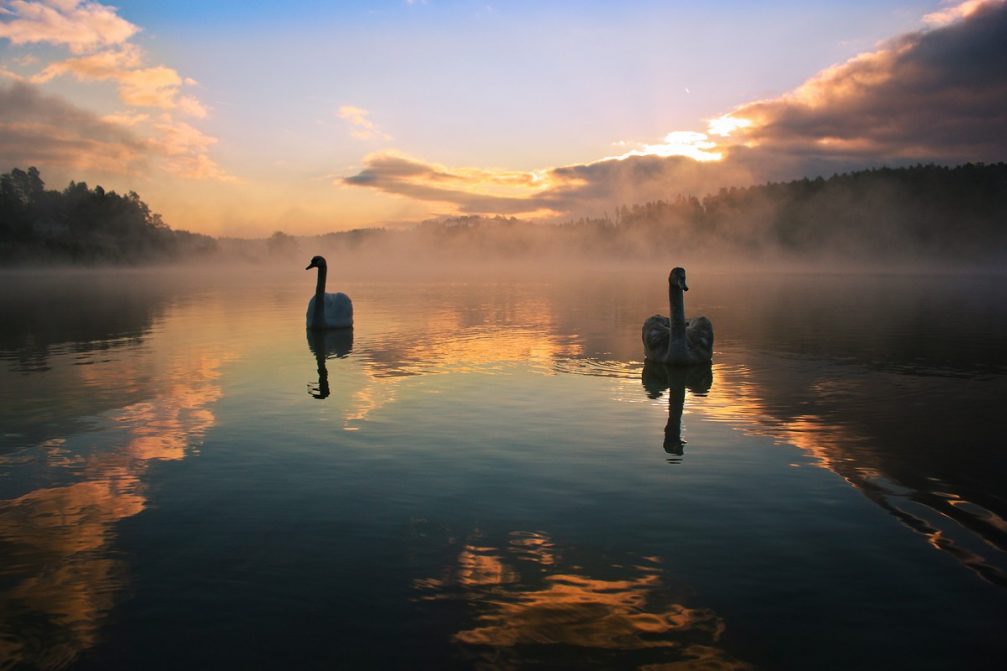 Lake Smartinsko Jezero is located near Slovenia's third largest city Celje. It was created in 1970 and quickly became a very popular spot for fishermen, kayakers, walkers, cyclists, dog-walkers and nature lovers.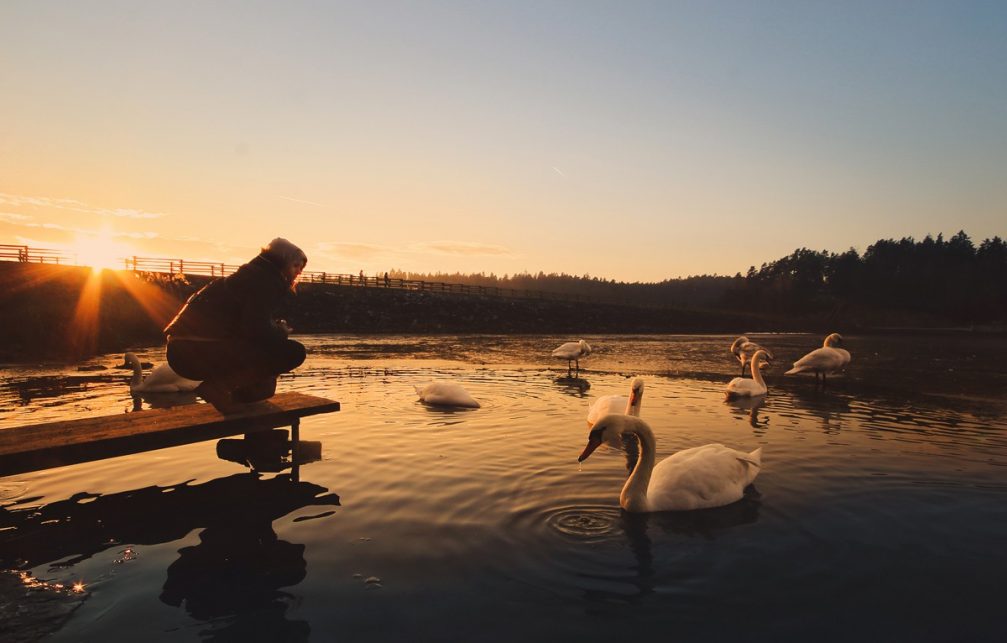 There's a large flock of the most elegant white swans at the Smartinsko Jezero lake and they are so human-friendly they will basically eat out of the palm of your hand (though we don't recommend you try it).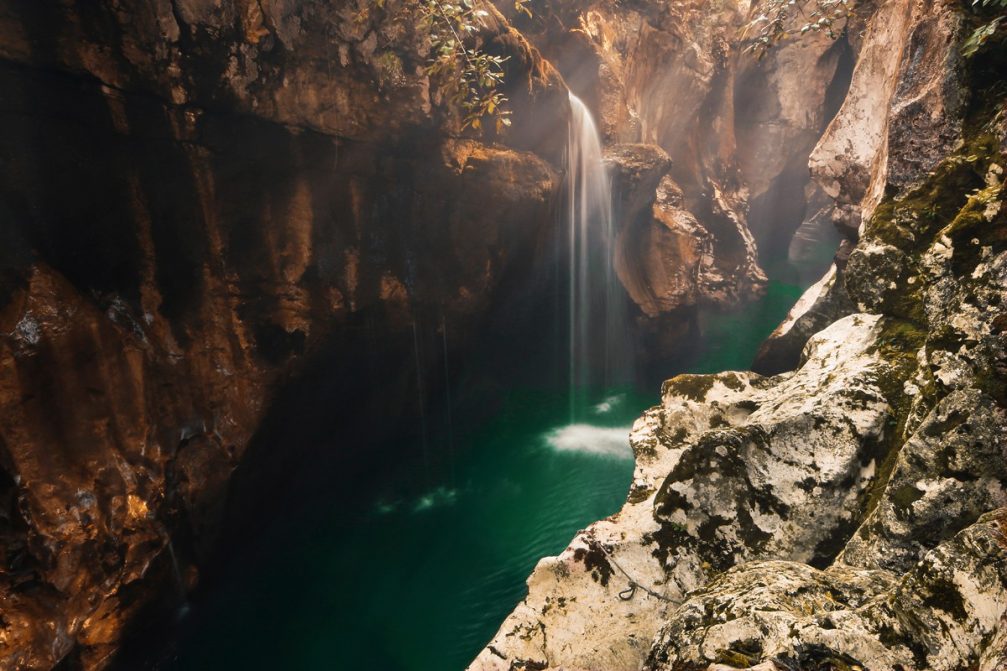 The Great Gorge of the Soca River is located next to the road from Bovec to Trenta immediately before the Soca village. It's 750 meters long, 15 meters deep and at its narrowest section only 2 meters wide. What makes this gorge so striking is its precisely smoothed and sometimes overhanging rock walls, its narrowness, and the gorgeous emerald shade of the water.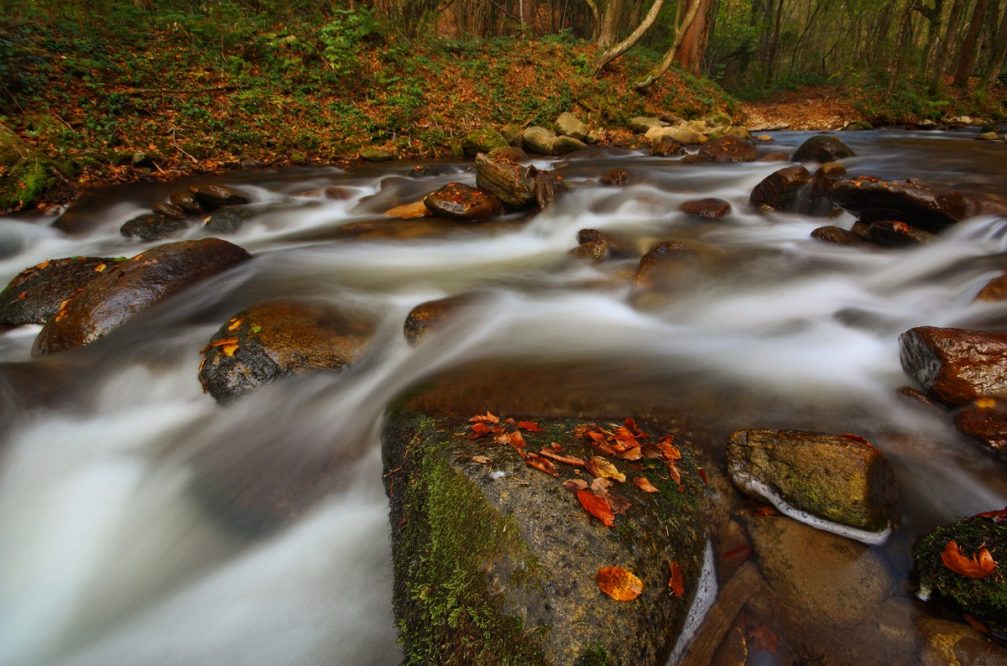 Bistrica Gorge or Bistriski Vintgar as it is called in Slovene is one of the most beautiful natural attractions in the Slovenska Bistrica area. The gorge (which is actually more a valley) is six kilometres long and was created by the Bistrica stream. The walk takes about 3 to 4 hours and is quite easy, not strenuous at all.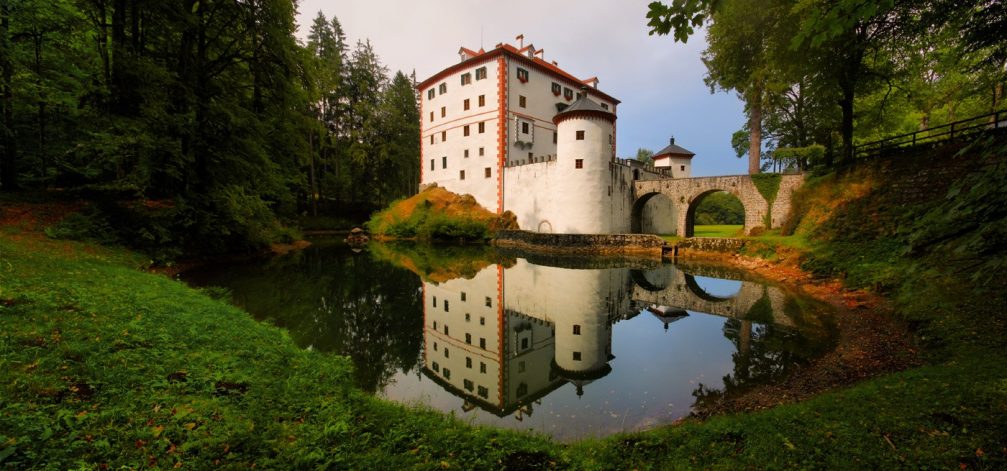 Built on a strategic spot on the edge of the Loz valley under the Sneznik mountains, the restored 13th-century Sneznik Castle is one of the most beautiful fortresses in Slovenia. It is surrounded by a beautiful park and vast forests with diverse wildlife (bears, boars, wolves, lynxes, wild fowl, deer, etc.). Through it rich and eventful history the castle passed through the hands of numerous owners who used it mostly as a hunting residence.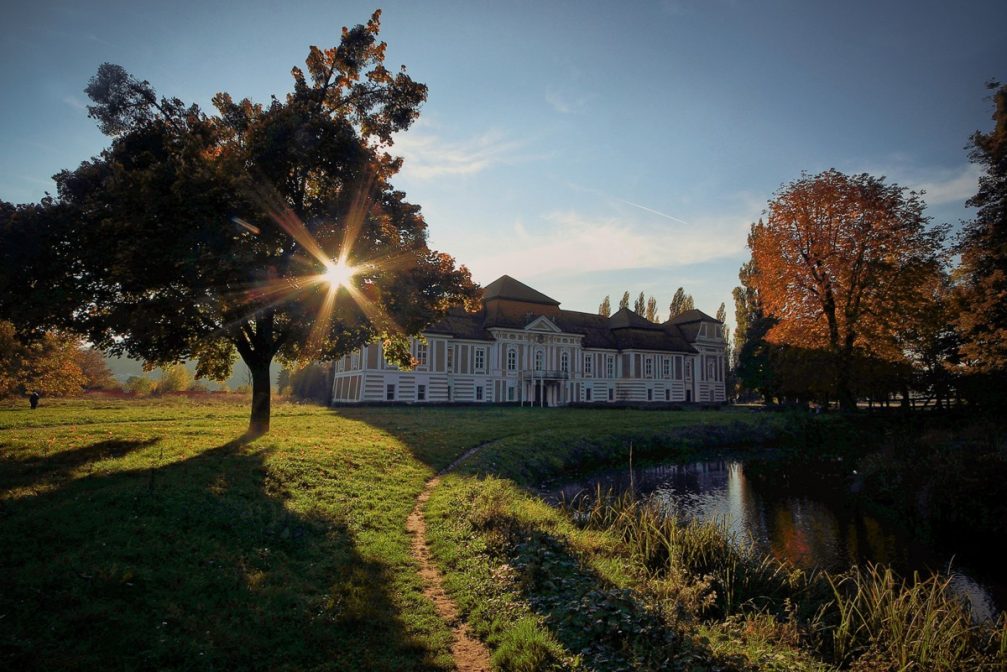 The scenic Betnava Mansion or Dvorec Betnava as it is called in Slovene is a manor house located near the city of Maribor in northeastern Slovenia and is definitely one of the most beautiful Baroque buildings in Slovenia. It's surrounded by a lovely 19th-century English country park with a pond and small stream. Throughout the centuries the castle has changed owners many times, including the noble families of Herberstein, Khiessl, Auersperg, Ursini-Rosenberg, and Szekely.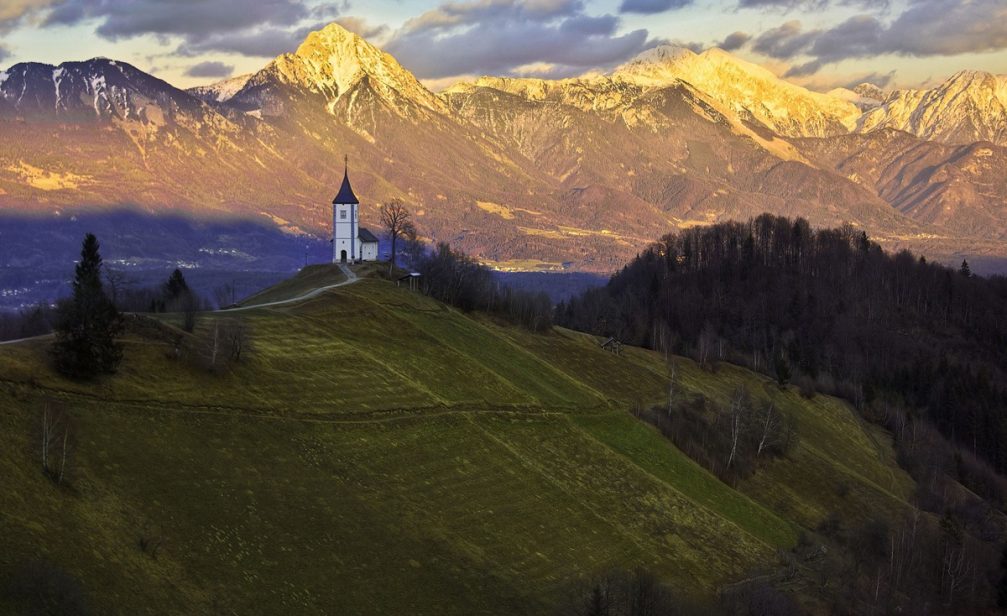 The church of Saints Primus and Felician in Jamnik is built on the top of a hill, overlooking those stunning panoramic views. It's a medieval building with frescos of the Bolfgang Circle from the 15th century in the presbytery of the church and the Baroque interior equipment. The church was basically planned to be built nearer the Jamnik village, but the night before they started to built the church, all the building material was mysteriously transposed to the present location.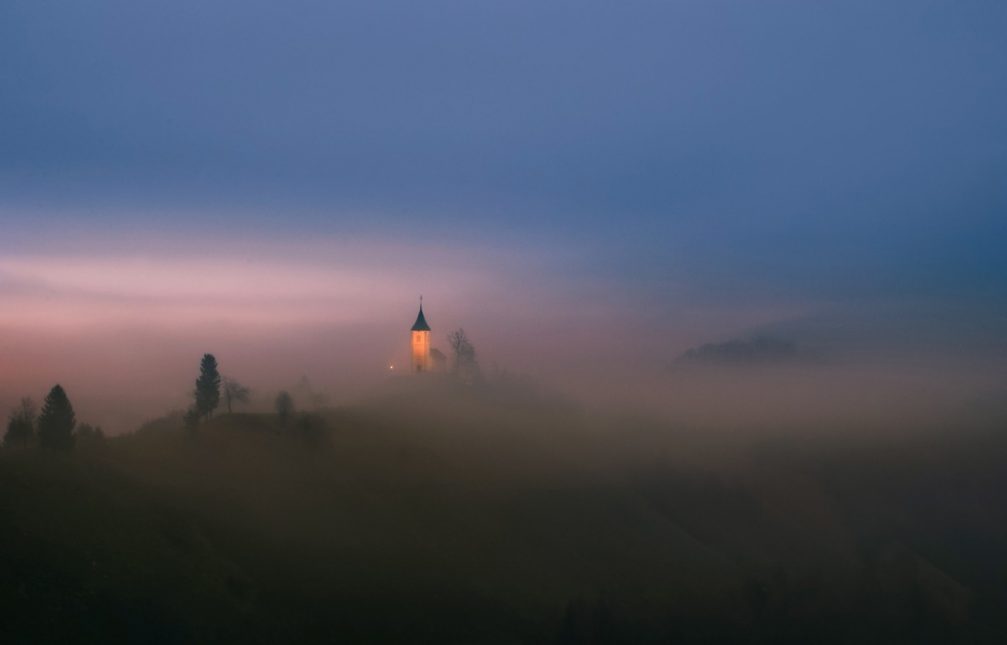 The illuminated beacon of the Jamnik church of Saints Primus and Felician, perched on a hill on the Jelovica Plateau and shining through the breaking fog. On account of its visibility throughout the Upper Carniola region of Slovenia, the church served as a non-fortified signal station in the time of the Turkish invasions (in the 15th and 16th centuries).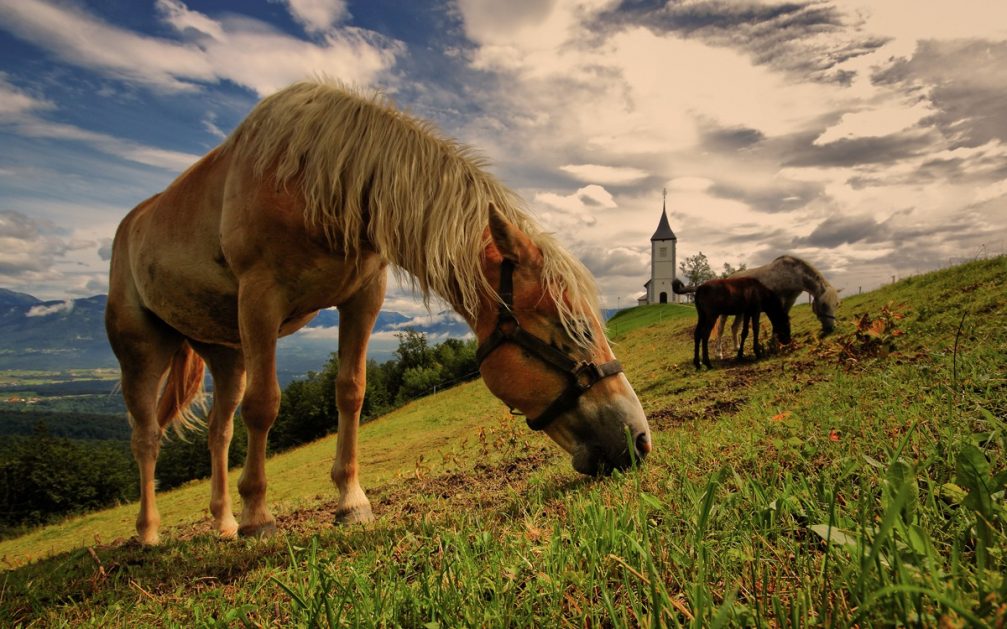 Visitors can approach the church of Saints Primus and Felician in Jamnik from a viewpoint and make some incredible photos. The views from the grassy ridge on which the church is built are truly absolutely stunning, especially on a clear and sunny day.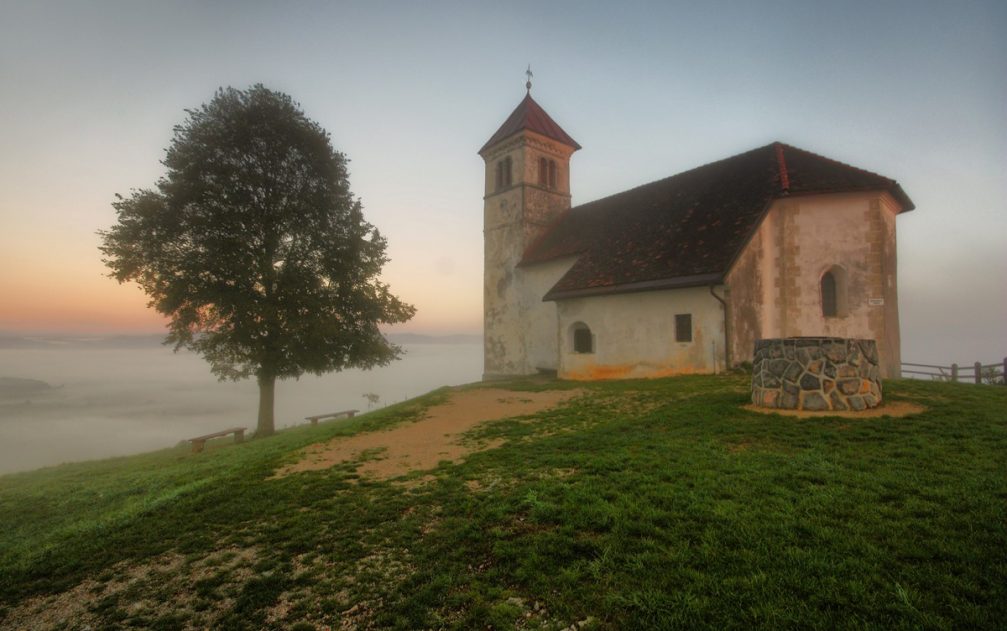 The church dedicated to Saint Anne or Sveta Ana as it is called in Slovene stands on top of the 484-meter-high hill above the fog-covered Ljubljana Marshes. It is a very popular destination for hikers, tourists and nature lovers that offers great views of the Ljubljana Marshes. The church was originally Gothic, but was reconstructed in the Baroque style in the late 16th or early 17th century.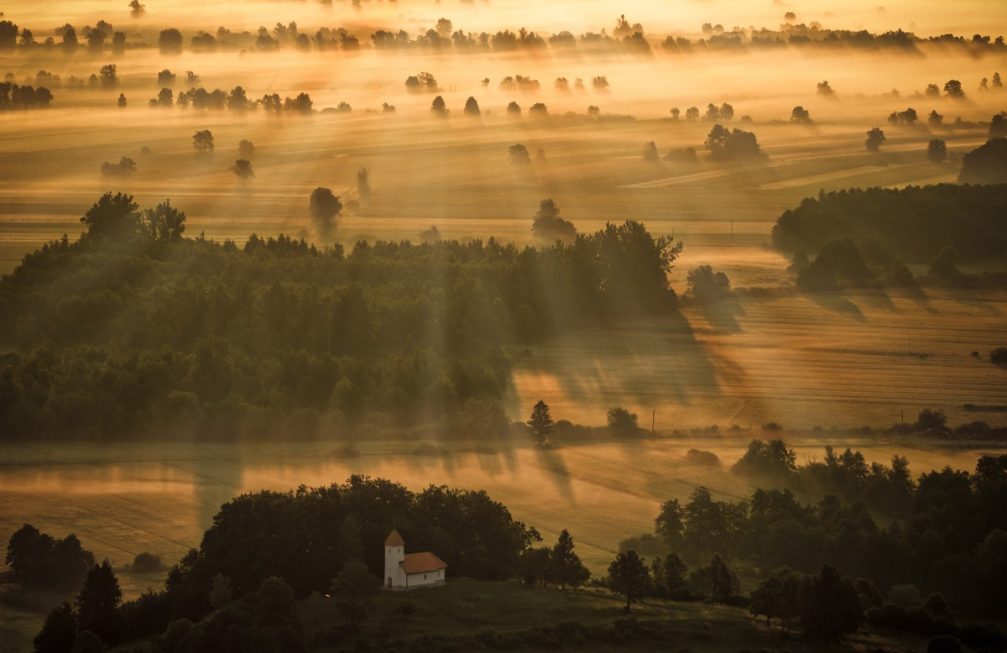 The Ljubljana Marshes extend over the south and southeast part of the Ljubljana Basin and measure approximately 160 square kilometres (approx. 61 square miles). It's a very interesting and unique natural area of wetlands and peat bogs, known for its rare plant and animal species and for the remains of the prehistoric pile dwellings, which are among the most important sources of evidence for early human history from 5000 to 500 B.C. and are inscribed under the UNESCO World Heritage List.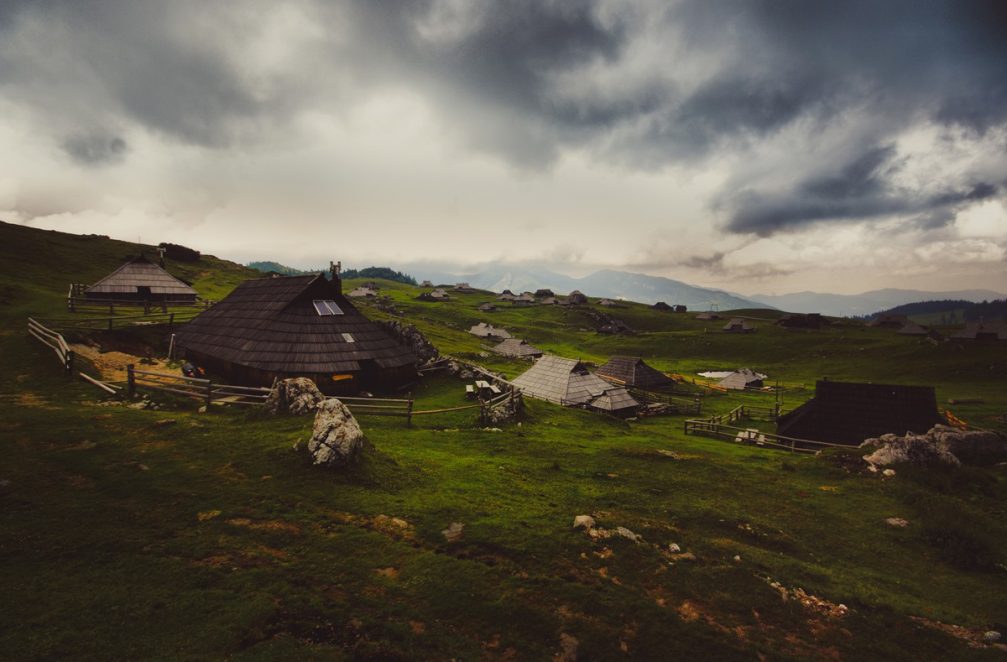 Warm days call for an escape from the heat of the city and into the mountains. On the 1,665 meters high Velika Planina plateau, you can explore the interesting traditional herdsmen's huts, learn how to make dairy products and walk around freely on what is considered to be the most gorgeous alpine pasture in Slovenia. And if you visit Velika Planina from June to September you'll also witness grazing cattle.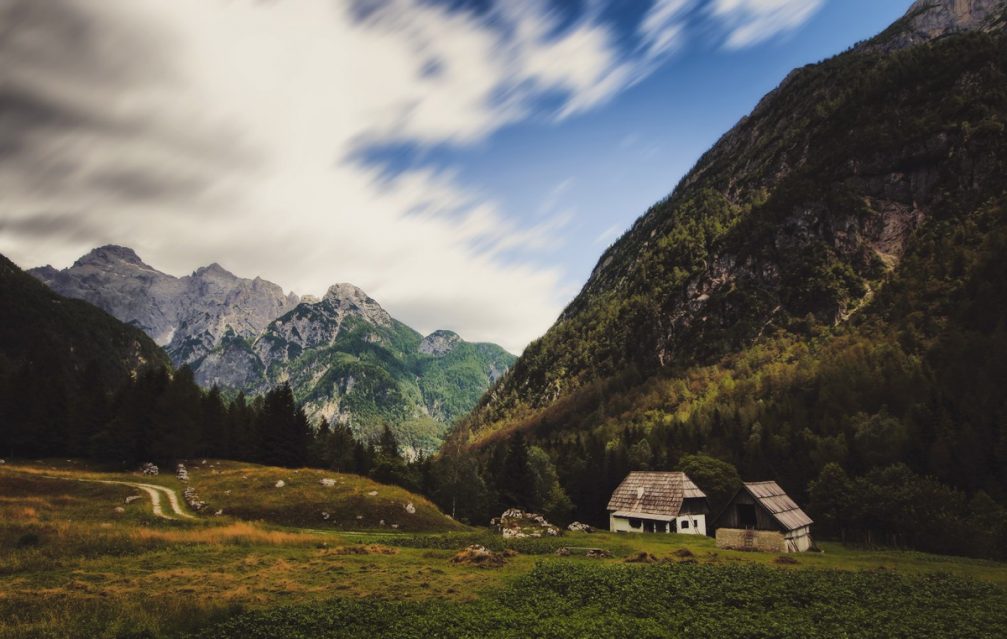 In the Triglav National Park there are the last still existent high altitude farms in Slovenia, where you can become familiar with life as it once was and enjoy stunning views on surrounding mountains.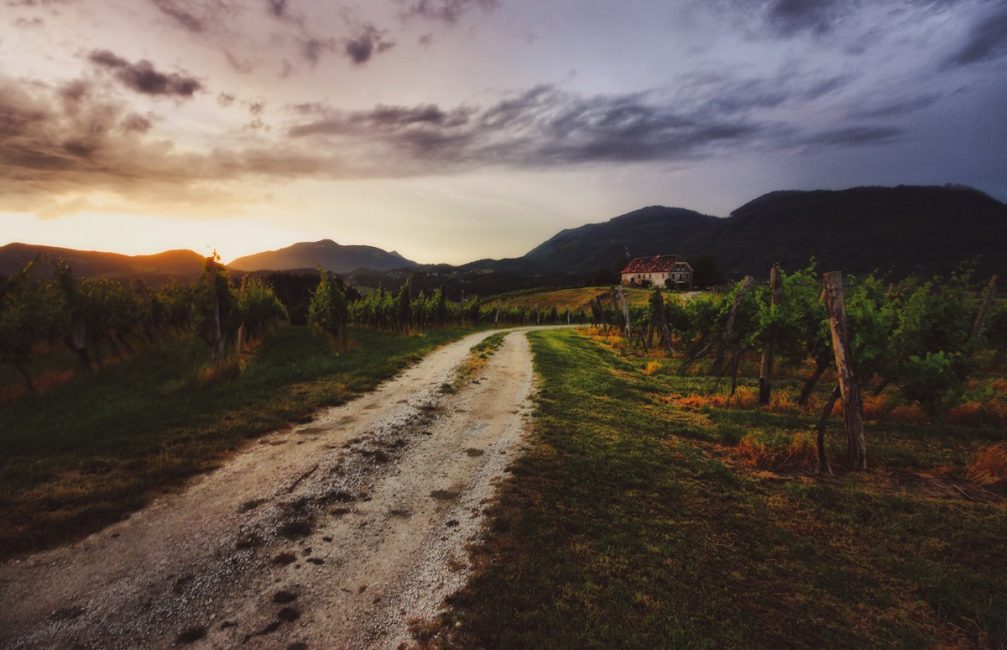 The hills around the Skalce village in the municipality of Slovenske Konjice in eastern Slovenia are covered with well-kept idyllic small vineyards. The area is known as the Natural Park Of Vineyards and is the place to go if you want to find out more about the wine of this region. There are numerous wineries here, and the best thing to do is just explore the area at your own pace, you will not be disappointed. The local wines here have been winning awards beginning in the mid-1990s when the Golden Hill Company first produced its Vitesko Vino wine. The nature along the wine route is really gorgeous and calming and you get a feeling of being with nature.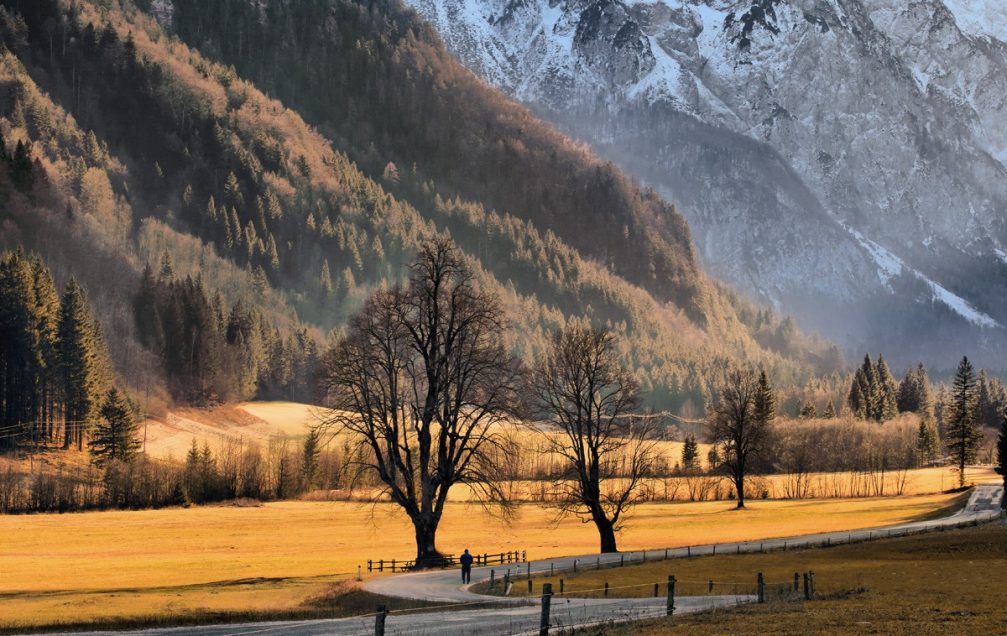 The trip through the Logarska Dolina valley is basically an unending string of stunning views. Despite the valley is rapidly growing in popularity with tourists, it remains undeveloped and in many ways, seemingly untouched by the hand of time.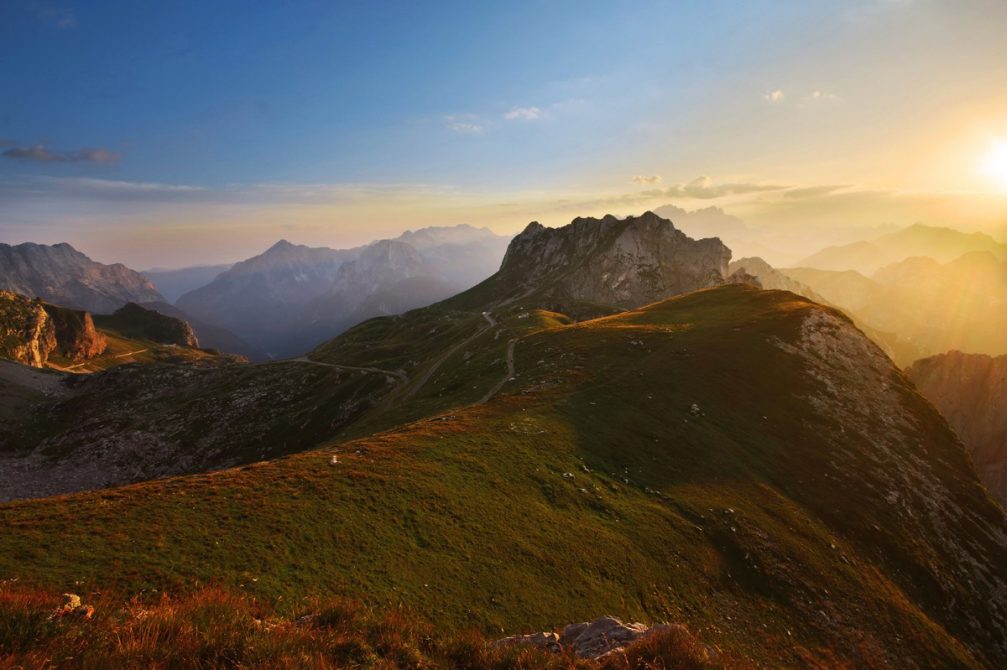 The Mangart Saddle which is also known as the Mangart Pass is a high mountain pass in the Julian Alps in northwestern Slovenia. The saddle rises to 2,072 metres (6,798 feet) and offers a breathtaking view towards the Log Koritnica valley in Slovenia to the south and the Laghi di Fusine lakes in Italy to the north. From it one can attempt the ascent of Mt. Mangart, the third-highest peak in Slovenia at an elevation of 2,679 metres (8,789 feet). The Mangart Road that leads to the Mangart Saddle is the highest road in Slovenia and was built over a few months by the Italian Army in 1939. The road reaches 2,055 meters (6,742 feet) and has a gradient of 23 percent.


Gorenje Pri Zrecah is a small village that lies on the slopes of Pohorje at an elevation of 761 meters (2,496 feet) and offers picturesque views towards the valley.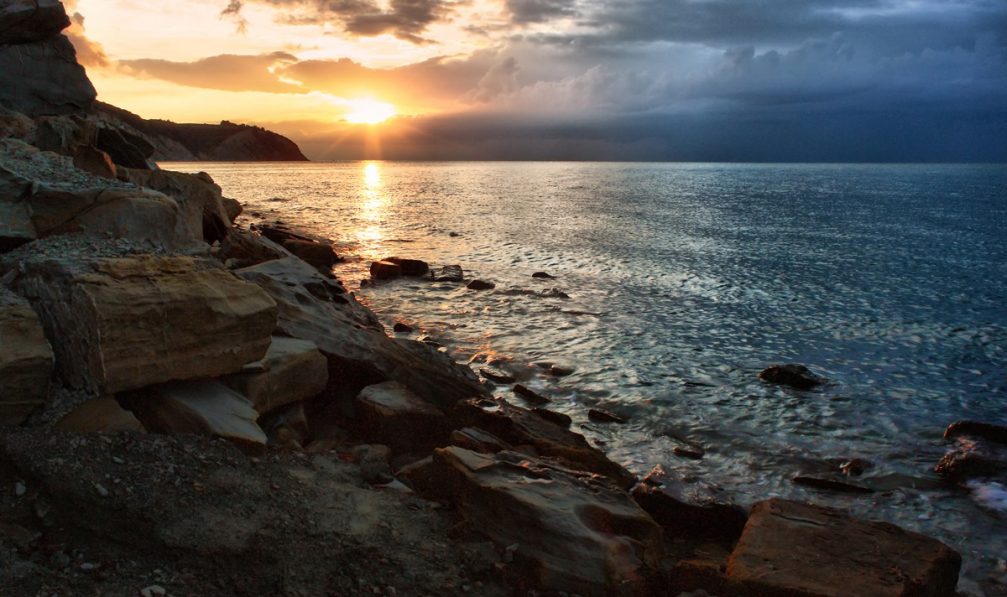 The coast of Slovenia, only 46 kilometres (28 miles) long, is situated at the far northern end of the Mediterranean, along the Gulf of Trieste, which is the northernmost part of the Adriatic Sea.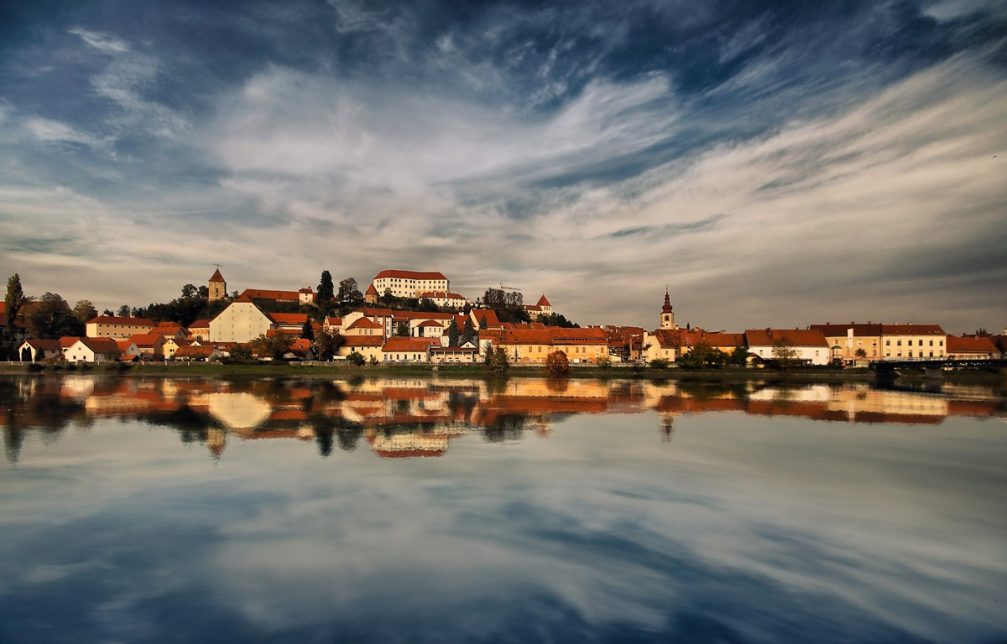 Stretching out across the Drava River, Ptuj is a gem of a town. It's the oldest town in Slovenia and one of the oldest in the whole of Europe with a wonderful mix of well-preserved medieval, Romanesque, Gothic and Renaissance architectural styles.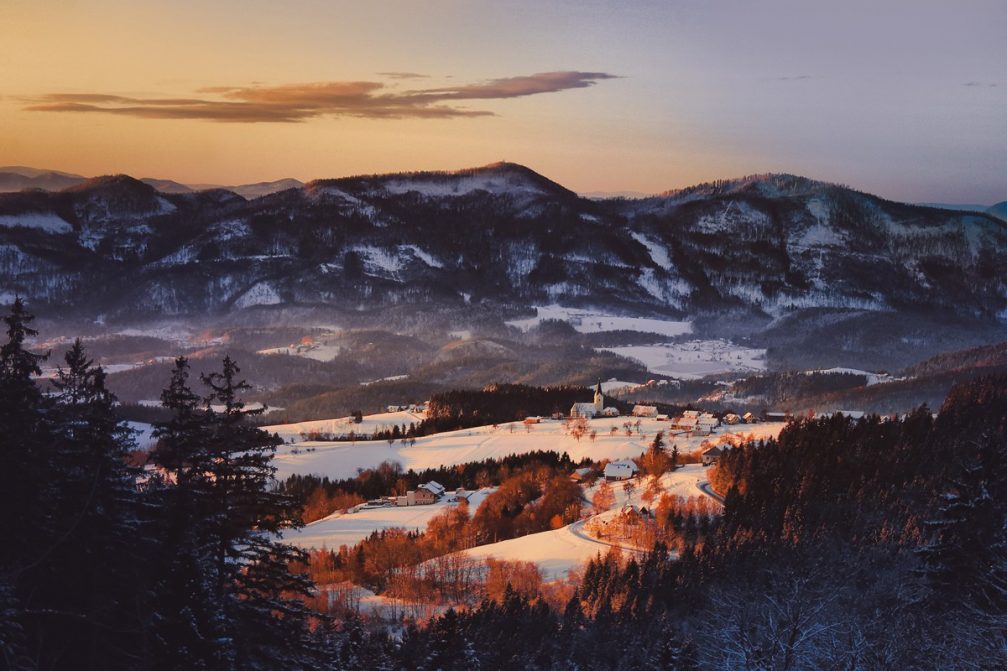 A wonderful elevated view of the Gorenje Pri Zrecah village located in the Pohorje Mountains at an elevation of 761 meters (2,496 feet). The village's best known landmark is the Church of Saint Cunigunde which was first mentioned in the historical record as early as 1391, but the current building dates to 1899, when it was reconstructed in the Gothic style.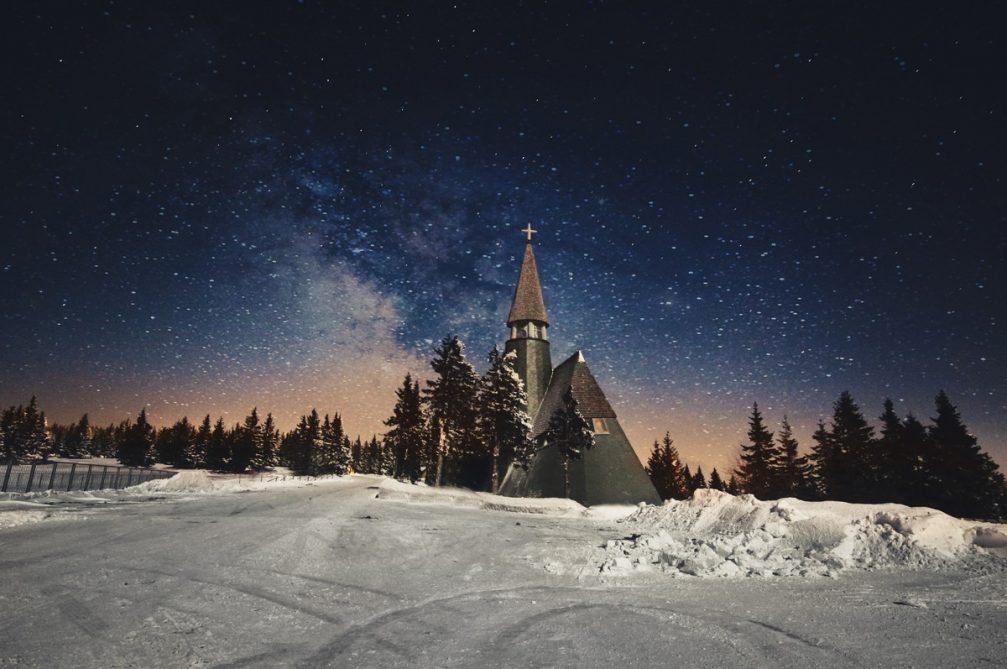 The rather unusual looking Church of Jesus Christ on the Rogla mountain at an elevation of 1,517 meters (4,977 feet) was built between 2006 and 2010. The church has three bells, a very impressive altar and notable church organ.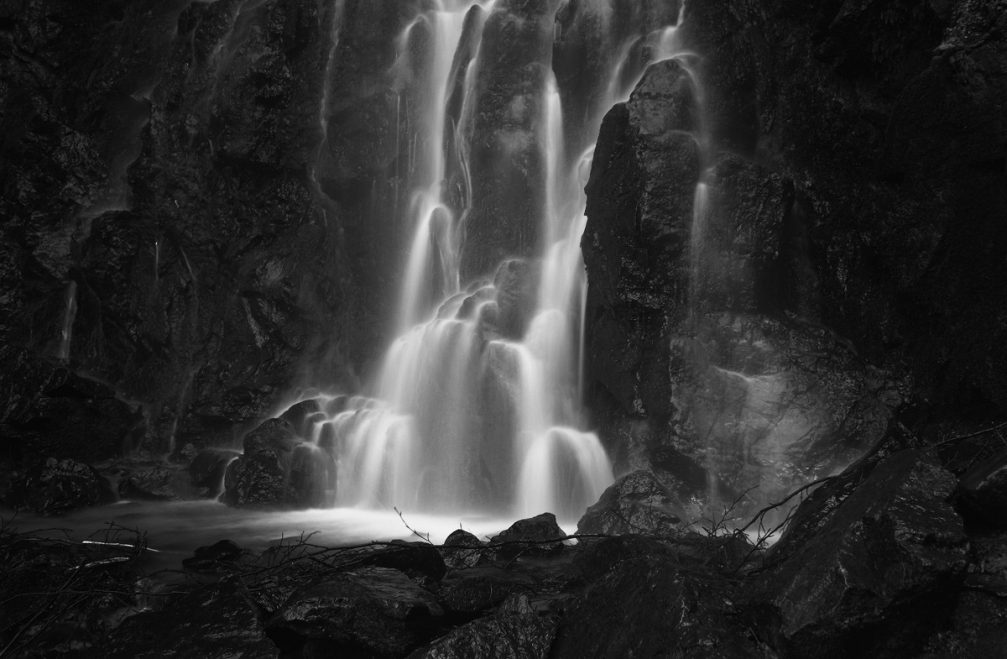 The Fram waterfall which is also known as the Skalca waterfall is a beautiful waterfall hidden in the woods of the eastern Pohorje Hills near the Hocko Pohorje village in northeastern Slovenia.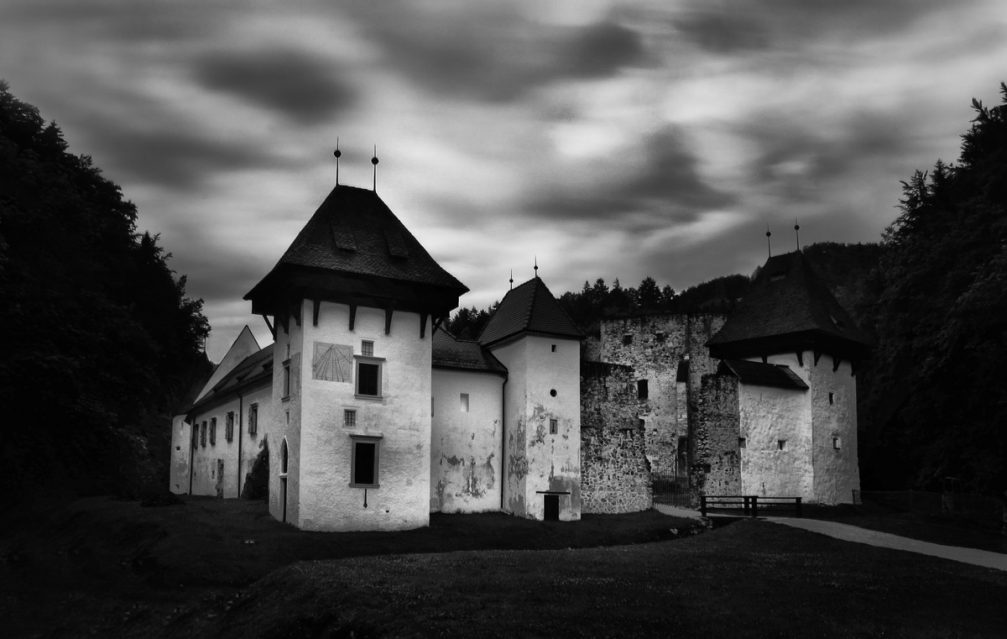 The Zice Charterhouse or Zicka Kartuzija as it is called in Slovene stands in the remote and narrow valley of Zice near the town of Slovenske Konjice. The first monks arrived here in the 12th century from France. This is the oldest Carthusian monastery in Slovenia and the first Carthusian monastery outside France and Italy. The first pharmacy in Slovenia was opened here and there's also the oldest still-operating pub in Slovenia called Gastuz just outside the charterhouse. Today the charterhouse is a very important cultural monument with more than 20,000 visitors per year.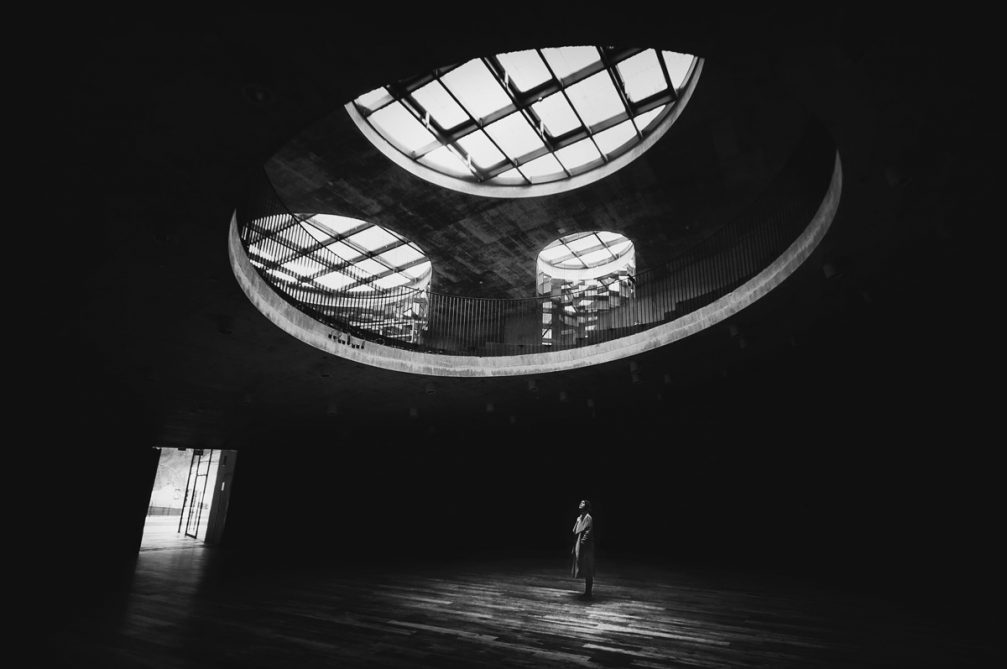 The Cultural Centre of European Space Technologies (KSEVT) was officially opened on September 6, 2012 in Vitanje, the hometown of Herman Potocnik Noordung an early rocket scientist and pioneer of cosmonautics. It's an eponymous institute, promoting research in the fields of space culturalization. It's designed to house social, cultural and scientific activities, conferences and club activities, as well as permanent and temporary exhibitions.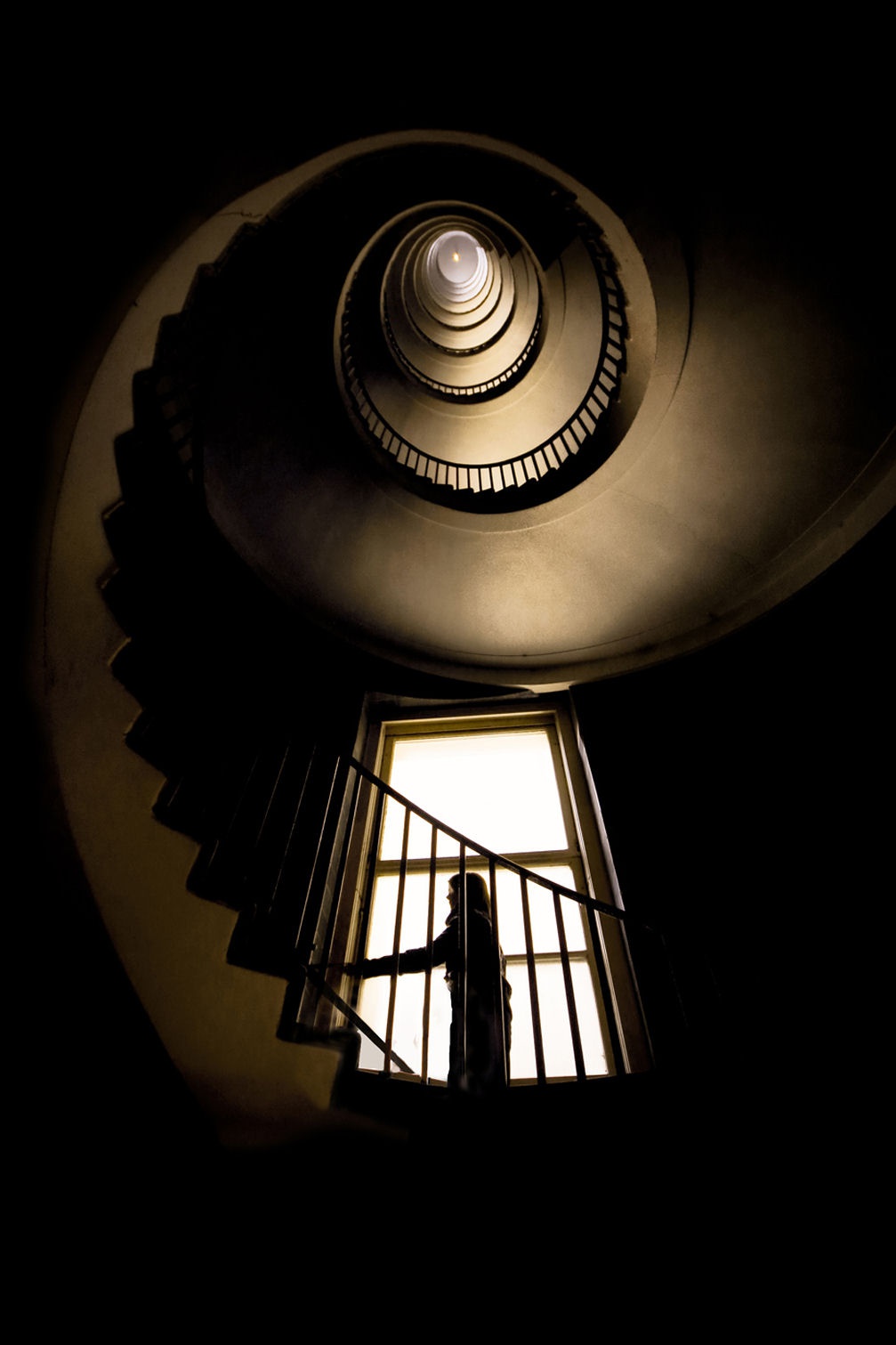 The Neboticnik skyscraper in Slovenia's capital Ljubljana is a thirteen-story building that was built in 1933 and was at that time the tallest building in Central Europe. If you're a fan of Art Deco architecture it's a must see. Especially, make sure you take a look at the original wooden spiral staircase – stand at the bottom and look up.
Discover beautiful Slovenia through amazing photos
SLOVENIA, AS SEEN FROM THE AIR (50 photos)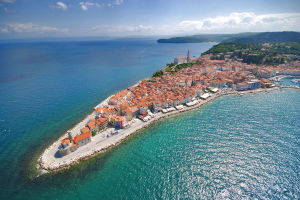 Aerial photography provides you with a breathtaking bird's eye view – one you won't get anywhere else. So, here are 50 spectacular aerial photos that prove why Slovenia might just be the most beautiful country on Earth.
SLOVENIA IN THE WINTER TIME (50 photos)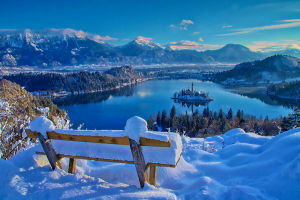 Slovenia in the winter time is almost more magical than in summer. Check out this beautiful gallery with 50 stunning winter photos of Slovenia that prove you absolutely have to visit this small but extremely picturesque country in the winter time.
SLOVENIA AT NIGHT (30 photos)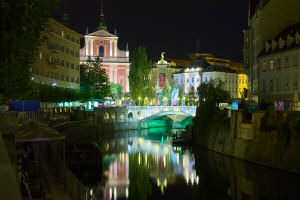 Night has its own magic. Night can transform an ordinary scene into something magical, mysterious and captivating. Light, shadow, texture, tonality, pattern all work together to create a very different feeling compared to photos captured during the day. Everything is just more magical at night, so here are 30 night pictures of Slovenian cities, towns, villages and other places at night. Enjoy!
THE MAGIC OF SLOVENIA AT CHRISTMAS TIME (10 photos)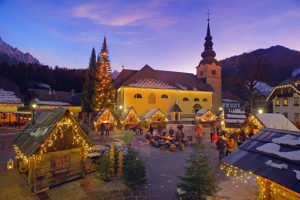 There are Christmas markets taking place in all the larger towns, the most impressive being in Slovenia's capital Ljubljana. The Christmas markets are well worth visiting and not just for buying some special gifts. A wide range of entertainment is also provided, and you can easily spend several hours at these fascinating places.
LANDSCAPE AND NATURE PHOTOS FROM ALL OVER SLOVENIA BY LUKA ESENKO (40 photos)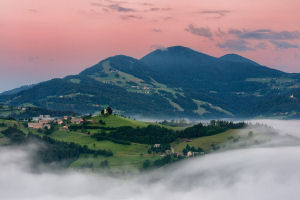 Luka Esenko is considered by many to be Slovenia's new leading landscape and travel photographer. He has been photographing landscapes for almost a decade now, and through photography he has been blessed to capture some of the most gorgeous locations in Slovenia. Strong compositions and a feel for natural light are what make Luka's images stand out.
AERIAL DRONE PHOTOS FROM AROUND SLOVENIA BY JURE KORBER AND TJASA BORSNAK (35 photos)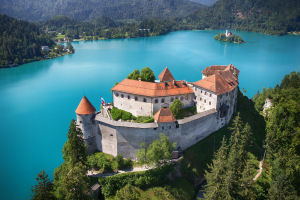 With the technological advancements in cameras and drones, we can now get a glimpse of the world from a different perspective. And from high up above, especially with a bird's eye view, the world is a stunningly beautiful place. Jure Korber and Tjasa Borsnak, a young student couple based in Slovenia's capital Ljubljana, took their aerial photography platform called Hexabee into the sky and captured Slovenia from angles not seen before.
LANDSCAPE PHOTOS FROM SLOVENIA BY DEJAN HUDOLETNJAK (50 photos)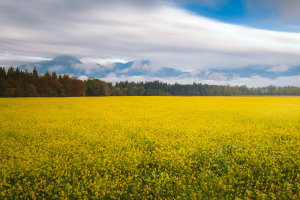 Dejan Hudoletnjak is a super-talented and passionate photographer best known for his beautiful landscape photos of Slovenia and wonderful use of light and color. He has an unerring eye for composition and detail, and a great sensitivity to mood, expressed in his photographs through the awareness and use of light. His goal as a photographer is to create an image that not only captures a moment in time, but also tells a story and evokes an emotional response. An image that shares the mood and feelings he felt when being there.
LANDSCAPE AND NATURE PHOTOS FROM ALL OVER SLOVENIA BY DANIEL TOMANOVIC (50 photos)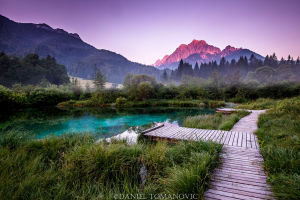 Daniel Tomanovic is a young and very talented landscape photographer who has been creating images that portray the natural beauty of Slovenia and its landscapes for over 8 years. He believes that finding good light is the most important thing to create great landscape images. Everyone can capture outstanding landscape scenery, but hunting the special light is the true challenge for a landscape photographer. And judging from his works, he is very successful in capturing beautiful locations in the best light.
LANDSCAPE AND NATURE PHOTOS FROM ALL OVER SLOVENIA BY ERICH REISINGER (50 photos)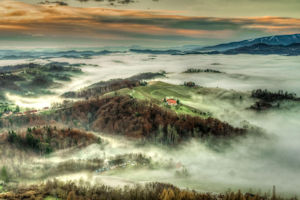 Erich Reisinger is a 55-year-old German landscape, nature, and urban photographer based in the Bavarian town of Ingolstadt. He has been fascinated with photography since he was a 6-year-old child. He has a special connection with Slovenia. He met his wife in Maribor and Slovenia soon became his second home country. He visits Slovenia several times a year and never forgets to mention how he loves Slovenia and how he will never tire of photographing its immense beauty and infinite variety.
LANDSCAPE AND NATURE PHOTOS FROM ACROSS SLOVENIA BY PIOTR SKRZYPIEC (40 photos)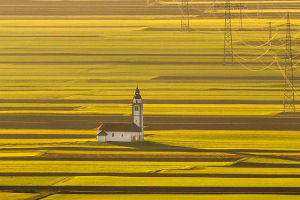 Piotr Skrzypiec is one of the leading landscape photographers in Slovenia. Born in Nowy Sacz, Poland in 1978, Piotr spent most of his childhood in the south of Poland. After completing his master's degree in geography Piotr moved to Slovenia, where he picked up his first camera in 2008. Through photography, Piotr found a way of communicating about his nature and landscape passion and he quickly established himself as a successful landscape and nature photographer.
LANDSCAPE PHOTOS FROM AROUND SLOVENIA BY DOMEN DOLENC (35 photos)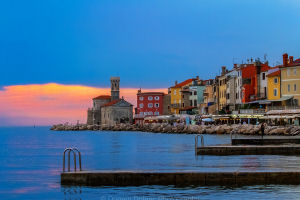 Domen Dolenc is a young but well-established travel photographer currently based in Zelezniki, Slovenia. Since Domen purchased his first camera in 2005, he has been addicted to photography. He never travels without his camera and loves to capture the beauty he finds throughout the world in his own way - his photographic style is defined by powerful colours, street photography scenes, landscapes, but also moments of everyday life, faces and a very close approach on people.
LANDSCAPE PHOTOS FROM ALL AROUND SLOVENIA BY GREGOR KACIN (40 photos)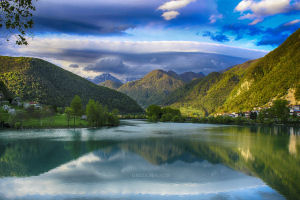 Gregor Kacin is a 39-year-old landscape and nature photographer based in the charming little town of Idrija in western Slovenia. He is very fortunate to live in such a beautiful part of the country and he can often be found roaming the countryside, looking for that special moment when the true beauty of nature revels itself.
LANDSCAPE PHOTOS OF SLOVENIA BY ALES KRIVEC (30 photos)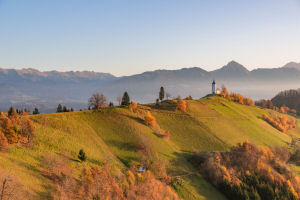 Ales Krivec has a passion for taking photographs and his work features the finest landscapes in Slovenia. He is very much a landscape artist and his work reflects a great understanding and deep love of the countryside and nature. An extensive technical knowledge and a seeing eye enable his photos to convey the beauty of the landscape that surrounds us all.
LANDSCAPE AND NATURE PHOTOS FROM ALL OVER SLOVENIA BY BOJAN KOLMAN (50 photos)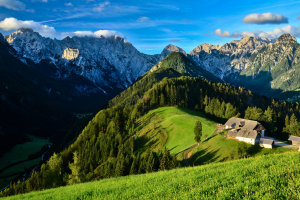 Bojan Kolman is a passionate 63-year-old landscape and nature photographer based in Begunje Na Gorenjskem, a small idyllic village at the foothills of the Karavanke mountain range. Bojan is completely self-taught and learned about photography on the Internet, but he shoots beautiful photographs, possessing an incredible eye for composition. There are so many beautiful things that surround us every day and Bojan strives to reflect that beauty through photography.
LANDSCAPE AND NATURE PHOTOS FROM SLOVENIA BY BRANKO CESNIK (45 photos)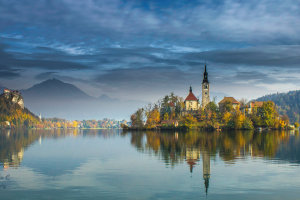 Branko Cesnik is a passionate landscape and nature photographer from Pivka, a small town in the Karst region of southwestern Slovenia. He is 52 years old and has been interested in photography since his school years. Branko tends to shoot in the morning and at the end of the day when the light just either side of sunrise and sunset can transform an already interesting scene into something even more engaging. He firmly believes a good photograph tells a story and creates a feeling within the viewer.
LANDSCAPE, CITYSCAPE AND NATURE PICTURES FROM AROUND SLOVENIA BY JURE KRALJ (45 photos)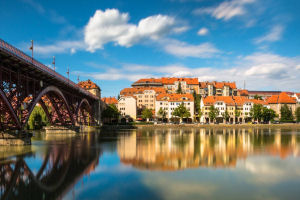 Jure Kralj is an incredibly talented photographer based in Slovenia's second largest city Maribor, who combines his love for travelling around the world with his love for landscape and cityscape photography. He is an enthusiastic observer of the surrounding world. When possible, he is looking for the best light, for the right angle at the right moment to capture a compelling image.
LANDSCAPE PHOTOS FROM ALL OVER SLOVENIA BY DENIS SODRZNIK (30 photos)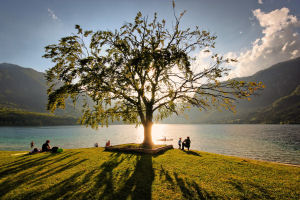 Denis Sodrznik is a passionate landscape and nature photographer born and raised in the beautiful town of Slovenske Konjice in the Styria region of Slovenia. He strives to capture photographs that convey the beauty of the Slovenian landscapes he explores in his spare time with his fiancée Karmen. His intention is to show the viewer details that we often overlook.
LANDSCAPE AND CITYSCAPE PHOTOS FROM AROUND SLOVENIA BY JAKOB NOC (30 photos)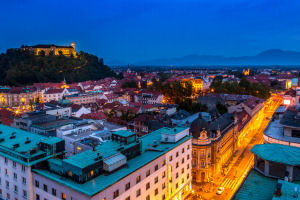 Jakob Noc is an inspiring landscape and cityscape photographer whose talents allow him to capture the most amazing images in a style that is truly his own. Through careful composition, attention to detail and the creative use of beautiful light, Jakob strives to show us cities and landscapes in ways that we may not have seen them before.
LANDSCAPE PHOTOS FROM AROUND SLOVENIA BY MASA VODENIK (35 photos)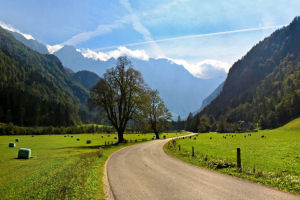 Masa Vodenik is a self-taught photographer who lives in a small town of Hrastnik in central Slovenia. She's an economist during weektime, but on weekends she becomes an ambitious landscape photographer who doesn't want to miss a single second she could have used to take a great photograph. Her passion for photography increased steadily since she started doing photography in 2010. Since then she successfully combines her love for travel and hiking with her enthusiasm for photography.
LANDSCAPE AND NATURE PHOTOS FROM ALL AROUND SLOVENIA BY MIROSLAV ASANIN (50 photos)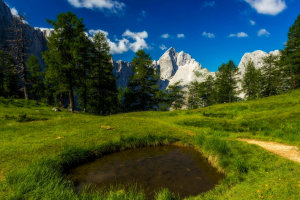 Miroslav Asanin is a keen amateur photographer from Sencur, a small town in northwestern Slovenia. His main photographic interests are landscapes and nature though he does photograph wildlife and architecture when he finds them. He especially loves to photograph the amazing landscapes and nature of the Slovenian Alpine area. However he also loves to take day trips to other parts of the country and scout new locations in search of compelling scenes or subjects to photograph.
LANDSCAPE PHOTOS FROM AROUND SLOVENIA BY BLAZ GVAJC (25 photos)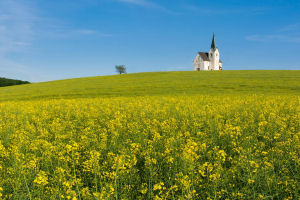 Blaz Gvajc is a landscape and cityscape photographer from Slovenia's third largest city Celje whose passion is to explore and capture the most inspiring and beautiful places in the world. Although being an avid traveler, Blaz also adores his home country Slovenia and loves making spontaneous trips around it when there is promising light, and he will never tire of photographing it.
LANDSCAPE PHOTOS FROM ALL OVER SLOVENIA BY BOSTJAN KERSBAUMER (40 photos)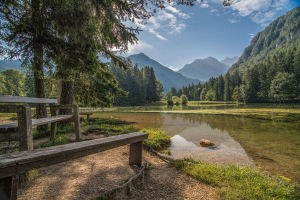 Bostjan Kersbaumer is a passionate self-taught photographer from Slovenia's second largest city Maribor. He is a car mechanic working at Porsche Maribor during weektime, but on weekends he becomes an ambitious landscape, nature and cityscape photographer with an aim to create memorable images from locations across Slovenia and other parts of the world.
LANDSCAPE PHOTOS TAKEN IN A VARIETY OF LOCATIONS IN SLOVENIA BY SABINA TOMAZIC (40 photos)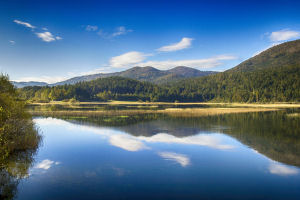 Sabina Tomazic is a young but already established professional on-location lifestyle photographer based in Trebnje, Slovenia. Although known primarily as a lifestyle photographer, Sabina also loves to create images that portray the natural beauty of Slovenia and its landscapes. Her landscape photos are realistic with minimal post processing.
LANDSCAPE AND NATURE PHOTOS FROM AROUND SLOVENIA BY JERNEJ LEBEN (40 photos)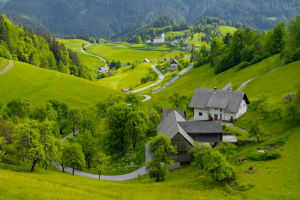 Jernej Leben is one of the most talented amateur photographers in Slovenia whose unrelenting passion for his hobby inspires him to capture the beautiful landscapes and nature of Slovenia with absolute perfection.
LANDSCAPE AND NATURE PICTURES FROM ACROSS SLOVENIA BY KLARA KULOVEC (35 photos)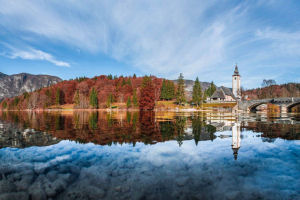 Klara Kulovec is one in a line of talented new Slovenian female landscape photographers who has found her passion with a camera in her hands. She has a heart of an artist and loves nothing more than time with her camera and a scene in front of her to capture the perfect copy of what she saw in her minds' eye. The forms, color and light that shape the landscape are a constant source of her inspiration.
WILDLIFE AND BIRD PICTURES FROM SLOVENIA BY MATEJ KOVACIC (30 photos)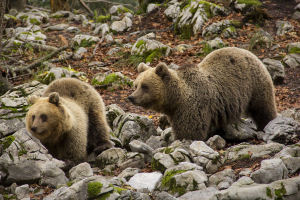 Matej Kovacic is a young and exceptionally talented wildlife and bird photographer dedicated to capturing images of the indigenous wildlife of Slovenia. During his childhood Matej developed a strong fascination for wildlife, birds and nature. When he bought his first camera at the age of 13, he became as passionate about photography. It's hard to photograph wildlife in the wild, but Matej wants to be true, so he stays away from captive animals - all his photos are taken in the wild in Slovenia.
LANDSCAPE PHOTOS FROM THE STYRIA REGION OF SLOVENIA BY PETER ZAJFRID (40 photos)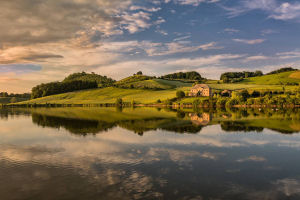 Peter Zajfrid is a well-respected and very passionate amateur landscape photographer who loves capturing the beauty of this world through photography. He enjoys the outdoors and nature, and photography provides him with a medium to capture and share this with others. He especially loves creating images that portray the beauty of the Styria region of Slovenia and its landscapes.
FINE ART LANDSCAPE PHOTOS OF MARIBOR AND ITS SURROUNDING AREA BY UROS LEVA (25 photos)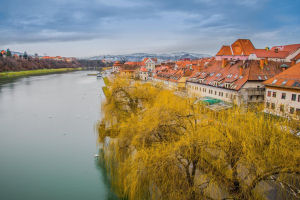 Uros Leva is a versatile freelance artist – photographer, graphic designer and screenwriter. He has been living in Slovenia's second largest city Maribor for his whole life and never fails to be overawed by the beauty of the city. His connection to Maribor began the moment he was born and the more Uros experiences this city, the further he falls in love. When Uros is behind the camera, his goal is to bring out the beauty of Maribor and its surrounding area for all to see.
LANDSCAPE AND NATURE PHOTOS OF THE LAKE BOHINJ AREA AND THE JULIAN ALPS BY GREGOR SKOBERNE (35 photos)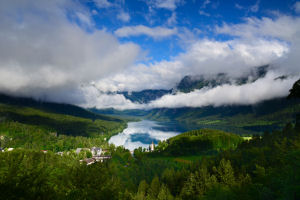 Gregor Skoberne is one of the most talented and passionate landscape and nature photographers in Slovenia. Completely self-taught, Gregor is primarily focused on the unique local landscape and nature found in the Lake Bohinj area with an aim to capture the spirit and the essence of the moment in his photographs.
NATURE AND LANDSCAPE PHOTOS OF THE TRIGLAV NATIONAL PARK BY WALLE GREVIK (35 photos)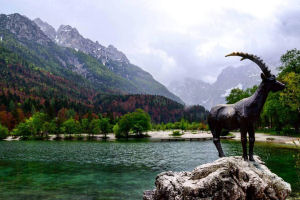 Walle Grevik is a passionate nature and landscape photographer, hiker, and traveler based in Helsingborg, Sweden. He has traveled to many countries around Europe including Iceland, Faroe Islands, Scotland, Ireland, and Greece. This year, he and his hiking partner, Fredrik Vestlund, decided to visit Slovenia and do a 9-day hiking adventure through the Julian Alps and Triglav National Park. Walle took some really beautiful photos during this hiking tour, and he was kind enough to share some of them with us here at Travel Slovenia.
LANDSCAPE PHOTOS OF THE SLOVENIAN ALPS BY MASA VODENIK (20 photos)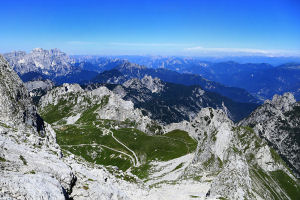 The Slovenian Alps are a part of the Southern Limestone Alps with three high-Alpine mountain ranges, the Julian Alps, the Karawanks and the Kamnik-Savinja Alps. They take up a large part of Slovenia and are full of incredible trails for all levels of hiking ability. They are lower compared with those in Austria and Italy, but with their beauty they surpass anything you may see in the Alps in Europe. All the photos in this gallery were taken by Masa Vodenik. She's an avid hiker who spends most of her weekends in the mountains and she never forgets to take her camera with her.
LANDSCAPE AND NATURE PHOTOS OF THE SLOVENIAN ALPS BY MIROSLAV ASANIN (40 photos)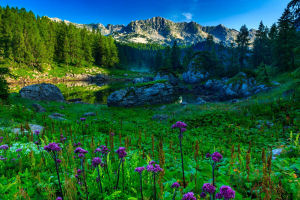 Miroslav Asanin is a very enthusiastic, amateur photographer from Sencur, a small town in the Gorenjska region of Slovenia. His passion for photography began four years ago when he got his first proper camera - a Canon EOS 600D, after that there was no stopping. His primary interests has always been on shooting landscapes and different sceneries found throughout Slovenia and especially in the Slovenian Alps and its Triglav National Park.
FINE ART NATURE AND LANDSCAPE PHOTOS OF THE VRHNIKA COUNTRYSIDE BY ROBI DEBEVC KVOCKA (30 photos)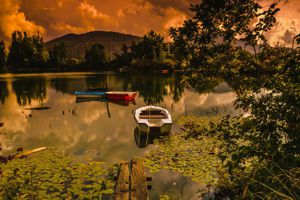 Robi Debevc Kvocka is a self-taught photographer based in Vrhnika, whose fine art nature and landscape photographs celebrate the natural beauty of the Vrhnika countryside. When Robi is behind the camera, his goal is to bring out hidden beauty of the Vrhnika area for all to see. His style, which is recognisable through the artistry of his photographs, is born of a keen eye for the many moods of the natural landscape and a life-long passion for the nature and the great outdoors.
SLOVENIA (30 photos)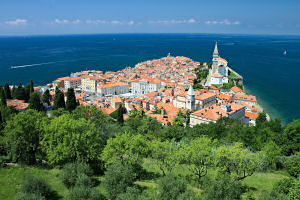 A fascinating capital, charming coastal towns, beautiful alpine villages, stunning natural attractions, and much more - enjoy this wonderful selection of absolutely the most beautiful pictures of Slovenia, taken either by professional photographers or amateur photo enthusiasts.