About The Photographer
Domen Dolenc is a young but well-established travel photographer currently based in Zelezniki, Slovenia. The combination of his love for travelling and passion for photography got him in to this creative world of capturing moments which would otherwise slip away. Since Domen purchased his first camera in 2005, he has been addicted to photography. He never travels without his camera and loves to capture the beauty he finds throughout the world in his own way – his photographic style is defined by powerful colours, street photography scenes, landscapes, but also moments of everyday life, faces and a very close approach on people.
Domen's photos take you on a visual journey to some of the world's most beautiful and interesting destinations. His photographic work is driven by his passion for travel and exploration and his restless desire and curiosity about other countries and their people. Domen loves to wander, observe, know the unknown and learn. He loves to abandon routine and cross boundaries of cultures and language, searching for real, honest and pure moments. By now, he has visited almost 20 countries around the globe (including Sri Lanka, Cambodia, Thailand, and Turkey), and his landscapes, street scenes and portraits have been published in several books, newspapers and magazines including the National Geographic. Domen has also had lots of success in various national and international competitions and was awarded with the title of F1FZS by the Photographic Federation of Slovenia.
Below is a selection of Domen's photos from around Slovenia that he kindly shared with us. If you want to stay updated with Domen's work, you can follow his photography blog Domen Dolenc or his social media pages on Facebook, Google+ and Twitter.
Photo Gallery
A beautiful picture gallery containing 35 fabulous landscape photos from around Slovenia by Domen Dolenc.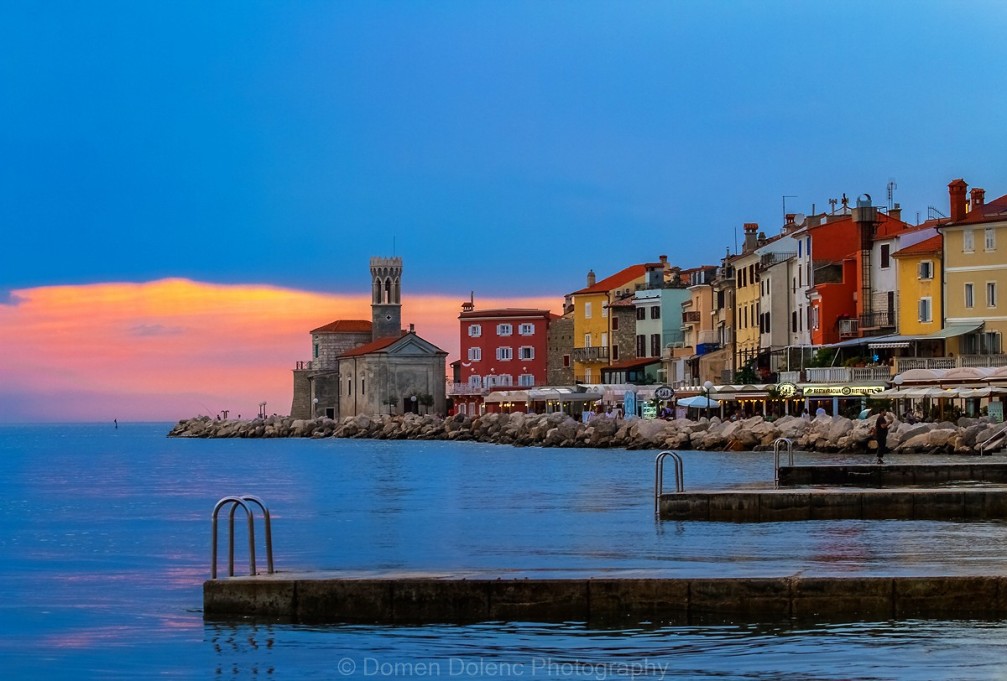 Perching on a jutting peninsula along Slovenia's short coastline (measuring a mere 47 kilometres), Piran is a beautiful coastal town with medieval architecture, narrow streets and compact picturesque houses. It is one of Slovenia's major tourist attractions.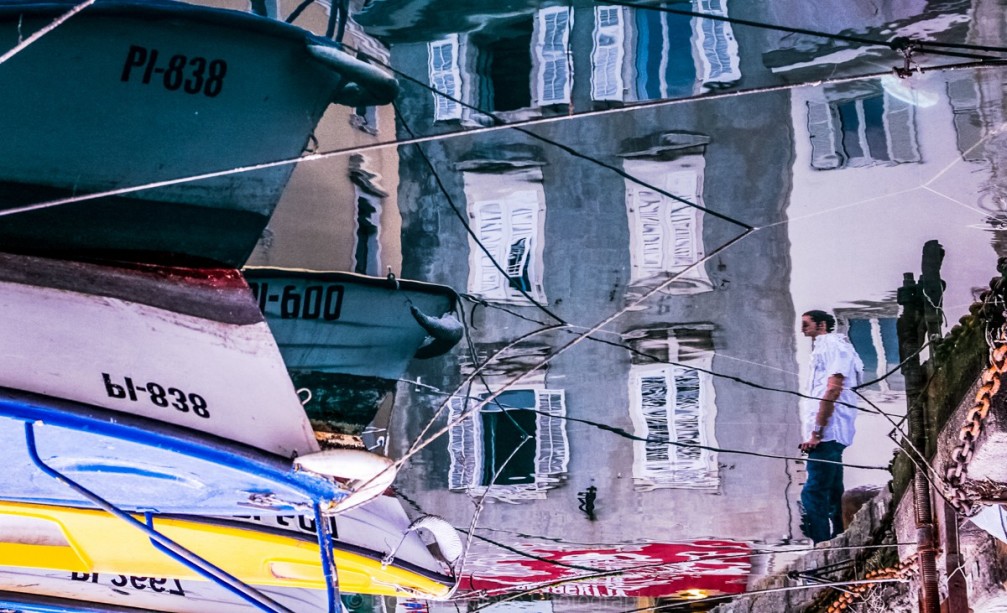 In the morning, the Piran harbour is often still, allowing picturesque reflections.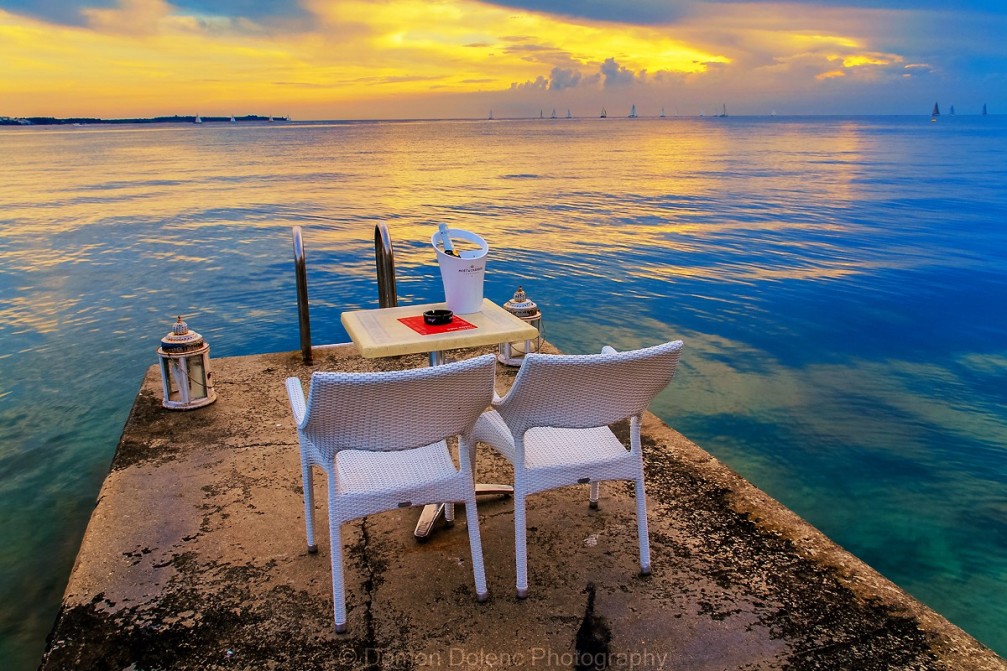 Perspective of a pier with a restaurant table with an ocean view in Piran – the perfect setting for two.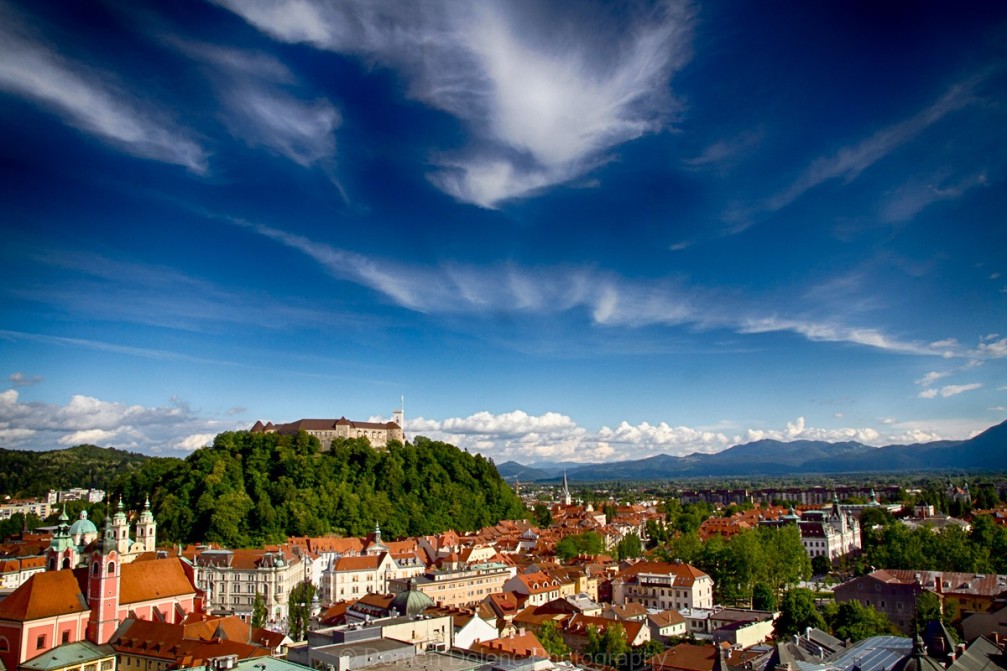 A city of 270,000 or so people, Ljubljana is one of Europe's smallest capitals. From this panorama, it's pretty obvious why Ljubljana was awarded the prize of being the Green Capital of Europe in 2016 – it boasts a wealth of green spaces.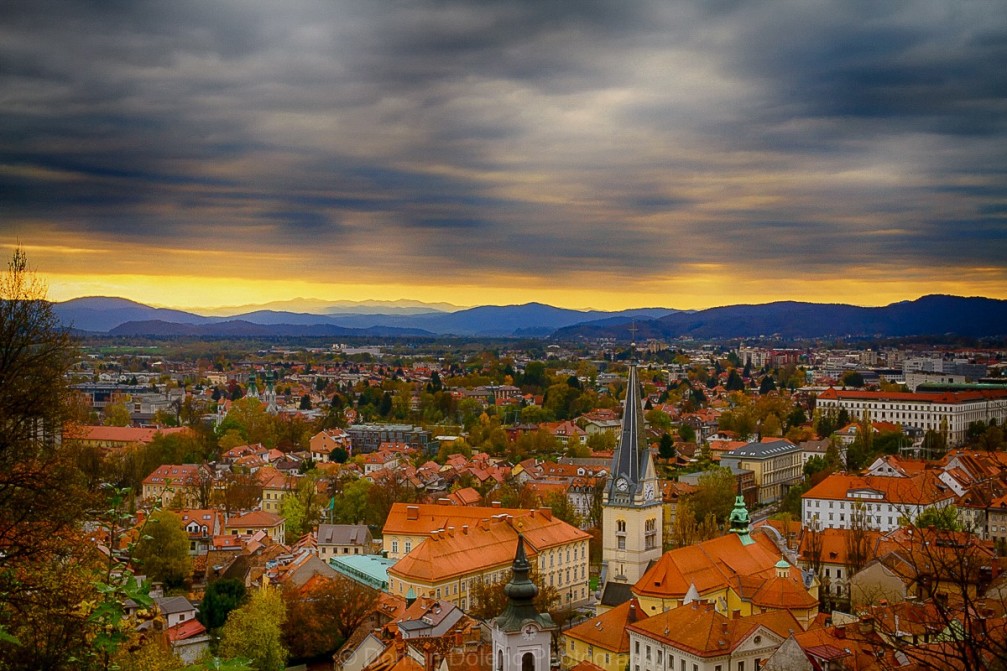 Another beautiful panorama of Ljubljana, this time in the autumn season from the Ljubljana Castle. This castle is up Castle Hill behind the Old Town and is visible from many points of Ljubljana. This means it also has great views.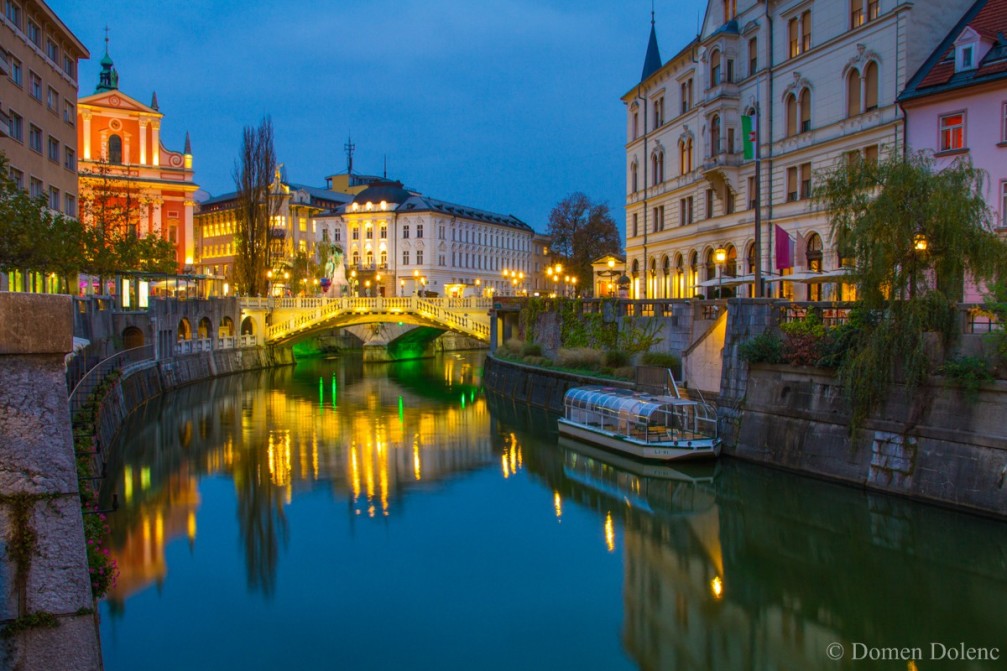 The core areas of Ljubljana's Old Town are concentrated along the Ljubljanica River that flows through the centre of Ljubljana. The river embankments are a very important aspect in the city's lifestyle department. Outdoor restaurants, cafes and bars adorn the river edges and locals and tourists love to gather here. It is an extremely photogenic part of Slovenia's capital, a combination of Italian charm and German perfectionism and cleanliness. It is similar to other European capitals, yet so unique.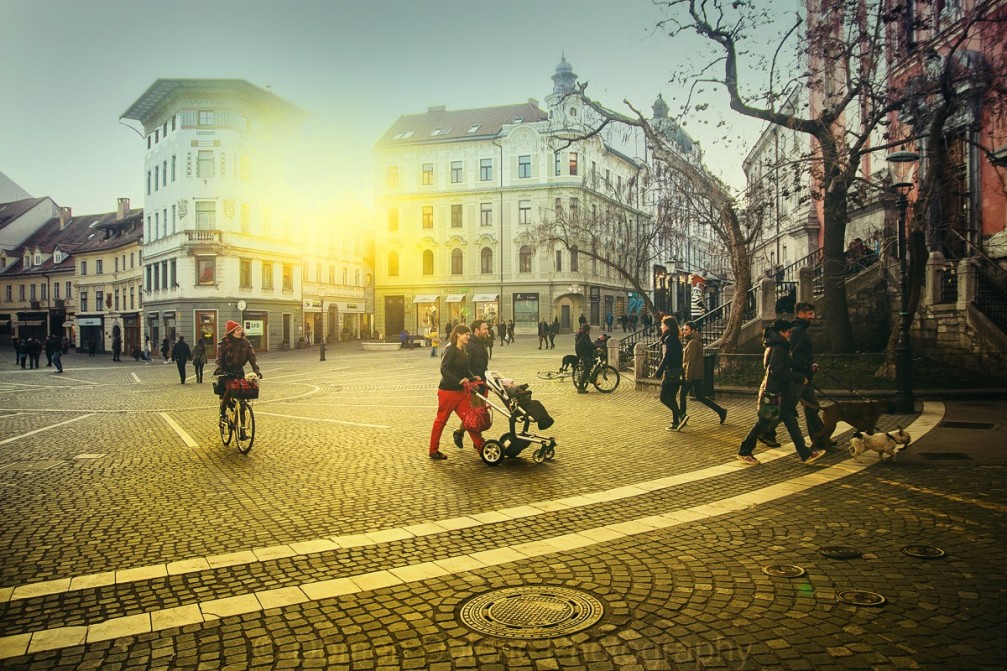 The circular Preseren Square is the center of Ljubljana's Old Town, named for Slovene national poet France Preseren. It's a charming place dominated by historic Art Nouveau and Baroque buildings. It's always lively, full of tourists and locals.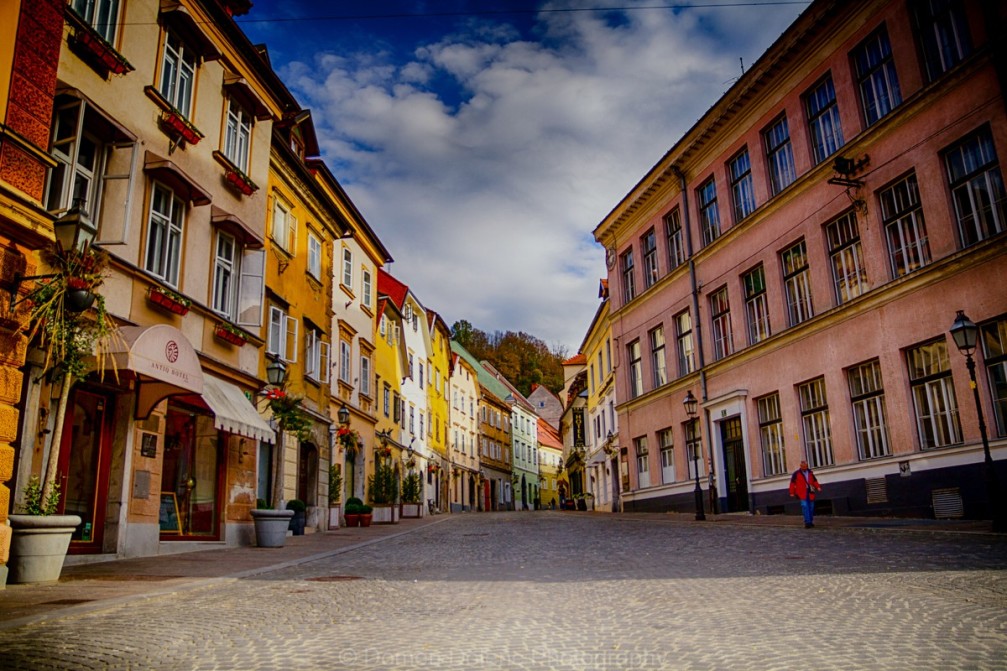 The pedestrian street of Stari Trg (Old Square) is one of the two main cobbled streets in Ljubljana Old Town (the oldest part of Ljubljana). It is a lovely place to take a stroll with beautiful colourful Baroque and Art Nouveau buildings. Walking around here is one of the top things to do in Ljubljana.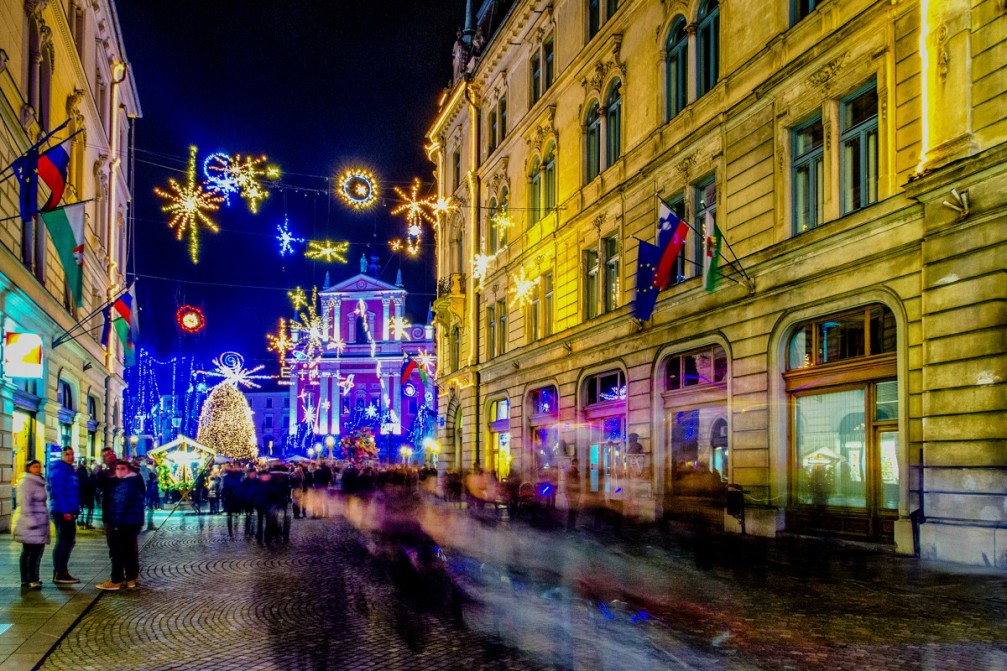 During the festive month of December, the atmosphere in Ljubljana is always vibrant. Slovenia's capital has for many years been renowned for the unique beauty of its Christmas lighting display, which is based around the theme of the universe.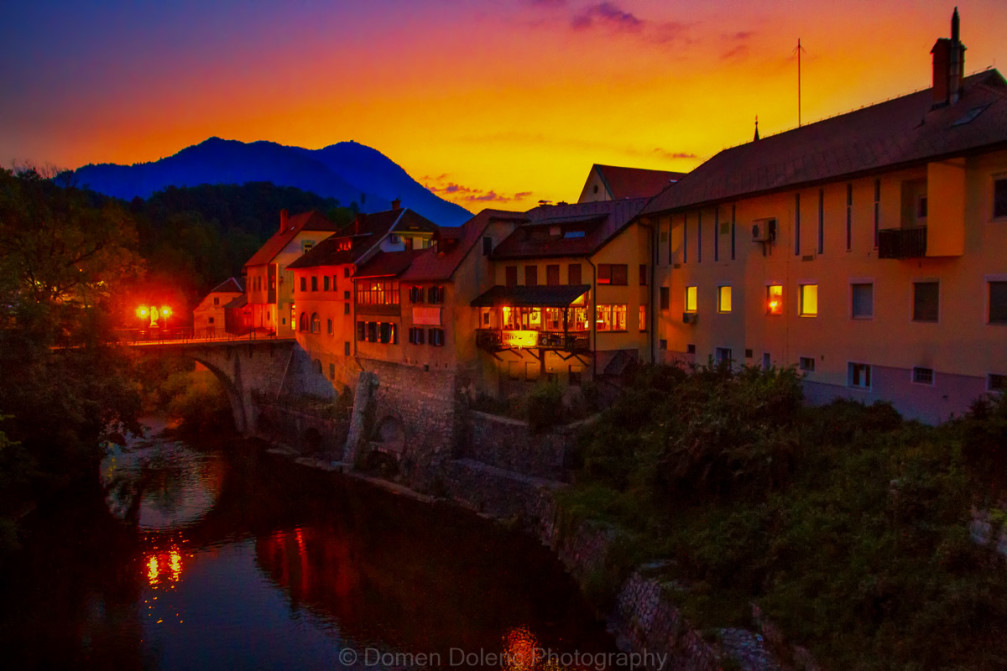 Skofja Loka is a thousand-year old town at the confluence of the Poljanska Sora and Selska Sora rivers. It's considered the most beautifully preserved medieval town in Slovenia.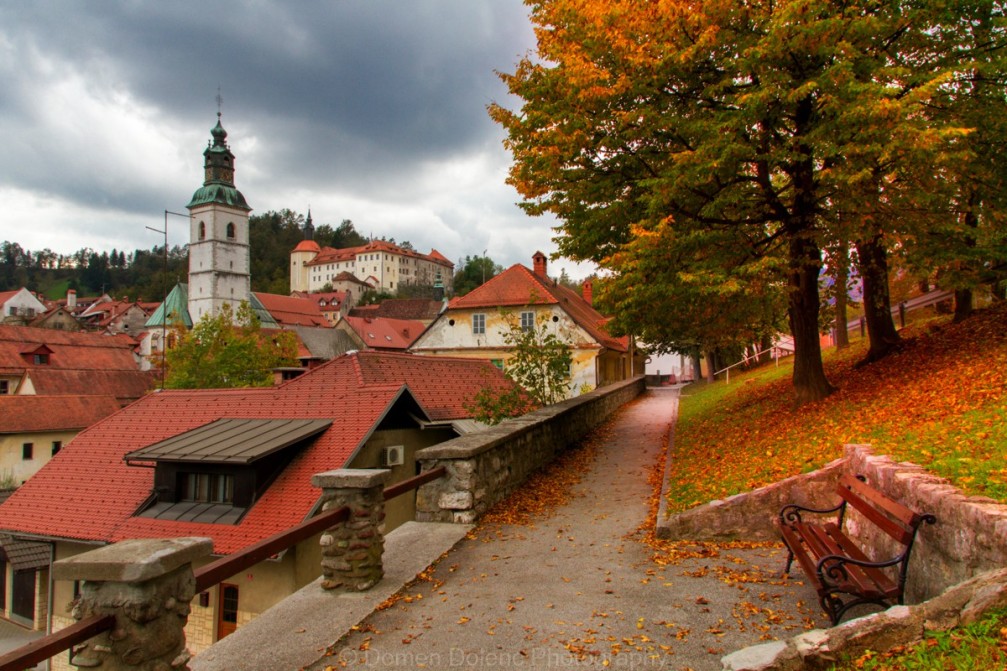 The lovely little town of Skofja Loka is one of the oldest and most perfectly preserved medieval towns in Slovenia. It's so incredibly beautiful it almost looks like it's out of a story book.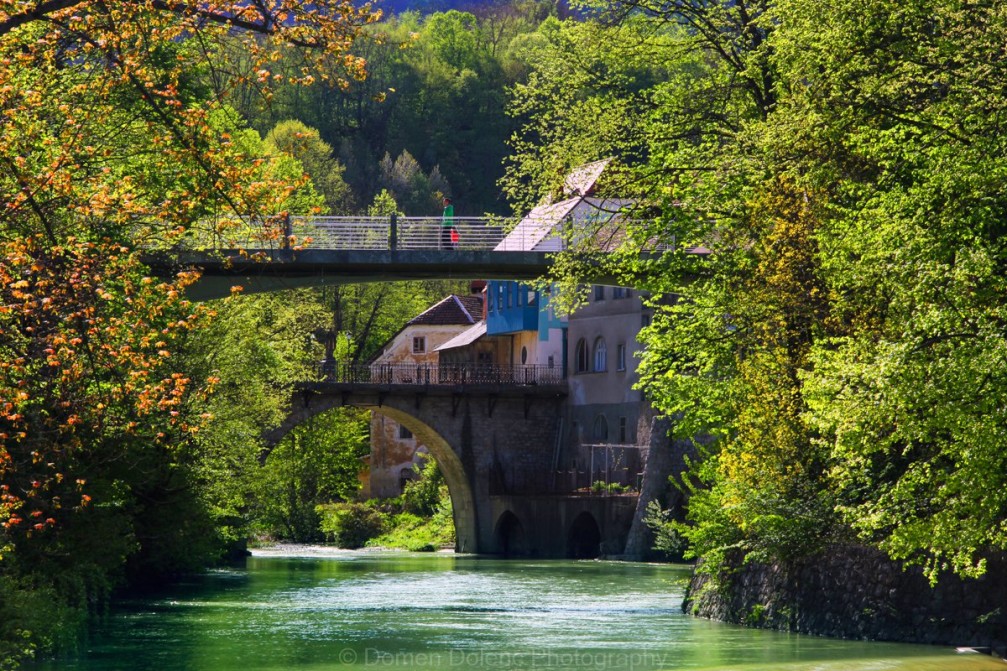 The Capuchin Bridge a.k.a. Stone Bridge across the Selska Sora in Skofja Loka originally dates from the 14th century and is an excellent vantage point for Skofja Loka's wonderful medieval center.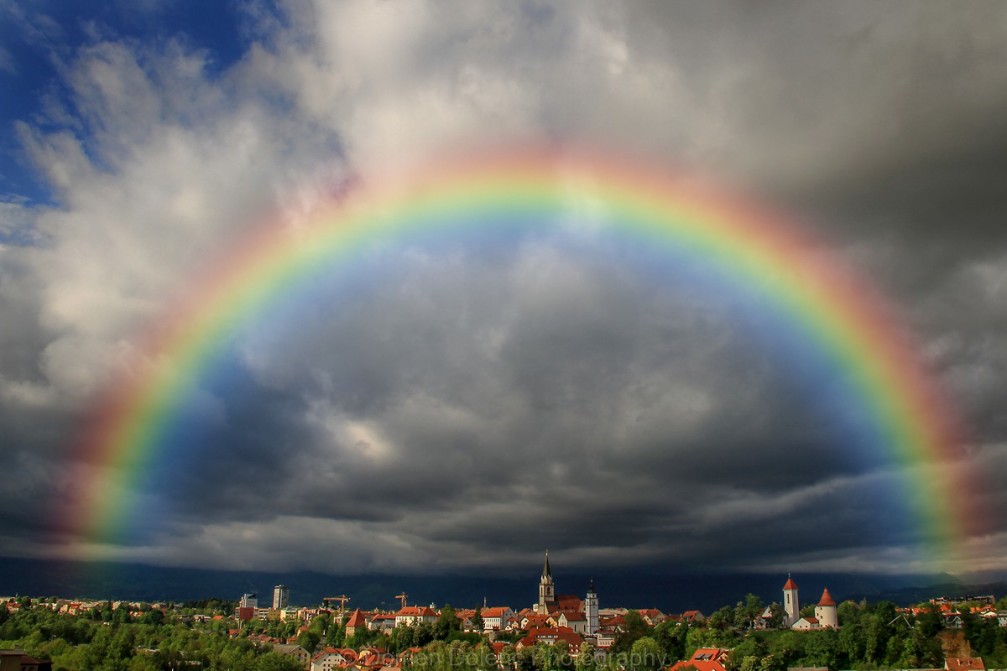 Kranj (historically also named Carnium, Creina, Chreina, or Krainburg) is the capital of the Upper Carniola region of Slovenia, and is also Slovenia's 4th largest city. It has a very unique skyline with its three distinct church towers.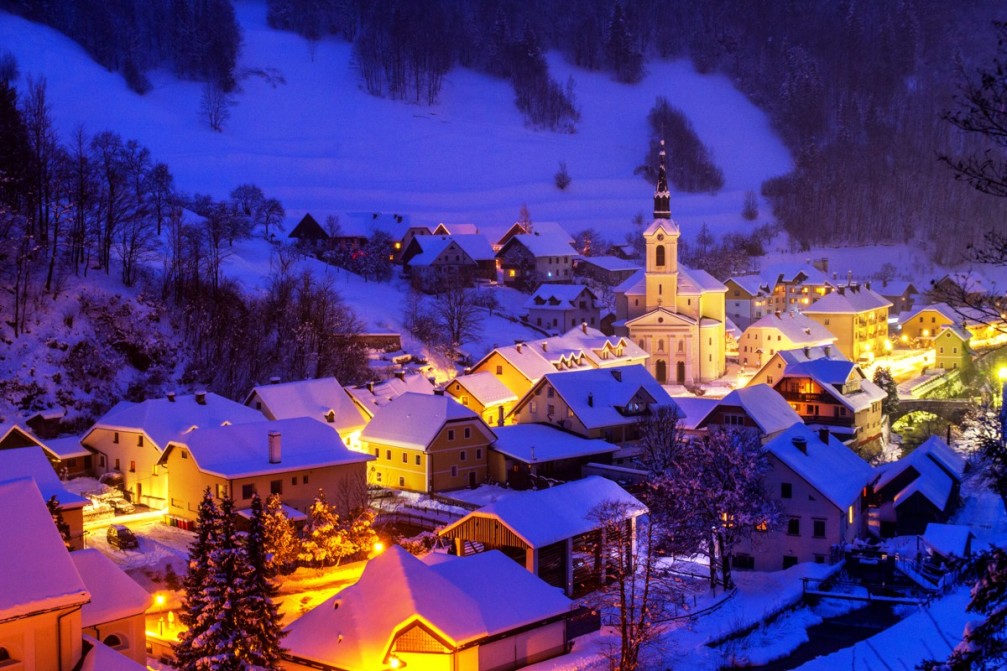 In winter with plenty of snow, the tiny town of Zelezniki looks so incredibly beautiful it's surreal.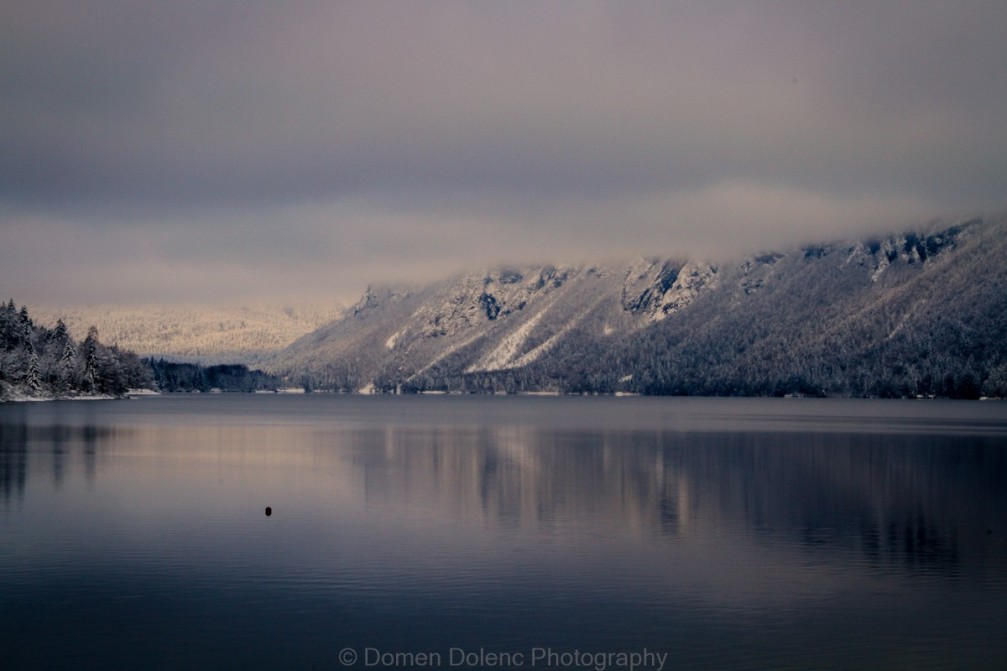 Surrounded by mountains of the Julian Alps, Lake Bohinj is nature at its best no matter of the season, summer or winter!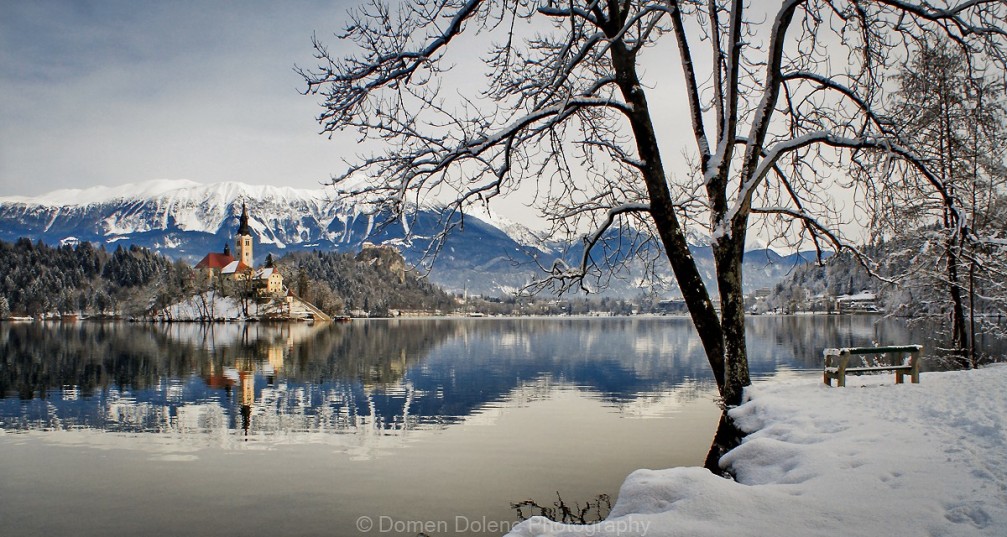 Lake Bled looks stunning in the snowy setting. It's a little hard to believe, but it looks even better in reality than in all the winter photos.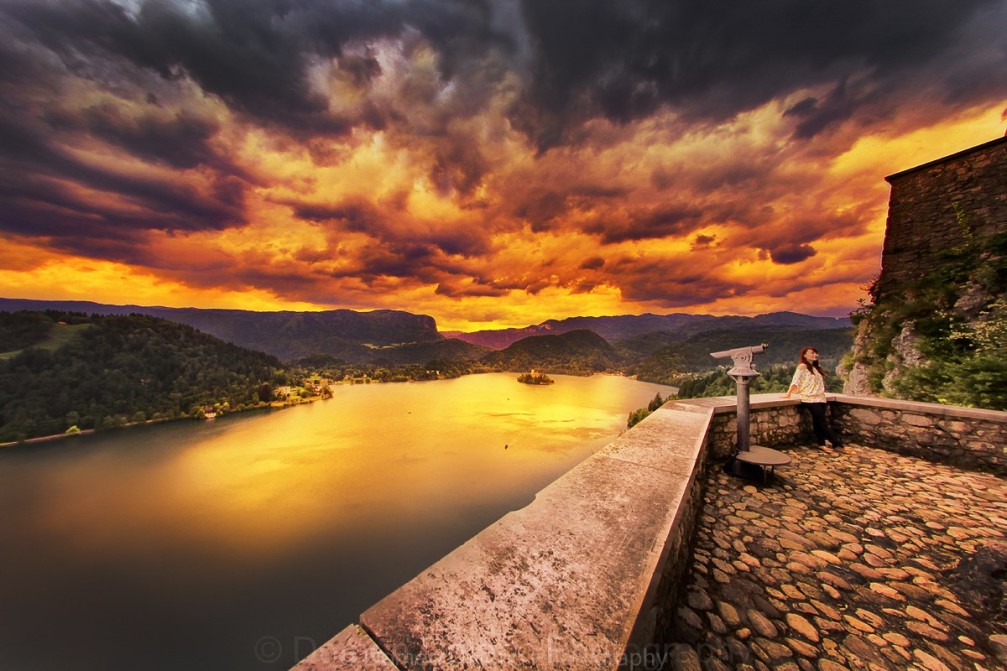 Doesn't Lake Bled look like it's out of a story book? No words can do this beautiful place justice. Some say that it may be the most beautiful spot in Europe and from looking at photos it's not hard to see why that is the general sentiment.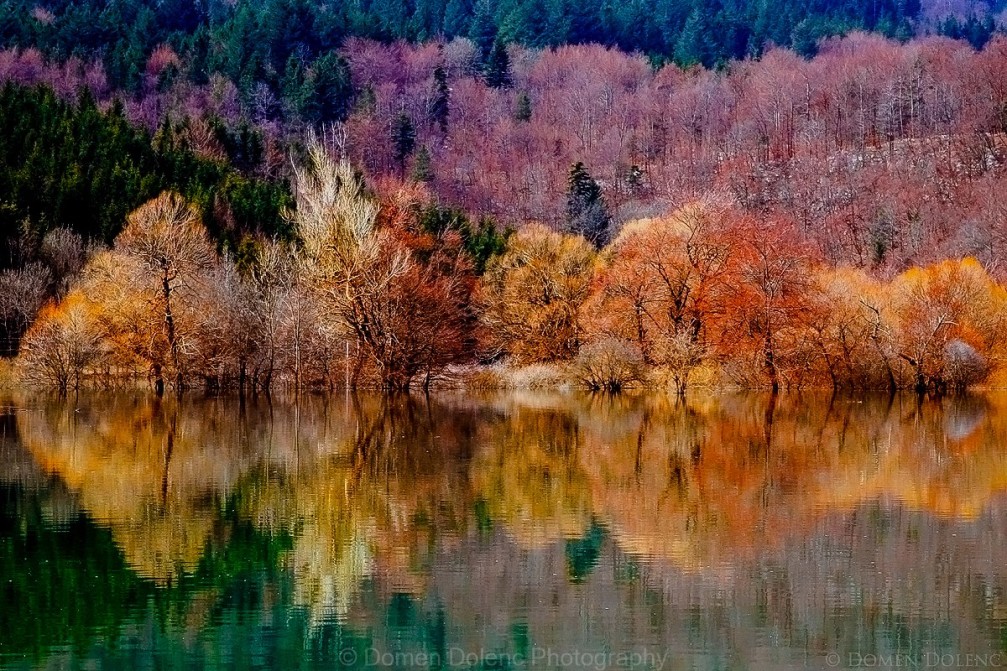 Fall color comes to Slovenia foliage starting toward the end of September and peaks through October, though exactly when the leaves change color varies somewhat from year to year. If the weather remains mild and slowly cools down as autumn transitions into winter, the fall color show will last for many weeks. If Slovenia gets a sudden cold snap or an early snow, fall leaves can leave the trees literally over night.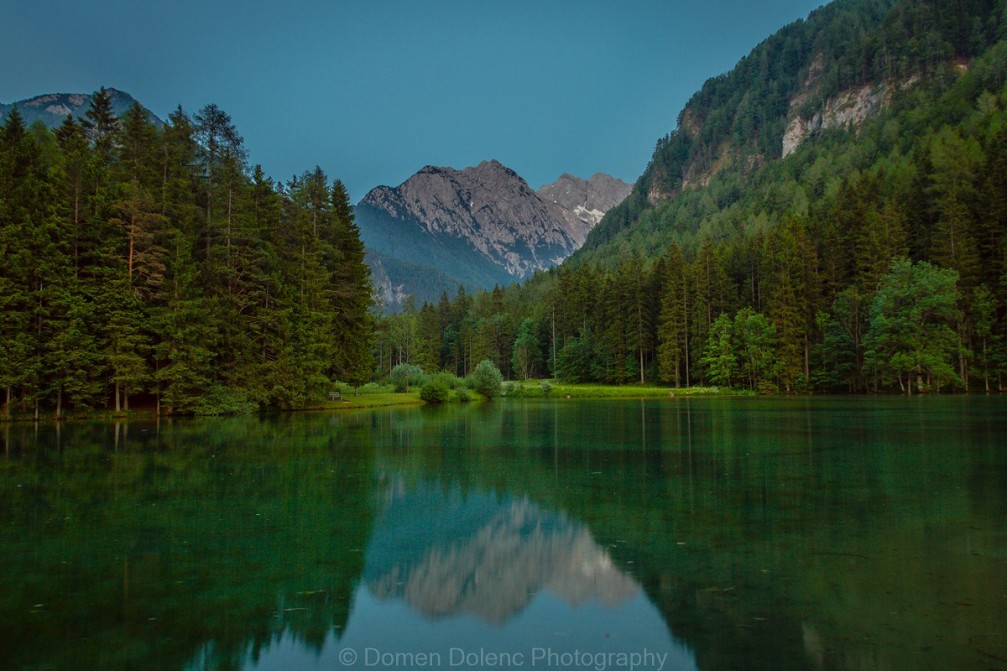 The gorgeous small heart-shaped Plansarsko Jezero lake in Jezersko was made by locals after a much larger glacial lake that existed in the same place drained away. The lake a very popular spot for picnicking, walking dogs, jogging and boating.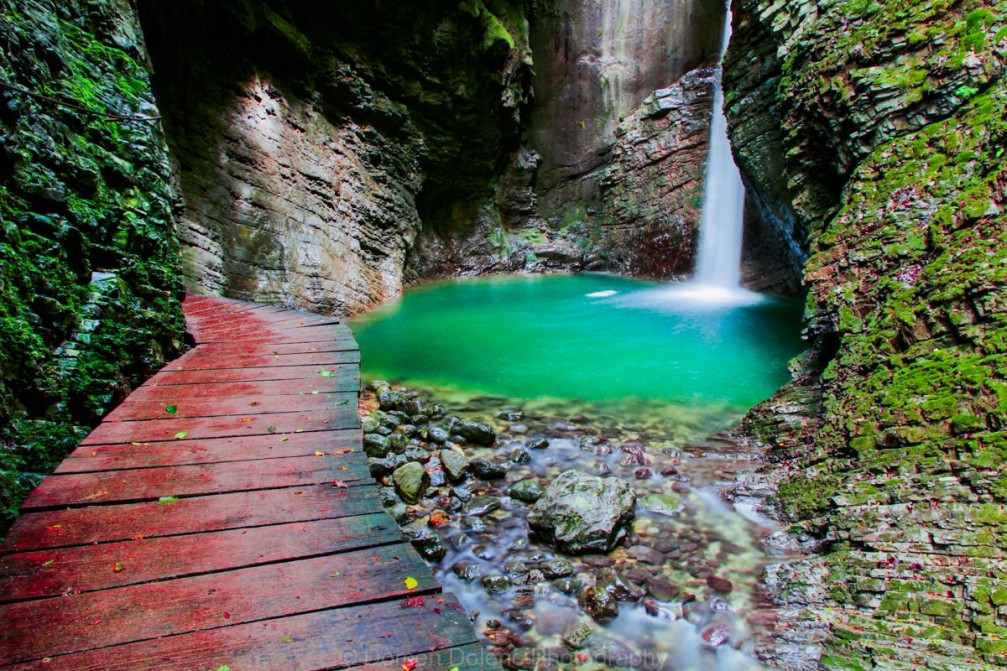 A half-hour hike from the town of Kobarid through a lovely forest near the famous Soca river will bring you to one of the most beautiful waterfalls in Slovenia – the 15 metres high Kozjak Waterfall, which gushes over a rocky ledge in a cavern-like amphitheatre, into an emerald green pool below. The hike is not too rigorous and is well worth if you are in the area.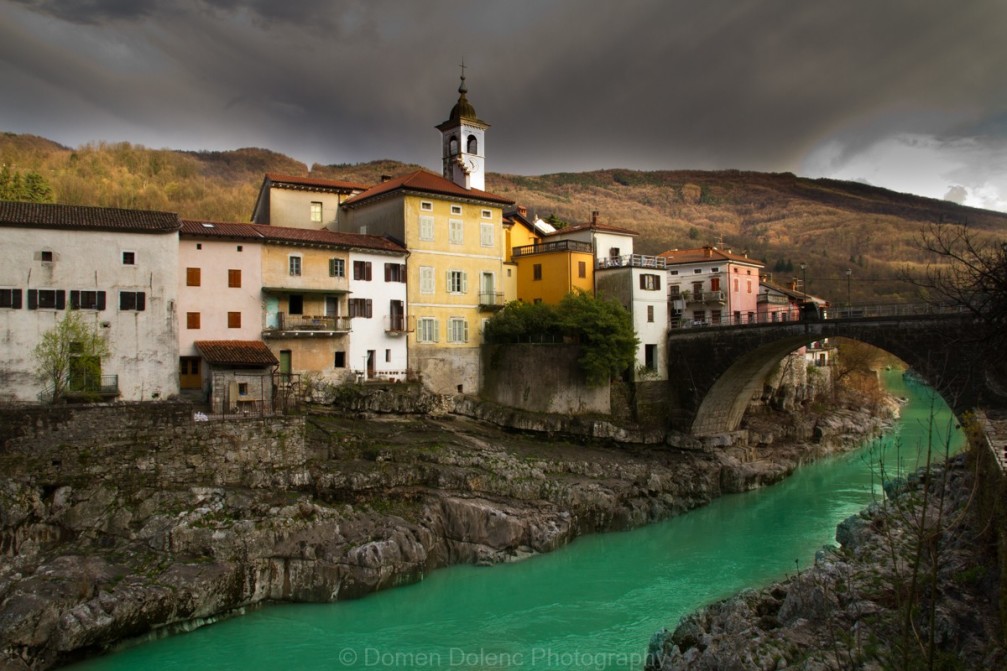 Kanal Ob Soci is a lovely little town nestled in the beautiful Soca valley. The oldest part of the town lies on the left bank of the Soca river. There is a secret path to take from the town centre down to the riverside and a small beach where you can really admire the river and bridge.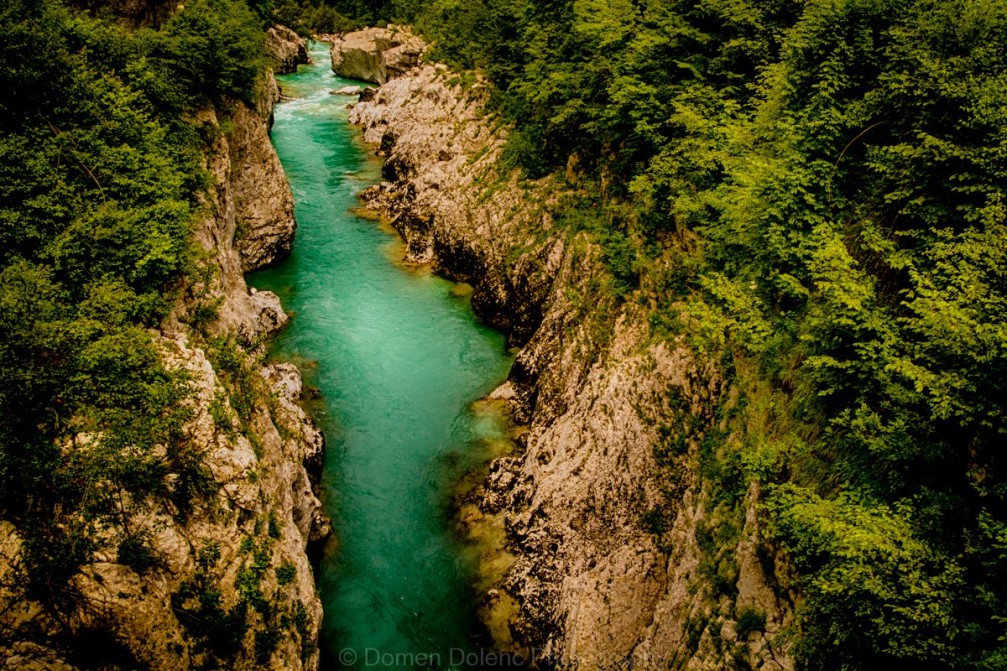 And this is how beautiful the Soca river looks from the Napoleon Bridge near the town of Kobarid. The bridge is attractive itself but the dramatic setting over the gorge with the emerald Soca river below make it even more stunning.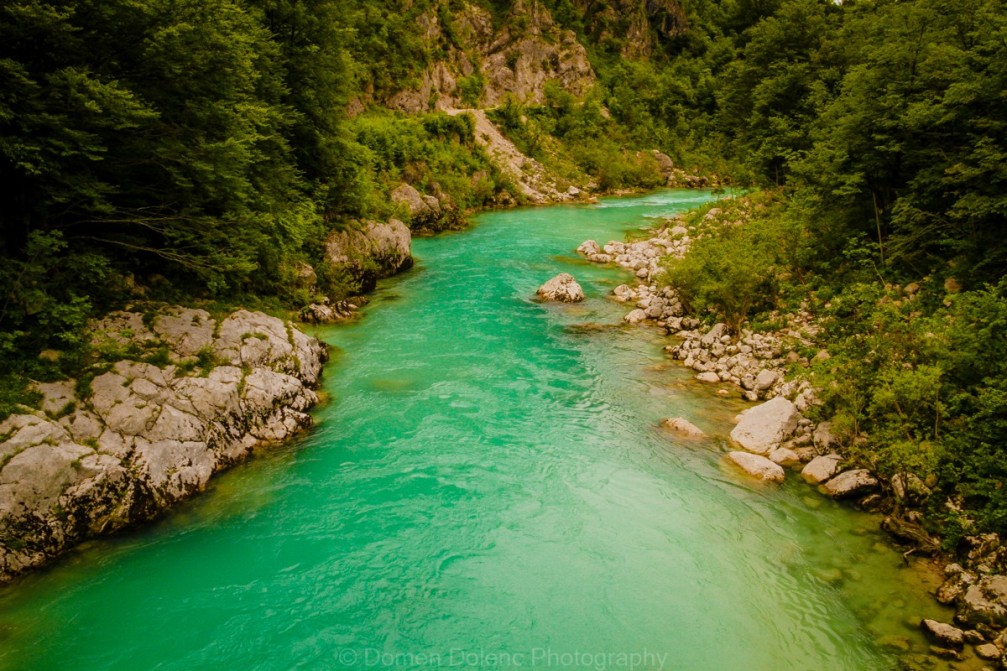 The untamed Soca River is one of the few unspoiled rivers in the entire European Alps. It flows from the Julian Alps to the Adriatic Sea. Apart from its setting, what makes Soca so breathtaking and memorable is its vivid emerald green color and crystal clear water.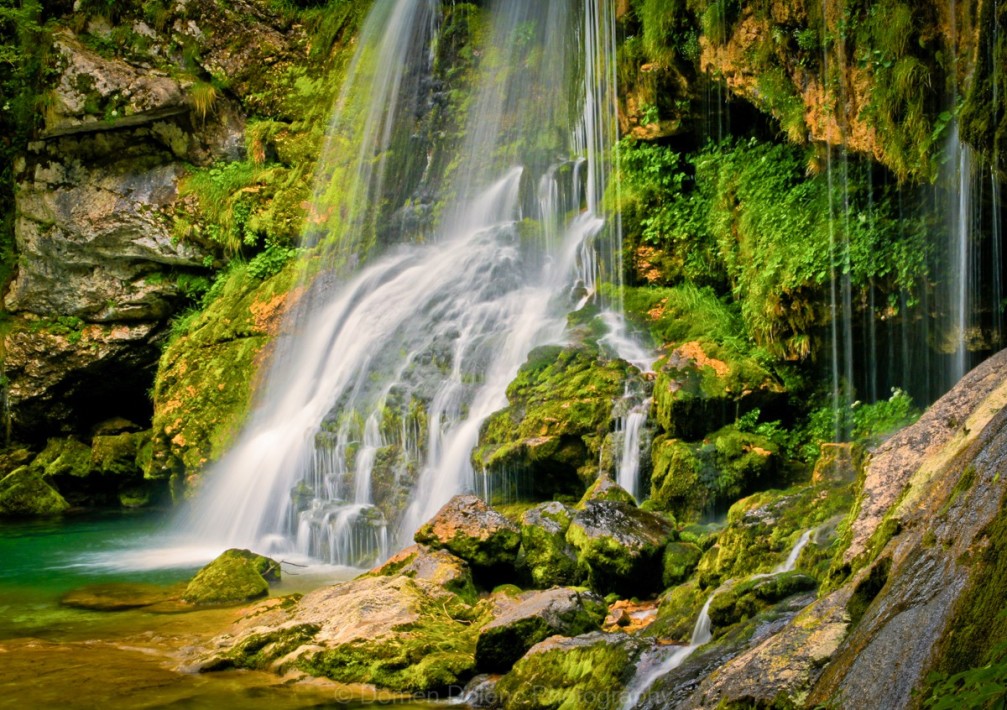 The beautiful Virje waterfall is a very popular spot for photographers, romantic couples in love and people looking for relaxation. It is a multi-stranded waterfall 12 meters in height and 20 meters in width located near the small village of Pluzna not far from the town of Bovec. Below the waterfall, there is a beautiful pool in stunning shades of green.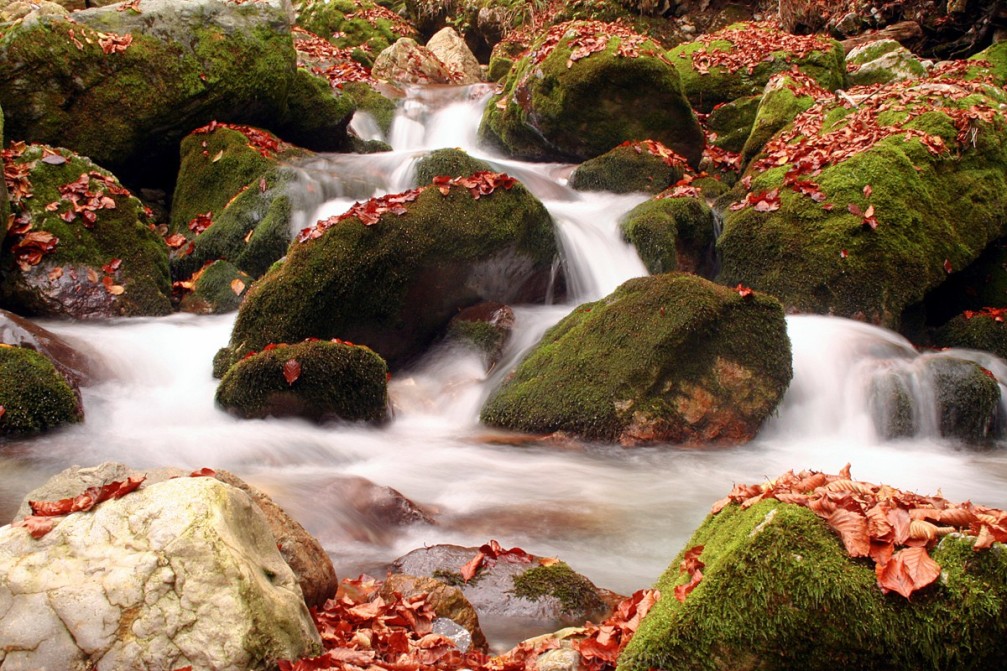 Fall color and waterfalls along the roaring Kropa stream above the Voje valley in the Bohinj area.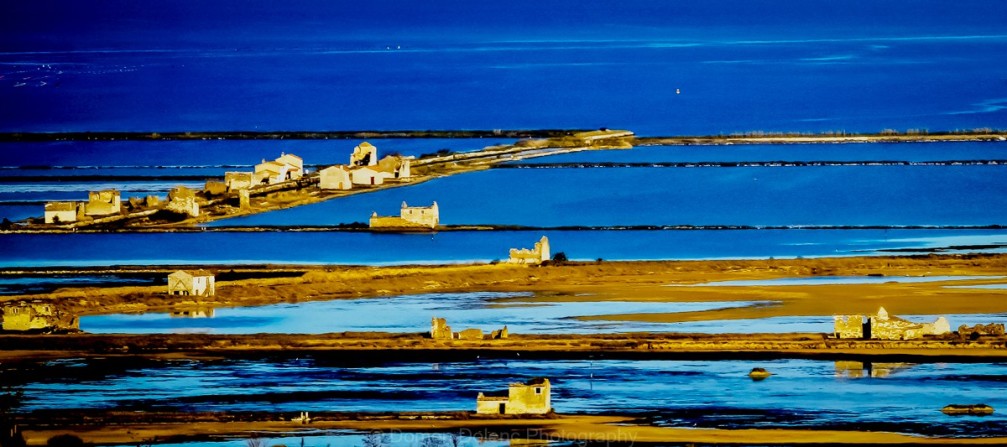 In the Secovlje Salt Pans the present and the past are still going hand in hand with the traditional methods of hand harvesting of salt dating back as far as 700 years ago. Once, the salt pans were stretching all along the coast of the Slovenian Istria, however the only two preserved until today are those in Secovlje and Strunjan. The Secovlje Salt Pans were proclaimed to be a landscape park in 1989.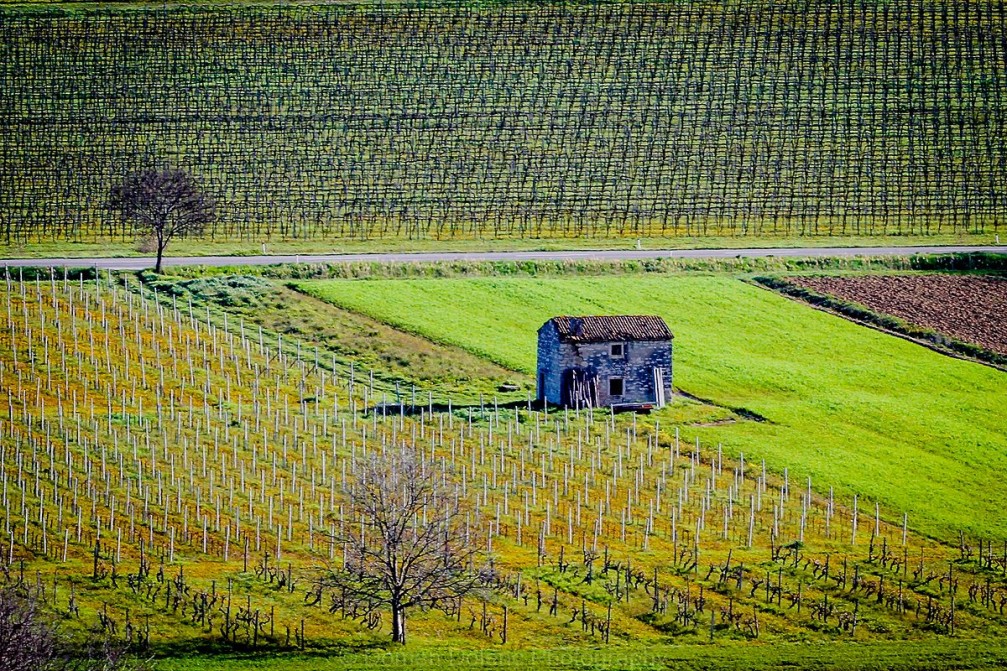 The fertile soil and climate of Slovenian Istria are perfect for wine producing and because of it, many varieties of grapes – both red and white – grow in the region.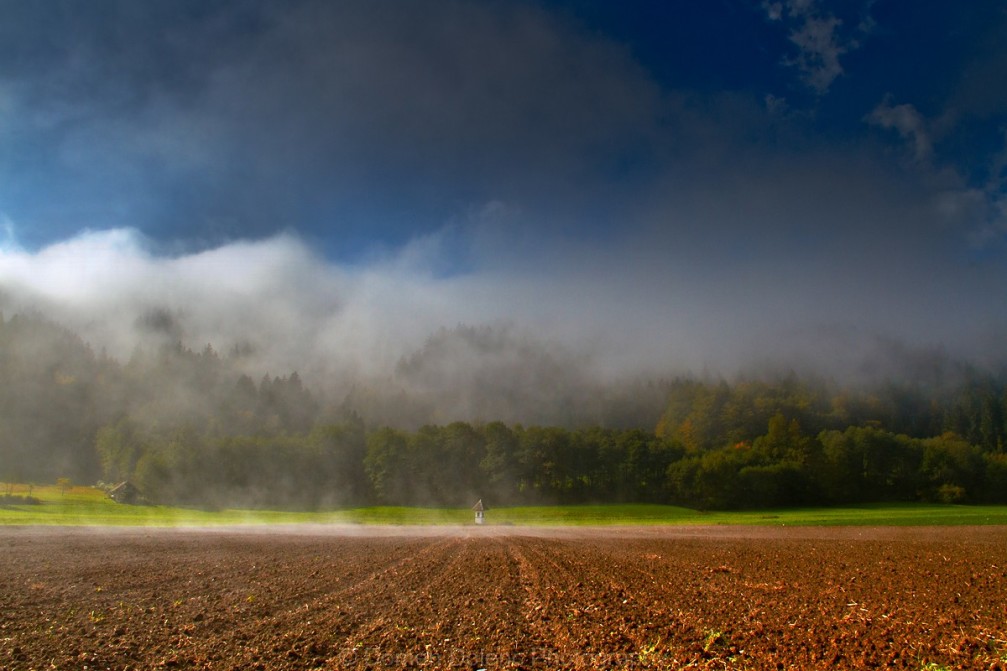 Every spring, hard-working farmers make sure that the fertile fields in the Slovenian countryside are tilled and and planted.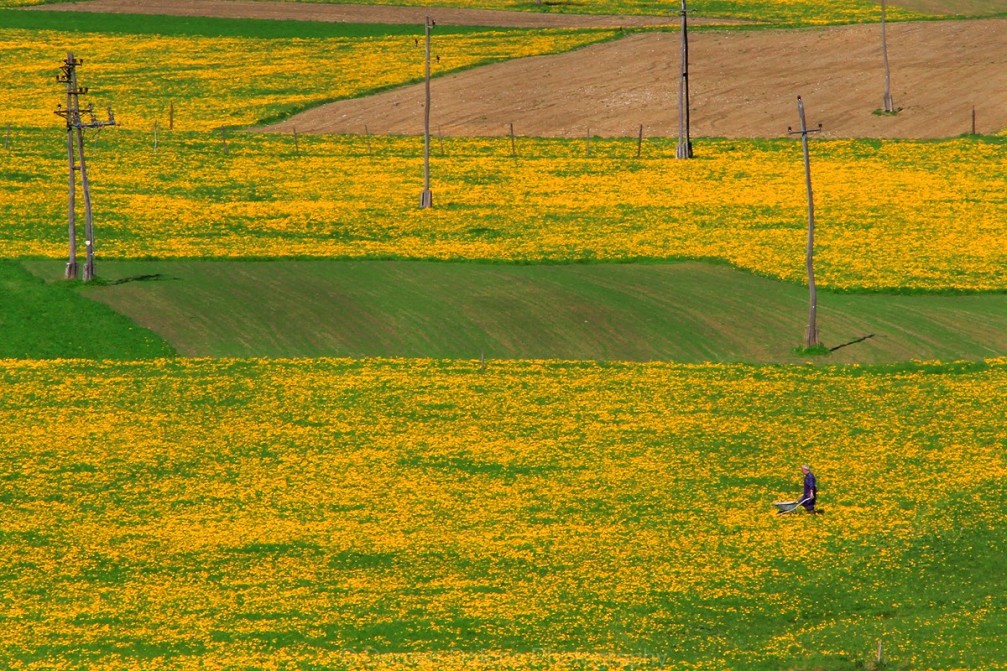 Spring in the Selca valley brings with it countless cheerful dandelions colouring the fields yellow. The bright yellow against the fresh green of the new grass looks so beautiful.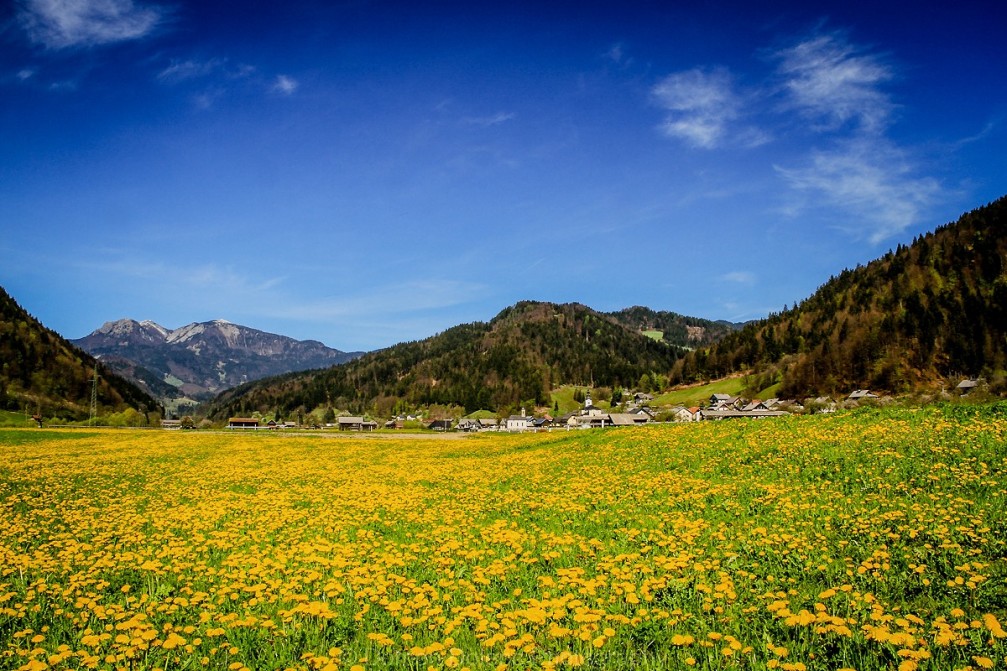 Although dandelion flowers can be found over several months it is only two weeks in late April or early May that the verges and fields are covered with hundreds of them.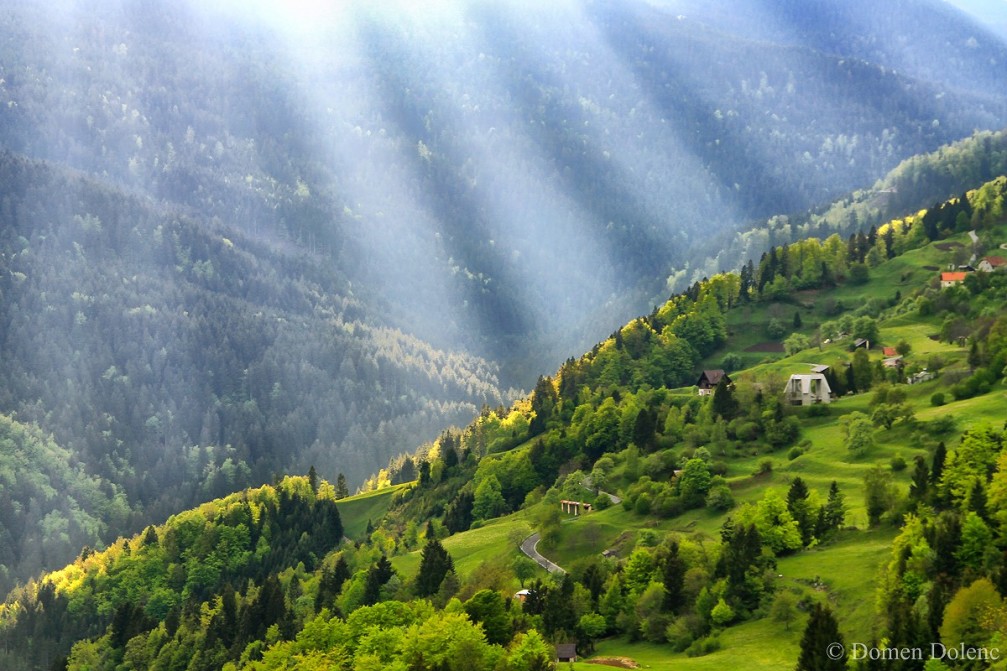 Spring is such a magic time of year in Slovenia. The trees begin to bud, blossoms appear on trees, then the blossoms give way to the fresh green color of new leaves. It's really amazing to watch the trees and see how quickly they change from day to day!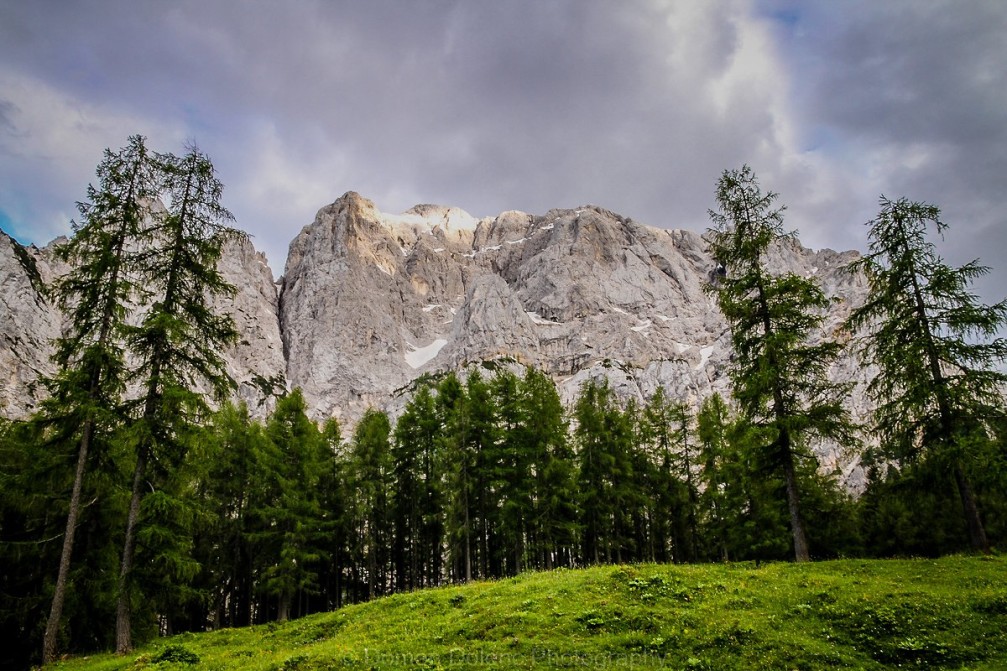 The Julian Alps are magnificent mountains situated in the north-western part of Slovenia and have a surface area of around 4400 square kilometres most of which is the Triglav Nation Park. The Julians are not as tall as the Swiss Alps or the Dolomites, but the scenery and topography is pretty similar and they are still off the beaten track for many.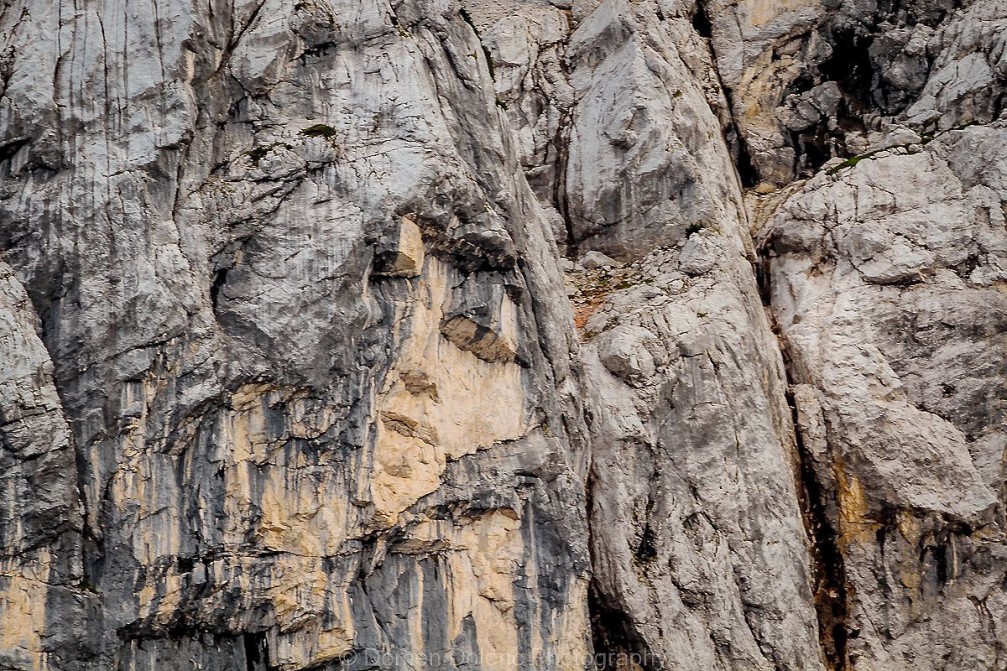 A cursed village girl's face graces the Prisojnik mountain in the mountain pass Vrsic, which is the highest road passing in Slovenia. Can you see it? The legend goes something like this: a friendly and kind hearted young girl used to lead travellers through winter storms, safely on the other side of the mountains to the Trenta valley. The twist is that this girl was also a Pagan deity who foretold the fortunes of newborns. A boy from the Trenta valley was prophesised as a hunter who would later go on to kill a sacred chamois known as the Goldhorn. The girl was damned and cursed, upon her return to Prisank mountain having been turned to stone. Her terrified face is best seen from the Postarska Koca mountain hut on the Vrsic pass.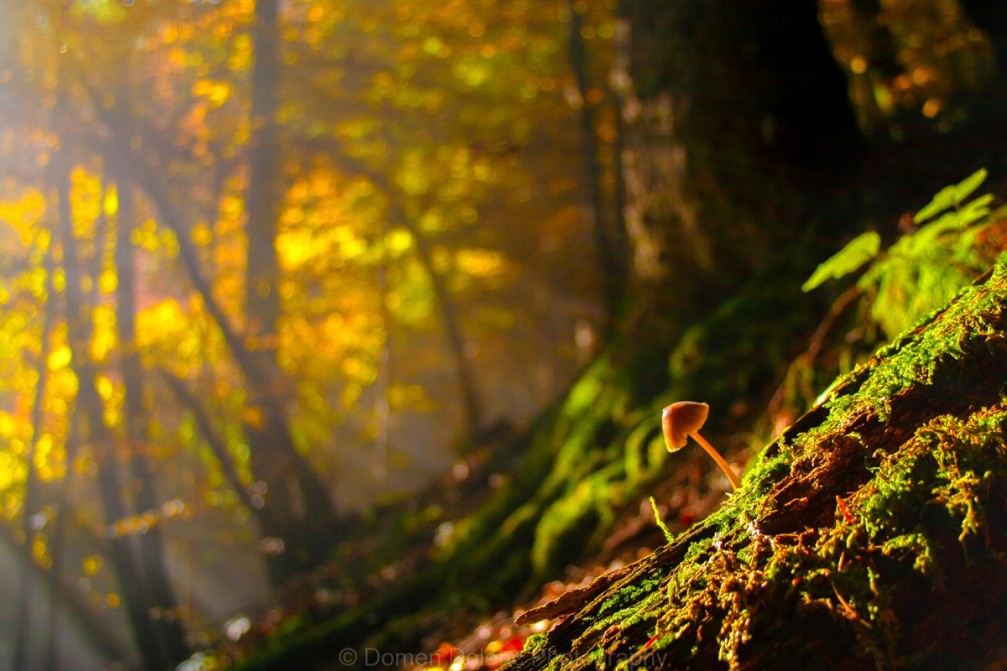 In Slovenia, mushroom picking is a family activity, which is usually part of some hiking and adventures in the woods. But picking the non-poisonous mushrooms is not something that can be learned from a book. In Slovenia children learn early what are good and bad mushrooms and this knowledge is passed down from generation to generation.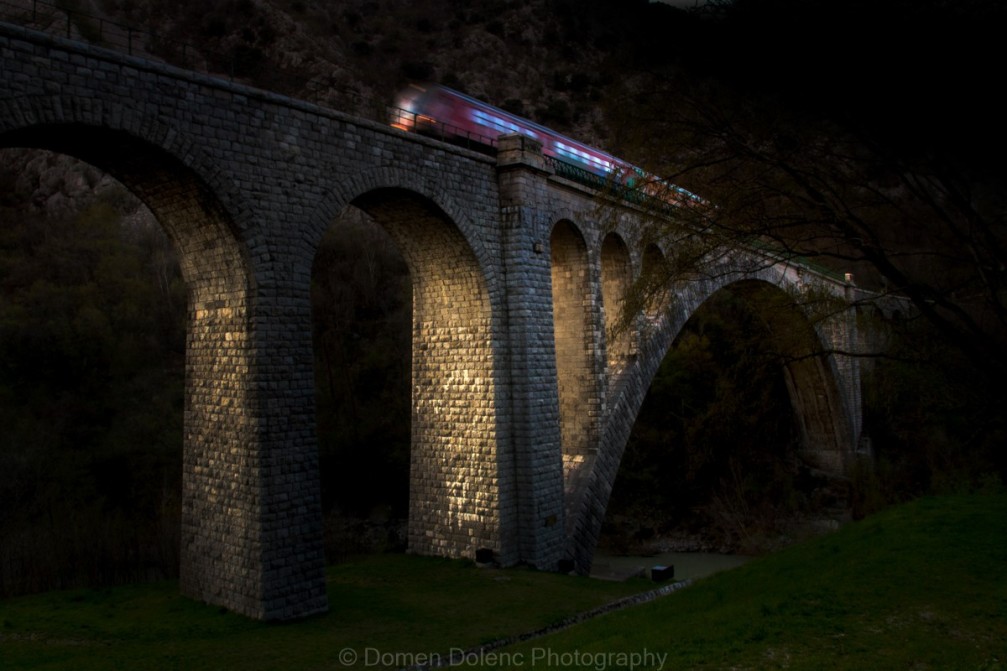 Solkan Bridge is a 220-metre long stone bridge over the Soca river near the town of Nova Gorica in the western part of Slovenia. With an arch span of 85 metres it is the second longest stone arch in the world and the longest stone arch among train bridges. The bridge was built in the time of the Secession, between 1900 and 1906.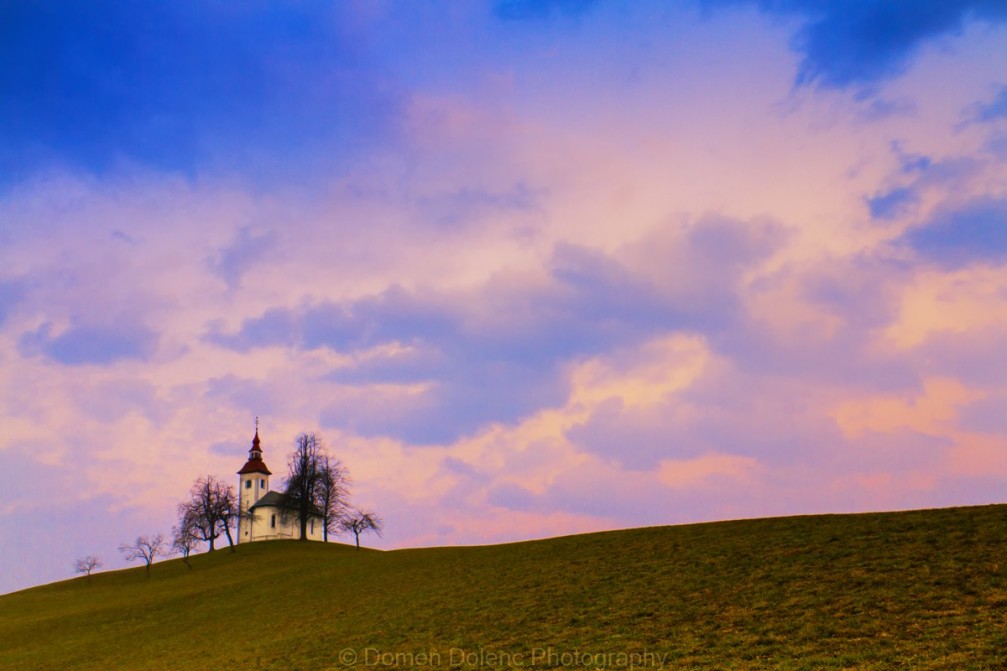 There are many hundreds of churches in Slovenia and many of them are listed as monuments of cultural heritage. There are very few small villages without a church, and there are also several remote hilltop churches. The Church of St. Thomas above the Praprotno village is just one of them.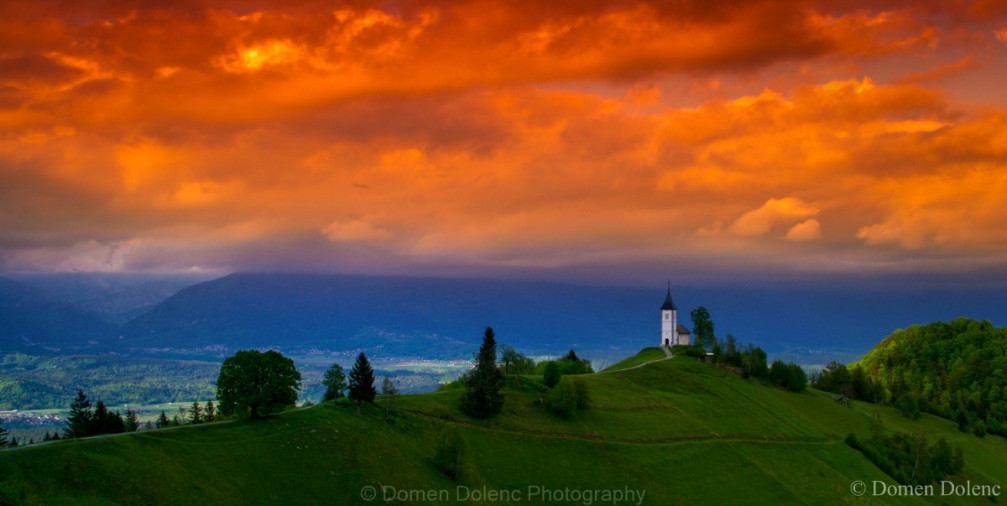 Jamnik church of Saints Primus and Felician is a wonderfully photogenic landscape location only a short drive from Slovenia's capital Ljubljana. This image was captured at sunset.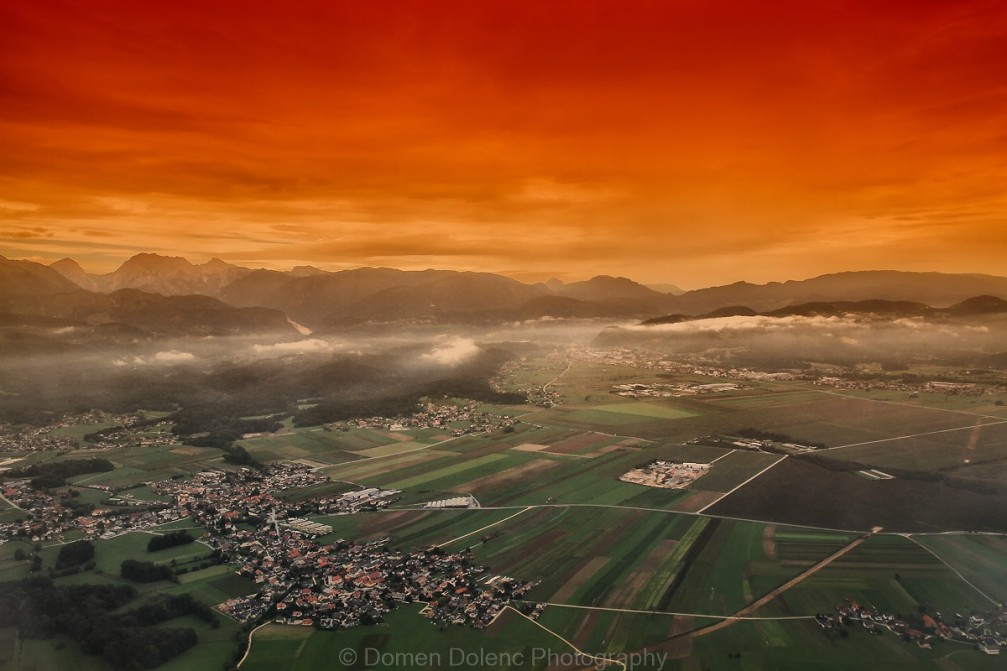 We Slovenians refer to our country as The Green Treasure of Europe, because it is small, extraordinary beautiful and lush and green! And we don't say that for nothing. According to the 2016 Environmental Performance Index compiled by researchers from the US-based Yale University and Columbia University, Slovenia is the 5th most environmentally friendly country on Earth.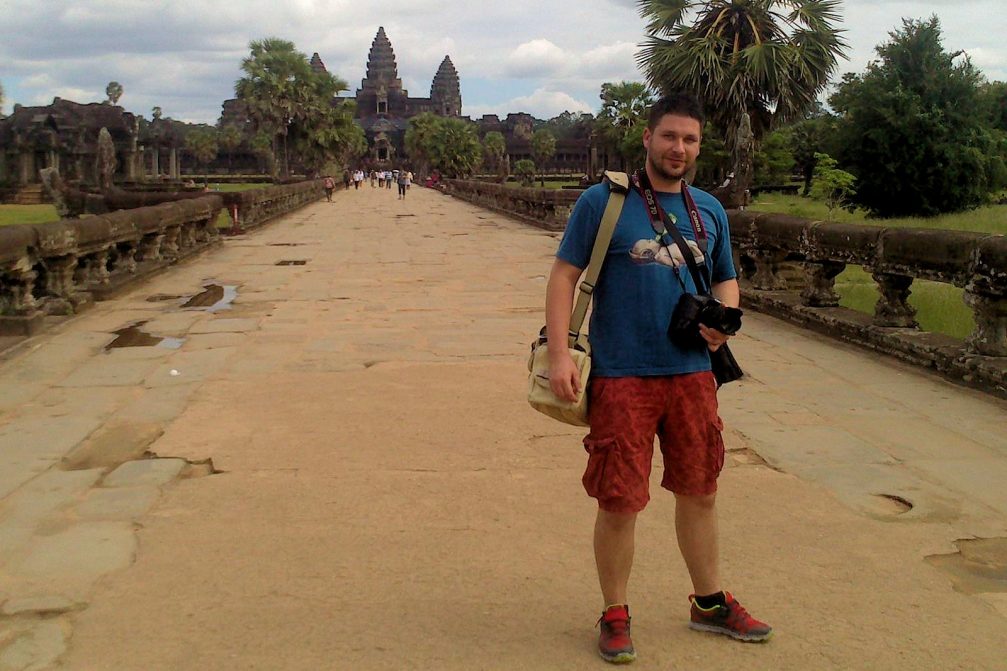 Thank you so much Domen Dolenc for sharing all these incredible Slovenia photos with us. You do a fantastic job! Your photos are outstanding and beautifully convey the amazingness of Slovenia!

Discover beautiful Slovenia through amazing photos
SLOVENIA, AS SEEN FROM THE AIR (50 photos)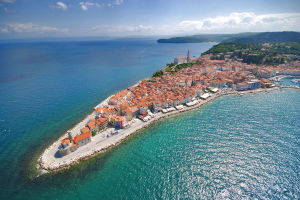 Aerial photography provides you with a breathtaking bird's eye view – one you won't get anywhere else. So, here are 50 spectacular aerial photos that prove why Slovenia might just be the most beautiful country on Earth.
SLOVENIA IN THE WINTER TIME (50 photos)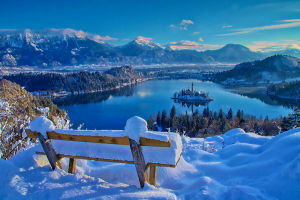 Slovenia in the winter time is almost more magical than in summer. Check out this beautiful gallery with 50 stunning winter photos of Slovenia that prove you absolutely have to visit this small but extremely picturesque country in the winter time.
SLOVENIA AT NIGHT (30 photos)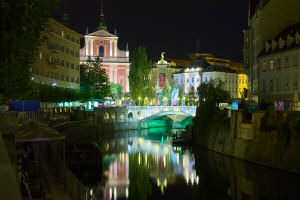 Night has its own magic. Night can transform an ordinary scene into something magical, mysterious and captivating. Light, shadow, texture, tonality, pattern all work together to create a very different feeling compared to photos captured during the day. Everything is just more magical at night, so here are 30 night pictures of Slovenian cities, towns, villages and other places at night. Enjoy!
LANDSCAPE AND NATURE PHOTOS FROM ALL OVER SLOVENIA BY LUKA ESENKO (40 photos)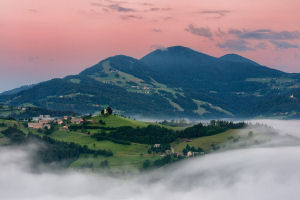 Luka Esenko is considered by many to be Slovenia's new leading landscape and travel photographer. He has been photographing landscapes for almost a decade now, and through photography he has been blessed to capture some of the most gorgeous locations in Slovenia. Strong compositions and a feel for natural light are what make Luka's images stand out.
AERIAL DRONE PHOTOS FROM AROUND SLOVENIA BY JURE KORBER AND TJASA BORSNAK (35 photos)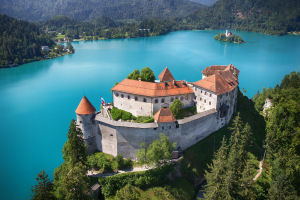 With the technological advancements in cameras and drones, we can now get a glimpse of the world from a different perspective. And from high up above, especially with a bird's eye view, the world is a stunningly beautiful place. Jure Korber and Tjasa Borsnak, a young student couple based in Slovenia's capital Ljubljana, took their aerial photography platform called Hexabee into the sky and captured Slovenia from angles not seen before.
LANDSCAPE PHOTOS FROM SLOVENIA BY DEJAN HUDOLETNJAK (50 photos)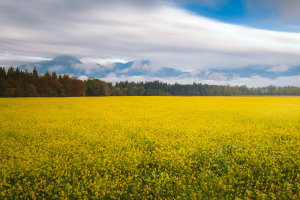 Dejan Hudoletnjak is a super-talented and passionate photographer best known for his beautiful landscape photos of Slovenia and wonderful use of light and color. He has an unerring eye for composition and detail, and a great sensitivity to mood, expressed in his photographs through the awareness and use of light. His goal as a photographer is to create an image that not only captures a moment in time, but also tells a story and evokes an emotional response. An image that shares the mood and feelings he felt when being there.
LANDSCAPE AND NATURE PHOTOS FROM ALL OVER SLOVENIA BY DANIEL TOMANOVIC (50 photos)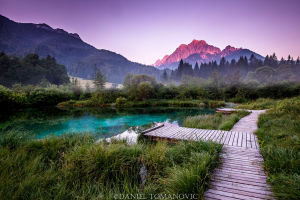 Daniel Tomanovic is a young and very talented landscape photographer who has been creating images that portray the natural beauty of Slovenia and its landscapes for over 8 years. He believes that finding good light is the most important thing to create great landscape images. Everyone can capture outstanding landscape scenery, but hunting the special light is the true challenge for a landscape photographer. And judging from his works, he is very successful in capturing beautiful locations in the best light.
LANDSCAPE AND NATURE PHOTOS FROM ALL OVER SLOVENIA BY ERICH REISINGER (50 photos)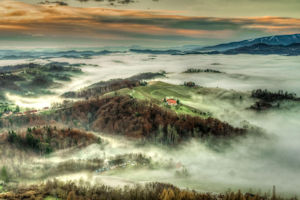 Erich Reisinger is a 55-year-old German landscape, nature, and urban photographer based in the Bavarian town of Ingolstadt. He has been fascinated with photography since he was a 6-year-old child. He has a special connection with Slovenia. He met his wife in Maribor and Slovenia soon became his second home country. He visits Slovenia several times a year and never forgets to mention how he loves Slovenia and how he will never tire of photographing its immense beauty and infinite variety.
LANDSCAPE AND NATURE PHOTOS FROM ACROSS SLOVENIA BY PIOTR SKRZYPIEC (40 photos)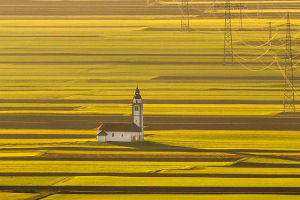 Piotr Skrzypiec is one of the leading landscape photographers in Slovenia. Born in Nowy Sacz, Poland in 1978, Piotr spent most of his childhood in the south of Poland. After completing his master's degree in geography Piotr moved to Slovenia, where he picked up his first camera in 2008. Through photography, Piotr found a way of communicating about his nature and landscape passion and he quickly established himself as a successful landscape and nature photographer.
LANDSCAPE PHOTOS FROM AROUND SLOVENIA BY DOMEN DOLENC (35 photos)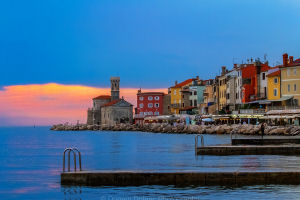 Domen Dolenc is a young but well-established travel photographer currently based in Zelezniki, Slovenia. Since Domen purchased his first camera in 2005, he has been addicted to photography. He never travels without his camera and loves to capture the beauty he finds throughout the world in his own way - his photographic style is defined by powerful colours, street photography scenes, landscapes, but also moments of everyday life, faces and a very close approach on people.
LANDSCAPE PHOTOS FROM ALL AROUND SLOVENIA BY GREGOR KACIN (40 photos)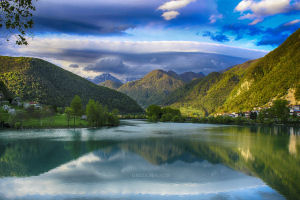 Gregor Kacin is a 39-year-old landscape and nature photographer based in the charming little town of Idrija in western Slovenia. He is very fortunate to live in such a beautiful part of the country and he can often be found roaming the countryside, looking for that special moment when the true beauty of nature revels itself.
LANDSCAPE PHOTOS OF SLOVENIA BY ALES KRIVEC (30 photos)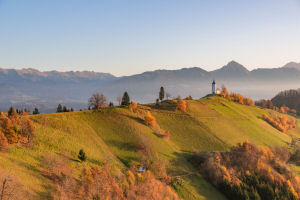 Ales Krivec has a passion for taking photographs and his work features the finest landscapes in Slovenia. He is very much a landscape artist and his work reflects a great understanding and deep love of the countryside and nature. An extensive technical knowledge and a seeing eye enable his photos to convey the beauty of the landscape that surrounds us all.
LANDSCAPE AND NATURE PHOTOS FROM ALL OVER SLOVENIA BY BOJAN KOLMAN (50 photos)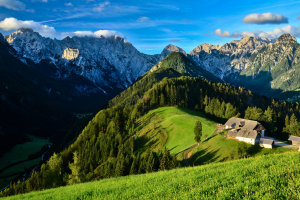 Bojan Kolman is a passionate 63-year-old landscape and nature photographer based in Begunje Na Gorenjskem, a small idyllic village at the foothills of the Karavanke mountain range. Bojan is completely self-taught and learned about photography on the Internet, but he shoots beautiful photographs, possessing an incredible eye for composition. There are so many beautiful things that surround us every day and Bojan strives to reflect that beauty through photography.
LANDSCAPE AND NATURE PHOTOS FROM SLOVENIA BY BRANKO CESNIK (45 photos)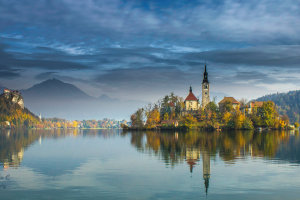 Branko Cesnik is a passionate landscape and nature photographer from Pivka, a small town in the Karst region of southwestern Slovenia. He is 52 years old and has been interested in photography since his school years. Branko tends to shoot in the morning and at the end of the day when the light just either side of sunrise and sunset can transform an already interesting scene into something even more engaging. He firmly believes a good photograph tells a story and creates a feeling within the viewer.
LANDSCAPE, CITYSCAPE AND NATURE PICTURES FROM AROUND SLOVENIA BY JURE KRALJ (45 photos)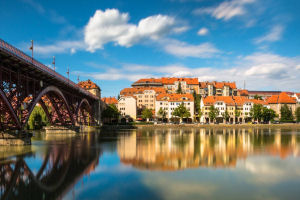 Jure Kralj is an incredibly talented photographer based in Slovenia's second largest city Maribor, who combines his love for travelling around the world with his love for landscape and cityscape photography. He is an enthusiastic observer of the surrounding world. When possible, he is looking for the best light, for the right angle at the right moment to capture a compelling image.
LANDSCAPE PHOTOS FROM ALL OVER SLOVENIA BY DENIS SODRZNIK (30 photos)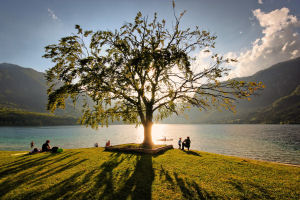 Denis Sodrznik is a passionate landscape and nature photographer born and raised in the beautiful town of Slovenske Konjice in the Styria region of Slovenia. He strives to capture photographs that convey the beauty of the Slovenian landscapes he explores in his spare time with his fiancée Karmen. His intention is to show the viewer details that we often overlook.
LANDSCAPE AND CITYSCAPE PHOTOS FROM AROUND SLOVENIA BY JAKOB NOC (30 photos)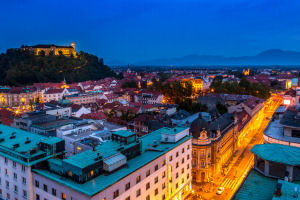 Jakob Noc is an inspiring landscape and cityscape photographer whose talents allow him to capture the most amazing images in a style that is truly his own. Through careful composition, attention to detail and the creative use of beautiful light, Jakob strives to show us cities and landscapes in ways that we may not have seen them before.
LANDSCAPE PHOTOS FROM AROUND SLOVENIA BY MASA VODENIK (35 photos)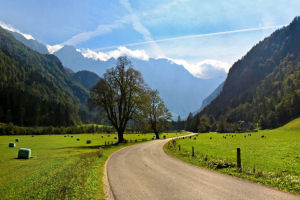 Masa Vodenik is a self-taught photographer who lives in a small town of Hrastnik in central Slovenia. She's an economist during weektime, but on weekends she becomes an ambitious landscape photographer who doesn't want to miss a single second she could have used to take a great photograph. Her passion for photography increased steadily since she started doing photography in 2010. Since then she successfully combines her love for travel and hiking with her enthusiasm for photography.
LANDSCAPE AND NATURE PHOTOS FROM ALL AROUND SLOVENIA BY MIROSLAV ASANIN (50 photos)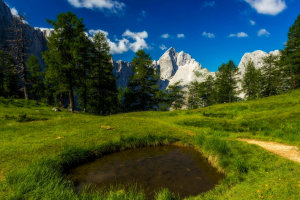 Miroslav Asanin is a keen amateur photographer from Sencur, a small town in northwestern Slovenia. His main photographic interests are landscapes and nature though he does photograph wildlife and architecture when he finds them. He especially loves to photograph the amazing landscapes and nature of the Slovenian Alpine area. However he also loves to take day trips to other parts of the country and scout new locations in search of compelling scenes or subjects to photograph.
LANDSCAPE PHOTOS FROM AROUND SLOVENIA BY BLAZ GVAJC (25 photos)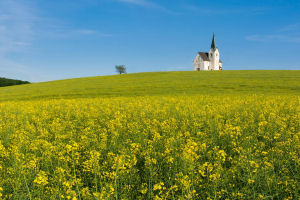 Blaz Gvajc is a landscape and cityscape photographer from Slovenia's third largest city Celje whose passion is to explore and capture the most inspiring and beautiful places in the world. Although being an avid traveler, Blaz also adores his home country Slovenia and loves making spontaneous trips around it when there is promising light, and he will never tire of photographing it.
LANDSCAPE PHOTOS FROM ALL OVER SLOVENIA BY BOSTJAN KERSBAUMER (40 photos)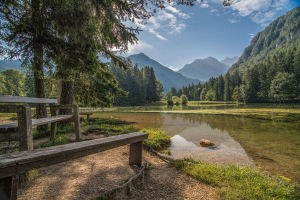 Bostjan Kersbaumer is a passionate self-taught photographer from Slovenia's second largest city Maribor. He is a car mechanic working at Porsche Maribor during weektime, but on weekends he becomes an ambitious landscape, nature and cityscape photographer with an aim to create memorable images from locations across Slovenia and other parts of the world.
LANDSCAPE PHOTOS TAKEN IN A VARIETY OF LOCATIONS IN SLOVENIA BY SABINA TOMAZIC (40 photos)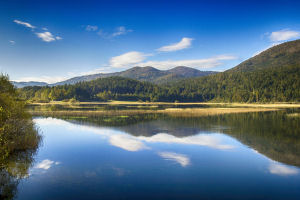 Sabina Tomazic is a young but already established professional on-location lifestyle photographer based in Trebnje, Slovenia. Although known primarily as a lifestyle photographer, Sabina also loves to create images that portray the natural beauty of Slovenia and its landscapes. Her landscape photos are realistic with minimal post processing.
LANDSCAPE AND NATURE PHOTOS FROM AROUND SLOVENIA BY JERNEJ LEBEN (40 photos)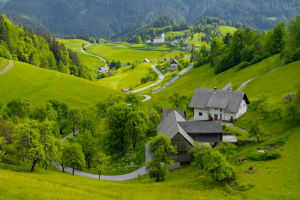 Jernej Leben is one of the most talented amateur photographers in Slovenia whose unrelenting passion for his hobby inspires him to capture the beautiful landscapes and nature of Slovenia with absolute perfection.
LANDSCAPE AND NATURE PICTURES FROM ACROSS SLOVENIA BY KLARA KULOVEC (35 photos)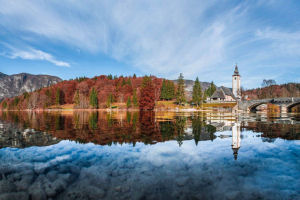 Klara Kulovec is one in a line of talented new Slovenian female landscape photographers who has found her passion with a camera in her hands. She has a heart of an artist and loves nothing more than time with her camera and a scene in front of her to capture the perfect copy of what she saw in her minds' eye. The forms, color and light that shape the landscape are a constant source of her inspiration.
WILDLIFE AND BIRD PICTURES FROM SLOVENIA BY MATEJ KOVACIC (30 photos)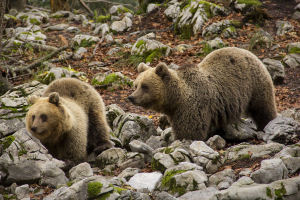 Matej Kovacic is a young and exceptionally talented wildlife and bird photographer dedicated to capturing images of the indigenous wildlife of Slovenia. During his childhood Matej developed a strong fascination for wildlife, birds and nature. When he bought his first camera at the age of 13, he became as passionate about photography. It's hard to photograph wildlife in the wild, but Matej wants to be true, so he stays away from captive animals - all his photos are taken in the wild in Slovenia.
LANDSCAPE PHOTOS FROM THE STYRIA REGION OF SLOVENIA BY PETER ZAJFRID (40 photos)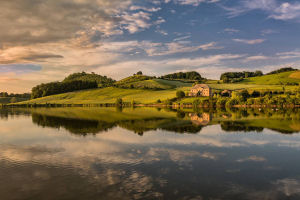 Peter Zajfrid is a well-respected and very passionate amateur landscape photographer who loves capturing the beauty of this world through photography. He enjoys the outdoors and nature, and photography provides him with a medium to capture and share this with others. He especially loves creating images that portray the beauty of the Styria region of Slovenia and its landscapes.
FINE ART LANDSCAPE PHOTOS OF MARIBOR AND ITS SURROUNDING AREA BY UROS LEVA (25 photos)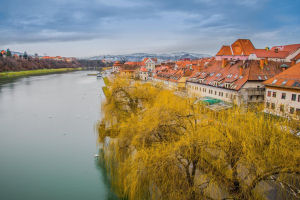 Uros Leva is a versatile freelance artist – photographer, graphic designer and screenwriter. He has been living in Slovenia's second largest city Maribor for his whole life and never fails to be overawed by the beauty of the city. His connection to Maribor began the moment he was born and the more Uros experiences this city, the further he falls in love. When Uros is behind the camera, his goal is to bring out the beauty of Maribor and its surrounding area for all to see.
LANDSCAPE AND NATURE PHOTOS OF THE LAKE BOHINJ AREA AND THE JULIAN ALPS BY GREGOR SKOBERNE (35 photos)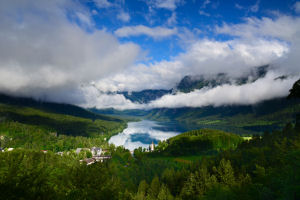 Gregor Skoberne is one of the most talented and passionate landscape and nature photographers in Slovenia. Completely self-taught, Gregor is primarily focused on the unique local landscape and nature found in the Lake Bohinj area with an aim to capture the spirit and the essence of the moment in his photographs.
NATURE AND LANDSCAPE PHOTOS OF THE TRIGLAV NATIONAL PARK BY WALLE GREVIK (35 photos)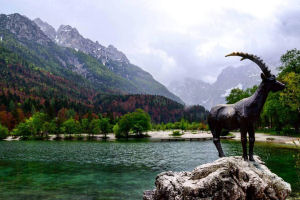 Walle Grevik is a passionate nature and landscape photographer, hiker, and traveler based in Helsingborg, Sweden. He has traveled to many countries around Europe including Iceland, Faroe Islands, Scotland, Ireland, and Greece. This year, he and his hiking partner, Fredrik Vestlund, decided to visit Slovenia and do a 9-day hiking adventure through the Julian Alps and Triglav National Park. Walle took some really beautiful photos during this hiking tour, and he was kind enough to share some of them with us here at Travel Slovenia.
LANDSCAPE PHOTOS OF THE SLOVENIAN ALPS BY MASA VODENIK (20 photos)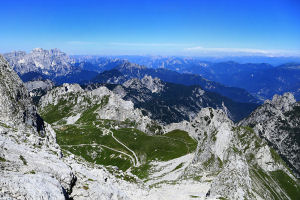 The Slovenian Alps are a part of the Southern Limestone Alps with three high-Alpine mountain ranges, the Julian Alps, the Karawanks and the Kamnik-Savinja Alps. They take up a large part of Slovenia and are full of incredible trails for all levels of hiking ability. They are lower compared with those in Austria and Italy, but with their beauty they surpass anything you may see in the Alps in Europe. All the photos in this gallery were taken by Masa Vodenik. She's an avid hiker who spends most of her weekends in the mountains and she never forgets to take her camera with her.
LANDSCAPE AND NATURE PHOTOS OF THE SLOVENIAN ALPS BY MIROSLAV ASANIN (40 photos)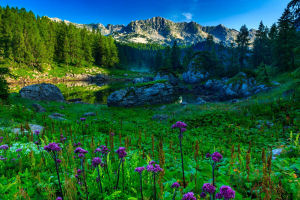 Miroslav Asanin is a very enthusiastic, amateur photographer from Sencur, a small town in the Gorenjska region of Slovenia. His passion for photography began four years ago when he got his first proper camera - a Canon EOS 600D, after that there was no stopping. His primary interests has always been on shooting landscapes and different sceneries found throughout Slovenia and especially in the Slovenian Alps and its Triglav National Park.
FINE ART NATURE AND LANDSCAPE PHOTOS OF THE VRHNIKA COUNTRYSIDE BY ROBI DEBEVC KVOCKA (30 photos)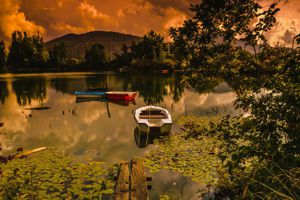 Robi Debevc Kvocka is a self-taught photographer based in Vrhnika, whose fine art nature and landscape photographs celebrate the natural beauty of the Vrhnika countryside. When Robi is behind the camera, his goal is to bring out hidden beauty of the Vrhnika area for all to see. His style, which is recognisable through the artistry of his photographs, is born of a keen eye for the many moods of the natural landscape and a life-long passion for the nature and the great outdoors.
SLOVENIA (30 photos)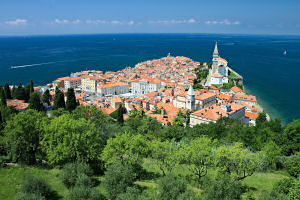 A fascinating capital, charming coastal towns, beautiful alpine villages, stunning natural attractions, and much more - enjoy this wonderful selection of absolutely the most beautiful pictures of Slovenia, taken either by professional photographers or amateur photo enthusiasts.