About The Photographer
Jakob Noc is an inspiring landscape and cityscape photographer whose talents allow him to capture the most amazing images in a style that is truly his own. Through careful composition, attention to detail and the creative use of beautiful light, Jakob strives to show us cities and landscapes in ways that we may not have seen them before. His ability to capture inspiring imagery originates from the beauty that surrounds him while growing up and living in one of the most recognizable and beautiful places in Slovenia – Lake Bled.
Jakob discovered his passion for photography as a child while travelling with his father, but started his career as a photographer only in 2013. Capturing photographs is considered by Jakob to be a great way for him to tell the story of the world as he sees it through his eyes. The thing he likes most in photography is bringing different emotions to people and showing them an outer world view on the things people see everyday.
Below is a selection of 30 Jakob's landscape and cityscape photographs from all over Slovenia. You can see more of his impressive work on his social media pages on Facebook and Instagram and on his official website Jakob Noc, where he also offers very unique high-quality canvas prints of Lake Bled called BledInSquares (the photographs come in two sizes, four motifs and are shipped world wide).
Photo Gallery
A beautiful picture gallery containing 30 fabulous landscape and cityscape photos from around Slovenia by Jakob Noc.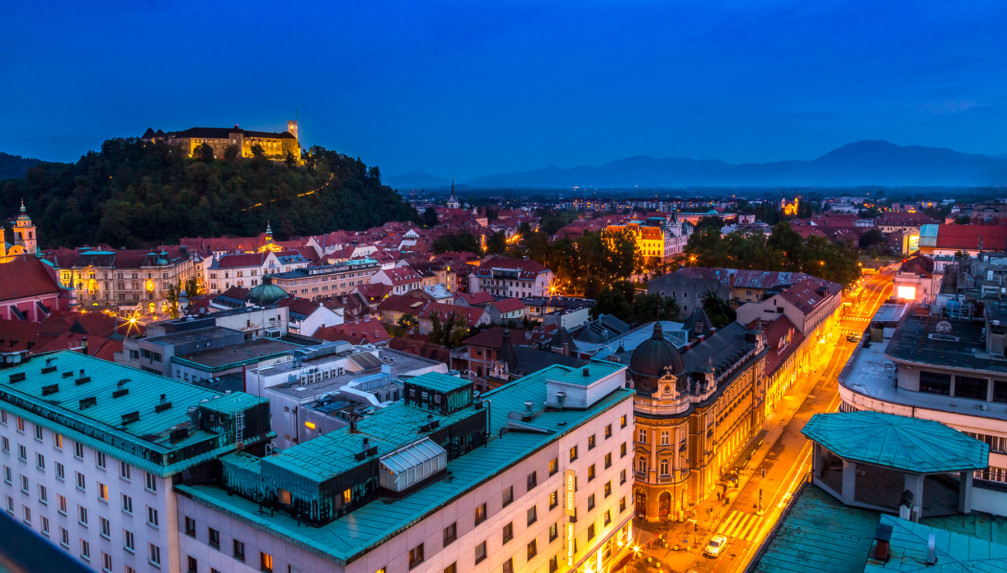 The observation deck on top of the Neboticnik skyscraper offers the best views in Slovenia's capital Ljubljana. Neboticnik was the first high building in Ljubljana (built between 1931 and 1933). It's is located in the centre of Ljubljana and is one of the city's most recognizable landmarks.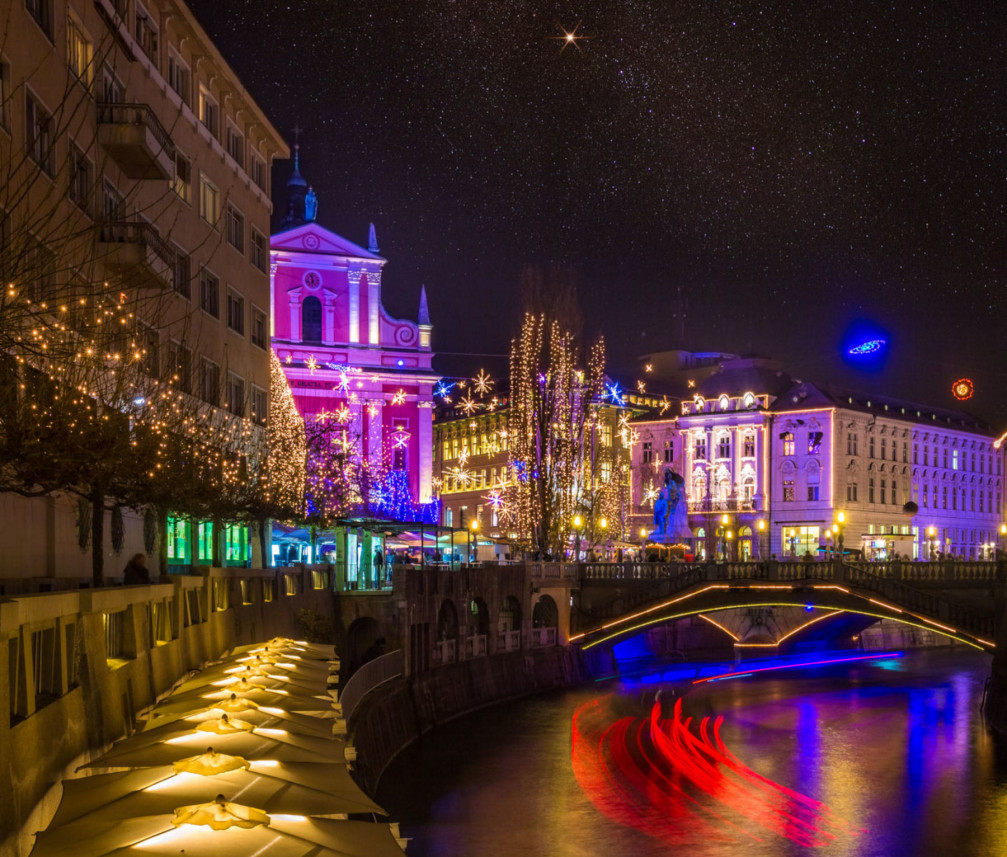 Every December, most of the cities in Europe are adorned with Christmas lights – but in Ljubljana, they somehow look more charming than in the other cities. They cover the city centre also known as the Old Town, due to the baroque, medieval and classical architecture. When you take a walk along the Ljubljanica river canal, surrounded by pastel-colored old buildings and trees covered in fairy lights, it seems really magical and breathtaking.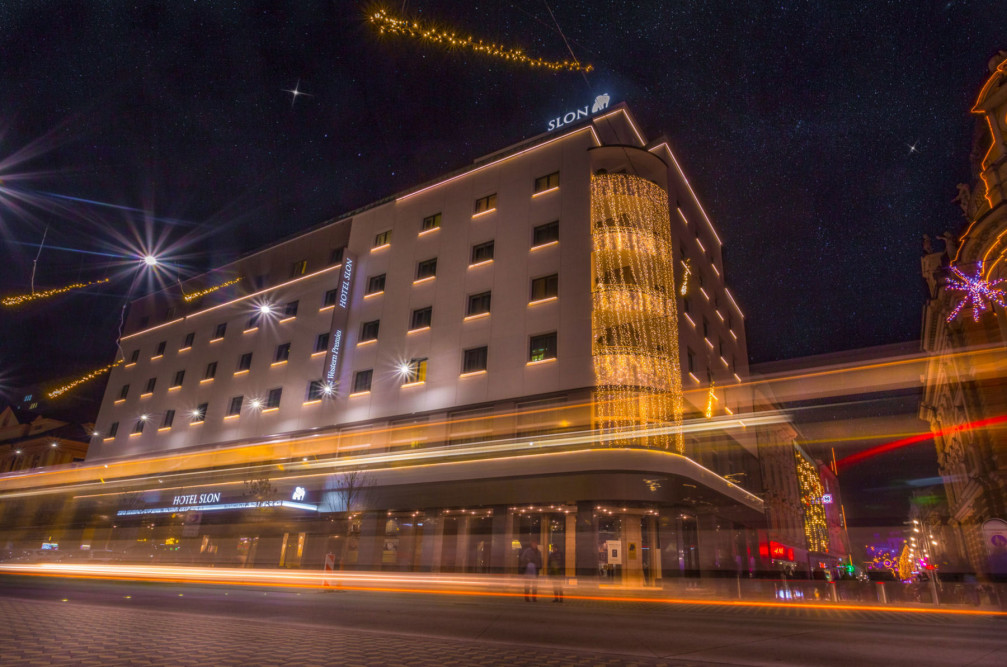 Hotel Slon enjoys a central location in Ljubljana. It is within a block or so of the Triple Bridge, which is the gateway to Ljubljana's Old Town and its charming streets with lovely restaurants, cafes and shops.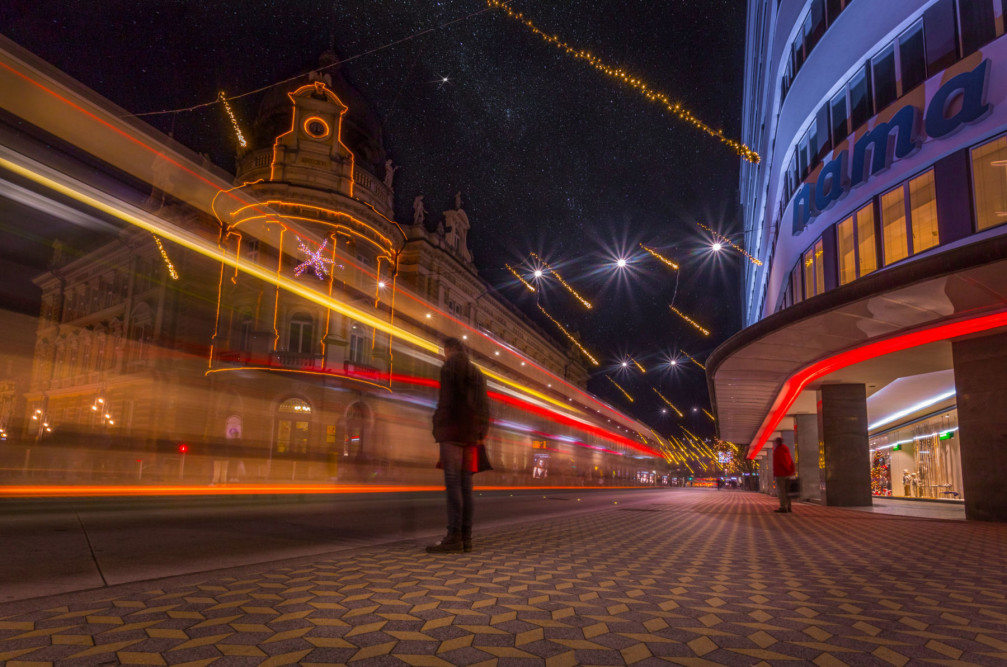 You gotta love the unique Christmas lights in Ljubljana. Most cities put up snowflakes and bows and things, but Ljubljana put up galaxies, planets, comets and shooting stars!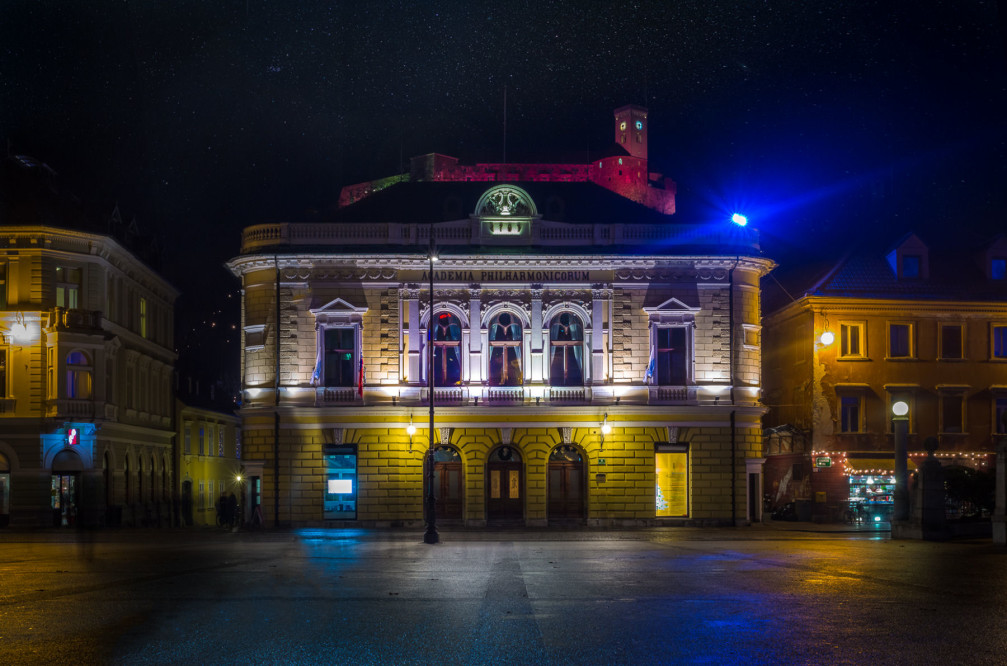 Ljubljana Castle is perched on top of a hill and can be seen from anywhere in Slovenia's capital Ljubljana, but the night view from the Congress square is especially beautiful.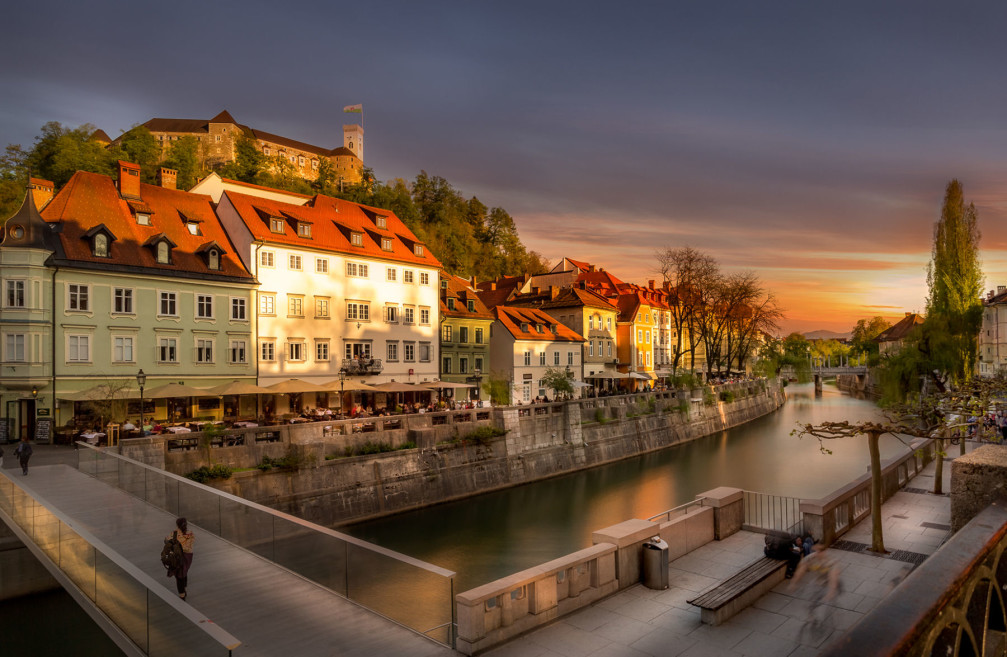 The glassy Ribja Brv footbridge in Ljubljana seems to float across the Ljubljanica river, connecting two sides of the Slovenian capital. The bridge is 25 metres long and 3 and a half metres wide.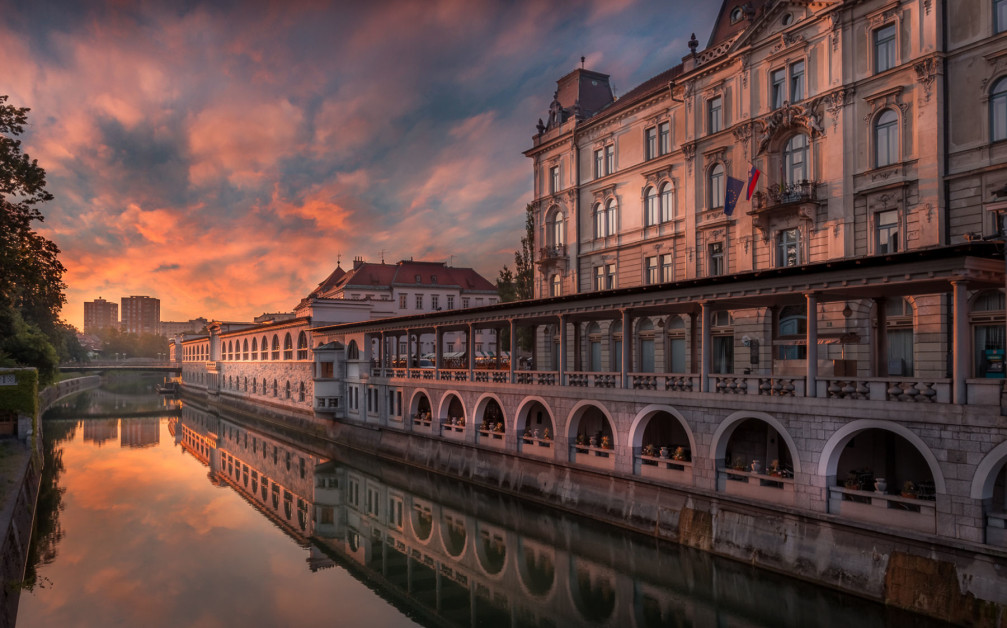 The Ljubljanica River is the main river that runs through Ljubljana. It divides Ljubljana's Old Town with the rest of the city.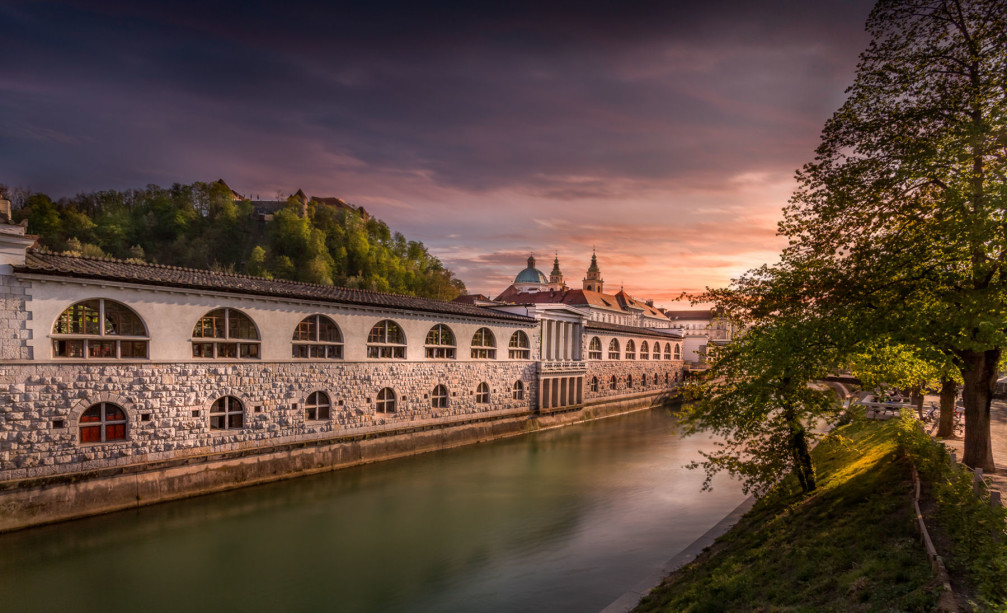 One of the best ways to see Ljubljana ant its Old Town is to join a tourist boat cruise along the river.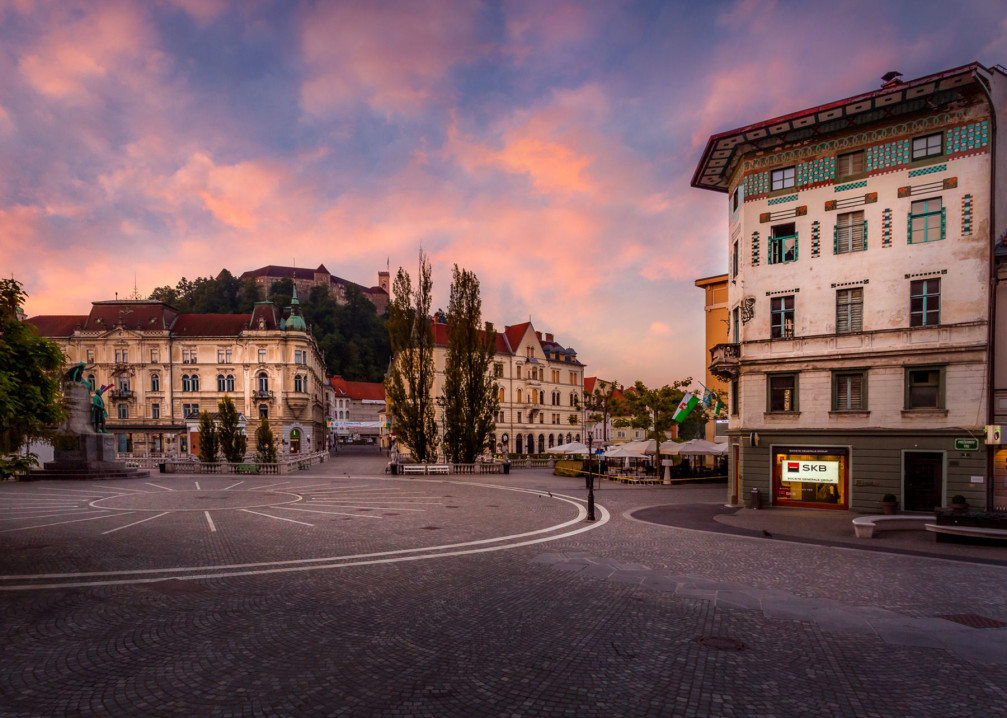 Lovely, oval-shaped Preseren Square is the hub of Ljubljana where several main roads converge. In the center of the square is a statue of Slovenia's most famous poet, Dr France Preseren, surrounded by many beautiful historic buildings. The square is part of the old town's pedestrian zone and a major meeting point.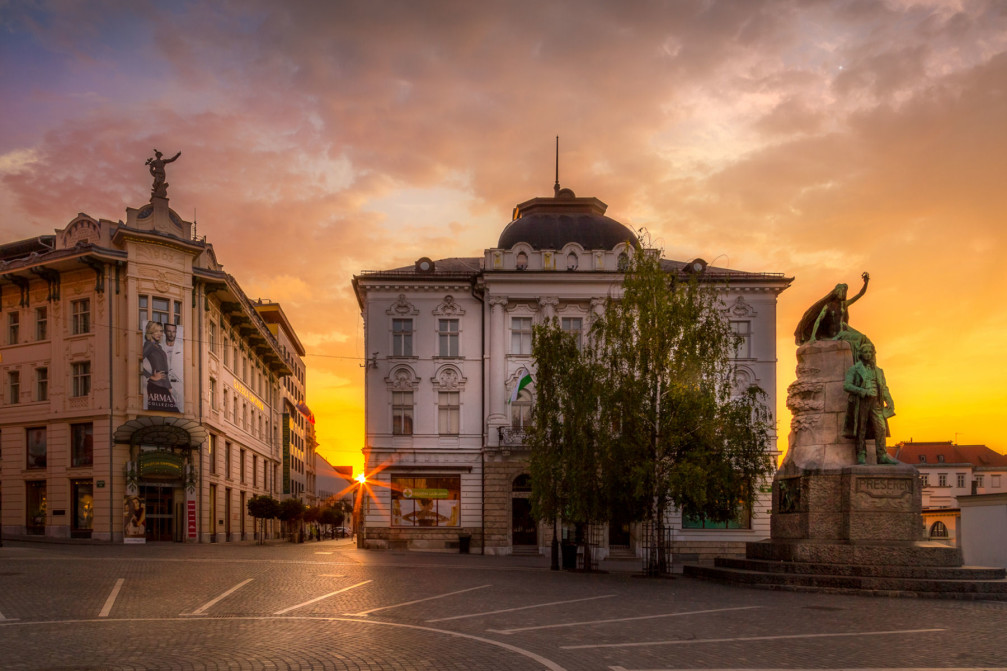 A statue of the Slovene national poet France Preseren with a muse stands in the center of the Preseren Square and faces the window where Preseren's muse used to live.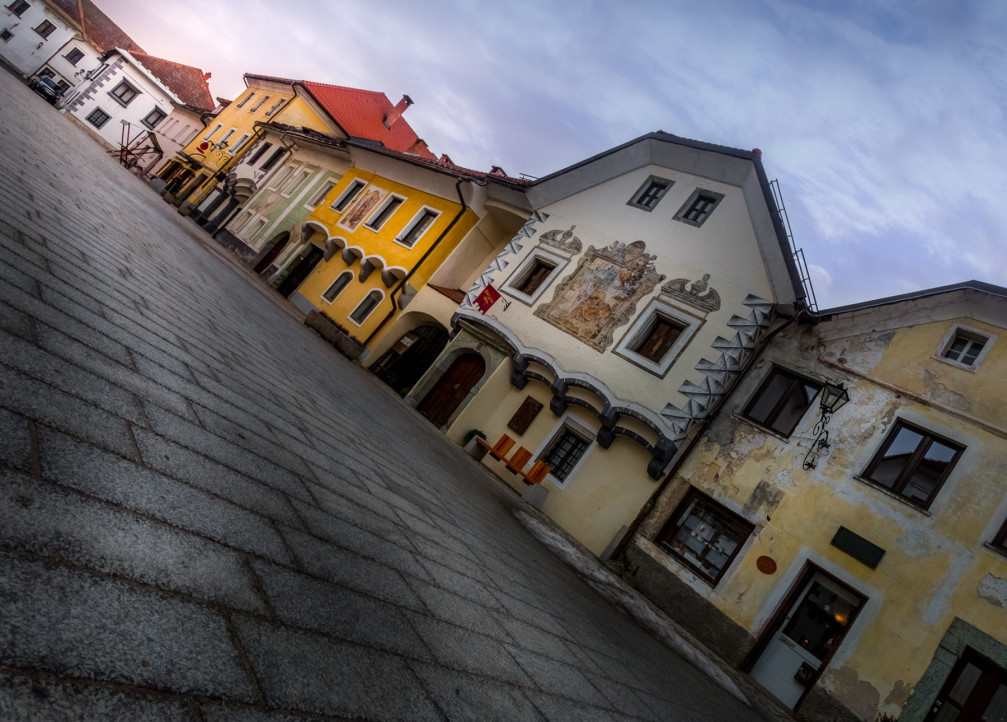 One of Slovenia's most charming medieval towns is Radovljica. It's located just a short drive from the famous Lake Bled and has a lovely old centre that has been carefully restored and protected.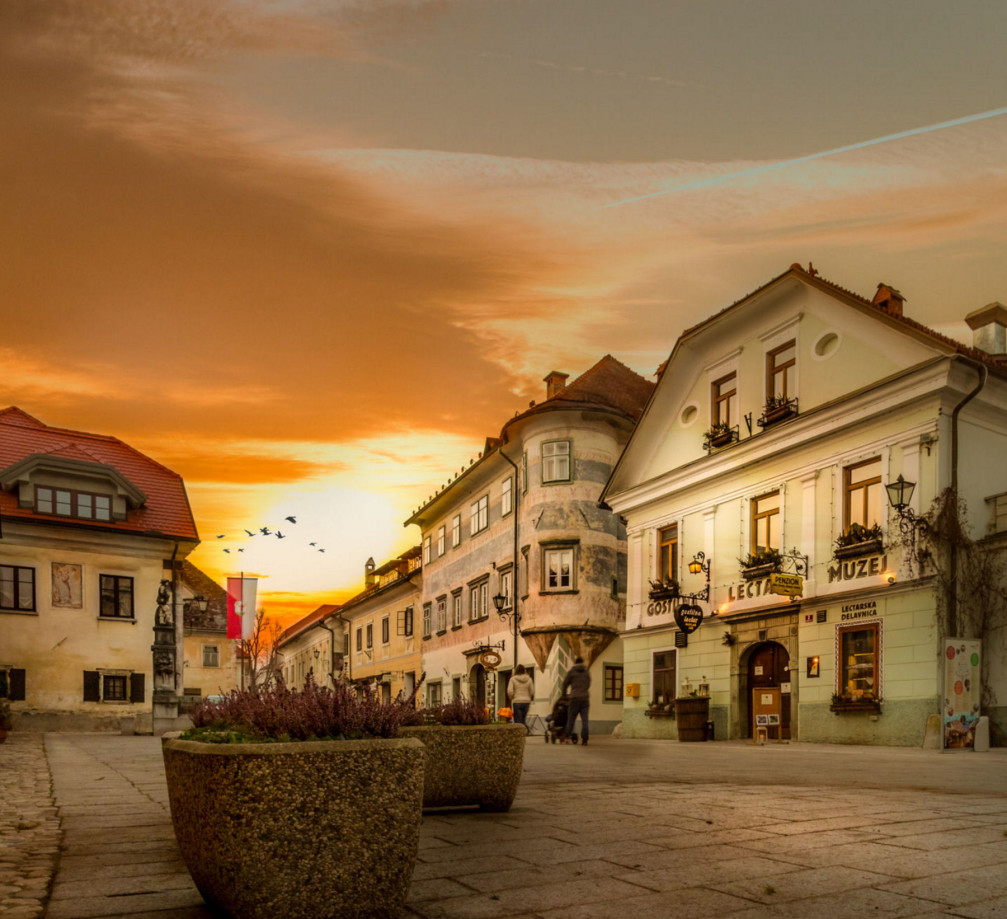 Radovljica's medieval Old Town is one of best preserved medieval town structures in Slovenia. Radovljica was first mentioned as a market town in 1333 and became a town-on-record at the end of the 15th century. When visiting Radovljica, be sure to stop by the Tourist Information Office just before the town square for a map to help you identify important buildings and learn some interesting historical facts about the town.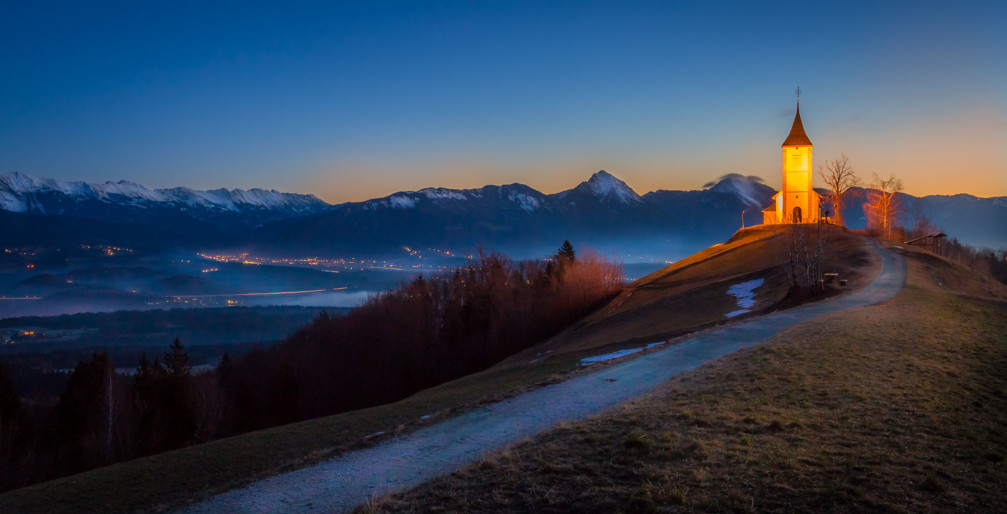 The church of Saints Primus and Felician in the small village of Jamnik is considered as one of the most beautiful and picturesque Slovenian historical monuments. It stands on the top of a hill with amazing views of the Ljubljana Basin, surrounded with Julian Alps from north and the Kamnik Alps from the east.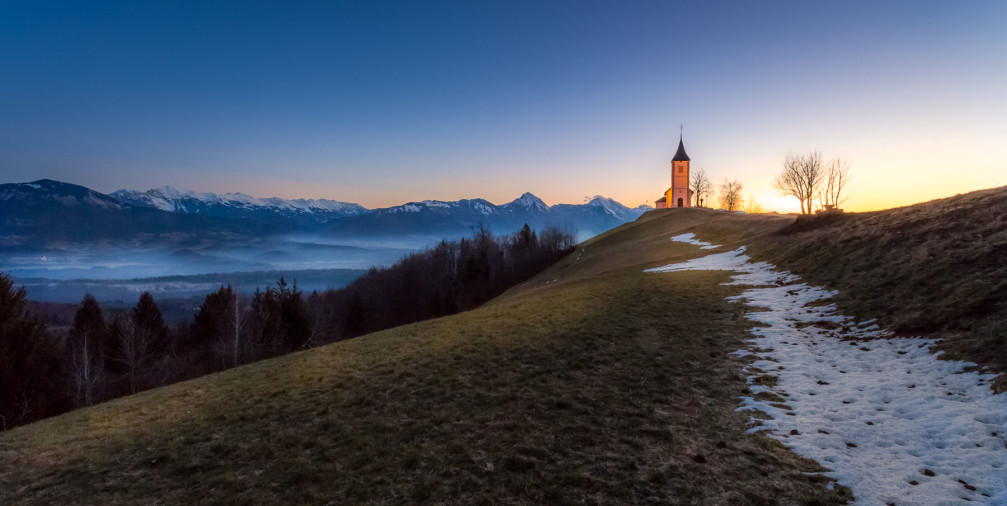 The Church of Saints Primus and Felician is the second most photographed church in Slovenia. The church consists of a rectangular nave, a trilatteraly coupled presbytery and a bell tower, leanded against the nave and covered with pyramid-shaped roof.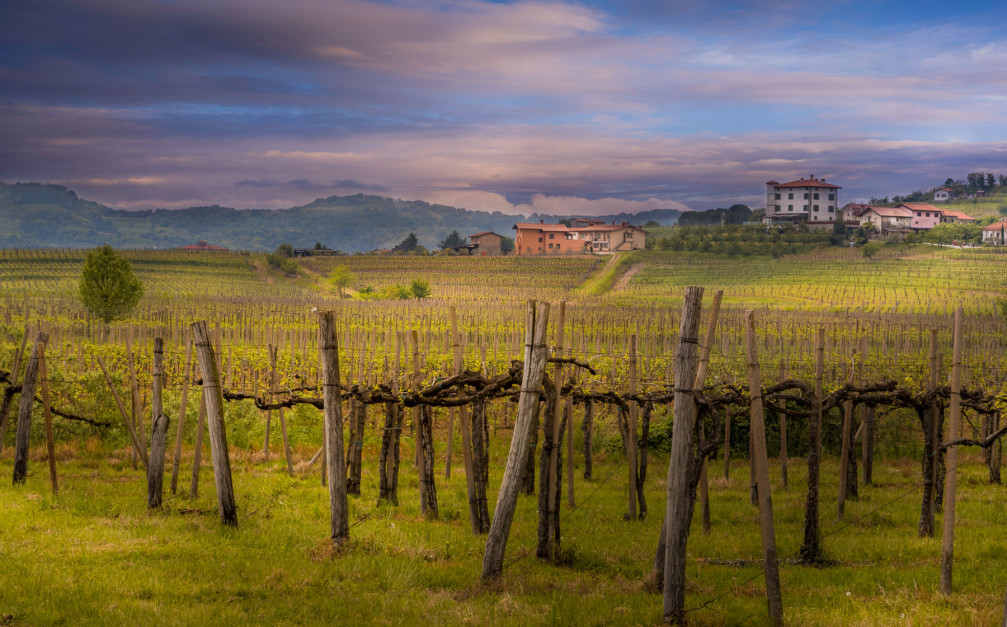 Goriska Brda is a beautiful wine area with the same soil conditions as the Friuli region on the Italian side of the border. This is a land of gently rolling hills, covered with vineyards and dotted with lovely small villages. The gentle climate assures ideal growing conditions for grapes. It is Europe's next hidden gem, waiting to be explored.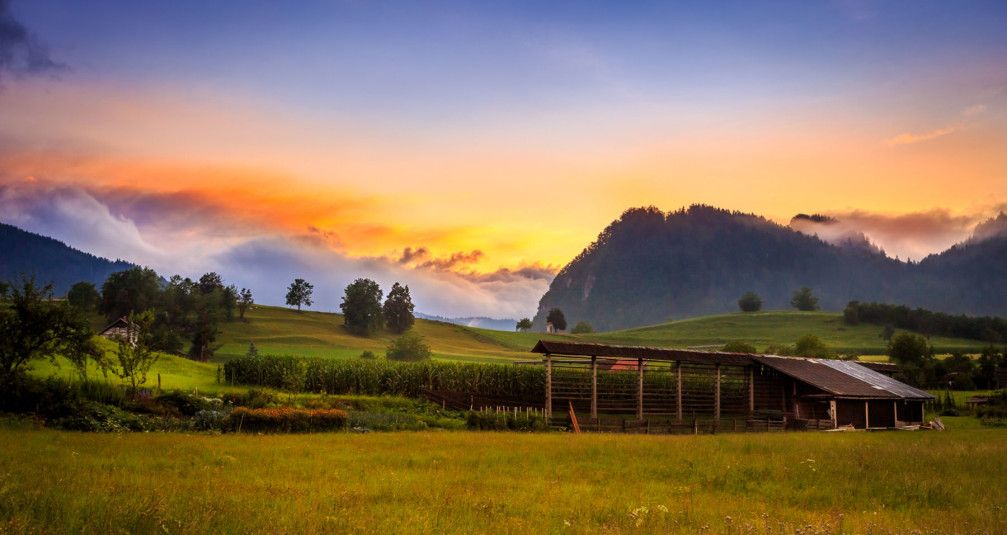 A hayrack on a farm in the village of Gorje near Bled. Hayracks are mainly a Slovenian thing, with more than 80 percent of all hayracks in the world existing in Slovenia.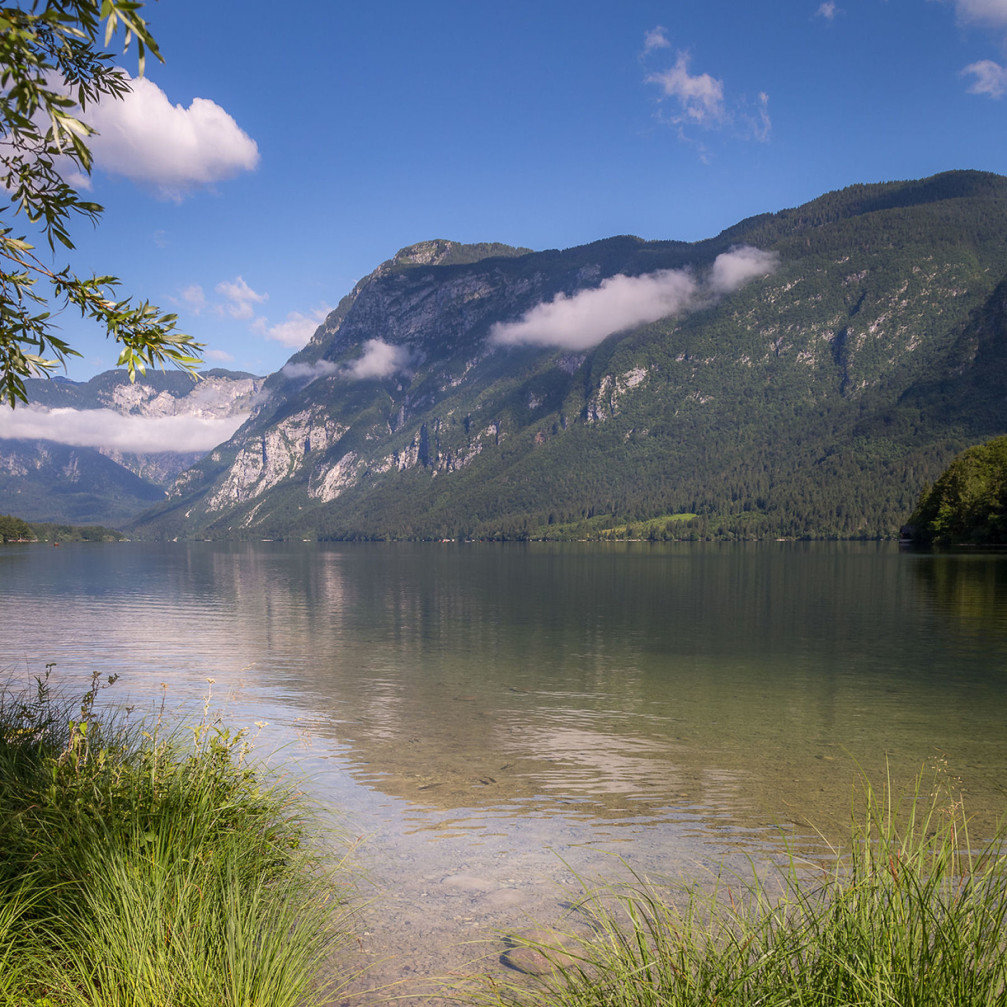 The tranquil Lake Bohinj is known as the lake at the end of the world. Spending a day at Lake Bohinj is like finding paradise in the middle of the alpine forests. With the majestic Julian Alps as a backdrop, Bohinj seems to come from some heavenly realm, untouched and unspoilt by human interference.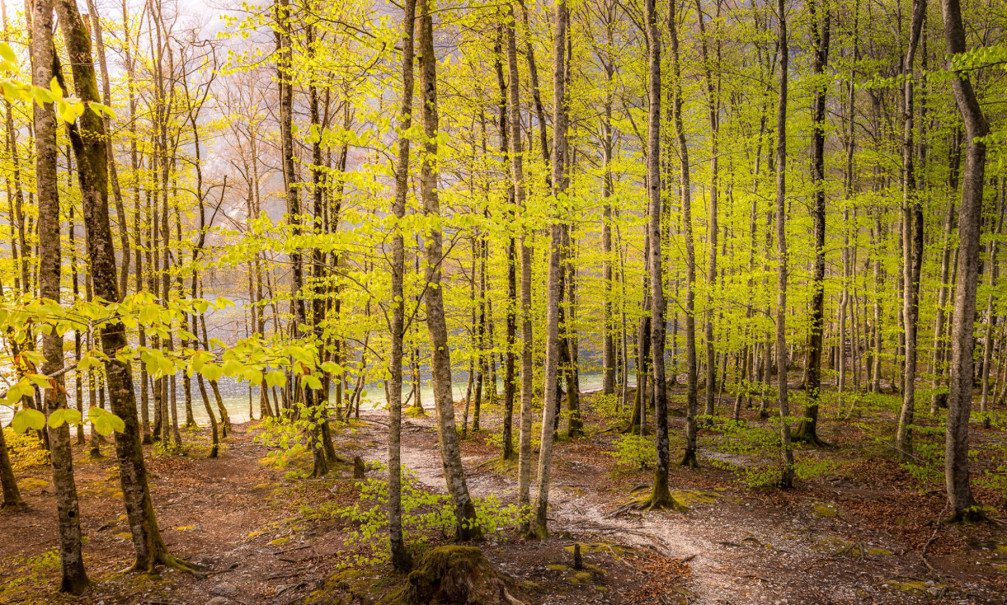 Slovenia is the third most forested country in Europe, right after Finland and Sweden. This beautiful beech forest can be found in Bohinj.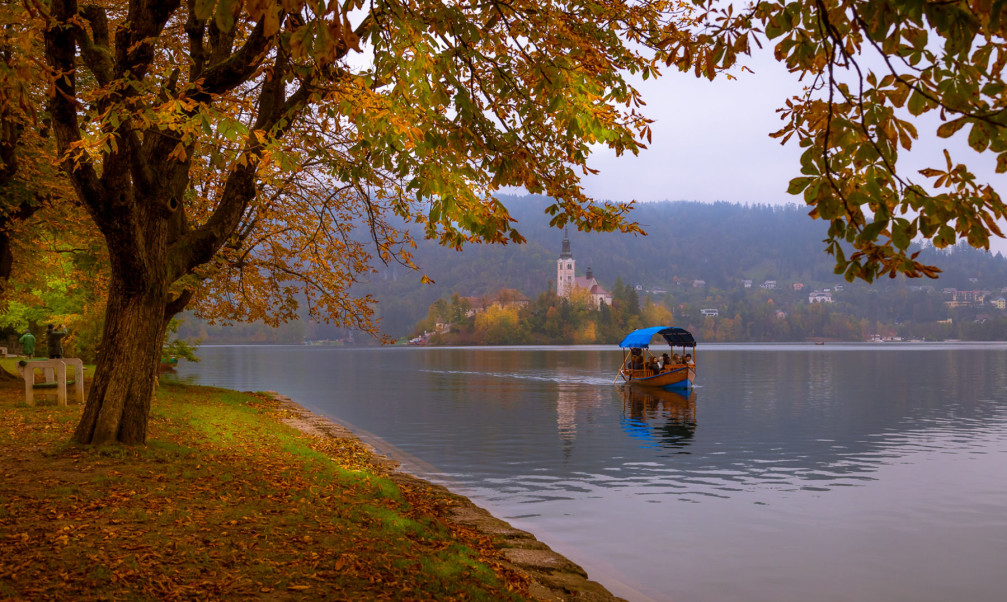 Autumn is the most picturesque time to visit Lake Bled. It's such a photogenic and colorful time of the year, as the deciduous foliage undergoes spectacular color changes.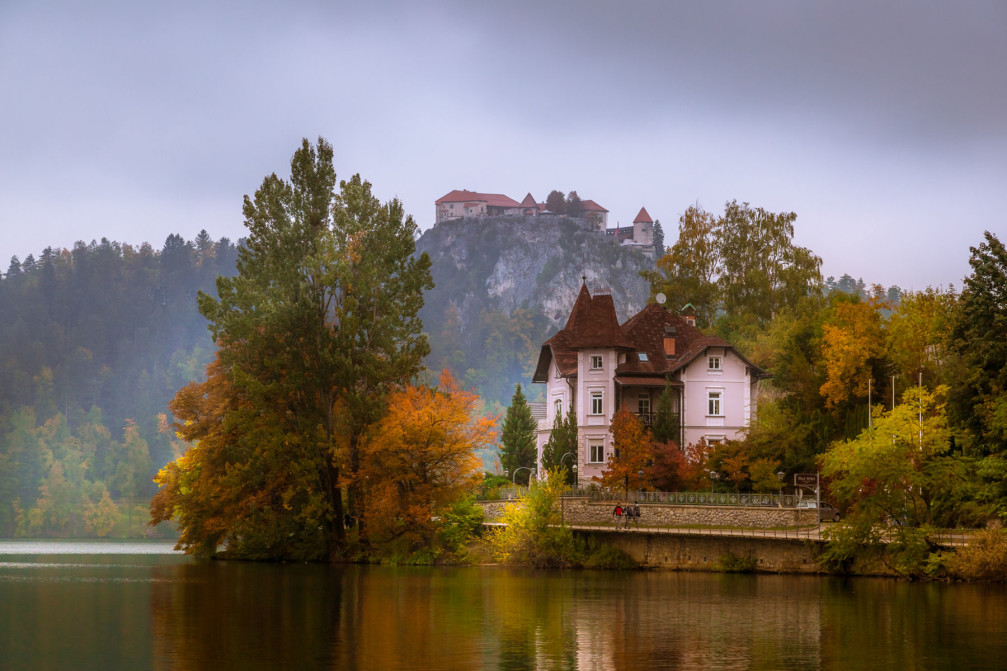 Bled Castle is the most prominent tourist attraction in Bled. The castle is perched high on a cliff rising above Lake Bled and can be seen from anywhere in Bled, and you can see anywhere in Bled from the castle. The beautiful fairytale-looking building below the castle is Vila Istra, a luxury corporate villa converted into design hotel.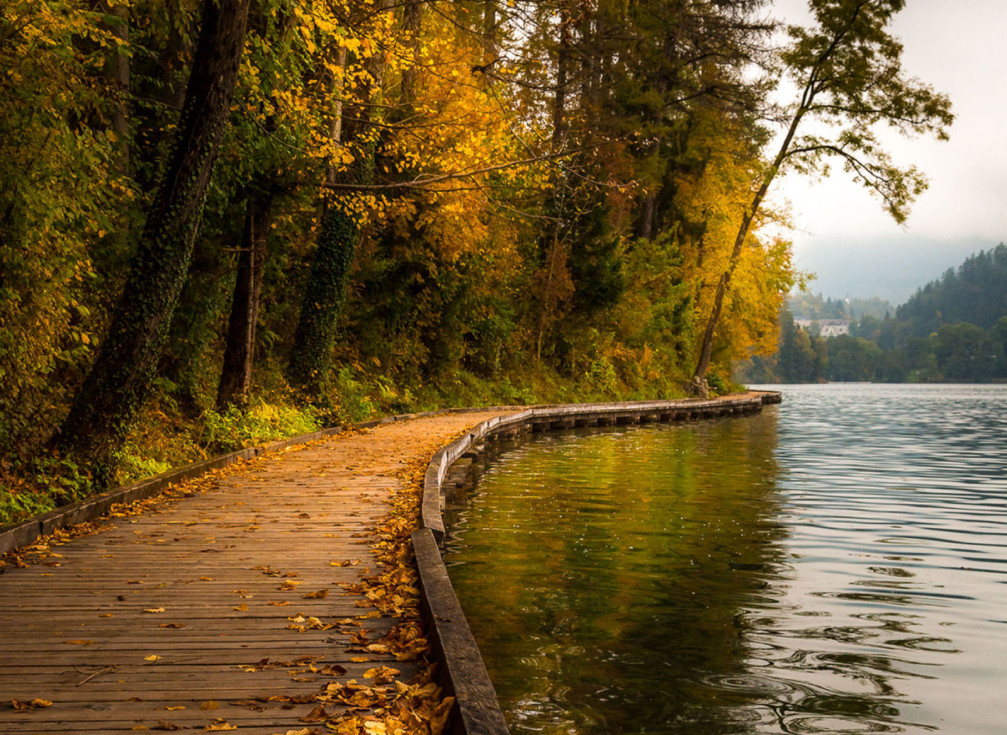 A walk around Lake Bled is probably the most popular walk in Slovenia! It's an easy walk with superb views over Lake Bled, Bled Castle and to the surrounding mountains.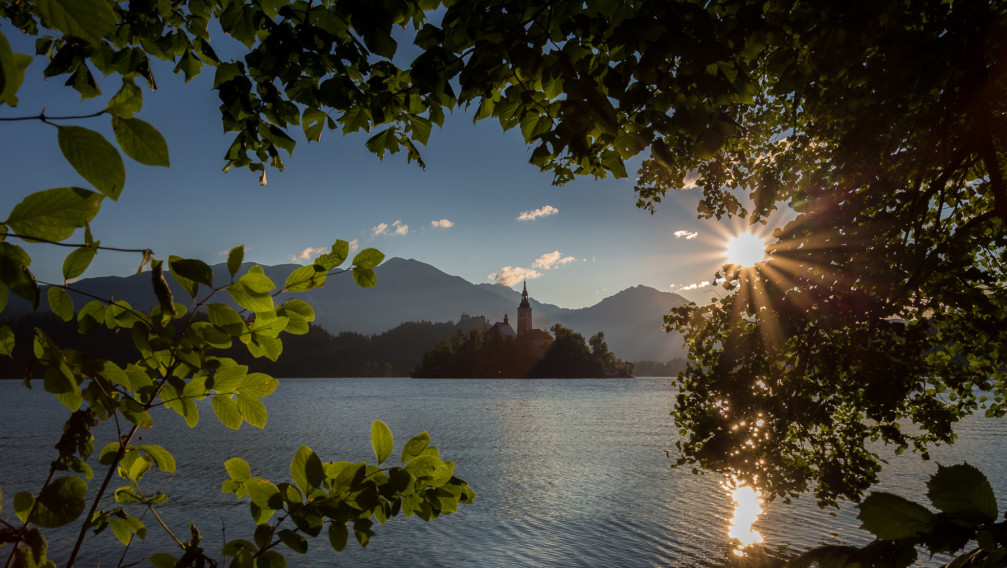 If Bled Island looks like something out of a storybook, it's because it basically is. Nicknamed Fairytale Island, this small isle is home to a beautiful Baroque church where people still get married.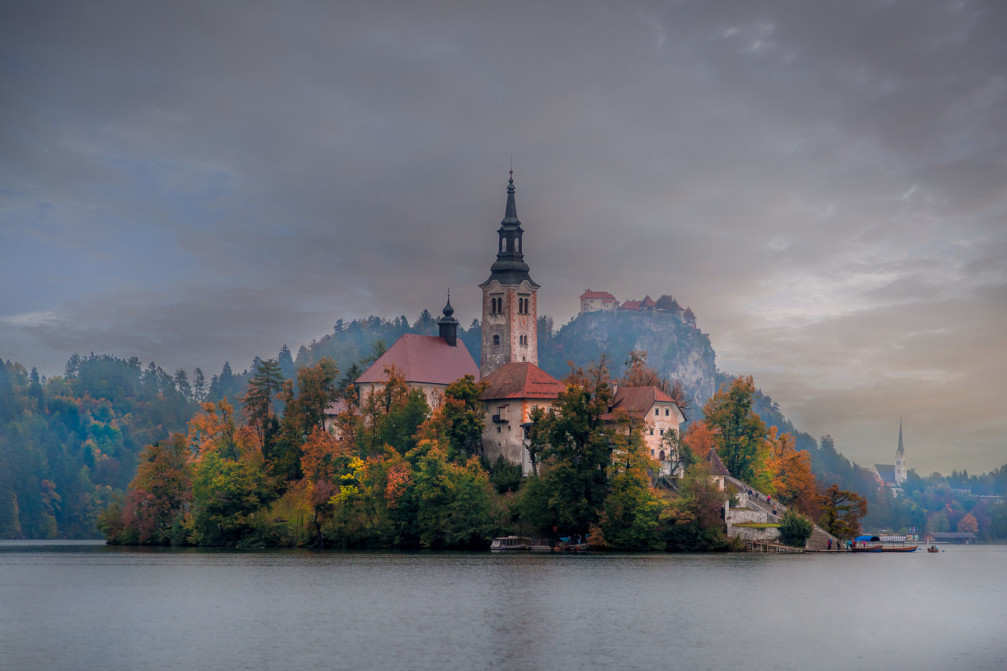 Bled Island is the only naturally-occurring island in Slovenia. As you can see, there is a Baroque church on the island.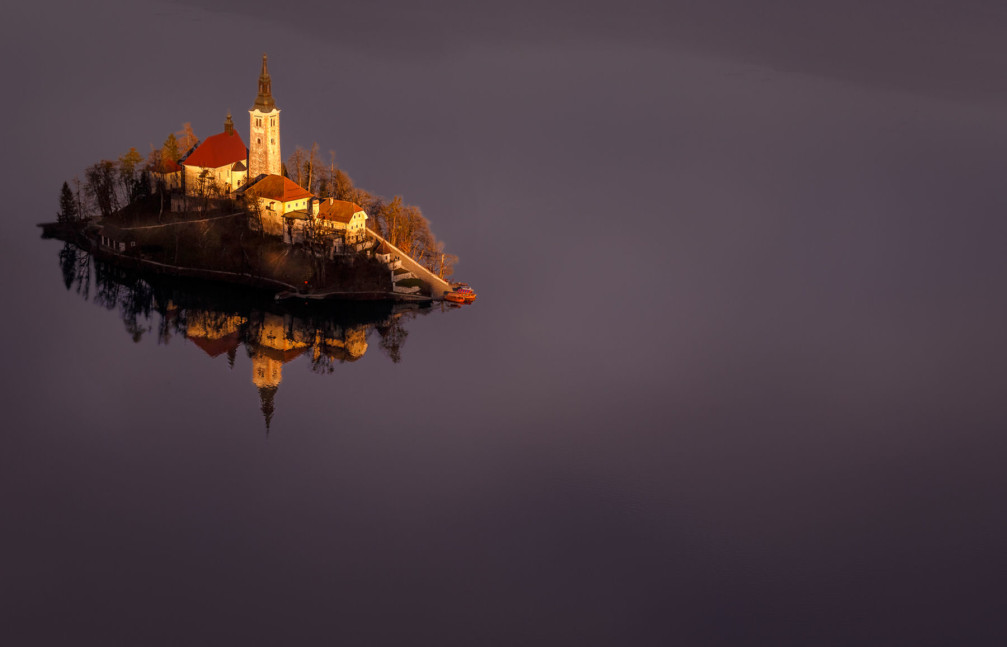 Bled Island is located in middle of Lake Bled and the island has several buildings. Most famous building is the Pilgrimage Church of the Assumption of Mary, a Baroque church containing fresco fragments from the 14th century and a gold altar. The foundation of the church also contains remains of a pre-Romanesque chapel, the only such remains in Slovenia.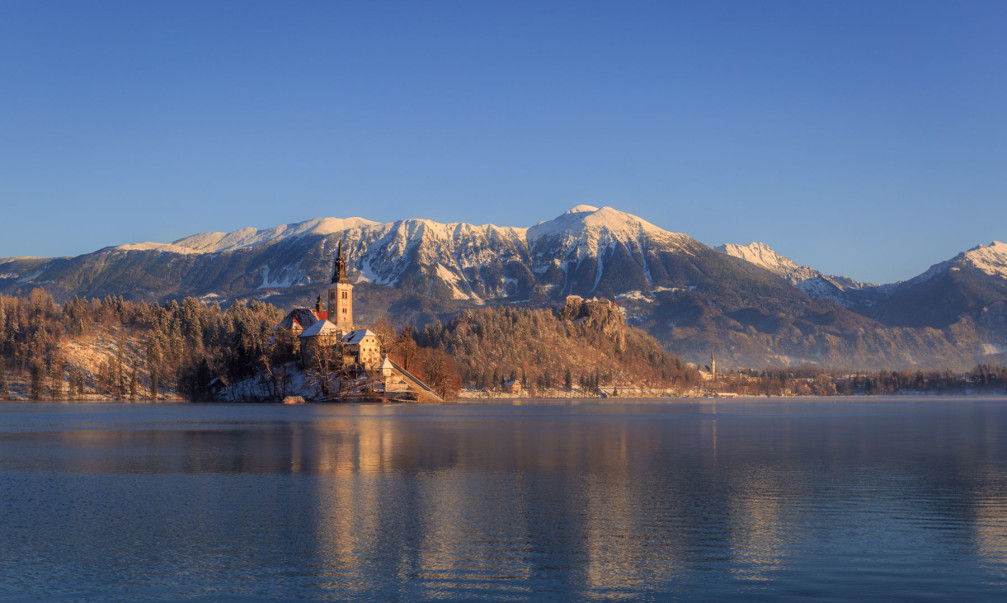 If you are looking for a lovely little spot for some peaceful relaxation, Lake Bled is the place! It's the perfect spot to go off the grid for a week or so and just live in the magical moments that happen around you. Not to mention, it's very romantic!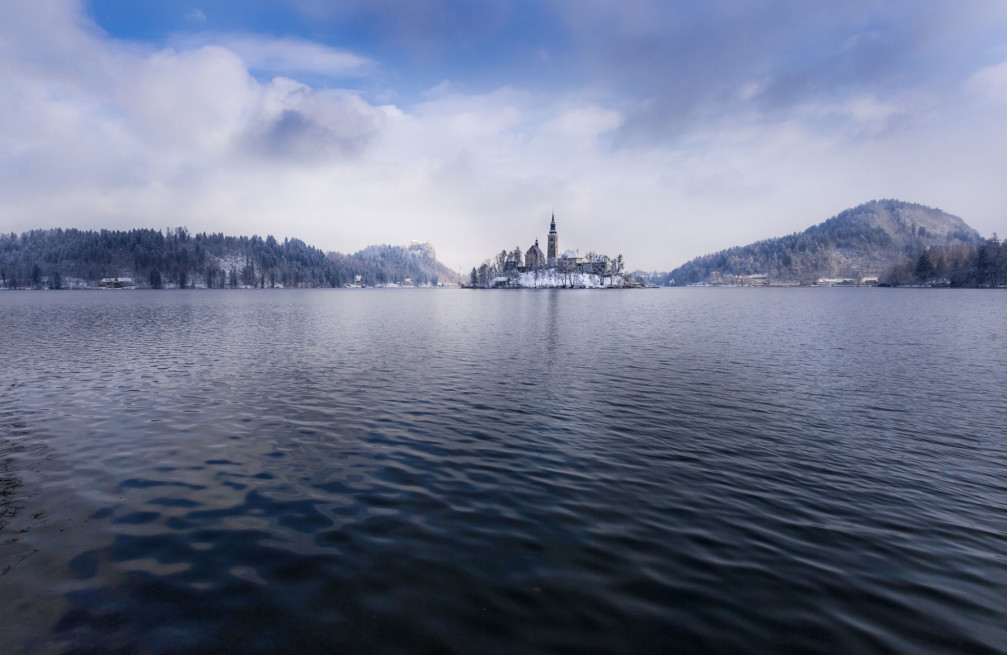 Bled Island is accessible through rowboat or the traditional Pletna boat.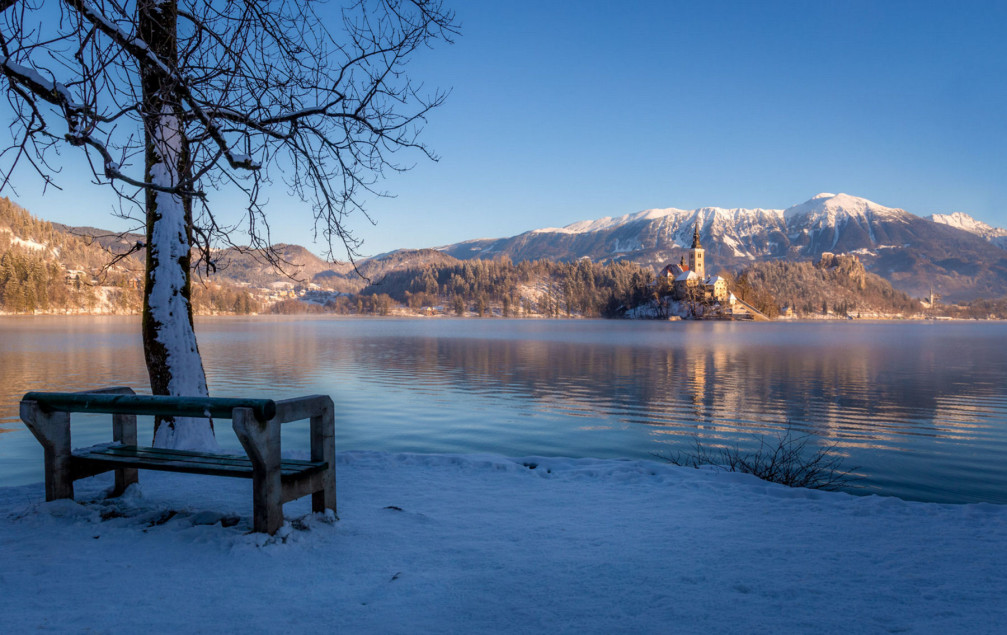 Bled Island in winter looks like it's straight out of some fairy tale!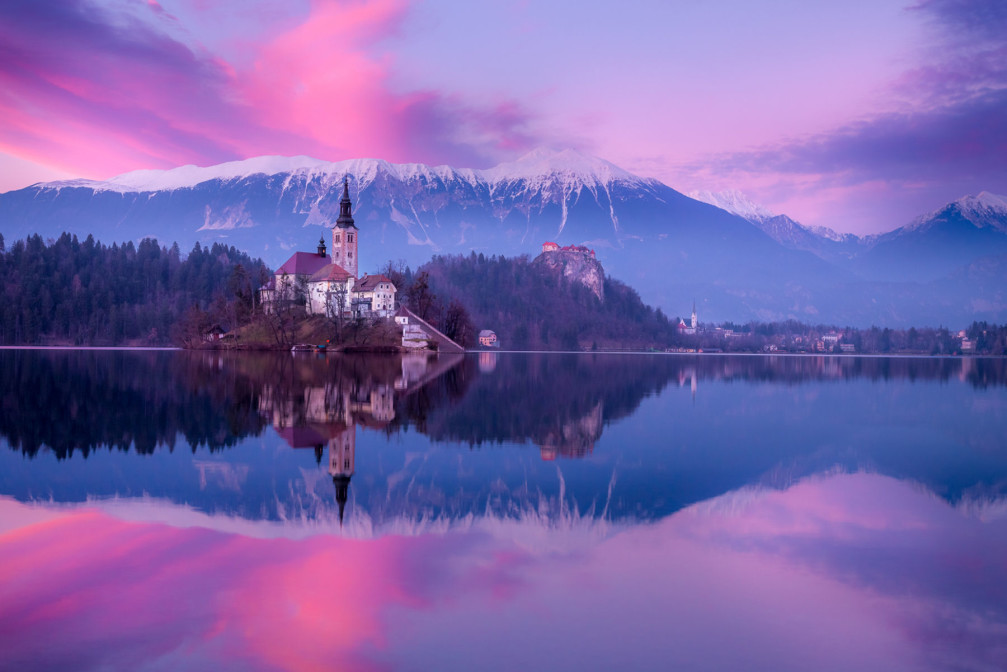 Set between the snow capped Slovenian Alps and nestled in a lush valley, Lake Bled is the undisputed attraction of Slovenia and what an attraction it is. With a medieval castle perched on top of a steep cliff and a tiny tear-shaped island in the middle of the crystal clear water, the lake feels plucked from a medieval fairy tale.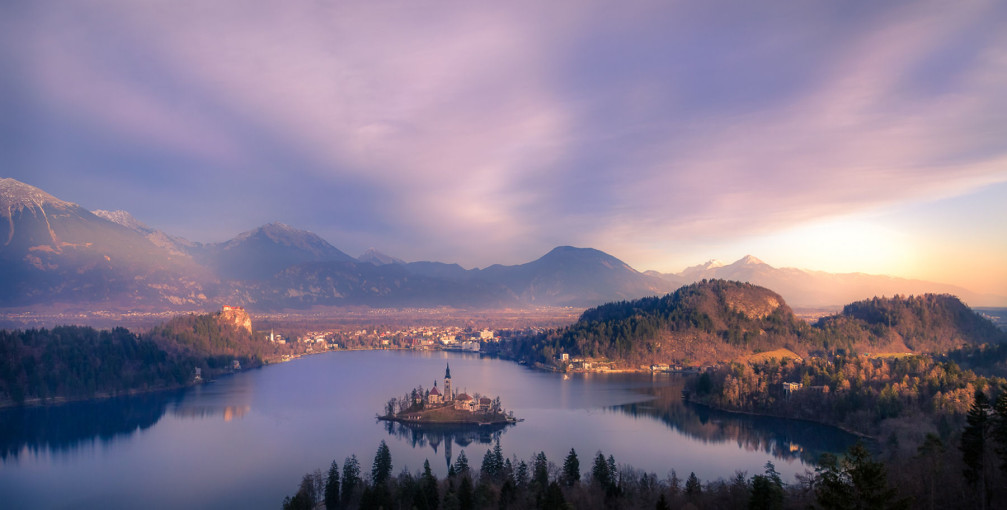 Lake Bled is just gorgeous, beyond beautiful. It takes our breath away every time we see these photos, to think that such exquisite beauty still exists.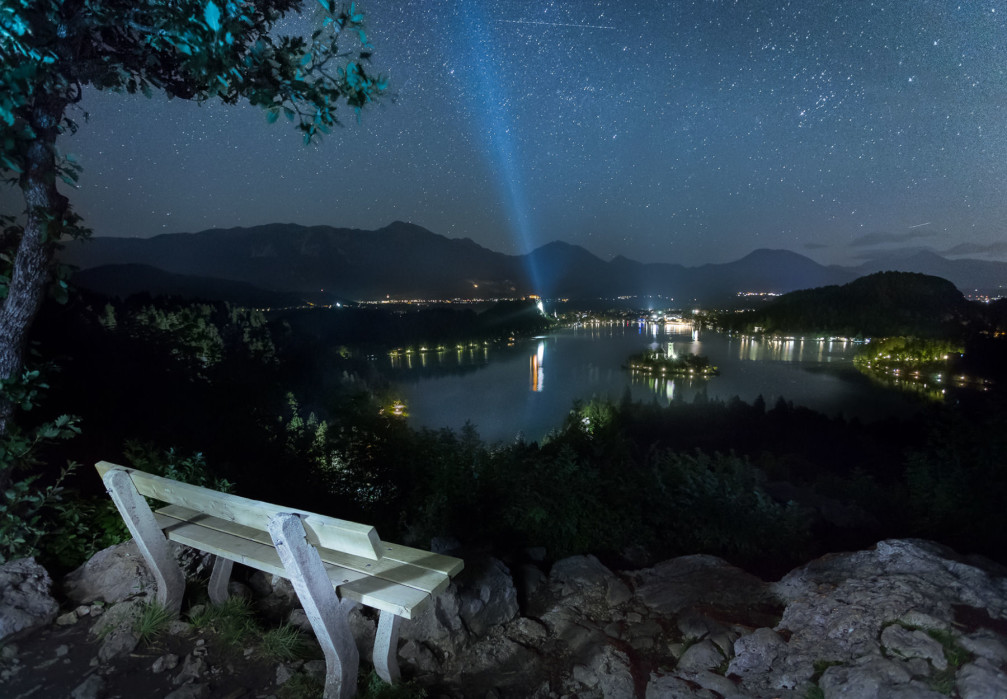 Lake Bled is beautiful in any season, at any time of day. And the photographer has done an amazing job of capturing it all.

Discover beautiful Slovenia through amazing photos

SLOVENIA, AS SEEN FROM THE AIR (50 photos)
Aerial photography provides you with a breathtaking bird's eye view – one you won't get anywhere else. So, here are 50 spectacular aerial photos that prove why Slovenia might just be the most beautiful country on Earth.
SLOVENIA AT NIGHT (30 photos)
Night has its own magic. Night can transform an ordinary scene into something magical, mysterious and captivating. Light, shadow, texture, tonality, pattern all work together to create a very different feeling compared to photos captured during the day. Everything is just more magical at night, so here are 30 night pictures of Slovenian cities, towns, villages and other places at night. Enjoy!
LANDSCAPE AND NATURE PHOTOS FROM ALL OVER SLOVENIA BY LUKA ESENKO (40 photos)
Luka Esenko is considered by many to be Slovenia's new leading landscape and travel photographer. He has been photographing landscapes for almost a decade now, and through photography he has been blessed to capture some of the most gorgeous locations in Slovenia. Strong compositions and a feel for natural light are what make Luka's images stand out.
AERIAL DRONE PHOTOS FROM AROUND SLOVENIA BY JURE KORBER AND TJASA BORSNAK (35 photos)
With the technological advancements in cameras and drones, we can now get a glimpse of the world from a different perspective. And from high up above, especially with a bird's eye view, the world is a stunningly beautiful place. Jure Korber and Tjasa Borsnak, a young student couple based in Slovenia's capital Ljubljana, took their aerial photography platform called Hexabee into the sky and captured Slovenia from angles not seen before.
LANDSCAPE PHOTOS FROM SLOVENIA BY DEJAN HUDOLETNJAK (50 photos)
Dejan Hudoletnjak is a super-talented and passionate photographer best known for his beautiful landscape photos of Slovenia and wonderful use of light and color. He has an unerring eye for composition and detail, and a great sensitivity to mood, expressed in his photographs through the awareness and use of light. His goal as a photographer is to create an image that not only captures a moment in time, but also tells a story and evokes an emotional response. An image that shares the mood and feelings he felt when being there.
LANDSCAPE AND NATURE PHOTOS FROM ALL OVER SLOVENIA BY DANIEL TOMANOVIC (50 photos)
Daniel Tomanovic is a young and very talented landscape photographer who has been creating images that portray the natural beauty of Slovenia and its landscapes for over 8 years. He believes that finding good light is the most important thing to create great landscape images. Everyone can capture outstanding landscape scenery, but hunting the special light is the true challenge for a landscape photographer. And judging from his works, he is very successful in capturing beautiful locations in the best light.
LANDSCAPE AND NATURE PHOTOS FROM ALL OVER SLOVENIA BY ERICH REISINGER (50 photos)
Erich Reisinger is a 55-year-old German landscape, nature, and urban photographer based in the Bavarian town of Ingolstadt. He has been fascinated with photography since he was a 6-year-old child. He has a special connection with Slovenia. He met his wife in Maribor and Slovenia soon became his second home country. He visits Slovenia several times a year and never forgets to mention how he loves Slovenia and how he will never tire of photographing its immense beauty and infinite variety.
LANDSCAPE AND NATURE PHOTOS FROM ACROSS SLOVENIA BY PIOTR SKRZYPIEC (40 photos)
Piotr Skrzypiec is one of the leading landscape photographers in Slovenia. Born in Nowy Sacz, Poland in 1978, Piotr spent most of his childhood in the south of Poland. After completing his master's degree in geography Piotr moved to Slovenia, where he picked up his first camera in 2008. Through photography, Piotr found a way of communicating about his nature and landscape passion and he quickly established himself as a successful landscape and nature photographer.
LANDSCAPE PHOTOS FROM AROUND SLOVENIA BY DOMEN DOLENC (35 photos)
Domen Dolenc is a young but well-established travel photographer currently based in Zelezniki, Slovenia. Since Domen purchased his first camera in 2005, he has been addicted to photography. He never travels without his camera and loves to capture the beauty he finds throughout the world in his own way - his photographic style is defined by powerful colours, street photography scenes, landscapes, but also moments of everyday life, faces and a very close approach on people.
LANDSCAPE PHOTOS FROM ALL AROUND SLOVENIA BY GREGOR KACIN (40 photos)
Gregor Kacin is a 39-year-old landscape and nature photographer based in the charming little town of Idrija in western Slovenia. He is very fortunate to live in such a beautiful part of the country and he can often be found roaming the countryside, looking for that special moment when the true beauty of nature revels itself.
LANDSCAPE PHOTOS OF SLOVENIA BY ALES KRIVEC (30 photos)
Ales Krivec has a passion for taking photographs and his work features the finest landscapes in Slovenia. He is very much a landscape artist and his work reflects a great understanding and deep love of the countryside and nature. An extensive technical knowledge and a seeing eye enable his photos to convey the beauty of the landscape that surrounds us all.
LANDSCAPE AND NATURE PHOTOS FROM ALL OVER SLOVENIA BY BOJAN KOLMAN (50 photos)
Bojan Kolman is a passionate 63-year-old landscape and nature photographer based in Begunje Na Gorenjskem, a small idyllic village at the foothills of the Karavanke mountain range. Bojan is completely self-taught and learned about photography on the Internet, but he shoots beautiful photographs, possessing an incredible eye for composition. There are so many beautiful things that surround us every day and Bojan strives to reflect that beauty through photography.
LANDSCAPE AND NATURE PHOTOS FROM SLOVENIA BY BRANKO CESNIK (45 photos)
Branko Cesnik is a passionate landscape and nature photographer from Pivka, a small town in the Karst region of southwestern Slovenia. He is 52 years old and has been interested in photography since his school years. Branko tends to shoot in the morning and at the end of the day when the light just either side of sunrise and sunset can transform an already interesting scene into something even more engaging. He firmly believes a good photograph tells a story and creates a feeling within the viewer.
LANDSCAPE, CITYSCAPE AND NATURE PICTURES FROM AROUND SLOVENIA BY JURE KRALJ (45 photos)
Jure Kralj is an incredibly talented photographer based in Slovenia's second largest city Maribor, who combines his love for travelling around the world with his love for landscape and cityscape photography. He is an enthusiastic observer of the surrounding world. When possible, he is looking for the best light, for the right angle at the right moment to capture a compelling image.
LANDSCAPE PHOTOS FROM ALL OVER SLOVENIA BY DENIS SODRZNIK (30 photos)
Denis Sodrznik is a passionate landscape and nature photographer born and raised in the beautiful town of Slovenske Konjice in the Styria region of Slovenia. He strives to capture photographs that convey the beauty of the Slovenian landscapes he explores in his spare time with his fiancée Karmen. His intention is to show the viewer details that we often overlook.
LANDSCAPE AND CITYSCAPE PHOTOS FROM AROUND SLOVENIA BY JAKOB NOC (30 photos)
Jakob Noc is an inspiring landscape and cityscape photographer whose talents allow him to capture the most amazing images in a style that is truly his own. Through careful composition, attention to detail and the creative use of beautiful light, Jakob strives to show us cities and landscapes in ways that we may not have seen them before.
LANDSCAPE PHOTOS FROM AROUND SLOVENIA BY MASA VODENIK (35 photos)
Masa Vodenik is a self-taught photographer who lives in a small town of Hrastnik in central Slovenia. She's an economist during weektime, but on weekends she becomes an ambitious landscape photographer who doesn't want to miss a single second she could have used to take a great photograph. Her passion for photography increased steadily since she started doing photography in 2010. Since then she successfully combines her love for travel and hiking with her enthusiasm for photography.
LANDSCAPE AND NATURE PHOTOS FROM ALL AROUND SLOVENIA BY MIROSLAV ASANIN (50 photos)
Miroslav Asanin is a keen amateur photographer from Sencur, a small town in northwestern Slovenia. His main photographic interests are landscapes and nature though he does photograph wildlife and architecture when he finds them. He especially loves to photograph the amazing landscapes and nature of the Slovenian Alpine area. However he also loves to take day trips to other parts of the country and scout new locations in search of compelling scenes or subjects to photograph.
LANDSCAPE PHOTOS FROM AROUND SLOVENIA BY BLAZ GVAJC (25 photos)
Blaz Gvajc is a landscape and cityscape photographer from Slovenia's third largest city Celje whose passion is to explore and capture the most inspiring and beautiful places in the world. Although being an avid traveler, Blaz also adores his home country Slovenia and loves making spontaneous trips around it when there is promising light, and he will never tire of photographing it.
LANDSCAPE PHOTOS FROM ALL OVER SLOVENIA BY BOSTJAN KERSBAUMER (40 photos)
Bostjan Kersbaumer is a passionate self-taught photographer from Slovenia's second largest city Maribor. He is a car mechanic working at Porsche Maribor during weektime, but on weekends he becomes an ambitious landscape, nature and cityscape photographer with an aim to create memorable images from locations across Slovenia and other parts of the world.
LANDSCAPE PHOTOS TAKEN IN A VARIETY OF LOCATIONS IN SLOVENIA BY SABINA TOMAZIC (40 photos)
Sabina Tomazic is a young but already established professional on-location lifestyle photographer based in Trebnje, Slovenia. Although known primarily as a lifestyle photographer, Sabina also loves to create images that portray the natural beauty of Slovenia and its landscapes. Her landscape photos are realistic with minimal post processing.
LANDSCAPE AND NATURE PHOTOS FROM AROUND SLOVENIA BY JERNEJ LEBEN (40 photos)
Jernej Leben is one of the most talented amateur photographers in Slovenia whose unrelenting passion for his hobby inspires him to capture the beautiful landscapes and nature of Slovenia with absolute perfection.
LANDSCAPE AND NATURE PICTURES FROM ACROSS SLOVENIA BY KLARA KULOVEC (35 photos)
Klara Kulovec is one in a line of talented new Slovenian female landscape photographers who has found her passion with a camera in her hands. She has a heart of an artist and loves nothing more than time with her camera and a scene in front of her to capture the perfect copy of what she saw in her minds' eye. The forms, color and light that shape the landscape are a constant source of her inspiration.
WILDLIFE AND BIRD PICTURES FROM SLOVENIA BY MATEJ KOVACIC (30 photos)
Matej Kovacic is a young and exceptionally talented wildlife and bird photographer dedicated to capturing images of the indigenous wildlife of Slovenia. During his childhood Matej developed a strong fascination for wildlife, birds and nature. When he bought his first camera at the age of 13, he became as passionate about photography. It's hard to photograph wildlife in the wild, but Matej wants to be true, so he stays away from captive animals - all his photos are taken in the wild in Slovenia.
LANDSCAPE PHOTOS FROM THE STYRIA REGION OF SLOVENIA BY PETER ZAJFRID (40 photos)
Peter Zajfrid is a well-respected and very passionate amateur landscape photographer who loves capturing the beauty of this world through photography. He enjoys the outdoors and nature, and photography provides him with a medium to capture and share this with others. He especially loves creating images that portray the beauty of the Styria region of Slovenia and its landscapes.
FINE ART LANDSCAPE PHOTOS OF MARIBOR AND ITS SURROUNDING AREA BY UROS LEVA (25 photos)
Uros Leva is a versatile freelance artist – photographer, graphic designer and screenwriter. He has been living in Slovenia's second largest city Maribor for his whole life and never fails to be overawed by the beauty of the city. His connection to Maribor began the moment he was born and the more Uros experiences this city, the further he falls in love. When Uros is behind the camera, his goal is to bring out the beauty of Maribor and its surrounding area for all to see.
LANDSCAPE AND NATURE PHOTOS OF THE LAKE BOHINJ AREA AND THE JULIAN ALPS BY GREGOR SKOBERNE (35 photos)
Gregor Skoberne is one of the most talented and passionate landscape and nature photographers in Slovenia. Completely self-taught, Gregor is primarily focused on the unique local landscape and nature found in the Lake Bohinj area with an aim to capture the spirit and the essence of the moment in his photographs.
NATURE AND LANDSCAPE PHOTOS OF THE TRIGLAV NATIONAL PARK BY WALLE GREVIK (35 photos)
Walle Grevik is a passionate nature and landscape photographer, hiker, and traveler based in Helsingborg, Sweden. He has traveled to many countries around Europe including Iceland, Faroe Islands, Scotland, Ireland, and Greece. This year, he and his hiking partner, Fredrik Vestlund, decided to visit Slovenia and do a 9-day hiking adventure through the Julian Alps and Triglav National Park. Walle took some really beautiful photos during this hiking tour, and he was kind enough to share some of them with us here at Travel Slovenia.
LANDSCAPE PHOTOS OF THE SLOVENIAN ALPS BY MASA VODENIK (20 photos)
The Slovenian Alps are a part of the Southern Limestone Alps with three high-Alpine mountain ranges, the Julian Alps, the Karawanks and the Kamnik-Savinja Alps. They take up a large part of Slovenia and are full of incredible trails for all levels of hiking ability. They are lower compared with those in Austria and Italy, but with their beauty they surpass anything you may see in the Alps in Europe. All the photos in this gallery were taken by Masa Vodenik. She's an avid hiker who spends most of her weekends in the mountains and she never forgets to take her camera with her.
LANDSCAPE AND NATURE PHOTOS OF THE SLOVENIAN ALPS BY MIROSLAV ASANIN (40 photos)
Miroslav Asanin is a very enthusiastic, amateur photographer from Sencur, a small town in the Gorenjska region of Slovenia. His passion for photography began four years ago when he got his first proper camera - a Canon EOS 600D, after that there was no stopping. His primary interests has always been on shooting landscapes and different sceneries found throughout Slovenia and especially in the Slovenian Alps and its Triglav National Park.
FINE ART NATURE AND LANDSCAPE PHOTOS OF THE VRHNIKA COUNTRYSIDE BY ROBI DEBEVC KVOCKA (30 photos)
Robi Debevc Kvocka is a self-taught photographer based in Vrhnika, whose fine art nature and landscape photographs celebrate the natural beauty of the Vrhnika countryside. When Robi is behind the camera, his goal is to bring out hidden beauty of the Vrhnika area for all to see. His style, which is recognisable through the artistry of his photographs, is born of a keen eye for the many moods of the natural landscape and a life-long passion for the nature and the great outdoors.
SLOVENIA (30 photos)
A fascinating capital, charming coastal towns, beautiful alpine villages, stunning natural attractions, and much more - enjoy this wonderful selection of absolutely the most beautiful pictures of Slovenia, taken either by professional photographers or amateur photo enthusiasts.