About The Photographer
Sabina Tomazic is a young but already established professional on-location lifestyle photographer based in Trebnje, Slovenia. As a lifestyle photographer Sabina specializes in maternity, newborn, children, couple's, family and wedding photography, creating unique and artistic portraits to treasure. Sabina's aim is to capture a true personality and style of a person while documenting the most important moments and events in life that deserve to be captured and cherished forever. Furthermore, although known primarily as a lifestyle photographer, Sabina has also explored other fields of photography, including landscape and nature subjects. Her landscape photos are realistic with minimal post processing. Sabina is also an avid hiker and a lover of nature and she never forgets to take her camera with her.
You can see some of Sabina's finest landscape and nature photos from around Slovenia here below, and you can also visit her official website FotoTrenutki.si or her Facebook page and enjoy more of her stunning images.
Photo Gallery
A beautiful picture gallery containing 40 remarkable landscape photos taken in a variety of locations in Slovenia by Sabina Tomazic.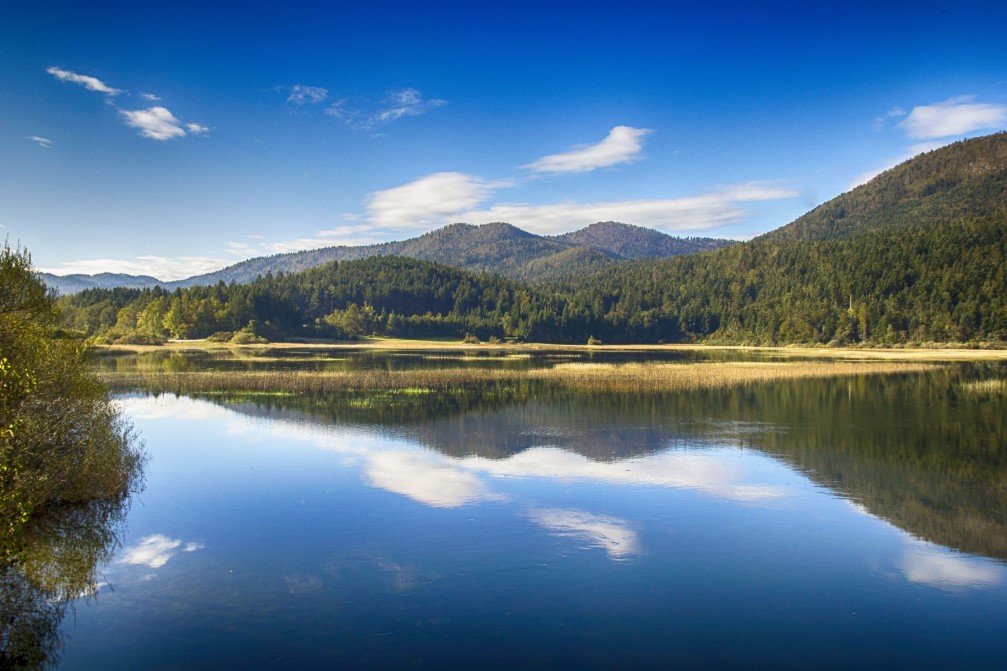 Lake Cerknica is one of the most unique lakes in Europe. It's is an intermittent lake – this means it disappears seasonally. At its max (when the Cerknica area has a lot of rainfall), it is the largest lake in Slovenia. During the dry season, it can completely disappear.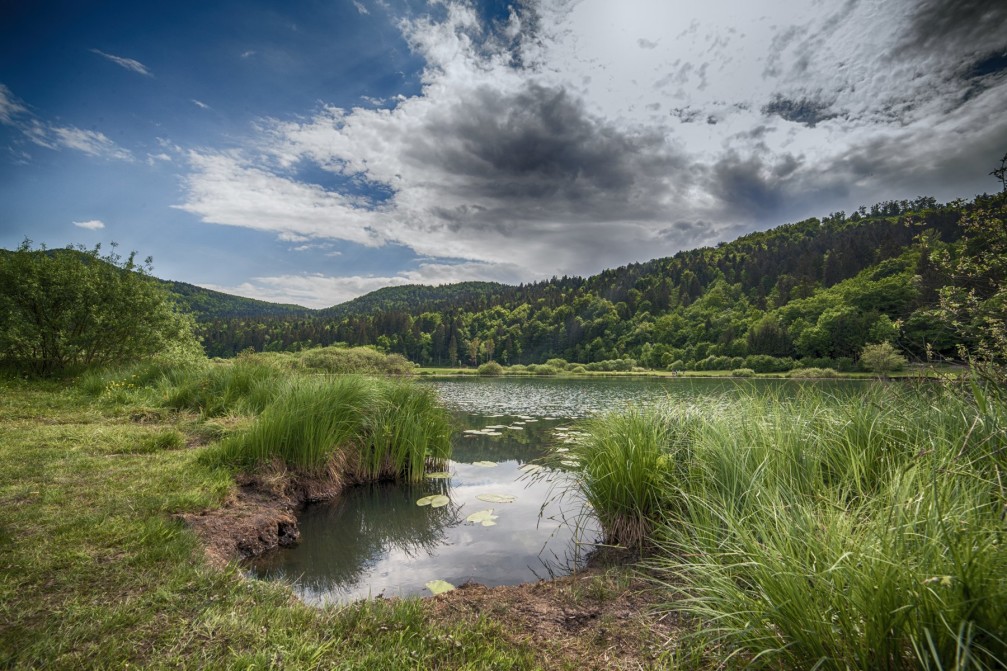 The small karst Podpec Lake lies on the outskirts of Slovenia's capital Ljubljana, in the area of the Ljubljana marshes near the village Podpec. Despite its modest size, it is one of the deepest lakes in Slovenia due to an underground outflow which leads to a funnel which has been explored to a depth of 51 metres. It is a popular spot for walkers and fishermen and attracts a fair number of Slovenian landscape photographers as well.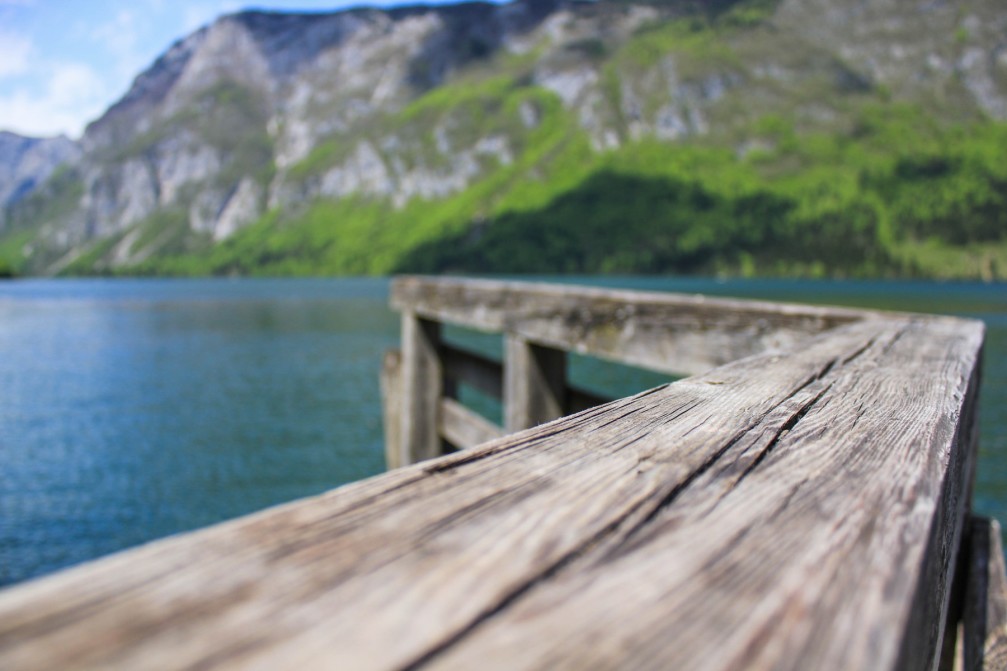 The jewel of the Slovenian Alps, Lake Bohinj is a photographer's paradise. Nestled in the heart of the Triglav National Park, the lake rarely fails to provide wonderful photographic opportunities.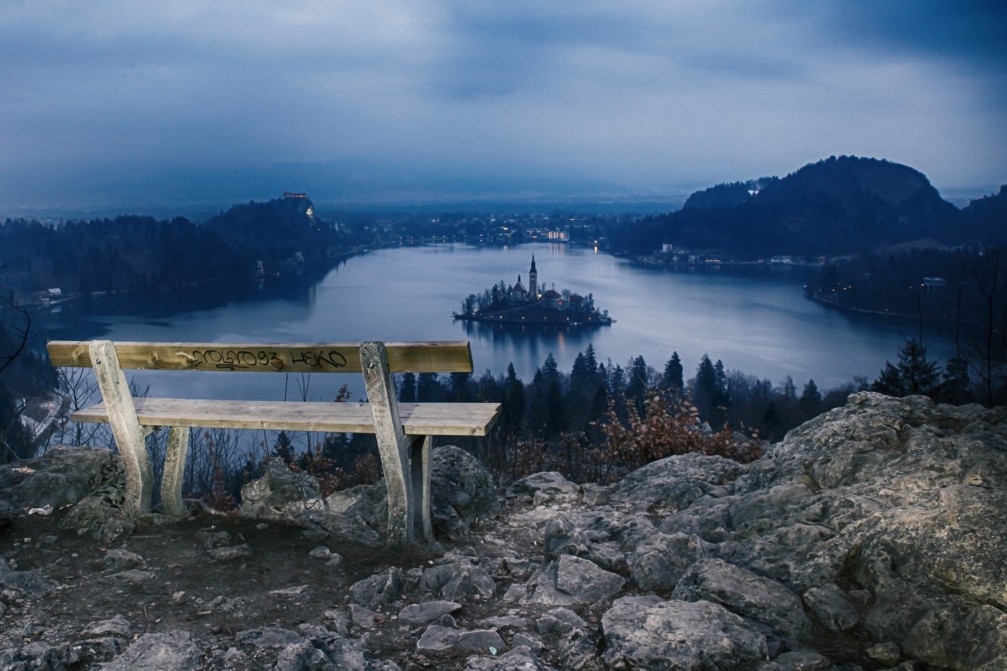 Lake Bled is located in the northwestern corner of Slovenia and has become a huge tourist attraction in the area. It's a lovely alpine lake with a beautiful island in the middle. There is the 15th century Pilgrimage Church of the Assumption of Mary on the Bled island. You have probably seen some photos of this charming lake already, haven't you?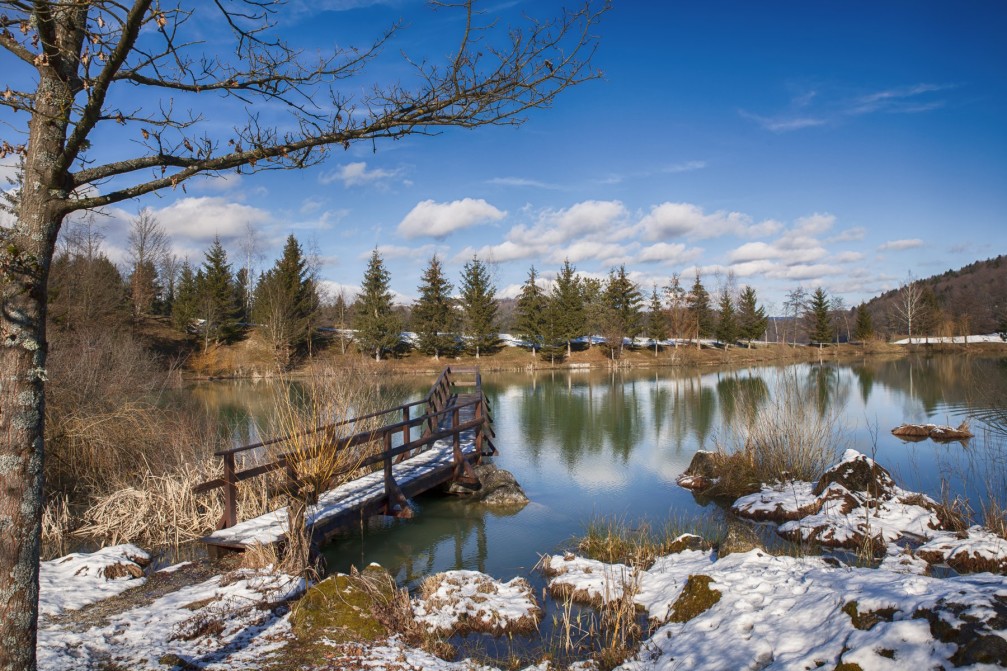 Blato Pond is located north of the town of Trebnje in the Lower Carniola region of Slovenia and is a popular local setting for quiet, scenic walks and exploring the countryside. It's also a superb spot for landscape photography.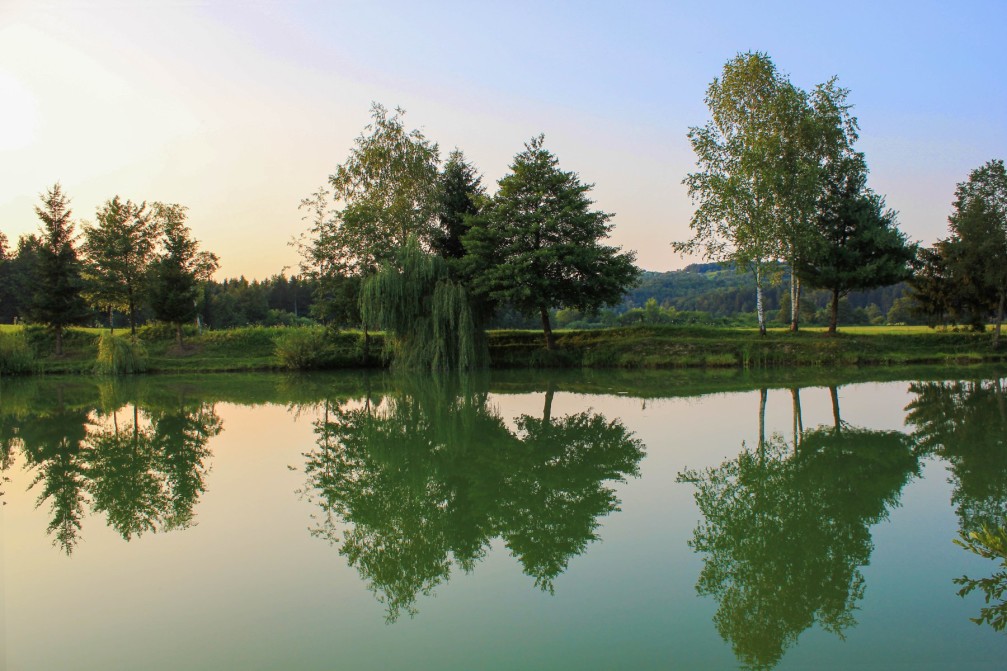 Blato Pond is also a popular spot with the locals for fishing as there are a variety of fish from the Cyprinidae family in the pond including carp, tench, common bream, zander, and several other species.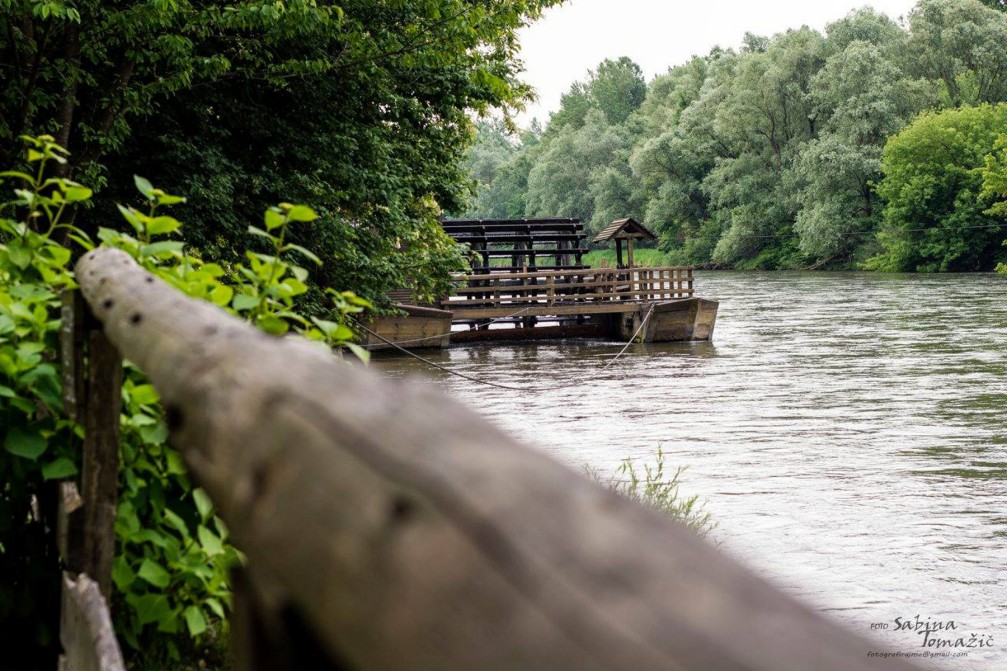 For centuries, mills played a key role in supplying the population with bread. However, many of the mills in the Pomurje region of Slovenia were different from most of the mills in Europe – they were made to float on the Mura river. In the late 18th century, 69 floating flour mills were active on what is now the Slovenian stretch of the Mura river but nowadays just two floating mills are still working, one of them is near the village of Izakovci, where visitors get a chance to see how flour was once made; they can even buy some traditional flour to use at home.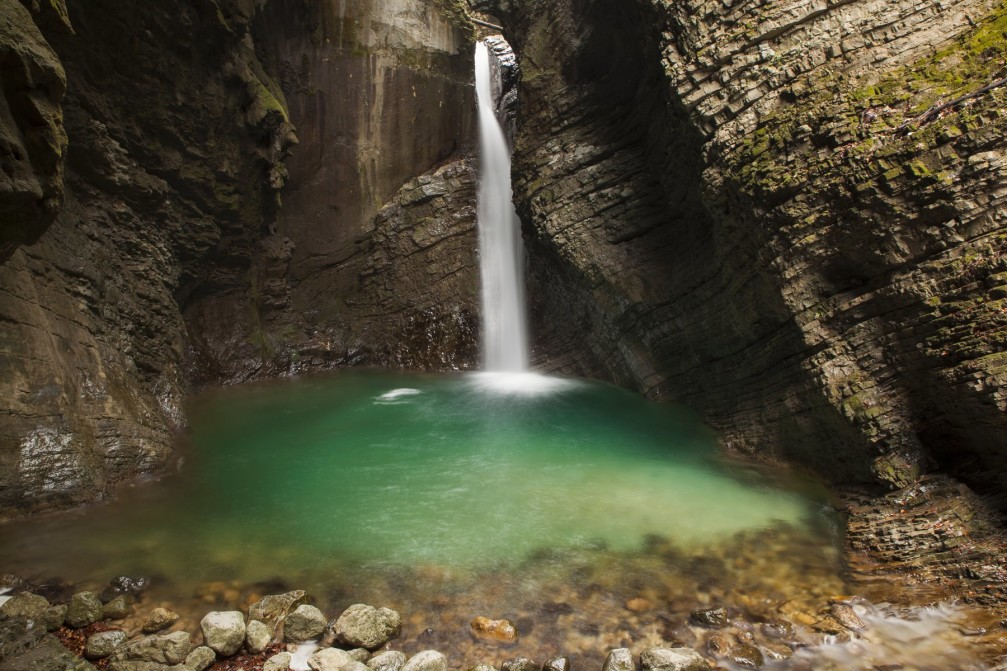 The Kozjak waterfall is considered to be one of Slovenia's most beautiful waterfalls. It's hidden in a fairly large open karst cave-like area – it falls 15 meters into an alluring emerald green pool nested between magnificent dark rocks. The effect of the dark rock contrasting against the emerald green pool is really breathtaking. The waterfall isn't the largest, the highest, the most water abundant, but a lot of people would agree that it's one of the most impressive and memorable and totally unique. It's accessible by a well-marked and well-maintained hiking path – it is a very scenic and not too rigorous of a hike (it's about 20 minutes from the parking lot), just go slow and you will be rewarded with one of the most beautiful and memorable sights that can be seen in this part of the world.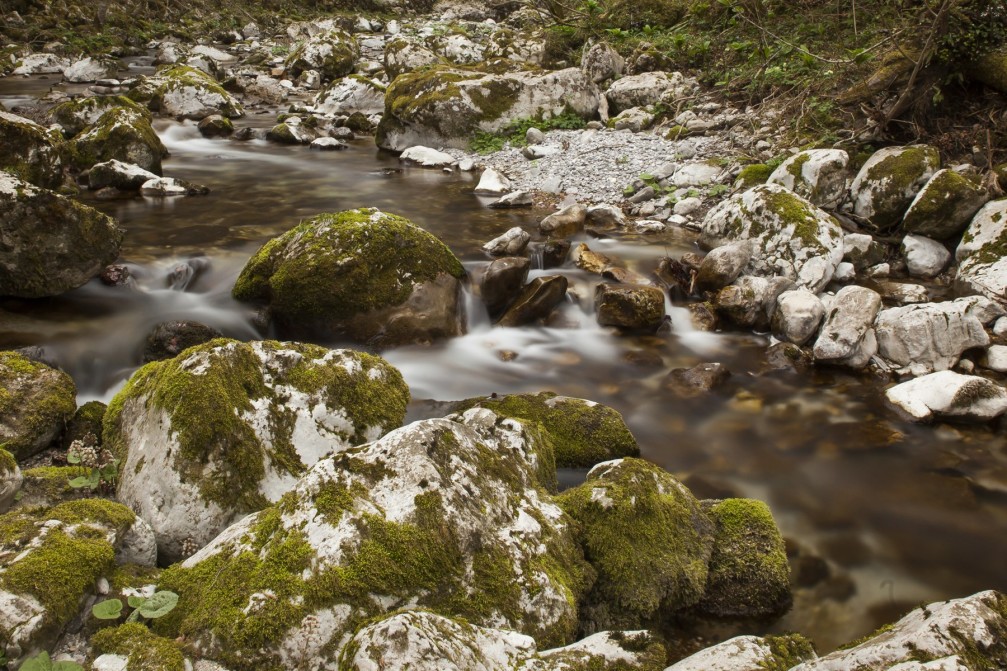 Kozjak stream is just one of Slovenia's many fast-flowing streams with crystal-clear cold water. It springs under the 2,142 meters high Krncica mountain, runs through several chutes and drops over six waterfalls before it merges into the the Soca river near the town of Kobarid.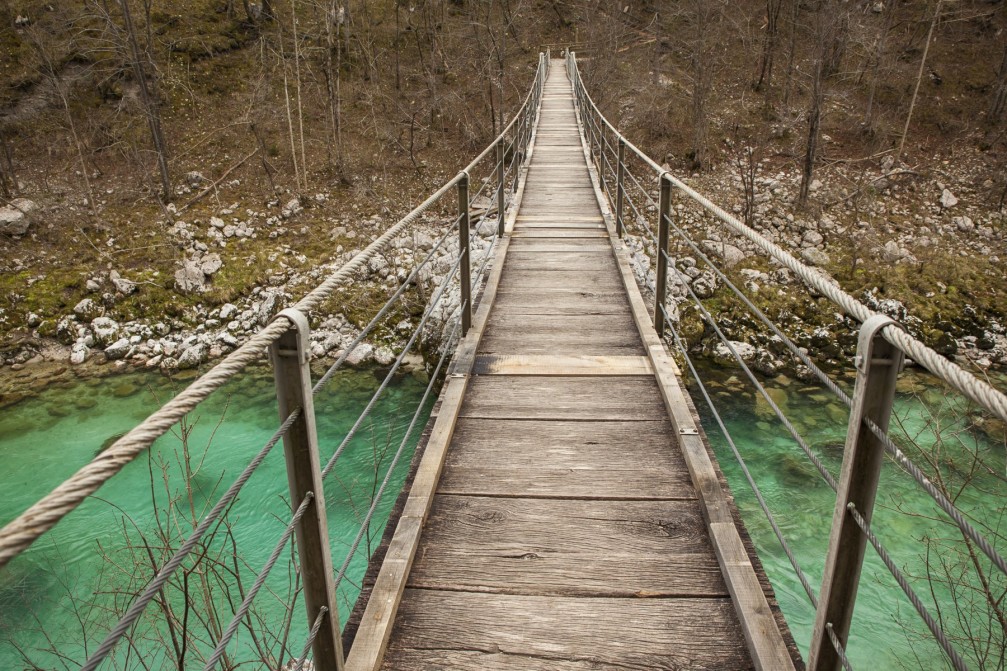 Suspension footbridge over the Soca river, which is regarded as one of the most beautiful and clearest rivers in Europe. The river has more then 20 suspension bridges. This one is located near the town of Kobarid and is part of the Kobarid historical hiking trail. It's constructed in the exact same spot where a wooden footbridge used by Italian soldiers had been during the First World War. The footbridge spans 51 meters long and 10 meters high over the river and can hold up to 100 people.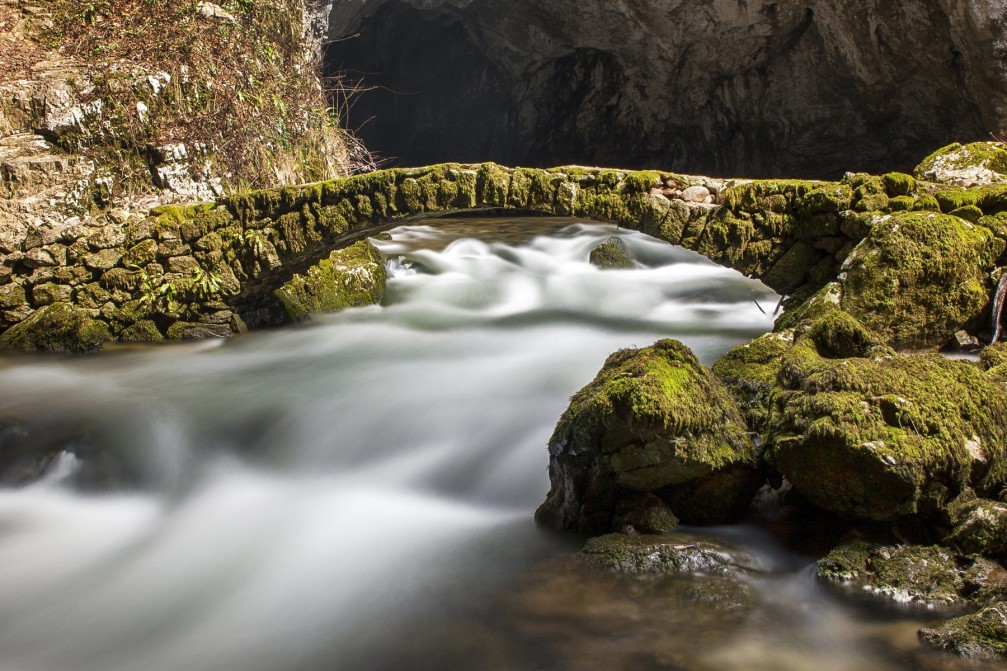 The Rakov Skocjan park is a lesser known nature reserve to the regular foreign tourist, lying some 10 kilometres east of the town of Postojna in the Karst region of southwestern Slovenia, but it's a must see. It is a stunning area where most of the Karst phenomena that can be found in the Slovenian Karst can be seen. Here you can walk over natural rock bridges, explore collapsed caves, peer down into underground streams and enjoy a quiet scenic walk through the woods and meadows along the Rak river.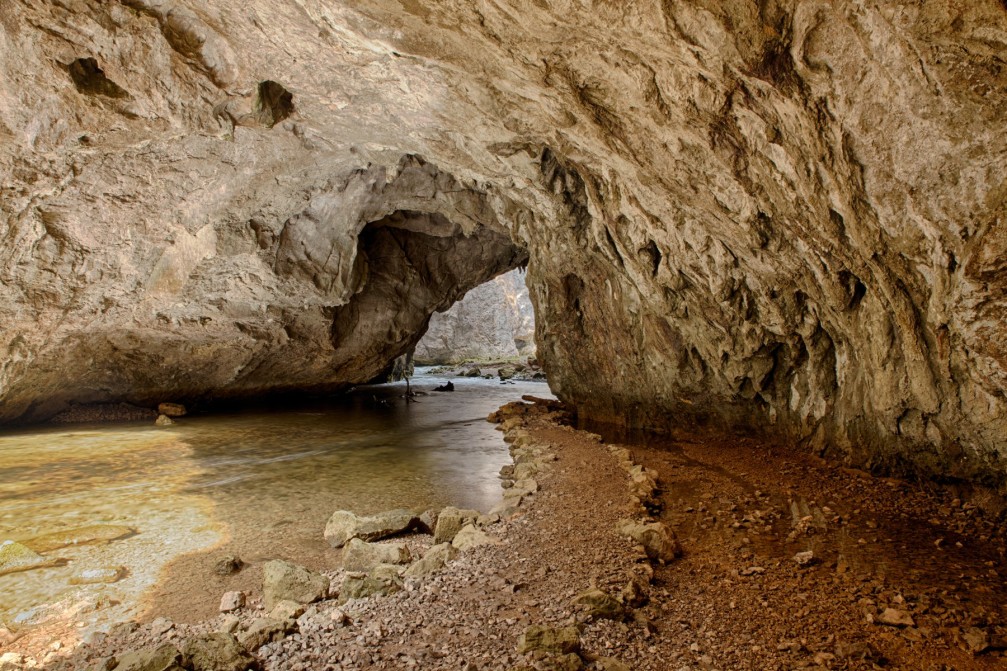 The Rak river springs from the Zelske Caves (on the photo) and then after flowing two and a half kilometres across the steep-walled Rakov Skocjan valley it again disappears underground in the Tkalca Cave.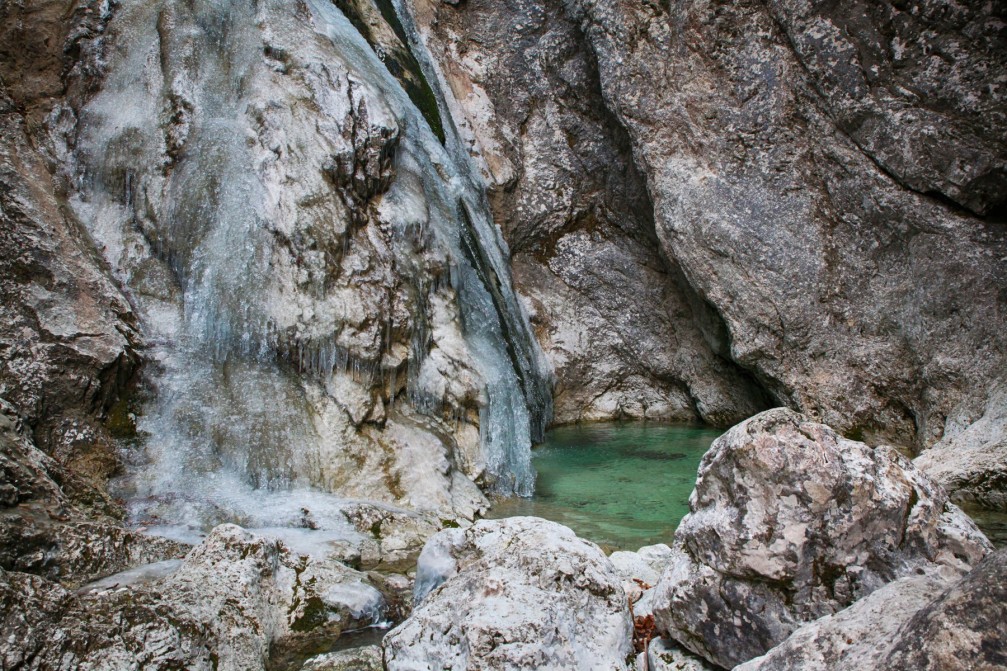 Waterfall Orglice is a beautiful waterfall in the Kamniska Bistrica valley with a drop of about 30 meters. With a little imagination and if you listen carefully, the waterfall gives a sound similar to that of someone playing a harmonica, hence the name (the word 'orglice' means 'harmonica' in Slovene).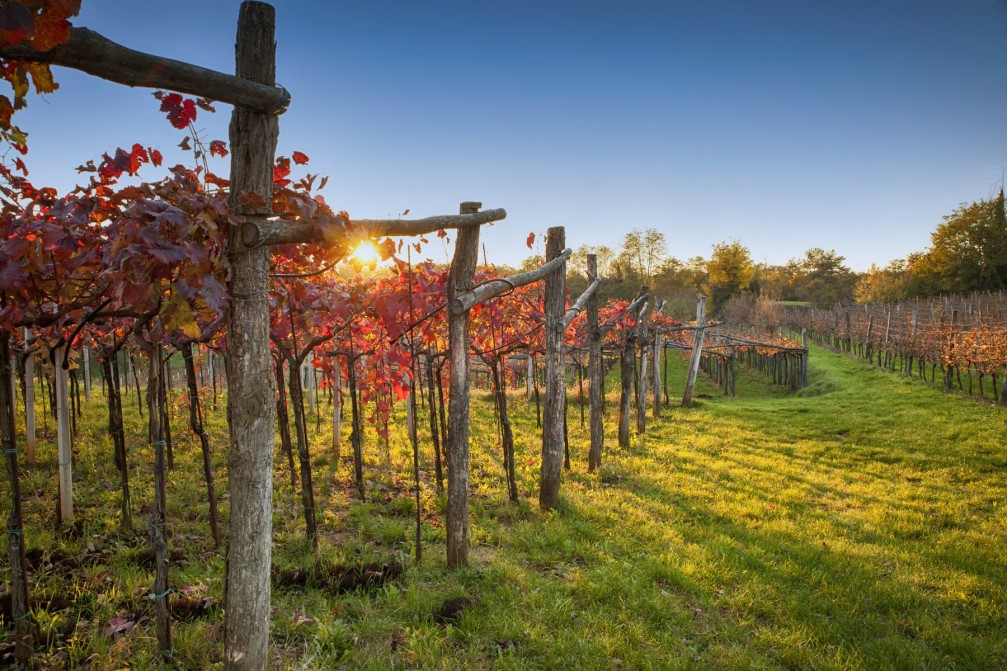 The Karst wine-growing region lies in the central part of the Slovene Littoral. The majority of vineyards here are planted with the Refosco grape variety, which is used to produce the Terrano wine.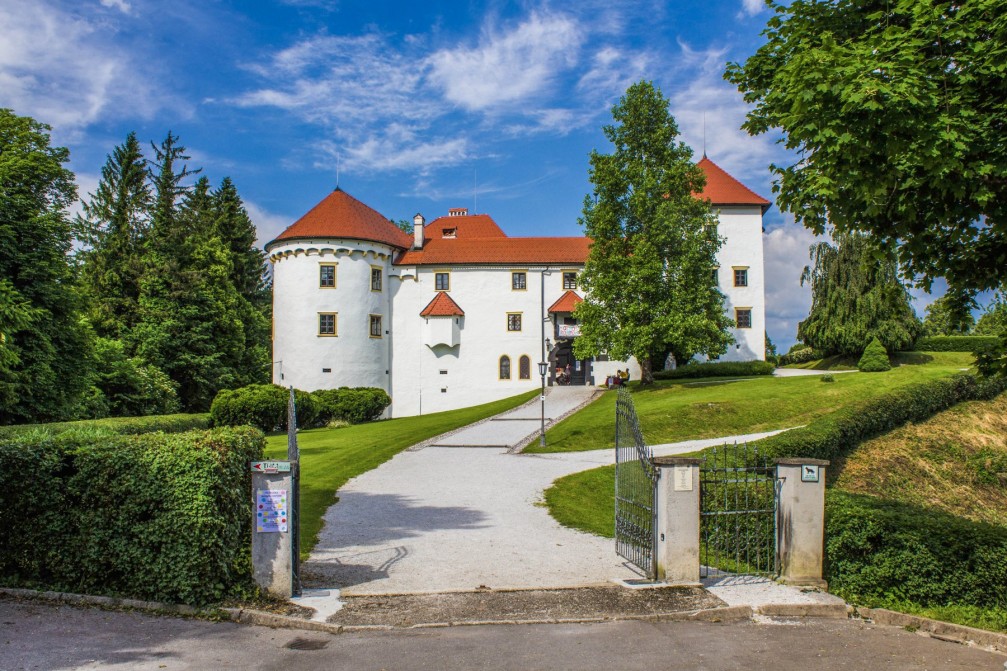 The Renaissance-style Bogensperk Castle was built at the beginning of the 16th century by the Wagen family and is considered to be one of the most magnificent and picturesque castles in Slovenia. Standing on a small hill near the town of Litija, not far from Slovenia's capital Ljubljana, the castle is listed as an important cultural monument and has played a big role in Slovenian history – it was bought by Janez Vajkard Valvasor, a renowned Slovene polymath, historian, and the first Slovene fellow of the Royal Society of London, who lived and worked here between 1672 and 1692 and turned the castle into a cultural and science centre boasting a print studio and an extensive library.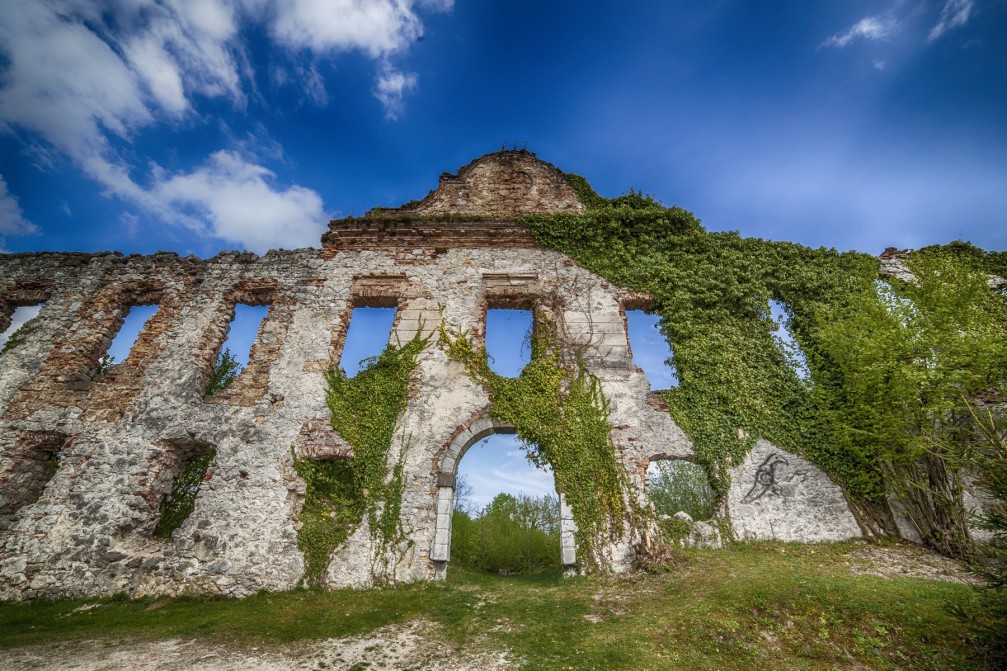 The Bostanj Castle was a Renaissance castle built on the foundations of a Roman fortification in the mid-16th century by Jacob von Lamberg – who gave the castle its name – Waissenstain. The castle changed several owners before it was burned down during the Second World War. The reports say it burned for almost 2 weeks because the local fire department was not allowed to extinguish the fire.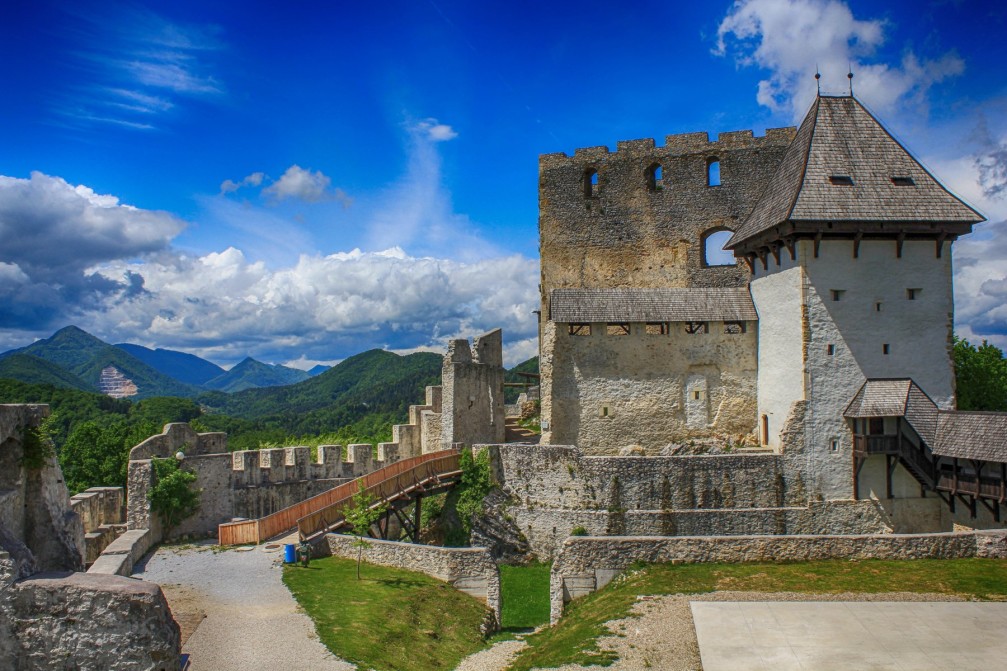 The medieval Old Castle perched on a hill above Slovenia's third largest city Celje is the largest castle complex in Slovenia and Celje's best-known landmark with over 70,000 visitors per year. The castle was built at the end of the 12th century by the Heunburg family. It changed many owners before it was bought by the Counts of Celje, the most important medieval aristocrats in Slovenia, who rebuilt, expanded and significantly improved the castle and its grounds. Their rule ended with the murder of the last male heir in 1456 and the castle slowly began to fall into disrepair towards the end of the 16th century. In 1846 the ruins were bought by the regional governor who began with the restoration work which still continues.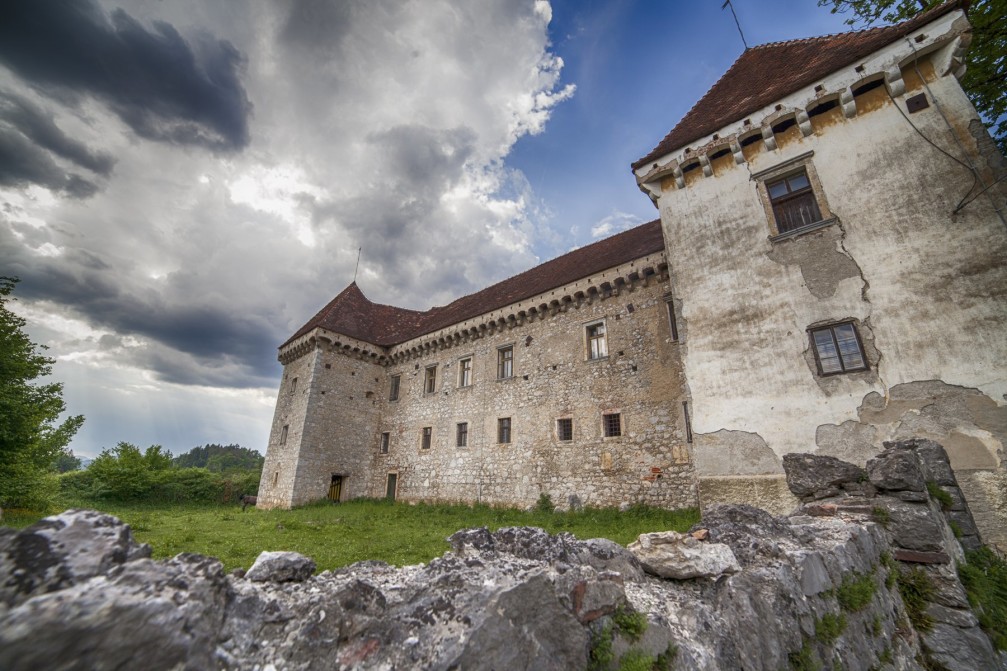 The best known landmark in the idyllic village of Gorjusa not far from Slovenia's capital Ljubljana is the 13th century Krumperk Castle, a fine example of a Renaissance-style manor house. The castle was plundered following the Second World War and is still waiting to be restored and renovated.

The Minorite Olimje Monastery was built in the 16th century as a Renaissance-style castle in the valley under the Rudnica mountain surrounded by green meadows, orchards, gardens and farm fields near the town of Podcetrtek on Slovenia's eastern border with Croatia. There's also a beautiful and well-kept garden in front of the monastery where the Franciscan monks grow their own herbs and medicinal plants.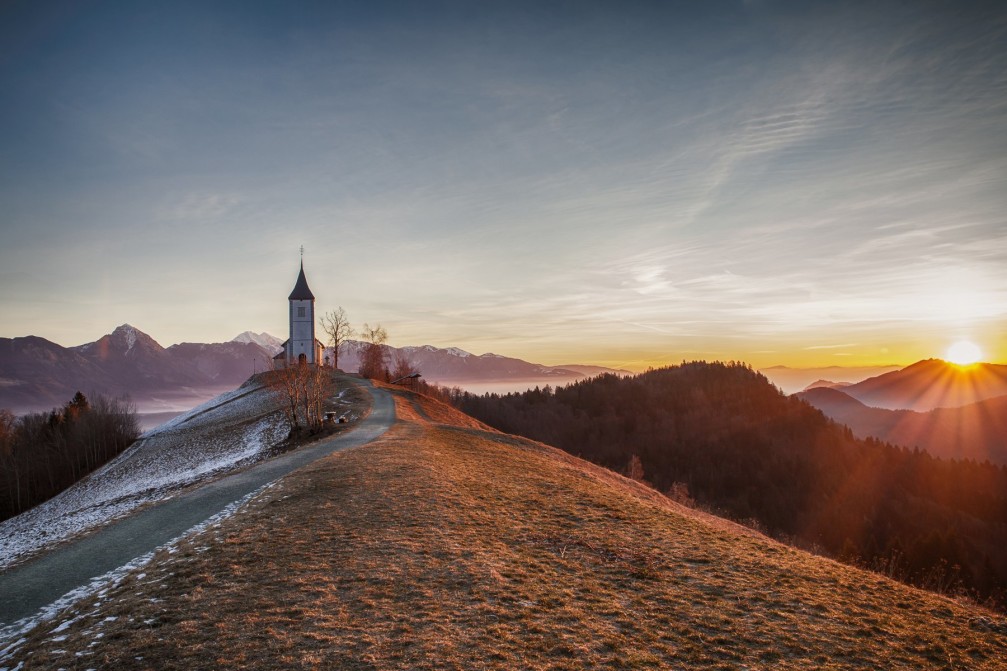 The beautiful Jamnik church of Saints Primus and Felician, perched on a hill on the Jelovica Plateau with the Kamnik alps and Karawanks mountains in the background.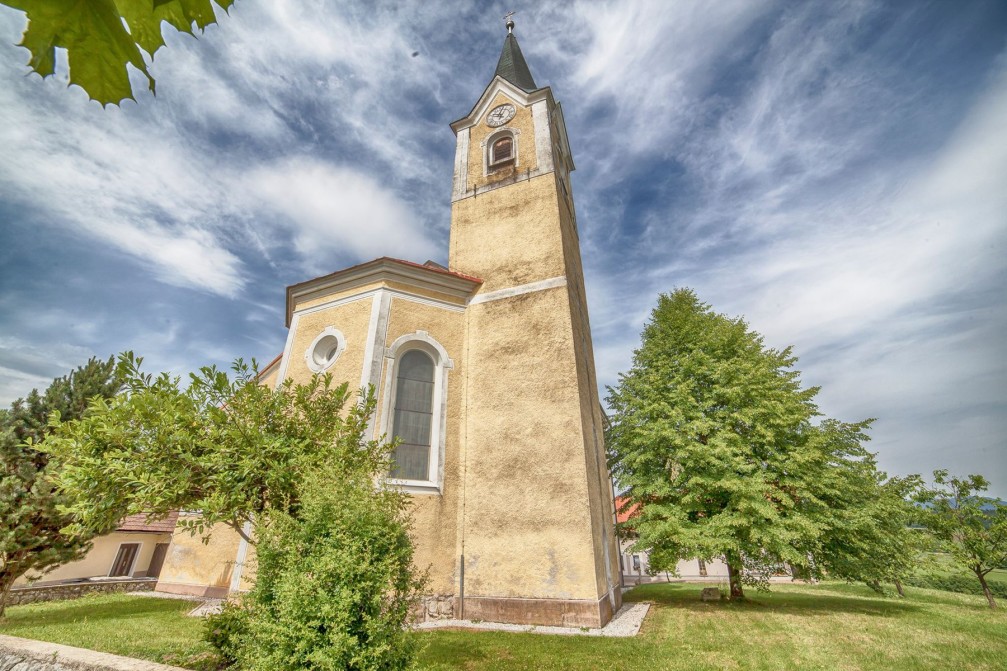 The Church of St. Ulrich in the village of Veliki Gaber was built in 1910 on the site of a 17th-century predecessor. It's a typical Slovenian church with a beautiful interior.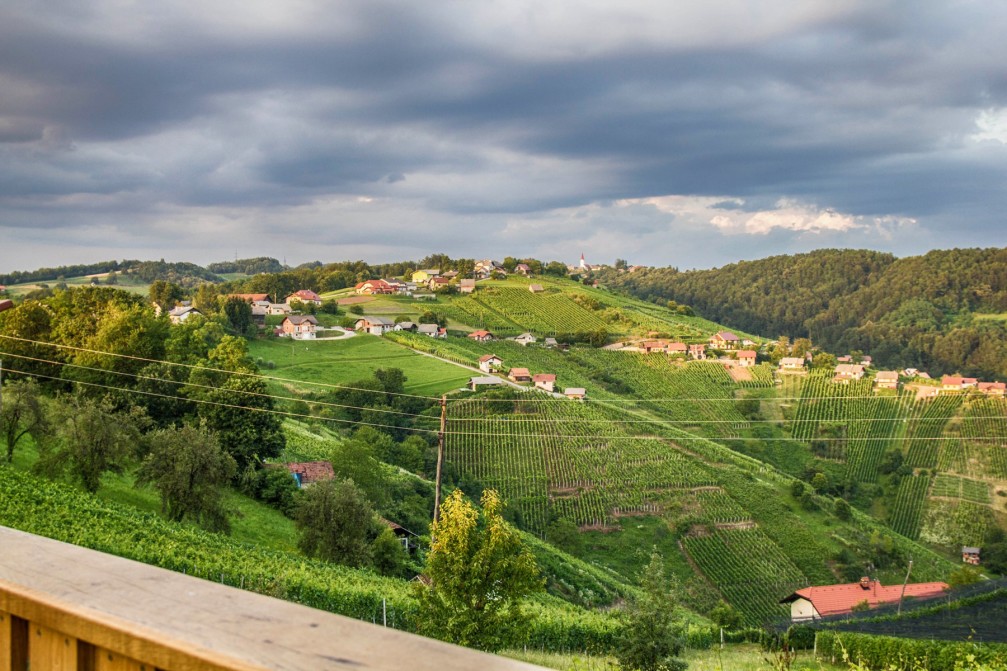 According to the statistics, about one percent of Slovenia's territory is covered by vineyards.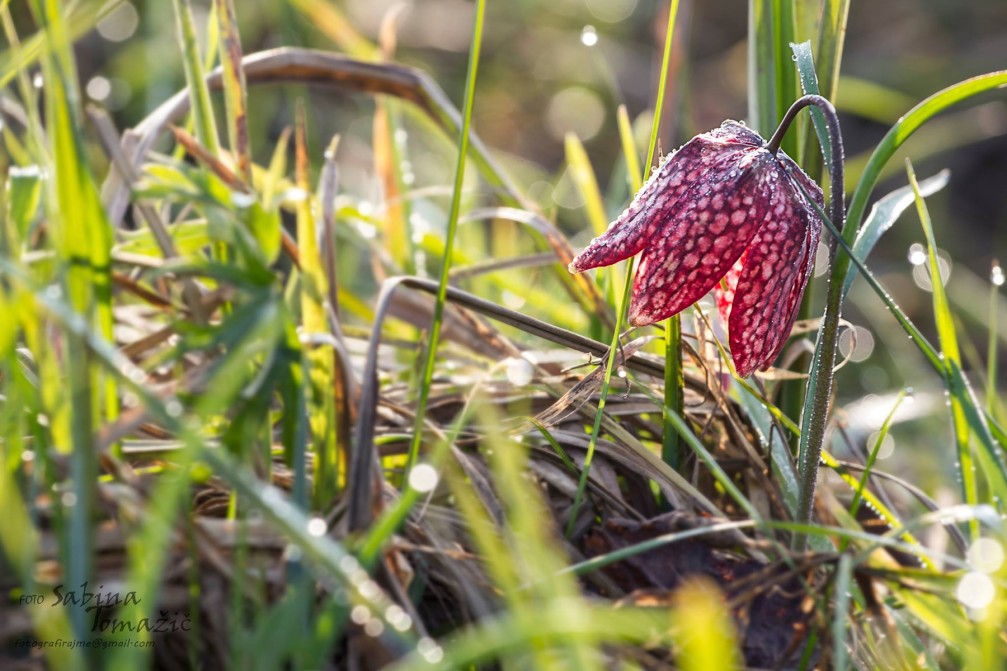 The delightful snake's head fritillaries are most unusual looking wildflowers and Slovenia's only native fritillary species. Various shades of purple flower begin to appear in spring, and close inspection reveals a checked pattern like silvery scales. They are found in wet grassland areas of the Ljubljana Marshes, not far from Slovenia's capital Ljubljana. They thrive on land that has never been subjected to intensive agriculture, and are now very rare.

The countryside in Slovenia is filled with wheat fields, but because of the low share not enough wheat is produced for Slovenia to be self-sufficient for human consumption.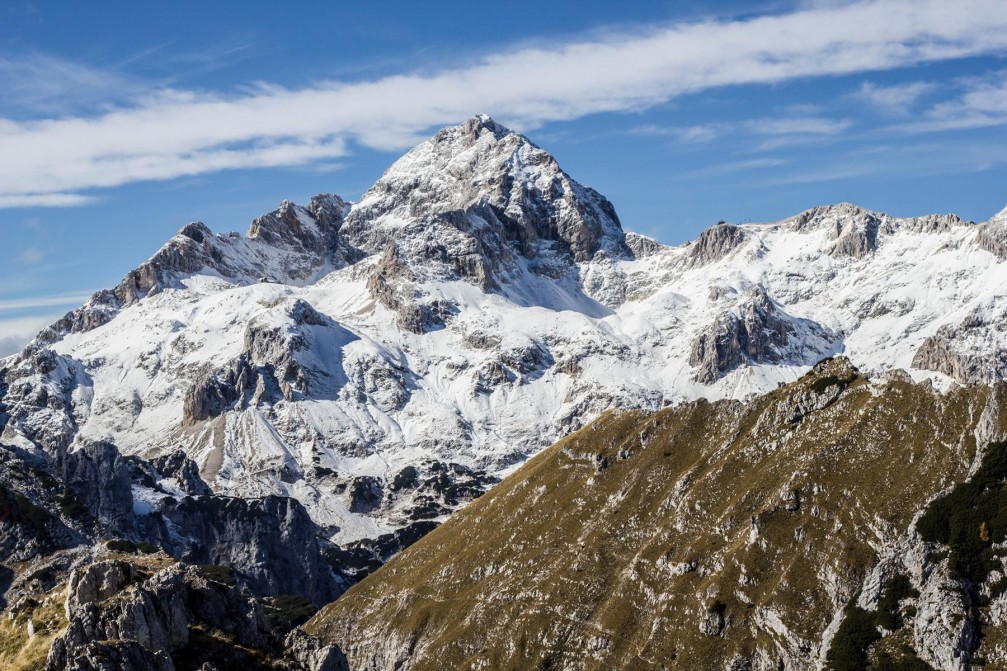 At 2,864 meters Triglav is the highest mountain in Slovenia and the highest peak of the Julian Alps. But it is more than that, it's a true national symbol and is featured on the national flag and the coat of arms. Triglav's summit is almost a place of pilgimage for the Slovenes – some even say that only once you have climbed Triglav, can you be considered a true Slovenian!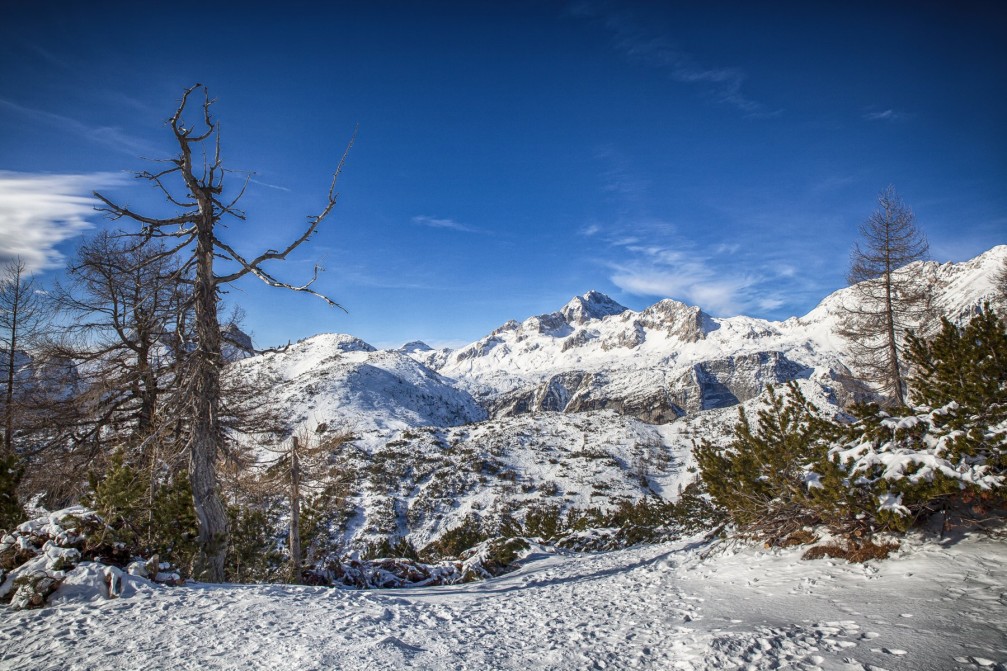 The Julian Alps are part of the only national park in Slovenia. You will truly fall in love with the area once you get to see closer to mountain peaks. You need to walk to one of the peaks, or take a cable car to the Vogel viewpoint or alternatively drive through the Vrsic mountain pass. Mountains and scenery is breathtaking.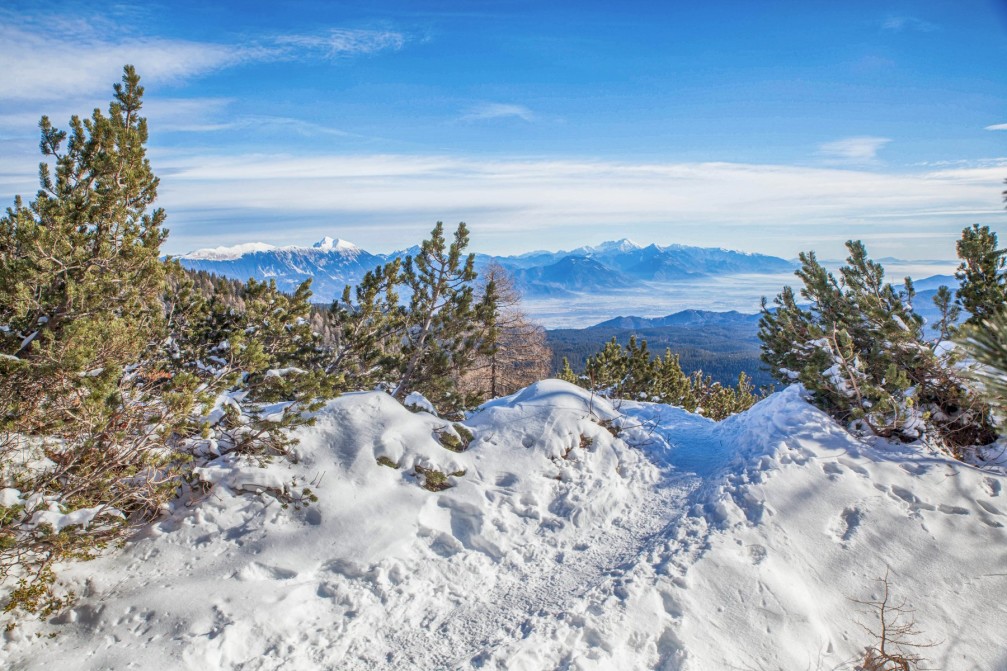 The Julian Alps are an amazing thing to see. Getting to the top of the mountains is just one unique experience.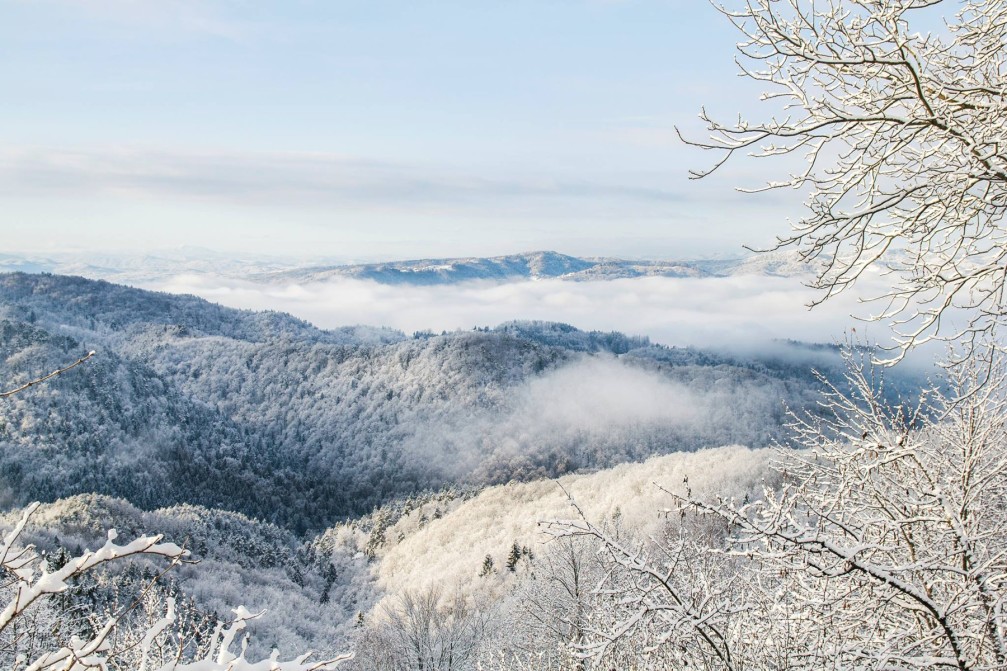 Forests are a symbol of Slovenia's environment and culture. They cover 58% of the territory of Slovenia and are an essential element of the landscape. Slovenia is a mountainous country with around 35 percent of the territory above an altitude of 600 meters, so the large share of forestation is understandable.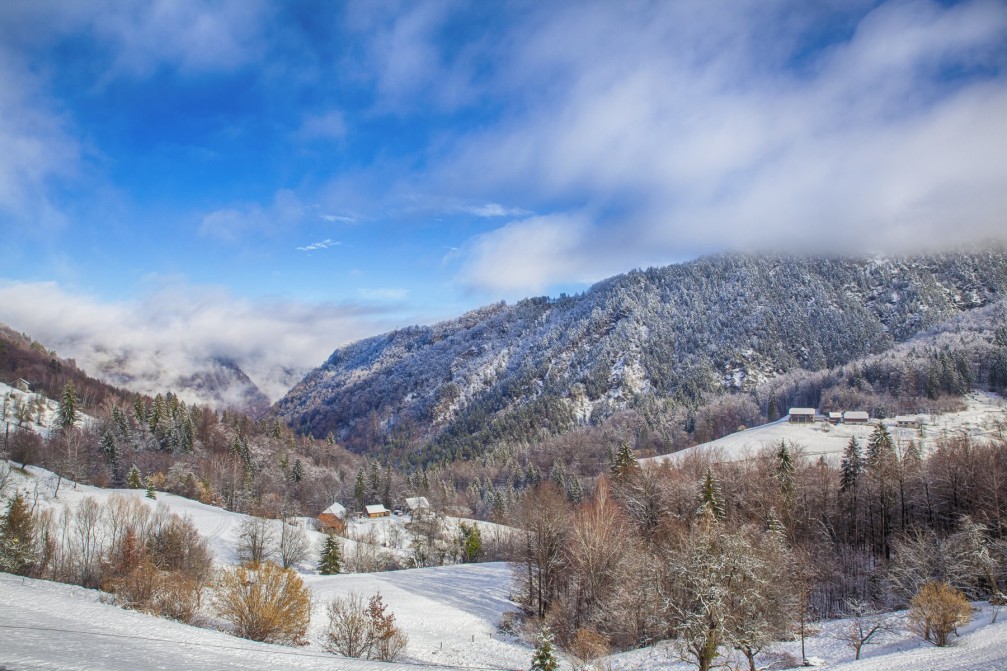 Forest in Slovenia has mainly been preserved in higher and steeper locations, which are less suitable for agriculture, and where its protective role is even more important.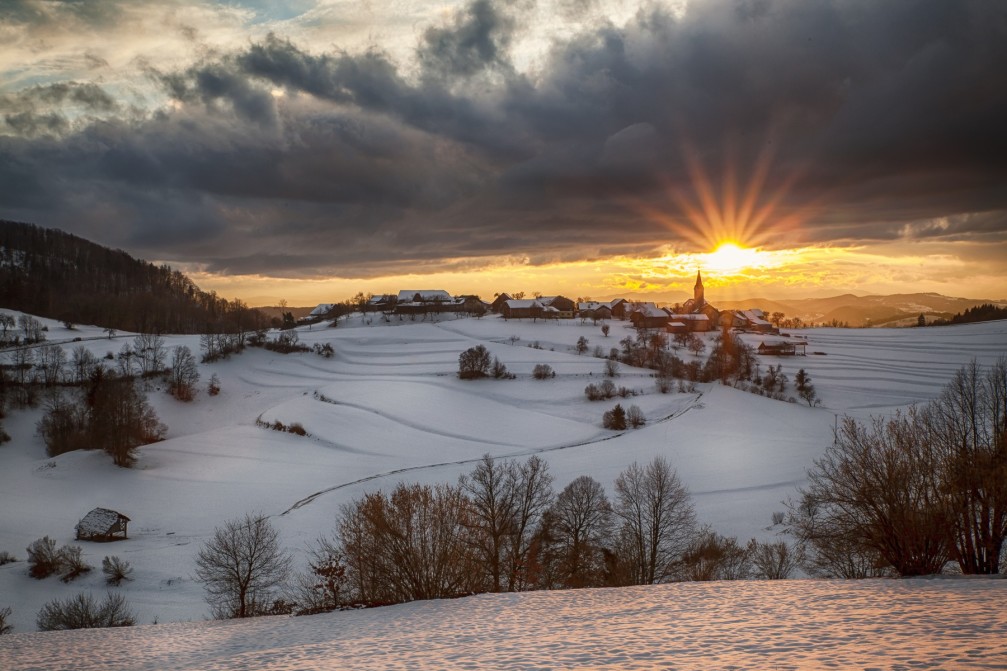 The small village of Velika Goba lies east of Litija in central Slovenia. The village's best known landmark is the Church of St. Michael which was built in the 18th century.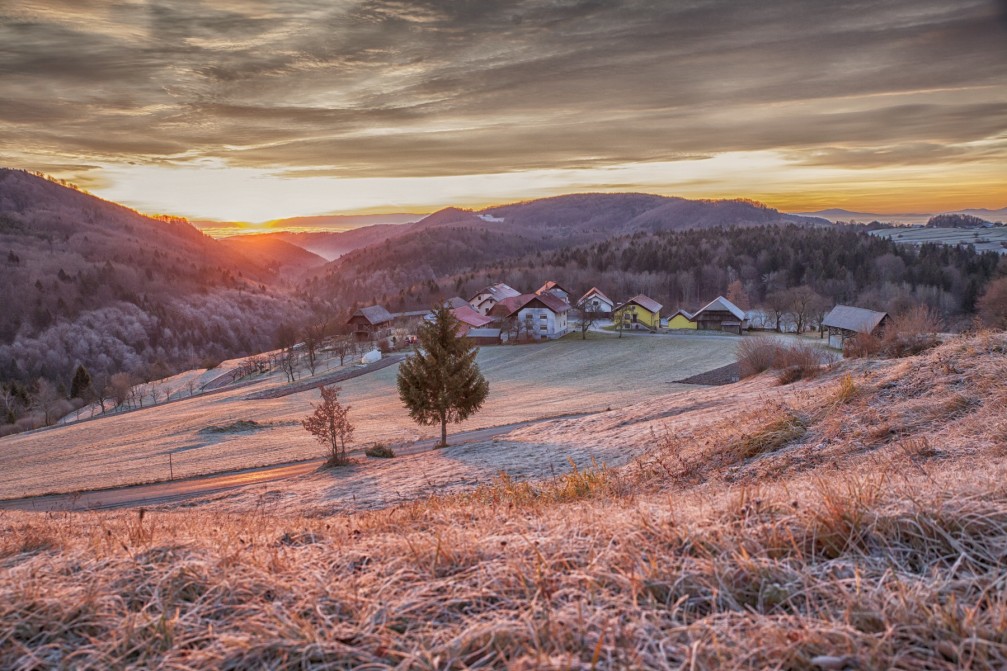 The picturesque village of Ceplje lies east of Litija in central Slovenia.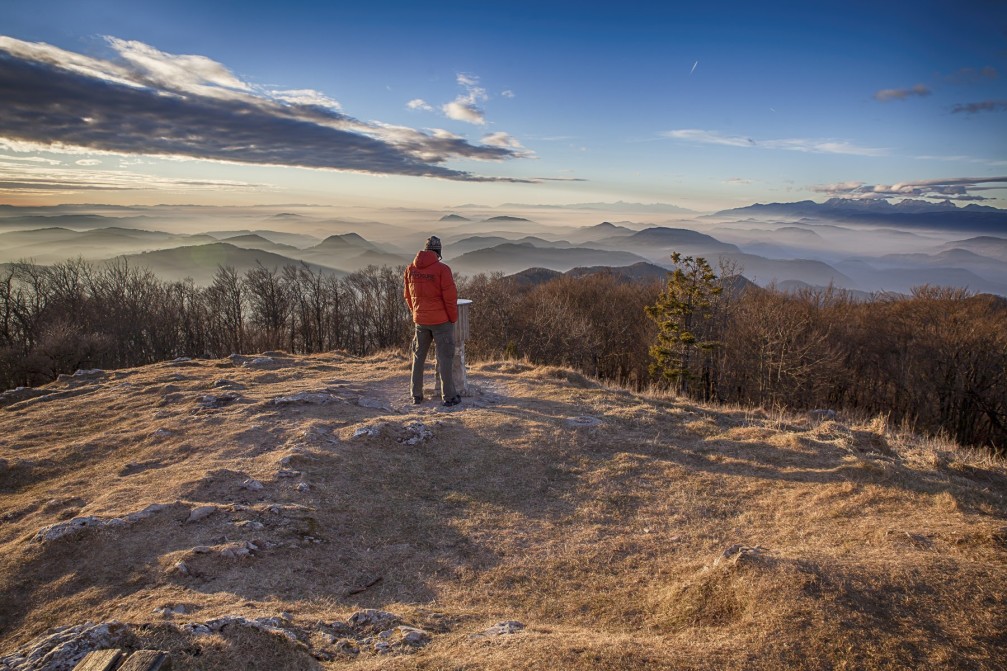 At 1,220 meters Kum is the highest peak of the Posavje hills and offers breathtaking views which seem to go on forever on a clear day.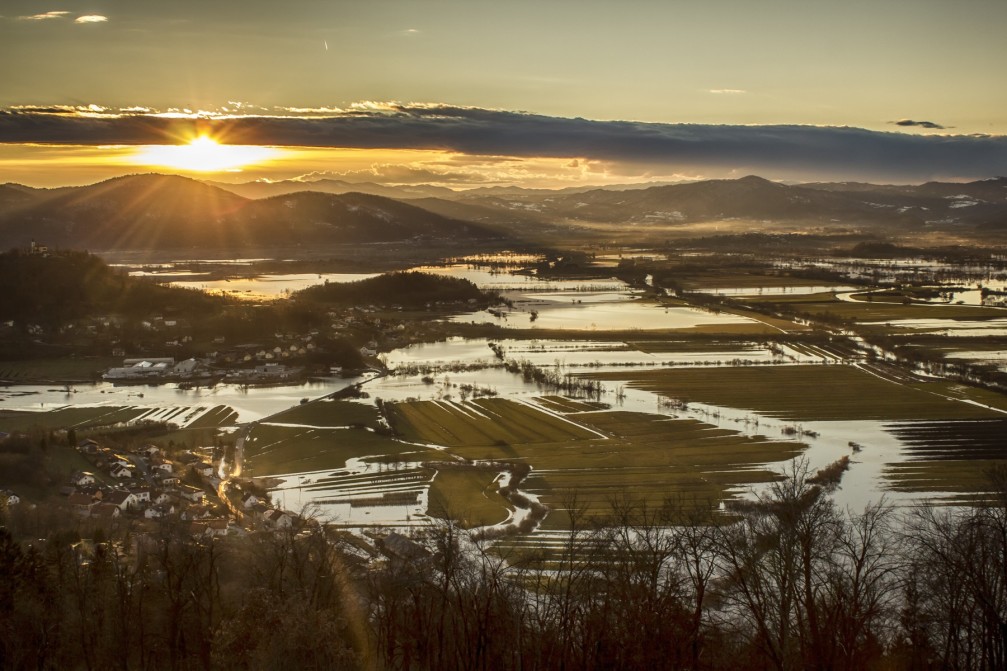 Ljubljana Marshes, located south of Slovenia's capital Ljubljana, is one of the most unique natural areas in Slovenia known for its rare animal and plant species and for the remains of the prehistoric pile dwellings, which are inscribed under the UNESCO World Heritage List. The area features a combination of meadows, fields, hedges and canals and is often flooded.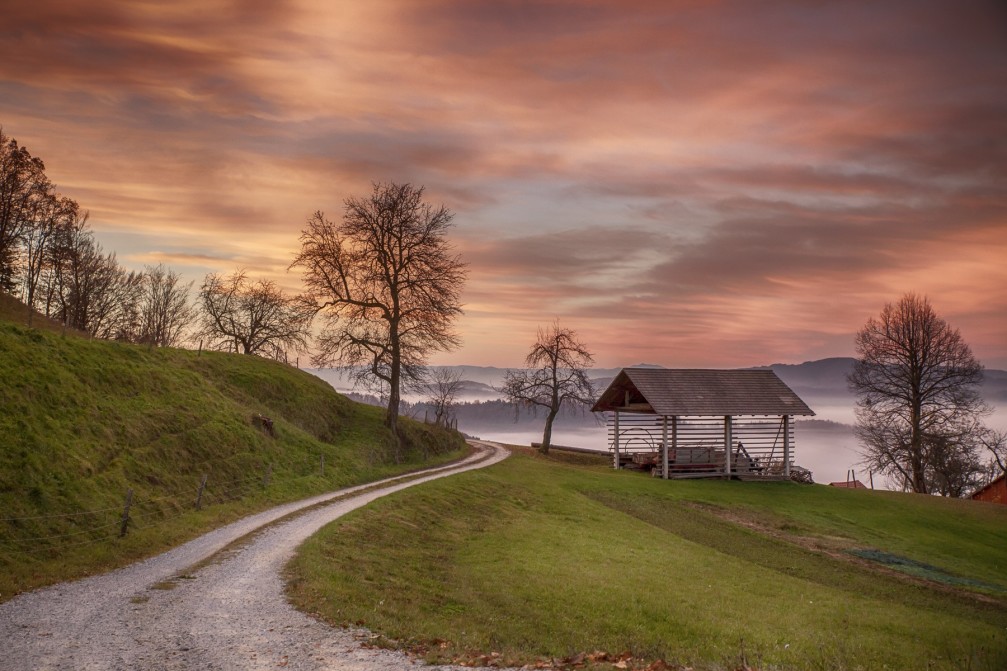 A scenic dirt road leading to the village of Dolgo Brdo in central Slovenia.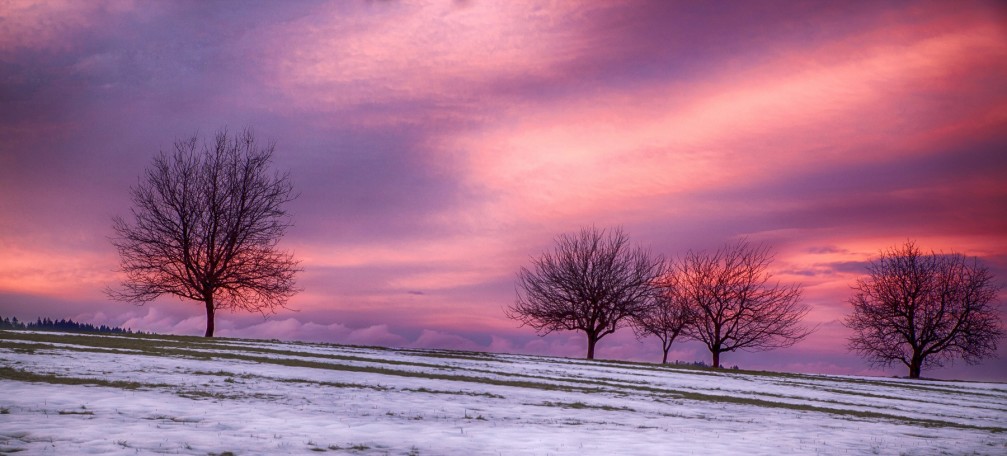 A spectacular winter sunset with vivid colors in shades of pink through purple, all natural colors without enhancement, over the countryside near the village of Velika Preska in central Slovenia.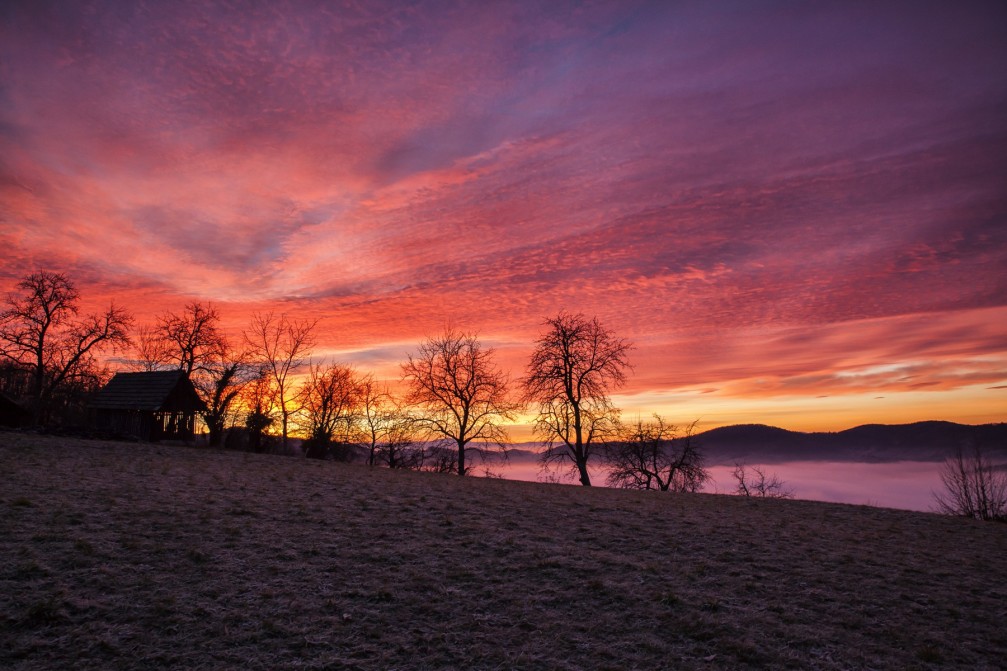 Another breathtaking winter sunset with vivid colors of red and orange through purple over open countryside near the village of Dolgo Brdo in central Slovenia.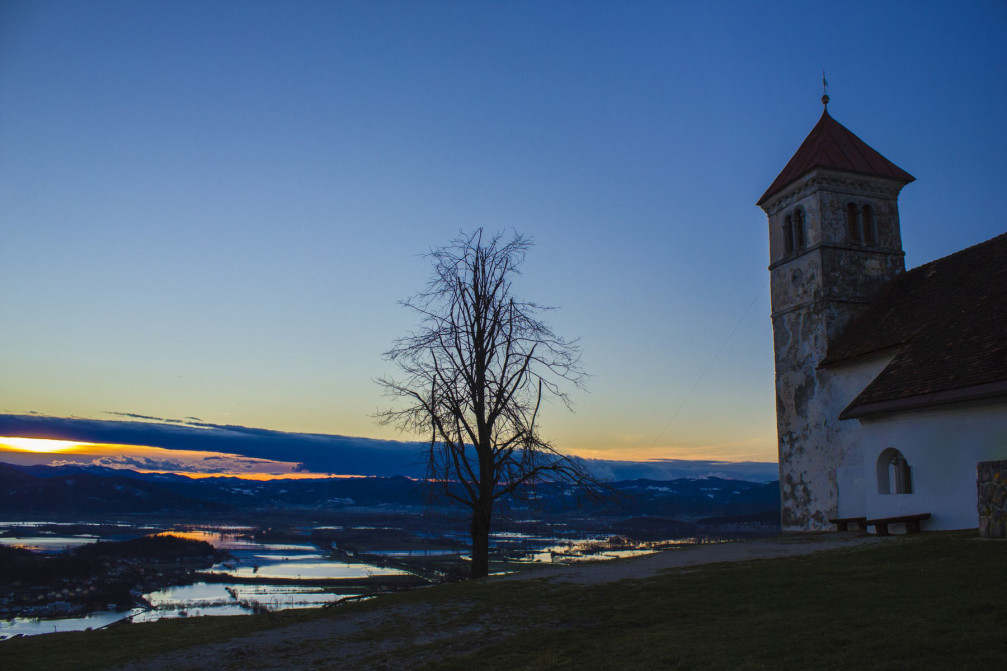 The church of St. Anna stands on top of a small hill above the Ljubljana Marshes at an elevation of 484 meters. The church was originally erected somewhere between 1100 to 1300, however, the building in its current form dates from 1883 when it was renovated in the Baroque style. It's well worth the hike up the hill for some great panoramic views in all directions.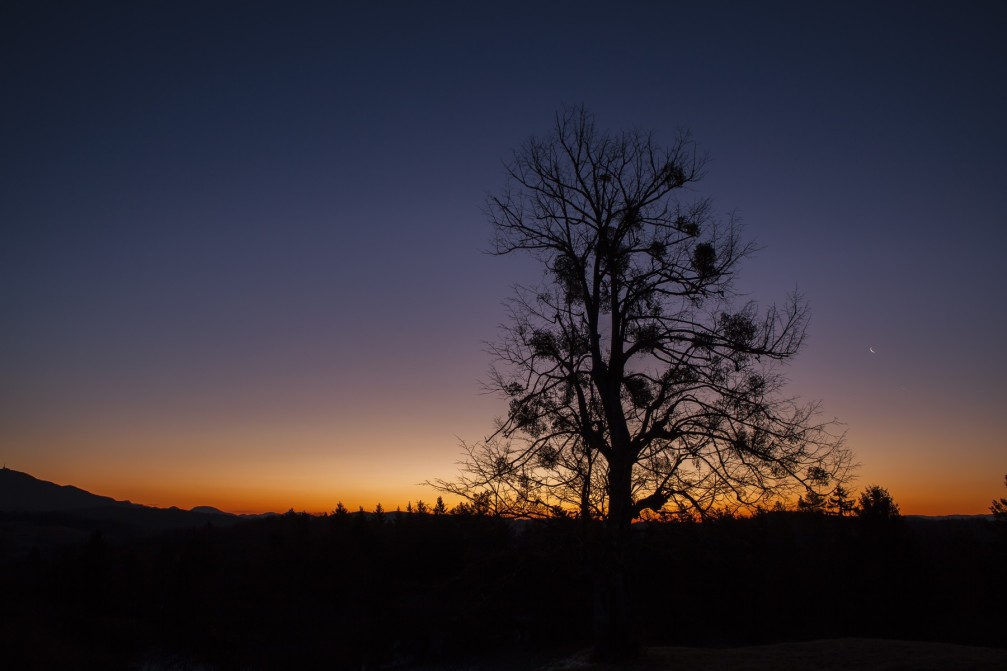 A lonely tree in a countryside near the village of Borovak Pri Polsniku in central Slovenia just before sunrise.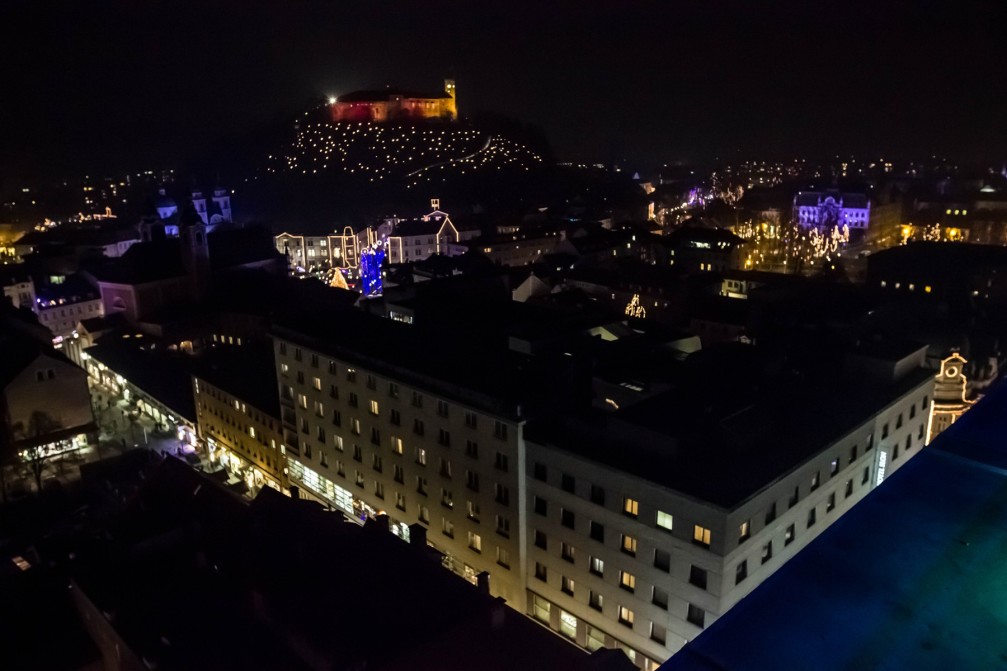 In December during the festive season, Ljubljana's holiday light installations make the unique beauty of Slovenia's capital really stand out. But the Christmas lights themselves, although a breathtakingly beautiful sight to be seen, are only half of the experience of Ljubljana in December. The other part are festive open-air events and Ljubljana's Christmas market, which might be a little small, but it's one of the loveliest in Europe.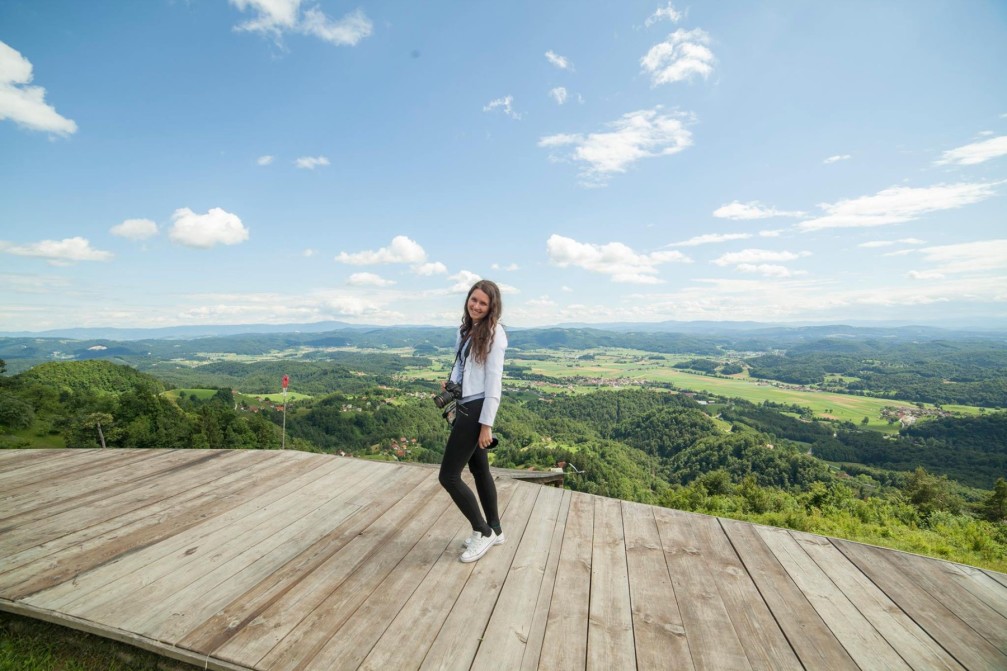 Although known primarily as a lifestyle photographer, Sabina Tomazic also loves to create images that portray the natural beauty of Slovenia and its landscapes.

Discover beautiful Slovenia through amazing photos

SLOVENIA, AS SEEN FROM THE AIR (50 photos)
Aerial photography provides you with a breathtaking bird's eye view – one you won't get anywhere else. So, here are 50 spectacular aerial photos that prove why Slovenia might just be the most beautiful country on Earth.
SLOVENIA AT NIGHT (30 photos)
Night has its own magic. Night can transform an ordinary scene into something magical, mysterious and captivating. Light, shadow, texture, tonality, pattern all work together to create a very different feeling compared to photos captured during the day. Everything is just more magical at night, so here are 30 night pictures of Slovenian cities, towns, villages and other places at night. Enjoy!
LANDSCAPE AND NATURE PHOTOS FROM ALL OVER SLOVENIA BY LUKA ESENKO (40 photos)
Luka Esenko is considered by many to be Slovenia's new leading landscape and travel photographer. He has been photographing landscapes for almost a decade now, and through photography he has been blessed to capture some of the most gorgeous locations in Slovenia. Strong compositions and a feel for natural light are what make Luka's images stand out.
AERIAL DRONE PHOTOS FROM AROUND SLOVENIA BY JURE KORBER AND TJASA BORSNAK (35 photos)
With the technological advancements in cameras and drones, we can now get a glimpse of the world from a different perspective. And from high up above, especially with a bird's eye view, the world is a stunningly beautiful place. Jure Korber and Tjasa Borsnak, a young student couple based in Slovenia's capital Ljubljana, took their aerial photography platform called Hexabee into the sky and captured Slovenia from angles not seen before.
LANDSCAPE PHOTOS FROM SLOVENIA BY DEJAN HUDOLETNJAK (50 photos)
Dejan Hudoletnjak is a super-talented and passionate photographer best known for his beautiful landscape photos of Slovenia and wonderful use of light and color. He has an unerring eye for composition and detail, and a great sensitivity to mood, expressed in his photographs through the awareness and use of light. His goal as a photographer is to create an image that not only captures a moment in time, but also tells a story and evokes an emotional response. An image that shares the mood and feelings he felt when being there.
LANDSCAPE AND NATURE PHOTOS FROM ALL OVER SLOVENIA BY DANIEL TOMANOVIC (50 photos)
Daniel Tomanovic is a young and very talented landscape photographer who has been creating images that portray the natural beauty of Slovenia and its landscapes for over 8 years. He believes that finding good light is the most important thing to create great landscape images. Everyone can capture outstanding landscape scenery, but hunting the special light is the true challenge for a landscape photographer. And judging from his works, he is very successful in capturing beautiful locations in the best light.
LANDSCAPE AND NATURE PHOTOS FROM ALL OVER SLOVENIA BY ERICH REISINGER (50 photos)
Erich Reisinger is a 55-year-old German landscape, nature, and urban photographer based in the Bavarian town of Ingolstadt. He has been fascinated with photography since he was a 6-year-old child. He has a special connection with Slovenia. He met his wife in Maribor and Slovenia soon became his second home country. He visits Slovenia several times a year and never forgets to mention how he loves Slovenia and how he will never tire of photographing its immense beauty and infinite variety.
LANDSCAPE AND NATURE PHOTOS FROM ACROSS SLOVENIA BY PIOTR SKRZYPIEC (40 photos)
Piotr Skrzypiec is one of the leading landscape photographers in Slovenia. Born in Nowy Sacz, Poland in 1978, Piotr spent most of his childhood in the south of Poland. After completing his master's degree in geography Piotr moved to Slovenia, where he picked up his first camera in 2008. Through photography, Piotr found a way of communicating about his nature and landscape passion and he quickly established himself as a successful landscape and nature photographer.
LANDSCAPE PHOTOS FROM AROUND SLOVENIA BY DOMEN DOLENC (35 photos)
Domen Dolenc is a young but well-established travel photographer currently based in Zelezniki, Slovenia. Since Domen purchased his first camera in 2005, he has been addicted to photography. He never travels without his camera and loves to capture the beauty he finds throughout the world in his own way - his photographic style is defined by powerful colours, street photography scenes, landscapes, but also moments of everyday life, faces and a very close approach on people.
LANDSCAPE PHOTOS FROM ALL AROUND SLOVENIA BY GREGOR KACIN (40 photos)
Gregor Kacin is a 39-year-old landscape and nature photographer based in the charming little town of Idrija in western Slovenia. He is very fortunate to live in such a beautiful part of the country and he can often be found roaming the countryside, looking for that special moment when the true beauty of nature revels itself.
LANDSCAPE PHOTOS OF SLOVENIA BY ALES KRIVEC (30 photos)
Ales Krivec has a passion for taking photographs and his work features the finest landscapes in Slovenia. He is very much a landscape artist and his work reflects a great understanding and deep love of the countryside and nature. An extensive technical knowledge and a seeing eye enable his photos to convey the beauty of the landscape that surrounds us all.
LANDSCAPE AND NATURE PHOTOS FROM ALL OVER SLOVENIA BY BOJAN KOLMAN (50 photos)
Bojan Kolman is a passionate 63-year-old landscape and nature photographer based in Begunje Na Gorenjskem, a small idyllic village at the foothills of the Karavanke mountain range. Bojan is completely self-taught and learned about photography on the Internet, but he shoots beautiful photographs, possessing an incredible eye for composition. There are so many beautiful things that surround us every day and Bojan strives to reflect that beauty through photography.
LANDSCAPE AND NATURE PHOTOS FROM SLOVENIA BY BRANKO CESNIK (45 photos)
Branko Cesnik is a passionate landscape and nature photographer from Pivka, a small town in the Karst region of southwestern Slovenia. He is 52 years old and has been interested in photography since his school years. Branko tends to shoot in the morning and at the end of the day when the light just either side of sunrise and sunset can transform an already interesting scene into something even more engaging. He firmly believes a good photograph tells a story and creates a feeling within the viewer.
LANDSCAPE, CITYSCAPE AND NATURE PICTURES FROM AROUND SLOVENIA BY JURE KRALJ (45 photos)
Jure Kralj is an incredibly talented photographer based in Slovenia's second largest city Maribor, who combines his love for travelling around the world with his love for landscape and cityscape photography. He is an enthusiastic observer of the surrounding world. When possible, he is looking for the best light, for the right angle at the right moment to capture a compelling image.
LANDSCAPE PHOTOS FROM ALL OVER SLOVENIA BY DENIS SODRZNIK (30 photos)
Denis Sodrznik is a passionate landscape and nature photographer born and raised in the beautiful town of Slovenske Konjice in the Styria region of Slovenia. He strives to capture photographs that convey the beauty of the Slovenian landscapes he explores in his spare time with his fiancée Karmen. His intention is to show the viewer details that we often overlook.
LANDSCAPE AND CITYSCAPE PHOTOS FROM AROUND SLOVENIA BY JAKOB NOC (30 photos)
Jakob Noc is an inspiring landscape and cityscape photographer whose talents allow him to capture the most amazing images in a style that is truly his own. Through careful composition, attention to detail and the creative use of beautiful light, Jakob strives to show us cities and landscapes in ways that we may not have seen them before.
LANDSCAPE PHOTOS FROM AROUND SLOVENIA BY MASA VODENIK (35 photos)
Masa Vodenik is a self-taught photographer who lives in a small town of Hrastnik in central Slovenia. She's an economist during weektime, but on weekends she becomes an ambitious landscape photographer who doesn't want to miss a single second she could have used to take a great photograph. Her passion for photography increased steadily since she started doing photography in 2010. Since then she successfully combines her love for travel and hiking with her enthusiasm for photography.
LANDSCAPE AND NATURE PHOTOS FROM ALL AROUND SLOVENIA BY MIROSLAV ASANIN (50 photos)
Miroslav Asanin is a keen amateur photographer from Sencur, a small town in northwestern Slovenia. His main photographic interests are landscapes and nature though he does photograph wildlife and architecture when he finds them. He especially loves to photograph the amazing landscapes and nature of the Slovenian Alpine area. However he also loves to take day trips to other parts of the country and scout new locations in search of compelling scenes or subjects to photograph.
LANDSCAPE PHOTOS FROM AROUND SLOVENIA BY BLAZ GVAJC (25 photos)
Blaz Gvajc is a landscape and cityscape photographer from Slovenia's third largest city Celje whose passion is to explore and capture the most inspiring and beautiful places in the world. Although being an avid traveler, Blaz also adores his home country Slovenia and loves making spontaneous trips around it when there is promising light, and he will never tire of photographing it.
LANDSCAPE PHOTOS FROM ALL OVER SLOVENIA BY BOSTJAN KERSBAUMER (40 photos)
Bostjan Kersbaumer is a passionate self-taught photographer from Slovenia's second largest city Maribor. He is a car mechanic working at Porsche Maribor during weektime, but on weekends he becomes an ambitious landscape, nature and cityscape photographer with an aim to create memorable images from locations across Slovenia and other parts of the world.
LANDSCAPE PHOTOS TAKEN IN A VARIETY OF LOCATIONS IN SLOVENIA BY SABINA TOMAZIC (40 photos)
Sabina Tomazic is a young but already established professional on-location lifestyle photographer based in Trebnje, Slovenia. Although known primarily as a lifestyle photographer, Sabina also loves to create images that portray the natural beauty of Slovenia and its landscapes. Her landscape photos are realistic with minimal post processing.
LANDSCAPE AND NATURE PHOTOS FROM AROUND SLOVENIA BY JERNEJ LEBEN (40 photos)
Jernej Leben is one of the most talented amateur photographers in Slovenia whose unrelenting passion for his hobby inspires him to capture the beautiful landscapes and nature of Slovenia with absolute perfection.
LANDSCAPE AND NATURE PICTURES FROM ACROSS SLOVENIA BY KLARA KULOVEC (35 photos)
Klara Kulovec is one in a line of talented new Slovenian female landscape photographers who has found her passion with a camera in her hands. She has a heart of an artist and loves nothing more than time with her camera and a scene in front of her to capture the perfect copy of what she saw in her minds' eye. The forms, color and light that shape the landscape are a constant source of her inspiration.
WILDLIFE AND BIRD PICTURES FROM SLOVENIA BY MATEJ KOVACIC (30 photos)
Matej Kovacic is a young and exceptionally talented wildlife and bird photographer dedicated to capturing images of the indigenous wildlife of Slovenia. During his childhood Matej developed a strong fascination for wildlife, birds and nature. When he bought his first camera at the age of 13, he became as passionate about photography. It's hard to photograph wildlife in the wild, but Matej wants to be true, so he stays away from captive animals - all his photos are taken in the wild in Slovenia.
LANDSCAPE PHOTOS FROM THE STYRIA REGION OF SLOVENIA BY PETER ZAJFRID (40 photos)
Peter Zajfrid is a well-respected and very passionate amateur landscape photographer who loves capturing the beauty of this world through photography. He enjoys the outdoors and nature, and photography provides him with a medium to capture and share this with others. He especially loves creating images that portray the beauty of the Styria region of Slovenia and its landscapes.
FINE ART LANDSCAPE PHOTOS OF MARIBOR AND ITS SURROUNDING AREA BY UROS LEVA (25 photos)
Uros Leva is a versatile freelance artist – photographer, graphic designer and screenwriter. He has been living in Slovenia's second largest city Maribor for his whole life and never fails to be overawed by the beauty of the city. His connection to Maribor began the moment he was born and the more Uros experiences this city, the further he falls in love. When Uros is behind the camera, his goal is to bring out the beauty of Maribor and its surrounding area for all to see.
LANDSCAPE AND NATURE PHOTOS OF THE LAKE BOHINJ AREA AND THE JULIAN ALPS BY GREGOR SKOBERNE (35 photos)
Gregor Skoberne is one of the most talented and passionate landscape and nature photographers in Slovenia. Completely self-taught, Gregor is primarily focused on the unique local landscape and nature found in the Lake Bohinj area with an aim to capture the spirit and the essence of the moment in his photographs.
NATURE AND LANDSCAPE PHOTOS OF THE TRIGLAV NATIONAL PARK BY WALLE GREVIK (35 photos)
Walle Grevik is a passionate nature and landscape photographer, hiker, and traveler based in Helsingborg, Sweden. He has traveled to many countries around Europe including Iceland, Faroe Islands, Scotland, Ireland, and Greece. This year, he and his hiking partner, Fredrik Vestlund, decided to visit Slovenia and do a 9-day hiking adventure through the Julian Alps and Triglav National Park. Walle took some really beautiful photos during this hiking tour, and he was kind enough to share some of them with us here at Travel Slovenia.
LANDSCAPE PHOTOS OF THE SLOVENIAN ALPS BY MASA VODENIK (20 photos)
The Slovenian Alps are a part of the Southern Limestone Alps with three high-Alpine mountain ranges, the Julian Alps, the Karawanks and the Kamnik-Savinja Alps. They take up a large part of Slovenia and are full of incredible trails for all levels of hiking ability. They are lower compared with those in Austria and Italy, but with their beauty they surpass anything you may see in the Alps in Europe. All the photos in this gallery were taken by Masa Vodenik. She's an avid hiker who spends most of her weekends in the mountains and she never forgets to take her camera with her.
LANDSCAPE AND NATURE PHOTOS OF THE SLOVENIAN ALPS BY MIROSLAV ASANIN (40 photos)
Miroslav Asanin is a very enthusiastic, amateur photographer from Sencur, a small town in the Gorenjska region of Slovenia. His passion for photography began four years ago when he got his first proper camera - a Canon EOS 600D, after that there was no stopping. His primary interests has always been on shooting landscapes and different sceneries found throughout Slovenia and especially in the Slovenian Alps and its Triglav National Park.
FINE ART NATURE AND LANDSCAPE PHOTOS OF THE VRHNIKA COUNTRYSIDE BY ROBI DEBEVC KVOCKA (30 photos)
Robi Debevc Kvocka is a self-taught photographer based in Vrhnika, whose fine art nature and landscape photographs celebrate the natural beauty of the Vrhnika countryside. When Robi is behind the camera, his goal is to bring out hidden beauty of the Vrhnika area for all to see. His style, which is recognisable through the artistry of his photographs, is born of a keen eye for the many moods of the natural landscape and a life-long passion for the nature and the great outdoors.
SLOVENIA (30 photos)
A fascinating capital, charming coastal towns, beautiful alpine villages, stunning natural attractions, and much more - enjoy this wonderful selection of absolutely the most beautiful pictures of Slovenia, taken either by professional photographers or amateur photo enthusiasts.