About The Photographer
Bojan Kolman is a passionate 63-year-old landscape and nature photographer based in Begunje Na Gorenjskem, a small idyllic village at the foothills of the Karavanke mountain range. After retiring two years ago, he was looking for a new challenge and that's when he decided to try his hand at photography. He bought his first DSLR camera, a Nikon D7000, and instantly fell in love with the art of capturing the moment.
Bojan is completely self-taught and learned about photography on the Internet, but he shoots beautiful photographs, possessing an incredible eye for composition. He has always been a nature lover and an outdoor enthusiast. There are so many beautiful things that surround us every day and Bojan strives to reflect that beauty through photography. He tries to remind people to stop and take in all the natural beauty that is around us.
Bojan started to share his beautiful landscape and nature photos from across Slovenia on his Facebook profile and was overwhelmed by the response he received. He has quickly built quite a following – with more than 1,600 liking him on Facebook. He has also earned many accomplishments and awards on Pixoto, a photography contest site where photographers showcase their work. Most notably, Bojan's photo won him the Amazing Nature contest which attracted over 2,600 photographs.
Below is a selection of pictures that Bojan kindly shared with us. If you want to stay updated with his work then visit his Facebook page and follow him.
Photo Gallery
A beautiful gallery containing 50 gorgeous landscape and nature pictures from all over Slovenia by Bojan Kolman.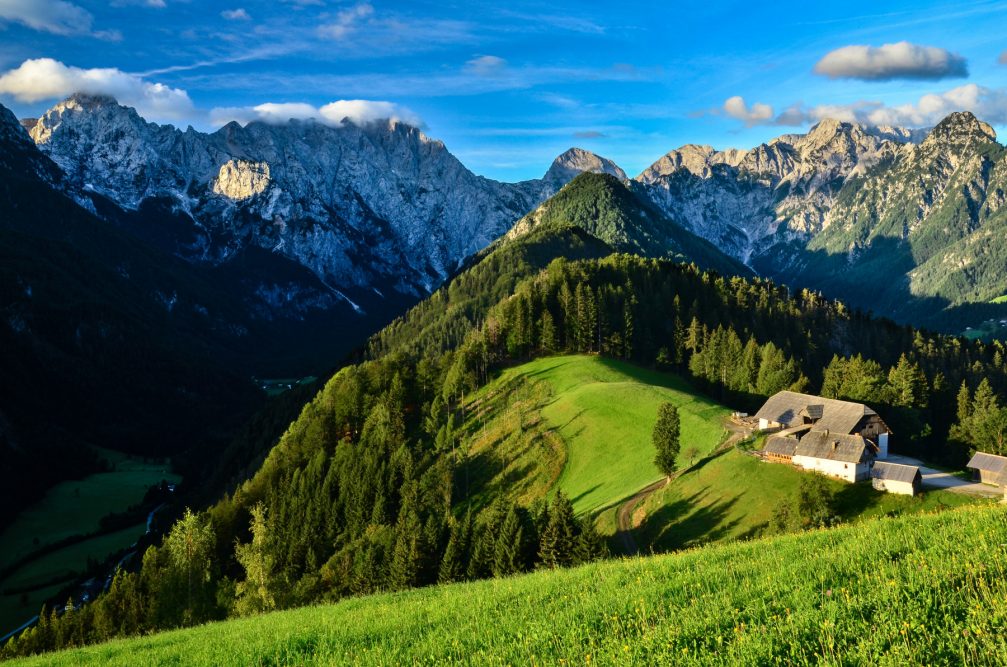 Let's start this gallery with a photo of the Klemensek farmstead above the Logarska Valley that won Bojan the Amazing Nature contest on the Pixoto website which attracted over 2,600 photographs. The Klemensek farmstead or Klemenskova Kmetija as it is called in Slovene is known for the spectacular vistas of the Logarska Valley and surrounding mountain tops of the Kamnik-Savinja Alps. It is often referred to as the most photographed farm in Slovenia. It has such a beautiful setting that photographs of it are regularly found in travel magazines, tourist brochures and on travel blogs and forums.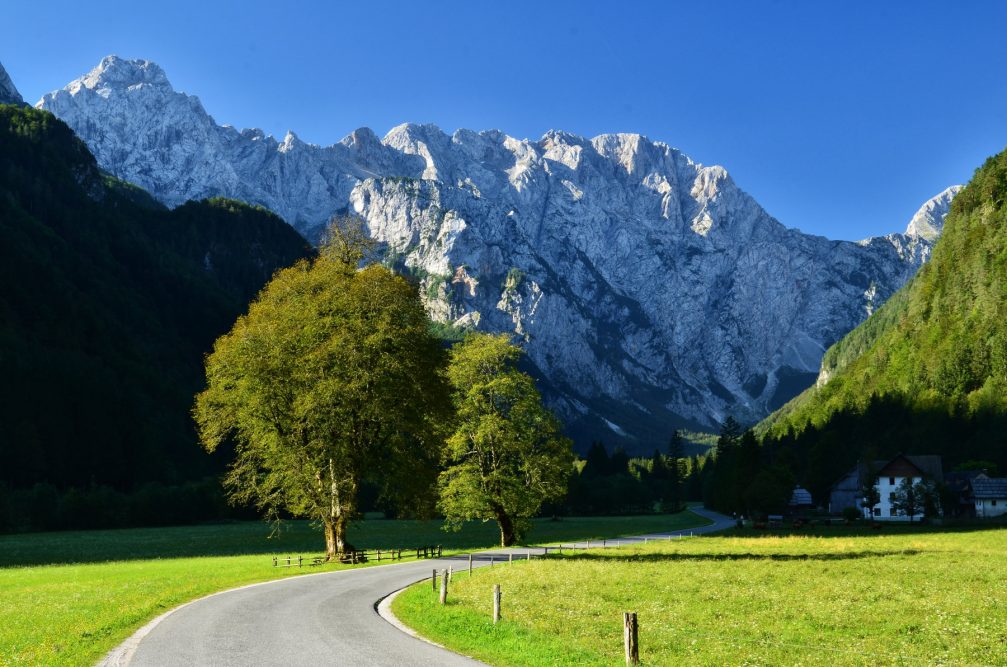 The Logar Valley or Logarska Dolina as it is called in Slovene is the place to go for a rustic getaway and truly immerse oneself in nature. This U-shaped alpine valley is tucked away in the far northern corner of Slovenia. It lies in the heart of the Kamnik-Savinja Alps and has protected status as a landscape park. It is still relatively untouched by the onslaught of tourists or pollution. It is a delightful place to relax and enjoy the alpine scenery and nature. For more active visitors, the valley offers plenty of hiking and cycling opportunities.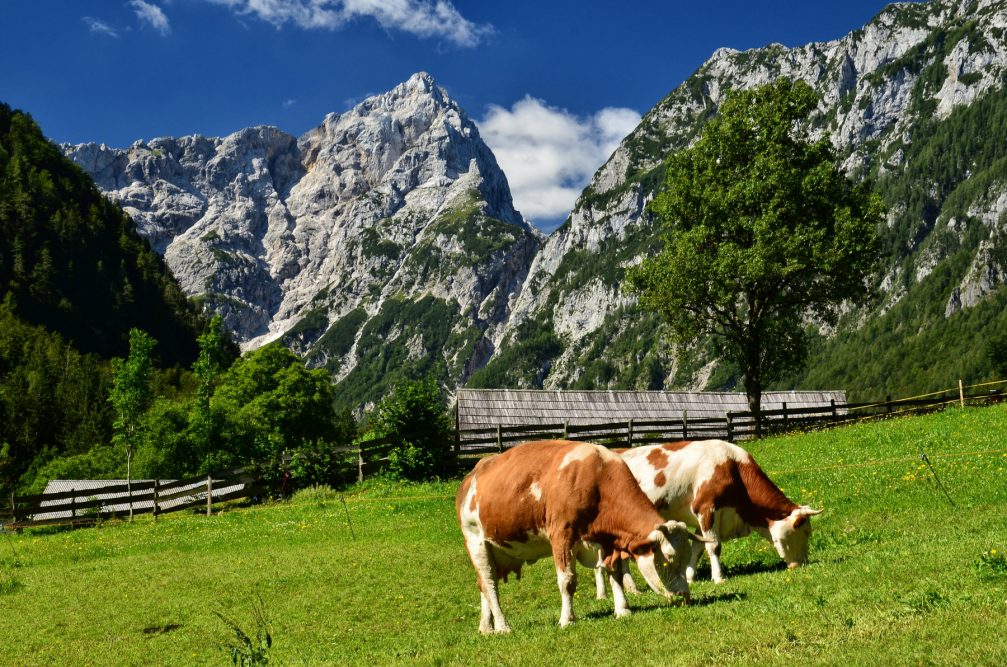 The Robanov Kot Valley is a sister to the more famous Logarska Valley, virtually undiscovered and almost equally stunning. Known for its natural beauty, tranquillity and inaccessibility, it hosts far fewer visitors compared to the neighbouring Logarska Valley. In 1987, the valley received protected status as a landscape park. It is 4 kilometres long reaching all the way to the foothills of the 2,350-metre-high Ojstrica mountain. It is carpeted with green meadows and hemmed in by icy gray peaks of the Kamnik-Savinja Alps, namely Mt. Kroficka (2,083 metres), Mt. Krizevnik (1,909 metres) and Mt. Molicka Pec (2,029 metres).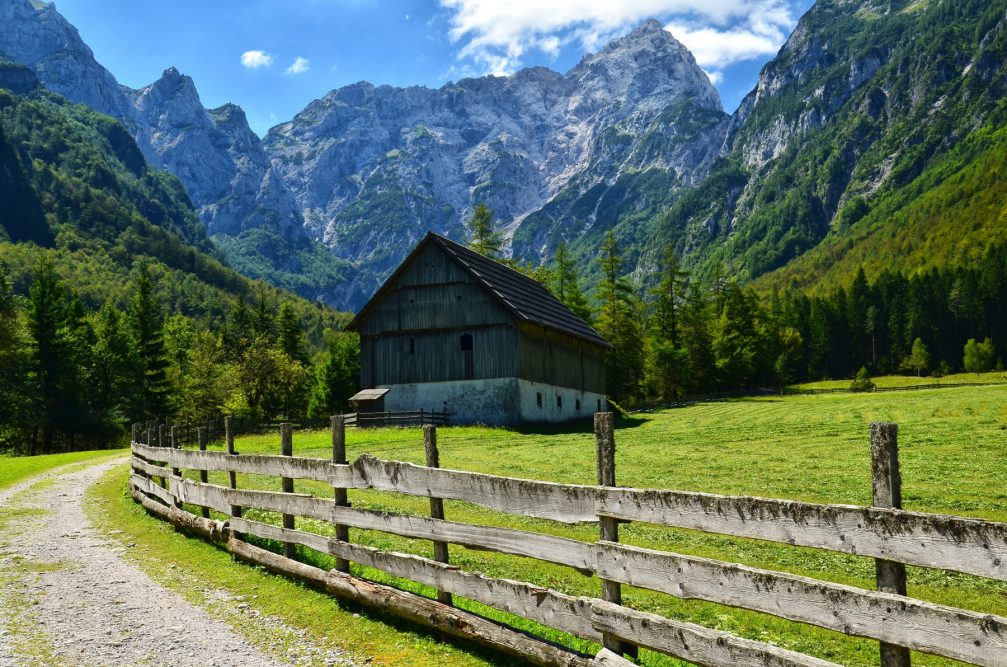 The impossibly picturesque Robanov Kot Valley takes you back in time, thanks to scattered old farmsteads on green meadows. Here, winding mountain roads keep the crowds to a minimum. On a weekend afternoon, you won't have the hiking trails to yourself, but you might be the only foreigner in sight.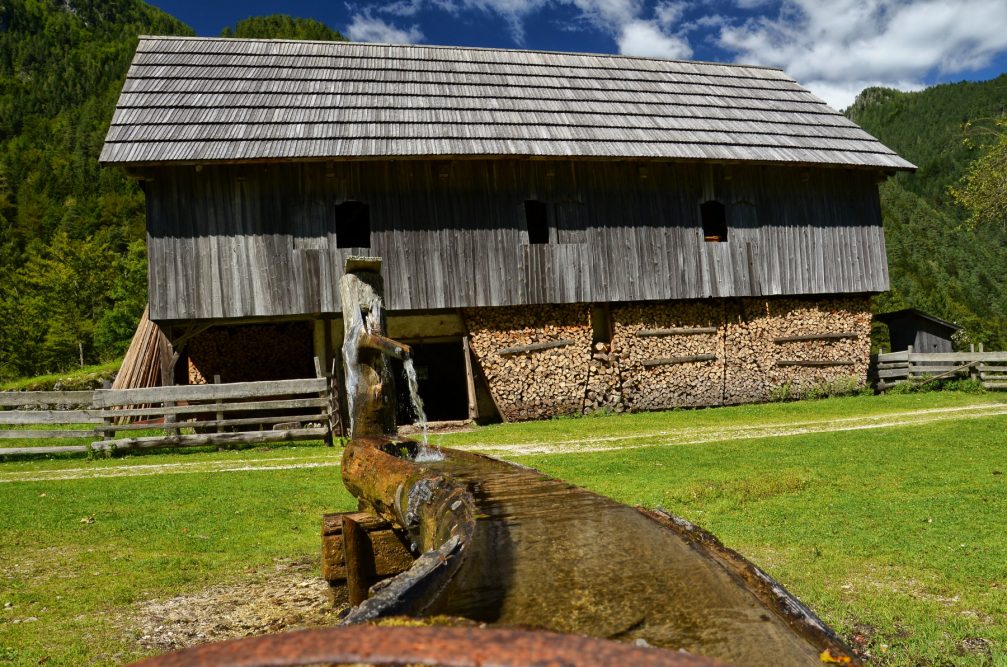 In the Robanov Kot Valley, the 21st century feels like a half-remembered daydream.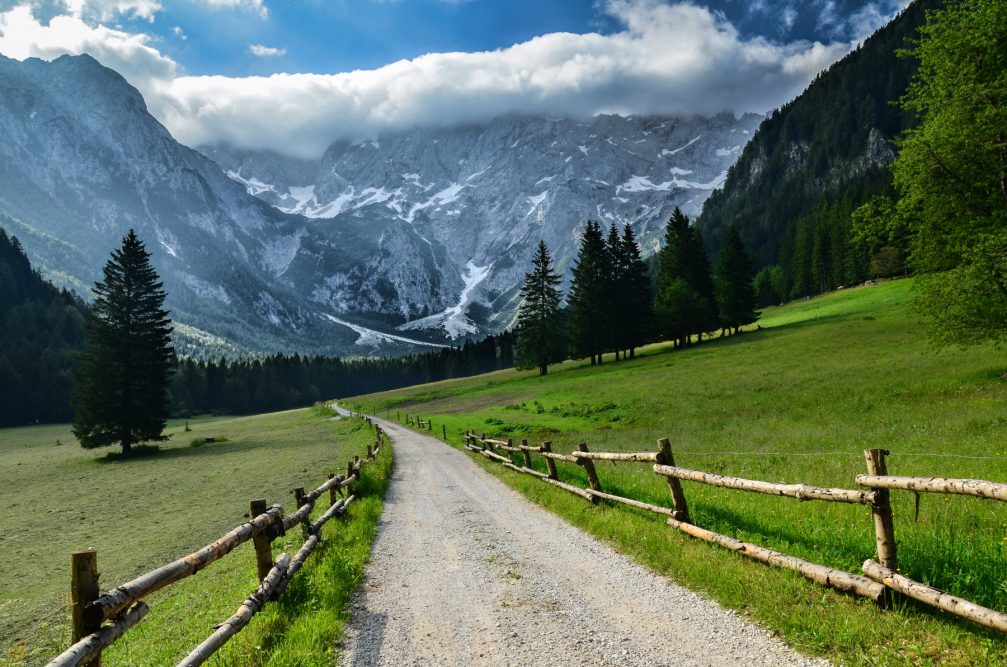 Ravenska Kocna is a scenic 3-kilometre-long valley in Zgornje Jezersko formed by the glacier that once flowed down from the high peak of Mt. Skuta, the third highest mountain in the Kamnik-Savinja Alps. The valley offers stunning views and several lovely hikes for endless photo-taking opportunities.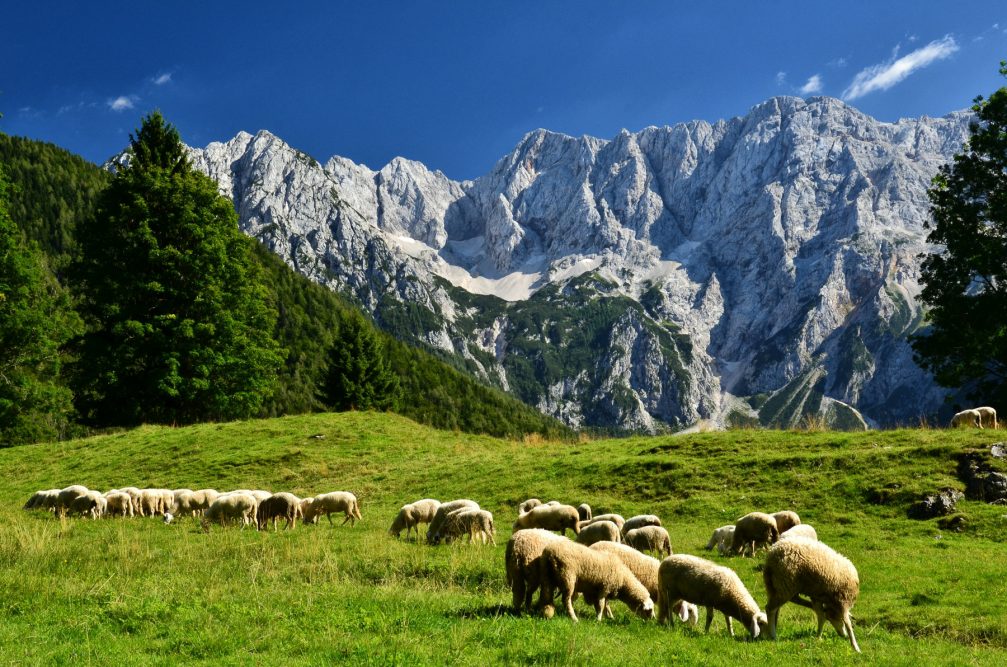 In summer, the local farmers in Jezersko bring their indigenous Jezersko-Solcava sheep up to the high alpine pastures of the Kamnik-Savinja Alps, where the sheep graze in fresh mountain air, eating a nutrient-rich grasses and enjoying more free space.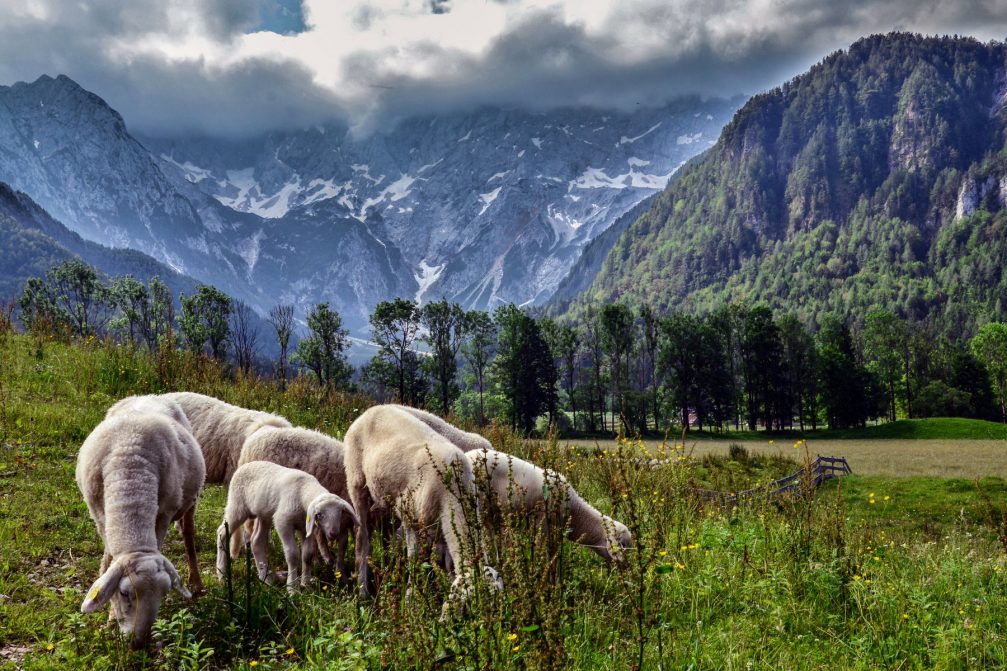 The picturesque Jezersko Valley, under the Kamnik-Savinja Alps, is known for its pristine natural beauty. However, one of the most unique aspects of this area is found in its meadows: an indigenous breed of sheep known as the Jezersko-Solcava breed. The breed emerged when local Alpine sheep were bred with Begramesco and Padovana varieties from Italy. The resulting sheep became known for their large size, their convex heads, and the high quality of their wool. They were named for the Jezersko Valley and the village of Solcava, where they were also common. The breed is perfectly suited to the cold, mountainous terrain of the area. Their long legs allow them to master even the most precipitous pastures with ease, while their undemanding nature make them perfect for the Alpine climate where the grass-growing season tends to be brief. Each Jezersko-Solcava sheep produces about 2 kilograms of wool per year, a large output that enabled local farmers living in the solitary Alpine farms to produce an array of wool products for their daily needs.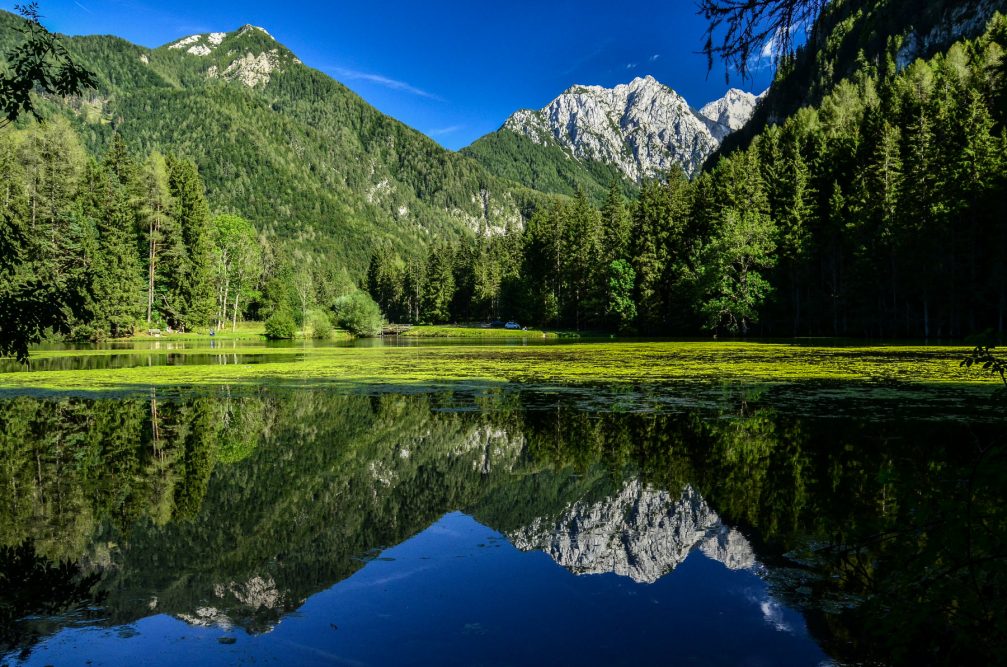 Lake Plansar or Plansarsko Jezero as it is known in Slovene is a small, romantic and by coincidence heart-shaped lake in the picturesque Jezersko Valley. It radiates tranquility and peace. It's an artificial lake which was made by locals after a much larger glacial lake that existed in the same place drained away, but this in no way diminishes its extraordinary natural beauty.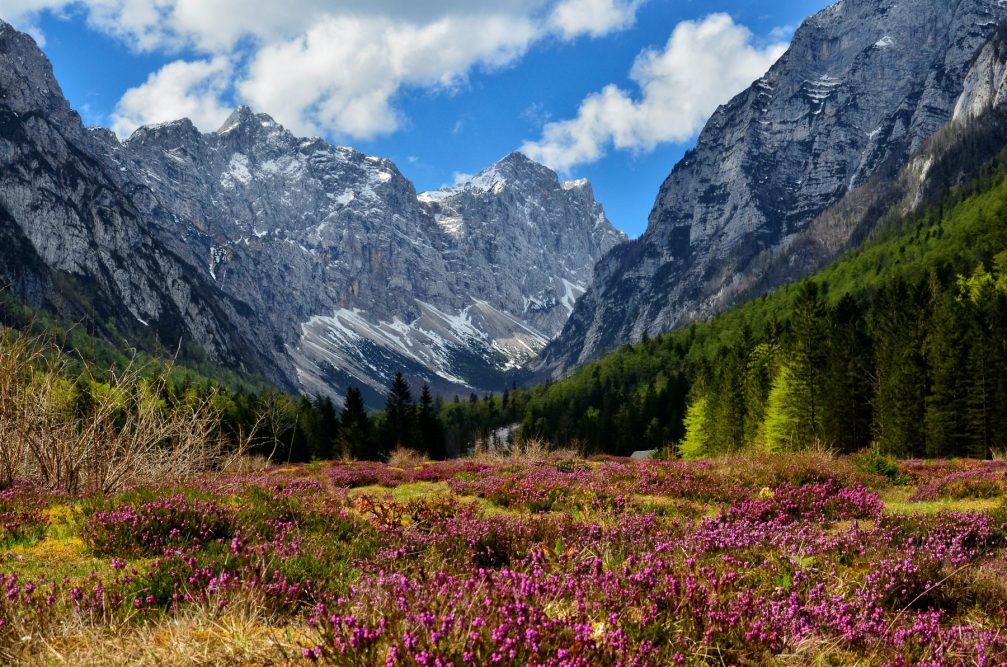 The surroundings around the highest mountain in Slovenia, the 2,864 metre-high Triglav, have become a very popular destination not only for Slovenian hikers, but also for foreign ones. However the highest peak isn't the only feature that has been drawing people to this beautiful area for centuries. At the foot of the mighty Triglav are three gorgeous alpine valleys, Krma, Kot and Vrata. The Krma valley (on the picture) is especially picturesque in spring when nature comes to life with its most beautiful arrangements of color displays and all sorts of flowers blooming everywhere. The valley is foremost the starting point for ascents on Mount Triglav. A nicely marked trail leads through the valley, which proves to be the perfect choice on hot summer days due to its shady paths and stunning views. Approximately one third up the valley the Zasip alpine pasture opens up under the mighty Debela Pec peak with its vertical walls. The valley is hemmed in by grey peaks of the Julian Alps, namely Mt. Debela Pec (2,014 meters), Mt. Lipanski Vrh (1,965 meters), Mt. Debeli Vrh (1,962 meters), Mt. Mali Draski Vrh (2,132 meters), Mt. Veliki Draski Vrh (2,243 meters), Mt. Tosc (2,275 meters), Mt. Macesnovec (1,926 meters), Mt. Luknja Pec (2,245 meters) and Mt. Rjavina (2,532 meters).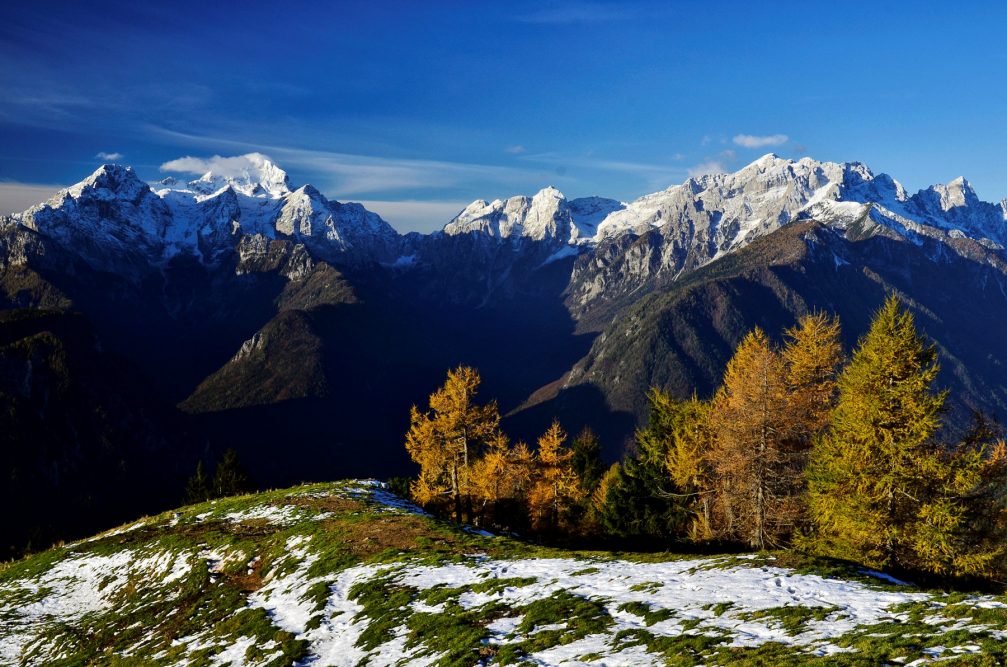 The 1,891 meter high Dovska Baba is considered one of the easiest mountain hikes in western Karawanks and, therefore, is appropriate for almost everyone. It is situated on the border between Slovenia and Austria, above the village of Dovje. Towards its top it offers magnificent views of the Julian Alps. In winter, it's known as an ideal peak for ski touring.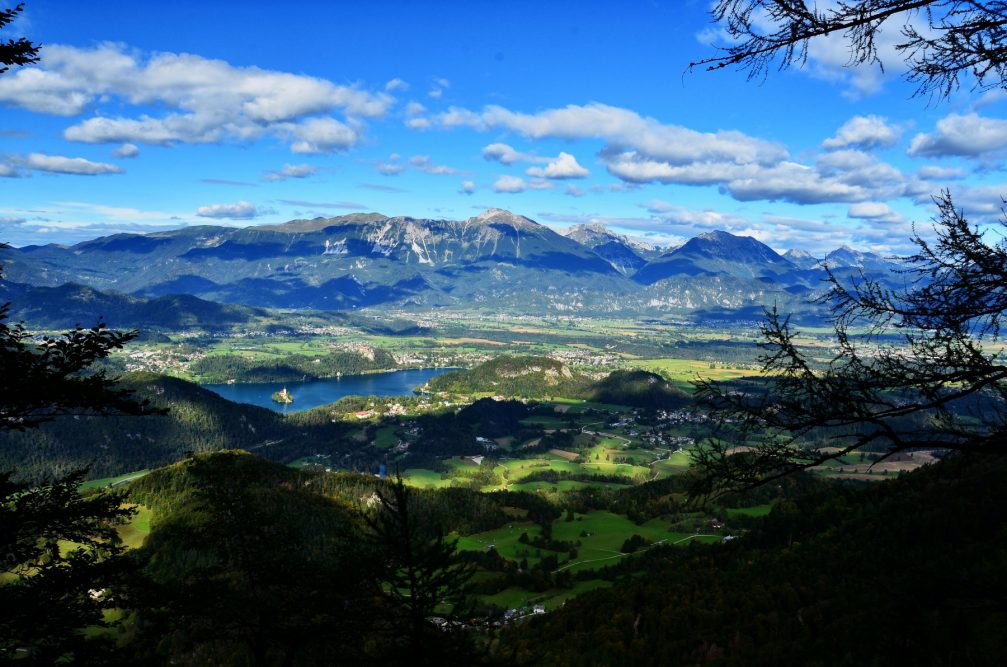 Lake Bled is known for its ridiculously gorgeous scenery, whether seen from the hilltops, as in the photo above, or from the lake's shores. It is the number one tourist destination in Slovenia. Even if you have no idea where our beautiful little country is on a map, you are probably visually familiar with the place since it happens to be one of the most photogenic and photographed places on Earth. From afar, it really looks like something out of a story book.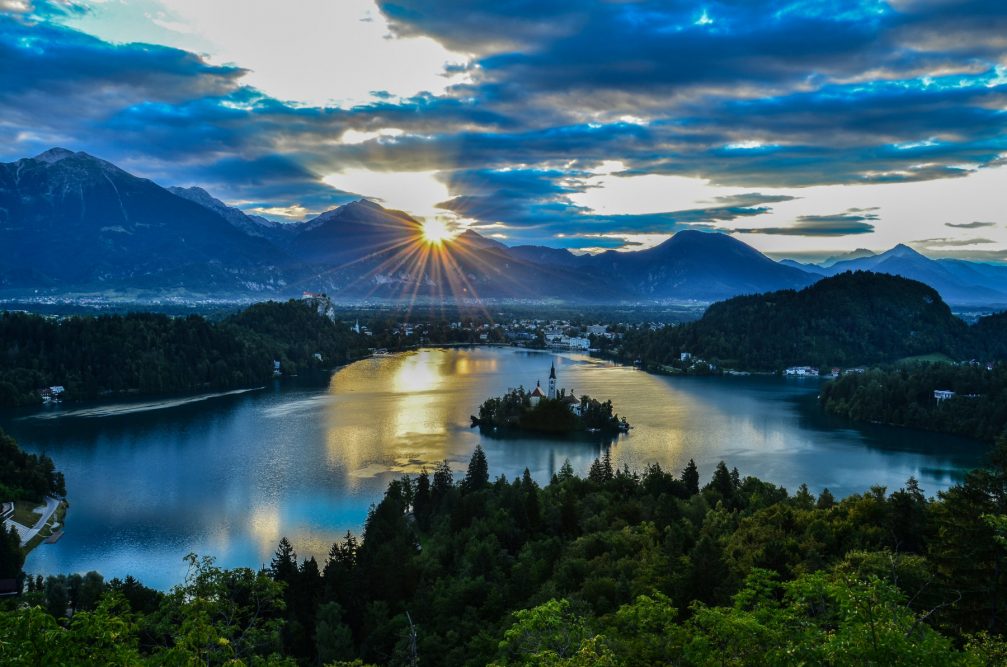 Lake Bled lies placidly in the shadows of the Slovenian Alps, ringed by green forests and guarded by a medieval cliff-top castle. At its center is a romantic tear-shaped island, home to one most beautiful churches in the entire world and the wishing bell, a 16th century chime made in Rome and consecrated by the Pope himself that is believed to give luck to those who ring it.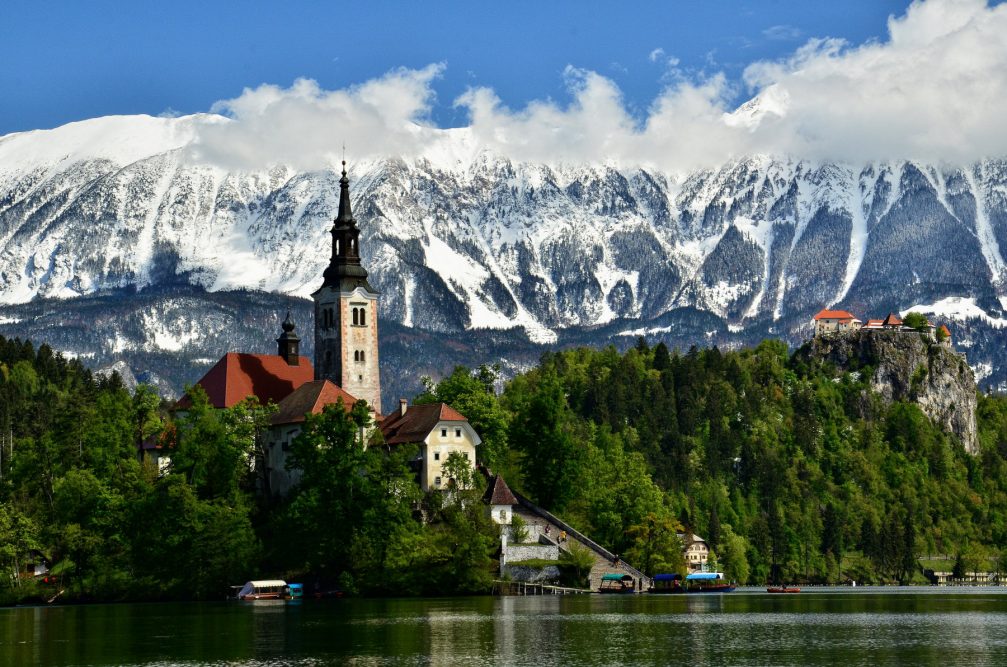 Lake Bled with its picturesque island in the middle, overlooked by a towering Romanesque castle, is startling.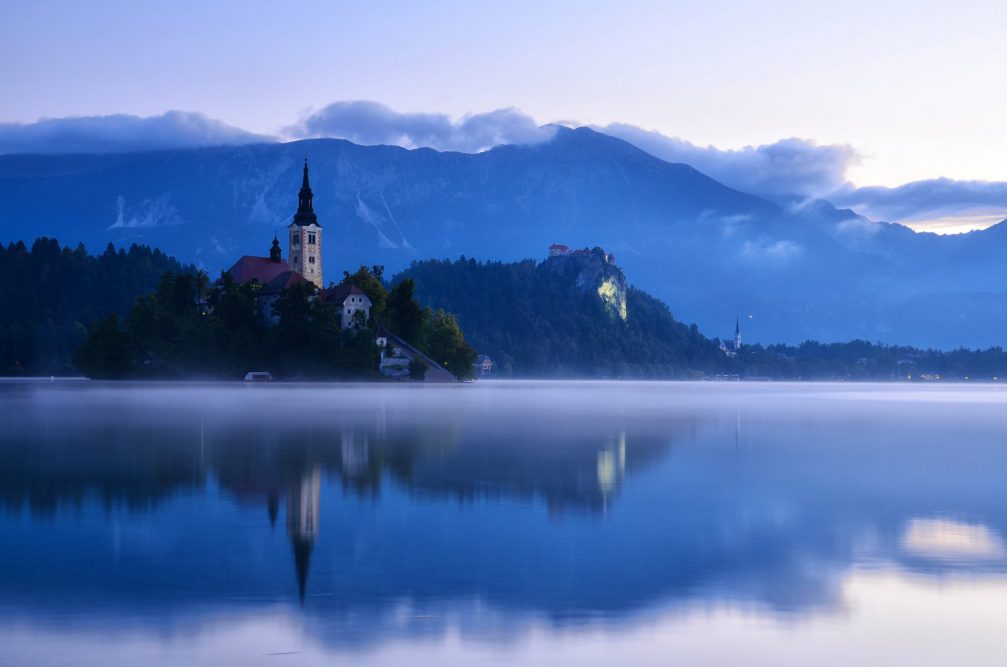 The lake's bright aquamarine waters lap softly against dainty Bled Island.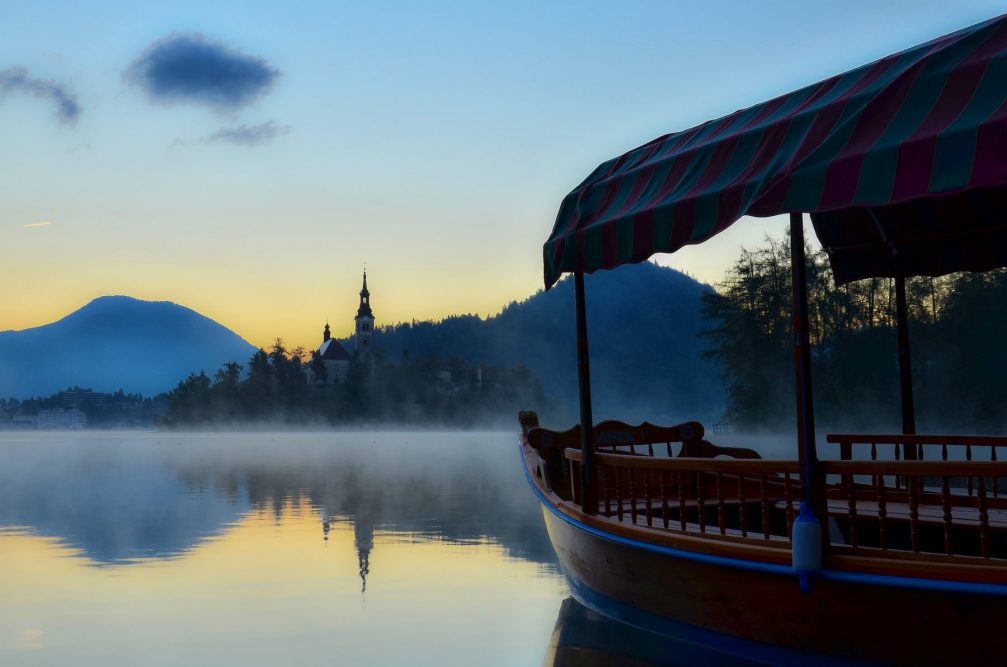 A visit to the island in the middle of Lake Bled is a must-do for travellers. The tiny isle can be reached by a traditional gondola-like row boat called Pletna. The ride to it is a relaxing one, where one can bask in the tranquil atmosphere.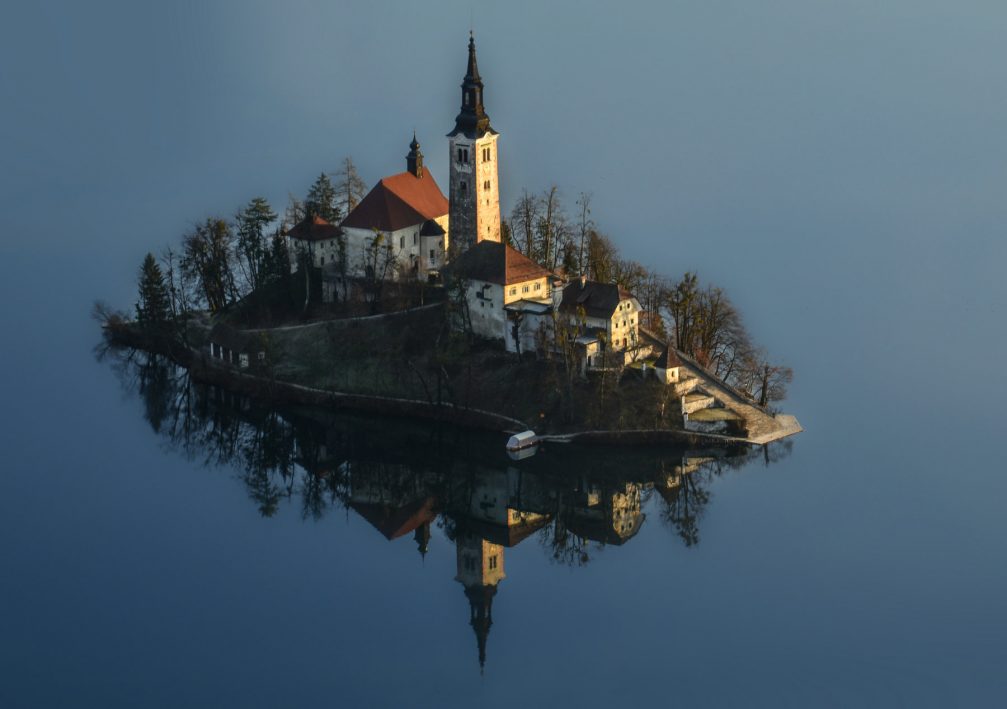 The most prominent building on Bled Island is the 17th-century Church of the Assumption of Mary, which is steeped in romantic tradition. Legend has it that a husband who can carry his bride all 99 paces from the dock into the church will enjoy a happy marriage.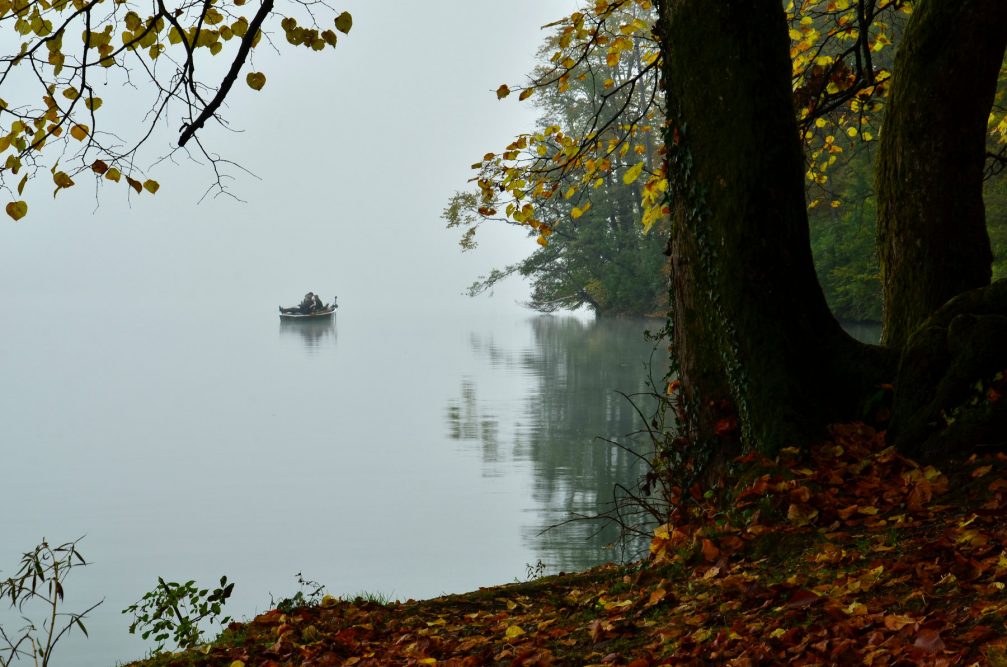 Boat rentals ply Lake Bled for much of the year.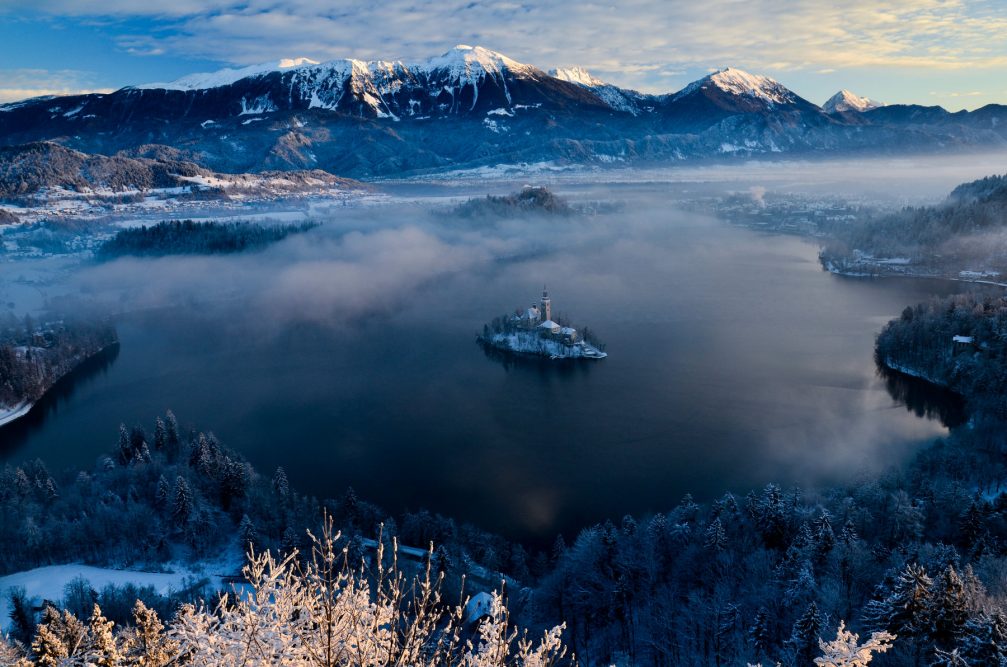 Some say that Lake Bled may be the most beautiful spot on the planet and from looking at photos it is not hard to see why that is the general sentiment. It's a truly special and magical place to visit in all seasons, be it on a sunny afternoon or a snowy morning when the trees are dusted with snow.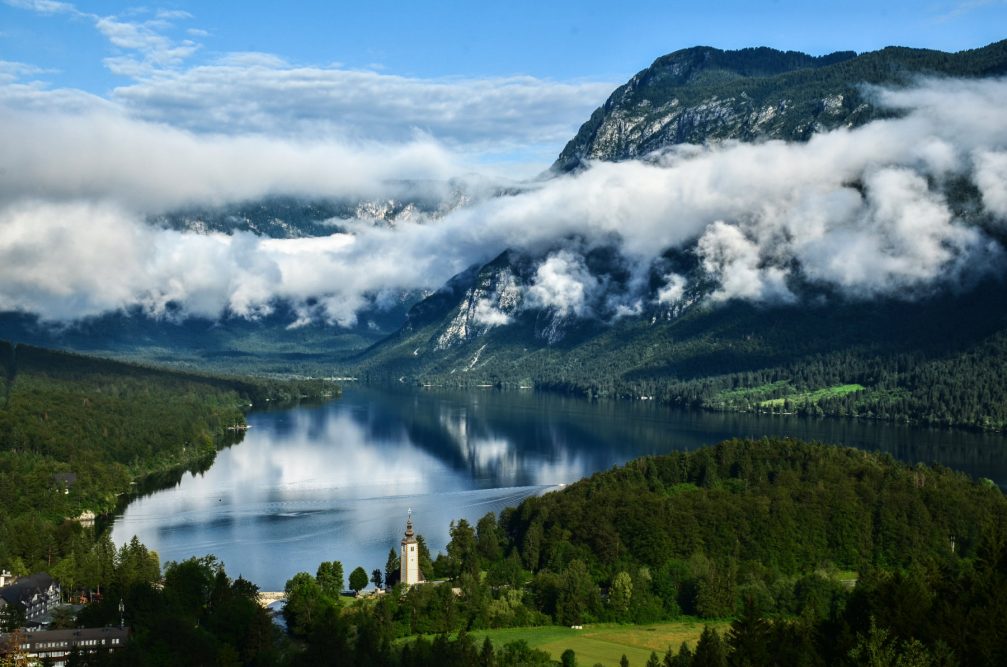 Measuring over 4 kilometres long, Bohinj is the largest lake in the country. It's located inside Triglav National Park in northwestern Slovenia. For the most stunning views of the lake and the Julian Alps, take the cable car up Mount Vogel, or head for the Vodnikov Razglednik viewpoint.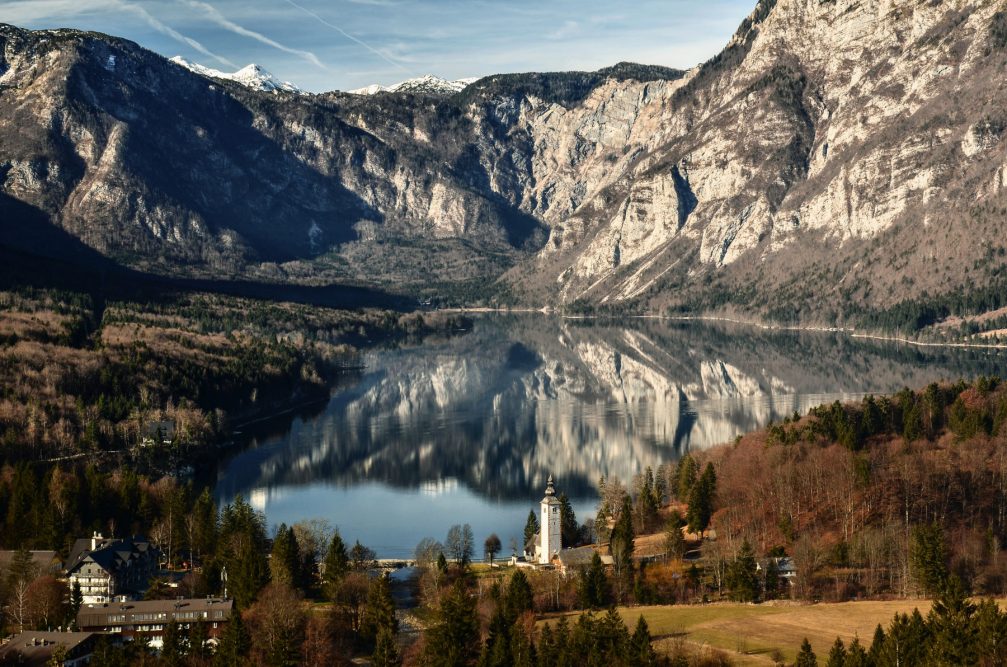 Lake Bohinj is beautiful even in snowless winter time when the nature is sleeping. During the summer, when everything is green and lush, it's ridiculously gorgeous.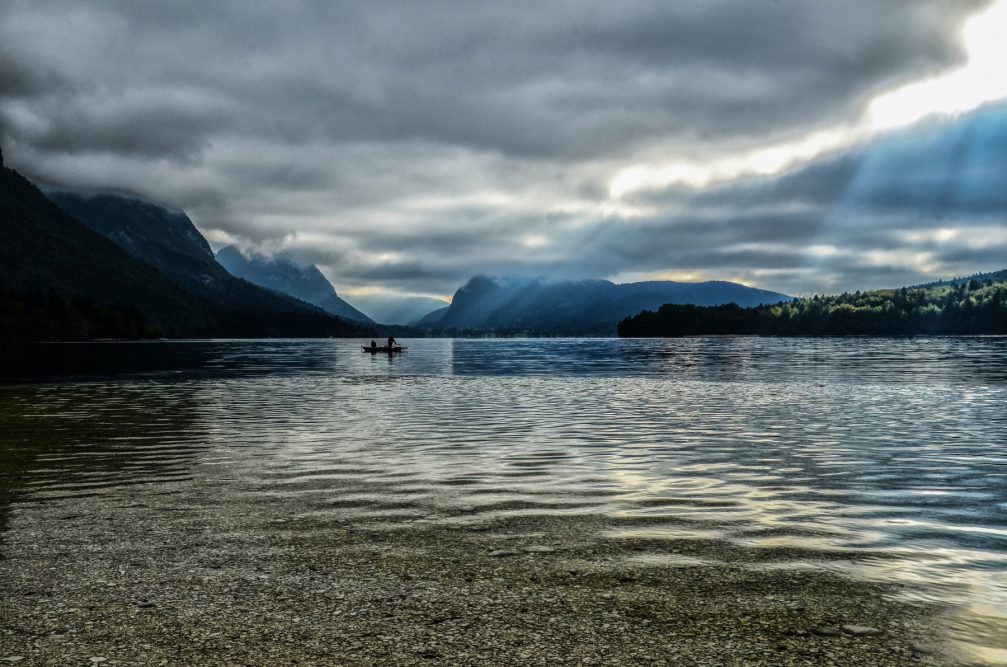 Lake Bohinj is known for its gorgeous mountain scenery, whether seen from the hilltops, or from the water surface as in the photo above.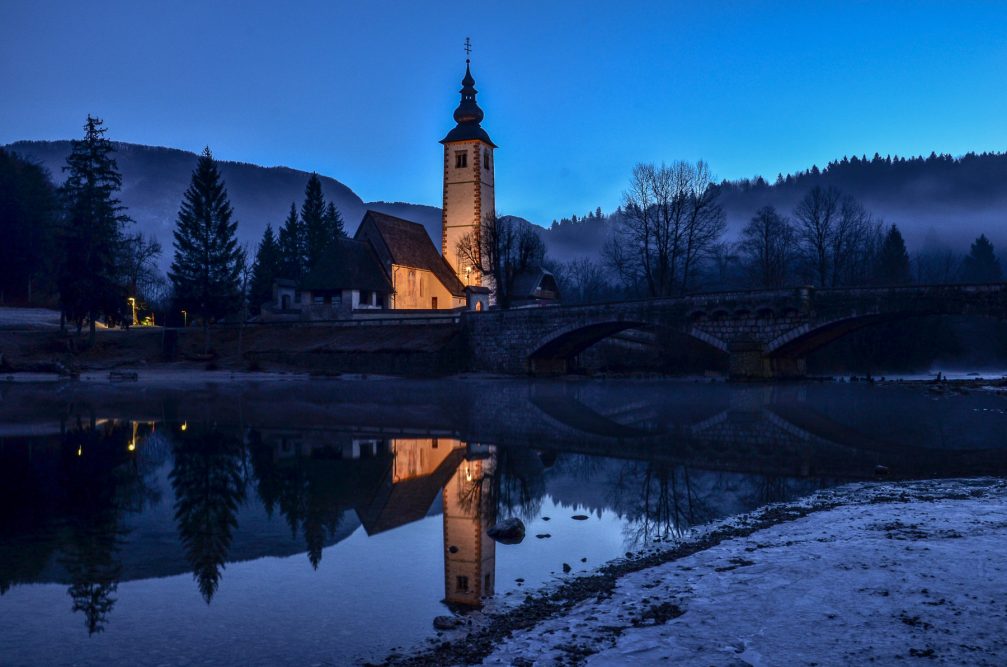 Located at the head of Lake Bohinj is the Church of St. John the Baptist. It is the most photographed man-made attraction in the Bohinj area, mostly built in 1520 and renowned for its remarkable interior frescoes. The church is visible also on Bohinj's flag and coat of arms.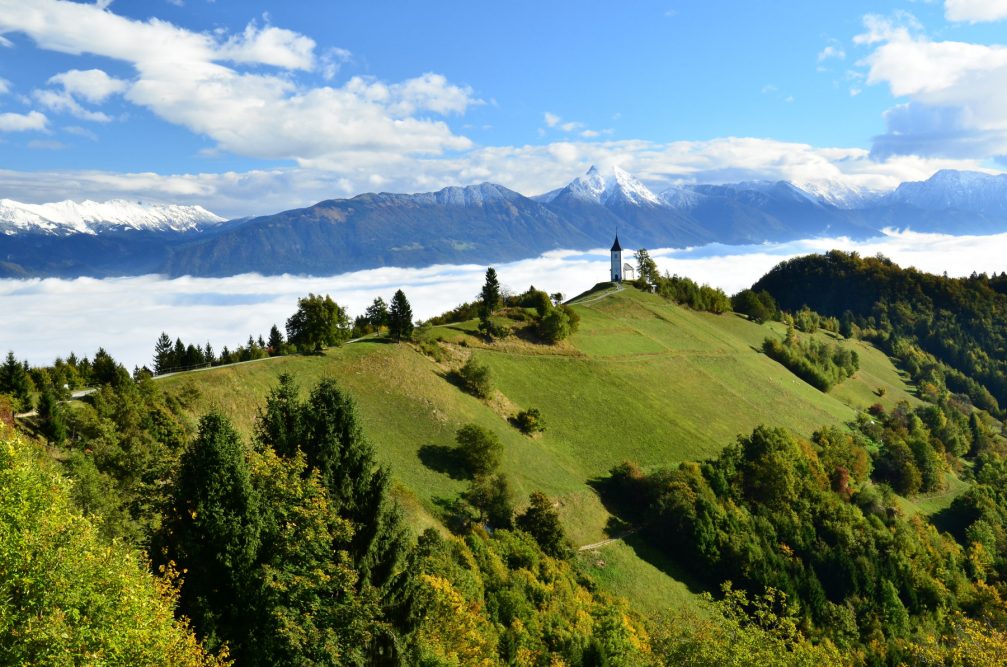 The hilltop churches are a distinct feature of the landscape in Slovenia. One of the most beautiful examples is the Jamnik church of Saints Primus and Felician, perched on a hill on the Jelovica Plateau with the Kamnik-Savinja Alps and the Karawanks mountain range in the background.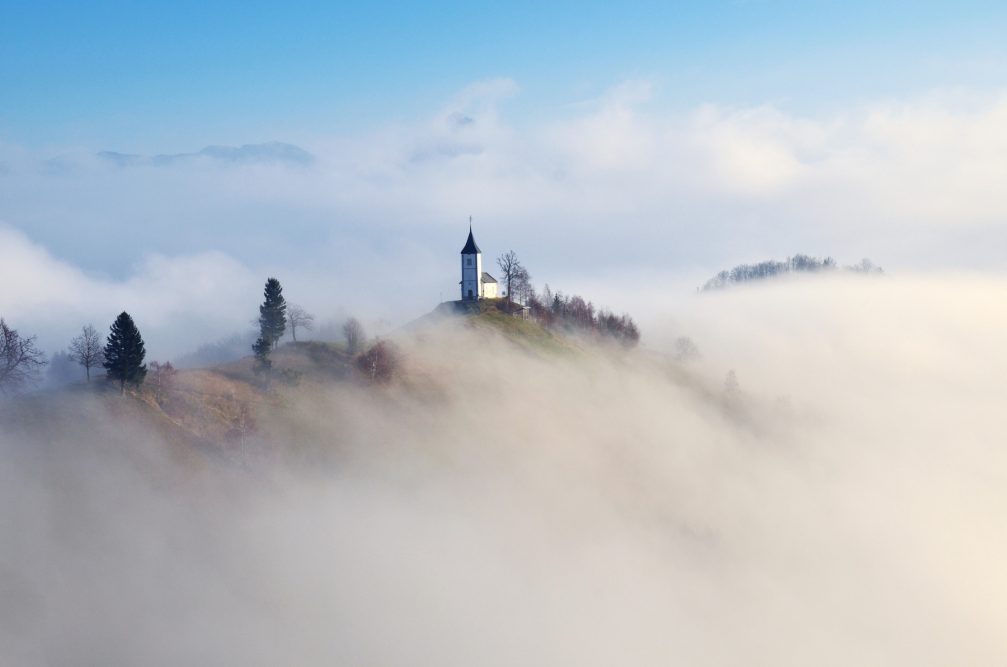 It's no wonder Jamnik church of Saints Primus and Felician is one of the most photographed churches in Slovenia. Overlooking those stunning panoramic views, the location is really heart-stopping.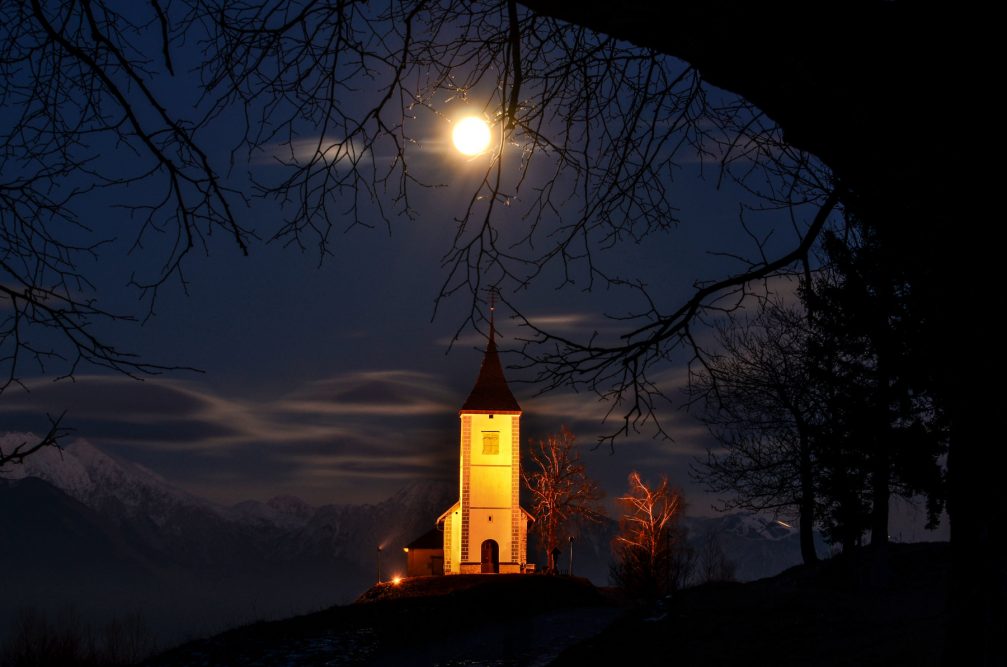 Jamnik Church of Saints Primus and Felician illuminated at night. On account of its visibility throughout northwestern Slovenia, the church served as a non-fortified signal station in the time when the Turks were invading from the south in the 15th and 16th centuries.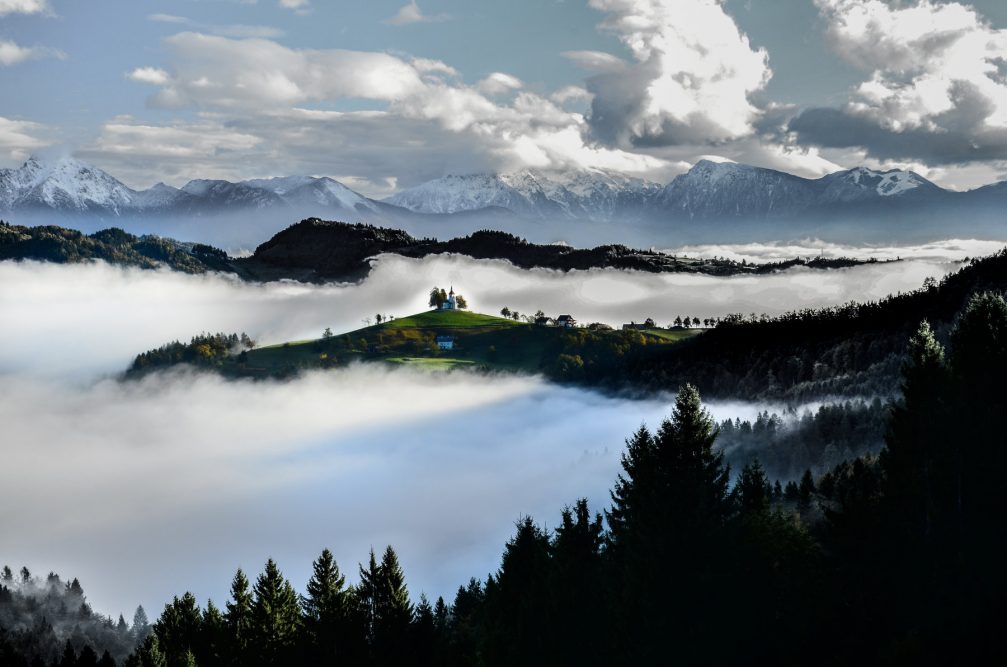 Another frequently photographed hilltop church in Slovenia is the Church of St. Thomas which stands above the village of Sveti Tomaz in the northwestern part of the country. The origins of the church are from the 14th century, but most of the current Gothic building is from the beginning of the 16th century. When there is clear view, the magnificent peaks of the Slovenian Alps can be seen in the background.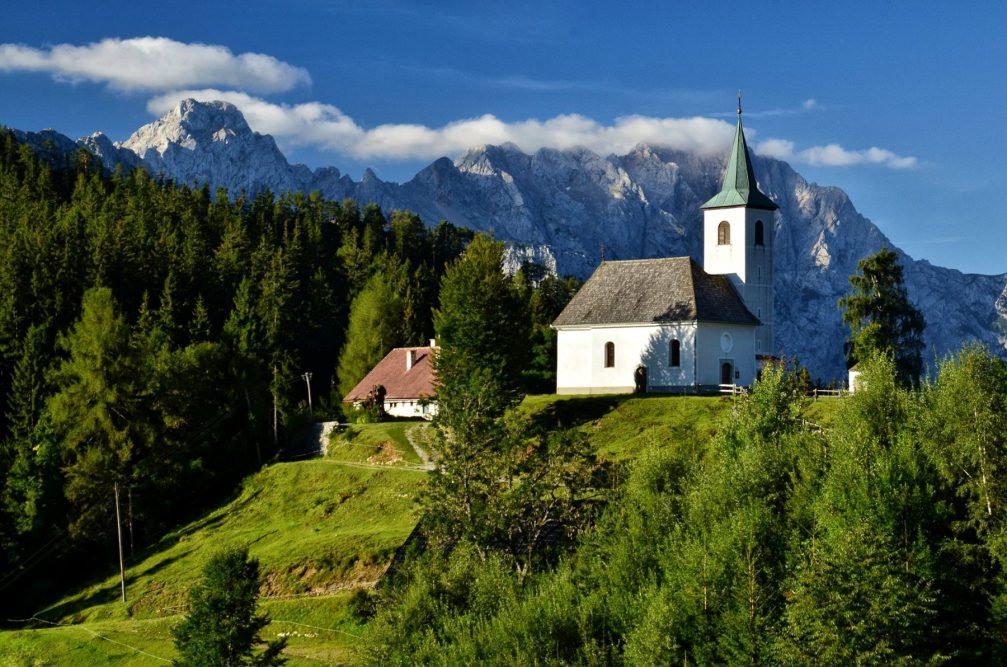 The idyllic small alpine village of Podolseva lies under the Olseva mountain ridge at an altitude between 1,020 and 1,327 meters. The village's best known landmark is the Church of the Holy Spirit which was first mentioned in the historical record as early as 1631. The Church is an integral element in the Solcava panoramic road, and is an ideal starting point for hikers heading towards the Potocka Zijavka Cave located at an elevation of 1,675 metres on the southern slope of Mount Olseva.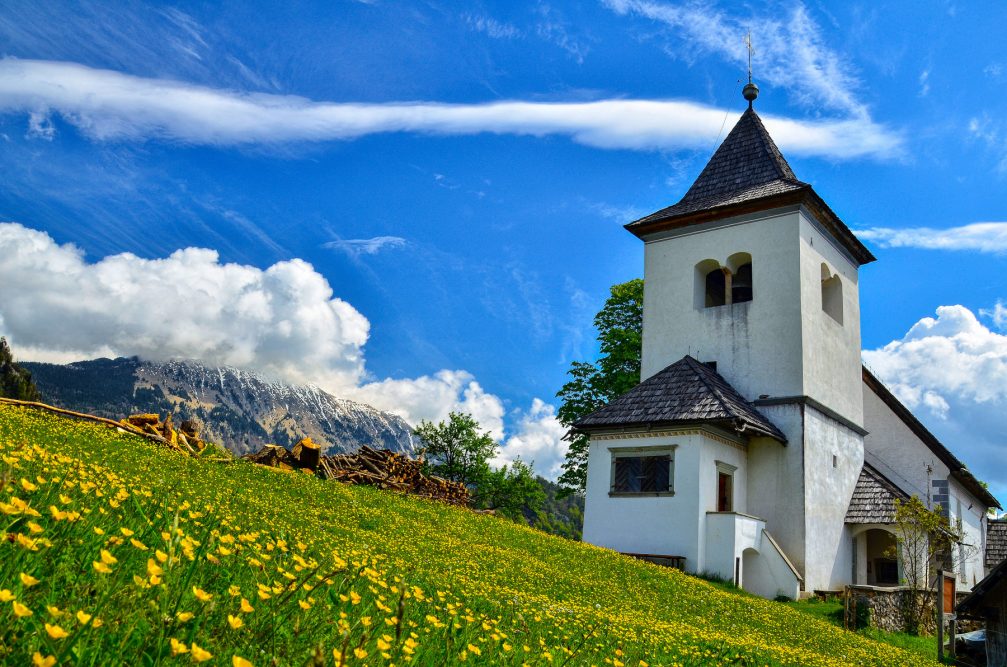 The Church of St. Peter stands on a grassy hilltop above the village of Begunje Na Gorenjskem in northwestern Slovenia. It is a very popular destination for local hikers and offers heart-stopping views of the surrounding landscape. The church dates back to the early 16th century. It features two naves and a star-shaped vaulted ceiling. In its interior numerous beautiful frescoes can be admired.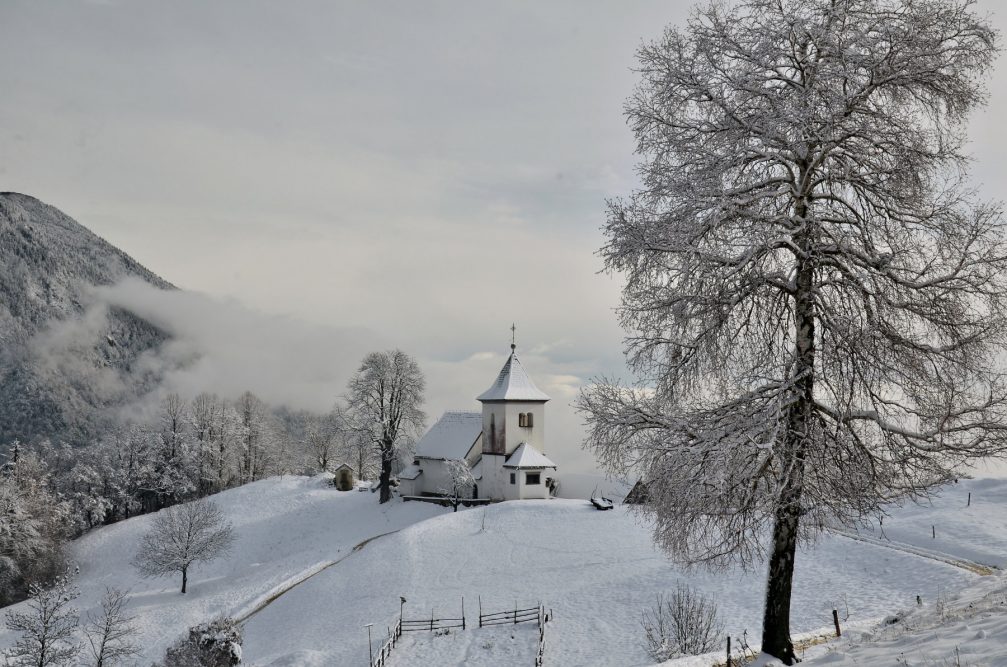 The Church of St. Peter above Begunje Na Gorenjskem is worth visiting even in winter, especially when the area is powdered with fresh snow.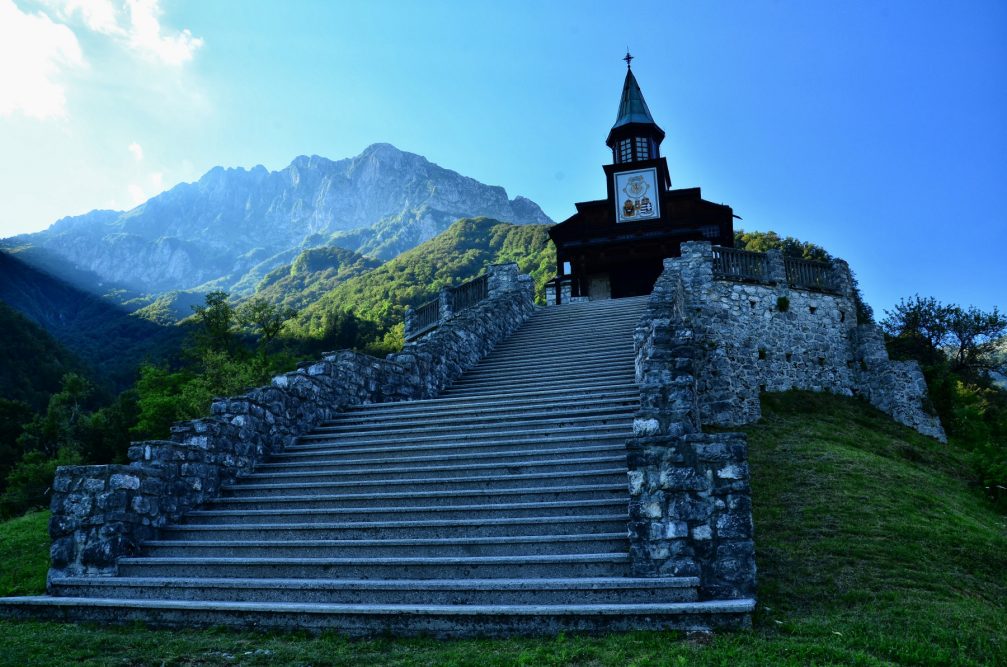 The Javorca Memorial Church of the Holy Spirit is beautifully set amongst the mountains of the Julian Alps. It is located 12 kilometers from the town of Tolmin past the Zatolmin village along the chutes of the Tolminka River to Polog. The church feels more like a memorial than a church. It reflects peacefulness. The church was built during the First World War and is the only memorial church of the Austro-Hungarian army in the area of the Isonzo front preserved until today. Inside the church the wooden panels are full of names of Austro-Hungarian solders who died in this area around 1916. It's is very emotional. But be sure to drive to the Tolmin Tourist Info first and get the key for the church first. The church is not open by default and the interior is certainly worth seeing it.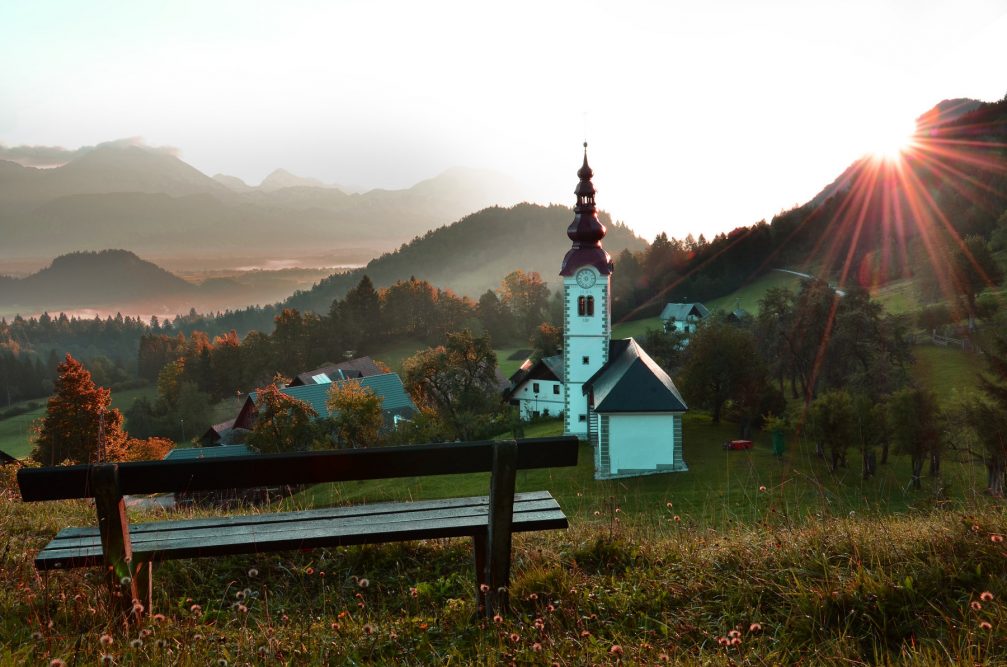 Kupljenik is a lovely small village which lies under the Babji Zob mountain, only a few kilometres south of the famous Lake Bled. In its centre stands the succursal Church of St. Steven, a Gothic building that dates back to the early 16th century. The village is best known for one of the oldest traditions in Slovenia, blessing of horses, which takes place next to the St. Stephens's church every year on December 26th.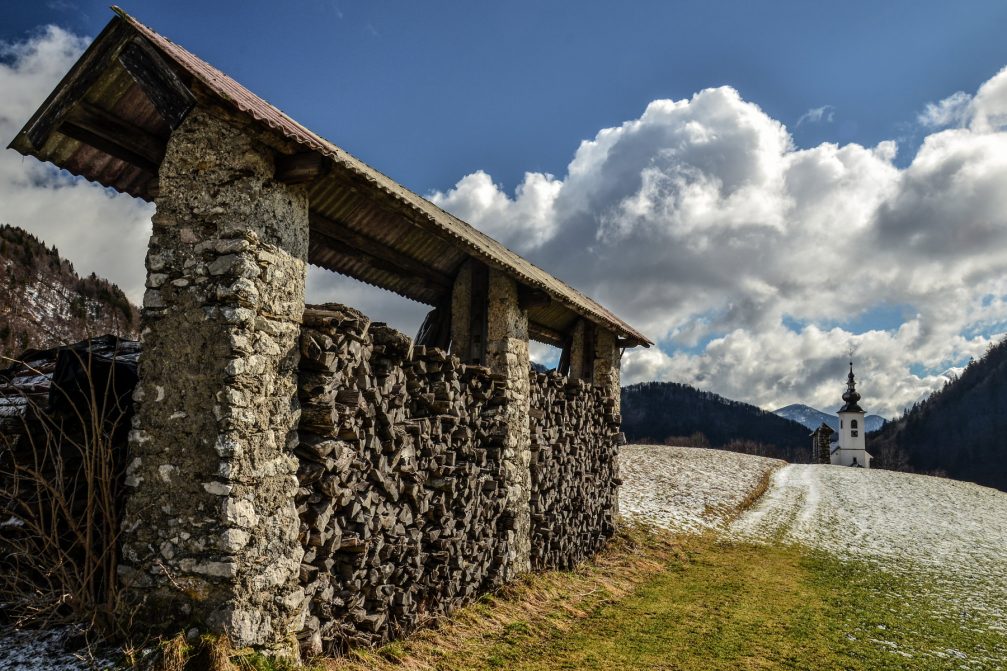 Hayracks and churches are a distinct feature of the Slovenian landscape. There are almost 3,000 churches, chapels and religious monuments around the country and Slovenia is actually one of the countries with the highest number of religious buildings per capita in Europe. The church on the picture is dedicated to Saint Mark and stands on a hill above the village of Spodnje Danje in the Gorenjska region of Slovenia.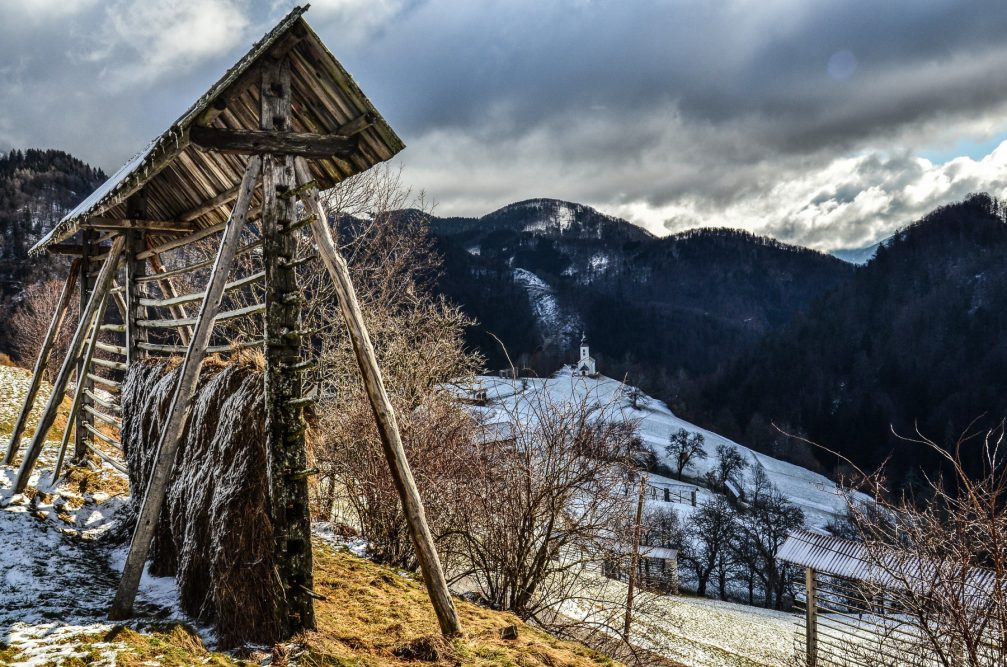 Nothing is as Slovenian as the kozolec, the hayrack seen throughout the country. Because the ground can be damp, wheat and hay are hung from racks, allowing the wind to do the drying much faster and much more thoroughly. They are made mostly of wood, featuring a roof and, sometimes, intricate decorative elements. There are several different types of hayracks in Slovenia: from single ones standing alone to parallel and stretched ones and double hayracks, often with roofs and storage areas on top. According to the statistics, about 80% of all hayracks in the world can be found in Slovenia.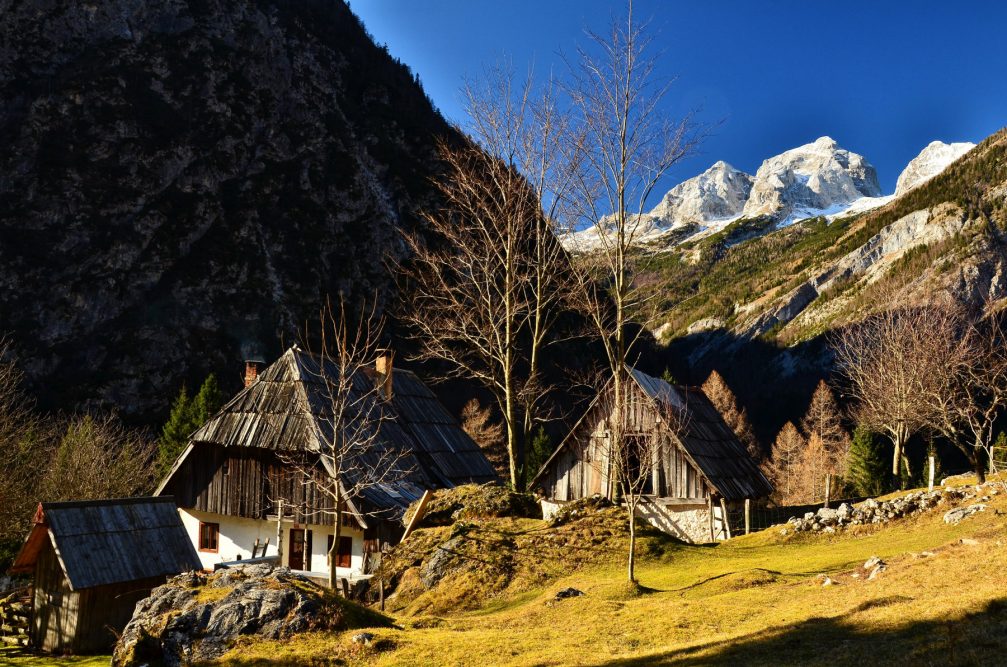 The Turer farmstead or Turerjeva Domacija as it is called in Slovene is located in the Trenta Valley at the heart of the Triglav National Park. It is a remarkable example of the valley's architectural heritage.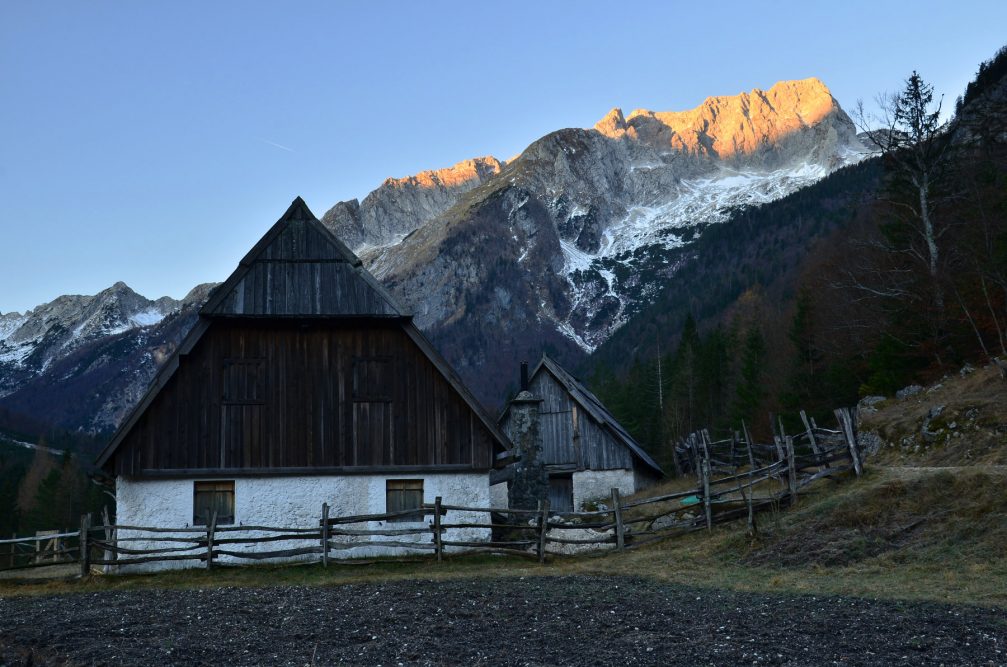 The Trenta Valley features some of the last remaining high-altitude farms in Slovenia, where time passes more slowly. The peace and quiet that accompany you in the valley are impressive and definitely worth your while.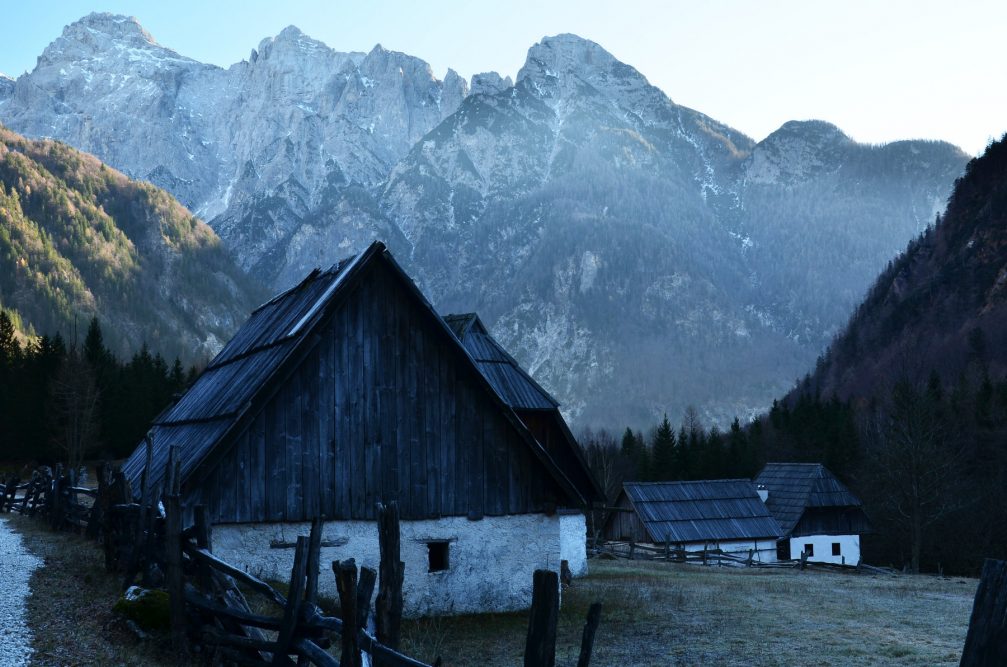 The serenity of the Trenta Valley takes you back in time and is so soothing to the eyes that you might just want to sit down to take it all in.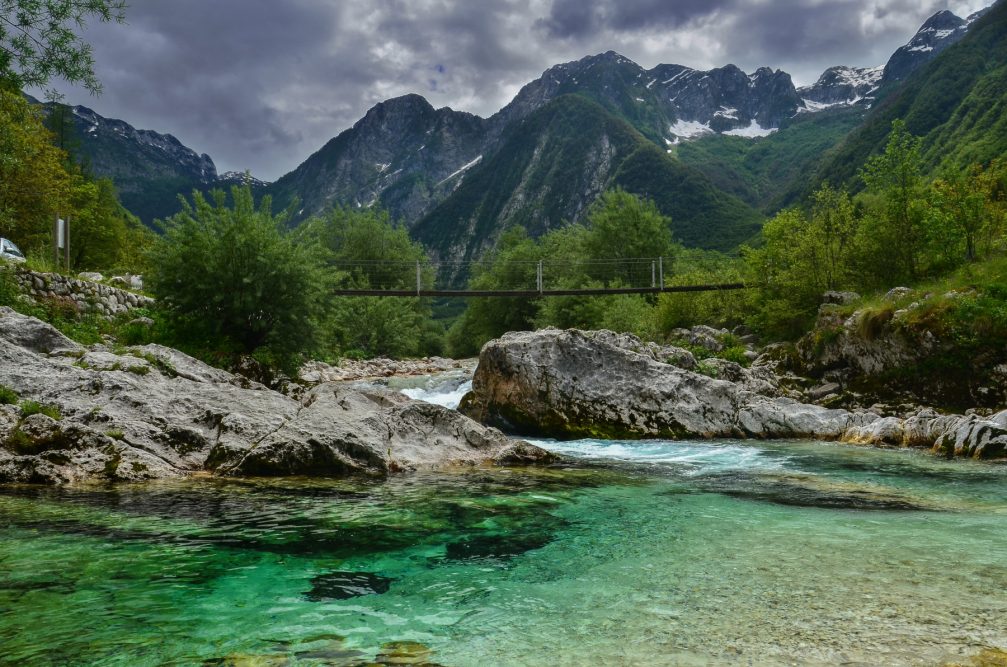 The Soca River starts its way in the Julian Alps and flows through western Slovenia. It's nicknamed the Emerald Beauty and many consider it to be one of the most gorgeous and cleanest rivers on the planet. It has inspired great poets from Slovenia and Italy, and continues to wow visitors to this day.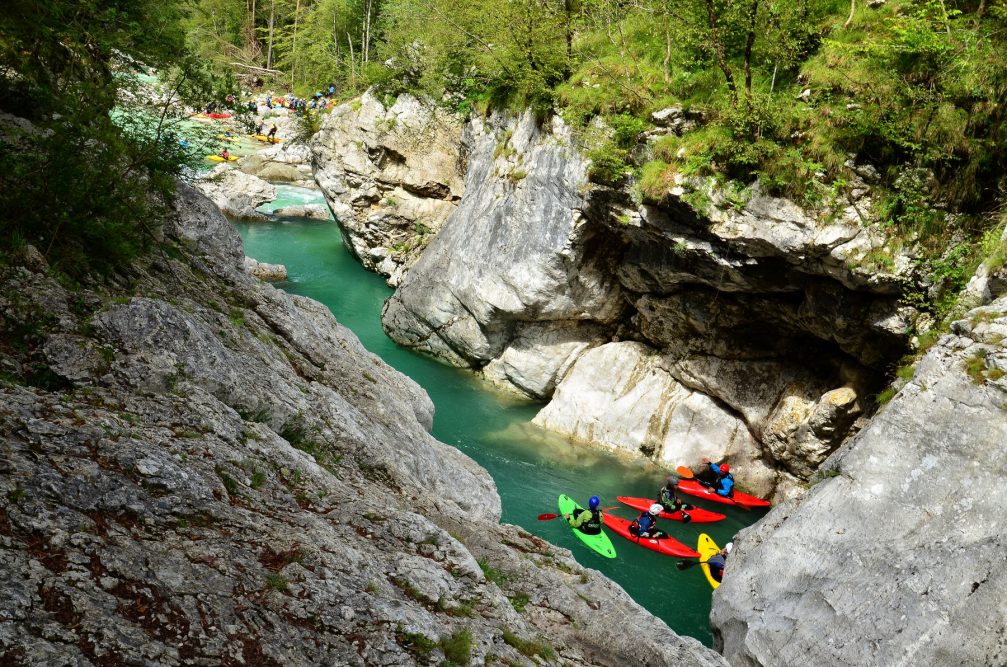 The Soca River attracts water-sports enthusiasts from all around the world and offers fantastic possibilities for kayaking, canoeing, rafting, canyoning, hydrospeeding, fishing and more.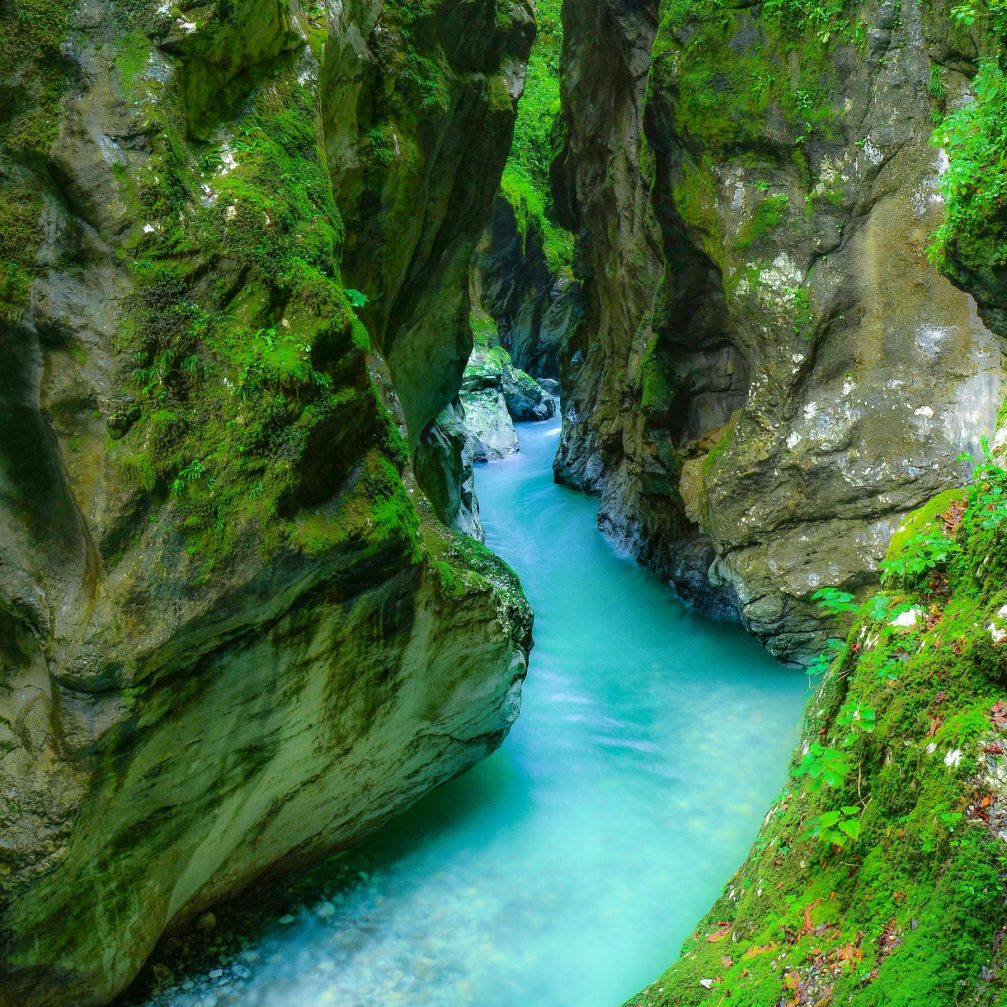 The fabulous Tolmin Gorge is located at the southernmost entry point of Triglav National Park. The perfectly clear turquoise water is a sight to behold as it softly flows through the canyon walls. The circular walk through the gorges formed by the Tolminka and Zadlascica Rivers takes about one hour. Not surprisingly, it is the most appreciated natural attraction in the Tolmin area.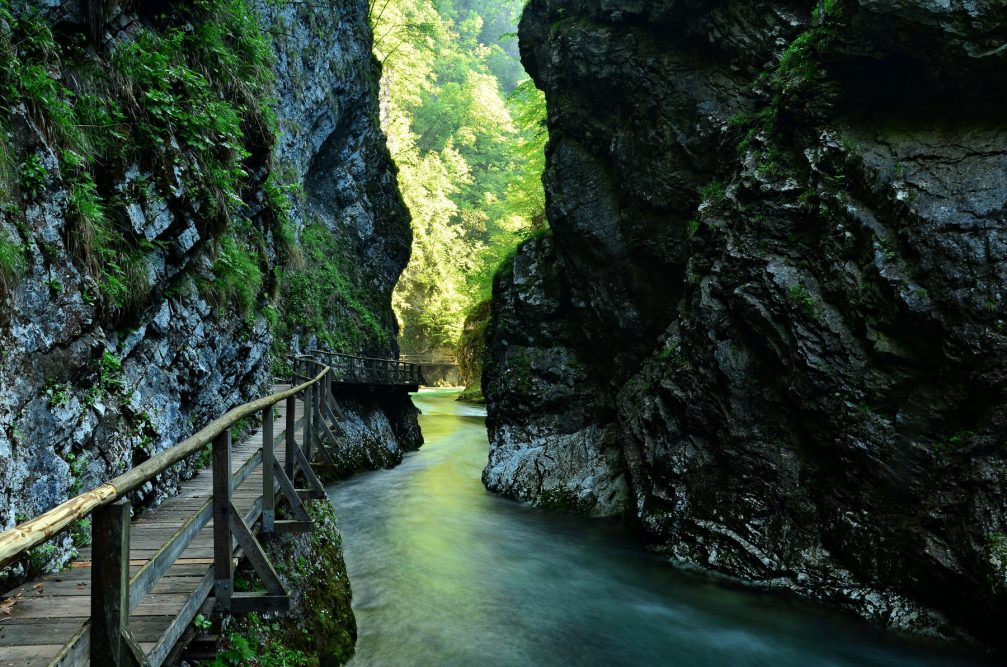 Vintgar Gorge, or Bled Gorge as it is also known, is a hugely popular natural attraction located just four kilometres north of the famous Lake Bled. The highlight is the one and a half kilometre long wooden walkway, built at the end of the 19th century and continually rebuilt since. The walkway crosses the emerald Radovna River four times over rapids, small waterfalls and pools before reaching the noisy 13-metre-high Sum Waterfall. The sheer canyon walls are 50 to 100 metres high. The entire walk is unforgettable, but it can get a little wet and slippery.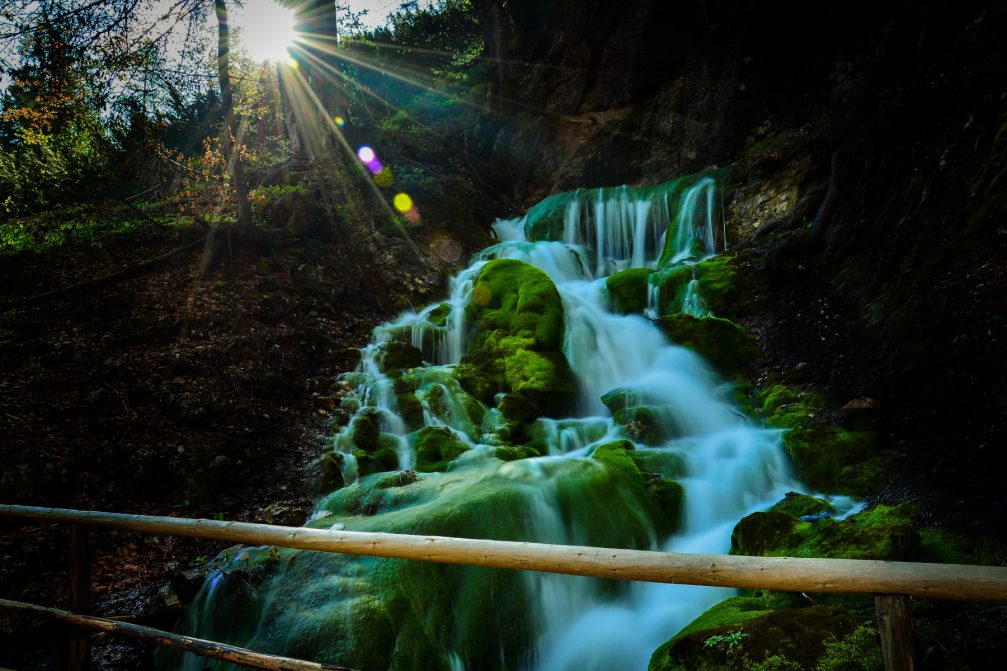 A less known waterfall of Izvir Pri Mrzlih Vodah, literally Spring At Cold Waters. As the area is moist and rocky, the rocks are covered by a rich moss layer. This is the origin of the name the locals use for the waterfall: Mahovje, literally Moss.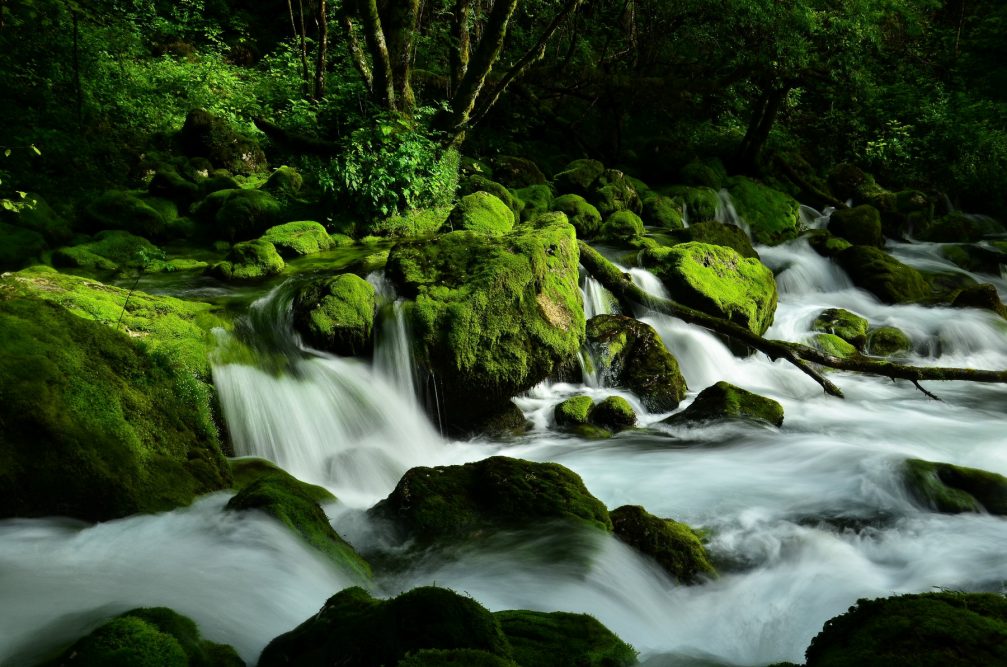 The karstic source of the Gljun Stream is another beautiful natural attraction that is worth seeing while visiting the Bovec area. After periods of heavy rain, the water literally bursts from beneath the moss-covered rocks.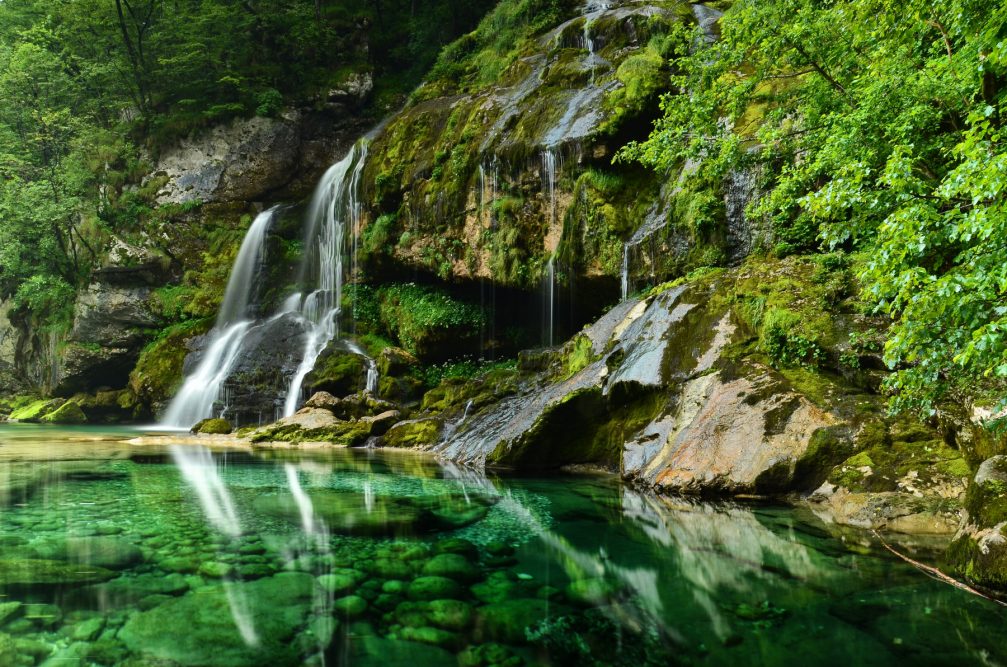 The gorgeous Virje waterfall is located near the village of Pluzna, about three kilometres west of the town of Bovec. The waterfall is created by the Gljun Stream and is 12 meters high and up to 20 meters wide. It is set in a pretty glade and the pools below it are a remarkable jade colour. The water is so clear that you can drink from it. The place is the perfect spot for lovers of nature and nature photographers.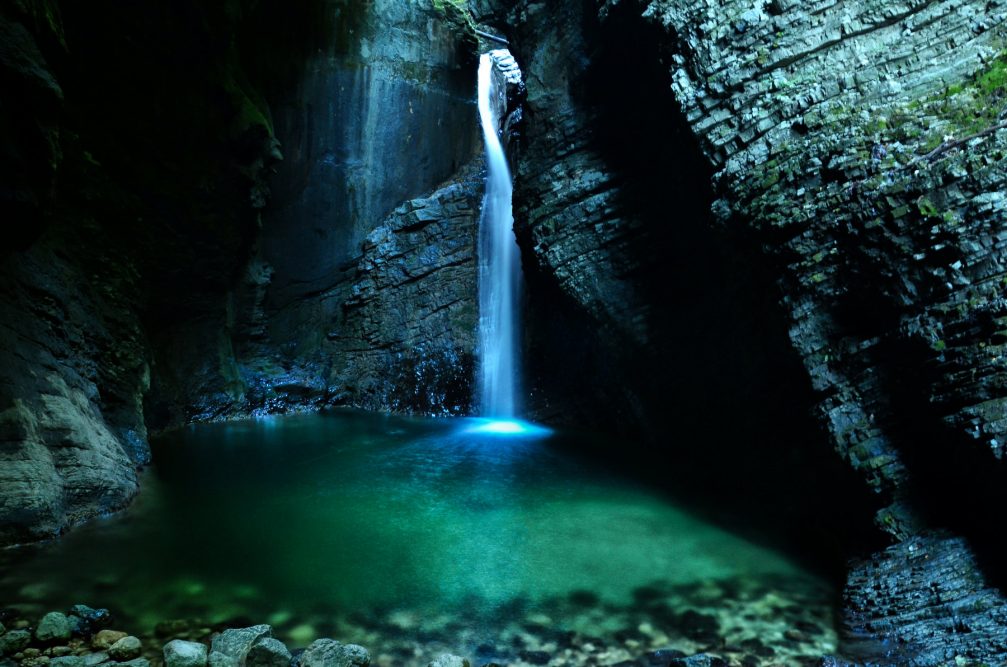 The photogenic, 15-metre-high Kozjak Waterfall, which is not so impressive for its height but rather for its extraordinary cave-like hall carved out of the surrounding rock. The waterfall has an amazing emerald green pool at is base. It is possible to swim here, so don't forget your bathing suite and water shoes.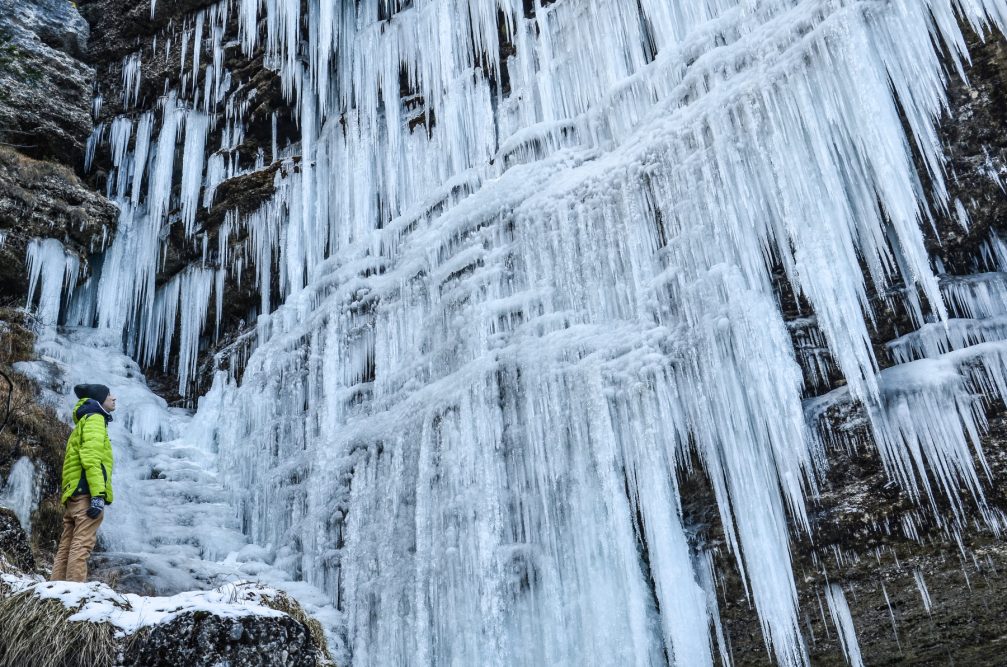 The 52-metre-high Pericnik is one of the highest waterfalls in Slovenia. It is located in the Vrata valley inside the Triglav National Park, some 5 kilometres from the village of Mojstrana in northwestern Slovenia. The waterfall is worth visiting throughout the year, but the most heart-stopping sight of it is during winter when the lower part of the waterfall is frozen into beautiful white icicles.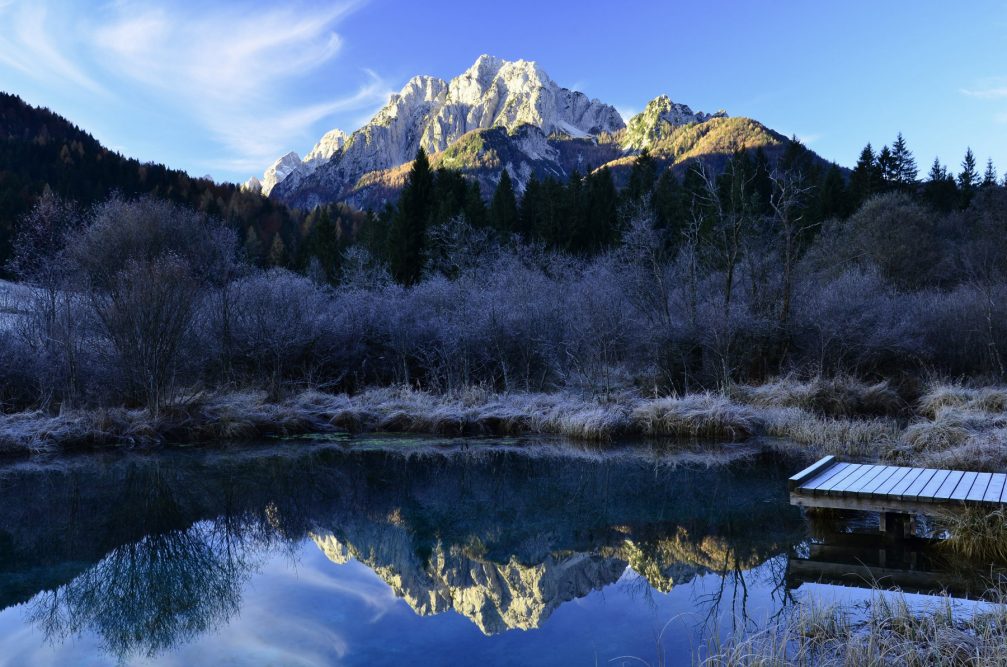 Lake Zelenci is part of the Zelenci Nature Reserve which lies in the far northwestern corner of the country, near the village of Podkoren on the road towards Italy. Following a wooden footbridge, you can walk to the lake and around the reserve without doing nature any harm. There's also a raised wooden viewing platform which gives you a fantastic view of the surrounding Julian Alps.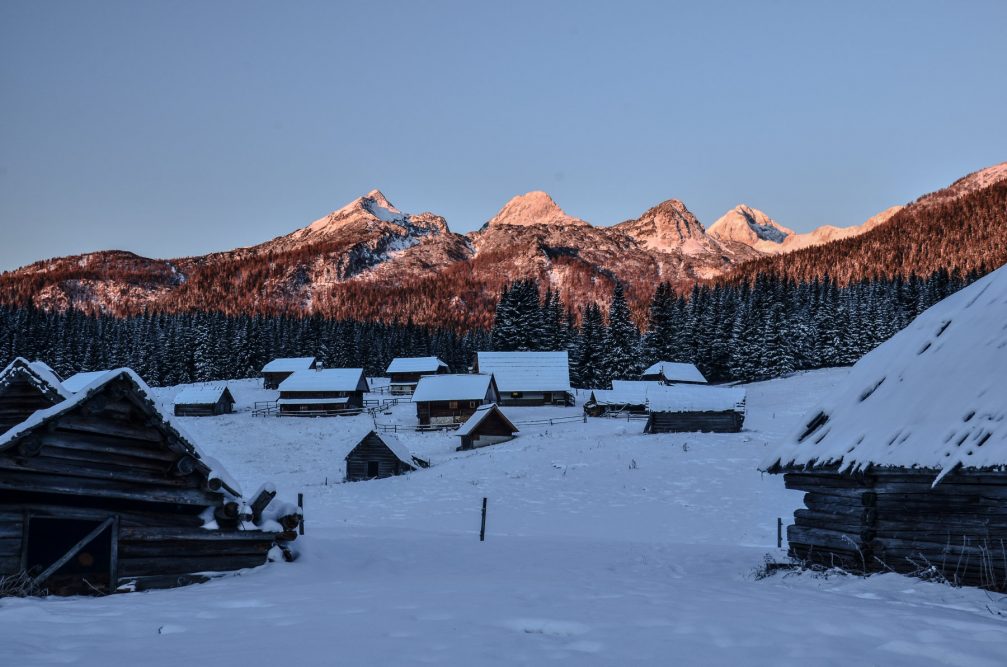 The Javornik mountain pasture or Javorniska Planina as it is called in Slovene lies on the Pokljuka plateau. It is dotted with picturesque wooden barns and back-dropped by the peaks of the Julian Alps.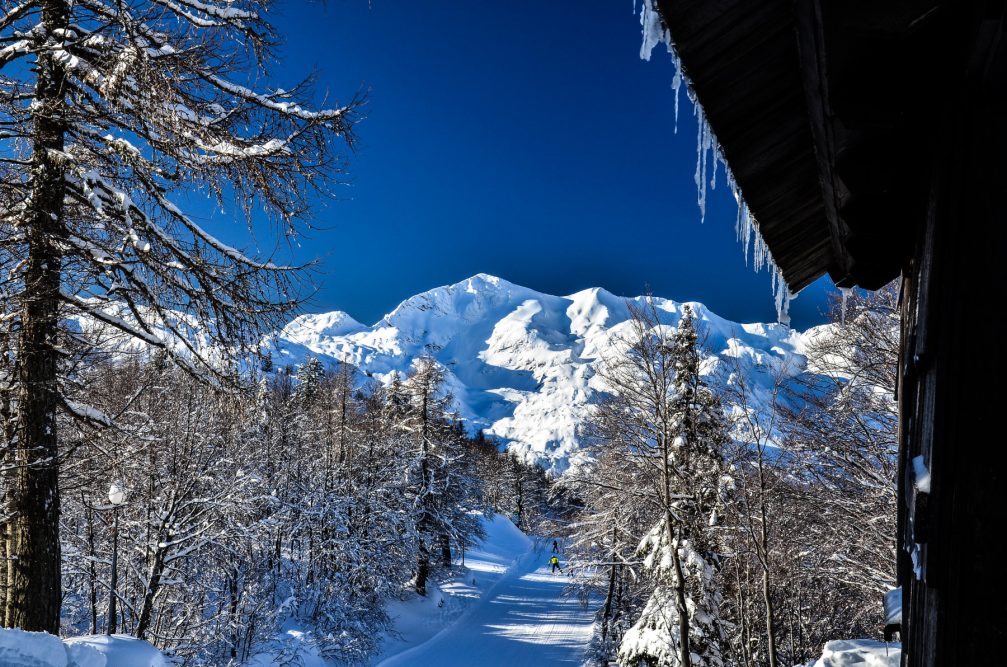 Vogel Ski Resort, located in the heart of the Julian Alps above the gorgeous Lake Bohinj, isn't only a great place for skiing but also a very popular destination for cross-country skiing – every year there is at least some part of the area that includes a dedicated cross-country skiing trail. The trails aren't very long, but they offer absolutely stunning views of the Julian Alps and Lake Bohinj.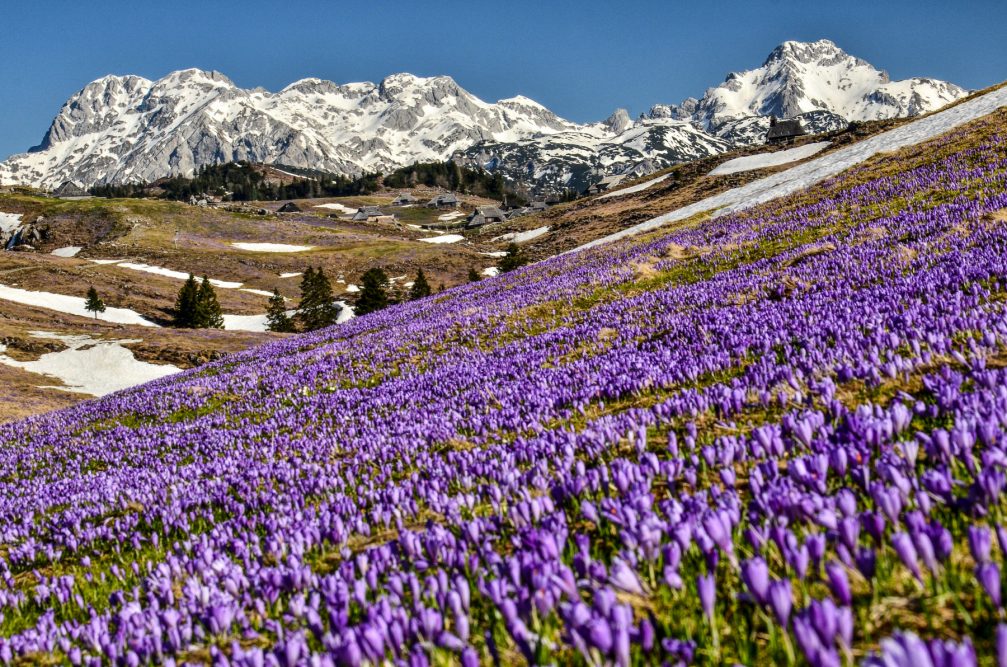 The expansive meadows of the Velika Planina, the scenic crown jewel of the Kamnik-Savinja Alps. Picturesque wooden huts accent the landscape while the snow-flecked peaks of the Kamnik-Savinja rise in the background. Velika Planina is beautiful all year round, however one of the best times to visit it is in spring, when the crocus begins to bloom. Crocuses are the earliest of spring flowers. They can be found bursting into bloom, while snow is still on the ground.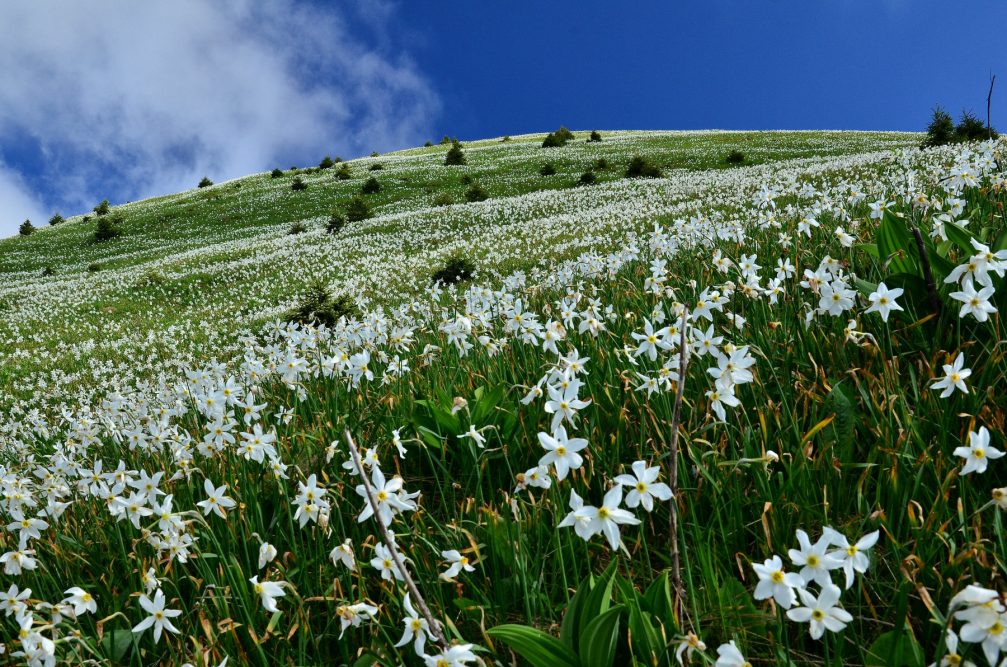 Each year in the spring month of May, something magical happens on the mountainsides above the town of Jesenice. Many of the normally lush green meadows on the hills below the Golica mountain on the border with Austria, turn almost completely snow-white. It's not a late-spring snowstorm or anything like that that's the cause of this magical transformation, but the blossoms of white mountain daffodils.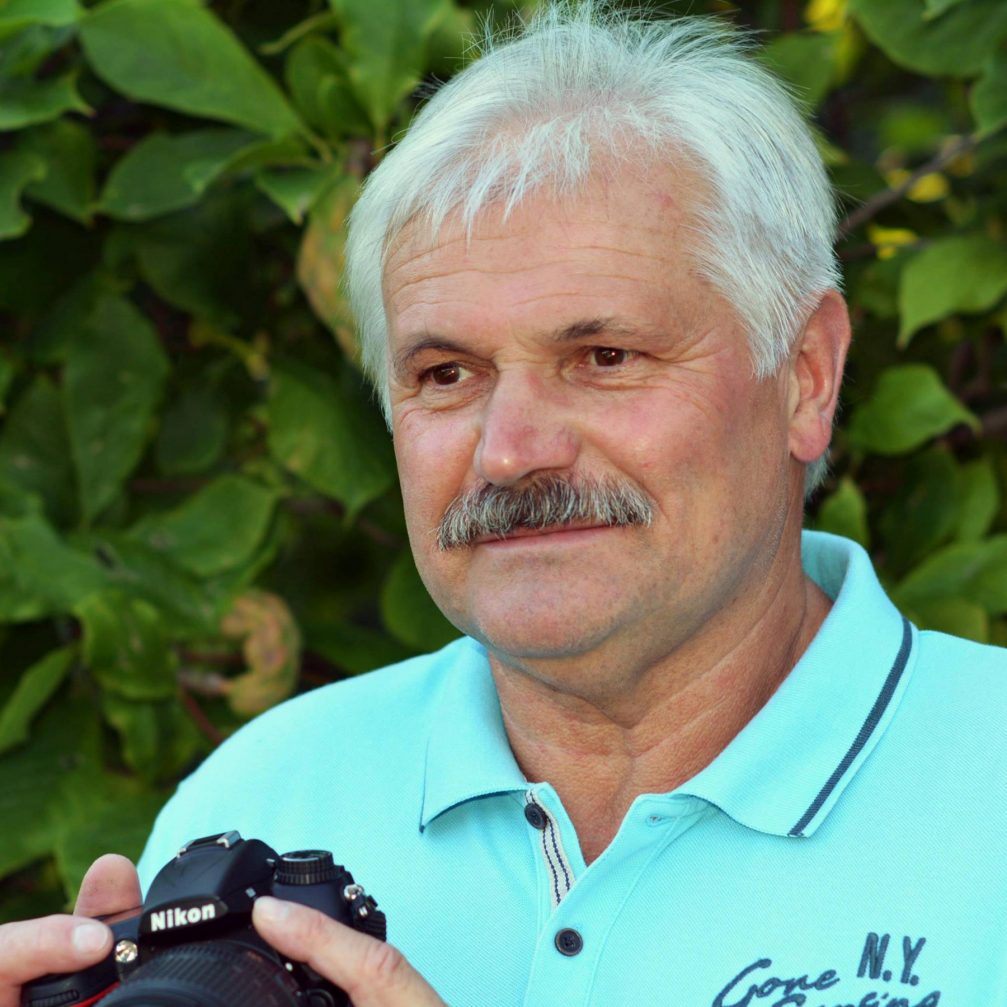 Thank you so much Bojan Kolman for your kindness and for sharing all these incredible Slovenia photos with us. You do a fantastic job! Your photos are outstanding and beautifully convey the amazingness of Slovenia!

Discover beautiful Slovenia through amazing photos
SLOVENIA, AS SEEN FROM THE AIR (50 photos)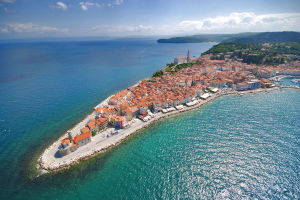 Aerial photography provides you with a breathtaking bird's eye view – one you won't get anywhere else. So, here are 50 spectacular aerial photos that prove why Slovenia might just be the most beautiful country on Earth.
SLOVENIA IN THE WINTER TIME (50 photos)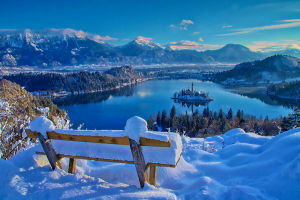 Slovenia in the winter time is almost more magical than in summer. Check out this beautiful gallery with 50 stunning winter photos of Slovenia that prove you absolutely have to visit this small but extremely picturesque country in the winter time.
SLOVENIA AT NIGHT (30 photos)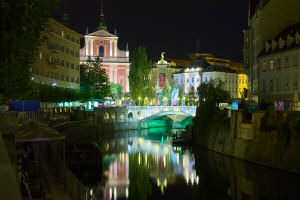 Night has its own magic. Night can transform an ordinary scene into something magical, mysterious and captivating. Light, shadow, texture, tonality, pattern all work together to create a very different feeling compared to photos captured during the day. Everything is just more magical at night, so here are 30 night pictures of Slovenian cities, towns, villages and other places at night. Enjoy!
LANDSCAPE AND NATURE PHOTOS FROM ALL OVER SLOVENIA BY LUKA ESENKO (40 photos)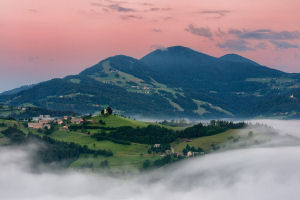 Luka Esenko is considered by many to be Slovenia's new leading landscape and travel photographer. He has been photographing landscapes for almost a decade now, and through photography he has been blessed to capture some of the most gorgeous locations in Slovenia. Strong compositions and a feel for natural light are what make Luka's images stand out.
AERIAL DRONE PHOTOS FROM AROUND SLOVENIA BY JURE KORBER AND TJASA BORSNAK (35 photos)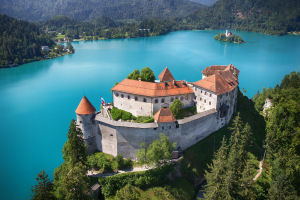 With the technological advancements in cameras and drones, we can now get a glimpse of the world from a different perspective. And from high up above, especially with a bird's eye view, the world is a stunningly beautiful place. Jure Korber and Tjasa Borsnak, a young student couple based in Slovenia's capital Ljubljana, took their aerial photography platform called Hexabee into the sky and captured Slovenia from angles not seen before.
LANDSCAPE PHOTOS FROM SLOVENIA BY DEJAN HUDOLETNJAK (50 photos)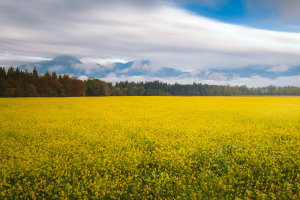 Dejan Hudoletnjak is a super-talented and passionate photographer best known for his beautiful landscape photos of Slovenia and wonderful use of light and color. He has an unerring eye for composition and detail, and a great sensitivity to mood, expressed in his photographs through the awareness and use of light. His goal as a photographer is to create an image that not only captures a moment in time, but also tells a story and evokes an emotional response. An image that shares the mood and feelings he felt when being there.
LANDSCAPE AND NATURE PHOTOS FROM ALL OVER SLOVENIA BY DANIEL TOMANOVIC (50 photos)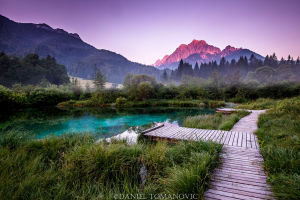 Daniel Tomanovic is a young and very talented landscape photographer who has been creating images that portray the natural beauty of Slovenia and its landscapes for over 8 years. He believes that finding good light is the most important thing to create great landscape images. Everyone can capture outstanding landscape scenery, but hunting the special light is the true challenge for a landscape photographer. And judging from his works, he is very successful in capturing beautiful locations in the best light.
LANDSCAPE AND NATURE PHOTOS FROM ALL OVER SLOVENIA BY ERICH REISINGER (50 photos)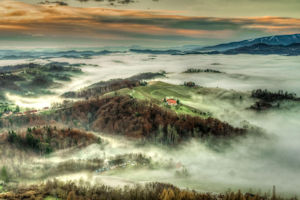 Erich Reisinger is a 55-year-old German landscape, nature, and urban photographer based in the Bavarian town of Ingolstadt. He has been fascinated with photography since he was a 6-year-old child. He has a special connection with Slovenia. He met his wife in Maribor and Slovenia soon became his second home country. He visits Slovenia several times a year and never forgets to mention how he loves Slovenia and how he will never tire of photographing its immense beauty and infinite variety.
LANDSCAPE AND NATURE PHOTOS FROM ACROSS SLOVENIA BY PIOTR SKRZYPIEC (40 photos)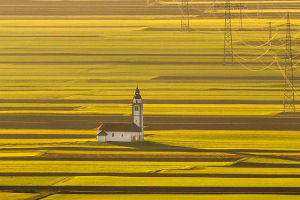 Piotr Skrzypiec is one of the leading landscape photographers in Slovenia. Born in Nowy Sacz, Poland in 1978, Piotr spent most of his childhood in the south of Poland. After completing his master's degree in geography Piotr moved to Slovenia, where he picked up his first camera in 2008. Through photography, Piotr found a way of communicating about his nature and landscape passion and he quickly established himself as a successful landscape and nature photographer.
LANDSCAPE PHOTOS FROM AROUND SLOVENIA BY DOMEN DOLENC (35 photos)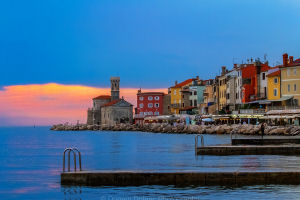 Domen Dolenc is a young but well-established travel photographer currently based in Zelezniki, Slovenia. Since Domen purchased his first camera in 2005, he has been addicted to photography. He never travels without his camera and loves to capture the beauty he finds throughout the world in his own way - his photographic style is defined by powerful colours, street photography scenes, landscapes, but also moments of everyday life, faces and a very close approach on people.
LANDSCAPE PHOTOS FROM ALL AROUND SLOVENIA BY GREGOR KACIN (40 photos)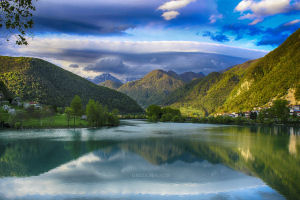 Gregor Kacin is a 39-year-old landscape and nature photographer based in the charming little town of Idrija in western Slovenia. He is very fortunate to live in such a beautiful part of the country and he can often be found roaming the countryside, looking for that special moment when the true beauty of nature revels itself.
LANDSCAPE PHOTOS OF SLOVENIA BY ALES KRIVEC (30 photos)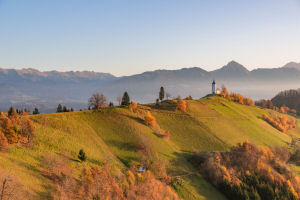 Ales Krivec has a passion for taking photographs and his work features the finest landscapes in Slovenia. He is very much a landscape artist and his work reflects a great understanding and deep love of the countryside and nature. An extensive technical knowledge and a seeing eye enable his photos to convey the beauty of the landscape that surrounds us all.
LANDSCAPE AND NATURE PHOTOS FROM ALL OVER SLOVENIA BY BOJAN KOLMAN (50 photos)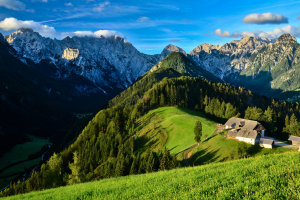 Bojan Kolman is a passionate 63-year-old landscape and nature photographer based in Begunje Na Gorenjskem, a small idyllic village at the foothills of the Karavanke mountain range. Bojan is completely self-taught and learned about photography on the Internet, but he shoots beautiful photographs, possessing an incredible eye for composition. There are so many beautiful things that surround us every day and Bojan strives to reflect that beauty through photography.
LANDSCAPE AND NATURE PHOTOS FROM SLOVENIA BY BRANKO CESNIK (45 photos)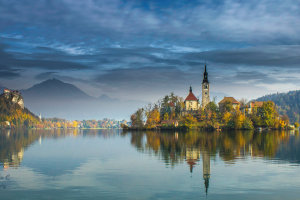 Branko Cesnik is a passionate landscape and nature photographer from Pivka, a small town in the Karst region of southwestern Slovenia. He is 52 years old and has been interested in photography since his school years. Branko tends to shoot in the morning and at the end of the day when the light just either side of sunrise and sunset can transform an already interesting scene into something even more engaging. He firmly believes a good photograph tells a story and creates a feeling within the viewer.
LANDSCAPE, CITYSCAPE AND NATURE PICTURES FROM AROUND SLOVENIA BY JURE KRALJ (45 photos)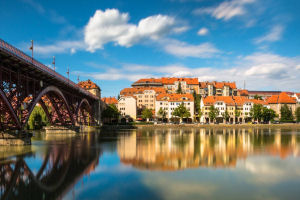 Jure Kralj is an incredibly talented photographer based in Slovenia's second largest city Maribor, who combines his love for travelling around the world with his love for landscape and cityscape photography. He is an enthusiastic observer of the surrounding world. When possible, he is looking for the best light, for the right angle at the right moment to capture a compelling image.
LANDSCAPE PHOTOS FROM ALL OVER SLOVENIA BY DENIS SODRZNIK (30 photos)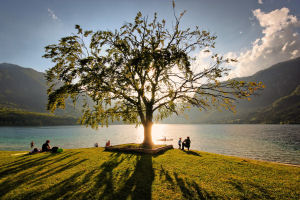 Denis Sodrznik is a passionate landscape and nature photographer born and raised in the beautiful town of Slovenske Konjice in the Styria region of Slovenia. He strives to capture photographs that convey the beauty of the Slovenian landscapes he explores in his spare time with his fiancée Karmen. His intention is to show the viewer details that we often overlook.
LANDSCAPE AND CITYSCAPE PHOTOS FROM AROUND SLOVENIA BY JAKOB NOC (30 photos)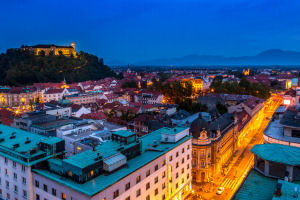 Jakob Noc is an inspiring landscape and cityscape photographer whose talents allow him to capture the most amazing images in a style that is truly his own. Through careful composition, attention to detail and the creative use of beautiful light, Jakob strives to show us cities and landscapes in ways that we may not have seen them before.
LANDSCAPE PHOTOS FROM AROUND SLOVENIA BY MASA VODENIK (35 photos)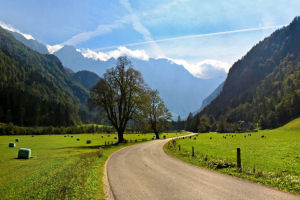 Masa Vodenik is a self-taught photographer who lives in a small town of Hrastnik in central Slovenia. She's an economist during weektime, but on weekends she becomes an ambitious landscape photographer who doesn't want to miss a single second she could have used to take a great photograph. Her passion for photography increased steadily since she started doing photography in 2010. Since then she successfully combines her love for travel and hiking with her enthusiasm for photography.
LANDSCAPE AND NATURE PHOTOS FROM ALL AROUND SLOVENIA BY MIROSLAV ASANIN (50 photos)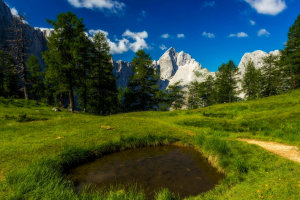 Miroslav Asanin is a keen amateur photographer from Sencur, a small town in northwestern Slovenia. His main photographic interests are landscapes and nature though he does photograph wildlife and architecture when he finds them. He especially loves to photograph the amazing landscapes and nature of the Slovenian Alpine area. However he also loves to take day trips to other parts of the country and scout new locations in search of compelling scenes or subjects to photograph.
LANDSCAPE PHOTOS FROM AROUND SLOVENIA BY BLAZ GVAJC (25 photos)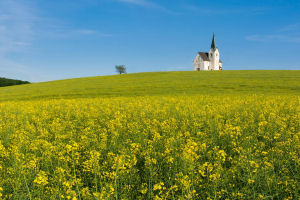 Blaz Gvajc is a landscape and cityscape photographer from Slovenia's third largest city Celje whose passion is to explore and capture the most inspiring and beautiful places in the world. Although being an avid traveler, Blaz also adores his home country Slovenia and loves making spontaneous trips around it when there is promising light, and he will never tire of photographing it.
LANDSCAPE PHOTOS FROM ALL OVER SLOVENIA BY BOSTJAN KERSBAUMER (40 photos)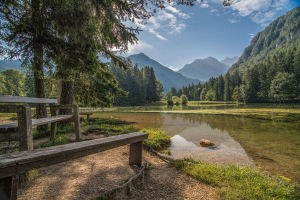 Bostjan Kersbaumer is a passionate self-taught photographer from Slovenia's second largest city Maribor. He is a car mechanic working at Porsche Maribor during weektime, but on weekends he becomes an ambitious landscape, nature and cityscape photographer with an aim to create memorable images from locations across Slovenia and other parts of the world.
LANDSCAPE PHOTOS TAKEN IN A VARIETY OF LOCATIONS IN SLOVENIA BY SABINA TOMAZIC (40 photos)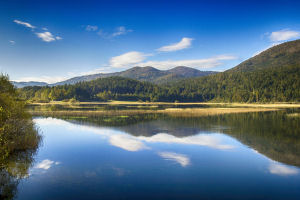 Sabina Tomazic is a young but already established professional on-location lifestyle photographer based in Trebnje, Slovenia. Although known primarily as a lifestyle photographer, Sabina also loves to create images that portray the natural beauty of Slovenia and its landscapes. Her landscape photos are realistic with minimal post processing.
LANDSCAPE AND NATURE PHOTOS FROM AROUND SLOVENIA BY JERNEJ LEBEN (40 photos)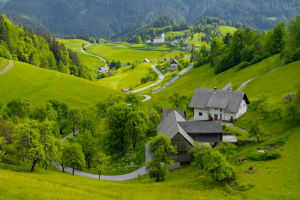 Jernej Leben is one of the most talented amateur photographers in Slovenia whose unrelenting passion for his hobby inspires him to capture the beautiful landscapes and nature of Slovenia with absolute perfection.
LANDSCAPE AND NATURE PICTURES FROM ACROSS SLOVENIA BY KLARA KULOVEC (35 photos)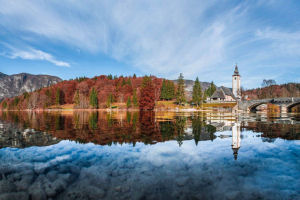 Klara Kulovec is one in a line of talented new Slovenian female landscape photographers who has found her passion with a camera in her hands. She has a heart of an artist and loves nothing more than time with her camera and a scene in front of her to capture the perfect copy of what she saw in her minds' eye. The forms, color and light that shape the landscape are a constant source of her inspiration.
WILDLIFE AND BIRD PICTURES FROM SLOVENIA BY MATEJ KOVACIC (30 photos)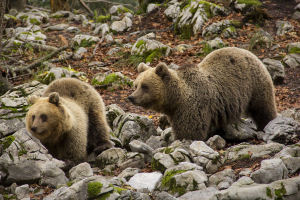 Matej Kovacic is a young and exceptionally talented wildlife and bird photographer dedicated to capturing images of the indigenous wildlife of Slovenia. During his childhood Matej developed a strong fascination for wildlife, birds and nature. When he bought his first camera at the age of 13, he became as passionate about photography. It's hard to photograph wildlife in the wild, but Matej wants to be true, so he stays away from captive animals - all his photos are taken in the wild in Slovenia.
LANDSCAPE PHOTOS FROM THE STYRIA REGION OF SLOVENIA BY PETER ZAJFRID (40 photos)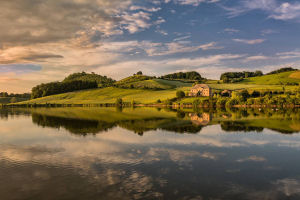 Peter Zajfrid is a well-respected and very passionate amateur landscape photographer who loves capturing the beauty of this world through photography. He enjoys the outdoors and nature, and photography provides him with a medium to capture and share this with others. He especially loves creating images that portray the beauty of the Styria region of Slovenia and its landscapes.
FINE ART LANDSCAPE PHOTOS OF MARIBOR AND ITS SURROUNDING AREA BY UROS LEVA (25 photos)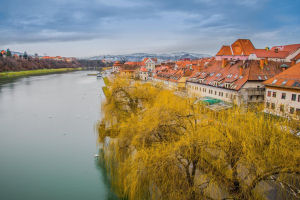 Uros Leva is a versatile freelance artist – photographer, graphic designer and screenwriter. He has been living in Slovenia's second largest city Maribor for his whole life and never fails to be overawed by the beauty of the city. His connection to Maribor began the moment he was born and the more Uros experiences this city, the further he falls in love. When Uros is behind the camera, his goal is to bring out the beauty of Maribor and its surrounding area for all to see.
LANDSCAPE AND NATURE PHOTOS OF THE LAKE BOHINJ AREA AND THE JULIAN ALPS BY GREGOR SKOBERNE (35 photos)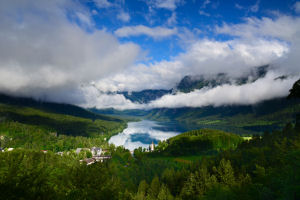 Gregor Skoberne is one of the most talented and passionate landscape and nature photographers in Slovenia. Completely self-taught, Gregor is primarily focused on the unique local landscape and nature found in the Lake Bohinj area with an aim to capture the spirit and the essence of the moment in his photographs.
NATURE AND LANDSCAPE PHOTOS OF THE TRIGLAV NATIONAL PARK BY WALLE GREVIK (35 photos)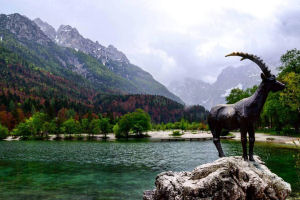 Walle Grevik is a passionate nature and landscape photographer, hiker, and traveler based in Helsingborg, Sweden. He has traveled to many countries around Europe including Iceland, Faroe Islands, Scotland, Ireland, and Greece. This year, he and his hiking partner, Fredrik Vestlund, decided to visit Slovenia and do a 9-day hiking adventure through the Julian Alps and Triglav National Park. Walle took some really beautiful photos during this hiking tour, and he was kind enough to share some of them with us here at Travel Slovenia.
LANDSCAPE PHOTOS OF THE SLOVENIAN ALPS BY MASA VODENIK (20 photos)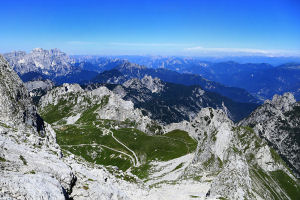 The Slovenian Alps are a part of the Southern Limestone Alps with three high-Alpine mountain ranges, the Julian Alps, the Karawanks and the Kamnik-Savinja Alps. They take up a large part of Slovenia and are full of incredible trails for all levels of hiking ability. They are lower compared with those in Austria and Italy, but with their beauty they surpass anything you may see in the Alps in Europe. All the photos in this gallery were taken by Masa Vodenik. She's an avid hiker who spends most of her weekends in the mountains and she never forgets to take her camera with her.
LANDSCAPE AND NATURE PHOTOS OF THE SLOVENIAN ALPS BY MIROSLAV ASANIN (40 photos)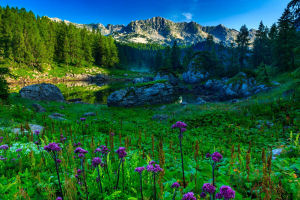 Miroslav Asanin is a very enthusiastic, amateur photographer from Sencur, a small town in the Gorenjska region of Slovenia. His passion for photography began four years ago when he got his first proper camera - a Canon EOS 600D, after that there was no stopping. His primary interests has always been on shooting landscapes and different sceneries found throughout Slovenia and especially in the Slovenian Alps and its Triglav National Park.
FINE ART NATURE AND LANDSCAPE PHOTOS OF THE VRHNIKA COUNTRYSIDE BY ROBI DEBEVC KVOCKA (30 photos)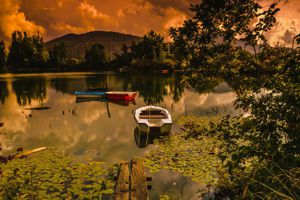 Robi Debevc Kvocka is a self-taught photographer based in Vrhnika, whose fine art nature and landscape photographs celebrate the natural beauty of the Vrhnika countryside. When Robi is behind the camera, his goal is to bring out hidden beauty of the Vrhnika area for all to see. His style, which is recognisable through the artistry of his photographs, is born of a keen eye for the many moods of the natural landscape and a life-long passion for the nature and the great outdoors.
SLOVENIA (30 photos)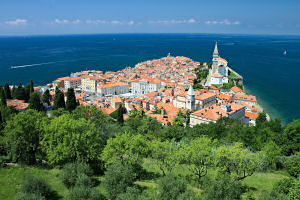 A fascinating capital, charming coastal towns, beautiful alpine villages, stunning natural attractions, and much more - enjoy this wonderful selection of absolutely the most beautiful pictures of Slovenia, taken either by professional photographers or amateur photo enthusiasts.