About The Photographer
Bostjan Kersbaumer is a passionate self-taught photographer from Slovenia's second largest city Maribor. He is a car mechanic working at Porsche Maribor during weektime, but on weekends he becomes an ambitious landscape, nature and cityscape photographer with an aim to create memorable images from locations across Slovenia and other parts of the world.
Bostjan has been shooting seriously for about three years. He started taking photographs as an escape from his everyday job, a stress reliever. Bostjan found himself on his days off searching for a way to combine the extraordinary natural beauty of Slovenia and a medium to express the creative artist side of him. Landscape Photography was the perfect match. His first camera was a Nikon D3100, which was soon followed by a Nikon D7000, but as his skills and confidence grew, Bostjan made the move to his current instrument, a Nikon D7100.
Below is a selection of 40 beautiful landscape photos from around Slovenia that Bostjan Kersbaumer kindly shared with us. If you want to see more of his work head over to Bostjan's photography pages on Facebook and Instagram.
Photo Gallery
A beautiful picture gallery containing 40 beautiful landscape photos from Slovenia by Bostjan Kersbaumer.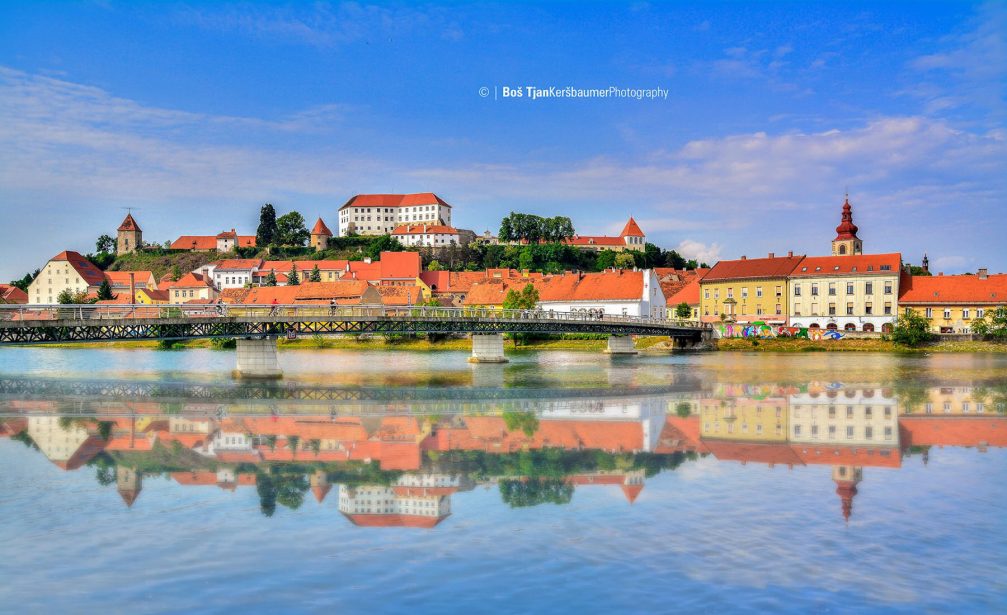 Situated along the Drava river, Ptuj is the oldest town in Slovenia and one of the oldest in the whole of Europe. It is linked to the Stone Age era and has flourished exceedingly during the Roman period. Ptuj's best-known landmark is the mid-12th century castle which sits on top of a hill overlooking the entire town.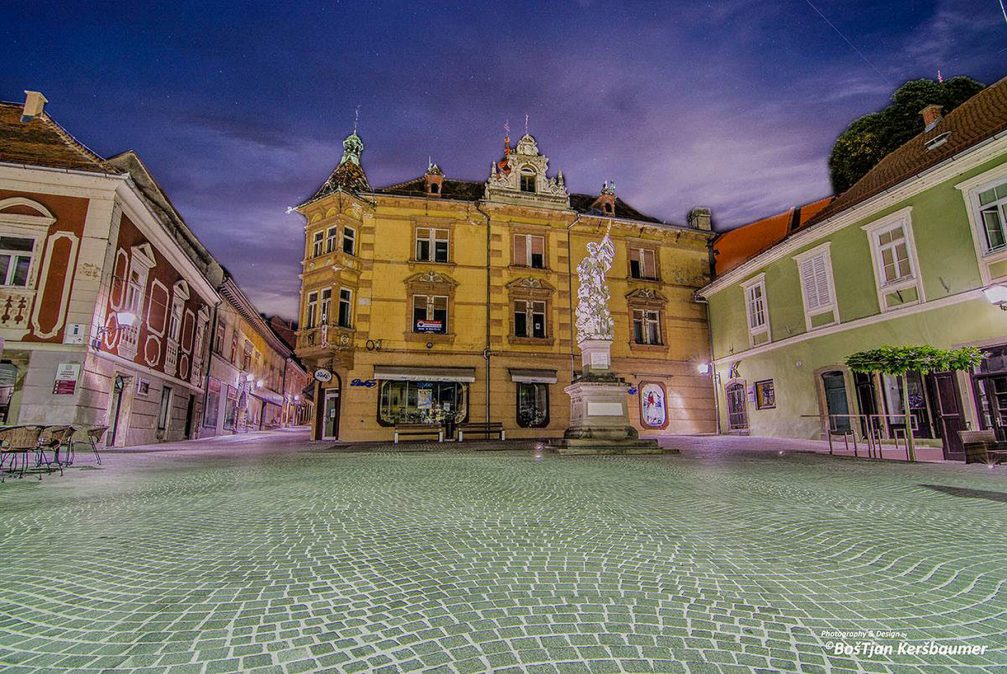 Ptuj is known for its rich and interesting history as well as the beautiful Town Square (or Mestni Trg as it is called in Slovene) which is cobblestone-paved and very clean and the surrounding buildings make for a magnificent backdrop. It's a wonderful place to take photos and get the feel of what Ptuj is all about. Nearby the square, there are many lovely restaurants, bars and cafés.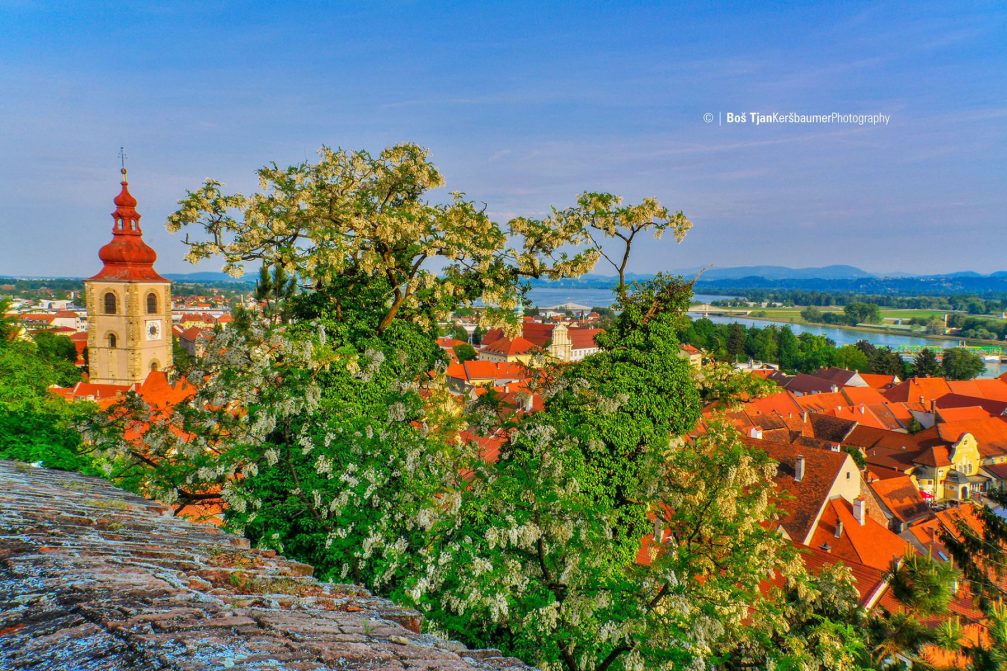 A great thing to do in Ptuj is to walk up to the castle and enjoy the stunning view over Ptuj, the river Drava and the lake. It's a wonderful place for photography.


Situated in the North East part of Slovenia, right in the middle of Zagreb (Croatia) and Graz (Austria), is Maribor, the capital of the Stajerska region and the second largest city in the country. At the same time Maribor is pleasantly small with a little less than 100,000 inhabitants.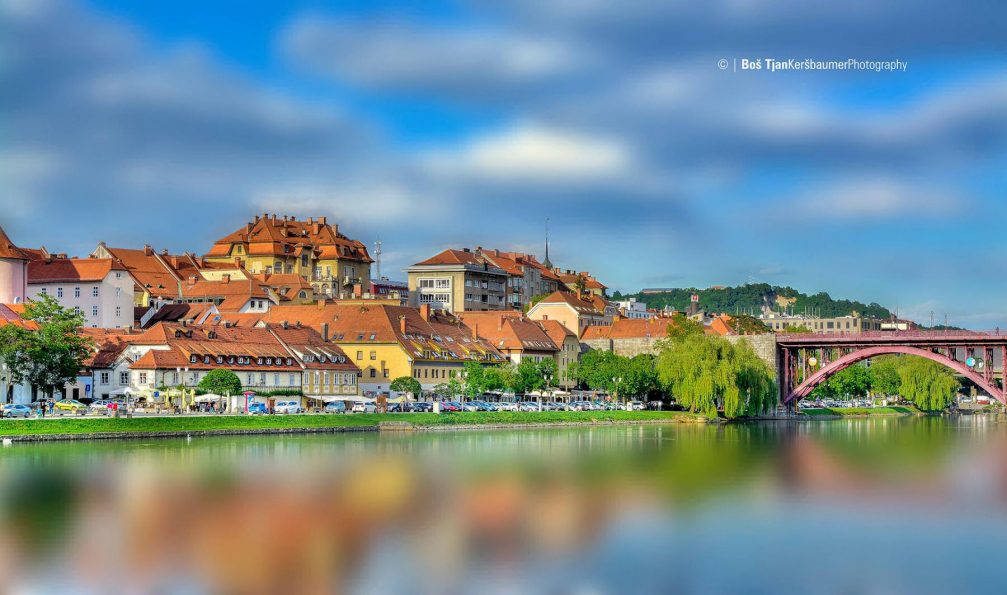 A beautiful river, plenty of vegetation, lovely bridges and historic buildings with red-tiled roofs; that's Maribor's old town, also known as Lent.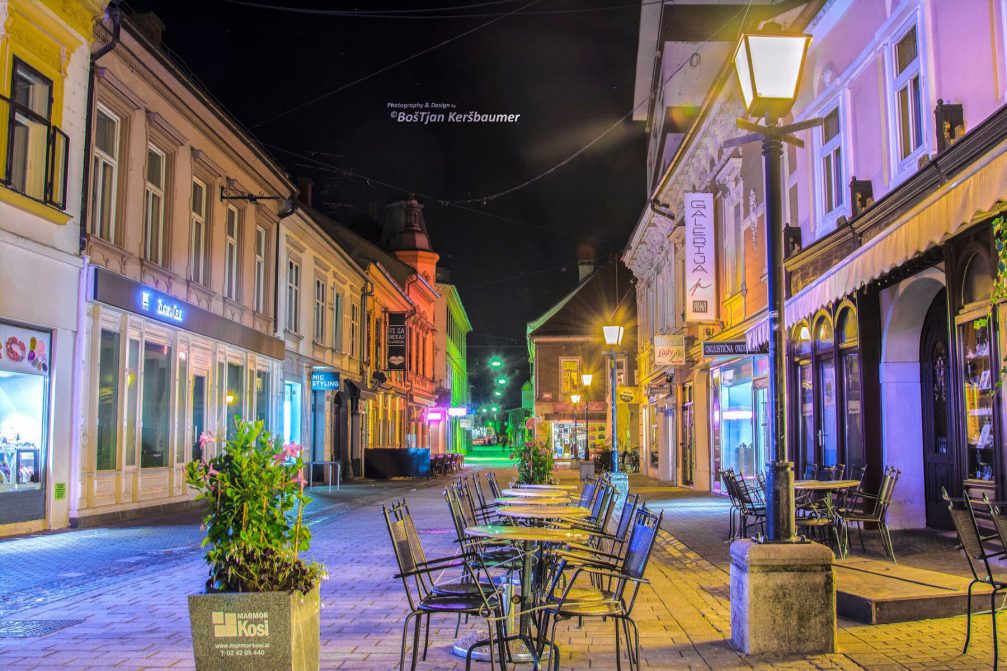 Maribor's streets are lined with colorful historical buildings as well as alfresco restaurants and cafes. The people there are incredibly friendly and the atmosphere is one of a kind.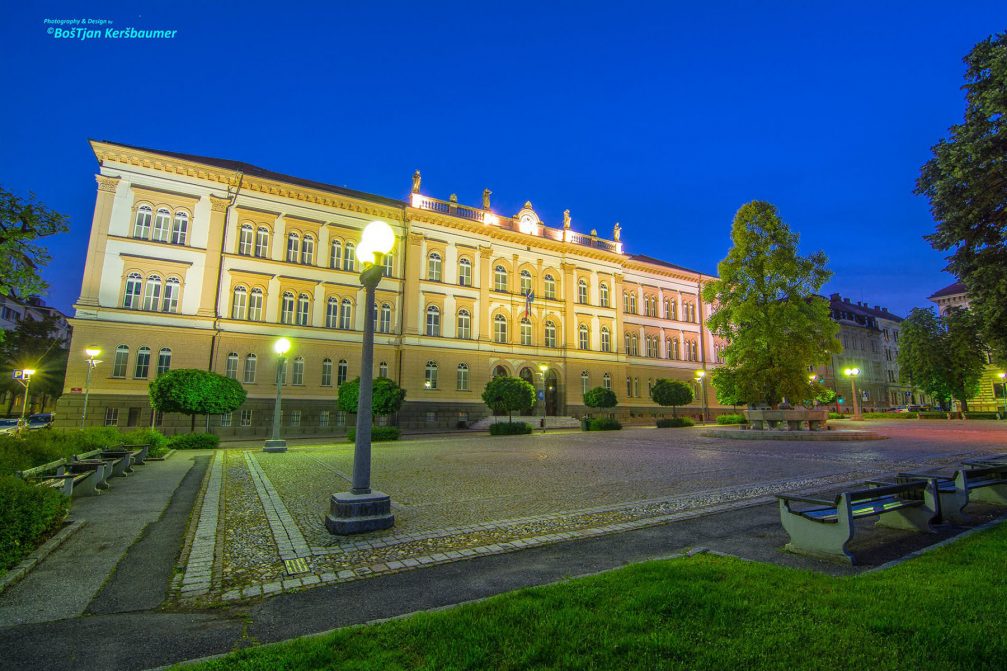 The General Maister Square (or Trg Generala Maistra as it is called in Slovene) in Maribor is dominated by the beautiful neo-Renaissance building of the First Grammar School.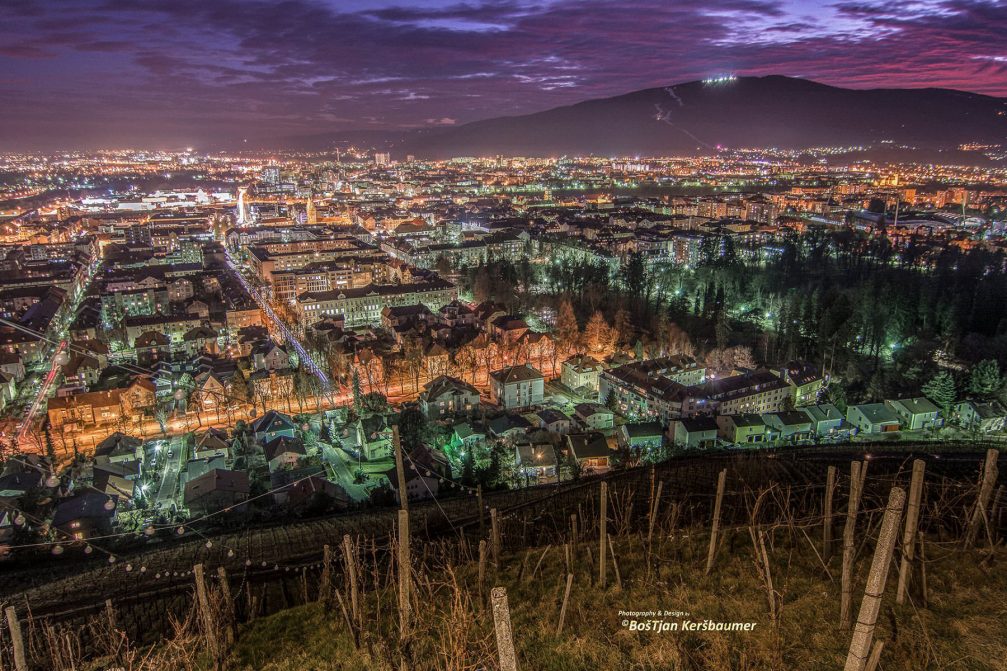 Maribor is set in the wonderful surroundings of the wine-growing hills on one side and the Pohorje Mountains on the other. This beautiful panoramic night view of Maribor was captured from the Piramida hill.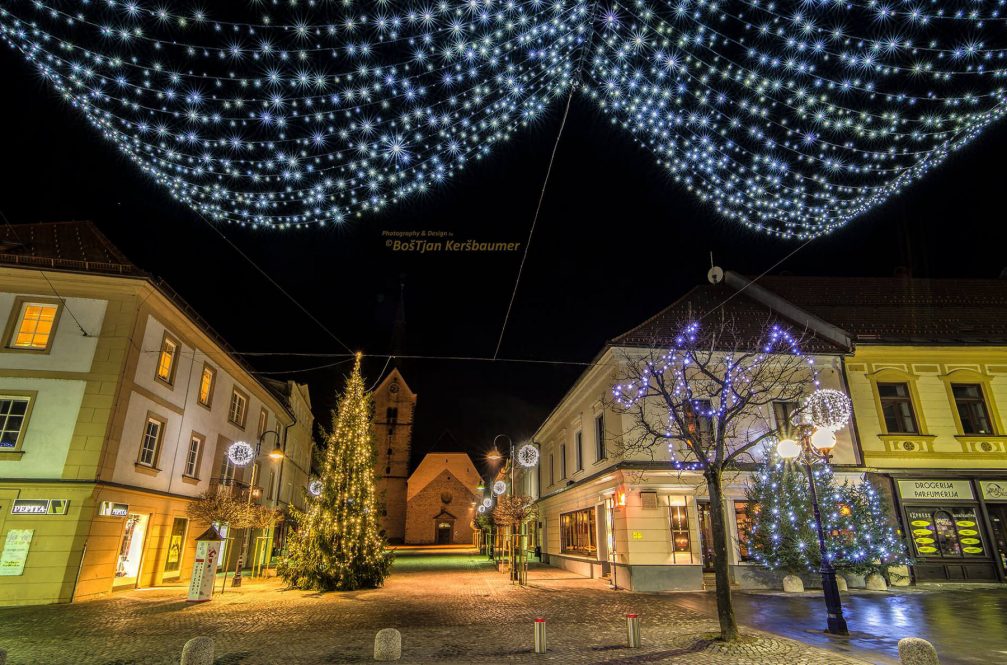 Slovenj Gradec is the administrative, cultural and business centre of the Koroska region. It's a very vibrant town offering one of the most beautiful city centres in Slovenia that looks especially magical every December during the festive season.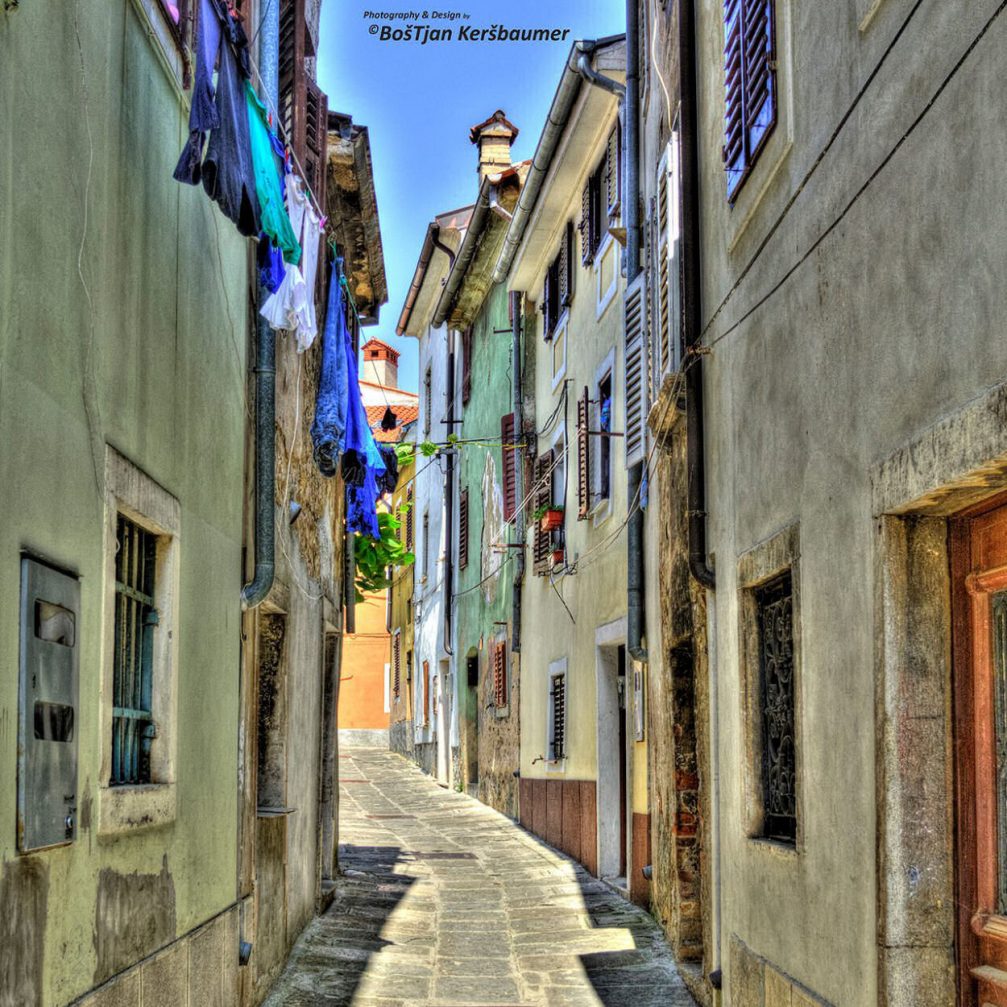 Izola is a romantic old fishing town on the Slovenian coast packed with well-preserved old buildings and narrow winding streets.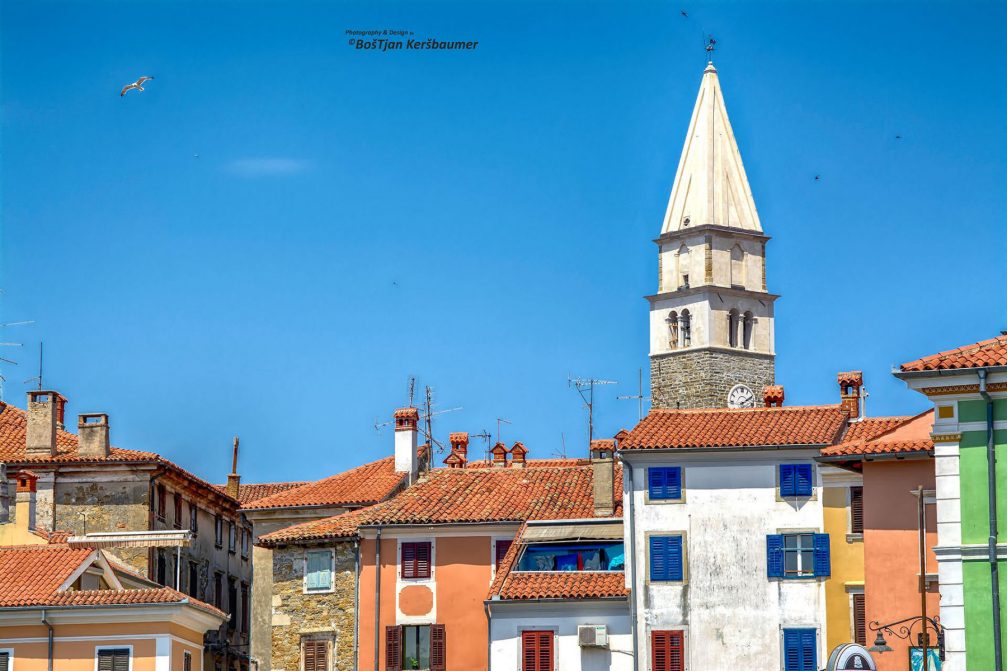 There are lots of well-preserved old buildings with red tile roofs in Izola. On the right hand side you can see the 16th-century tower of St. Maurus's Parish Church.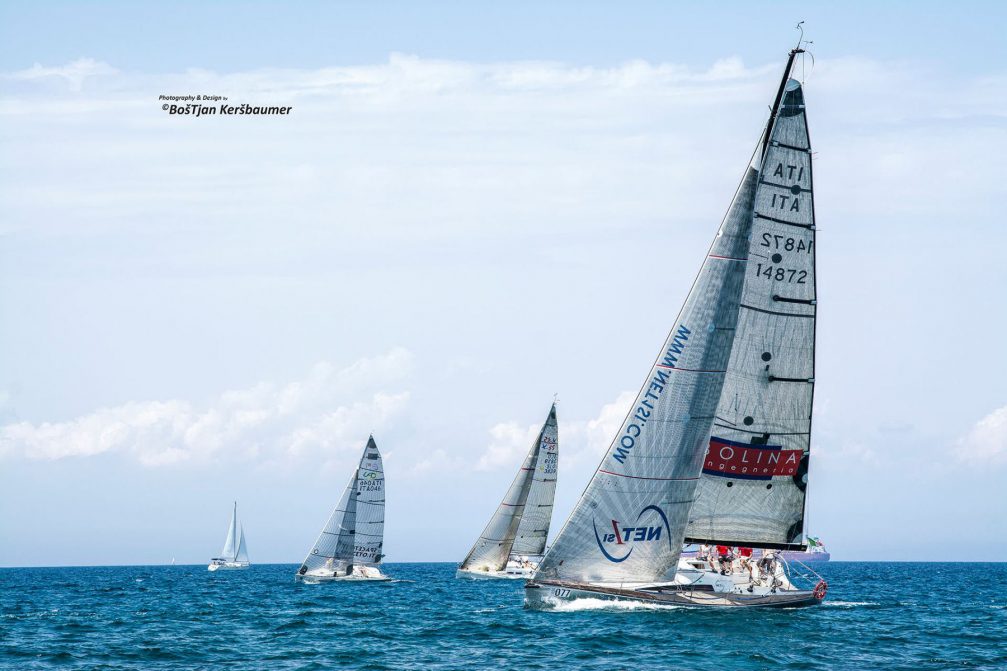 Slovenia is a country with a big maritime heart, although it has only 47 kilometres of coastline on the Adriatic Sea.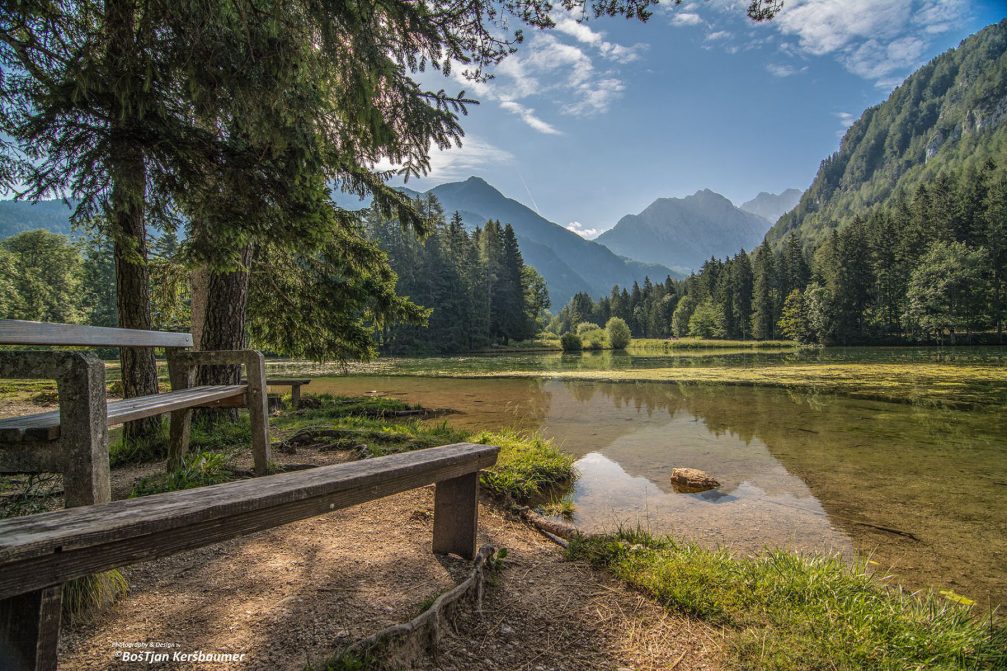 There are many beautiful natural attractions to see in the picturesque Jezersko valley, the most famous among them is the Plansarsko Jezero lake.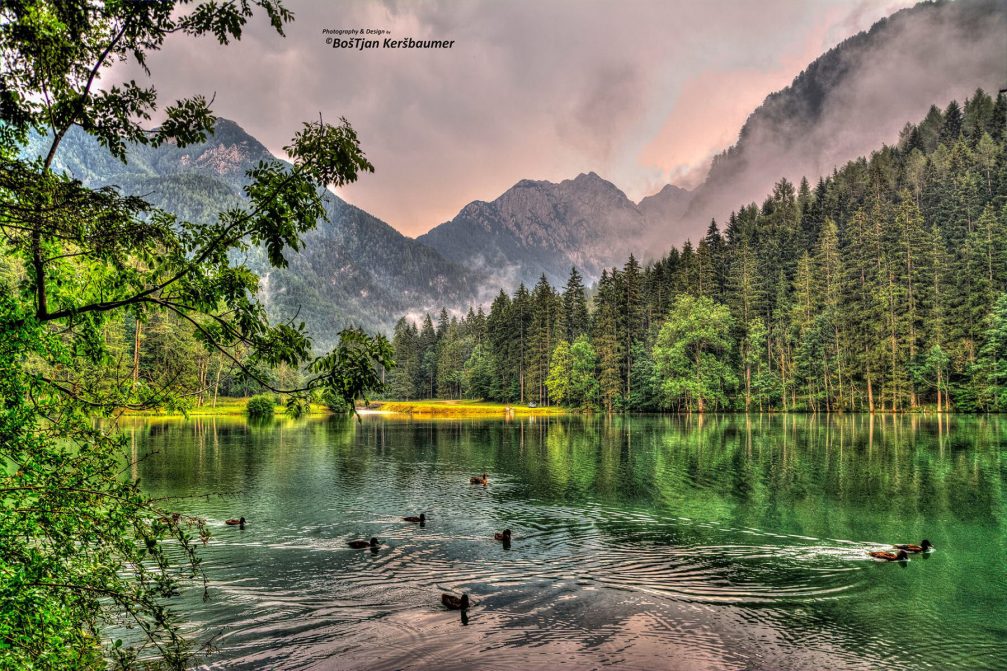 Plansarsko Jezero is a small, gorgeous lake surrounded by high peaks of the Kamnik-Savinja Alps, a true mountain jewel of Slovenia.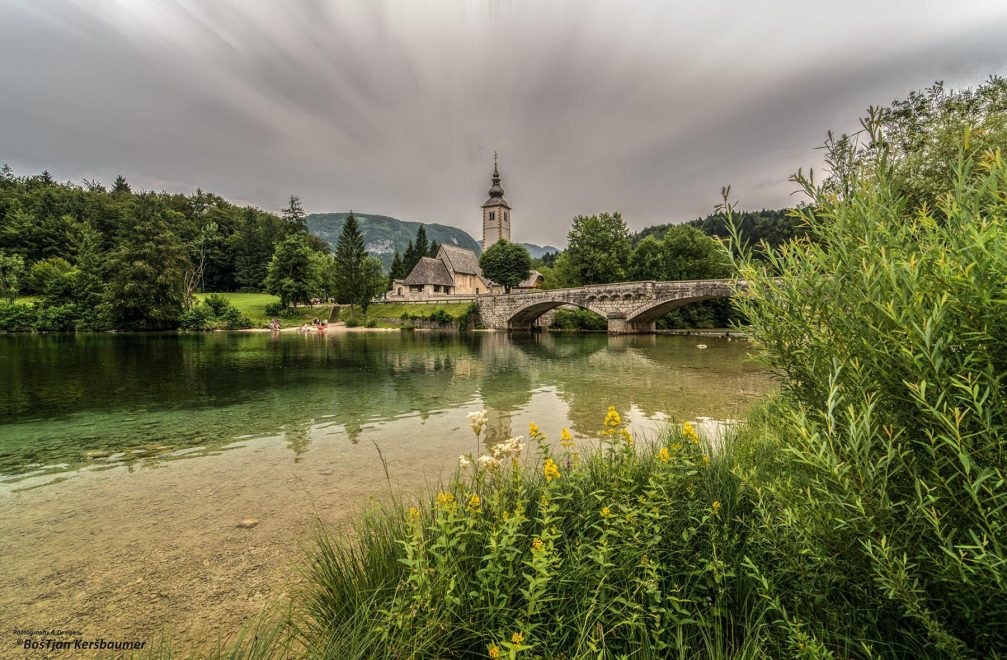 At the head of Lake Bohinj and next to the famous stone bridge stands the Gothic Church of St John the Baptist, the most prominent church in the Bohinj valley built in the 14th century.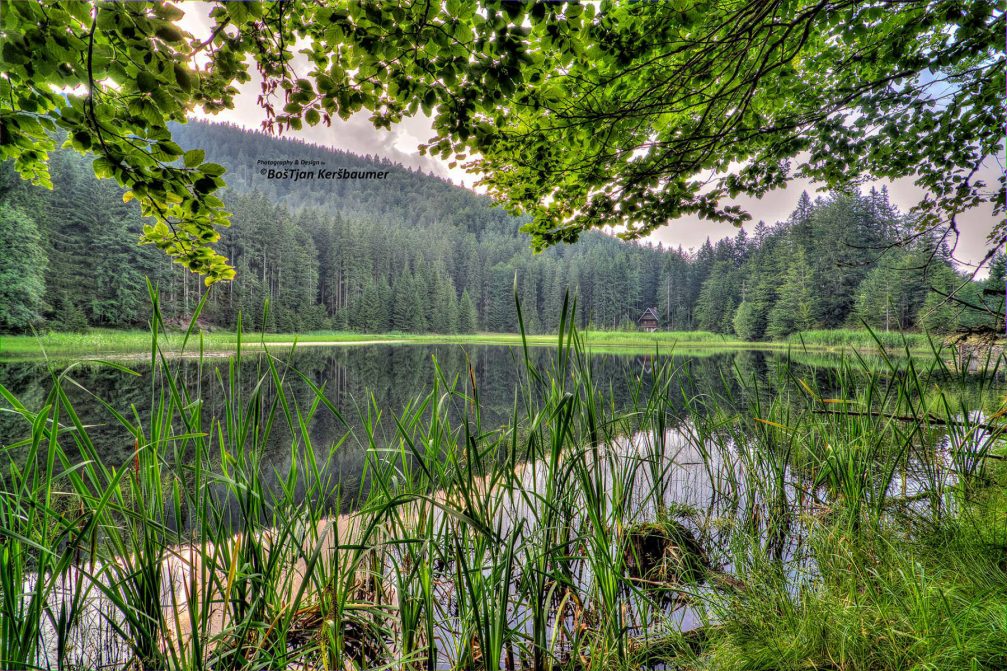 Jezerc is a very scenic small reservoir set in the idyllic nature of the Pohorje Mountains at 1,222 meters (4,009 feet) above sea level.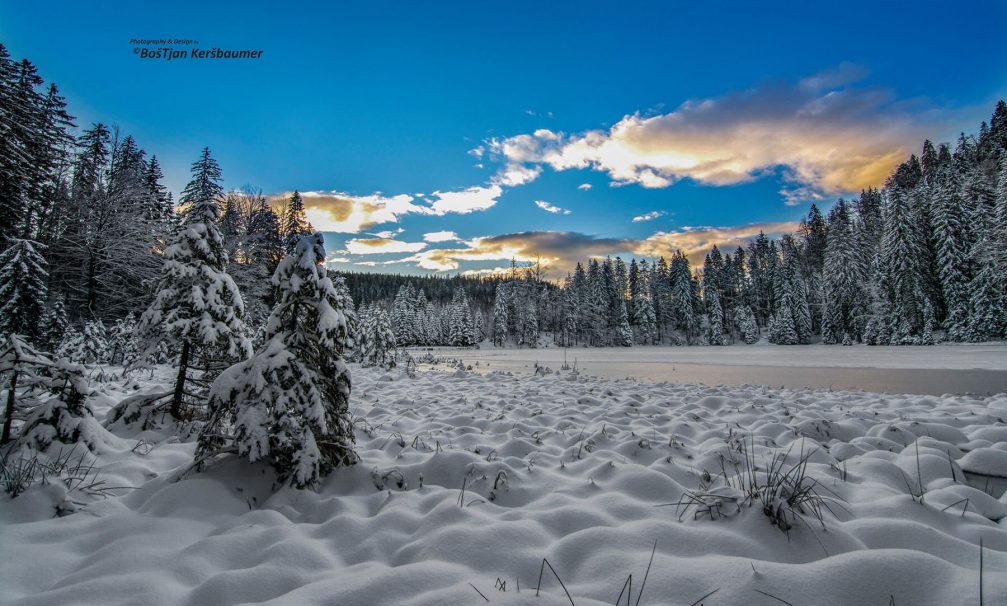 The Jezerc reservoir looks so beautiful draped in winter white with all the snow.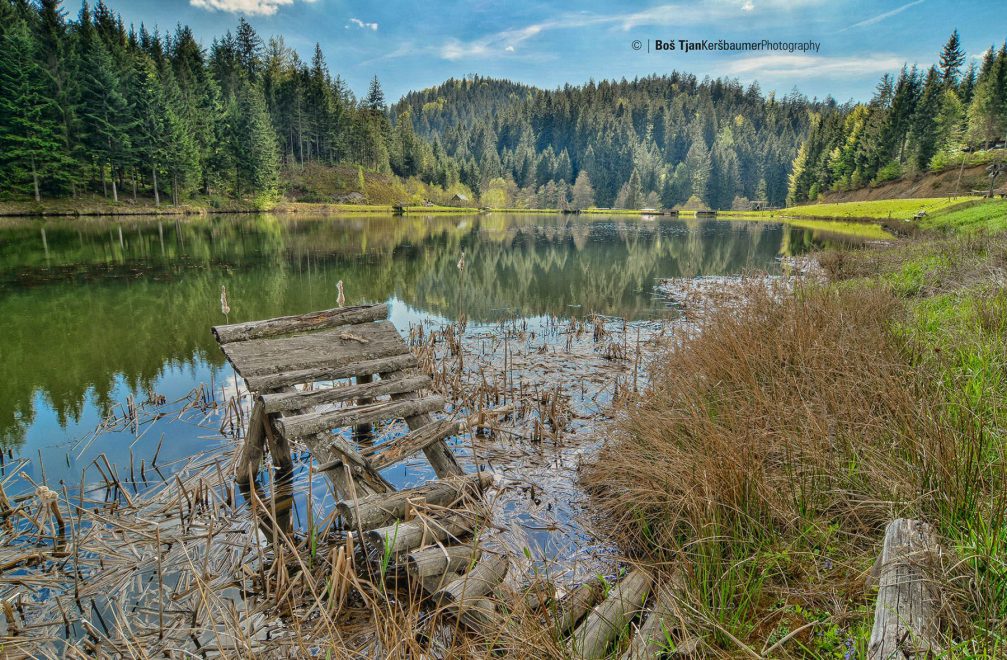 The Odom's Lake or Odomovo Jezero as it is known in Slovene is a gorgeous lake in the small village of Kapla na Kozjaku on Slovenia's northern border with Austria. It's a very popular spot for fishermen, nature lovers and those seeking recreation.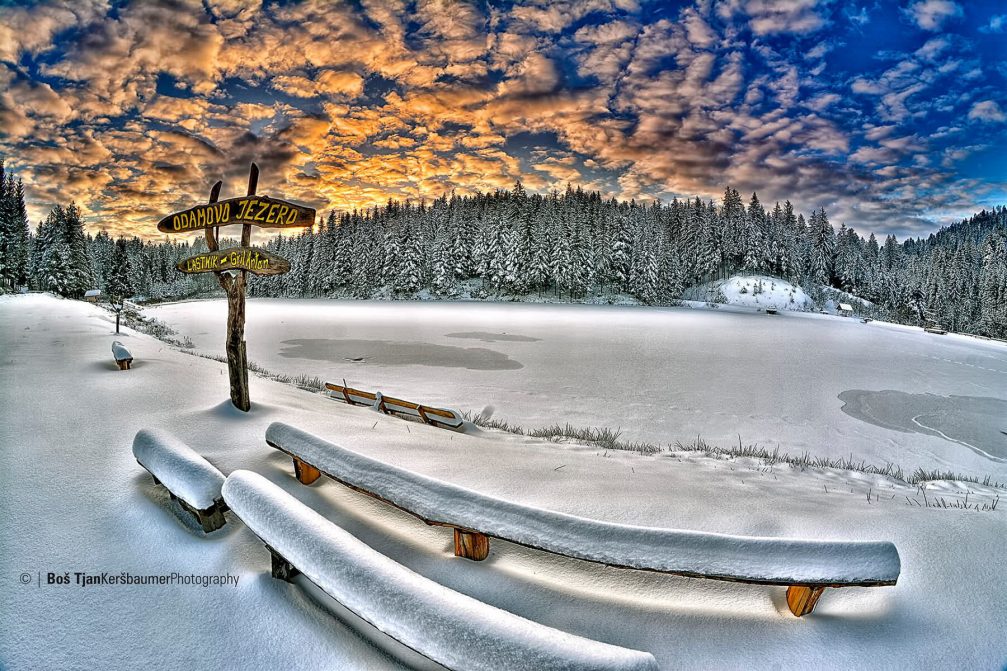 In winter with plenty of snow, the Odom's lake looks strikingly beautiful.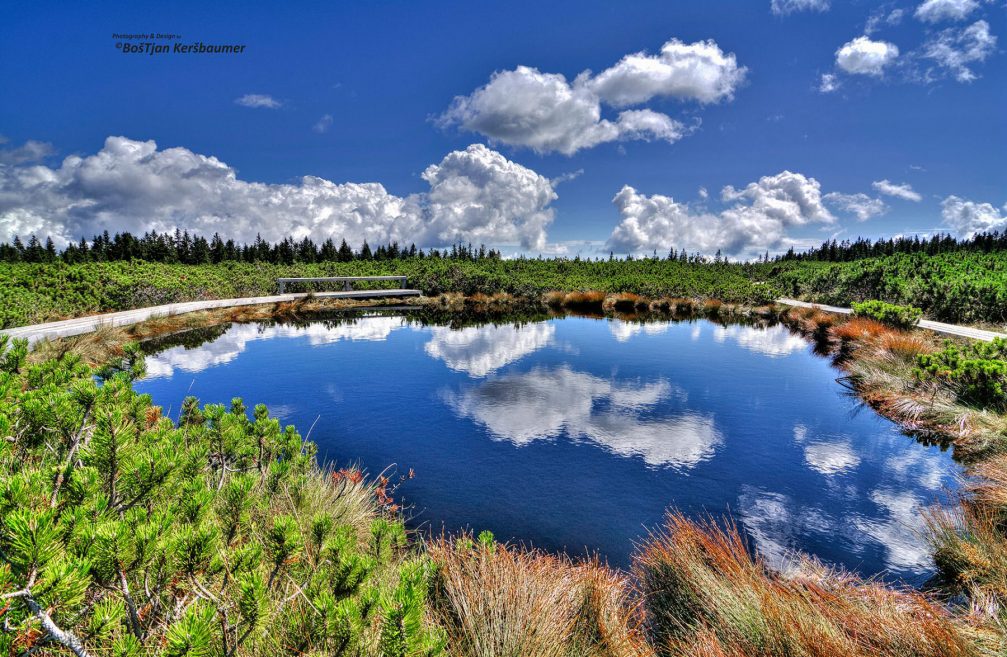 The beautiful Lovrenc Marsh Lakes is a turf swamp with twenty or so small lakes that are located at the heart of the Pohorje massif between the Rogla mountain and the Ribnisko Pohorje ski resort. The area provides an unspoiled habitat for rare plants and other species. You can walk through the swamps without harming nature on a wooden footbridge.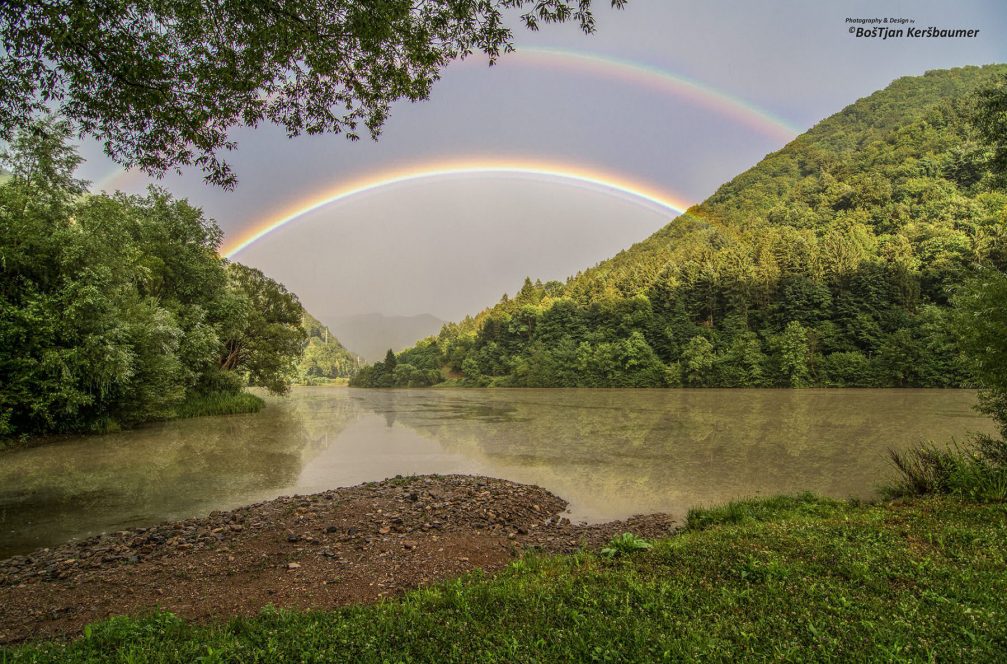 Mother Nature painted a colorful double rainbow across the Drava river near the Ozbalt village. Gorgeous, colorful and short-lived rainbows are ones of the many wonders of nature.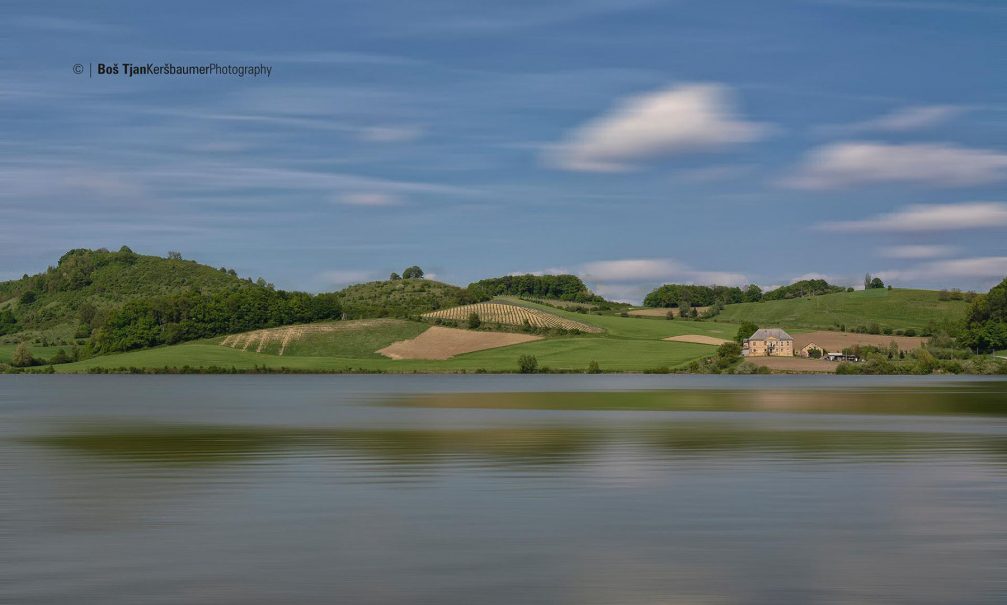 Lake Pernica is the perfect place for landscape photographers and landscape enthusiasts.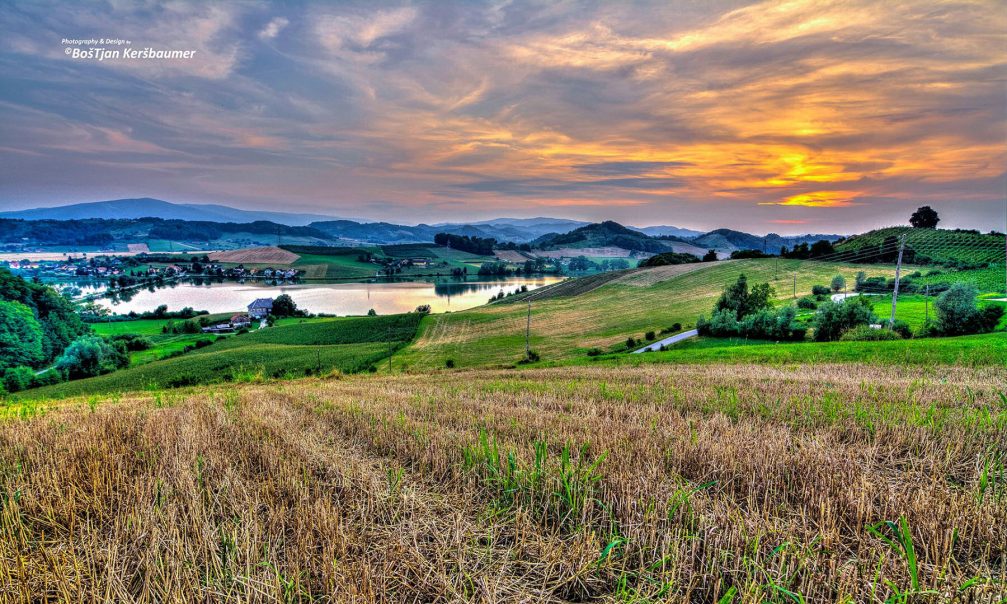 One of the most photogenic lakes in the country, Lake Pernica is surrounded by the beautiful hilly countryside of the Styria region of Slovenia.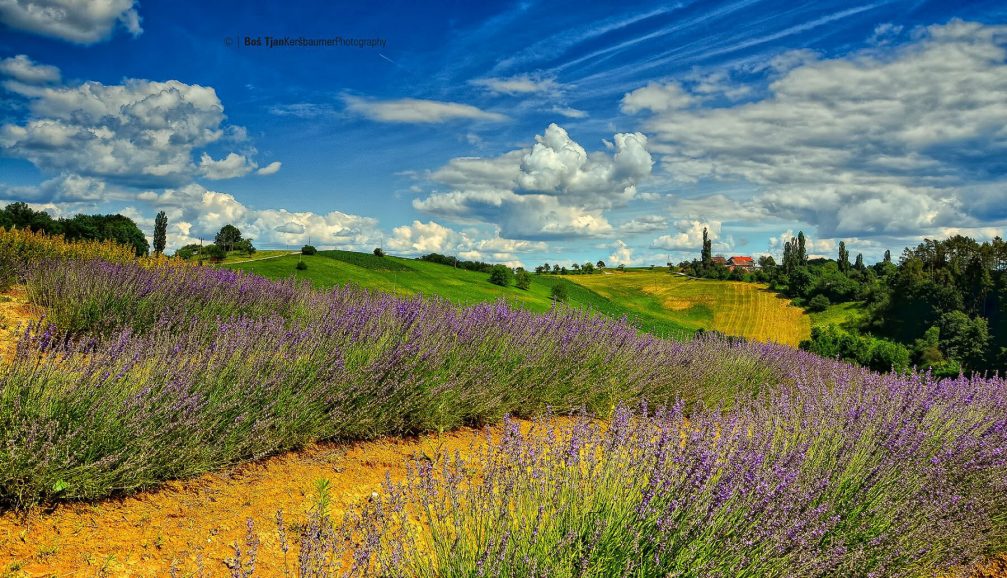 From the beloved fragrance to the gorgeous purple color of the flowering plant, lavender fields are a popular destination for landscape photographers.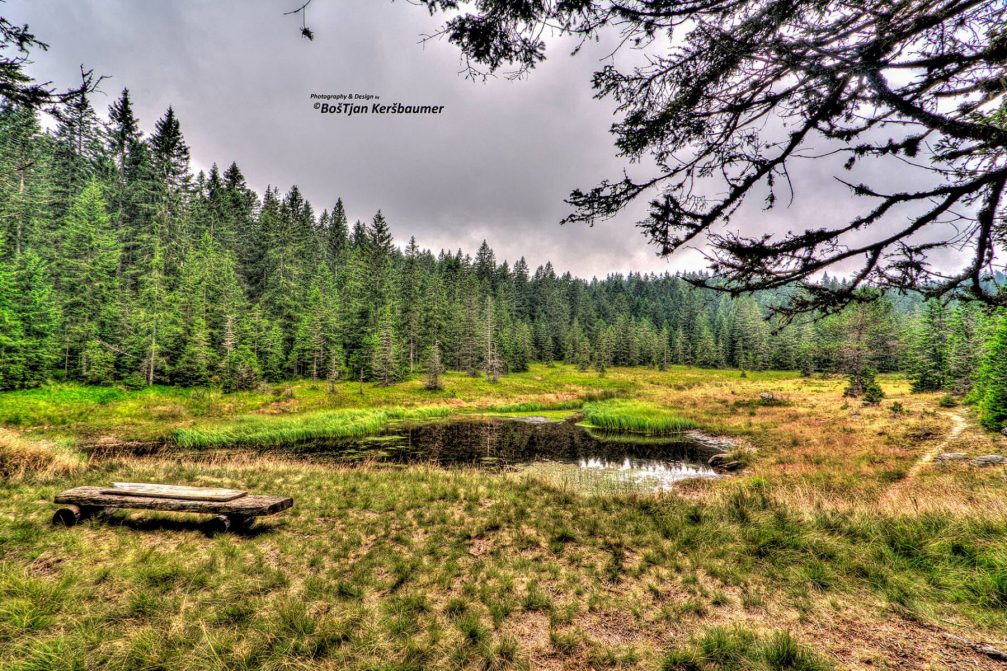 At an elevation of 1,266 metres (4,153 feet), Silent Lake (Slovene: Tiho Jezero), also known as Fala's pond (Slovene: Falski ribnik), in the Pohorje Mountains, is a popular destination for hikers and nature enthusiasts.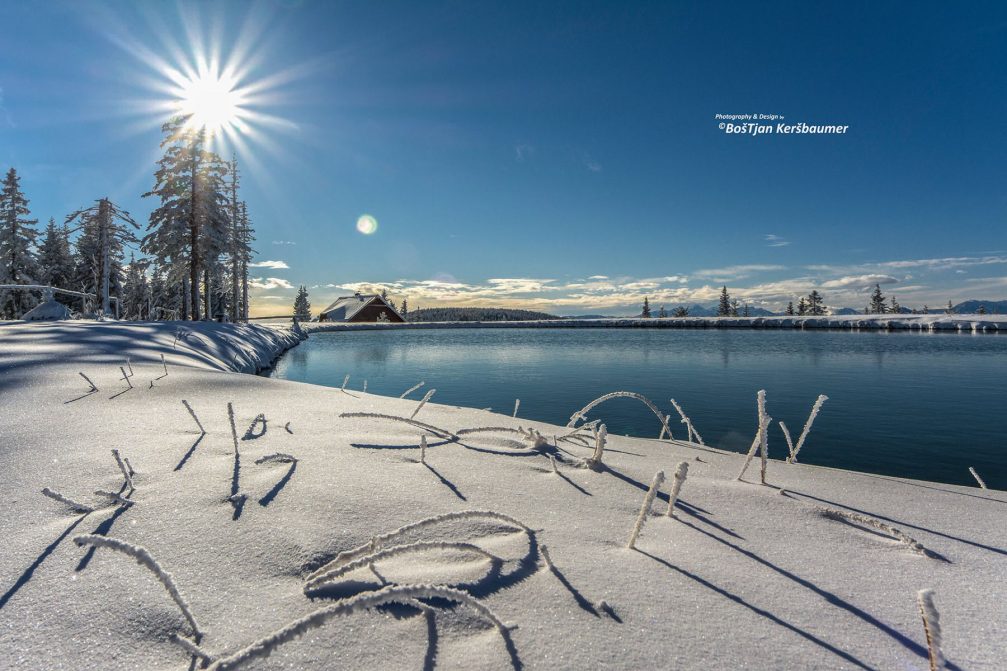 The lake above the Ribniska Koca mountain hut at an elevation of 1,505 metres (4,937 feet) lies on a small plateau under the Mali Crni Vrh peak in central Pohorje ridge.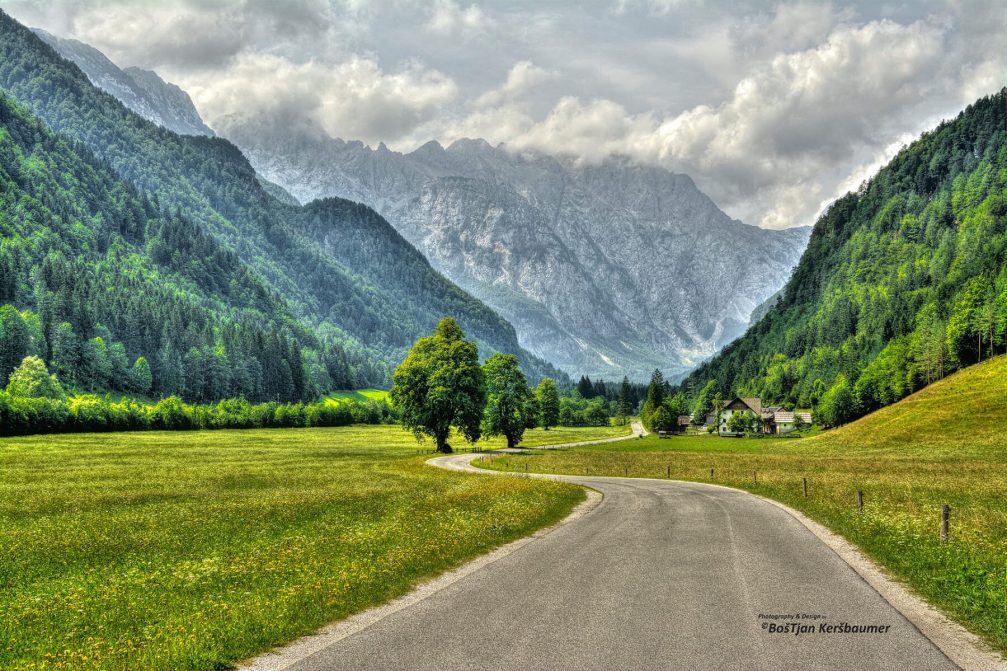 The peak-ringed Logar Valley or Logarska Dolina as it is called in Slovene is one of the most beautiful alpine glacial valleys in Europe. It is carpeted with green meadows and stuffed with beech forests and high peaks of the Kamnik-Savinja Alps. There are also lots of outdoor activities to do in this valley like hiking, cycling, climbing, mountaineering and horseback riding.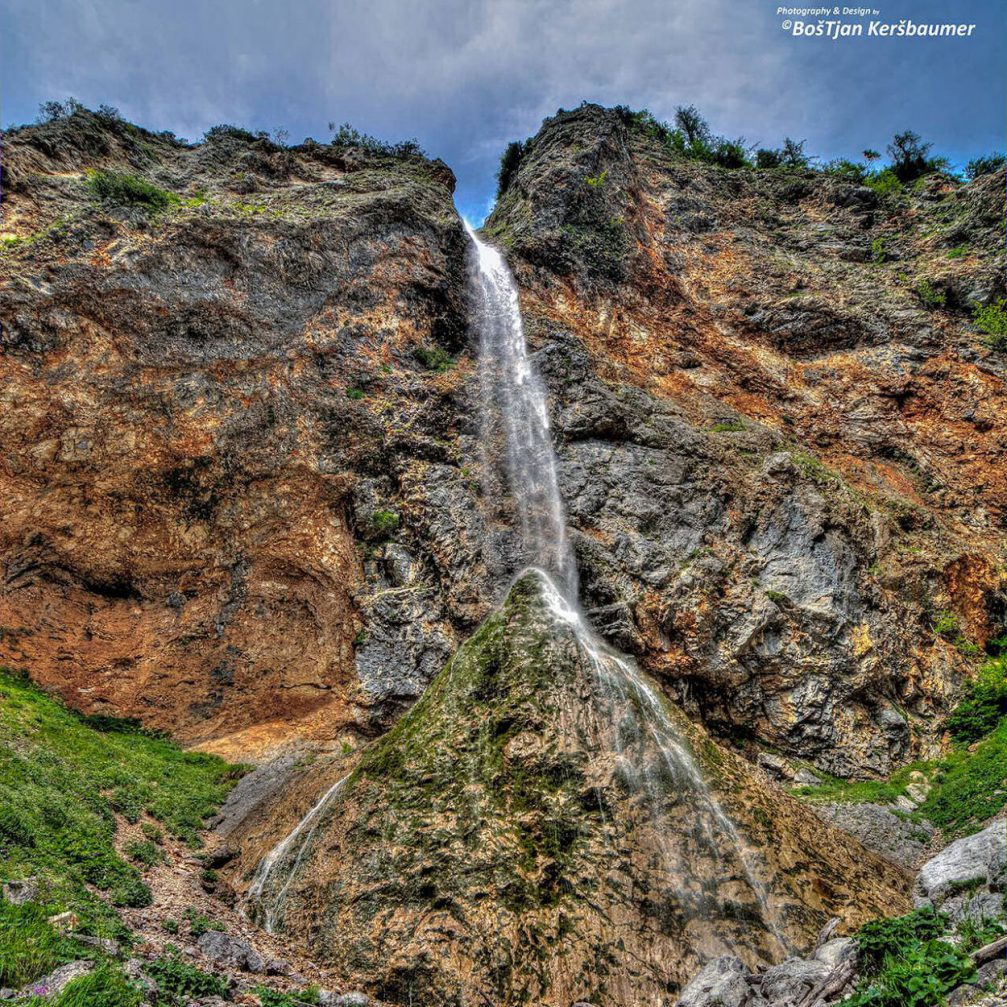 The Logar Valley is known for its numerous waterfalls, one of which is the Rinka waterfall, the second highest free-falling waterfall in Slovenia with a 90-meter drop.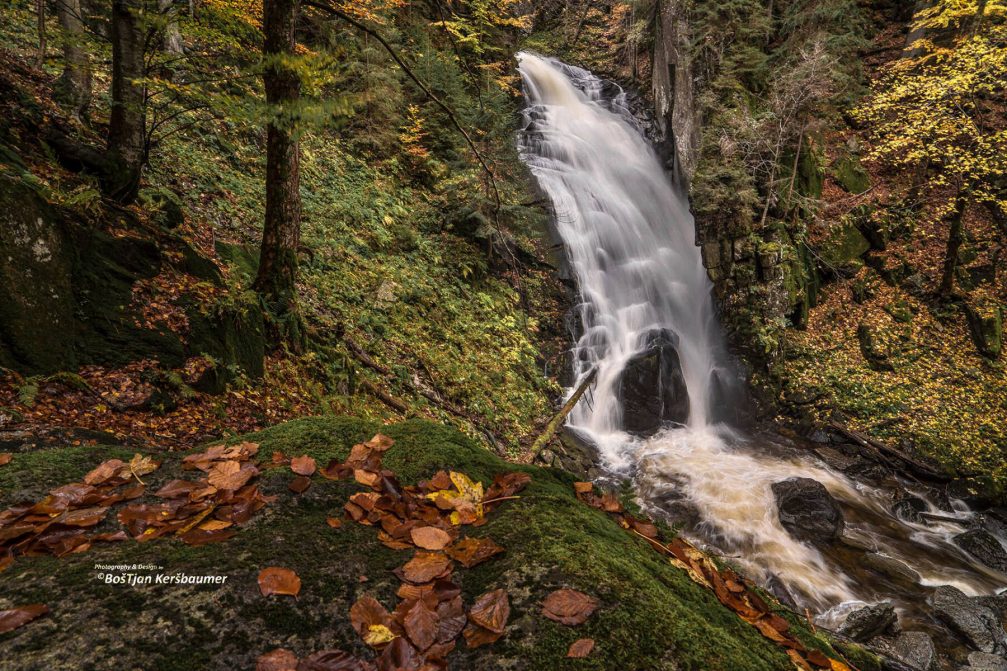 The Veliki Sumik waterfall is a lovely 24-metre waterfall in the northeast of Slovenia near Slivnisko Pohorje, created by the Lobnica river. It is the most popular and the most visited site in the area.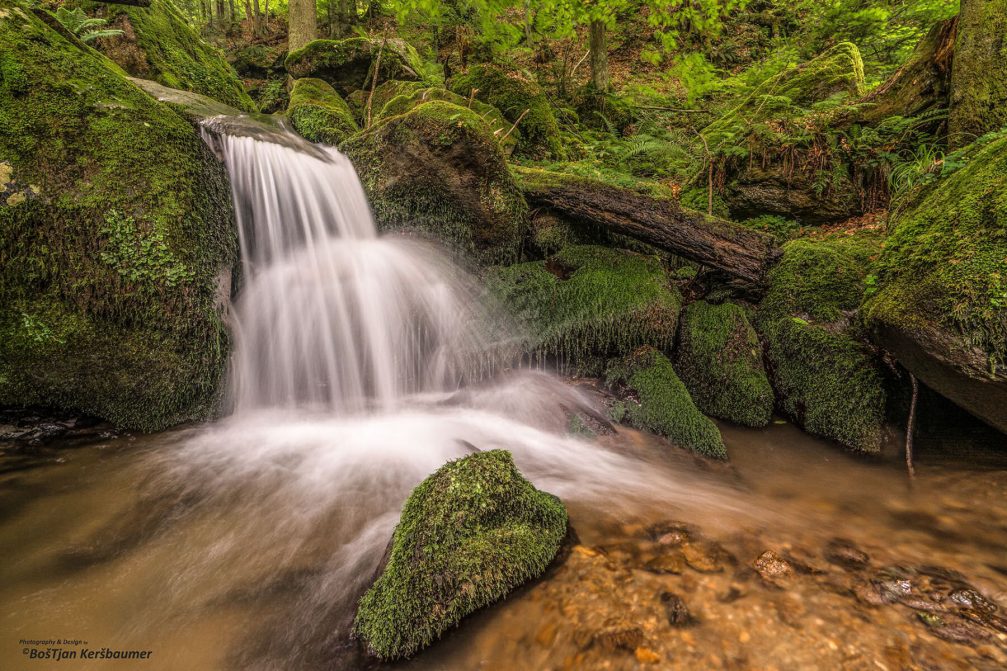 Sosnarjev Graben is a small stream that springs under Orlica and Janzevski Vrh, runs through through the Pohorje woods and flows into the Drava river near the Vuhred Hydroelectric Power Plant.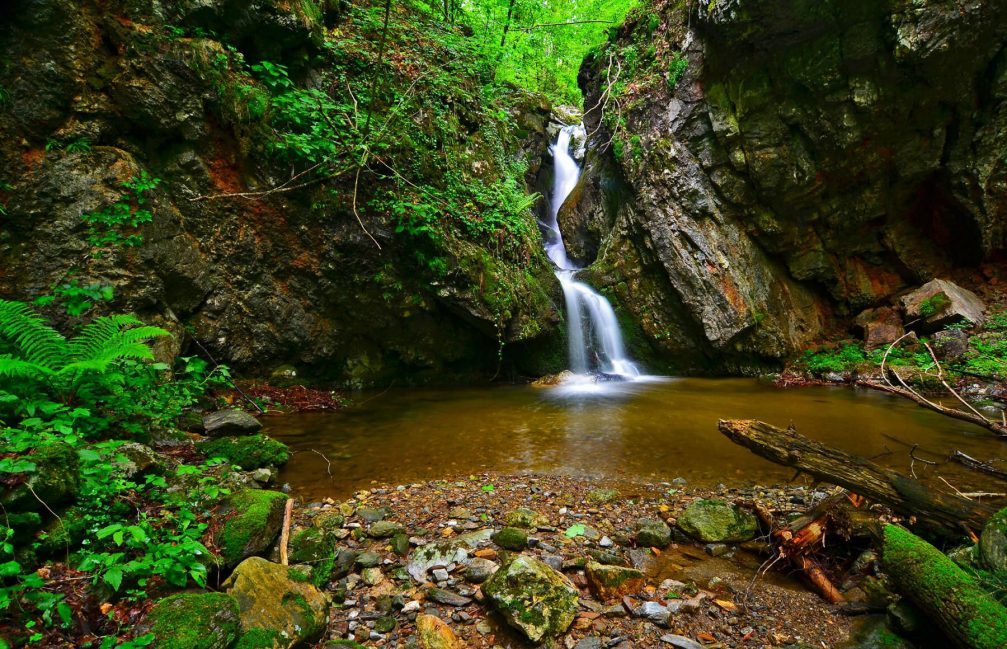 One of many small waterfalls created by one of many streams in the Pohorje woods.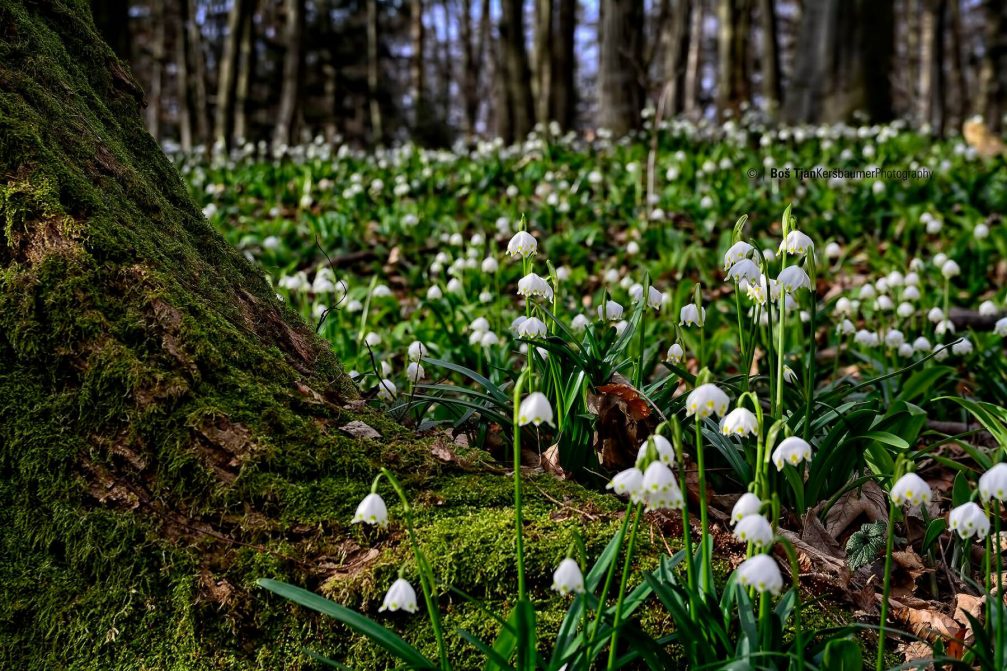 Leucojum vernum, the Spring Snowflake, is a native of central Europe growing in woods and shady hillsides and it begins flowering when the snow melts, taking advantage of the early spring sun and blooming when the trees are still leafless.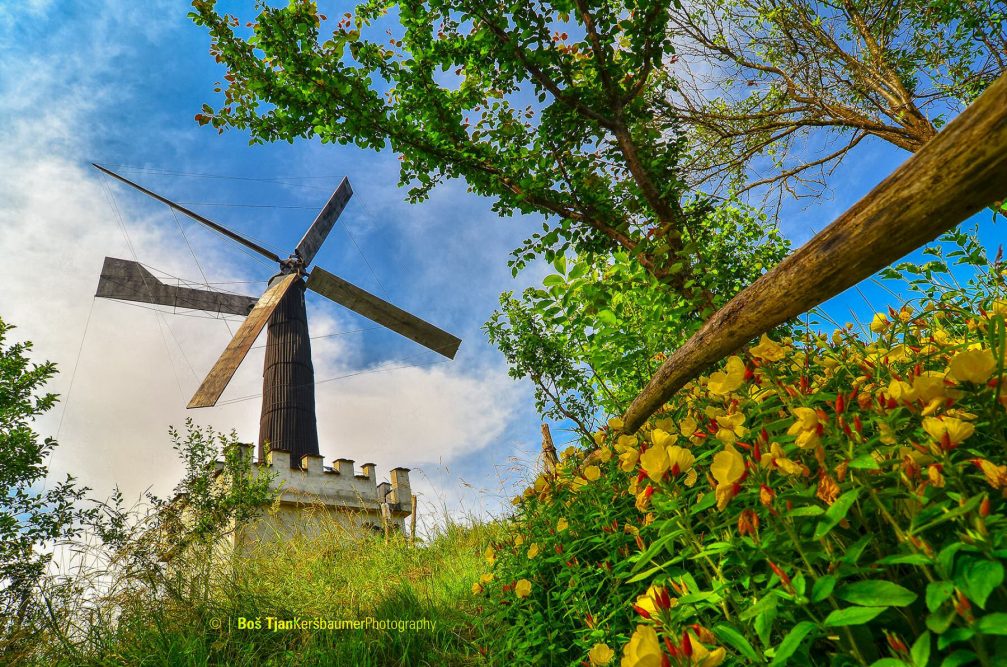 Vogrin's windmill is located in the village of Spodnji Jakobski Dol southwest of Maribor. It was made by Rudolf Vogrin and is a substitute for three windmills in this area that operated in the past.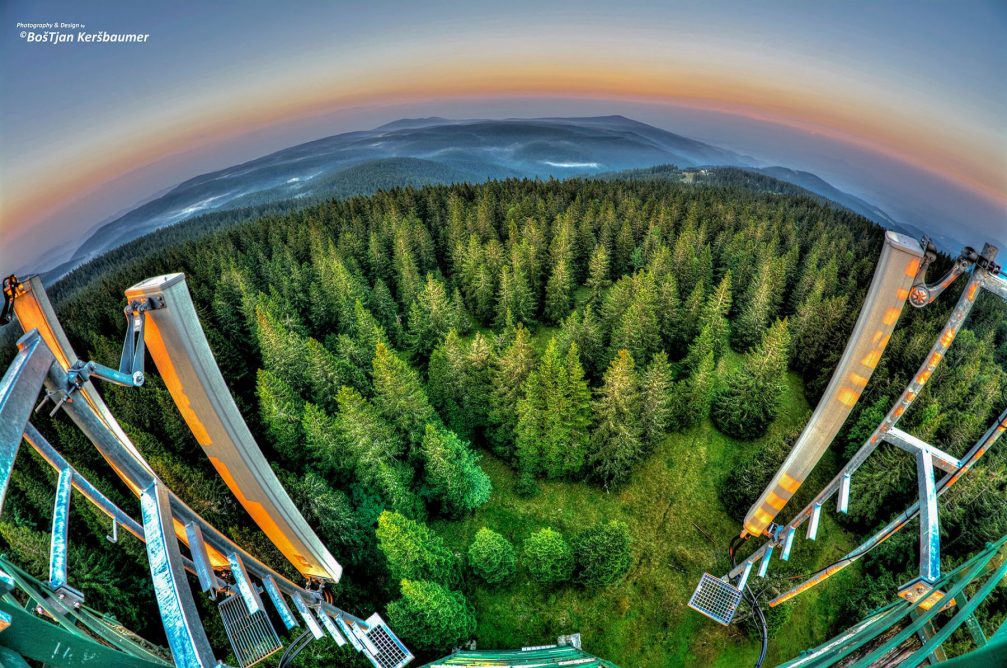 Slovenia belongs to the most forested countries in Europe. 62 percent (or about 1,264,000 hectares) of the country is forested. Of this, 9 percent (or approximately 119,000 hectares) is classified as primary forest, the most biodiverse form of forest.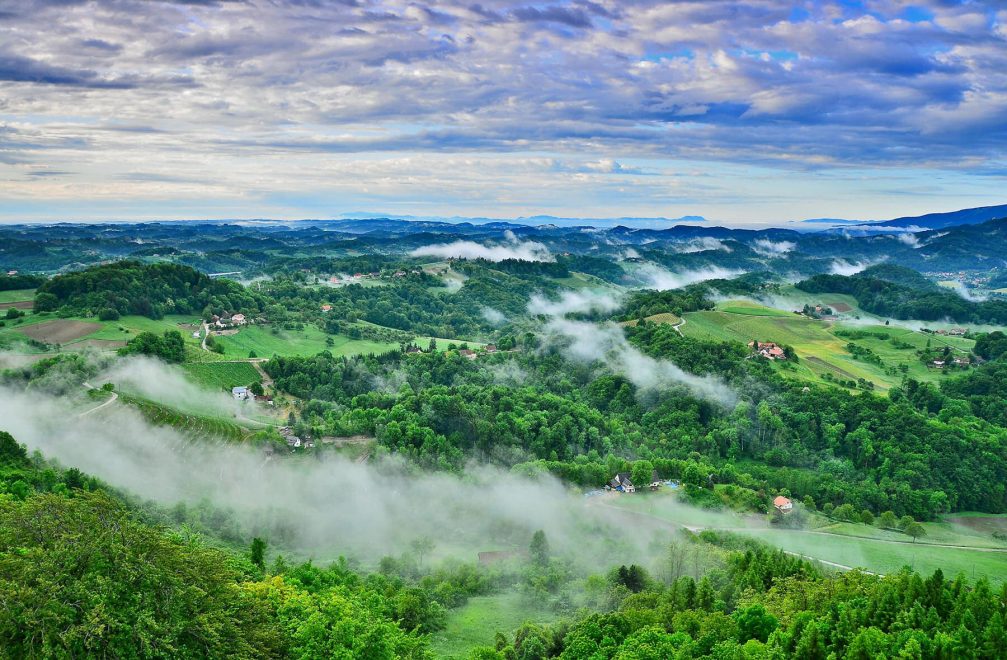 The gorgeous hilly landscape of Slovene Hills in the northeast of Slovenia near the border with Austria as seen from the 28-meter-high Placki Stolp lookout tower which stands at the top of the Placki Vrh hill.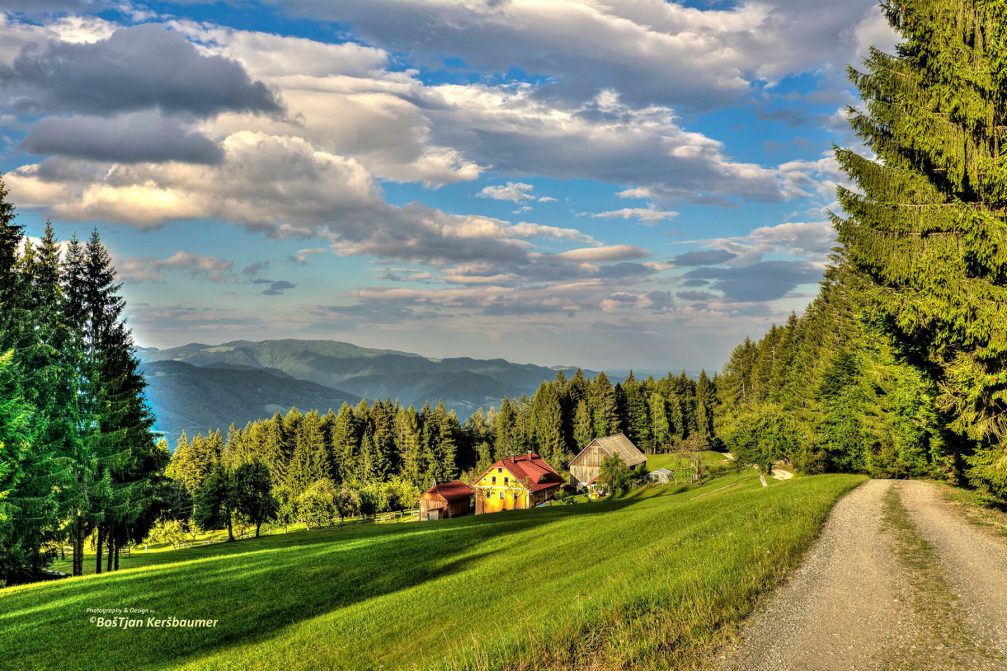 Lovrenc Na Pohorju is one of many small villages and dispersed settlements on the Pohorje massif.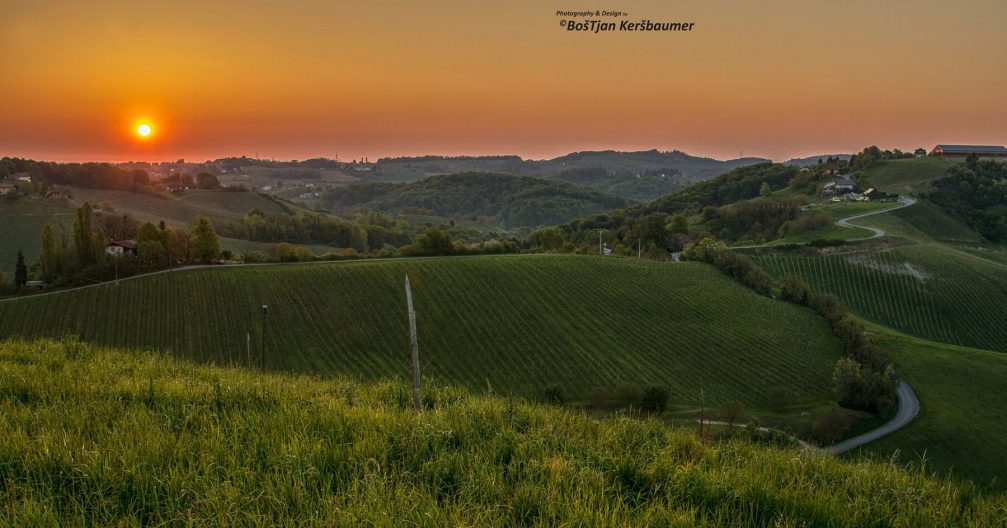 Meljski Hrib is a small settlement on a small hill northeast of Maribor in northeastern Slovenia.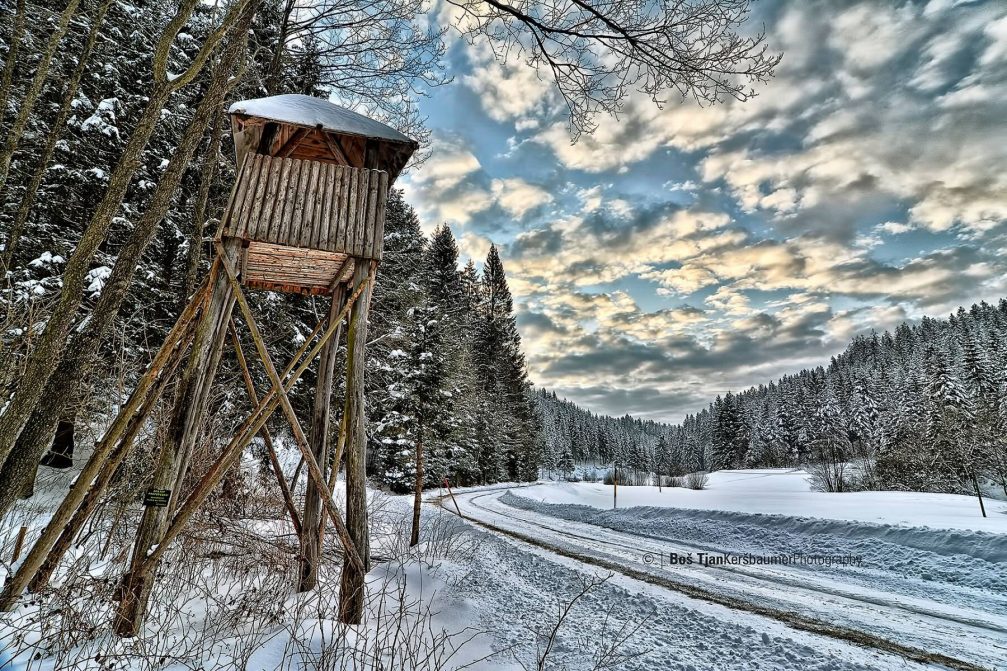 A small wooden observation tower built next to the winding road that leads to the Spodnja Kapla village in the northeast of Slovenia close to the border with Austria.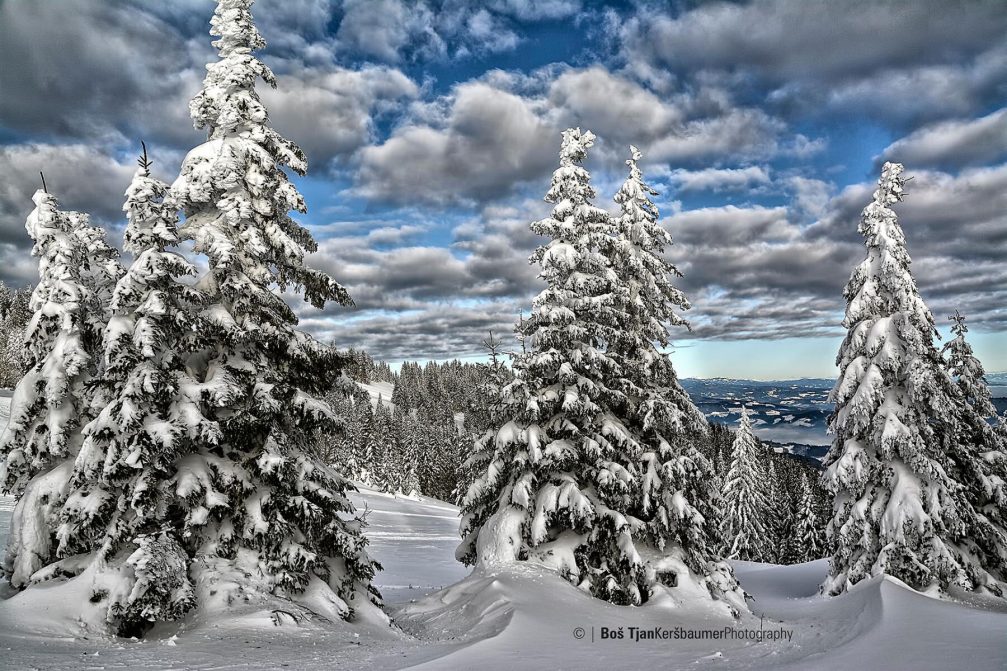 Winters in Slovenia are pretty cold. It's usually below or around freezing and sometimes it even gets below -15°C (5°F) and stays like that for a week or two. Slovenia is also prone to get quite a lot of snow, especially in the mountainous areas.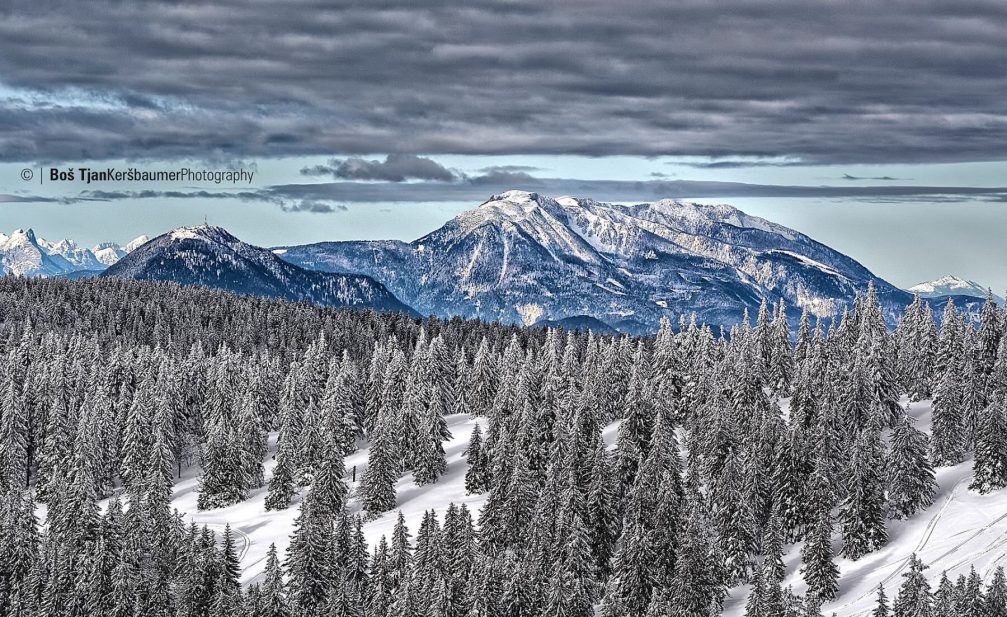 Ribnisko Pohorje offers scenic views of the nearby mountains, including the 1,699-meter-high Mount St. Ursula and the 2,125-meter-high Mount Peca.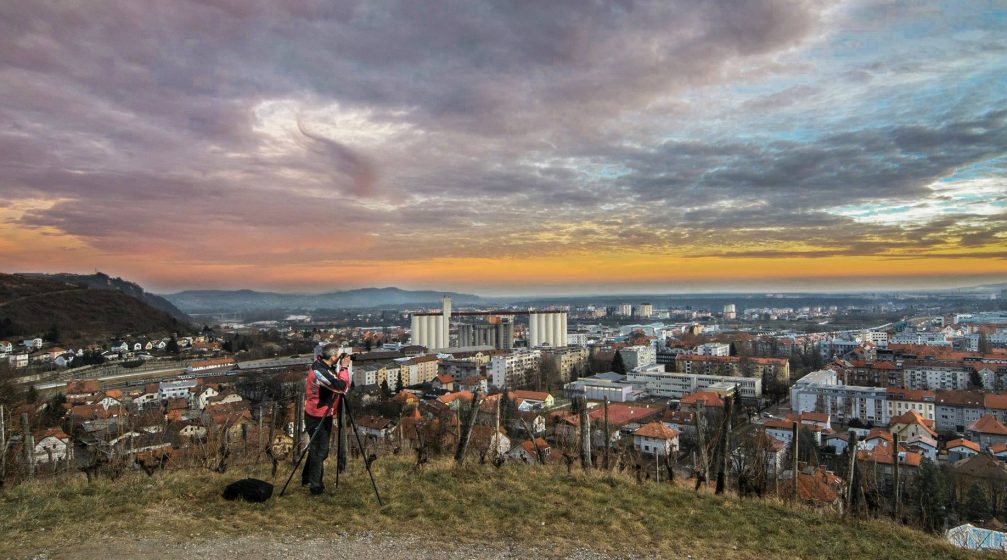 Thank you so much Bostjan Kersbaumer for sharing all these fantastic Slovenia photos with us. You do an incredible job! Your photos are outstanding and beautifully convey the amazingness of Slovenia!

Discover beautiful Slovenia through amazing photos

SLOVENIA, AS SEEN FROM THE AIR (50 photos)
Aerial photography provides you with a breathtaking bird's eye view – one you won't get anywhere else. So, here are 50 spectacular aerial photos that prove why Slovenia might just be the most beautiful country on Earth.
SLOVENIA AT NIGHT (30 photos)
Night has its own magic. Night can transform an ordinary scene into something magical, mysterious and captivating. Light, shadow, texture, tonality, pattern all work together to create a very different feeling compared to photos captured during the day. Everything is just more magical at night, so here are 30 night pictures of Slovenian cities, towns, villages and other places at night. Enjoy!
LANDSCAPE AND NATURE PHOTOS FROM ALL OVER SLOVENIA BY LUKA ESENKO (40 photos)
Luka Esenko is considered by many to be Slovenia's new leading landscape and travel photographer. He has been photographing landscapes for almost a decade now, and through photography he has been blessed to capture some of the most gorgeous locations in Slovenia. Strong compositions and a feel for natural light are what make Luka's images stand out.
AERIAL DRONE PHOTOS FROM AROUND SLOVENIA BY JURE KORBER AND TJASA BORSNAK (35 photos)
With the technological advancements in cameras and drones, we can now get a glimpse of the world from a different perspective. And from high up above, especially with a bird's eye view, the world is a stunningly beautiful place. Jure Korber and Tjasa Borsnak, a young student couple based in Slovenia's capital Ljubljana, took their aerial photography platform called Hexabee into the sky and captured Slovenia from angles not seen before.
LANDSCAPE PHOTOS FROM SLOVENIA BY DEJAN HUDOLETNJAK (50 photos)
Dejan Hudoletnjak is a super-talented and passionate photographer best known for his beautiful landscape photos of Slovenia and wonderful use of light and color. He has an unerring eye for composition and detail, and a great sensitivity to mood, expressed in his photographs through the awareness and use of light. His goal as a photographer is to create an image that not only captures a moment in time, but also tells a story and evokes an emotional response. An image that shares the mood and feelings he felt when being there.
LANDSCAPE AND NATURE PHOTOS FROM ALL OVER SLOVENIA BY DANIEL TOMANOVIC (50 photos)
Daniel Tomanovic is a young and very talented landscape photographer who has been creating images that portray the natural beauty of Slovenia and its landscapes for over 8 years. He believes that finding good light is the most important thing to create great landscape images. Everyone can capture outstanding landscape scenery, but hunting the special light is the true challenge for a landscape photographer. And judging from his works, he is very successful in capturing beautiful locations in the best light.
LANDSCAPE AND NATURE PHOTOS FROM ALL OVER SLOVENIA BY ERICH REISINGER (50 photos)
Erich Reisinger is a 55-year-old German landscape, nature, and urban photographer based in the Bavarian town of Ingolstadt. He has been fascinated with photography since he was a 6-year-old child. He has a special connection with Slovenia. He met his wife in Maribor and Slovenia soon became his second home country. He visits Slovenia several times a year and never forgets to mention how he loves Slovenia and how he will never tire of photographing its immense beauty and infinite variety.
LANDSCAPE AND NATURE PHOTOS FROM ACROSS SLOVENIA BY PIOTR SKRZYPIEC (40 photos)
Piotr Skrzypiec is one of the leading landscape photographers in Slovenia. Born in Nowy Sacz, Poland in 1978, Piotr spent most of his childhood in the south of Poland. After completing his master's degree in geography Piotr moved to Slovenia, where he picked up his first camera in 2008. Through photography, Piotr found a way of communicating about his nature and landscape passion and he quickly established himself as a successful landscape and nature photographer.
LANDSCAPE PHOTOS FROM AROUND SLOVENIA BY DOMEN DOLENC (35 photos)
Domen Dolenc is a young but well-established travel photographer currently based in Zelezniki, Slovenia. Since Domen purchased his first camera in 2005, he has been addicted to photography. He never travels without his camera and loves to capture the beauty he finds throughout the world in his own way - his photographic style is defined by powerful colours, street photography scenes, landscapes, but also moments of everyday life, faces and a very close approach on people.
LANDSCAPE PHOTOS FROM ALL AROUND SLOVENIA BY GREGOR KACIN (40 photos)
Gregor Kacin is a 39-year-old landscape and nature photographer based in the charming little town of Idrija in western Slovenia. He is very fortunate to live in such a beautiful part of the country and he can often be found roaming the countryside, looking for that special moment when the true beauty of nature revels itself.
LANDSCAPE PHOTOS OF SLOVENIA BY ALES KRIVEC (30 photos)
Ales Krivec has a passion for taking photographs and his work features the finest landscapes in Slovenia. He is very much a landscape artist and his work reflects a great understanding and deep love of the countryside and nature. An extensive technical knowledge and a seeing eye enable his photos to convey the beauty of the landscape that surrounds us all.
LANDSCAPE AND NATURE PHOTOS FROM ALL OVER SLOVENIA BY BOJAN KOLMAN (50 photos)
Bojan Kolman is a passionate 63-year-old landscape and nature photographer based in Begunje Na Gorenjskem, a small idyllic village at the foothills of the Karavanke mountain range. Bojan is completely self-taught and learned about photography on the Internet, but he shoots beautiful photographs, possessing an incredible eye for composition. There are so many beautiful things that surround us every day and Bojan strives to reflect that beauty through photography.
LANDSCAPE AND NATURE PHOTOS FROM SLOVENIA BY BRANKO CESNIK (45 photos)
Branko Cesnik is a passionate landscape and nature photographer from Pivka, a small town in the Karst region of southwestern Slovenia. He is 52 years old and has been interested in photography since his school years. Branko tends to shoot in the morning and at the end of the day when the light just either side of sunrise and sunset can transform an already interesting scene into something even more engaging. He firmly believes a good photograph tells a story and creates a feeling within the viewer.
LANDSCAPE, CITYSCAPE AND NATURE PICTURES FROM AROUND SLOVENIA BY JURE KRALJ (45 photos)
Jure Kralj is an incredibly talented photographer based in Slovenia's second largest city Maribor, who combines his love for travelling around the world with his love for landscape and cityscape photography. He is an enthusiastic observer of the surrounding world. When possible, he is looking for the best light, for the right angle at the right moment to capture a compelling image.
LANDSCAPE PHOTOS FROM ALL OVER SLOVENIA BY DENIS SODRZNIK (30 photos)
Denis Sodrznik is a passionate landscape and nature photographer born and raised in the beautiful town of Slovenske Konjice in the Styria region of Slovenia. He strives to capture photographs that convey the beauty of the Slovenian landscapes he explores in his spare time with his fiancée Karmen. His intention is to show the viewer details that we often overlook.
LANDSCAPE AND CITYSCAPE PHOTOS FROM AROUND SLOVENIA BY JAKOB NOC (30 photos)
Jakob Noc is an inspiring landscape and cityscape photographer whose talents allow him to capture the most amazing images in a style that is truly his own. Through careful composition, attention to detail and the creative use of beautiful light, Jakob strives to show us cities and landscapes in ways that we may not have seen them before.
LANDSCAPE PHOTOS FROM AROUND SLOVENIA BY MASA VODENIK (35 photos)
Masa Vodenik is a self-taught photographer who lives in a small town of Hrastnik in central Slovenia. She's an economist during weektime, but on weekends she becomes an ambitious landscape photographer who doesn't want to miss a single second she could have used to take a great photograph. Her passion for photography increased steadily since she started doing photography in 2010. Since then she successfully combines her love for travel and hiking with her enthusiasm for photography.
LANDSCAPE AND NATURE PHOTOS FROM ALL AROUND SLOVENIA BY MIROSLAV ASANIN (50 photos)
Miroslav Asanin is a keen amateur photographer from Sencur, a small town in northwestern Slovenia. His main photographic interests are landscapes and nature though he does photograph wildlife and architecture when he finds them. He especially loves to photograph the amazing landscapes and nature of the Slovenian Alpine area. However he also loves to take day trips to other parts of the country and scout new locations in search of compelling scenes or subjects to photograph.
LANDSCAPE PHOTOS FROM AROUND SLOVENIA BY BLAZ GVAJC (25 photos)
Blaz Gvajc is a landscape and cityscape photographer from Slovenia's third largest city Celje whose passion is to explore and capture the most inspiring and beautiful places in the world. Although being an avid traveler, Blaz also adores his home country Slovenia and loves making spontaneous trips around it when there is promising light, and he will never tire of photographing it.
LANDSCAPE PHOTOS FROM ALL OVER SLOVENIA BY BOSTJAN KERSBAUMER (40 photos)
Bostjan Kersbaumer is a passionate self-taught photographer from Slovenia's second largest city Maribor. He is a car mechanic working at Porsche Maribor during weektime, but on weekends he becomes an ambitious landscape, nature and cityscape photographer with an aim to create memorable images from locations across Slovenia and other parts of the world.
LANDSCAPE PHOTOS TAKEN IN A VARIETY OF LOCATIONS IN SLOVENIA BY SABINA TOMAZIC (40 photos)
Sabina Tomazic is a young but already established professional on-location lifestyle photographer based in Trebnje, Slovenia. Although known primarily as a lifestyle photographer, Sabina also loves to create images that portray the natural beauty of Slovenia and its landscapes. Her landscape photos are realistic with minimal post processing.
LANDSCAPE AND NATURE PHOTOS FROM AROUND SLOVENIA BY JERNEJ LEBEN (40 photos)
Jernej Leben is one of the most talented amateur photographers in Slovenia whose unrelenting passion for his hobby inspires him to capture the beautiful landscapes and nature of Slovenia with absolute perfection.
LANDSCAPE AND NATURE PICTURES FROM ACROSS SLOVENIA BY KLARA KULOVEC (35 photos)
Klara Kulovec is one in a line of talented new Slovenian female landscape photographers who has found her passion with a camera in her hands. She has a heart of an artist and loves nothing more than time with her camera and a scene in front of her to capture the perfect copy of what she saw in her minds' eye. The forms, color and light that shape the landscape are a constant source of her inspiration.
WILDLIFE AND BIRD PICTURES FROM SLOVENIA BY MATEJ KOVACIC (30 photos)
Matej Kovacic is a young and exceptionally talented wildlife and bird photographer dedicated to capturing images of the indigenous wildlife of Slovenia. During his childhood Matej developed a strong fascination for wildlife, birds and nature. When he bought his first camera at the age of 13, he became as passionate about photography. It's hard to photograph wildlife in the wild, but Matej wants to be true, so he stays away from captive animals - all his photos are taken in the wild in Slovenia.
LANDSCAPE PHOTOS FROM THE STYRIA REGION OF SLOVENIA BY PETER ZAJFRID (40 photos)
Peter Zajfrid is a well-respected and very passionate amateur landscape photographer who loves capturing the beauty of this world through photography. He enjoys the outdoors and nature, and photography provides him with a medium to capture and share this with others. He especially loves creating images that portray the beauty of the Styria region of Slovenia and its landscapes.
FINE ART LANDSCAPE PHOTOS OF MARIBOR AND ITS SURROUNDING AREA BY UROS LEVA (25 photos)
Uros Leva is a versatile freelance artist – photographer, graphic designer and screenwriter. He has been living in Slovenia's second largest city Maribor for his whole life and never fails to be overawed by the beauty of the city. His connection to Maribor began the moment he was born and the more Uros experiences this city, the further he falls in love. When Uros is behind the camera, his goal is to bring out the beauty of Maribor and its surrounding area for all to see.
LANDSCAPE AND NATURE PHOTOS OF THE LAKE BOHINJ AREA AND THE JULIAN ALPS BY GREGOR SKOBERNE (35 photos)
Gregor Skoberne is one of the most talented and passionate landscape and nature photographers in Slovenia. Completely self-taught, Gregor is primarily focused on the unique local landscape and nature found in the Lake Bohinj area with an aim to capture the spirit and the essence of the moment in his photographs.
NATURE AND LANDSCAPE PHOTOS OF THE TRIGLAV NATIONAL PARK BY WALLE GREVIK (35 photos)
Walle Grevik is a passionate nature and landscape photographer, hiker, and traveler based in Helsingborg, Sweden. He has traveled to many countries around Europe including Iceland, Faroe Islands, Scotland, Ireland, and Greece. This year, he and his hiking partner, Fredrik Vestlund, decided to visit Slovenia and do a 9-day hiking adventure through the Julian Alps and Triglav National Park. Walle took some really beautiful photos during this hiking tour, and he was kind enough to share some of them with us here at Travel Slovenia.
LANDSCAPE PHOTOS OF THE SLOVENIAN ALPS BY MASA VODENIK (20 photos)
The Slovenian Alps are a part of the Southern Limestone Alps with three high-Alpine mountain ranges, the Julian Alps, the Karawanks and the Kamnik-Savinja Alps. They take up a large part of Slovenia and are full of incredible trails for all levels of hiking ability. They are lower compared with those in Austria and Italy, but with their beauty they surpass anything you may see in the Alps in Europe. All the photos in this gallery were taken by Masa Vodenik. She's an avid hiker who spends most of her weekends in the mountains and she never forgets to take her camera with her.
LANDSCAPE AND NATURE PHOTOS OF THE SLOVENIAN ALPS BY MIROSLAV ASANIN (40 photos)
Miroslav Asanin is a very enthusiastic, amateur photographer from Sencur, a small town in the Gorenjska region of Slovenia. His passion for photography began four years ago when he got his first proper camera - a Canon EOS 600D, after that there was no stopping. His primary interests has always been on shooting landscapes and different sceneries found throughout Slovenia and especially in the Slovenian Alps and its Triglav National Park.
FINE ART NATURE AND LANDSCAPE PHOTOS OF THE VRHNIKA COUNTRYSIDE BY ROBI DEBEVC KVOCKA (30 photos)
Robi Debevc Kvocka is a self-taught photographer based in Vrhnika, whose fine art nature and landscape photographs celebrate the natural beauty of the Vrhnika countryside. When Robi is behind the camera, his goal is to bring out hidden beauty of the Vrhnika area for all to see. His style, which is recognisable through the artistry of his photographs, is born of a keen eye for the many moods of the natural landscape and a life-long passion for the nature and the great outdoors.
SLOVENIA (30 photos)
A fascinating capital, charming coastal towns, beautiful alpine villages, stunning natural attractions, and much more - enjoy this wonderful selection of absolutely the most beautiful pictures of Slovenia, taken either by professional photographers or amateur photo enthusiasts.