About The Photographer
Dejan Hudoletnjak is a super-talented and passionate photographer best known for his beautiful landscape photos of Slovenia and wonderful use of light and color. He is 24 years old and has been living in Kranj, the capital of the Gorenjska region, for his whole life, with easy access to some of the most beautiful locations in the country.
Dejan has an unerring eye for composition and detail, and a great sensitivity to mood, expressed in his photographs through the awareness and use of light. He considers that in photography the camera is just a tool, and that what is more important, is the photographer's eye and sense for creativity. Dejan's goal as a photographer is to create an image that not only captures a moment in time, but also tells a story and evokes an emotional response. An image that shares the mood and feelings he felt when being there.
Personally, Dejan has always been a nature lover and he spends a lot of time out hiking and exploring the natural beauty of Slovenia. Every cycle or season, every change in the weather possesses a new challenge for him to find and exhibit the beauty of those changes.
Below is a selection of Slovenia landscape photos that Dejan Hudoletnjak kindly shared with us. And if you like Dejan's photographs, you are welcome to check out his Facebook and Flickr pages for more of his work. You can also contact him anytime if you have any enquiries or if you are interested in purchasing a print or ordering a calendar.
Photo Gallery
A beautiful picture gallery containing 50 remarkable landscape photos from all over Slovenia by Dejan Hudoletnjak.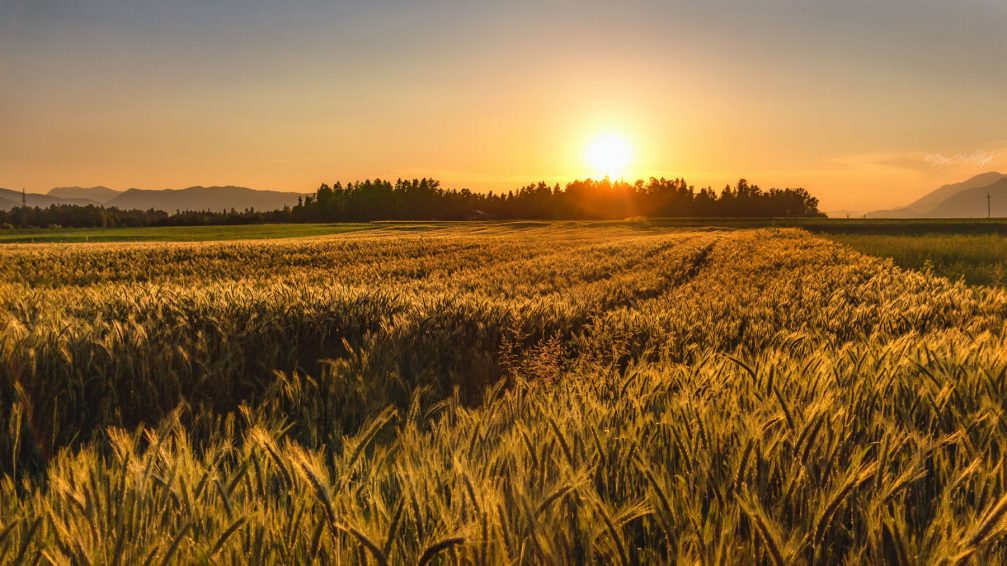 A beautifully captured golden hour shot of a barley field in Predoslje, a small village in the Gorenjska region. In Slovenia, barley is used mostly as an animal feed due to its high nutritional values. Along with it usage as an animal feed and thanks to its malt, it's also used in production of beer and other alcoholic beverages as well as in baking, confectionery and textile industry.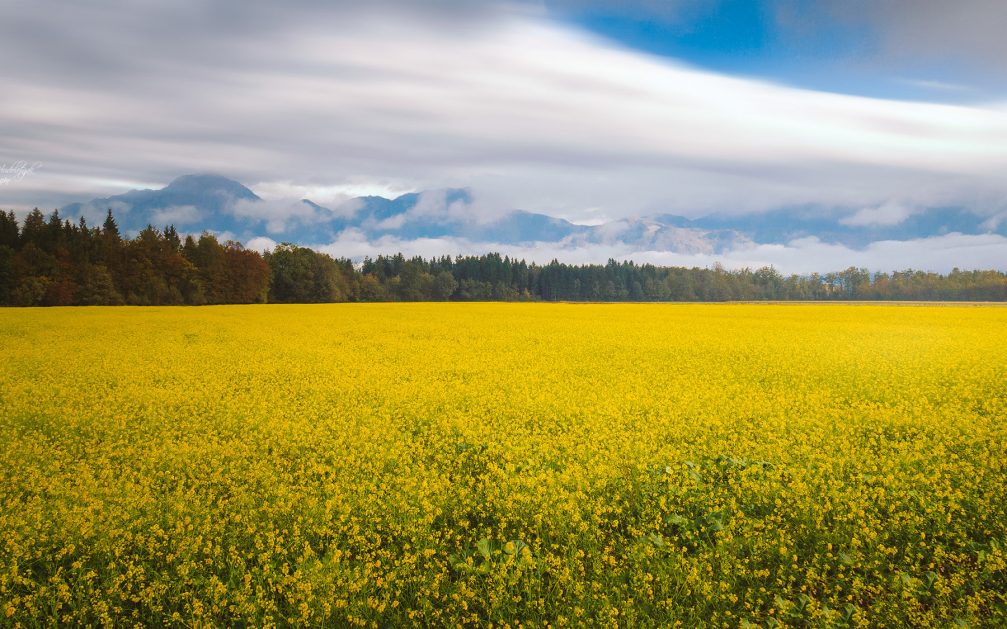 The dazzling yellow of a rapeseed field in full bloom on a farm near the village of Sencur in northwestern Slovenia. The field is enormous and is quite jaw dropping. Rapeseed is one of the most produced oilseed crops in Slovenia and used to make edible oil, biodiesel fuel and animal feed.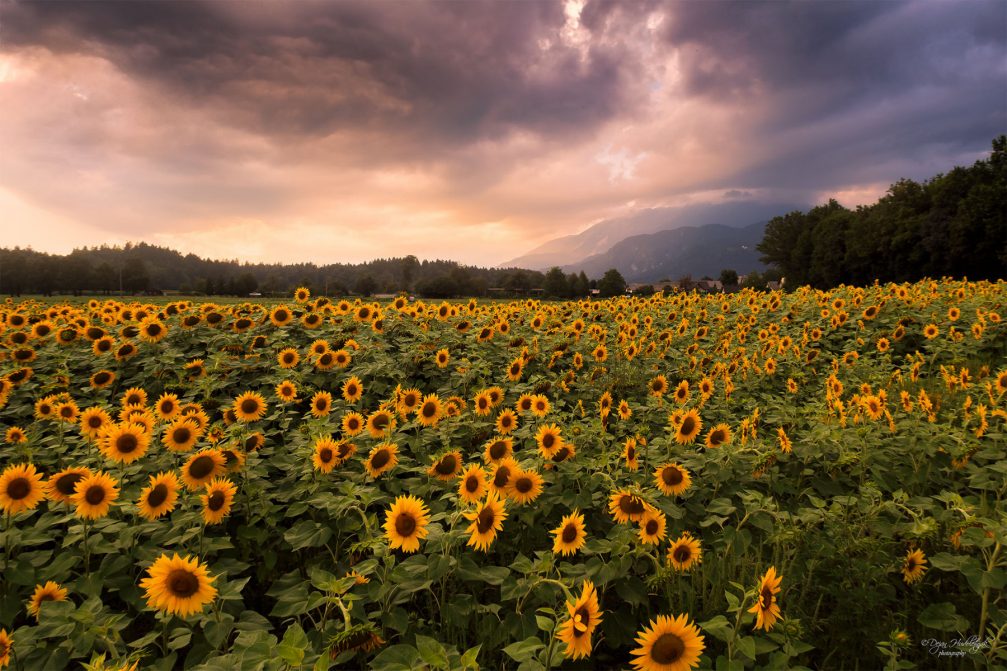 Sunflowers are a glorious crop! They are bright, beautiful, happy flowers that are used as a source of vegetable oil. The seeds are used for snacks and for bird food. They are a real show crop and by growing a large acreage of them on a farm, the farm becomes a stunning place, visited by lots of local walkers and photographers. In general, sunflower fields in Slovenia are in bloom between about June and September. They don't bloom continuously though, so you may have to drive around a bit and hunt for some fields that are in full bloom. To find the maximum number of fields of sunflowers in Slovenia in full bloom, early July is a pretty safe bet.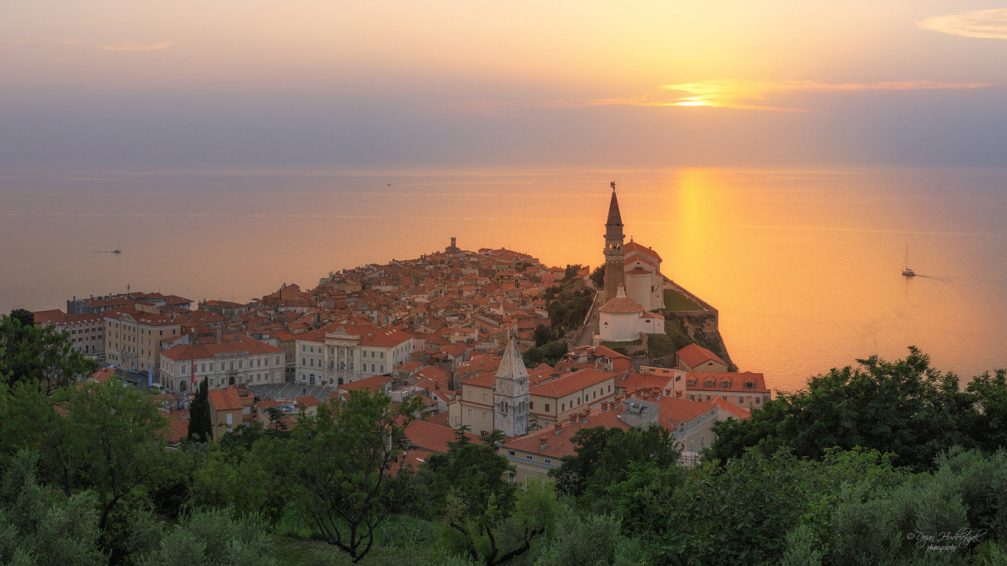 A beautiful elevated view of the coastal town of Piran, the jewel in the Slovenian Adriatic crown. Piran in Slovenia is like Dubrovnik in Croatia – a small Adriatic gem. Since the whole architecture of the old town is accomplished in the Venetian style and Italian is the second official language, it is also known as Mini Venice. Piran retained its medieval layout with narrow streets and closely-built pastel-colored houses that ascend from the coastline in a cascading fashion towards the top of the town hill and thus give the town a recognizable Mediterranean character.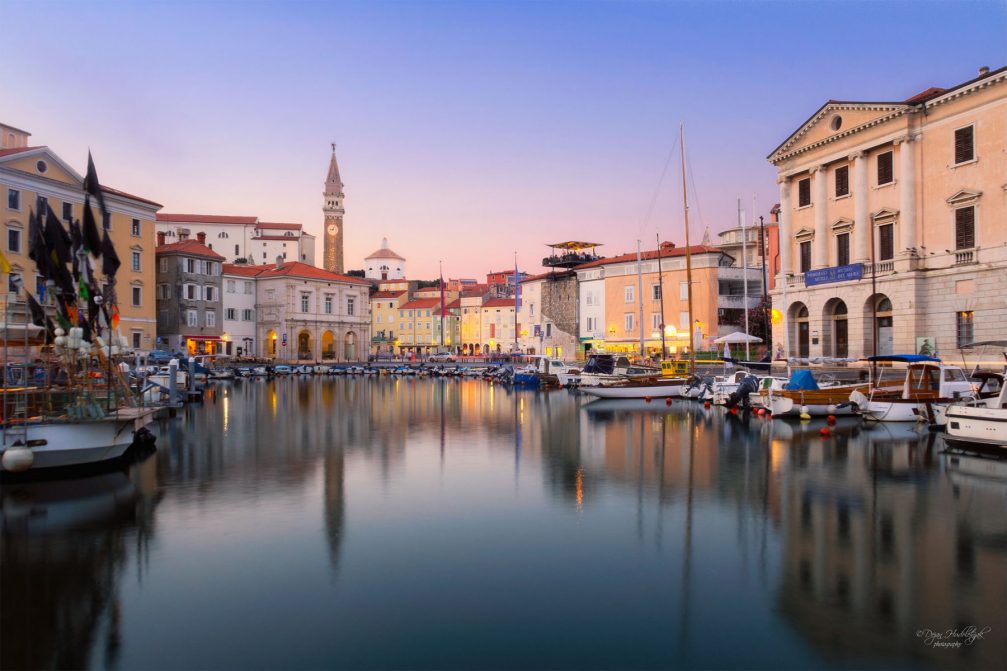 Piran represents coastal Slovenia at its most charming. Remnants of Venetian architecture can be seen everywhere in the town, ranging from closely-built pastel-colored houses with the typically arched windows to the Cathedral of Saint George, which stands high on the northern hill above the town.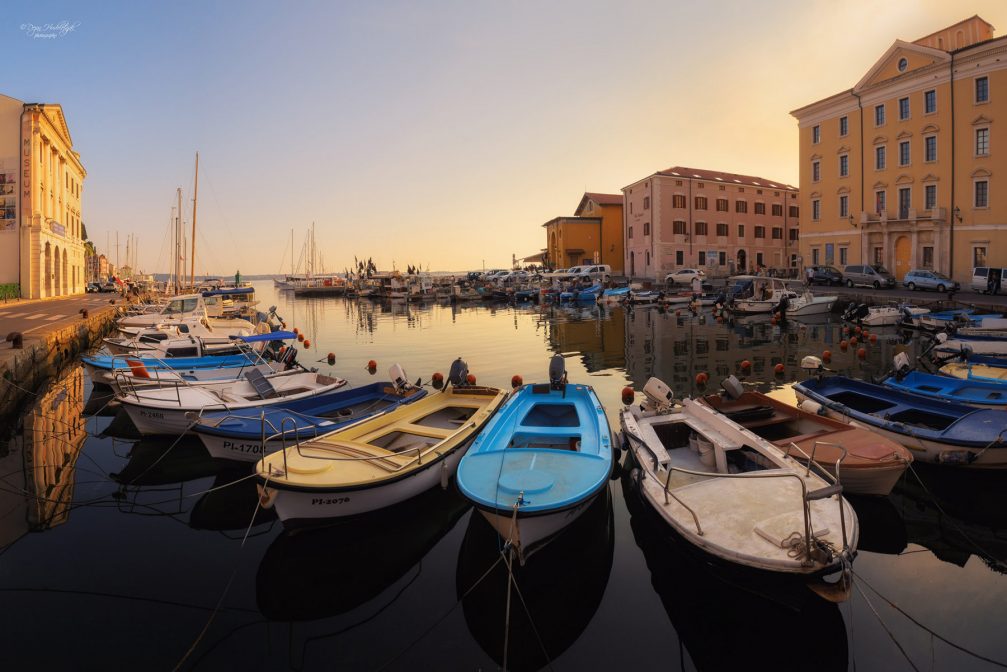 The tiny but very pretty Piran harbor follows gently the curve of the bay and is framed with pastel-colored three story buildings. As Slovenia has just 47km of coastline on the Adriatic Sea, no wonder that the harbour is rather busy with small fishing boats and sailboats packed along the quays.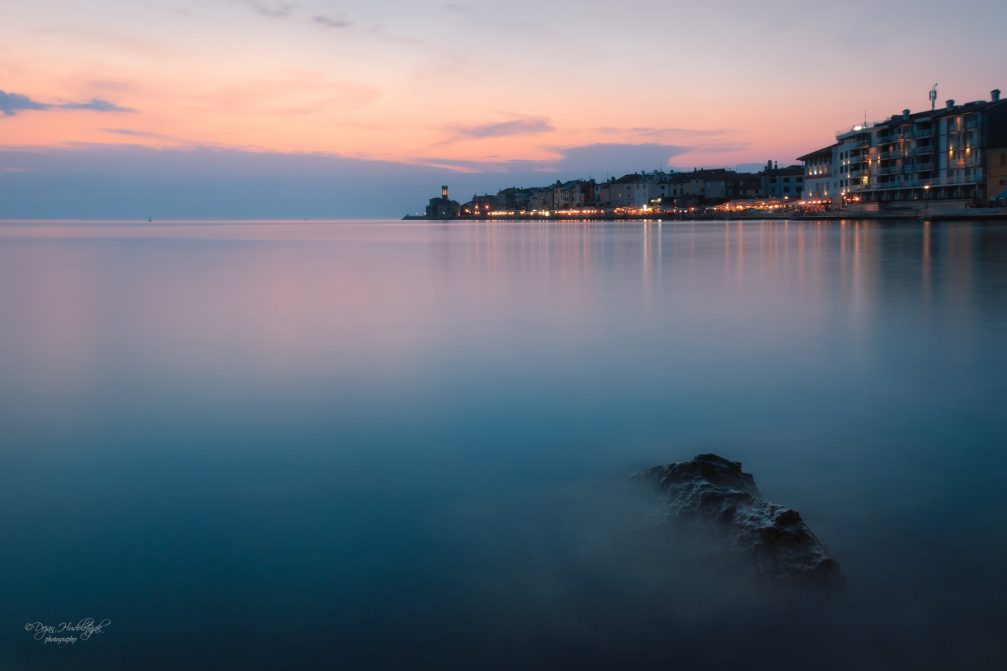 The Slovenian littoral follows its small 47km of coastline along the Adriatic Sea. The most prominent towns are Koper, Izola, Piran and Portoroz.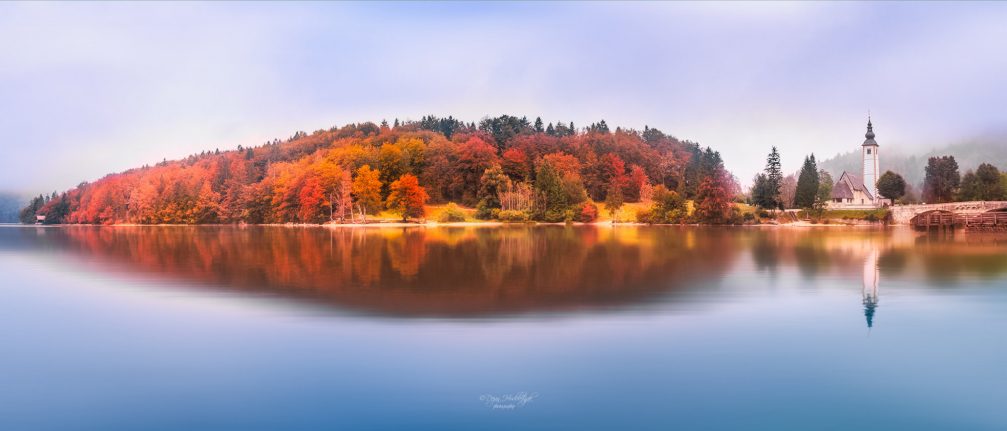 Measuring 4100 meters in length, up to 1200 meters in width and up to 45 meters in depth, Lake Bohinj is Slovenia's largest lake. It is also one of the country's best places to see autumn colours. We promise that as you crunch through the fallen leaves, the stunning views won't fail to impress.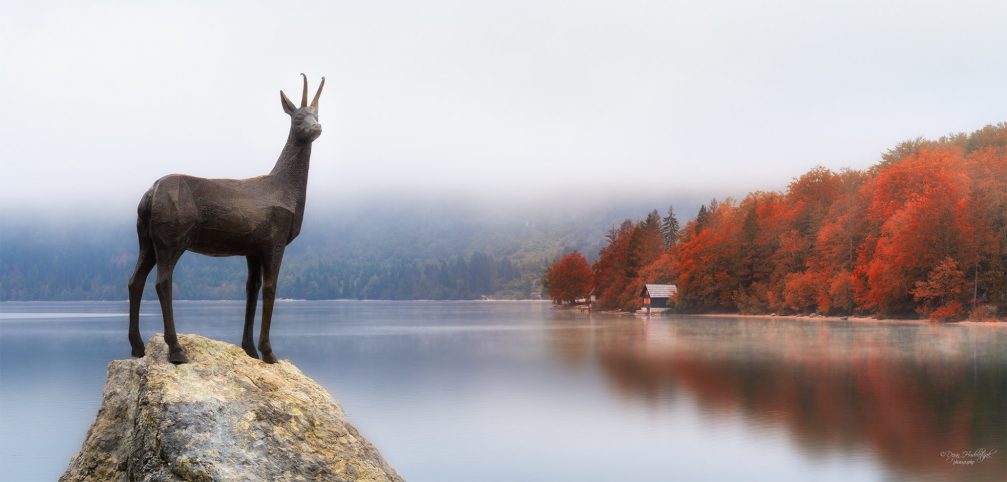 On the shore of Lake Bohinj you will find a statue of the Goldhorn (a.k.a. Goldenhorn) or Zlatorog as it is called in Slovene. The animal is a symbol of the Slovenian Alps. According to the legend, a hunter in the Soca Valley was spurned by his girlfriend, an innkeeper's daughter, who fell in love with a richer man. He was persuaded by a trickster to go look for the elusive Goldhorn, a chamois with horns made of gold, and bring it to his girlfriend as a trophy. What the hunter didn't know was that the animal had been given special powers by the White Fairies. He found the Goldhorn near the Triglav summit and shot it. But the animal didn't die. Instead, gorgeous mountain flowers grew on the spots where the chamois had bled. The Goldhorn ate the flowers, regained his strength, and approached the hunter. Blinded by the luster of the golden horns, the hunter lost his footing, tumbled down a precipitous cliff and died.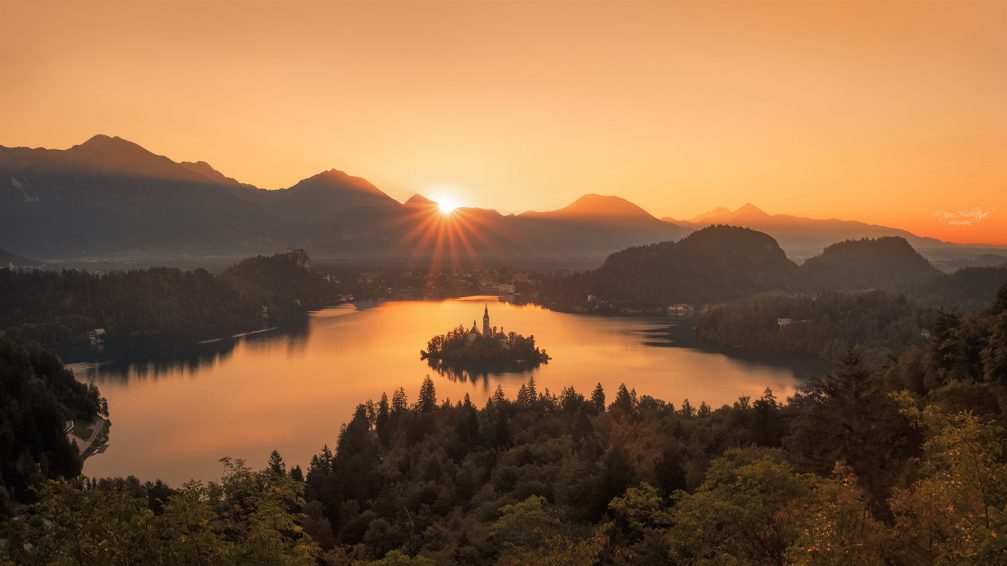 Lake Bled is possibly the most popular tourist destination in Slovenia. No wonder why, this place appears as if it was taken out of a story book! For the most stunning views of the lake, visit the Bled Castle which is perched upon a rock cliff 130 metres above the lake, or head for the Ojstrica viewpoint.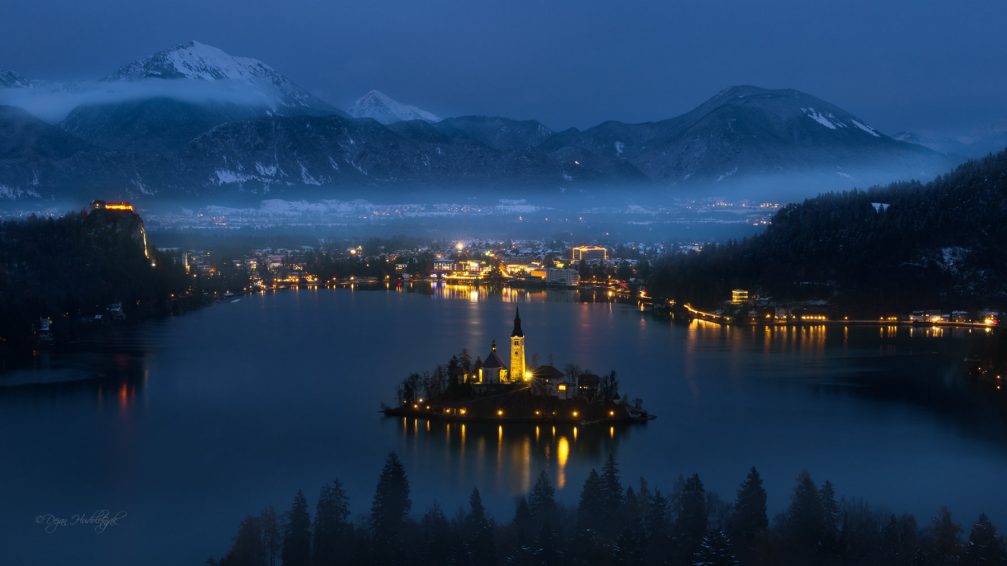 The town of Bled is famous from its gorgeous lake with the church on the tiny tear-shaped island in the middle of it, overlooked by a towering clifftop castle.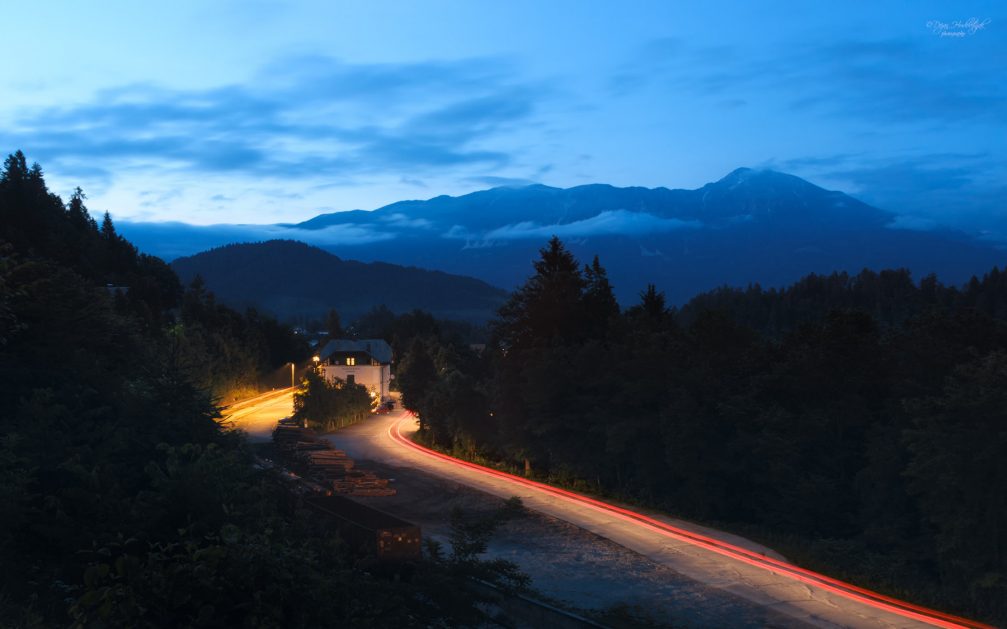 Bled has two train stations, but unfortunately neither is located in the centre of town. The Lesce-Bled train station is four kilometres away so you will either have a lengthy hike or short bus ride into town. The other station is Bled-Jezero (on the picture), which is at Lake Bled's western edge and is about a half-hour walk to the centre of town.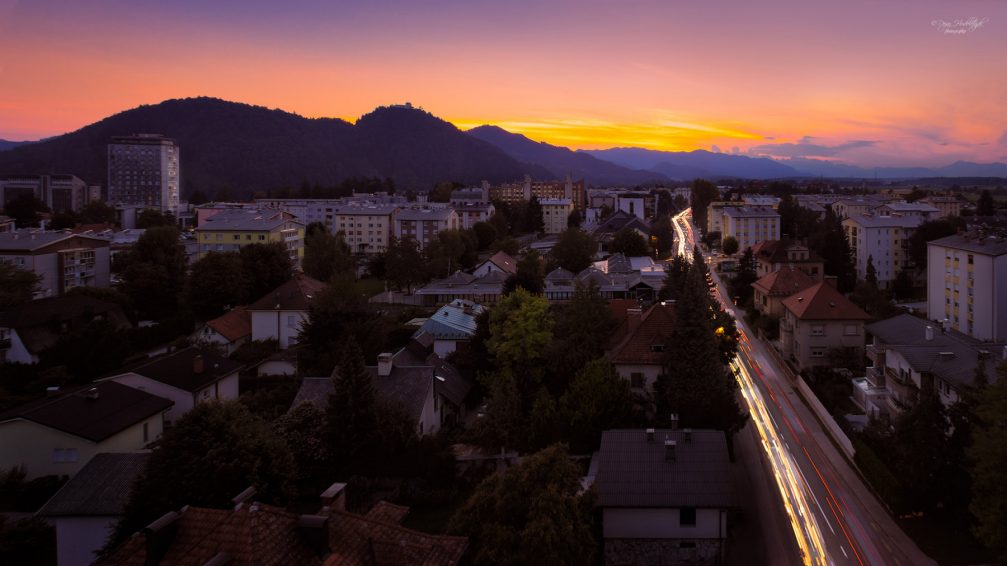 Kranj is the fourth-largest city in Slovenia, with a population of about 37,000 inhabitants. It is located approximately 20 kilometres northwest of Slovenia's capital Ljubljana.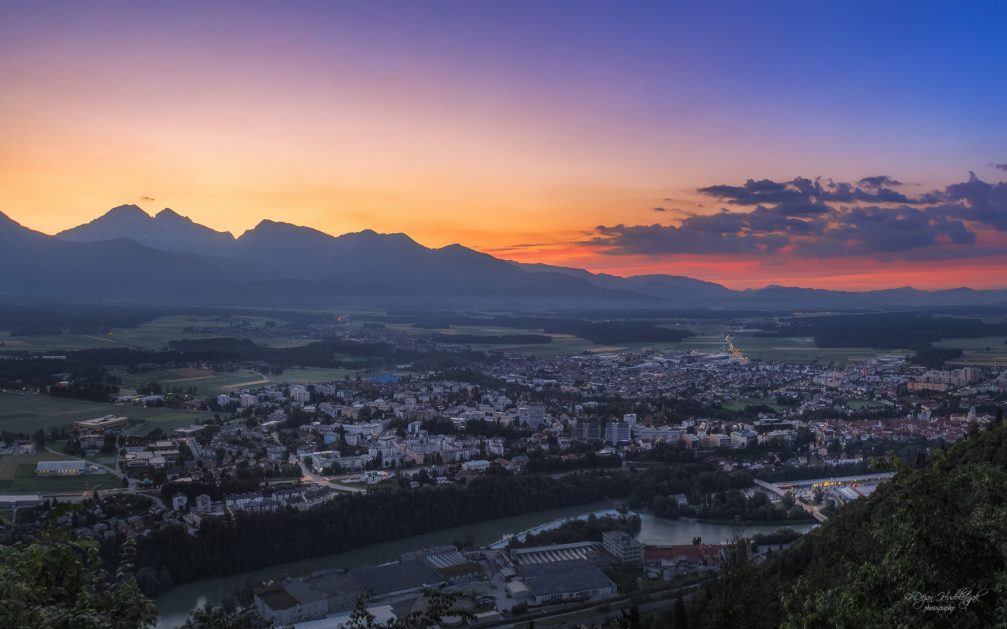 With Slovenia independence in 1991, Kranj became the main administrative, cultural, sports, business and industrial center of the Gorenjska region of Slovenia.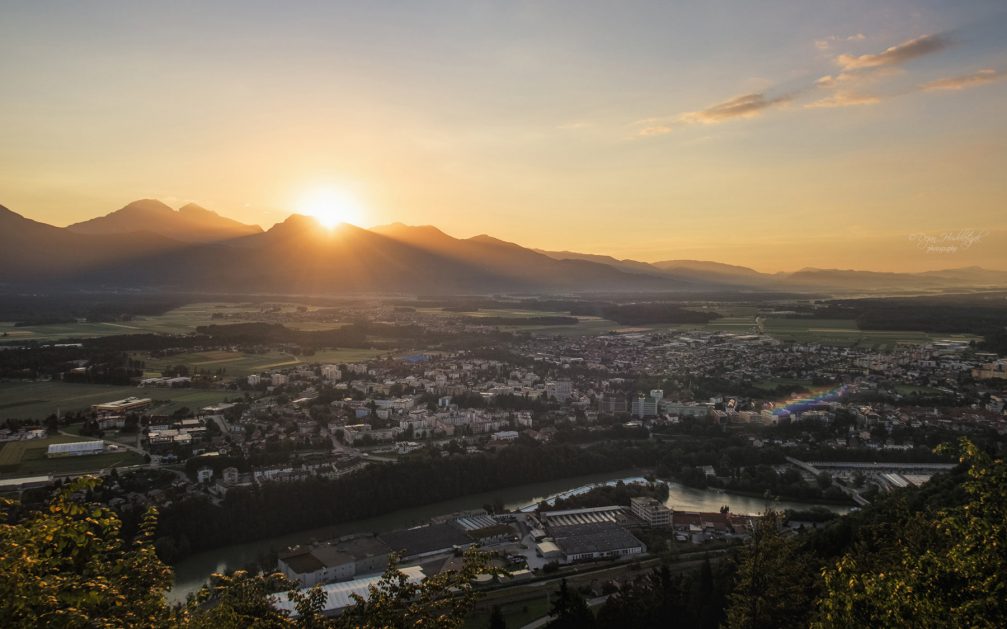 Kranj lies at the confluence of the Sava and Kokra rivers. The northern side of the city is surrounded by the peaks of the Karavanke mountain range while the Sorsko polje plain extends to the south of the city.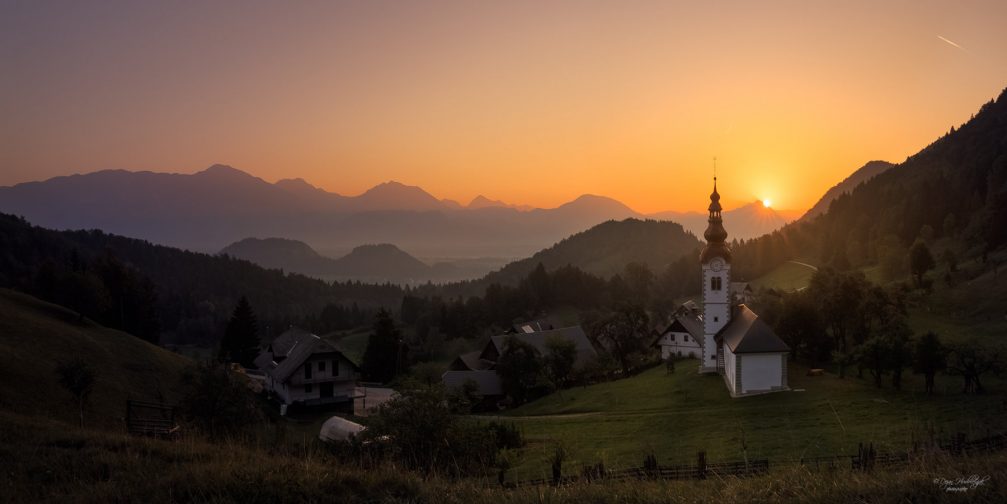 The village of Kupljenik is located about 3 kilometres south of the Bled town centre and Lake Bled, and lies below the northern slopes of the 1,128-metre-high Babji Zob mountain. The village's best known landmark is the Succursal Church of St. Steven which dates to the 15th century.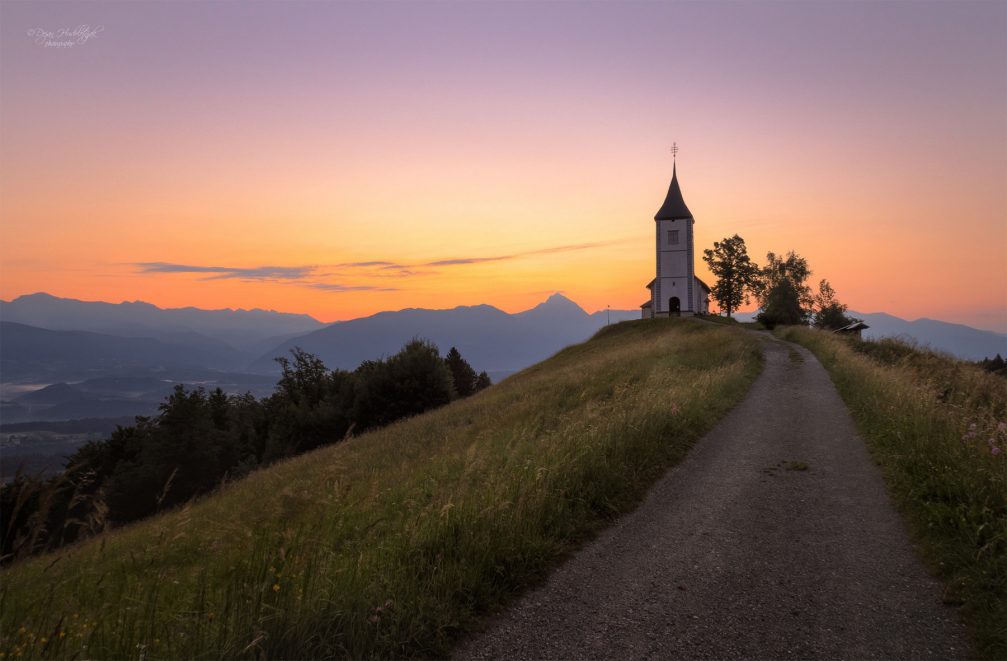 The church of Saints Primus and Felician, which stands above the village of Jamnik in northwestern Slovenia, is a prominent feature of this area and can be seen from far and wide.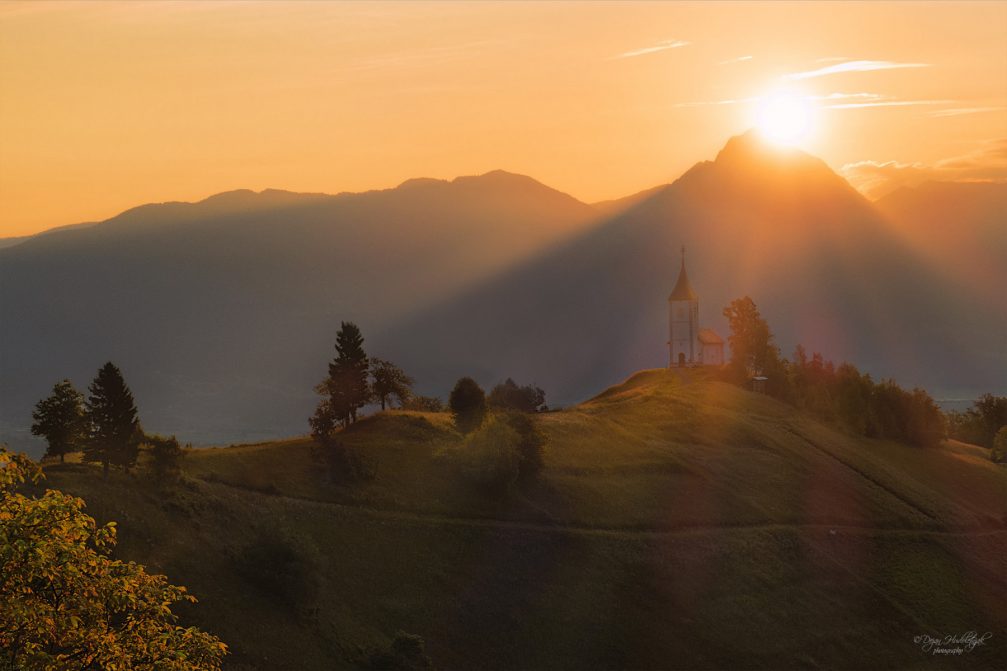 Another gorgeous photo of the Jamnik church of Saints Primus and Felician, perched on a hill on the Jelovica Plateau.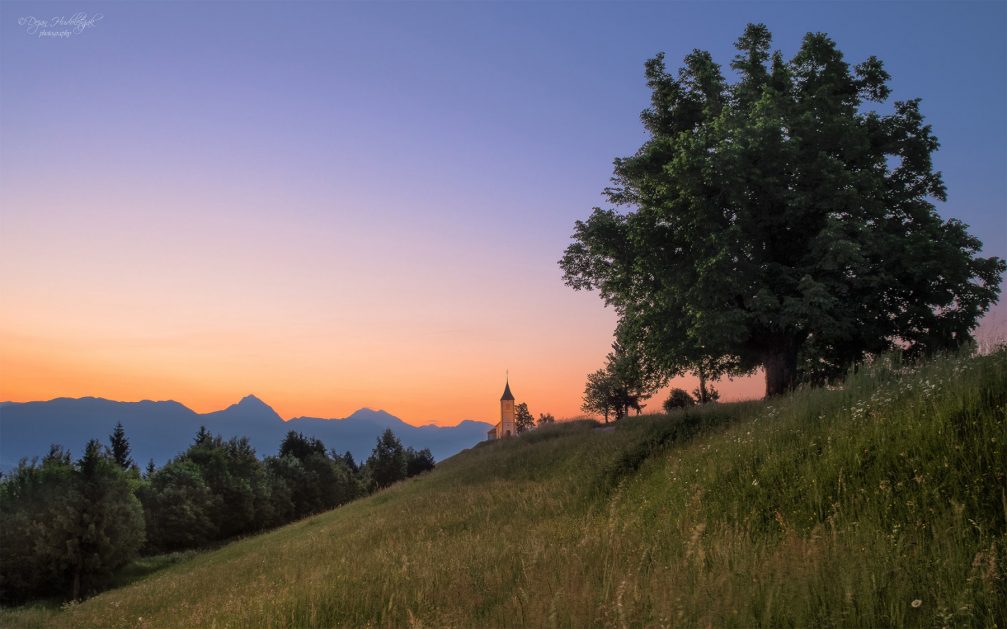 Built on the top of a hill, overlooking those wonderful panoramic views, the church of Saints Primus and Felician must move the soul.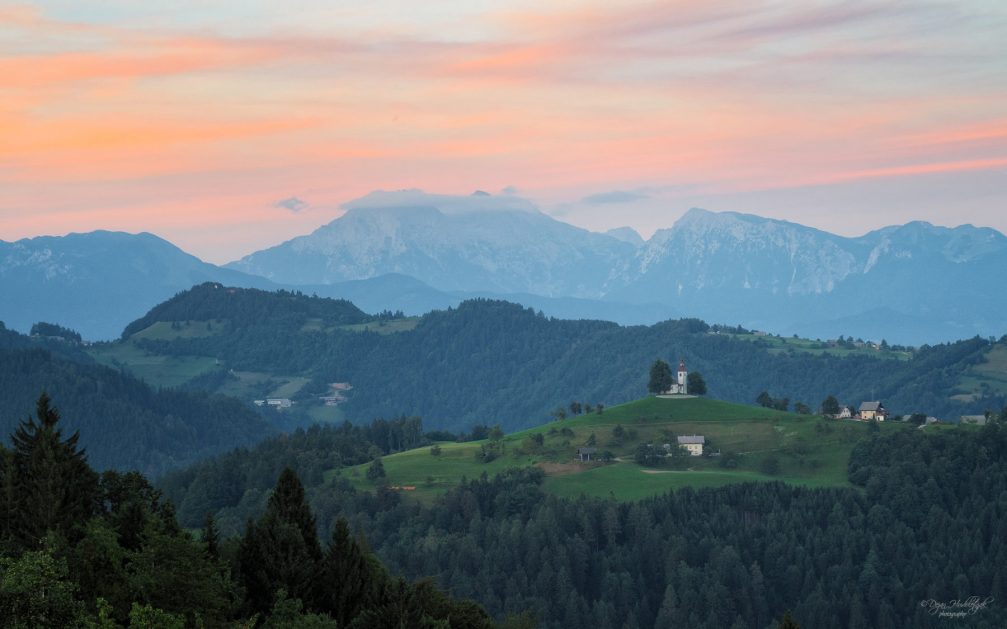 Another postcard-worthy hilltop church in Slovenia is the Church of St. Thomas in Sveti Tomaz, a small settlement in the Municipality of Skofja Loka in the Gorenjska region.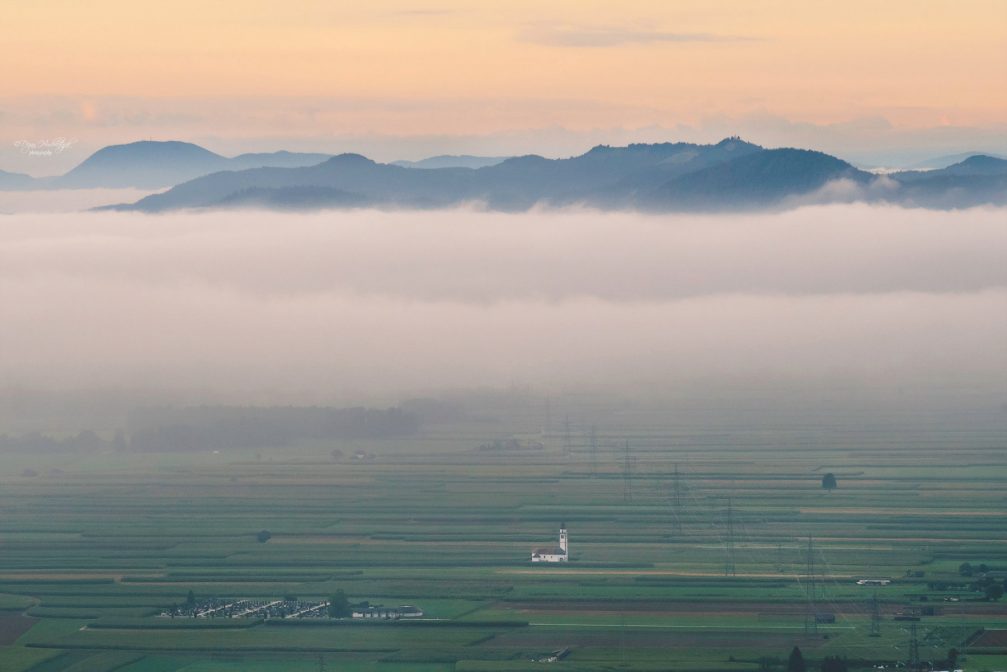 The Church dedicated to Saint Ursula in Srednje Bitnje stands on the picturesque fields of Sorsko Polje.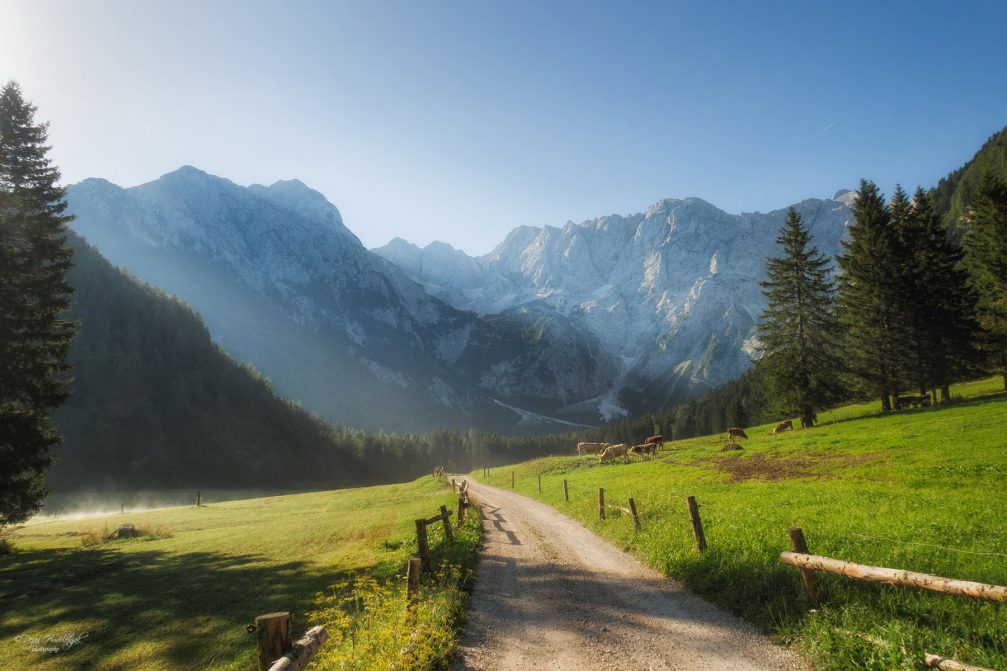 The scenic Ravenska Kocna valley in Zgornje Jezersko offers some amazing landscapes, forests, pastures and complete solace. Definitely a must visit for any mountain lover. Not many foreign tourists make the journey here, which is unfortunate because the drive leads through some goegeous natural sights.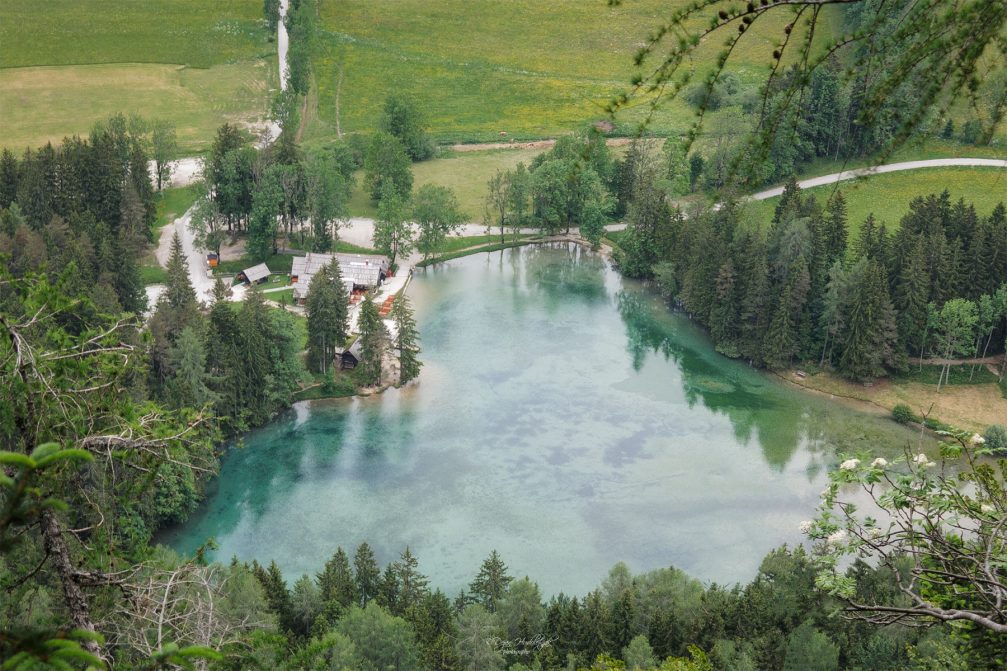 The heart-shaped Plansarsko Jezero Lake may be man-made, but this in no way diminishes its beauty. The lake was made by local inhabitants in an attempt to replace the former much larger glacial lake that had drained away. It's a popular gathering place for boaters in the warmer months and skaters in the winter. By the lake is a lovely restaurant known for its tasty local cuisine.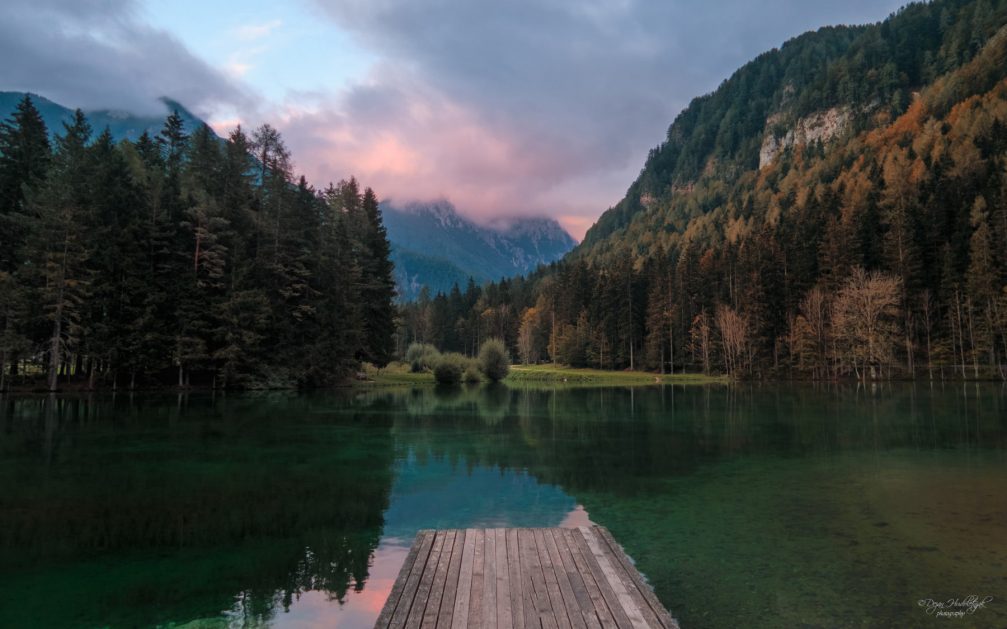 Let us tell you a little more about the Plansarsko Jezero Lake. Jezersko means lakeland in Slovenian. In the past, a majestic glacial lake covered the Jezersko valley, but then, in the 13th century, a severe earthquake destroyed the rock barrier that hemmed the lake in and allowed water to flow out little by little. By the end of the 19th century there was no water left at all. About 50 years ago, a group of Jezersko locals created an artificial lake, in the shape of a heart – beautiful Lake Plansarsko Jezero, emerald green and surrounded by meadows and majestic mountains of the Kamnik-Savinja Alps. A recognition to the large glacial lake of the past. So the Jezersko Valley has its lake, once again.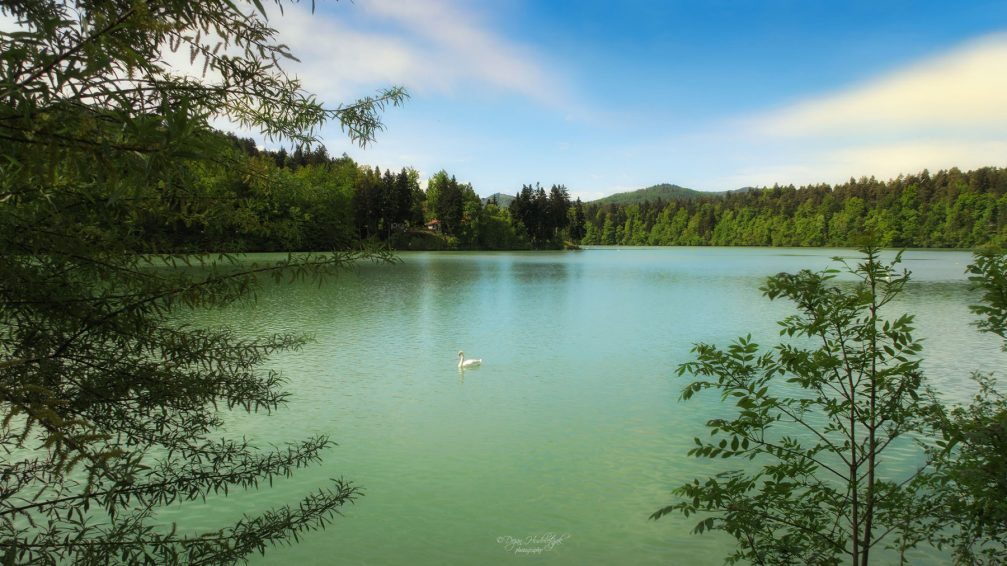 Lake Zbilje or Zbiljsko Jezero as it is called in Slovene is actually a reservoir fed by the Sava river. It was created in 1953, when the Sava river was dammed to provide water for the hydroelectric power station in the town of Medvode. The lake is only a ten minute drive from Slovenia's capital Ljubljana towards the Gorenjska region and a lovely place to relax. There's a nice grassy lakeside area featuring cafes, a children's playground and facilities for renting boats. Although busiest during the summer months, it is a very popular place for walks throughout the year, with abundant swans, ducks and other waterfowl adding to the charm. Apart from being a very popular place for tourists, the lake provides a very important habitat for numerous bird species.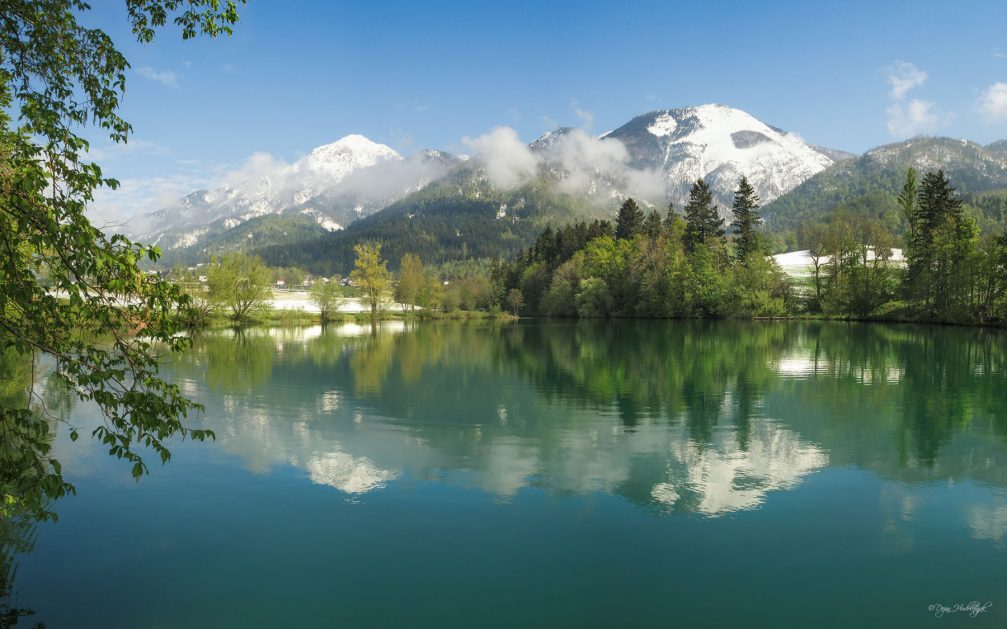 The dark green surface of the mysterious Lake Crnava in Preddvor is a popular destination for boaters and fishermen in the summer, and ice skaters in the winter. The park by the lake is one of the most popular wedding venues in the country. Near the lake there's also the Sekvoja Energy Park and the BioSinhron Centre of Well-Being.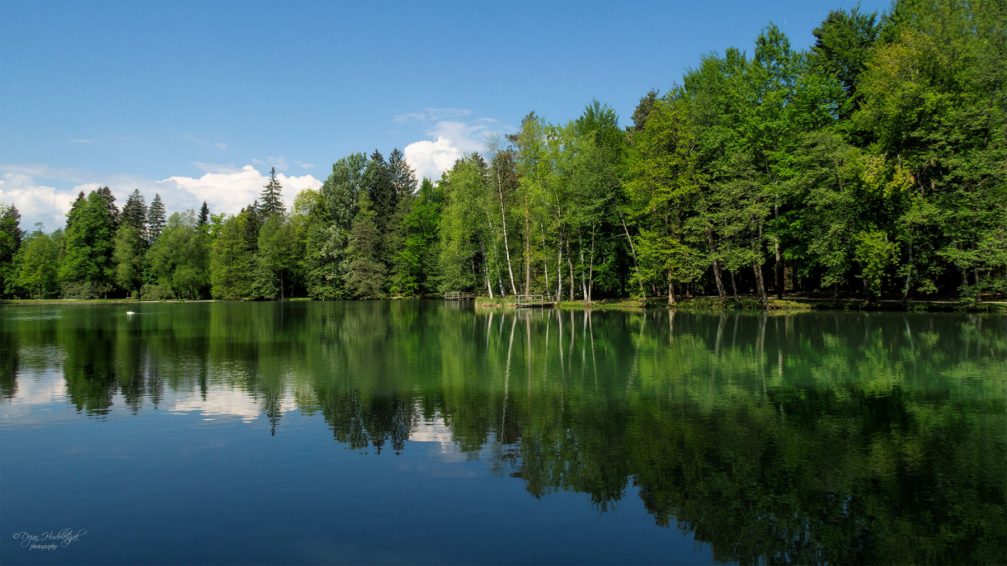 The Brdo Park is located on the northern edge of the Predoslje village near Kranj, the capital of the Gorenjska region. While you are walking through the park you can admire the park's rich flora and fauna as well as the many sights such as the Brdo Castle with its winery, the unique sculpture collection, a colorful beehive, you can rest under a traditional Slovenian hayrack and more. There are also two lakes in the park, the lower and the upper one (on the photo). The whole place has an air of unpretentiousness and is a great place to spend an afternoon.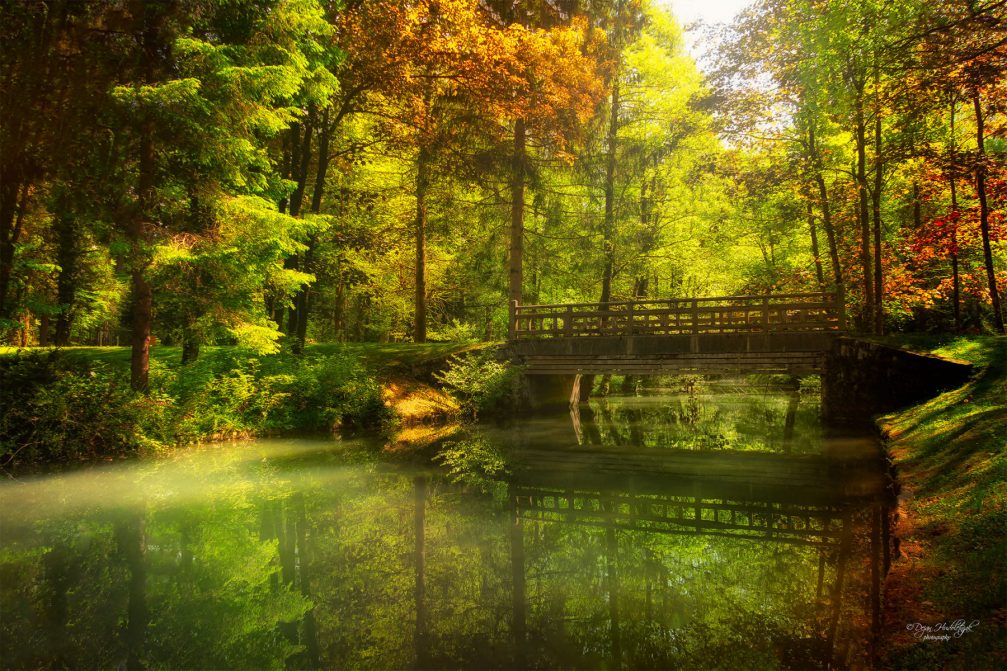 Autumn is possibly the most spectacular season to visit the Brdo Park with its 478+ hectares of woods, parks, fish ponds, and many lovely walking paths. The park is open daily from sunrise till dusk.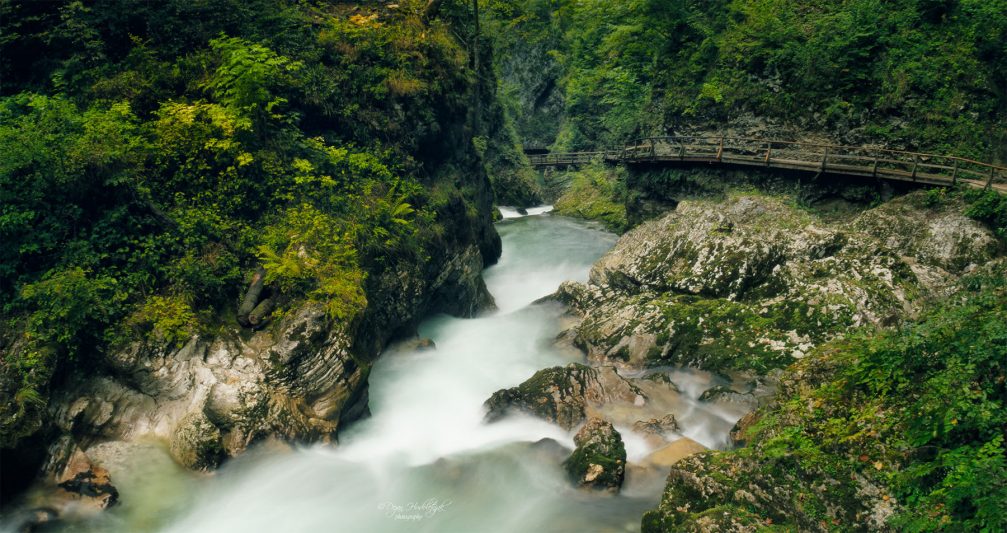 The major natural attraction in the vicinity of Lake Bled is the Vintgar Gorge, a spectacular 1600-metre-long and 150-metre-high canyon carved by the rushing waters of the Radovna River as it flows east towards its confluence with the Sava Dolinka river. The gorge is accessible via a series of wooden walkways and bridges that were originally constructed in 1893 and run through the entire length of the gorge to the Sum Waterfall at its northern end.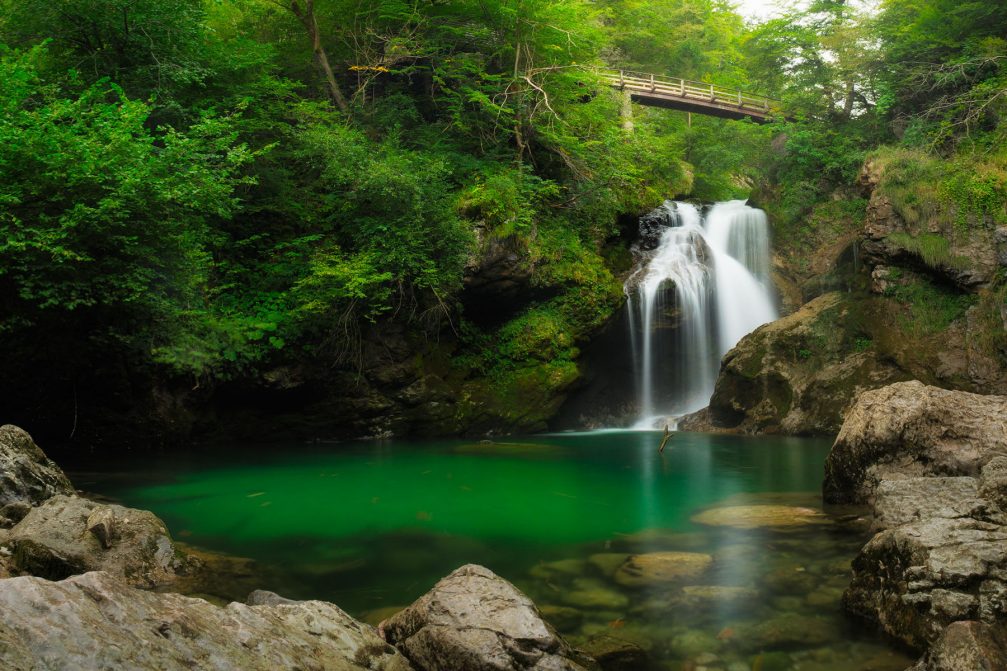 Visiting the Vintgar Gorge is an unforgettable experience as the trail winds its way beneath sheer cliffs, passing swirling rapids and whirlpools of the Radovna River on the way. The walkway culminates at the 16-metre-high Sum waterfall, which marks the northern end of the gorge. The waterfall is at its most impressive in spring, when the snow is melting.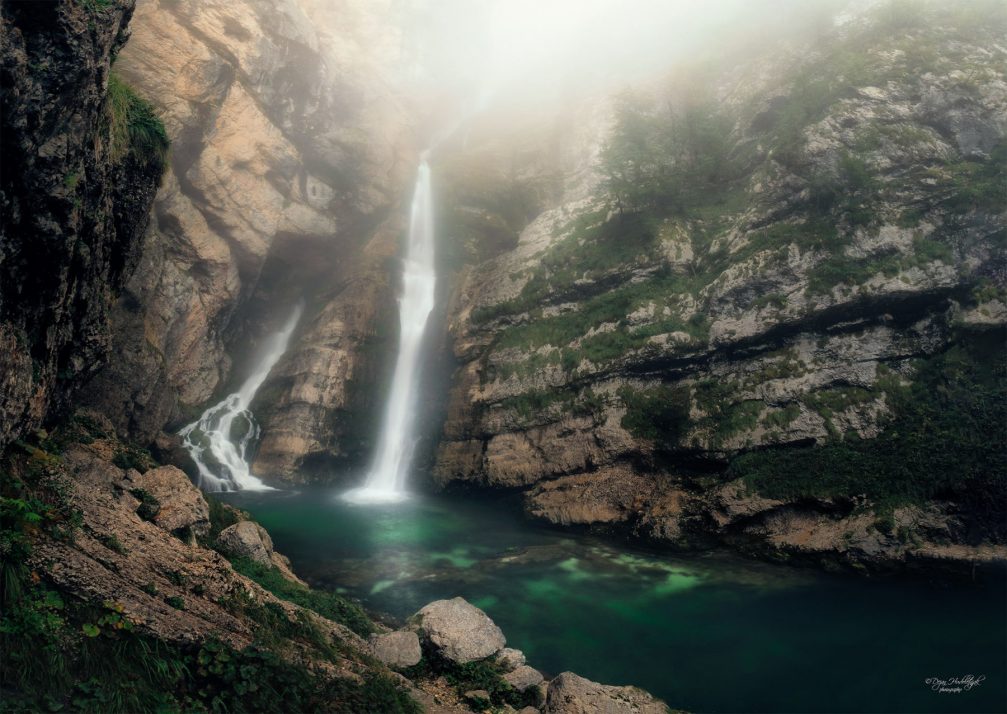 One of the reasons people come to Bohinj is to walk up more than 500 steps to the remarkable Savica Falls. The best time to appreciate this dramatic waterfall is in spring when the snow in the mountains is melting and the water thumps its way 78 meters down from the rocky heights above and smacks into the emerald green pool below.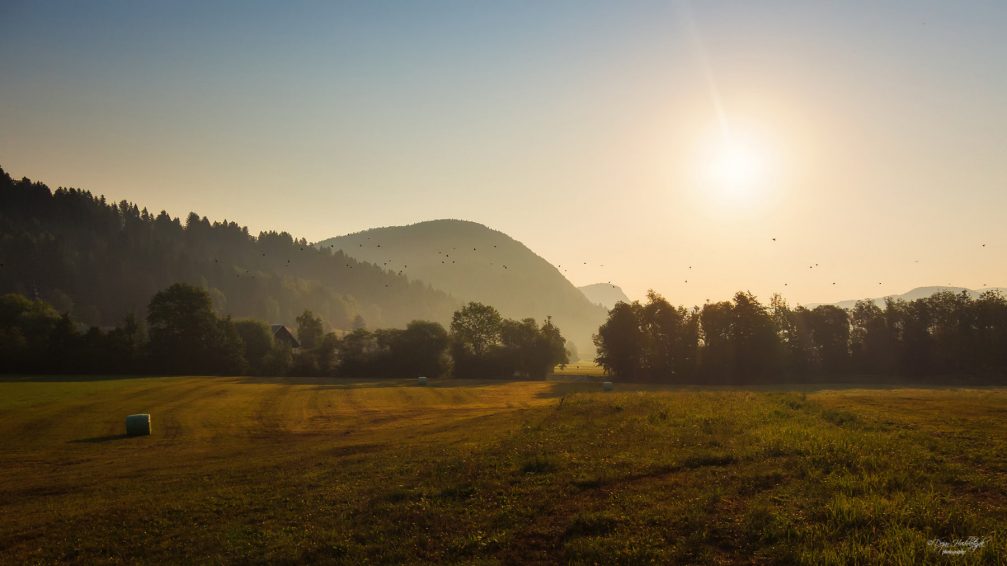 Situated in the heart of the Julian Alps, the Bohinj valley is green, lush and beautiful – serene, peaceful, nature at its best! In the mornings, the valley is so silent you can hear the birds the insects chirping.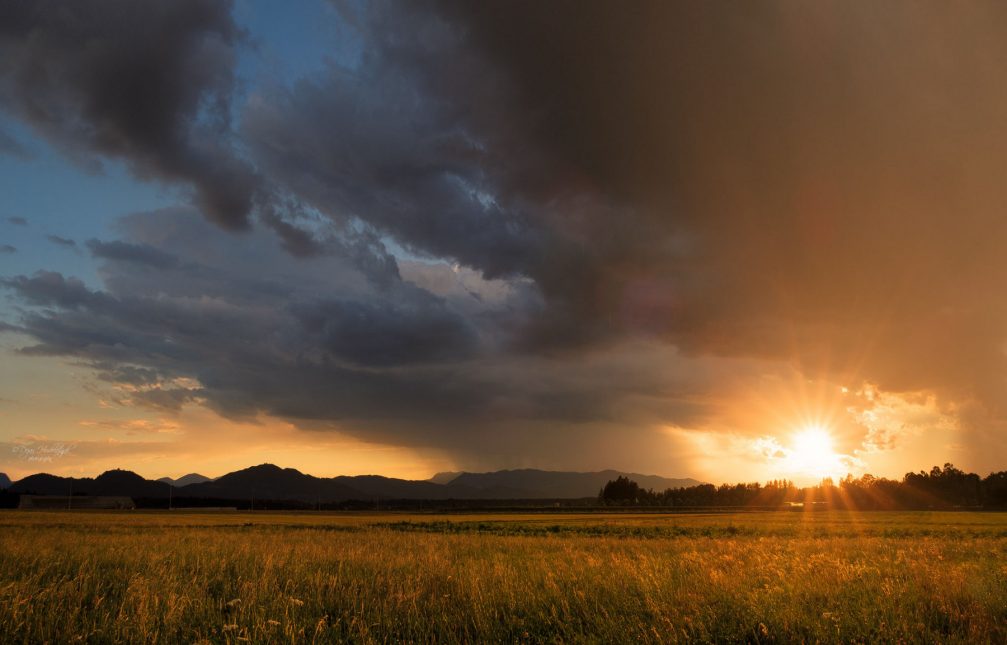 The serene countryside of Predoslje, just outside Slovenia's fourth largest city Kranj. Countryside's sunsets are quite a thing.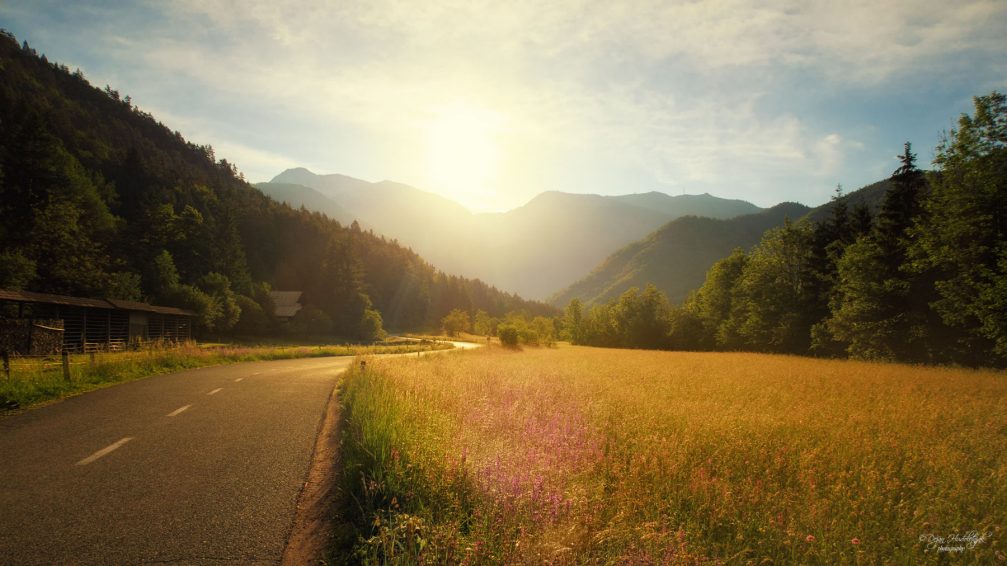 Sunrises are beautiful, but countryside sunrises are spectacular and blissful.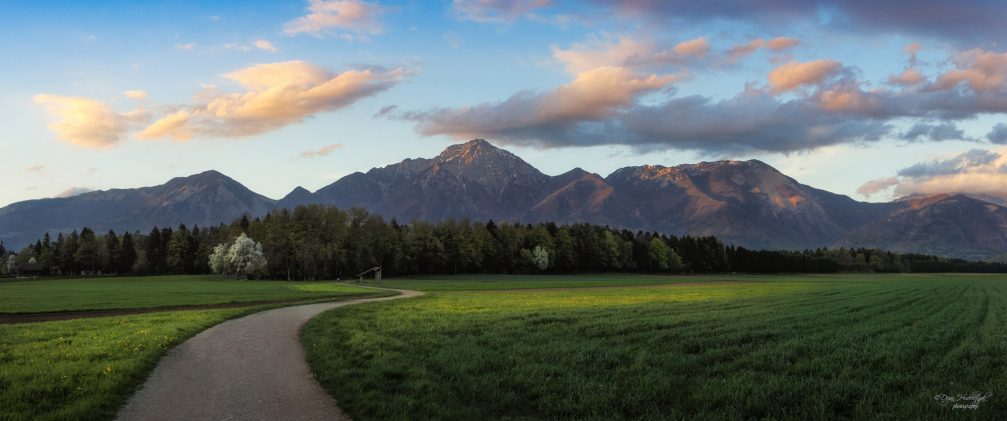 If spring is beautiful, in the Slovenian countryside it enchants the senses. It's a wonderful time of the year when everything starts to burst into life.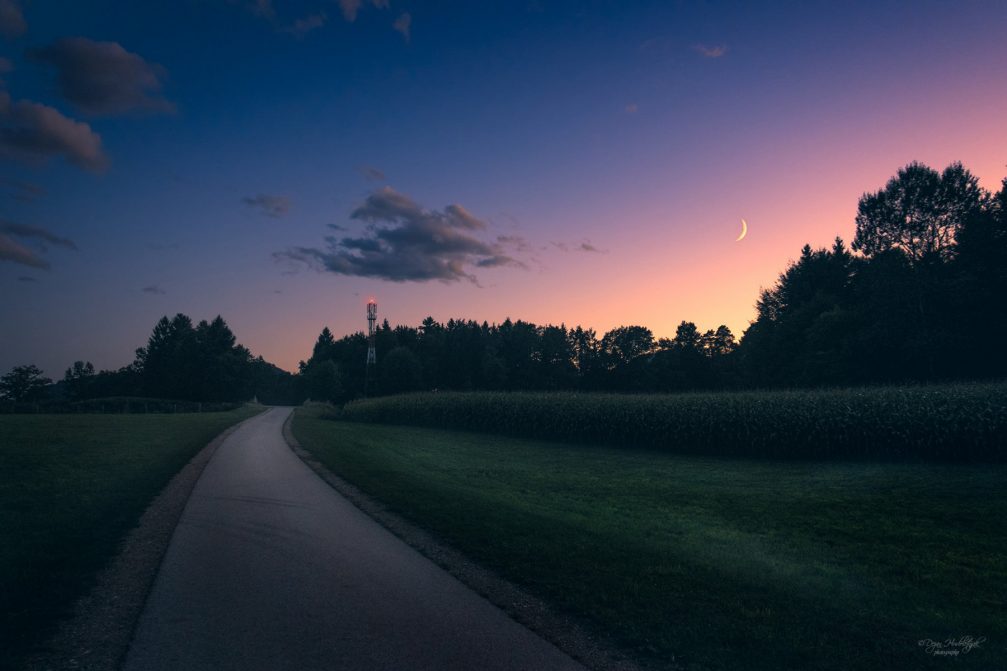 Corn fields along a narrow road which leads through the countryside of Zlato Polje in northwestern Slovenia.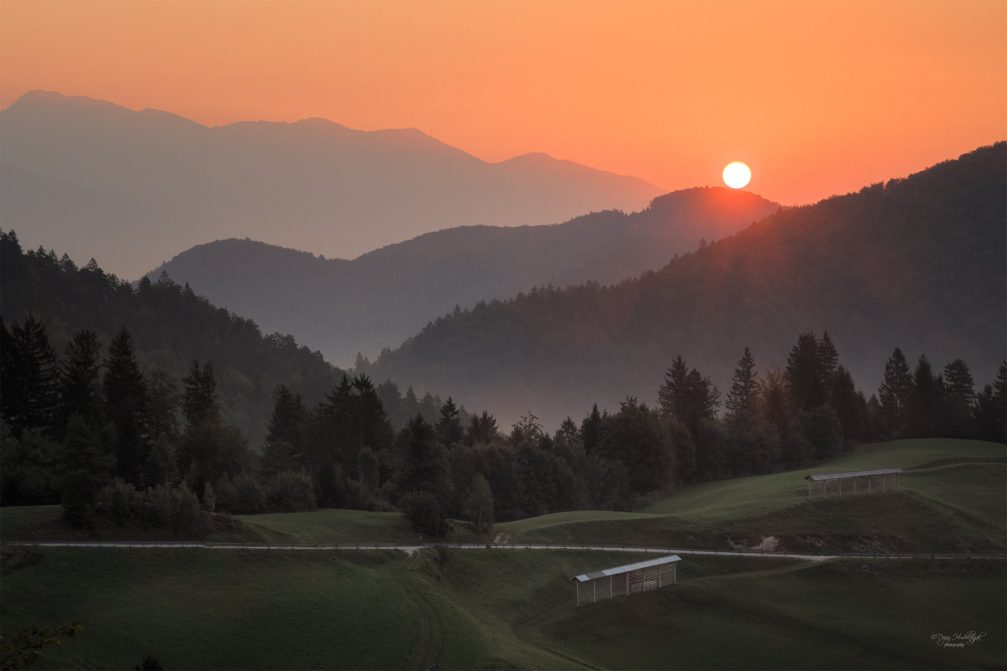 Hayracks are mainly a Slovenian thing, with more than 80% of all hayracks in the world existing in Slovenia. A hayrack is a freestanding, roofed building with a structural column-like head rail (or two head rails), into which in the same vertical plane horizontal poles are set at intervals equal to the thickness of a grain sheave, and whose purpose is to dry and preserve various crops and fodder'. The need for hayracks presumably developed with the climate changes of the Late Middle Ages, when it was no longer possible to let grain sheaves dry in the field after the harvest, at least not in the Alpine region of Slovenia.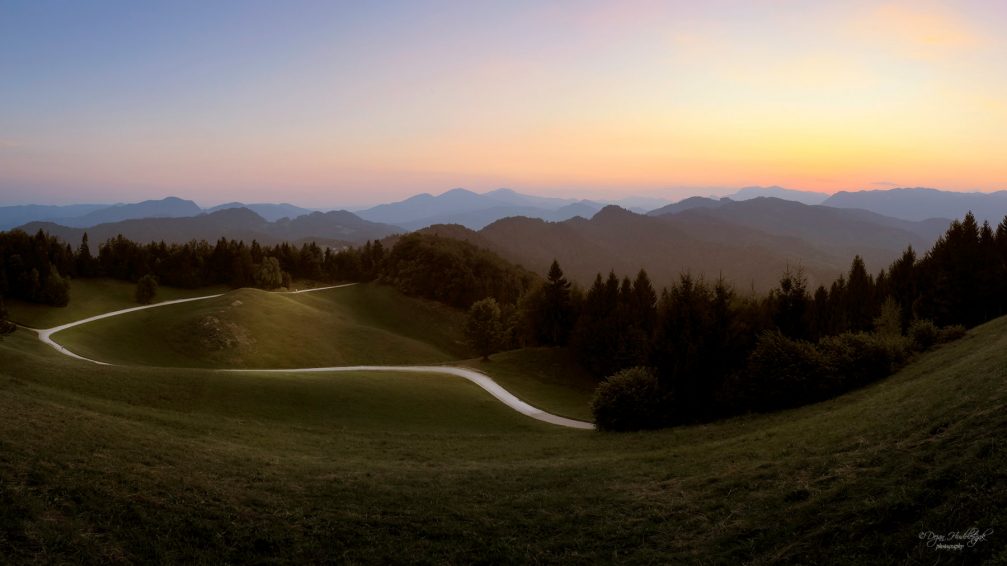 At an elevation of 847 meters, the Sveti Jost Nad Kranjem hill is a very popular destination for local hikers and families. It offers overwhelming scenic views of the surrounding green hills and far distant mountains.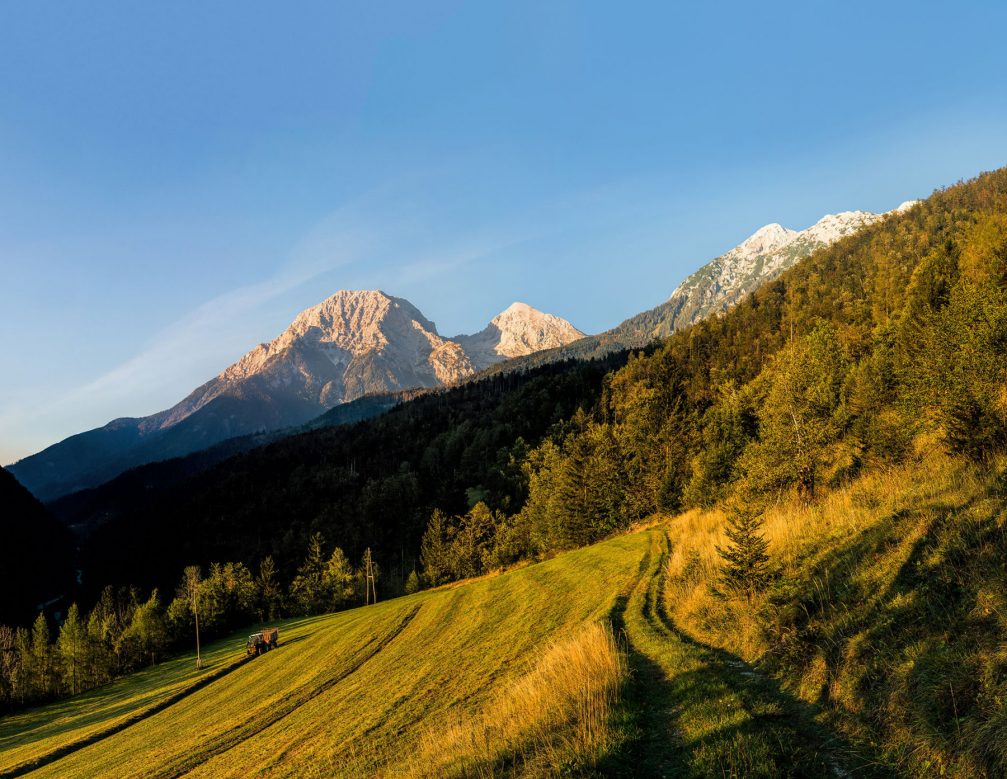 Because of Slovenia's fertile soil and normally ample rainfall during the summer months, grass can be harvested three times a year.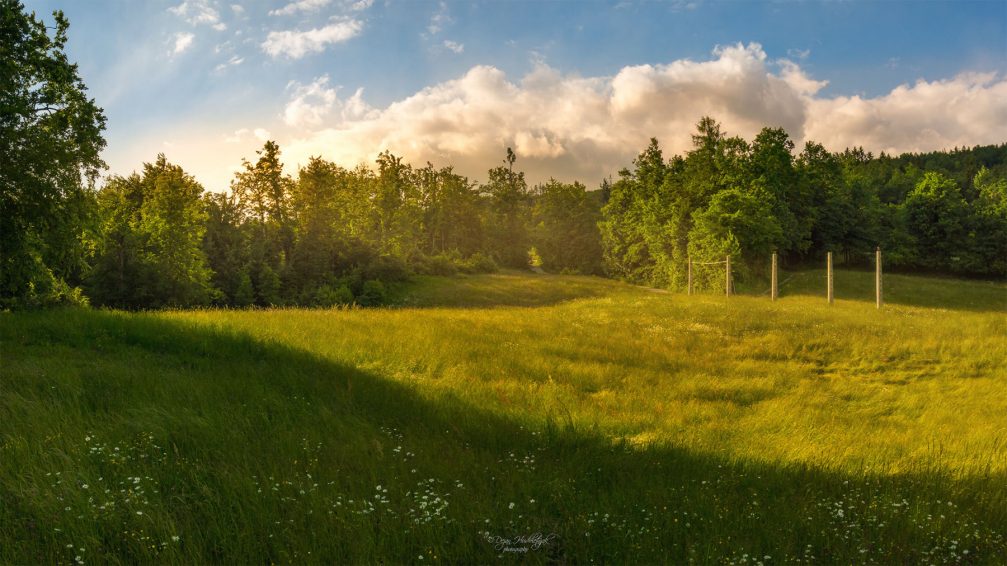 Slovenia is known as one of the greenest countries in the world. The nature throughout the country is so beautiful and comes in countless shades of green.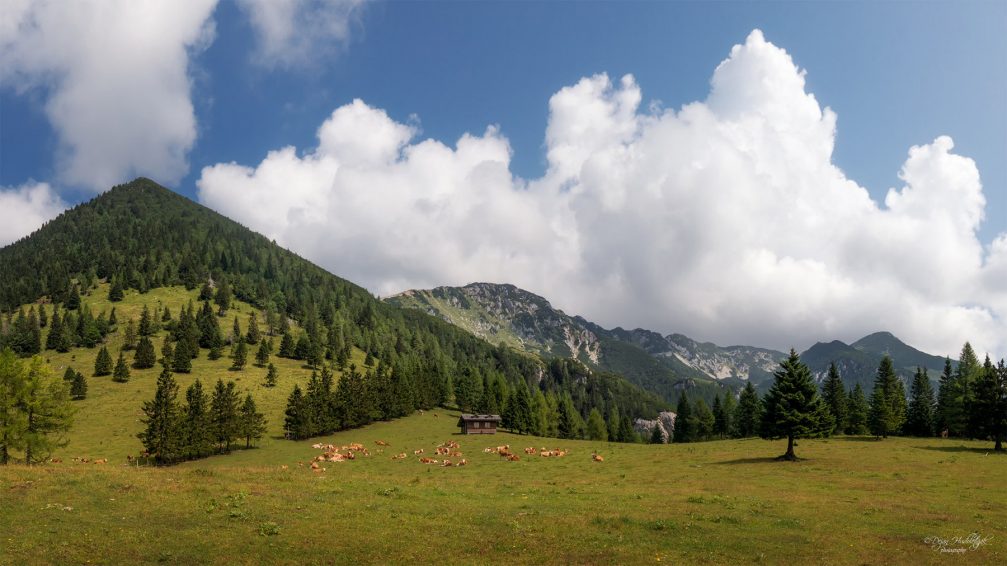 At an elevation of 1,480 meters, Kriska Planina is a high-mountain pasture where cows are taken to be grazed during the summer months.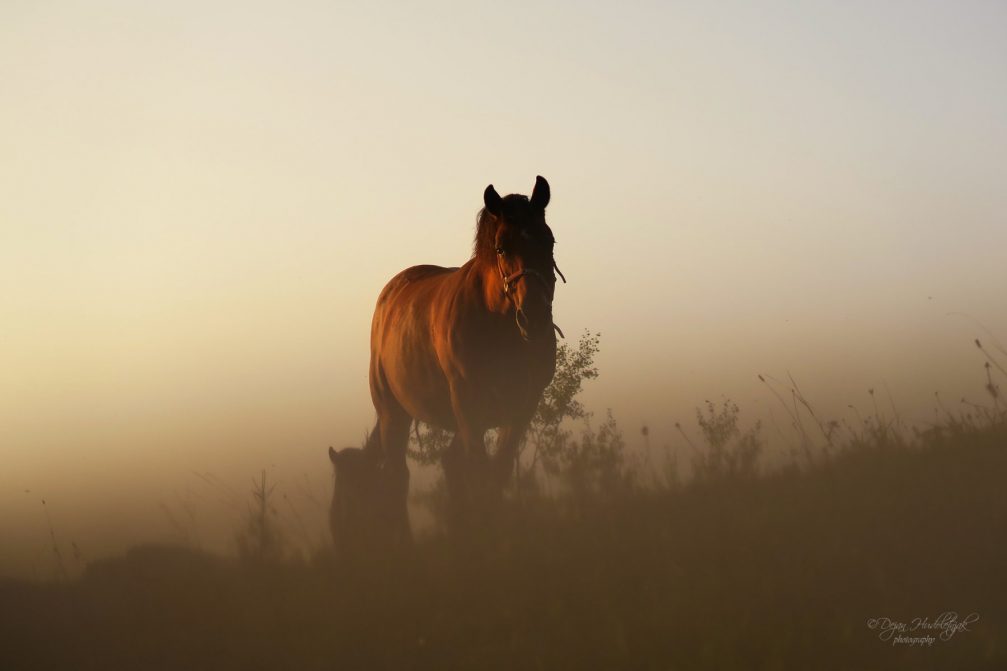 Horses grazing on idyllic green pastures are a common sight across Slovenia.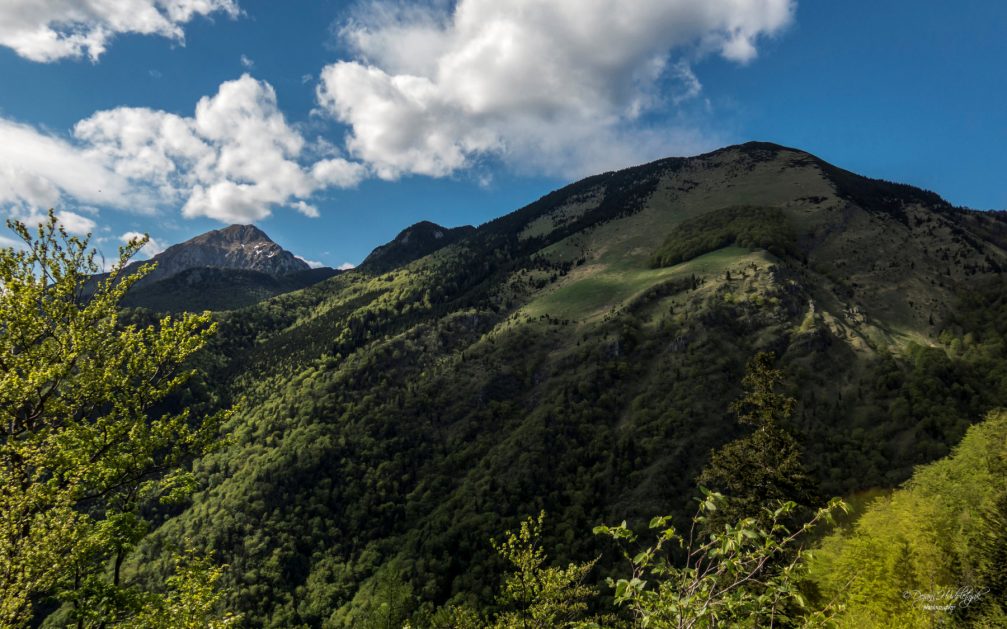 The majority of terrain in Slovenia is hilly or mountainous, with around 35% of the surface 600 meters or more above sea level.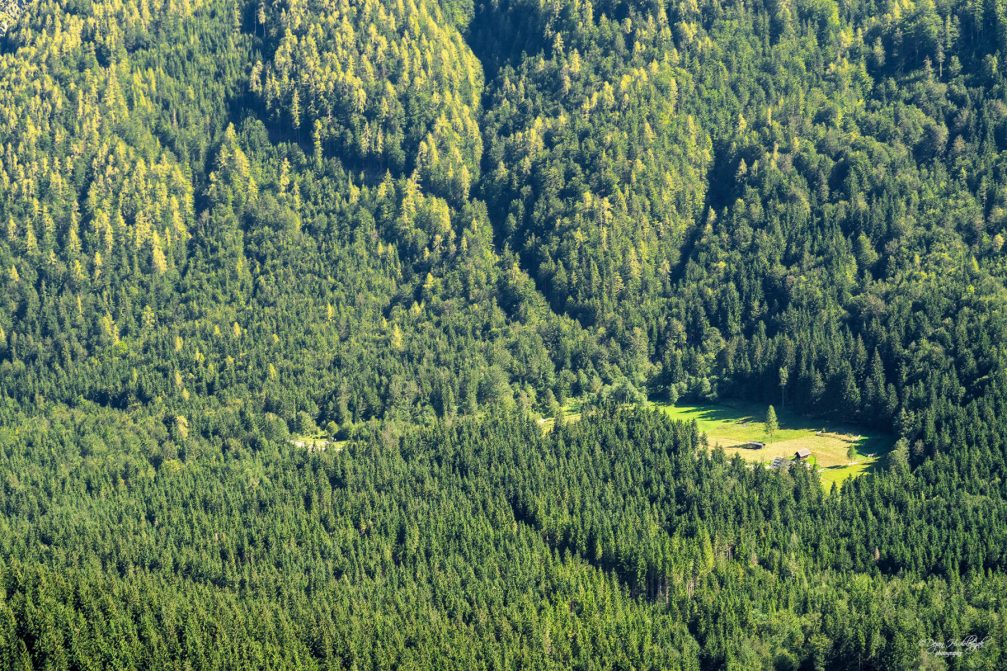 More than 60 percent of Slovenia is covered in forest, making it one of the greenest countries on earth!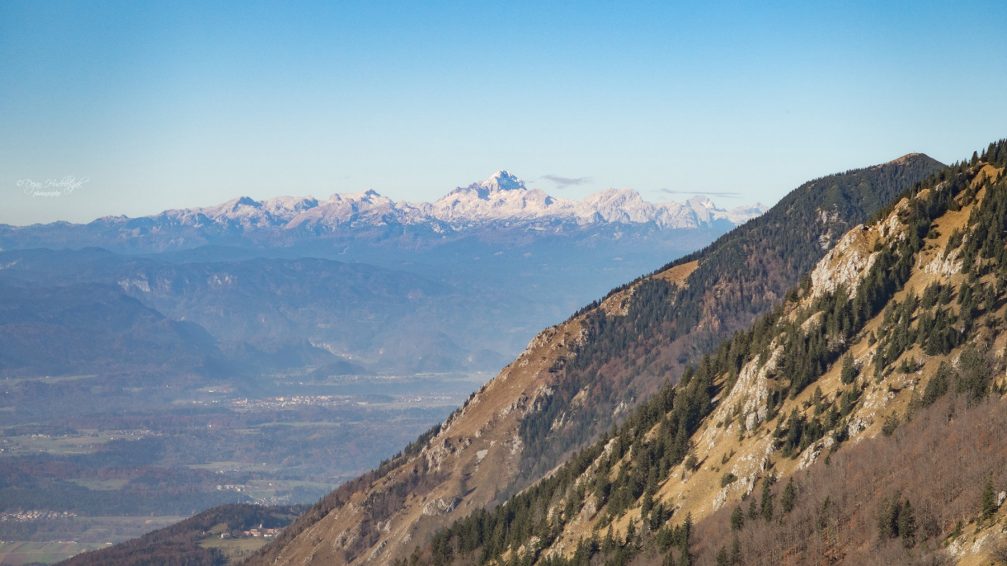 A beautiful view of the Julian Alps with Slovenia's highest peak Triglav (2,864 meters) from Kalisce in the Kamnik-Savinja Alps.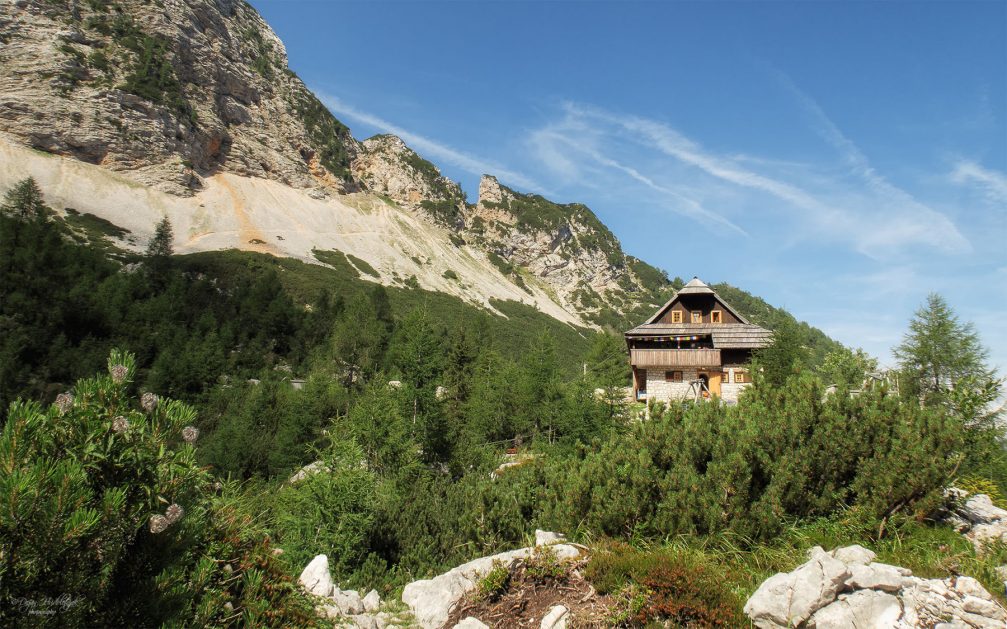 The Ceska Koca mountain hut stands on the Spodnje Ravni cirque above the Ravenska Kocna valley below the northern part of Mount Grintovec, the highest mountain of the Kamnik–Savinja Alps, with an elevation of 2,558 metres. The mountain hut has been named after the Czechs from Prague who built it in 1900.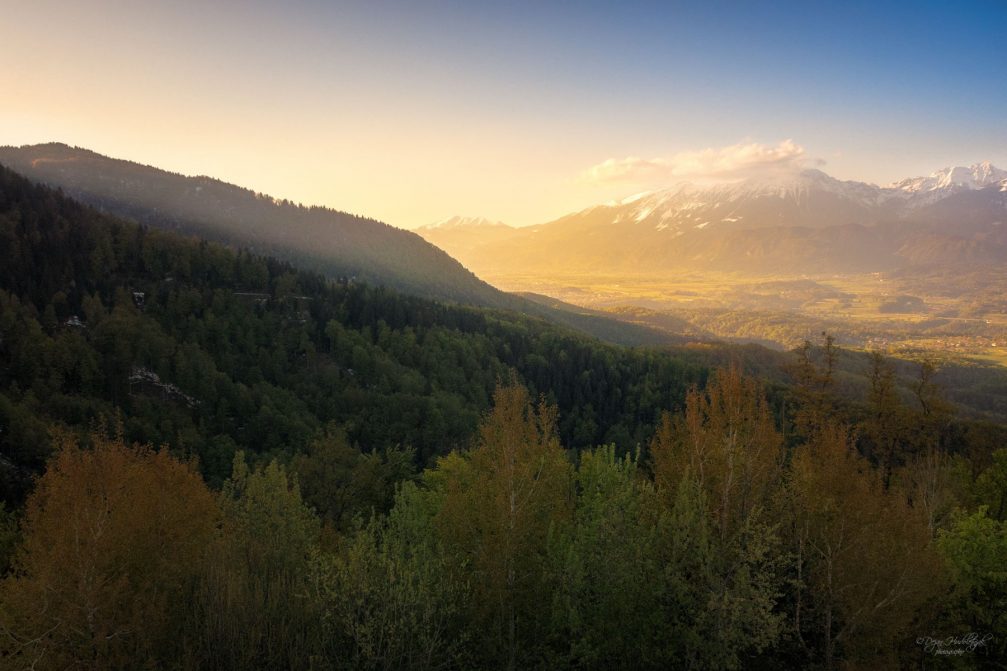 The views from the higher elevations can be spectacular on a clear day.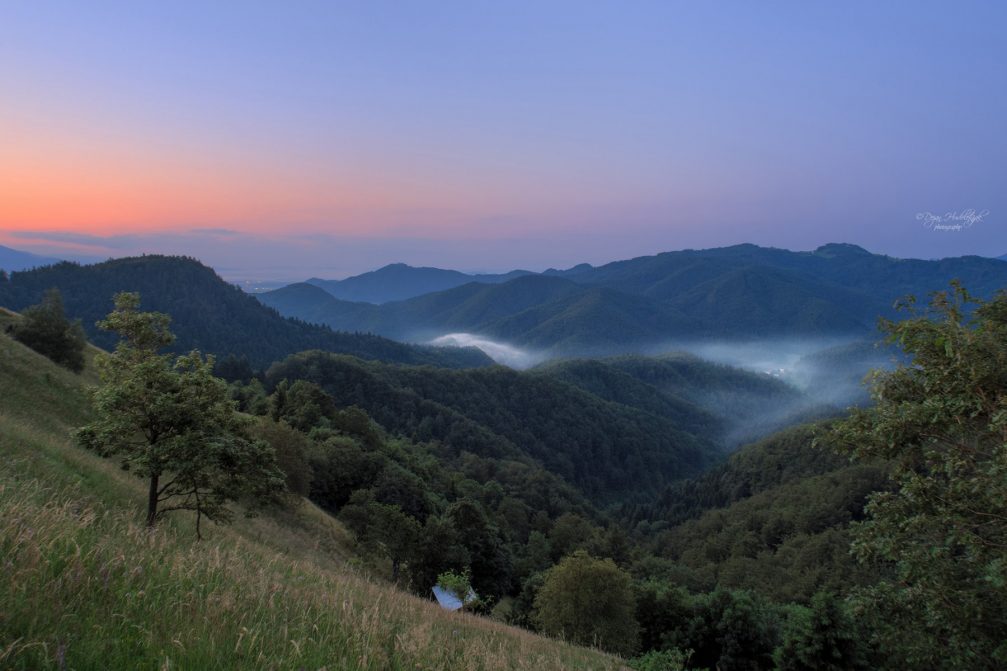 As one of the greenest countries in Europe, Slovenia has a deep sense of natural beauty.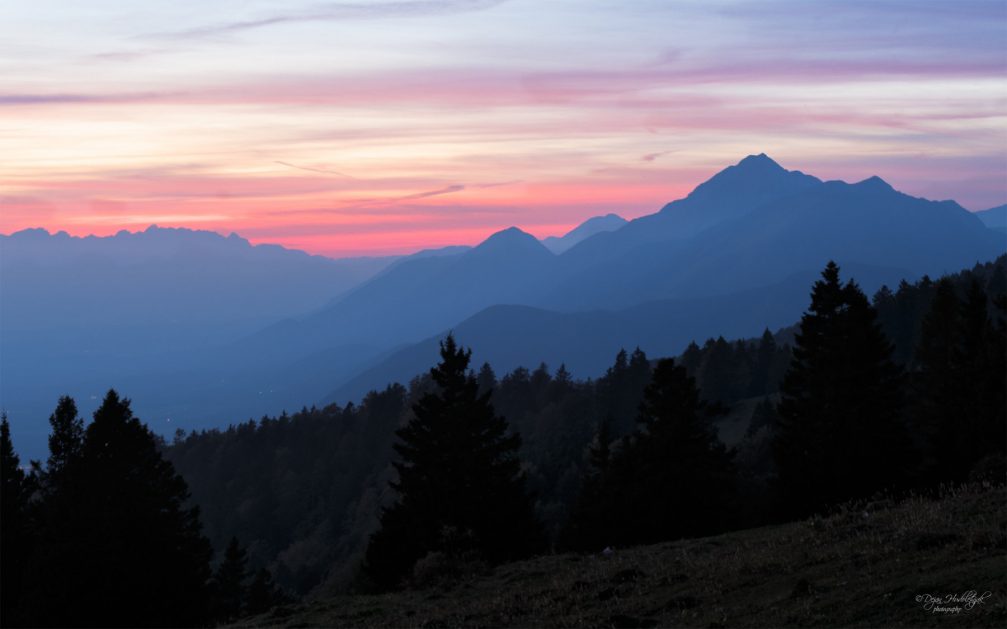 Beautiful mountain sunsets are the best reward after long hiking days.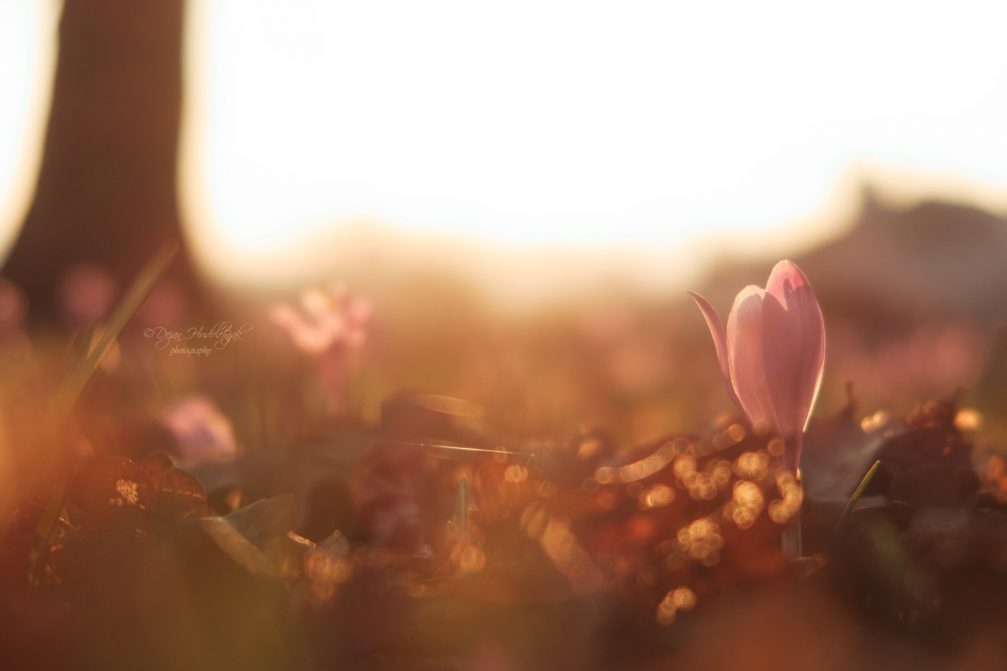 After a harsh and cold winter, spring is such a beautiful and welcome time of year in Slovenia, full of birdsong and spring blossom. It's a time when nature comes alive and reminds us what life is all about! Flowers bloom and everyone starts to smile more as the sun shines brightly and begins to warm our world.

Discover beautiful Slovenia through amazing photos

SLOVENIA, AS SEEN FROM THE AIR (50 photos)
Aerial photography provides you with a breathtaking bird's eye view – one you won't get anywhere else. So, here are 50 spectacular aerial photos that prove why Slovenia might just be the most beautiful country on Earth.
SLOVENIA AT NIGHT (30 photos)
Night has its own magic. Night can transform an ordinary scene into something magical, mysterious and captivating. Light, shadow, texture, tonality, pattern all work together to create a very different feeling compared to photos captured during the day. Everything is just more magical at night, so here are 30 night pictures of Slovenian cities, towns, villages and other places at night. Enjoy!
LANDSCAPE AND NATURE PHOTOS FROM ALL OVER SLOVENIA BY LUKA ESENKO (40 photos)
Luka Esenko is considered by many to be Slovenia's new leading landscape and travel photographer. He has been photographing landscapes for almost a decade now, and through photography he has been blessed to capture some of the most gorgeous locations in Slovenia. Strong compositions and a feel for natural light are what make Luka's images stand out.
AERIAL DRONE PHOTOS FROM AROUND SLOVENIA BY JURE KORBER AND TJASA BORSNAK (35 photos)
With the technological advancements in cameras and drones, we can now get a glimpse of the world from a different perspective. And from high up above, especially with a bird's eye view, the world is a stunningly beautiful place. Jure Korber and Tjasa Borsnak, a young student couple based in Slovenia's capital Ljubljana, took their aerial photography platform called Hexabee into the sky and captured Slovenia from angles not seen before.
LANDSCAPE PHOTOS FROM SLOVENIA BY DEJAN HUDOLETNJAK (50 photos)
Dejan Hudoletnjak is a super-talented and passionate photographer best known for his beautiful landscape photos of Slovenia and wonderful use of light and color. He has an unerring eye for composition and detail, and a great sensitivity to mood, expressed in his photographs through the awareness and use of light. His goal as a photographer is to create an image that not only captures a moment in time, but also tells a story and evokes an emotional response. An image that shares the mood and feelings he felt when being there.
LANDSCAPE AND NATURE PHOTOS FROM ALL OVER SLOVENIA BY DANIEL TOMANOVIC (50 photos)
Daniel Tomanovic is a young and very talented landscape photographer who has been creating images that portray the natural beauty of Slovenia and its landscapes for over 8 years. He believes that finding good light is the most important thing to create great landscape images. Everyone can capture outstanding landscape scenery, but hunting the special light is the true challenge for a landscape photographer. And judging from his works, he is very successful in capturing beautiful locations in the best light.
LANDSCAPE AND NATURE PHOTOS FROM ALL OVER SLOVENIA BY ERICH REISINGER (50 photos)
Erich Reisinger is a 55-year-old German landscape, nature, and urban photographer based in the Bavarian town of Ingolstadt. He has been fascinated with photography since he was a 6-year-old child. He has a special connection with Slovenia. He met his wife in Maribor and Slovenia soon became his second home country. He visits Slovenia several times a year and never forgets to mention how he loves Slovenia and how he will never tire of photographing its immense beauty and infinite variety.
LANDSCAPE AND NATURE PHOTOS FROM ACROSS SLOVENIA BY PIOTR SKRZYPIEC (40 photos)
Piotr Skrzypiec is one of the leading landscape photographers in Slovenia. Born in Nowy Sacz, Poland in 1978, Piotr spent most of his childhood in the south of Poland. After completing his master's degree in geography Piotr moved to Slovenia, where he picked up his first camera in 2008. Through photography, Piotr found a way of communicating about his nature and landscape passion and he quickly established himself as a successful landscape and nature photographer.
LANDSCAPE PHOTOS FROM AROUND SLOVENIA BY DOMEN DOLENC (35 photos)
Domen Dolenc is a young but well-established travel photographer currently based in Zelezniki, Slovenia. Since Domen purchased his first camera in 2005, he has been addicted to photography. He never travels without his camera and loves to capture the beauty he finds throughout the world in his own way - his photographic style is defined by powerful colours, street photography scenes, landscapes, but also moments of everyday life, faces and a very close approach on people.
LANDSCAPE PHOTOS FROM ALL AROUND SLOVENIA BY GREGOR KACIN (40 photos)
Gregor Kacin is a 39-year-old landscape and nature photographer based in the charming little town of Idrija in western Slovenia. He is very fortunate to live in such a beautiful part of the country and he can often be found roaming the countryside, looking for that special moment when the true beauty of nature revels itself.
LANDSCAPE PHOTOS OF SLOVENIA BY ALES KRIVEC (30 photos)
Ales Krivec has a passion for taking photographs and his work features the finest landscapes in Slovenia. He is very much a landscape artist and his work reflects a great understanding and deep love of the countryside and nature. An extensive technical knowledge and a seeing eye enable his photos to convey the beauty of the landscape that surrounds us all.
LANDSCAPE AND NATURE PHOTOS FROM ALL OVER SLOVENIA BY BOJAN KOLMAN (50 photos)
Bojan Kolman is a passionate 63-year-old landscape and nature photographer based in Begunje Na Gorenjskem, a small idyllic village at the foothills of the Karavanke mountain range. Bojan is completely self-taught and learned about photography on the Internet, but he shoots beautiful photographs, possessing an incredible eye for composition. There are so many beautiful things that surround us every day and Bojan strives to reflect that beauty through photography.
LANDSCAPE AND NATURE PHOTOS FROM SLOVENIA BY BRANKO CESNIK (45 photos)
Branko Cesnik is a passionate landscape and nature photographer from Pivka, a small town in the Karst region of southwestern Slovenia. He is 52 years old and has been interested in photography since his school years. Branko tends to shoot in the morning and at the end of the day when the light just either side of sunrise and sunset can transform an already interesting scene into something even more engaging. He firmly believes a good photograph tells a story and creates a feeling within the viewer.
LANDSCAPE, CITYSCAPE AND NATURE PICTURES FROM AROUND SLOVENIA BY JURE KRALJ (45 photos)
Jure Kralj is an incredibly talented photographer based in Slovenia's second largest city Maribor, who combines his love for travelling around the world with his love for landscape and cityscape photography. He is an enthusiastic observer of the surrounding world. When possible, he is looking for the best light, for the right angle at the right moment to capture a compelling image.
LANDSCAPE PHOTOS FROM ALL OVER SLOVENIA BY DENIS SODRZNIK (30 photos)
Denis Sodrznik is a passionate landscape and nature photographer born and raised in the beautiful town of Slovenske Konjice in the Styria region of Slovenia. He strives to capture photographs that convey the beauty of the Slovenian landscapes he explores in his spare time with his fiancée Karmen. His intention is to show the viewer details that we often overlook.
LANDSCAPE AND CITYSCAPE PHOTOS FROM AROUND SLOVENIA BY JAKOB NOC (30 photos)
Jakob Noc is an inspiring landscape and cityscape photographer whose talents allow him to capture the most amazing images in a style that is truly his own. Through careful composition, attention to detail and the creative use of beautiful light, Jakob strives to show us cities and landscapes in ways that we may not have seen them before.
LANDSCAPE PHOTOS FROM AROUND SLOVENIA BY MASA VODENIK (35 photos)
Masa Vodenik is a self-taught photographer who lives in a small town of Hrastnik in central Slovenia. She's an economist during weektime, but on weekends she becomes an ambitious landscape photographer who doesn't want to miss a single second she could have used to take a great photograph. Her passion for photography increased steadily since she started doing photography in 2010. Since then she successfully combines her love for travel and hiking with her enthusiasm for photography.
LANDSCAPE AND NATURE PHOTOS FROM ALL AROUND SLOVENIA BY MIROSLAV ASANIN (50 photos)
Miroslav Asanin is a keen amateur photographer from Sencur, a small town in northwestern Slovenia. His main photographic interests are landscapes and nature though he does photograph wildlife and architecture when he finds them. He especially loves to photograph the amazing landscapes and nature of the Slovenian Alpine area. However he also loves to take day trips to other parts of the country and scout new locations in search of compelling scenes or subjects to photograph.
LANDSCAPE PHOTOS FROM AROUND SLOVENIA BY BLAZ GVAJC (25 photos)
Blaz Gvajc is a landscape and cityscape photographer from Slovenia's third largest city Celje whose passion is to explore and capture the most inspiring and beautiful places in the world. Although being an avid traveler, Blaz also adores his home country Slovenia and loves making spontaneous trips around it when there is promising light, and he will never tire of photographing it.
LANDSCAPE PHOTOS FROM ALL OVER SLOVENIA BY BOSTJAN KERSBAUMER (40 photos)
Bostjan Kersbaumer is a passionate self-taught photographer from Slovenia's second largest city Maribor. He is a car mechanic working at Porsche Maribor during weektime, but on weekends he becomes an ambitious landscape, nature and cityscape photographer with an aim to create memorable images from locations across Slovenia and other parts of the world.
LANDSCAPE PHOTOS TAKEN IN A VARIETY OF LOCATIONS IN SLOVENIA BY SABINA TOMAZIC (40 photos)
Sabina Tomazic is a young but already established professional on-location lifestyle photographer based in Trebnje, Slovenia. Although known primarily as a lifestyle photographer, Sabina also loves to create images that portray the natural beauty of Slovenia and its landscapes. Her landscape photos are realistic with minimal post processing.
LANDSCAPE AND NATURE PHOTOS FROM AROUND SLOVENIA BY JERNEJ LEBEN (40 photos)
Jernej Leben is one of the most talented amateur photographers in Slovenia whose unrelenting passion for his hobby inspires him to capture the beautiful landscapes and nature of Slovenia with absolute perfection.
LANDSCAPE AND NATURE PICTURES FROM ACROSS SLOVENIA BY KLARA KULOVEC (35 photos)
Klara Kulovec is one in a line of talented new Slovenian female landscape photographers who has found her passion with a camera in her hands. She has a heart of an artist and loves nothing more than time with her camera and a scene in front of her to capture the perfect copy of what she saw in her minds' eye. The forms, color and light that shape the landscape are a constant source of her inspiration.
WILDLIFE AND BIRD PICTURES FROM SLOVENIA BY MATEJ KOVACIC (30 photos)
Matej Kovacic is a young and exceptionally talented wildlife and bird photographer dedicated to capturing images of the indigenous wildlife of Slovenia. During his childhood Matej developed a strong fascination for wildlife, birds and nature. When he bought his first camera at the age of 13, he became as passionate about photography. It's hard to photograph wildlife in the wild, but Matej wants to be true, so he stays away from captive animals - all his photos are taken in the wild in Slovenia.
LANDSCAPE PHOTOS FROM THE STYRIA REGION OF SLOVENIA BY PETER ZAJFRID (40 photos)
Peter Zajfrid is a well-respected and very passionate amateur landscape photographer who loves capturing the beauty of this world through photography. He enjoys the outdoors and nature, and photography provides him with a medium to capture and share this with others. He especially loves creating images that portray the beauty of the Styria region of Slovenia and its landscapes.
FINE ART LANDSCAPE PHOTOS OF MARIBOR AND ITS SURROUNDING AREA BY UROS LEVA (25 photos)
Uros Leva is a versatile freelance artist – photographer, graphic designer and screenwriter. He has been living in Slovenia's second largest city Maribor for his whole life and never fails to be overawed by the beauty of the city. His connection to Maribor began the moment he was born and the more Uros experiences this city, the further he falls in love. When Uros is behind the camera, his goal is to bring out the beauty of Maribor and its surrounding area for all to see.
LANDSCAPE AND NATURE PHOTOS OF THE LAKE BOHINJ AREA AND THE JULIAN ALPS BY GREGOR SKOBERNE (35 photos)
Gregor Skoberne is one of the most talented and passionate landscape and nature photographers in Slovenia. Completely self-taught, Gregor is primarily focused on the unique local landscape and nature found in the Lake Bohinj area with an aim to capture the spirit and the essence of the moment in his photographs.
NATURE AND LANDSCAPE PHOTOS OF THE TRIGLAV NATIONAL PARK BY WALLE GREVIK (35 photos)
Walle Grevik is a passionate nature and landscape photographer, hiker, and traveler based in Helsingborg, Sweden. He has traveled to many countries around Europe including Iceland, Faroe Islands, Scotland, Ireland, and Greece. This year, he and his hiking partner, Fredrik Vestlund, decided to visit Slovenia and do a 9-day hiking adventure through the Julian Alps and Triglav National Park. Walle took some really beautiful photos during this hiking tour, and he was kind enough to share some of them with us here at Travel Slovenia.
LANDSCAPE PHOTOS OF THE SLOVENIAN ALPS BY MASA VODENIK (20 photos)
The Slovenian Alps are a part of the Southern Limestone Alps with three high-Alpine mountain ranges, the Julian Alps, the Karawanks and the Kamnik-Savinja Alps. They take up a large part of Slovenia and are full of incredible trails for all levels of hiking ability. They are lower compared with those in Austria and Italy, but with their beauty they surpass anything you may see in the Alps in Europe. All the photos in this gallery were taken by Masa Vodenik. She's an avid hiker who spends most of her weekends in the mountains and she never forgets to take her camera with her.
LANDSCAPE AND NATURE PHOTOS OF THE SLOVENIAN ALPS BY MIROSLAV ASANIN (40 photos)
Miroslav Asanin is a very enthusiastic, amateur photographer from Sencur, a small town in the Gorenjska region of Slovenia. His passion for photography began four years ago when he got his first proper camera - a Canon EOS 600D, after that there was no stopping. His primary interests has always been on shooting landscapes and different sceneries found throughout Slovenia and especially in the Slovenian Alps and its Triglav National Park.
FINE ART NATURE AND LANDSCAPE PHOTOS OF THE VRHNIKA COUNTRYSIDE BY ROBI DEBEVC KVOCKA (30 photos)
Robi Debevc Kvocka is a self-taught photographer based in Vrhnika, whose fine art nature and landscape photographs celebrate the natural beauty of the Vrhnika countryside. When Robi is behind the camera, his goal is to bring out hidden beauty of the Vrhnika area for all to see. His style, which is recognisable through the artistry of his photographs, is born of a keen eye for the many moods of the natural landscape and a life-long passion for the nature and the great outdoors.
SLOVENIA (30 photos)
A fascinating capital, charming coastal towns, beautiful alpine villages, stunning natural attractions, and much more - enjoy this wonderful selection of absolutely the most beautiful pictures of Slovenia, taken either by professional photographers or amateur photo enthusiasts.