About The Photographer
Miroslav Asanin is a keen amateur photographer based in Sencur, a small town in the vicinity of Kranj, the capital of Gorenjska region, which is part of the Slovenian Alpine area. He is lucky enough to live in an area of outstanding natural beauty which inspires him daily. His main photographic interests are landscapes and nature though he does photograph wildlife and architecture when he finds them. He tries to take his camera with him everywhere he goes, as one never knows when he's going to spot an amazing shot.
Miroslav's interest in photography started in 2012 when he got his first proper DSLR camera, a Canon EOS 600D. With the convenience and immediate feedback of the DSLR cameras he soon became hooked on spending time in nature and creating images of the unbelievable beauty of the landscape under many different conditions. His main photography haunts are around the northwestern part of Slovenia, which is home to some of the most beautiful and diverse scenery in Europe. Miroslav especially loves to photograph the amazing landscapes and nature of the Triglav National Park and the Slovenian Alps. However he also loves to take day trips to other parts of the country and scout new locations as much as possible in search of compelling scenes or subjects to photograph.
Below is a selection of landscape and nature photos from around Slovenia that Miroslav Asanin kindly shared with us. And if you like Miroslav's photographs, you are welcome to check out his Facebook and Instagram pages for more of his work. You can also contact him anytime if you are interested in purchasing a print for any image you see there or if you have any questions or would just like to chat about great spots for taking photos in Slovenia or anything else, for that matter.
Photo Gallery
A picture gallery containing 50 beautiful landscape and nature photos from all over Slovenia by Miroslav Asanin.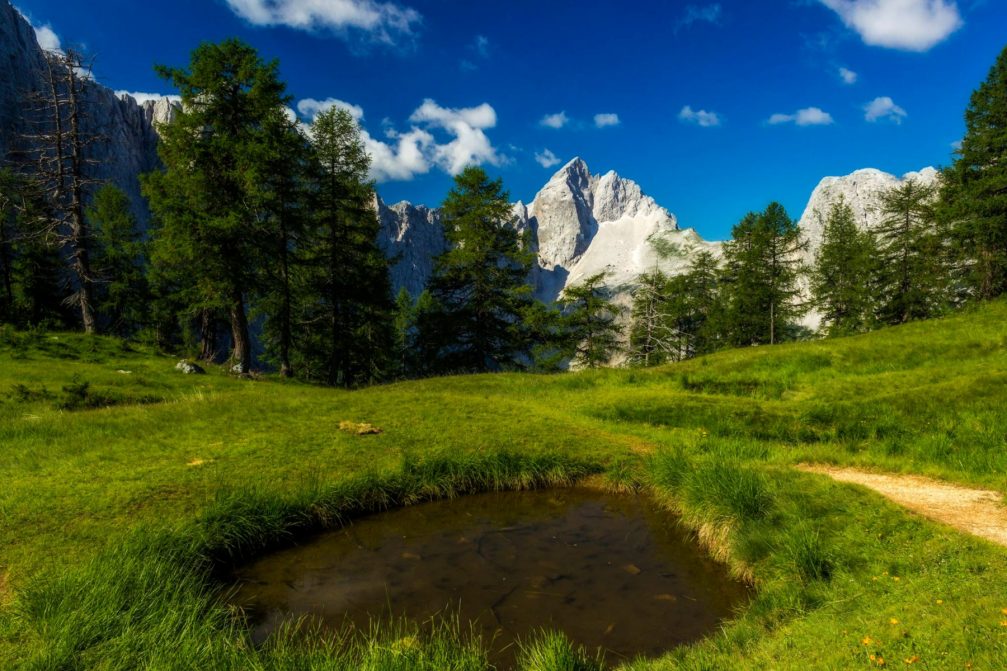 The Triglav National Park covers an area of over 800 square kilometres (4% of Slovenian territory), almost across the entire area of the Julian Alps in northwestern Slovenia. It is one of the largest and oldest national reserves in Europe and an undiscovered hiker's paradise — a pristine, visually striking world of rocky mountains. It's crowd-free and teeming with beauty, history and exciting hiking options ranging from short and relaxing walks to single-day excursions to challenging and strenuous multi-day long adventures.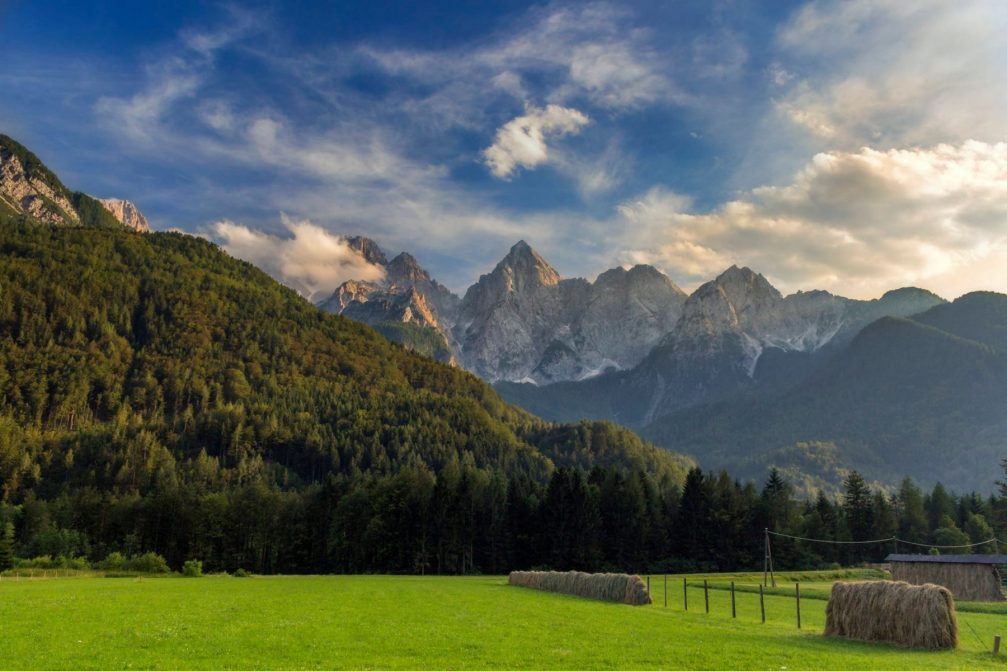 The Upper Sava Valley or Zgornjesavska Dolina as it is called in Slovene is tucked between the unspoilt nature of the Triglav National Park in the Julian Alps and the Karavanke mountain chain, in the utmost northwestern part of Slovenia, close to borders with Austria and Italy. It is an idyllic spot to live and enjoy nature and offers spectacular mountains views and scenery.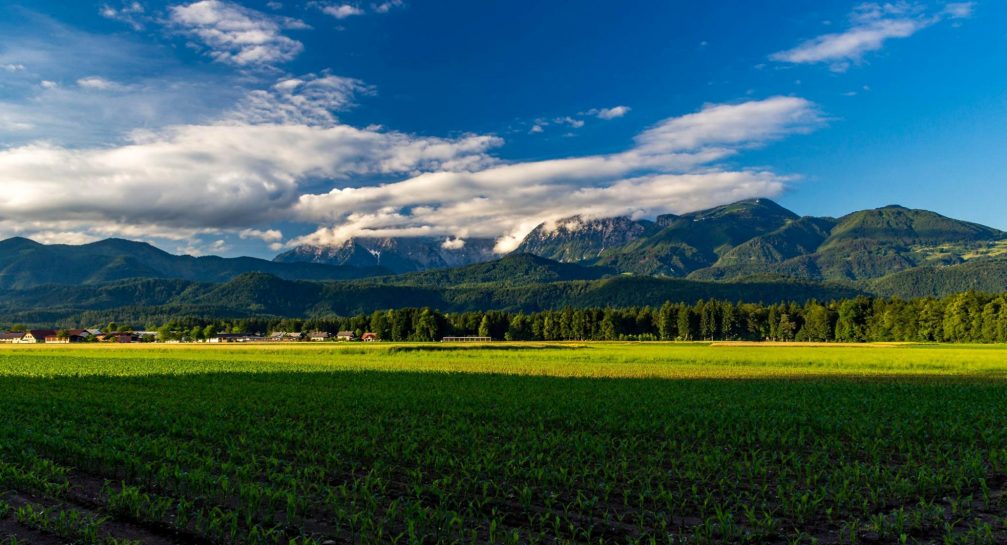 Every spring the fields in Slovenia are plowed, making the soil ready to receive the seeds that the farmer has chosen to plant. Maize, wheat, oat, spelt, triticale, rye, buckwheat and barley are the most spread cereals while sugar beets, soybeans, sunflowers and rapeseed are the most spread industrial crops.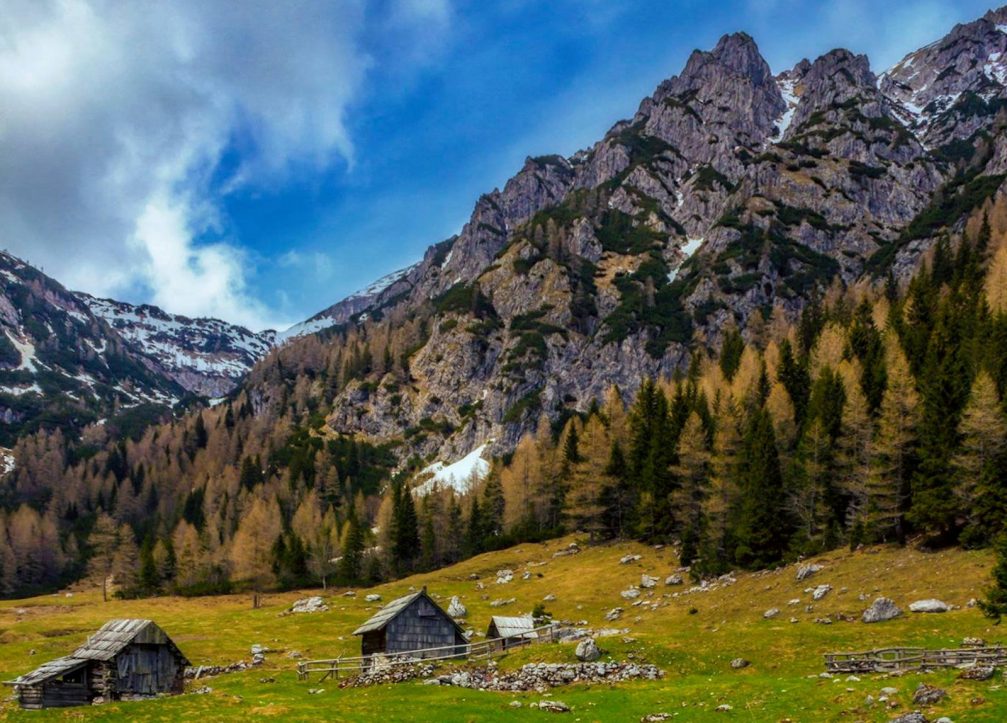 At an elevation of 1,438 meters (4,717 feet), Konjscica is a beautiful alpine meadow on the Pokljuka plateau dotted with several shepherd's huts, one of which has been converted into a cheese dairy.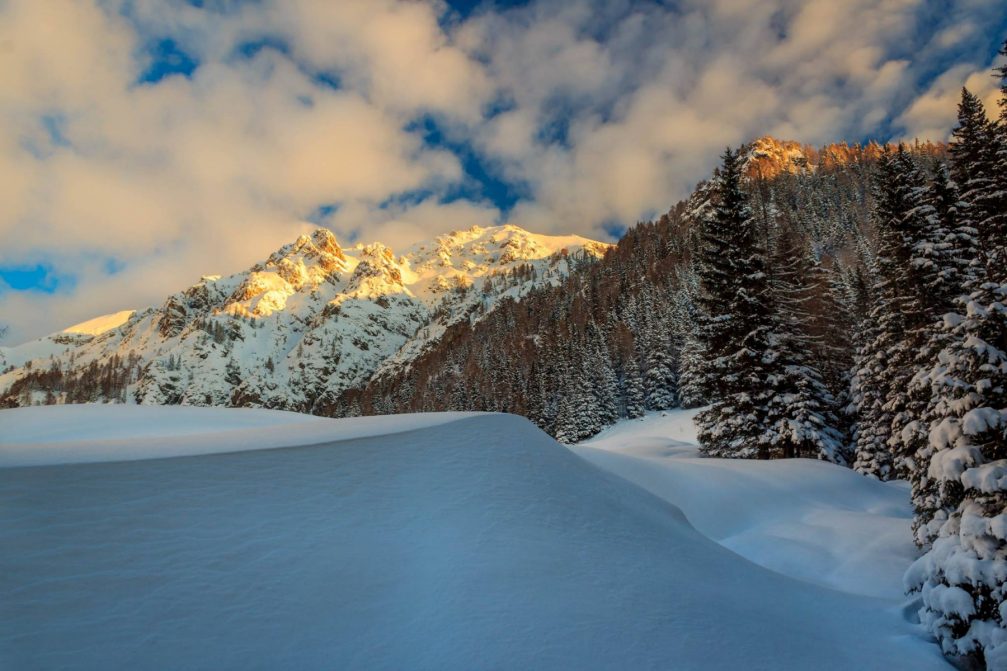 In winter, the Konjscica alpine meadow feels like a magical fairytale with a thick covering of snow, which could last from late November until April.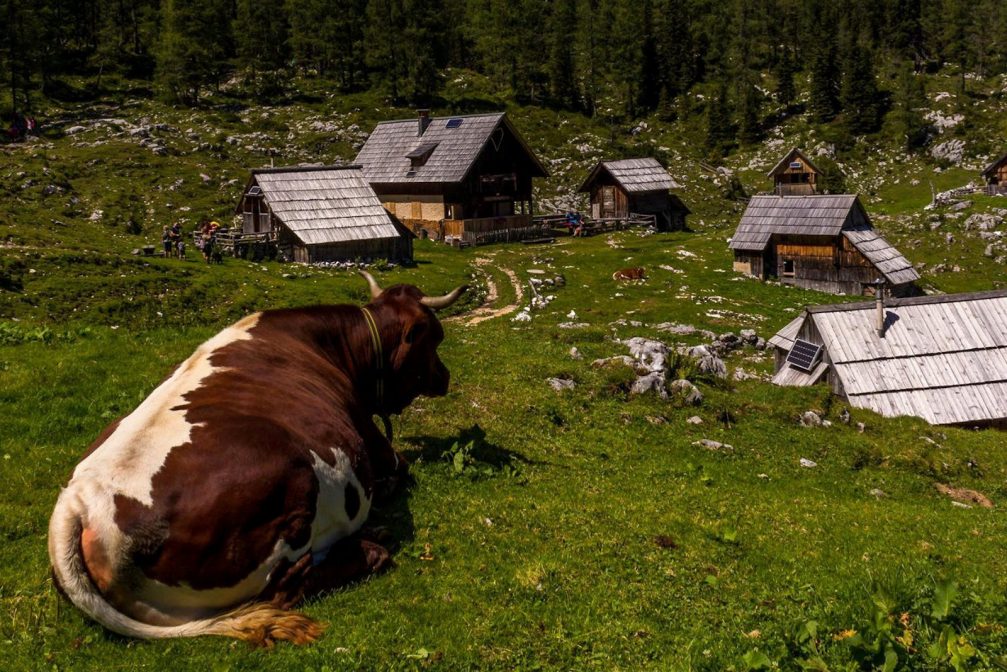 Dedno Polje is a high altitude pasture area in the Julian Alps at an elevation of 1,560 meters (5,118 feet). Though most of the shepherds' huts have been converted into weekend vacation dwellings, local farmers still produce cheese, sour milk and other dairy products here which are available for sale during the summer months (from June to September).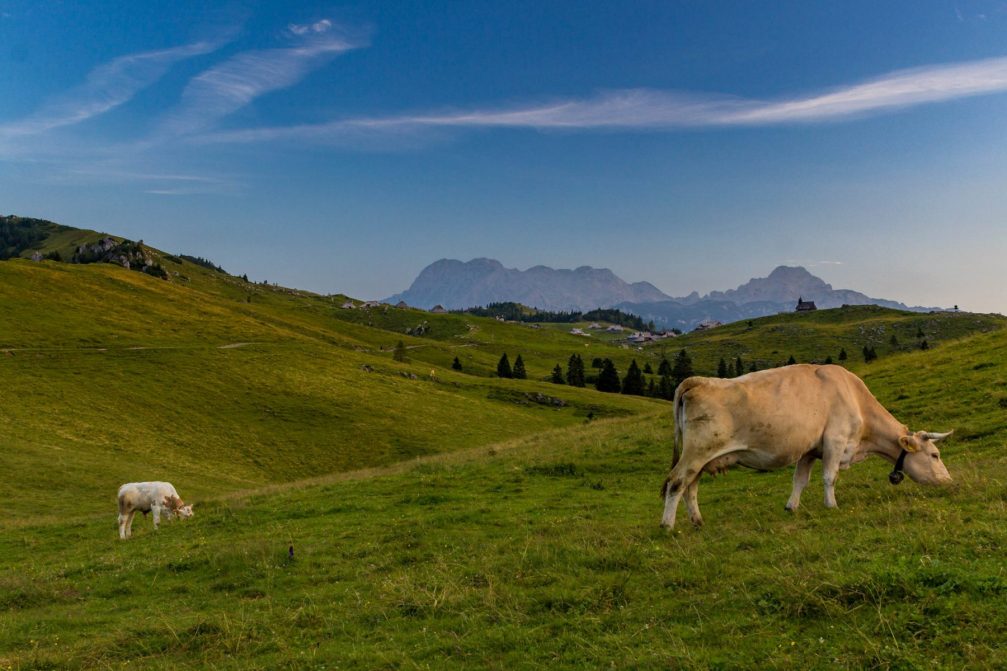 Located in the heart of the Kamnik-Savinja Alps in northern Slovenia, Velika Planina is one of Europe's largest and most beautiful Alpine pastures. Local herdsmen drive cattle up from the valleys to Velika Planina each June and remain here, with their livestock, for the rest of the summer season.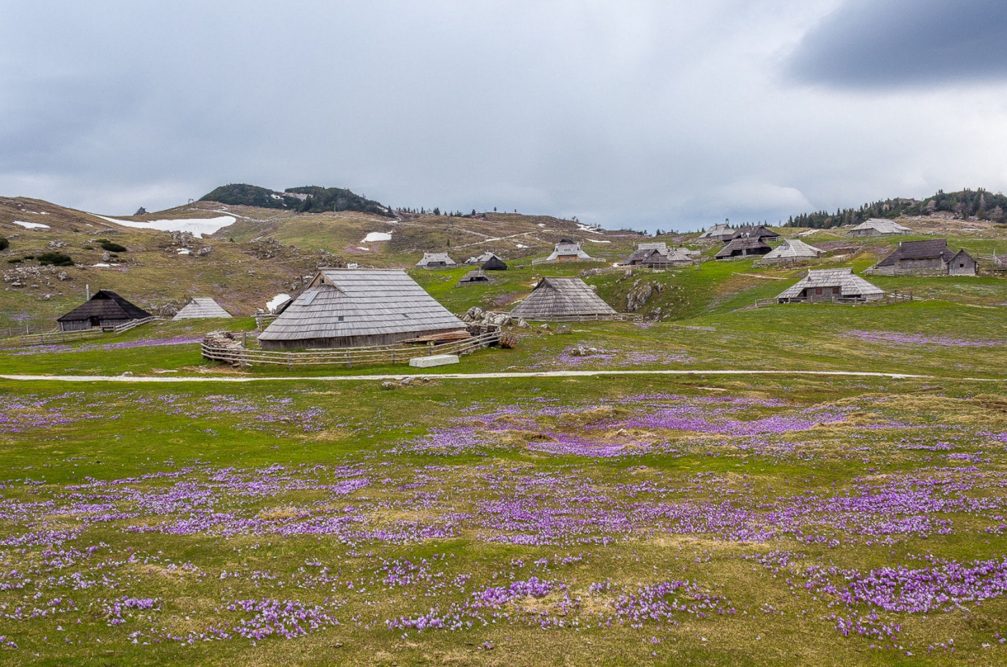 Velika planina is dotted with semicircular wooden huts that cannot be found anywhere else on the planet. Designed to provide shelter for both humans and livestock, the unique huts date back to the Middle Ages and are among the most interesting examples of vernacular architecture in Slovenia.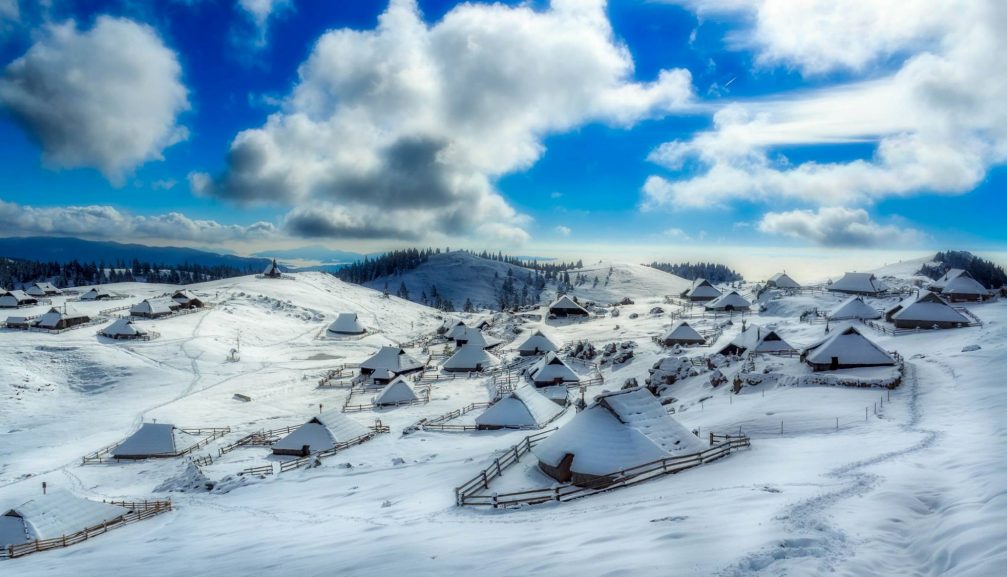 Some visitors have likened the Velika Planina high-elevation settlement to a Hobbit village. And there is indeed something fairytale-like about Velika Planina, especially in winter when it really looks like something out of a story book with all those wooden little huts hidden under a thick covering of snow.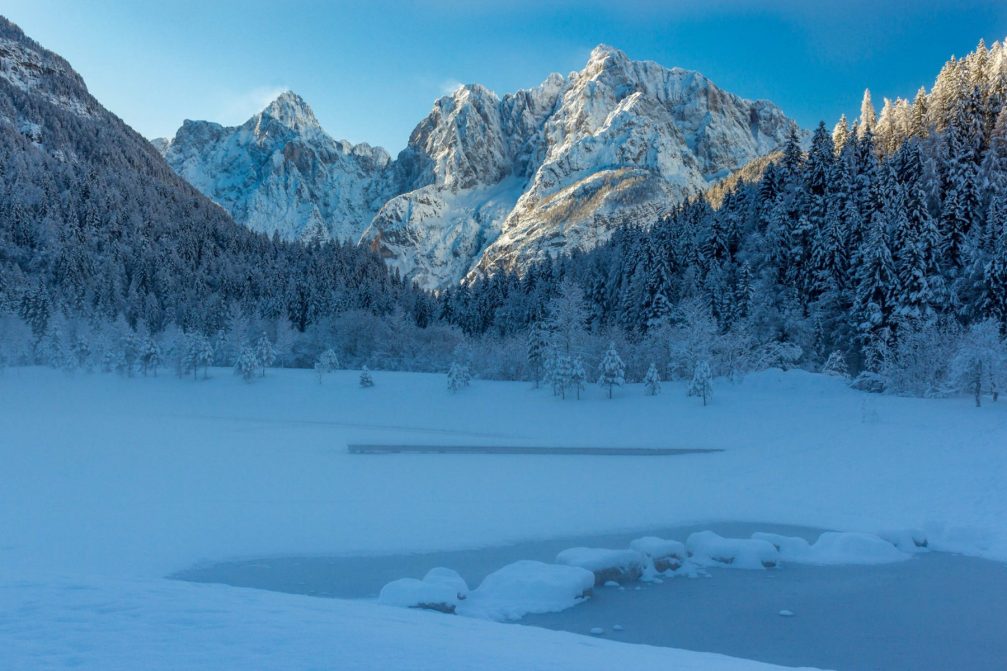 With the Julian Alps as a dramatic backdrop, Lake Jasna is just one of the many incredible natural sights around the village of Kranjska Gora in the far northwestern corner of the country. In winter, the lake freezes and is covered with snow.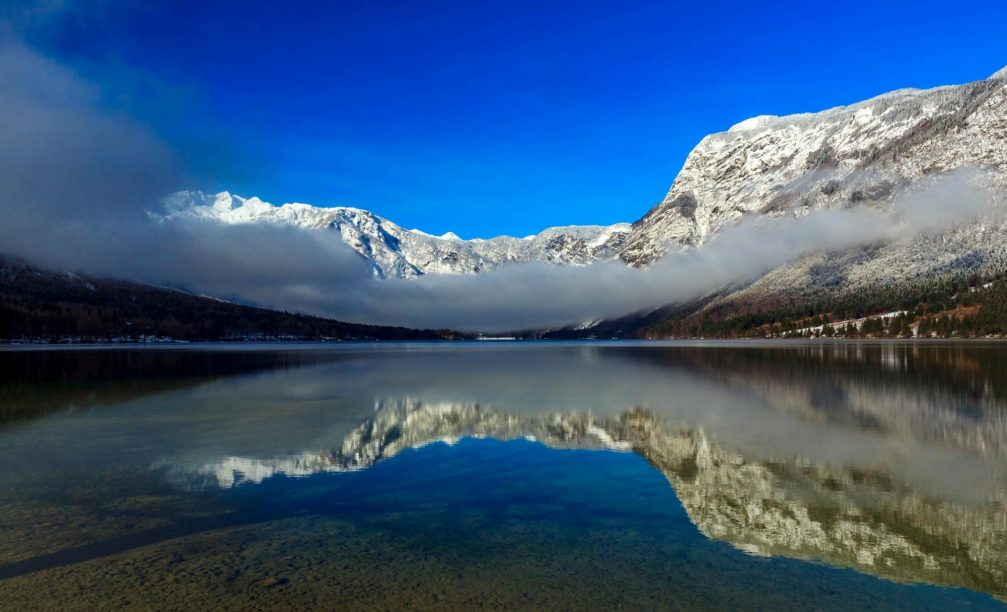 Tucked into the southeastern corner of Triglav National Park, Lake Bohinj is Slovenia's largest lake with high mountains on almost all sides. Fed by crystal-clear mountain streams, it is perfect for swimming and kayaking and a great base from which to explore the hiking trails in the Julian Alps. In winter, the frozen lake provides a great opportunity for ice skating.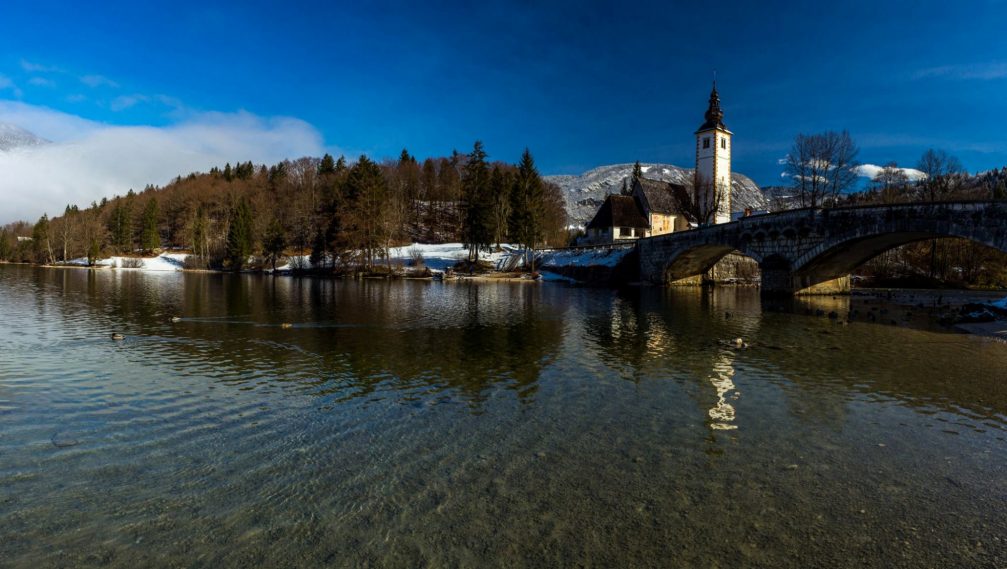 The Church of St John the Baptist stands opposite the small stone bridge and offers great views of Lake Bohinj. The church is the most interesting building in the Bohinj area. It has its origins in the 13th century, but has undergone several revamps throughout its rich history and now features a baroque-style bell tower, the 14th-century frescoes and the 17th-century altars. On the outside wall is a faded mural of St. Christopher with baby Jesus on his shoulder.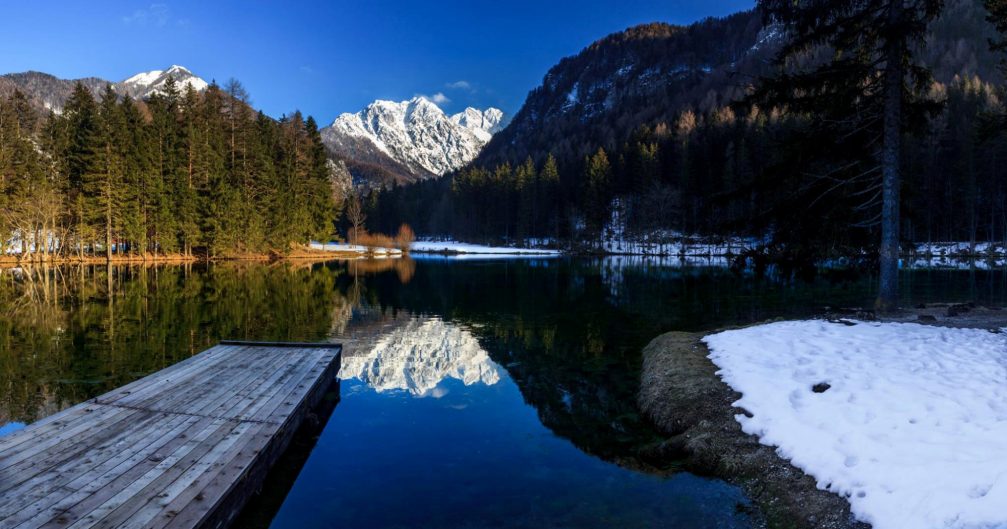 There used to be a big lake in the Jezersko valley that disappeared due to a severe earthquake in 1348, which explains how the valley got its name – 'Jezersko' being Slovene for lakeland. About half a century ago, a group of Jezersko locals created a man-made lake, in the shape of a heart – the beautiful Plansarsko Jezero Lake. A homage to the big glacial lake of the past. During the summer, you can fish or boat in the clear water of the lake. In the winter, expect crowds of locals skating across the frozen surface. This is a very special place that you don't want to miss!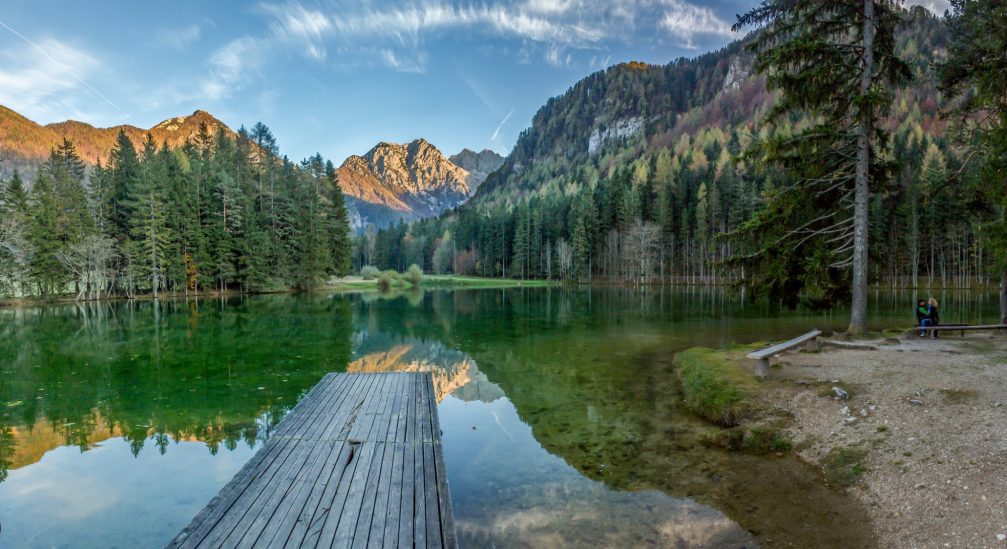 The Plansarsko Jezero lake itself is stunning, thanks in part to the location right at the base of a mountain. However, it is the color and clarity of the water that makes it such an unusual and unforgettable destination.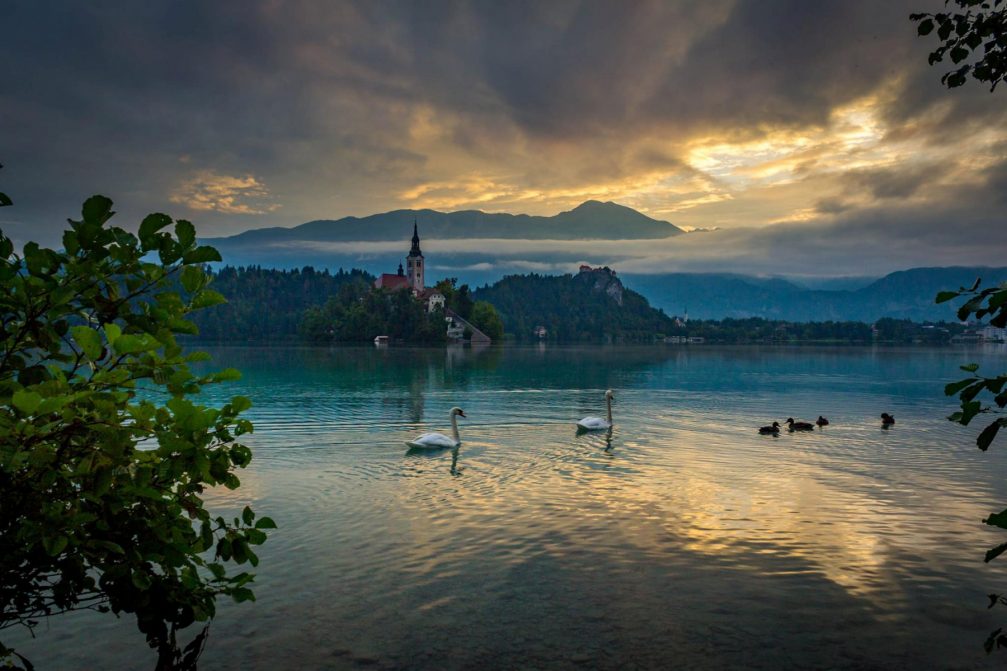 There are many lakes in Slovenia, and they are popular both with travelers and local residents. The most famous and picturesque one is definitely Lake Bled. It is a beautiful lake with a small island in the middle. The castle that stands on an imposing 120 metre high rock and the Karavanke mountain range behind it provide a stunning backdrop to this lake.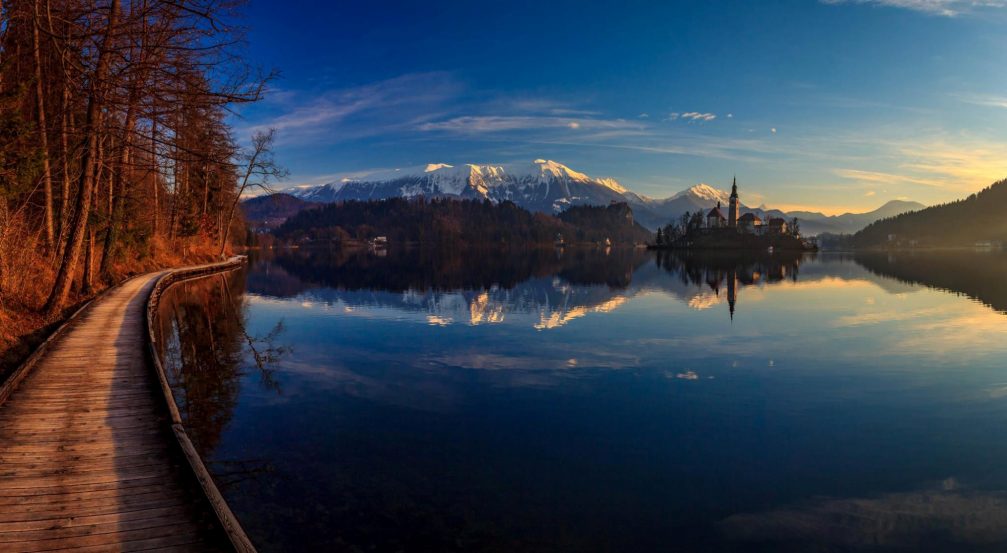 The entire circumference of Lake Bled can be walked in about an hour (6 kilometres) and is a landscape photographer's dream come true! There are so many picture perfect photo opportunities throughout the walk.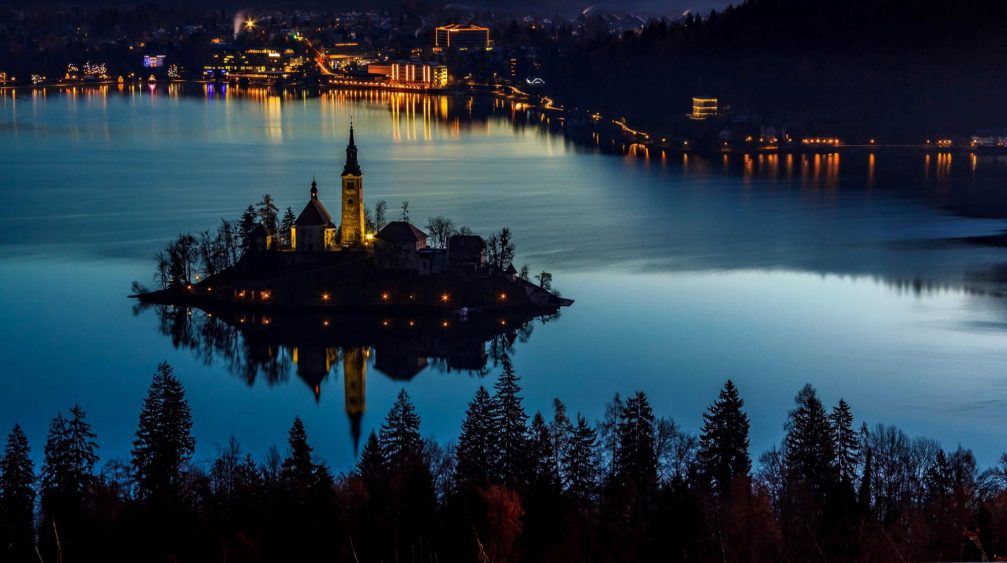 Lake Bled is a lovely, picturesque small lake with a small island in the middle. The beautiful old Gothic Church of the Assumption is located on the island. To get to it, you must hire a Pletna, Slovenia's version of a gondola.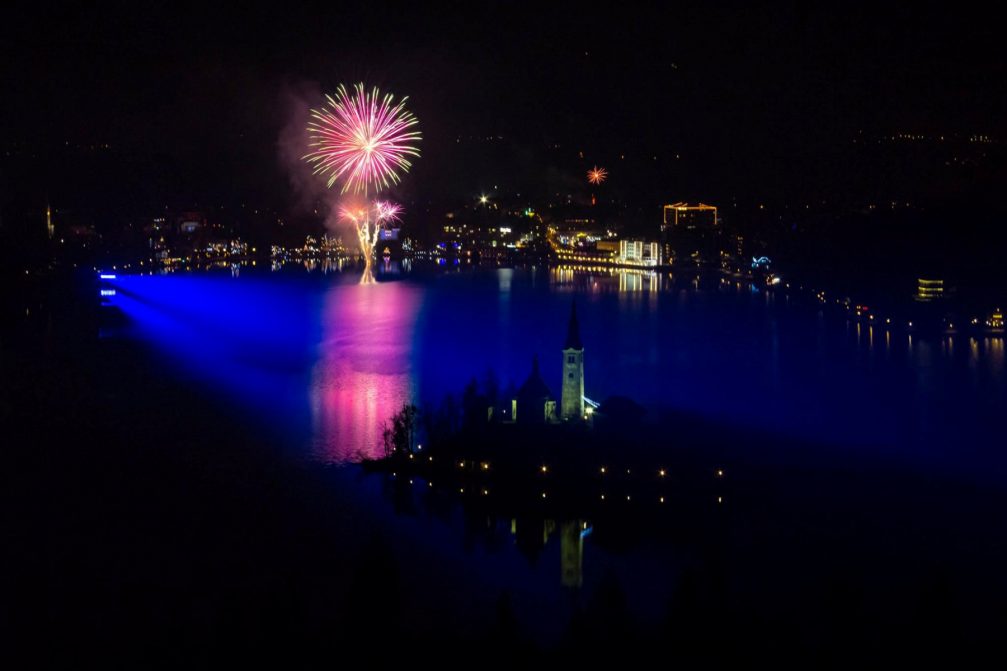 There's probably no better place to spend a New Year's Eve than Bled.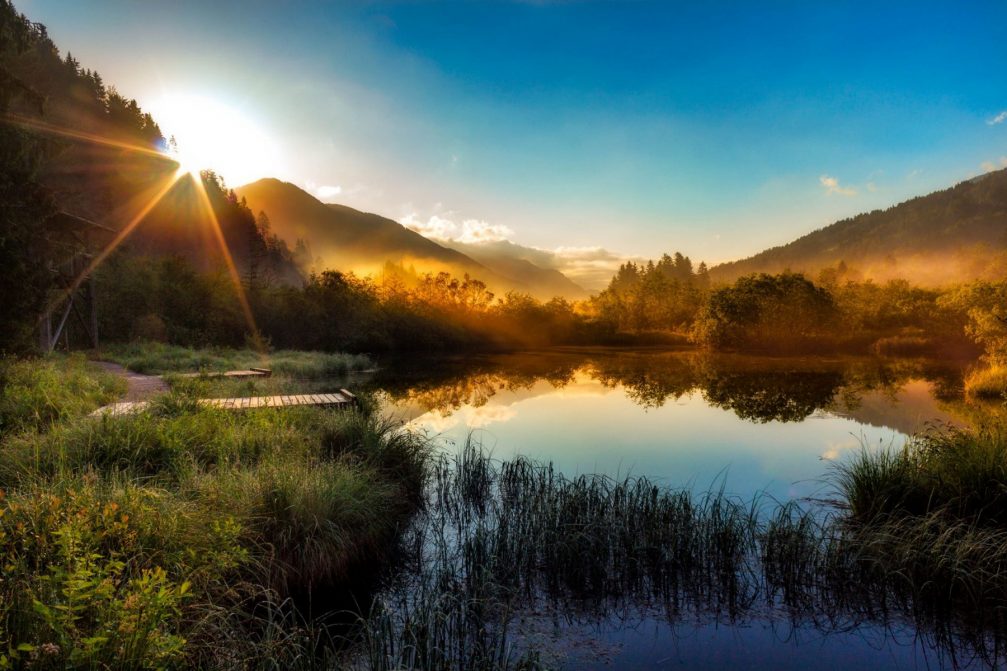 The Zelenci nature reserve is named after the small lake at the western end of the wetlands, whose waters are noted for their dark green colour, thanks to layers of lake chalk. The present lake is the remnant of a much larger lake that existed here after the last Ice Age.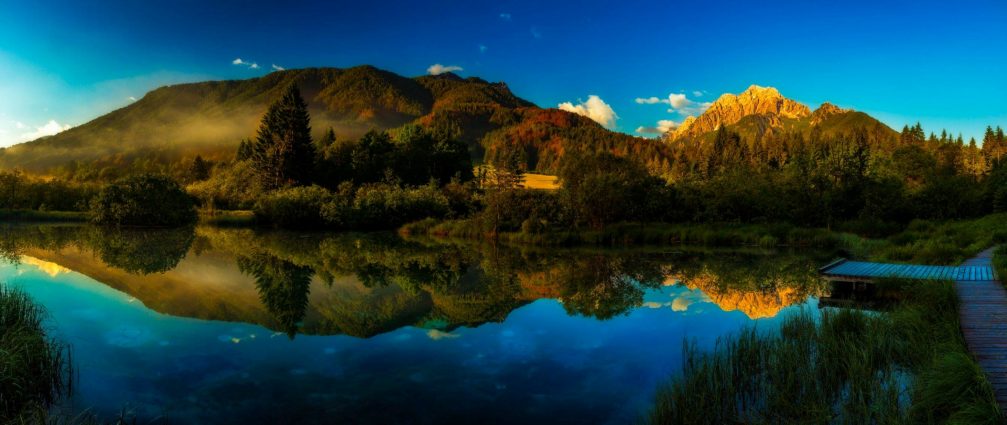 Zelenci has always been admired by those who appreciate and enjoy the beauty of nature and its magical ways of creating things. Sir Humphry Davy, the famous English scientist, was among those who fell in love with this place. Since 1992, Zelenci has been designated as a natural reserve.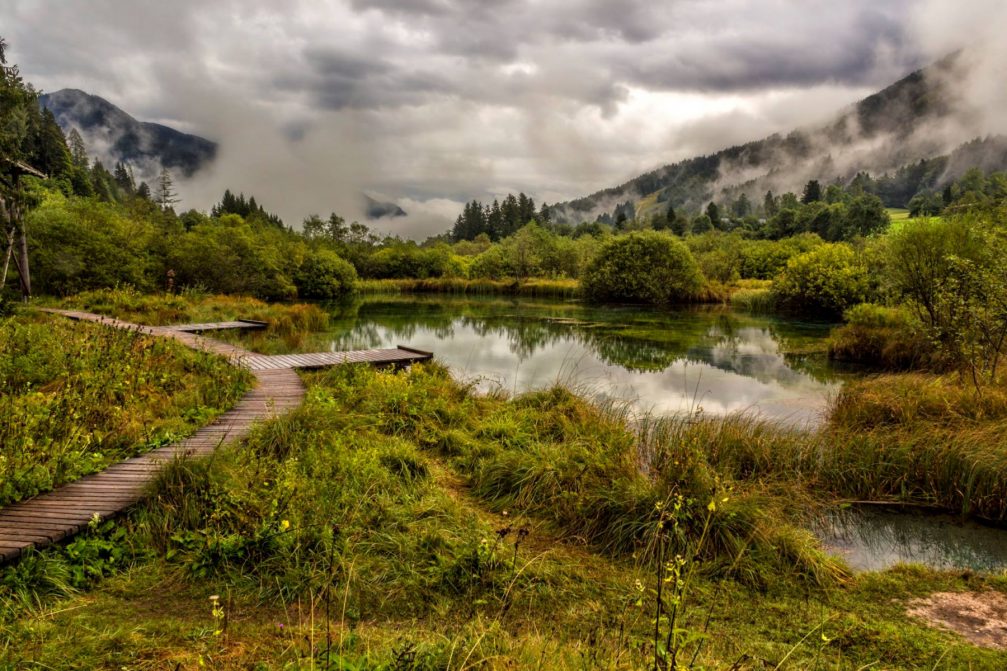 The picturesque appearance of the Zelenci lake and surrounding area attracted numerous painters, including Ladislau Benesch. Today, the Zelenci nature reserve is an inspiration for landscape photographers who unanimously agree that it's almost impossible to take a bad photo here. But the beauty of the Zelenci nature reserve is not only superficial. It hides small treasures, which can't be found anywhere else in the world, or which are extremely rare: wetlands plants, such as the critically endangered slender sedge and brown beak sedge, and two carnivorous sundew species. The nature reserve is also home to a variety of endangered animal species, mostly amphibians, and several rare birds.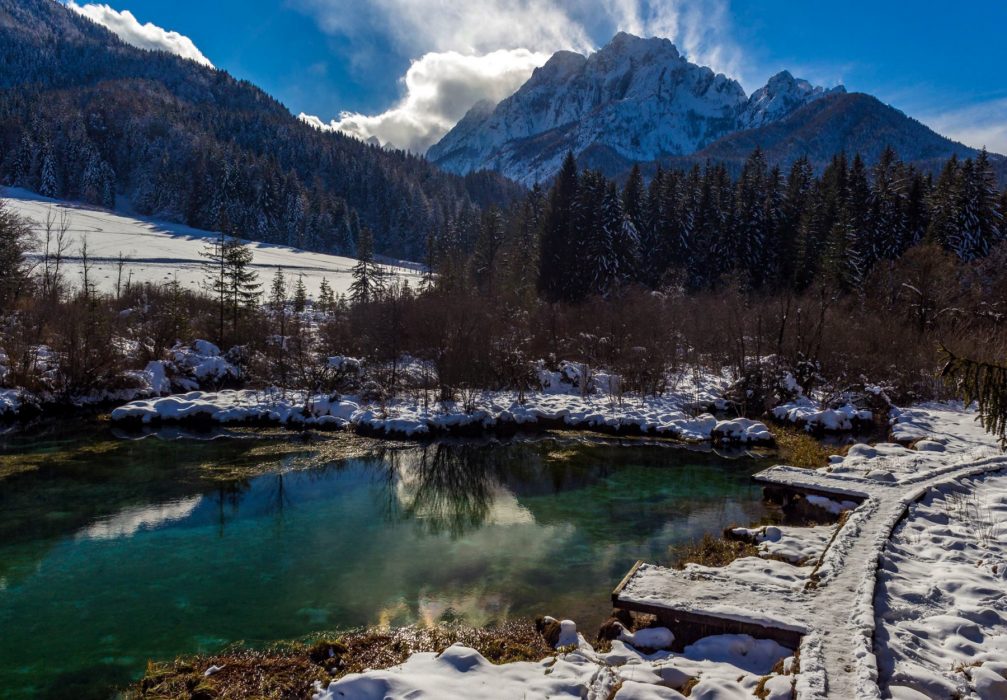 Interestingly, despite the most freezing temperatures and harsh and cold winters in this Alpine area of northwestern Slovenia, the Zelenci lake never freezes. The water has a permanent temperature of 5-6 degrees Celsius throughout the year.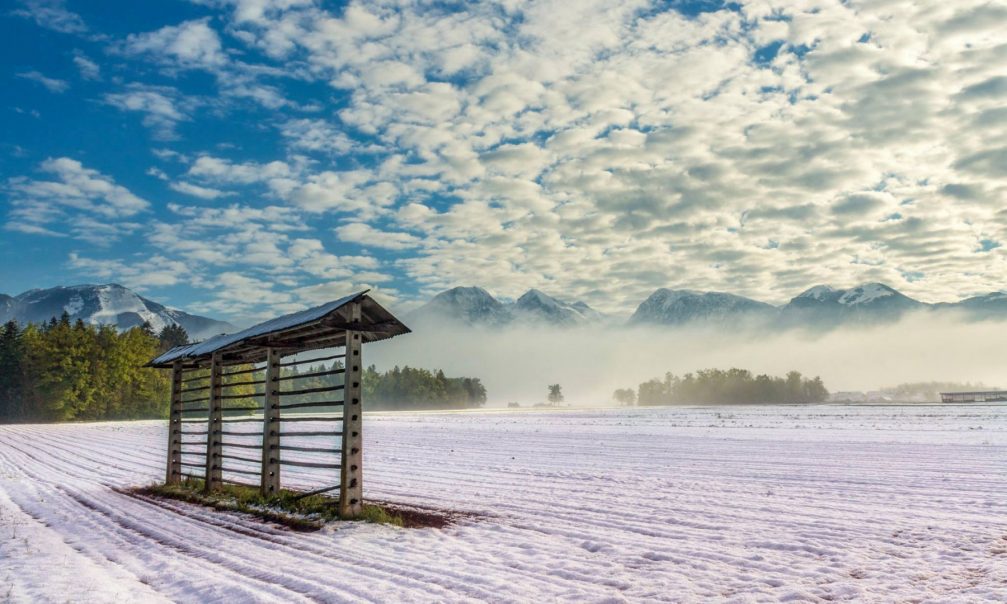 Hayracks or Kozolci as they are called in Slovene are seen almost everywhere around the country. They were developed over time and out of necessity as the damp Alpine regions were not well suited for drying out the hay on the ground. Hayracks come in several varieties: single or double stacked, with and without small roofs, all wood or later versions of concrete pillars and wood slats.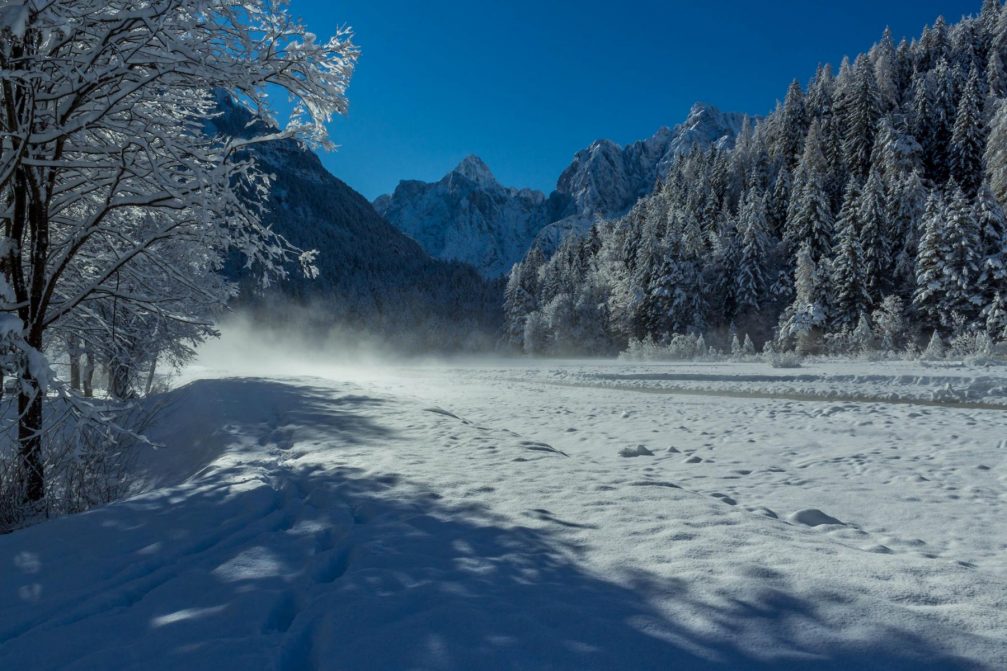 The winter season in the Slovenian Alpine area tends to be quite long and stretches between December and mid-March. Winter weather is cold, with freezing nights and plenty of snow.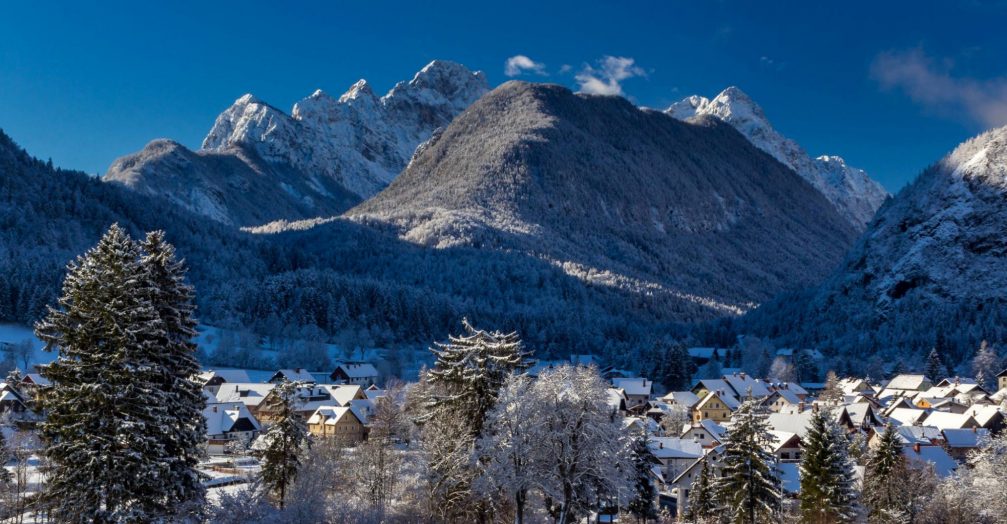 Mojstrana is a charming alpine village situated between the Julian Alps and the Karawanks mountain chain in the utmost northwestern part of Slovenia.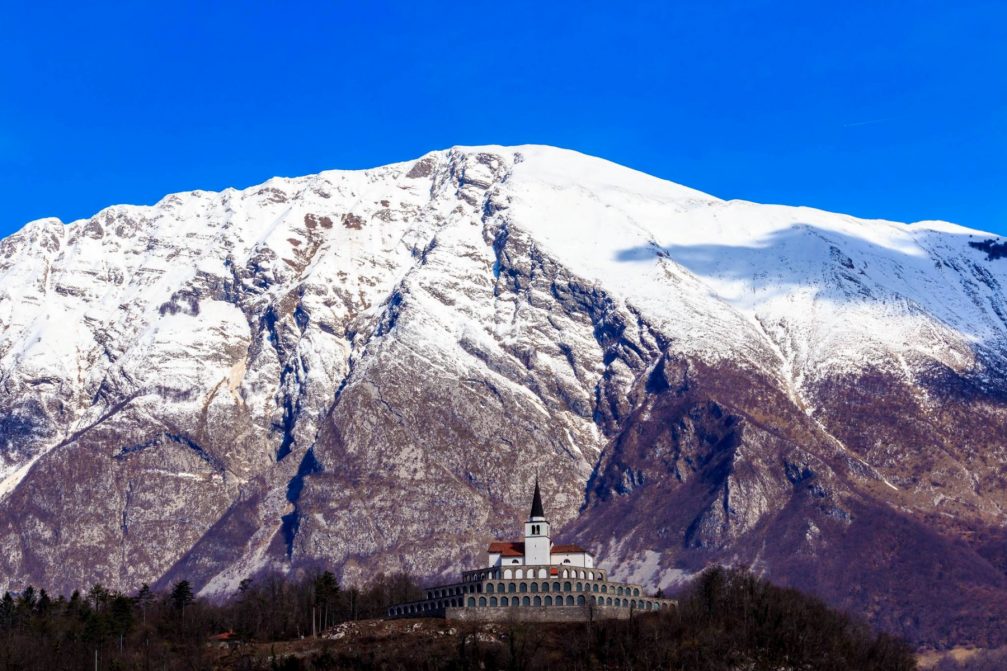 The Caporetto Italian Ossuary houses the remains of 7.014 Italian soldiers who were killed in the infamous Battles of Caporetto during the First World War. It is a fortress-like building on a small hill above the town of Kobarid in northwestern Slovenia, of concentric octagonal terraces ascending towards a small church dedicated to St. Anthony of Padua, which was consecrated in 1696.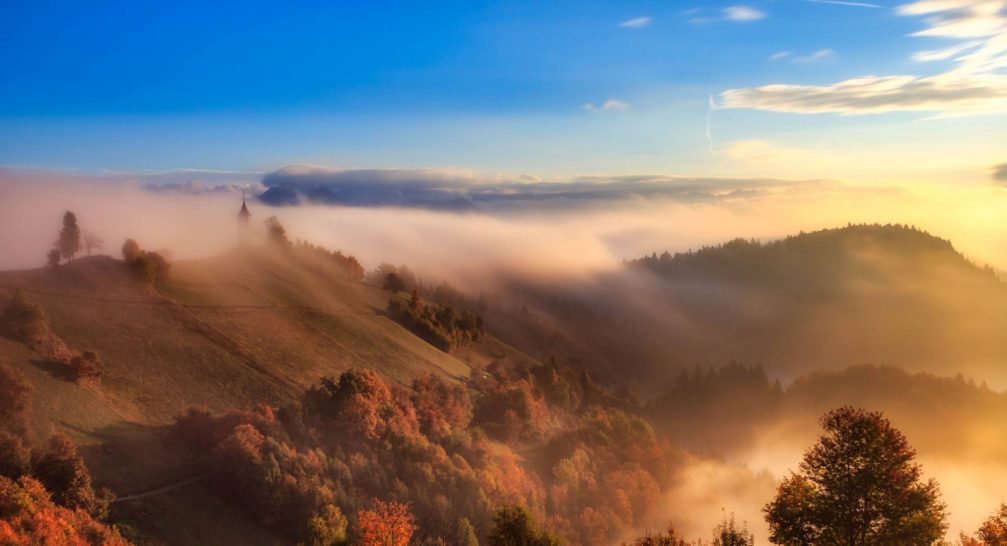 While visiting Slovenia, you will notice there are many hilltop churches in the country. For a classic postcard view of Slovenia with a hilltop church, visit Jamnik, a small village on the eastern slopes of the Jelovica Plateau in northwestern Slovenia. The local church just above the village, dedicated to Saints Primus and Felician, is built at an impressive location on a hill with the Slovenian Alps as a backdrop.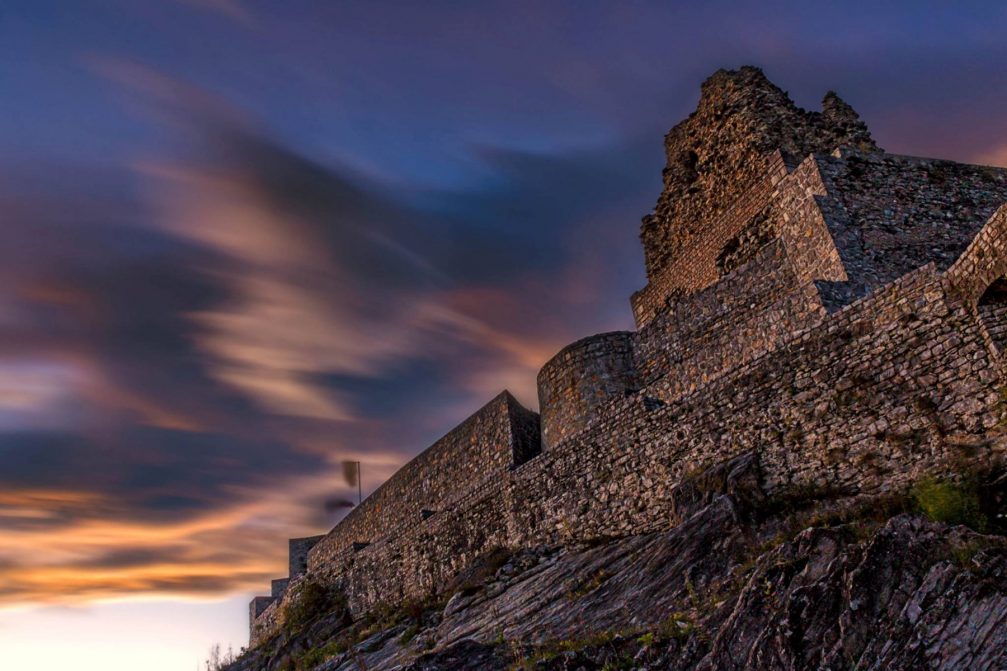 The best known landmark of the Smlednik area in northwestern Slovenia is the Old Castle which was first mentioned in documents dating to 11th century. The castle was then expanded in many phases, but remained unaltered after 1610, and is considered one of the most important examples of the architectural development of a medieval castle in Slovenia. Over the last decade, the castle has been undergoing renovations, particularly its lower southern walls. The main challenge, however, will be the renovation of the central tower, which was nearly 30 metres high.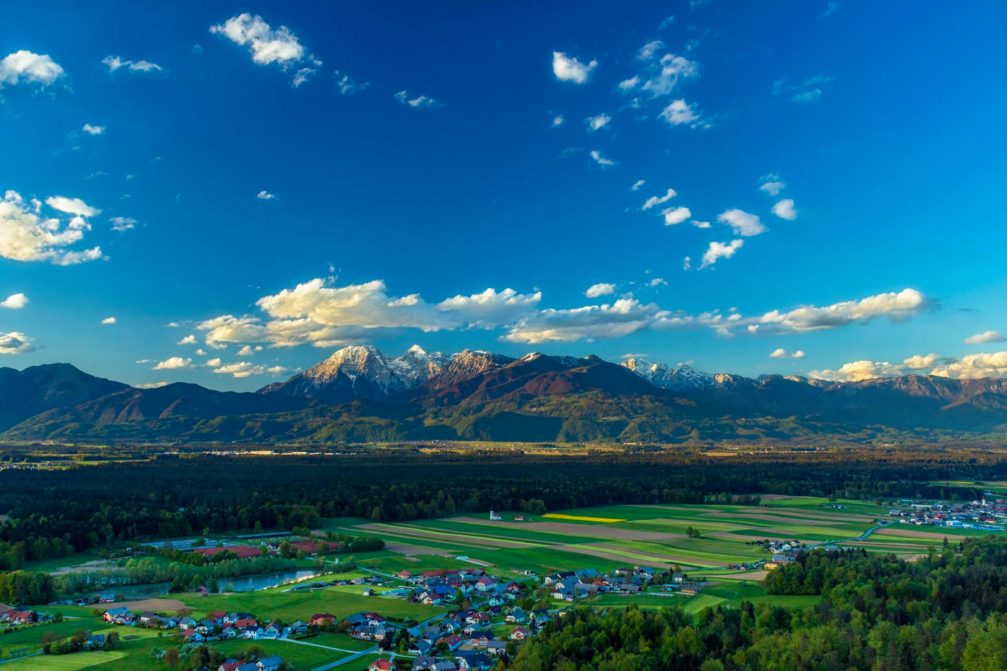 Hrase is a typical Slovenian village, surrounded by farmland and mountain vistas. The local church, built outside the main settlement, is dedicated to Saint James and was first mentioned in the historical record in 1118.


Waterfall Boka (to the left, on the photo) is the highest waterfall in the country with a sheer vertical drop of 106 meters. It's especially breathtaking in the spring, when the snow in the mountains is melting. It's located about 5 kilometres southwest of Bovec, a lovely small town that lies in the beautiful Soca Valley (to the right, on the photo).


Slovenians are avid walkers, hikers and trekkers, with plenty of trails packed into nearly every corner of the Slovenian Alpine area that appeal to and provide offerings to those of every level, from the technically difficult ascents in the Julian Alps to the more accessible hikes in the Alpine foothills.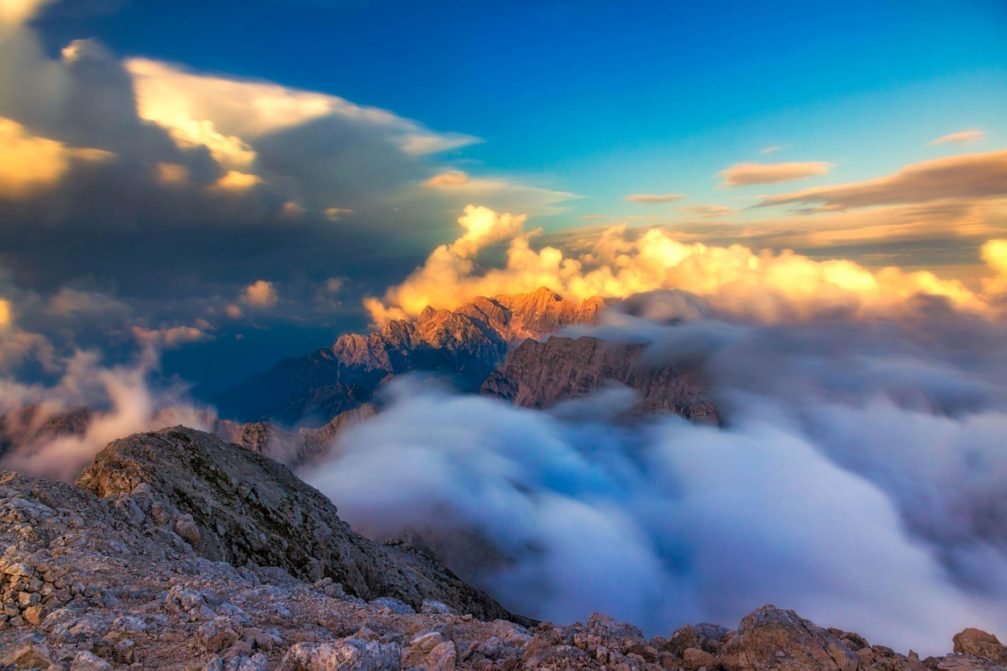 Mangart is a mountain in the Julian Alps, located on the Italian-Slovenian border. With an elevation of 2,679 metres, it is the 3rd highest peak in Slovenia. It is a very popular mountain with several trails that lead to the summit, which offers fantastic views in all directions.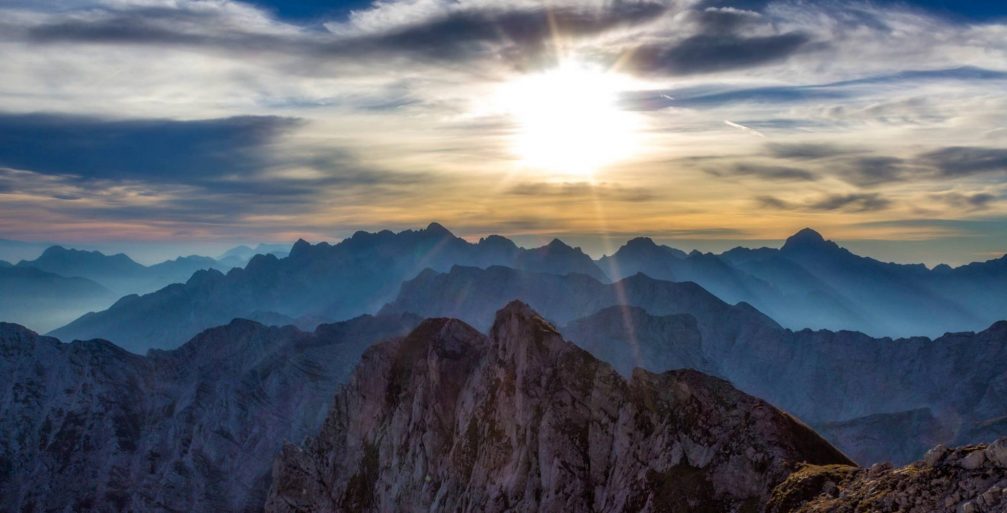 Sunrises in the Alps are quite as glorious to behold as sunsets, but unfortunately very few people rise early enough to see them.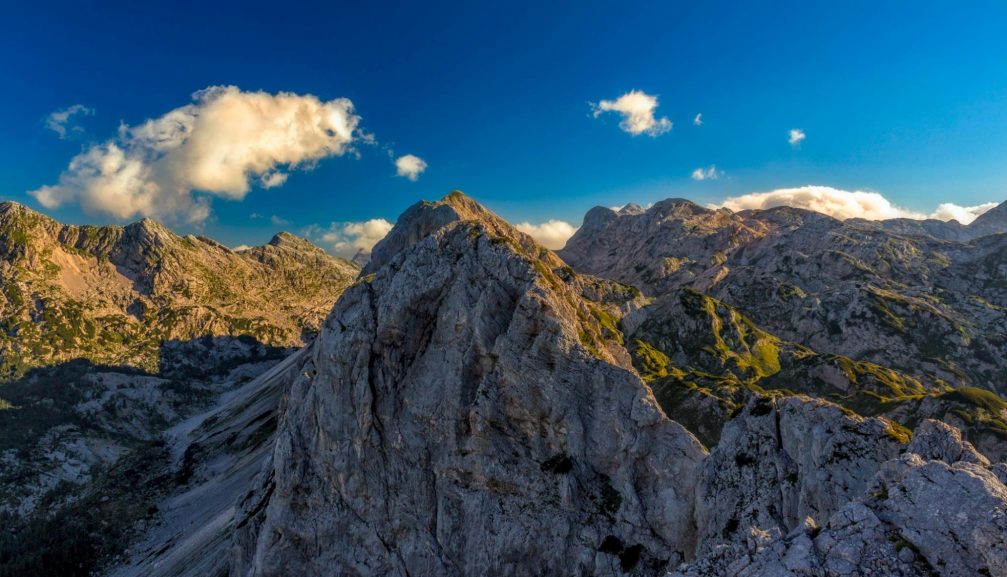 This beautiful view of the 2,091-meter-high Mt. Velika Ticarica can be seen from the summit of the 2,071-meter-high Mt. Mala Ticarica. On the left is the Triglav Lakes Valley and on the right is the Za Kopico Valley.

One of the most popular peaks in the alpine area of northwestern Slovenia, with one of the most beautiful views on the highest peaks of the Julian Alps, is the 2,332-meter-high Mala Mojstrovka. It's very easily accessible from the south side (from the Vrsic mountain pass), while the north one presents more of a challenge.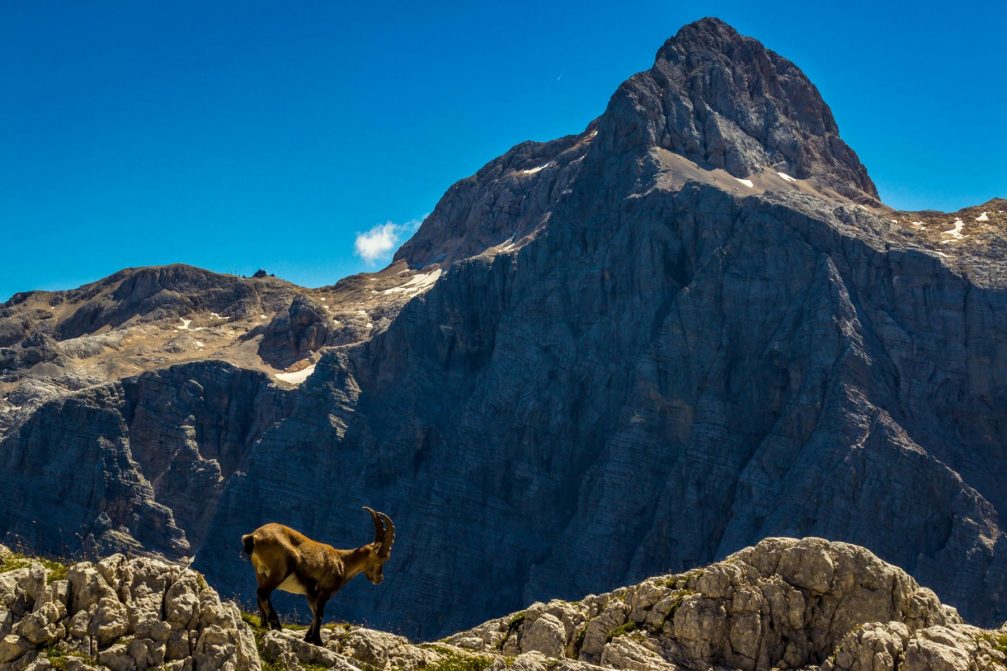 The alpine ibex is a mountain goat that lives high up in the mountains of the European Alps. It's instantly recognizable by the male's large scimitar-shaped horns which are ridged in the front. Ibex were hunted to extinction in the early 19th century. By 1856 only 60 Alpine Ibex remained in the Gran Paradiso National Park in Italy. Some of these ibex were smuggled into Switzerland and Slovenia around 1890 in an effort to reinstate ibex in the European Alps. Ibex is now no longer an endangered species. They are frequently sighted in the most rocky and wild regions of the Julian Alps, especially in the Triglav National Park.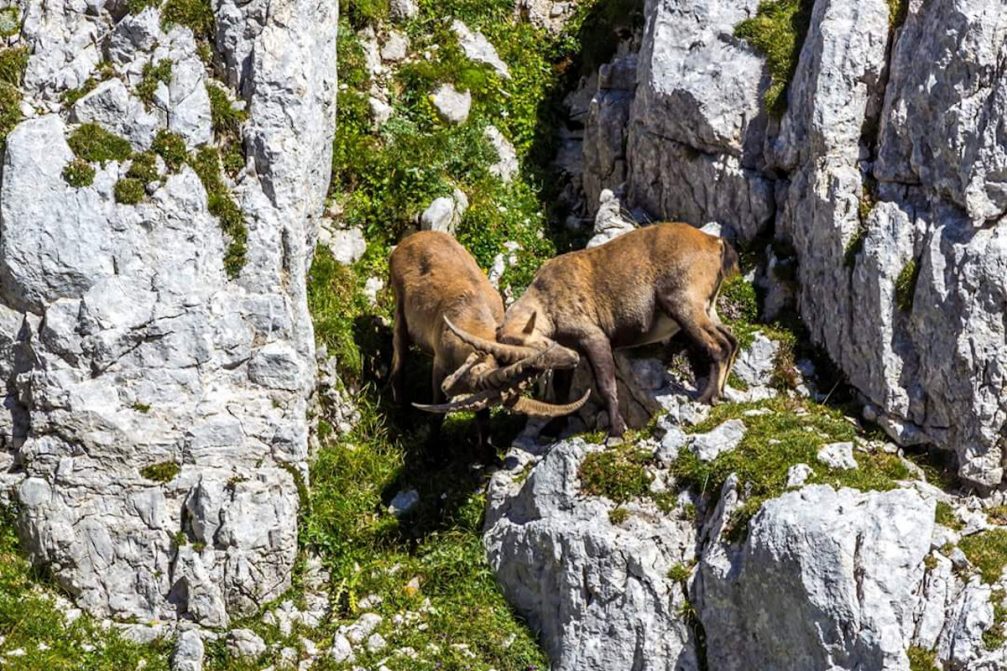 During the breeding season, Alpine Ibex males fight for access to females and use their long horns in agonistic behaviours.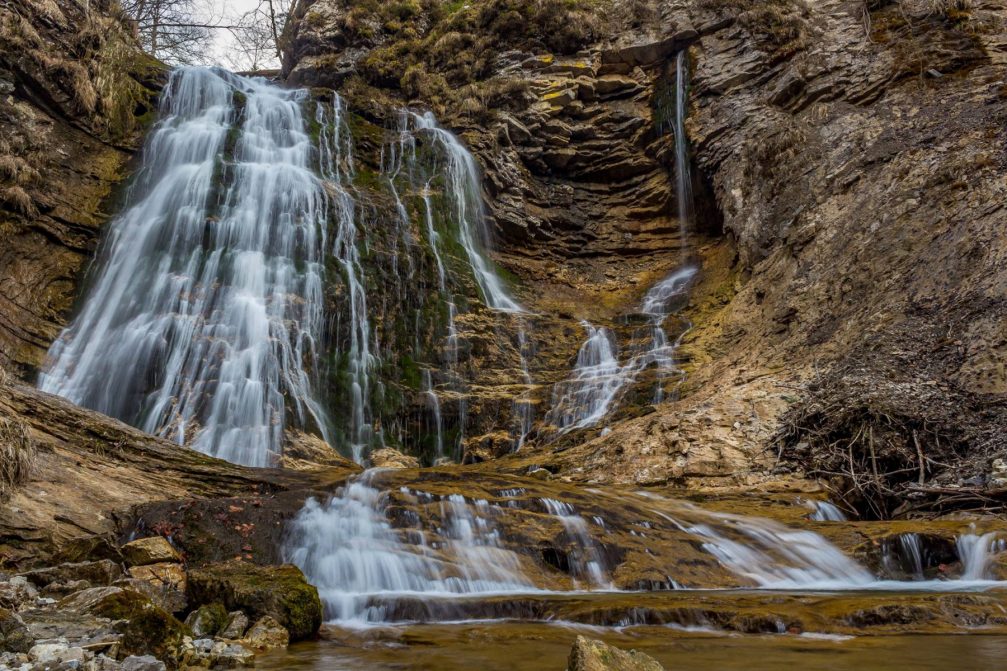 Stegovnik Waterfall or Stegovniski Slap as it is called in Slovene is one of the many beautiful natural sights to discover in the Trzic area. The waterfall falls down an interesting wide wall and is 15 meters high and up to 20 meters wide. It is most magnificent after heavy rainfalls. In order to get to the falls, follow the Stegovnik creek just several hundred metres from Medvodje in the vicinity of Jelendol.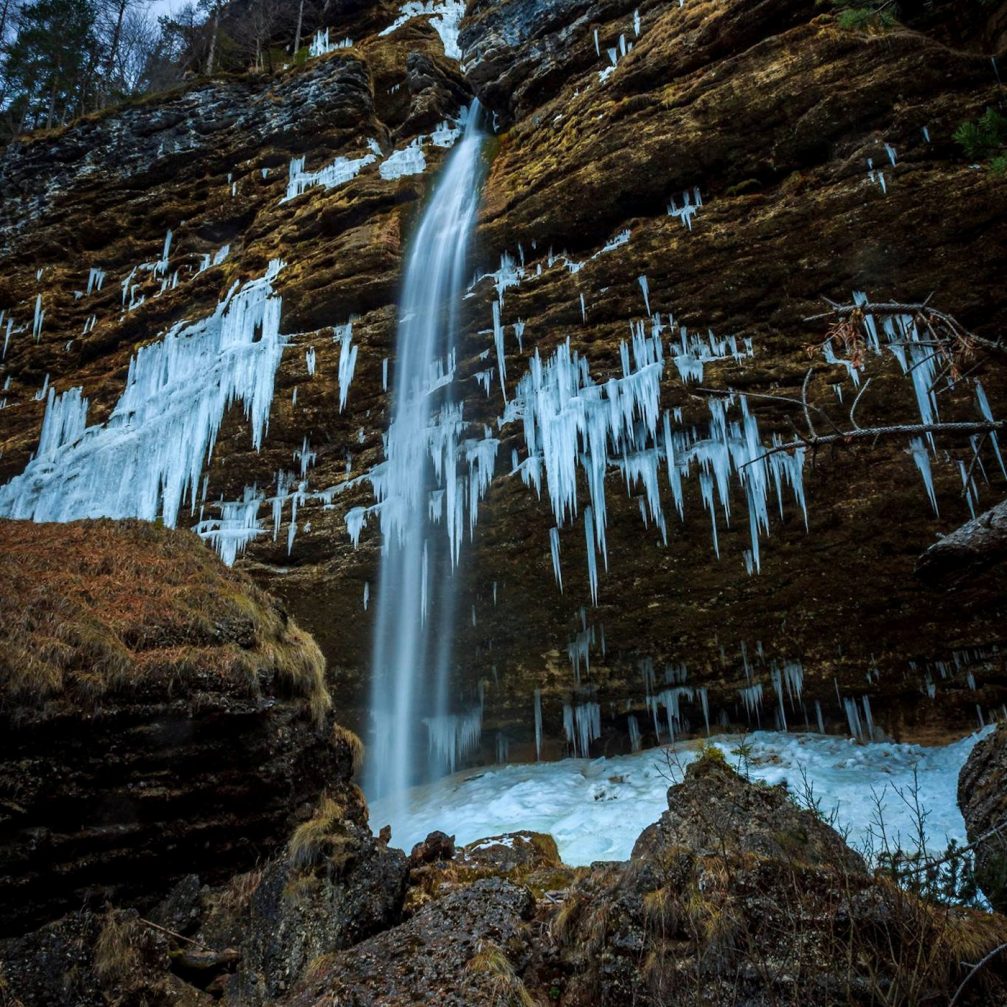 The 52-metre-high Pericnik waterfall in the Vrata valley is considered one of the most photogenic waterfalls in Slovenia. The best time to see the waterfall is in winter when the water freezes into thick curtains of ice.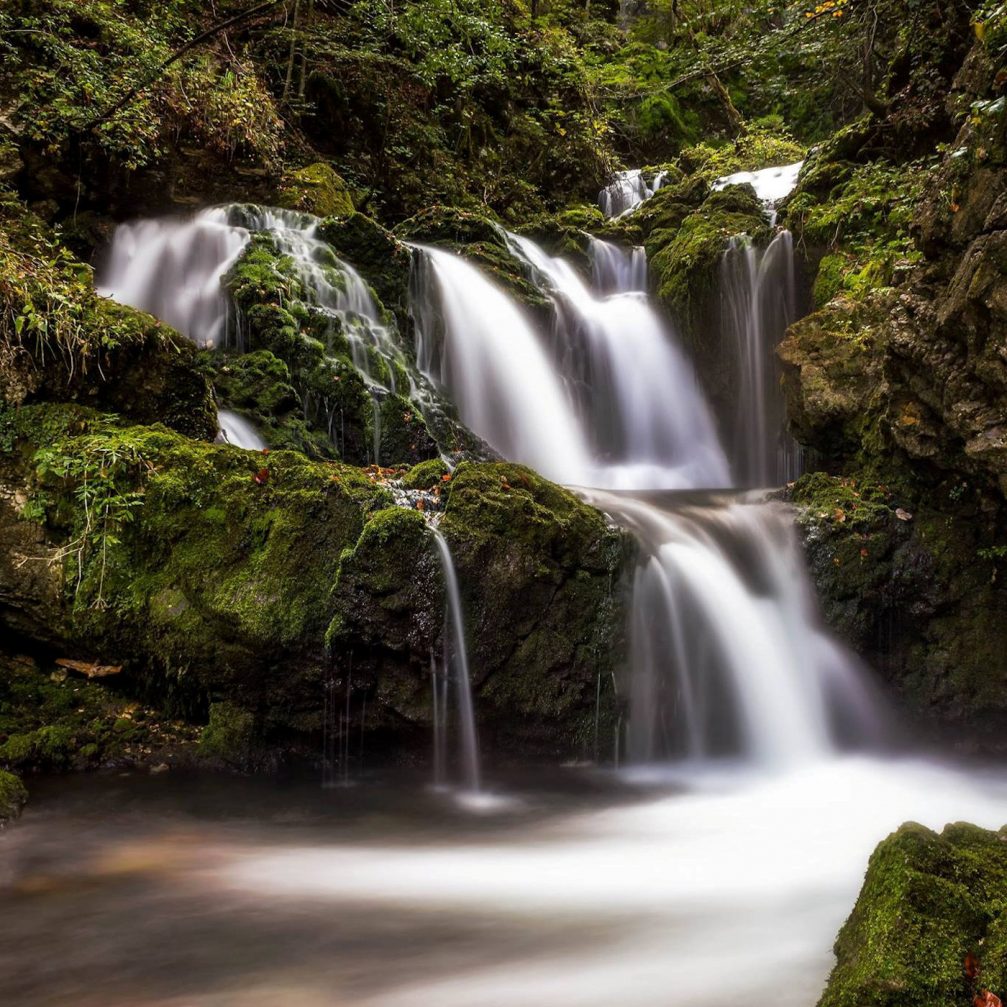 The beautiful cascading waterfall of the Kropa mountain stream in the Voje Valley.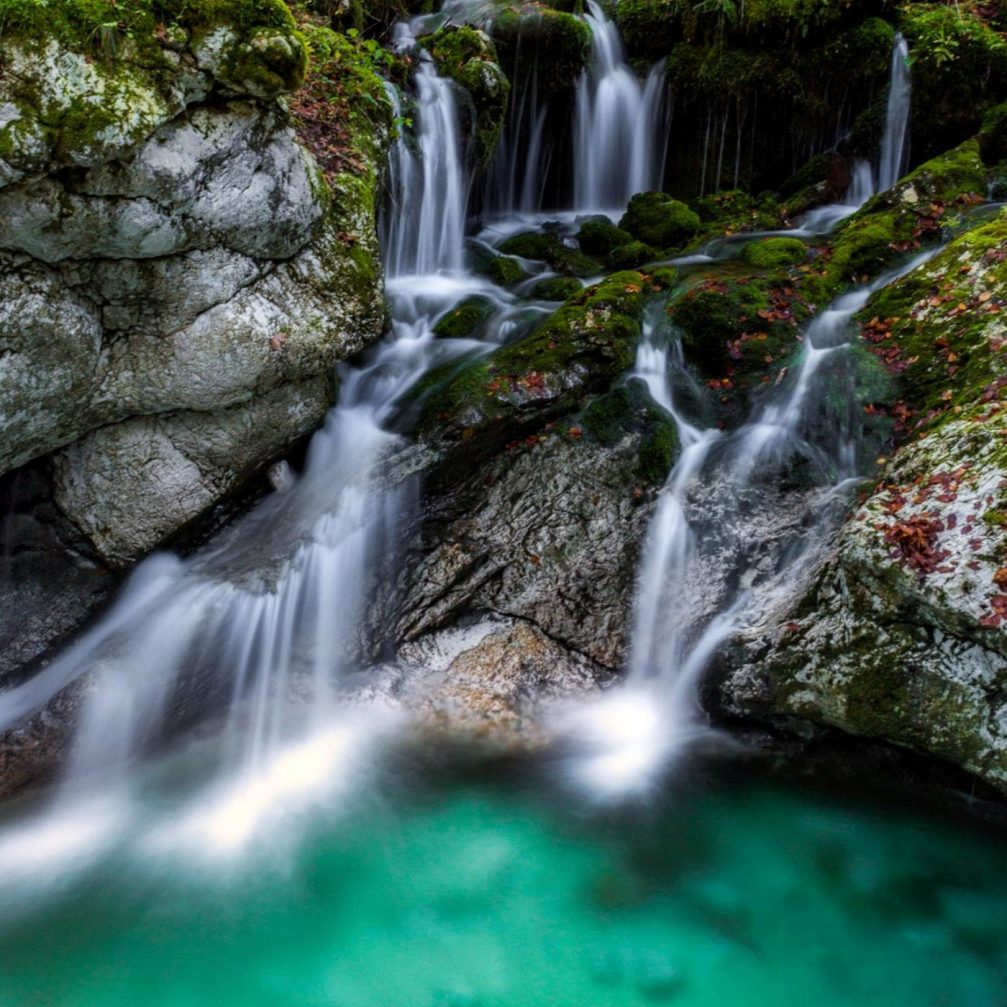 The Water Hurst of Sunik is one of the lesser known hidden gems of the Triglav National Park, located in the Lepena Valley in the vicinity of Bovec. A beautiful place for all nature lovers. It's impossible not to be charmed by small waterfalls and emerald green pools of the Lepenjica stream.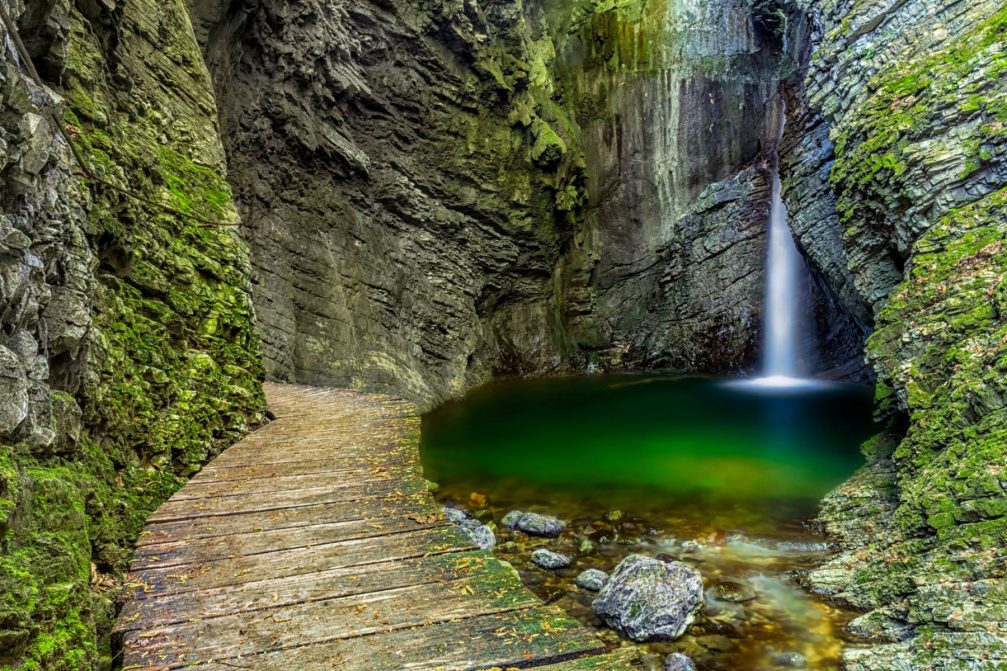 The sublimely beautiful Kozjak waterfall in the Kobarid area. The nice gentle 20-minute walk from parking to the waterfall with great views of the beautiful Soca river along the way is definitely a must do if you are in the area. Once at the site, a short walkway actually brings one into a cave like area where one can view the waterfall.

The Kozjak waterfall has eroded a fairly substantial cave for itself in the limestone, with a large emerald-green pool below it. It is possible to swim in the pool, but the water is ice-cold so if you decide to go for a swim, you'd better be mentally prepared for the cold!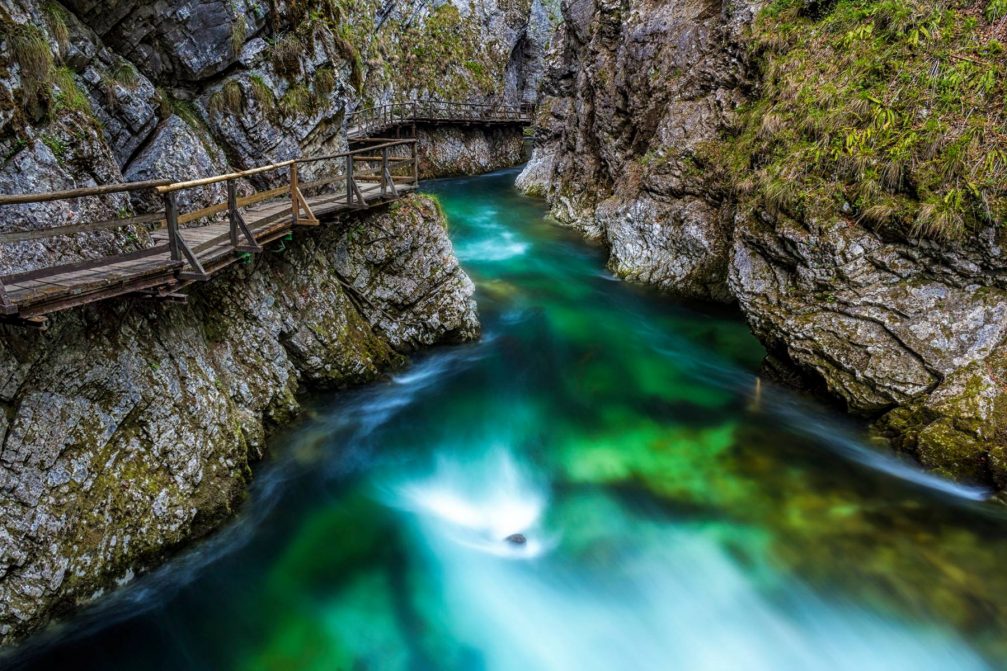 The 1.6-kilometre-long Vintgar gorge is a major tourist attraction in Slovenia, recommended in all guidebooks. The scenery is stunning with a lovely wooden walkway that takes you through the gorge across the thundering rapids and close to some gorgeous waterfalls. The gorge is located just 4 kilometres from Bled along quiet country roads and the signs along the road are clearly marked.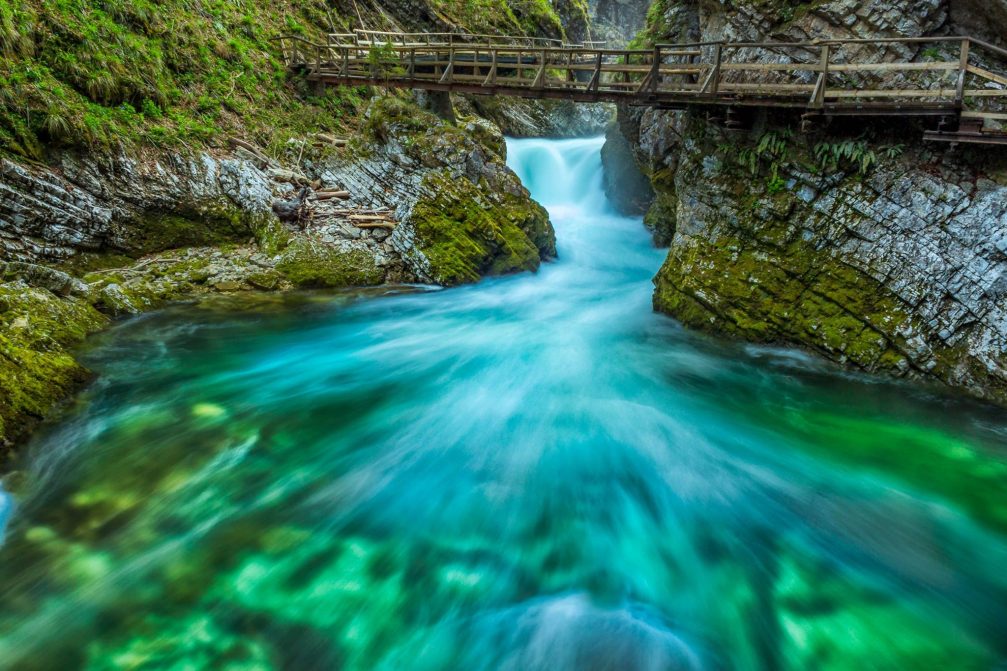 With beautiful cascades and waterfalls, deep canyon with rock walls, beautiful emerald green pools and clear rushing water, Vintgar Gorge is a site you really won't want to miss if you love the outdoors and are visiting Lake Bled area. Its incredible beauty will leave you amazed! The gorge is part of the Triglav National Park. It's easy to walk (about 3 kilometres out and back), but plan on taking your time to get through it. Camera is a must, and good walking shoes too!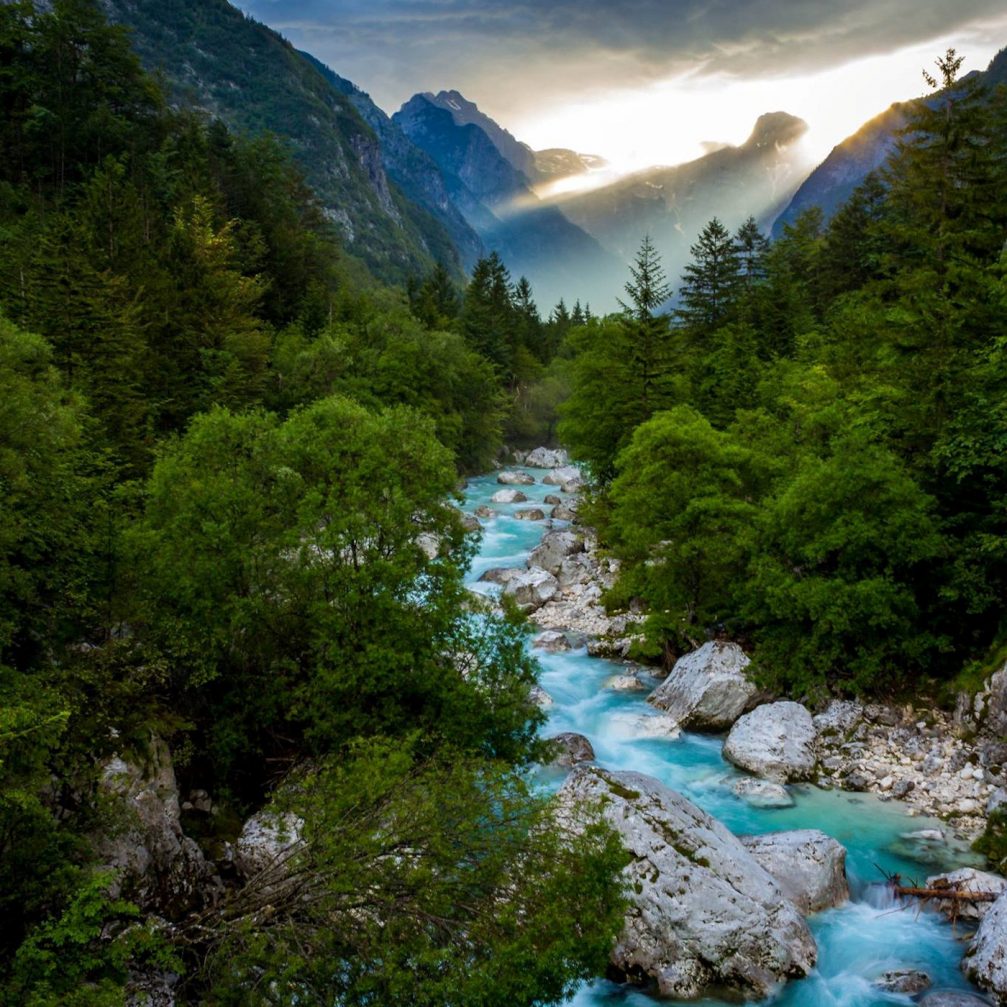 The fact that Slovenia is a land of water is most eloquently asserted by its spread network of rivers. Over many millions of years, rivers have determined the image of the landscape and created numerous valleys. Nature lovers from around the world are of the unanimous opinion that the Soca is one of the five most beautiful Alpine rivers which have retained their picturesque originality. The beauty of the river is enhanced by its milky blue-green colour, very deep river troughs and valleys, waterfalls, boulders, river terraces and exquisite views of the surrounding mountains. The poet Simon Gregorcic once wrote of the Soca river that it was a 'lucid daughter of the mountains, graceful in all her natural beauty', something which still stands to this day.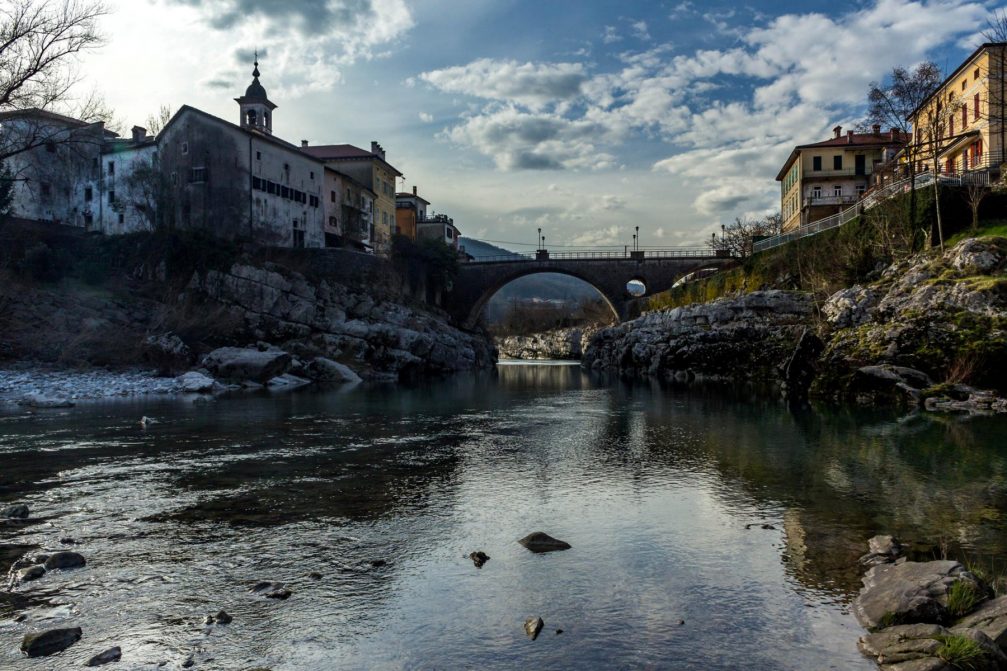 Kanal Ob Soci is a charming small town that straddles both banks of the Soca River, and is connected by a 17-metre-high twin-arch bridge best known for hosting a very popular diving event every August, featuring divers from Slovenia and abroad jumping into the emerald water of the Soca river below.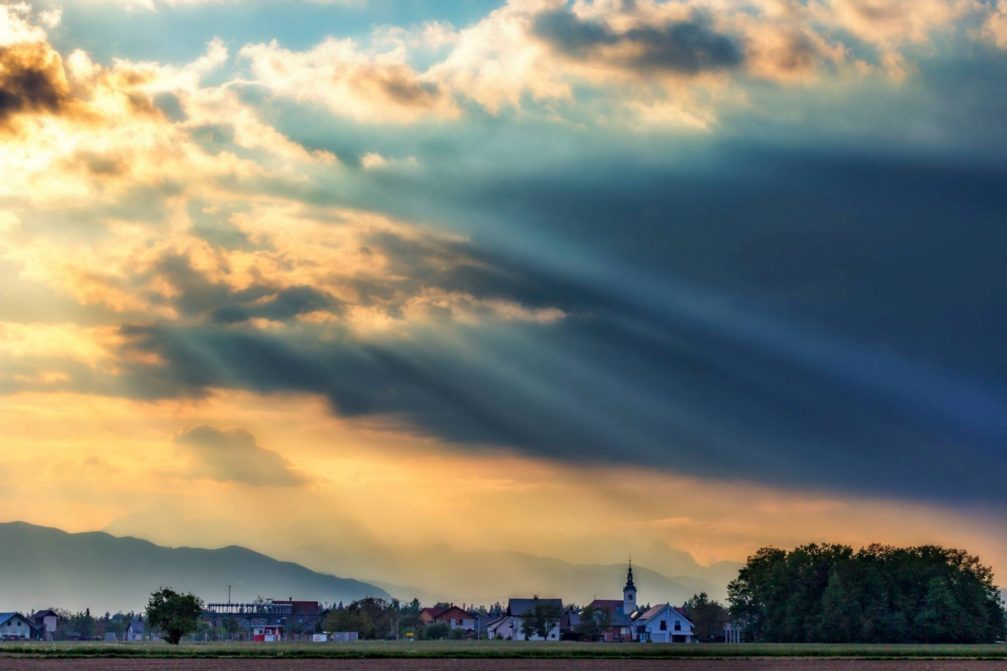 Sencur is a lovely small town in the vicinity of Kranj, the capital of Gorenjska region, which is part of the Slovenian Alpine area. Sencur's best known landmark is the Church of St. George which is a single-nave structure with a rectangular chancel with beveled corners that was built in 1747 on the site of an earlier building.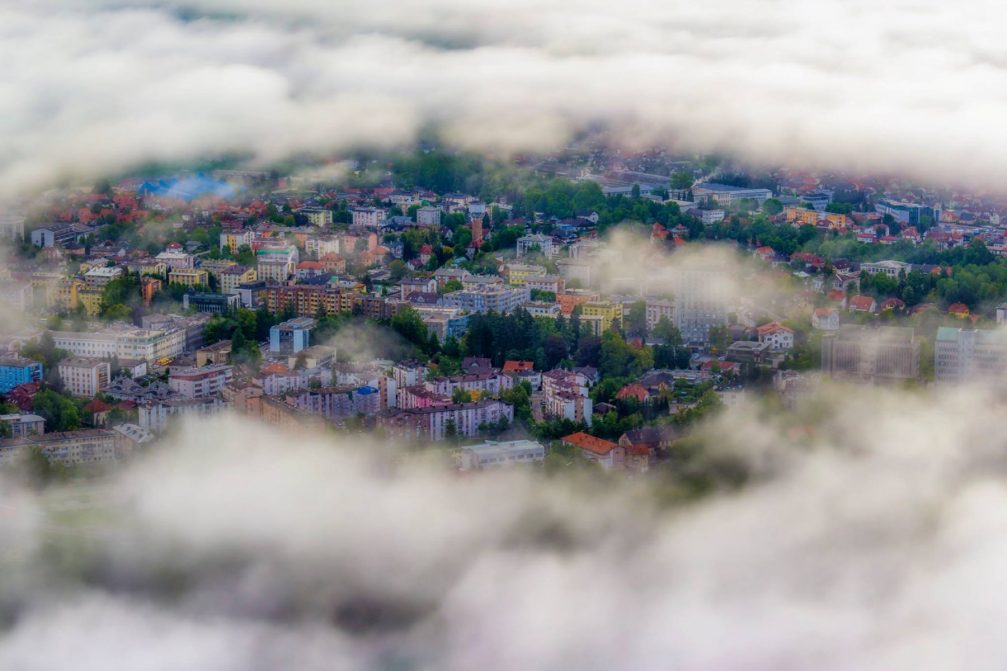 with a population of about 37,500 inhabitants, Kranj is the fourth largest city in Slovenia and a very important economic, transport, educational, cultural and sports centre of the Gorenjska region.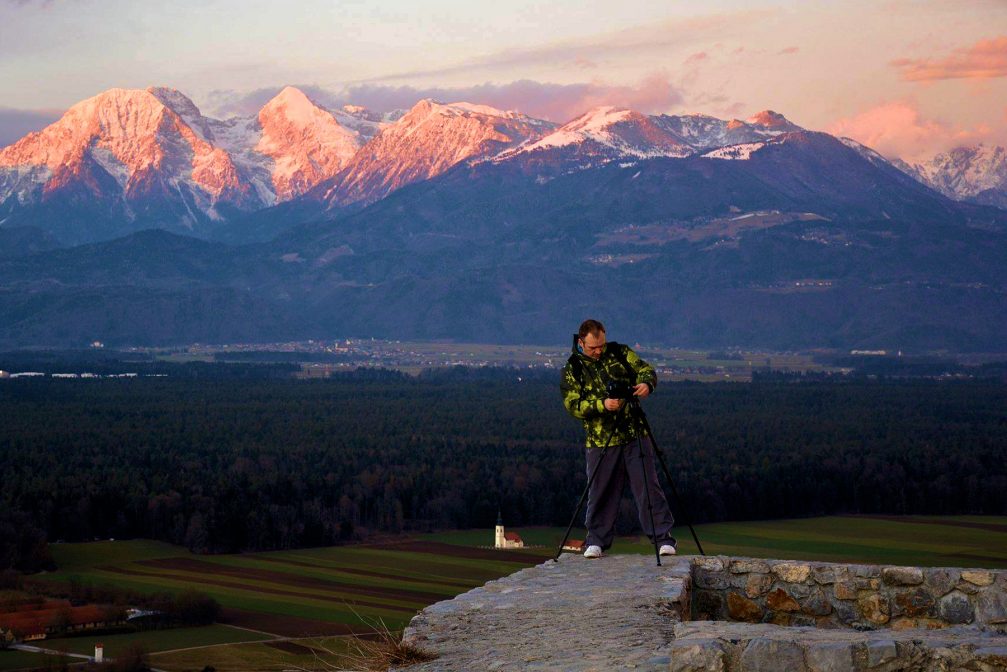 Thank you so much for sharing your fantastic photography with us Miroslav. Your photos are fabulous and perfectly convey the beauty of nature and landscapes in Slovenia.

Discover beautiful Slovenia through amazing photos
SLOVENIA, AS SEEN FROM THE AIR (50 photos)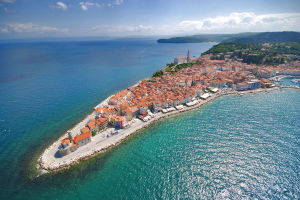 Aerial photography provides you with a breathtaking bird's eye view – one you won't get anywhere else. So, here are 50 spectacular aerial photos that prove why Slovenia might just be the most beautiful country on Earth.
SLOVENIA IN THE WINTER TIME (50 photos)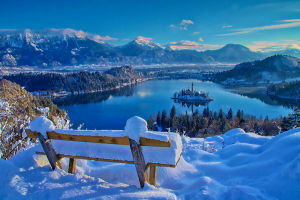 Slovenia in the winter time is almost more magical than in summer. Check out this beautiful gallery with 50 stunning winter photos of Slovenia that prove you absolutely have to visit this small but extremely picturesque country in the winter time.
SLOVENIA AT NIGHT (30 photos)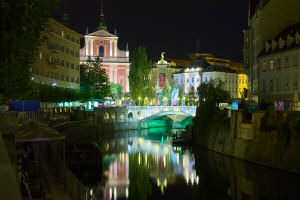 Night has its own magic. Night can transform an ordinary scene into something magical, mysterious and captivating. Light, shadow, texture, tonality, pattern all work together to create a very different feeling compared to photos captured during the day. Everything is just more magical at night, so here are 30 night pictures of Slovenian cities, towns, villages and other places at night. Enjoy!
LANDSCAPE AND NATURE PHOTOS FROM ALL OVER SLOVENIA BY LUKA ESENKO (40 photos)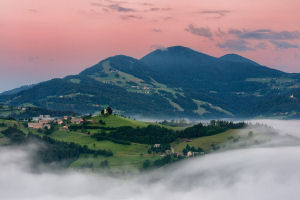 Luka Esenko is considered by many to be Slovenia's new leading landscape and travel photographer. He has been photographing landscapes for almost a decade now, and through photography he has been blessed to capture some of the most gorgeous locations in Slovenia. Strong compositions and a feel for natural light are what make Luka's images stand out.
AERIAL DRONE PHOTOS FROM AROUND SLOVENIA BY JURE KORBER AND TJASA BORSNAK (35 photos)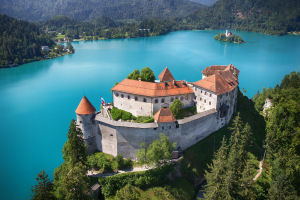 With the technological advancements in cameras and drones, we can now get a glimpse of the world from a different perspective. And from high up above, especially with a bird's eye view, the world is a stunningly beautiful place. Jure Korber and Tjasa Borsnak, a young student couple based in Slovenia's capital Ljubljana, took their aerial photography platform called Hexabee into the sky and captured Slovenia from angles not seen before.
LANDSCAPE PHOTOS FROM SLOVENIA BY DEJAN HUDOLETNJAK (50 photos)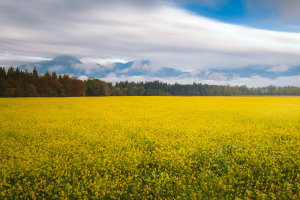 Dejan Hudoletnjak is a super-talented and passionate photographer best known for his beautiful landscape photos of Slovenia and wonderful use of light and color. He has an unerring eye for composition and detail, and a great sensitivity to mood, expressed in his photographs through the awareness and use of light. His goal as a photographer is to create an image that not only captures a moment in time, but also tells a story and evokes an emotional response. An image that shares the mood and feelings he felt when being there.
LANDSCAPE AND NATURE PHOTOS FROM ALL OVER SLOVENIA BY DANIEL TOMANOVIC (50 photos)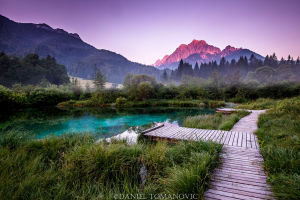 Daniel Tomanovic is a young and very talented landscape photographer who has been creating images that portray the natural beauty of Slovenia and its landscapes for over 8 years. He believes that finding good light is the most important thing to create great landscape images. Everyone can capture outstanding landscape scenery, but hunting the special light is the true challenge for a landscape photographer. And judging from his works, he is very successful in capturing beautiful locations in the best light.
LANDSCAPE AND NATURE PHOTOS FROM ALL OVER SLOVENIA BY ERICH REISINGER (50 photos)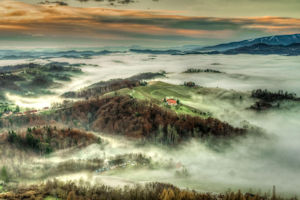 Erich Reisinger is a 55-year-old German landscape, nature, and urban photographer based in the Bavarian town of Ingolstadt. He has been fascinated with photography since he was a 6-year-old child. He has a special connection with Slovenia. He met his wife in Maribor and Slovenia soon became his second home country. He visits Slovenia several times a year and never forgets to mention how he loves Slovenia and how he will never tire of photographing its immense beauty and infinite variety.
LANDSCAPE AND NATURE PHOTOS FROM ACROSS SLOVENIA BY PIOTR SKRZYPIEC (40 photos)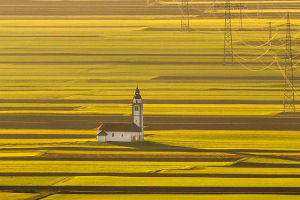 Piotr Skrzypiec is one of the leading landscape photographers in Slovenia. Born in Nowy Sacz, Poland in 1978, Piotr spent most of his childhood in the south of Poland. After completing his master's degree in geography Piotr moved to Slovenia, where he picked up his first camera in 2008. Through photography, Piotr found a way of communicating about his nature and landscape passion and he quickly established himself as a successful landscape and nature photographer.
LANDSCAPE PHOTOS FROM AROUND SLOVENIA BY DOMEN DOLENC (35 photos)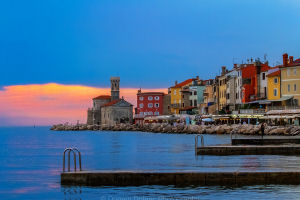 Domen Dolenc is a young but well-established travel photographer currently based in Zelezniki, Slovenia. Since Domen purchased his first camera in 2005, he has been addicted to photography. He never travels without his camera and loves to capture the beauty he finds throughout the world in his own way - his photographic style is defined by powerful colours, street photography scenes, landscapes, but also moments of everyday life, faces and a very close approach on people.
LANDSCAPE PHOTOS FROM ALL AROUND SLOVENIA BY GREGOR KACIN (40 photos)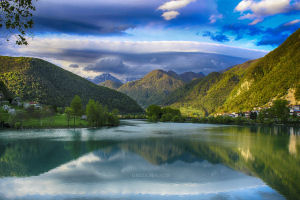 Gregor Kacin is a 39-year-old landscape and nature photographer based in the charming little town of Idrija in western Slovenia. He is very fortunate to live in such a beautiful part of the country and he can often be found roaming the countryside, looking for that special moment when the true beauty of nature revels itself.
LANDSCAPE PHOTOS OF SLOVENIA BY ALES KRIVEC (30 photos)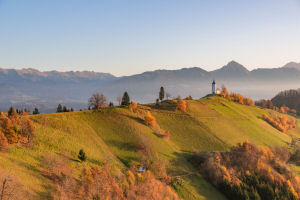 Ales Krivec has a passion for taking photographs and his work features the finest landscapes in Slovenia. He is very much a landscape artist and his work reflects a great understanding and deep love of the countryside and nature. An extensive technical knowledge and a seeing eye enable his photos to convey the beauty of the landscape that surrounds us all.
LANDSCAPE AND NATURE PHOTOS FROM ALL OVER SLOVENIA BY BOJAN KOLMAN (50 photos)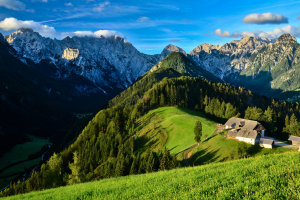 Bojan Kolman is a passionate 63-year-old landscape and nature photographer based in Begunje Na Gorenjskem, a small idyllic village at the foothills of the Karavanke mountain range. Bojan is completely self-taught and learned about photography on the Internet, but he shoots beautiful photographs, possessing an incredible eye for composition. There are so many beautiful things that surround us every day and Bojan strives to reflect that beauty through photography.
LANDSCAPE AND NATURE PHOTOS FROM SLOVENIA BY BRANKO CESNIK (45 photos)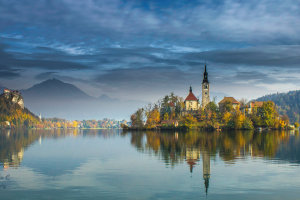 Branko Cesnik is a passionate landscape and nature photographer from Pivka, a small town in the Karst region of southwestern Slovenia. He is 52 years old and has been interested in photography since his school years. Branko tends to shoot in the morning and at the end of the day when the light just either side of sunrise and sunset can transform an already interesting scene into something even more engaging. He firmly believes a good photograph tells a story and creates a feeling within the viewer.
LANDSCAPE, CITYSCAPE AND NATURE PICTURES FROM AROUND SLOVENIA BY JURE KRALJ (45 photos)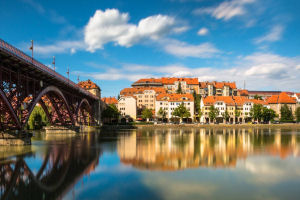 Jure Kralj is an incredibly talented photographer based in Slovenia's second largest city Maribor, who combines his love for travelling around the world with his love for landscape and cityscape photography. He is an enthusiastic observer of the surrounding world. When possible, he is looking for the best light, for the right angle at the right moment to capture a compelling image.
LANDSCAPE PHOTOS FROM ALL OVER SLOVENIA BY DENIS SODRZNIK (30 photos)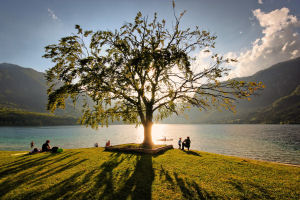 Denis Sodrznik is a passionate landscape and nature photographer born and raised in the beautiful town of Slovenske Konjice in the Styria region of Slovenia. He strives to capture photographs that convey the beauty of the Slovenian landscapes he explores in his spare time with his fiancée Karmen. His intention is to show the viewer details that we often overlook.
LANDSCAPE AND CITYSCAPE PHOTOS FROM AROUND SLOVENIA BY JAKOB NOC (30 photos)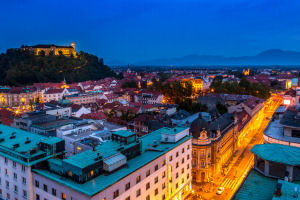 Jakob Noc is an inspiring landscape and cityscape photographer whose talents allow him to capture the most amazing images in a style that is truly his own. Through careful composition, attention to detail and the creative use of beautiful light, Jakob strives to show us cities and landscapes in ways that we may not have seen them before.
LANDSCAPE PHOTOS FROM AROUND SLOVENIA BY MASA VODENIK (35 photos)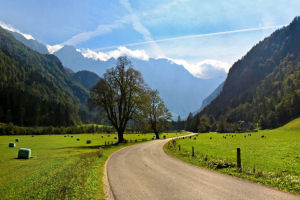 Masa Vodenik is a self-taught photographer who lives in a small town of Hrastnik in central Slovenia. She's an economist during weektime, but on weekends she becomes an ambitious landscape photographer who doesn't want to miss a single second she could have used to take a great photograph. Her passion for photography increased steadily since she started doing photography in 2010. Since then she successfully combines her love for travel and hiking with her enthusiasm for photography.
LANDSCAPE AND NATURE PHOTOS FROM ALL AROUND SLOVENIA BY MIROSLAV ASANIN (50 photos)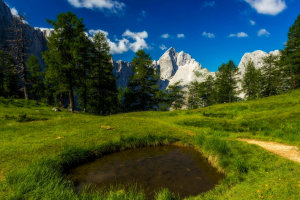 Miroslav Asanin is a keen amateur photographer from Sencur, a small town in northwestern Slovenia. His main photographic interests are landscapes and nature though he does photograph wildlife and architecture when he finds them. He especially loves to photograph the amazing landscapes and nature of the Slovenian Alpine area. However he also loves to take day trips to other parts of the country and scout new locations in search of compelling scenes or subjects to photograph.
LANDSCAPE PHOTOS FROM AROUND SLOVENIA BY BLAZ GVAJC (25 photos)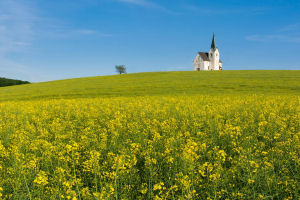 Blaz Gvajc is a landscape and cityscape photographer from Slovenia's third largest city Celje whose passion is to explore and capture the most inspiring and beautiful places in the world. Although being an avid traveler, Blaz also adores his home country Slovenia and loves making spontaneous trips around it when there is promising light, and he will never tire of photographing it.
LANDSCAPE PHOTOS FROM ALL OVER SLOVENIA BY BOSTJAN KERSBAUMER (40 photos)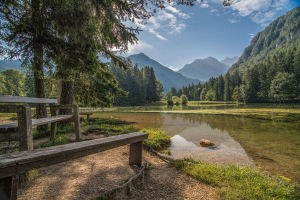 Bostjan Kersbaumer is a passionate self-taught photographer from Slovenia's second largest city Maribor. He is a car mechanic working at Porsche Maribor during weektime, but on weekends he becomes an ambitious landscape, nature and cityscape photographer with an aim to create memorable images from locations across Slovenia and other parts of the world.
LANDSCAPE PHOTOS TAKEN IN A VARIETY OF LOCATIONS IN SLOVENIA BY SABINA TOMAZIC (40 photos)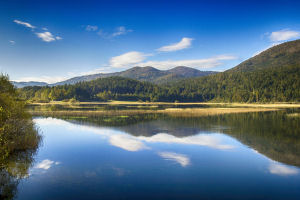 Sabina Tomazic is a young but already established professional on-location lifestyle photographer based in Trebnje, Slovenia. Although known primarily as a lifestyle photographer, Sabina also loves to create images that portray the natural beauty of Slovenia and its landscapes. Her landscape photos are realistic with minimal post processing.
LANDSCAPE AND NATURE PHOTOS FROM AROUND SLOVENIA BY JERNEJ LEBEN (40 photos)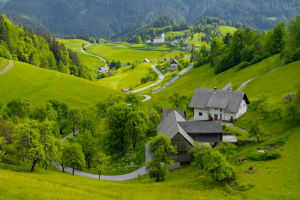 Jernej Leben is one of the most talented amateur photographers in Slovenia whose unrelenting passion for his hobby inspires him to capture the beautiful landscapes and nature of Slovenia with absolute perfection.
LANDSCAPE AND NATURE PICTURES FROM ACROSS SLOVENIA BY KLARA KULOVEC (35 photos)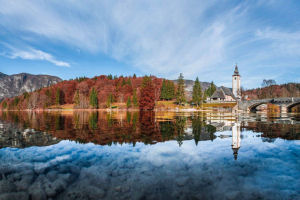 Klara Kulovec is one in a line of talented new Slovenian female landscape photographers who has found her passion with a camera in her hands. She has a heart of an artist and loves nothing more than time with her camera and a scene in front of her to capture the perfect copy of what she saw in her minds' eye. The forms, color and light that shape the landscape are a constant source of her inspiration.
WILDLIFE AND BIRD PICTURES FROM SLOVENIA BY MATEJ KOVACIC (30 photos)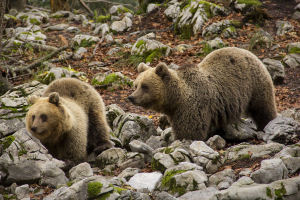 Matej Kovacic is a young and exceptionally talented wildlife and bird photographer dedicated to capturing images of the indigenous wildlife of Slovenia. During his childhood Matej developed a strong fascination for wildlife, birds and nature. When he bought his first camera at the age of 13, he became as passionate about photography. It's hard to photograph wildlife in the wild, but Matej wants to be true, so he stays away from captive animals - all his photos are taken in the wild in Slovenia.
LANDSCAPE PHOTOS FROM THE STYRIA REGION OF SLOVENIA BY PETER ZAJFRID (40 photos)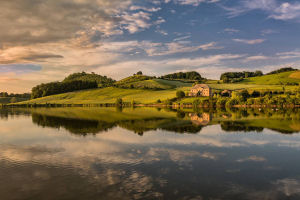 Peter Zajfrid is a well-respected and very passionate amateur landscape photographer who loves capturing the beauty of this world through photography. He enjoys the outdoors and nature, and photography provides him with a medium to capture and share this with others. He especially loves creating images that portray the beauty of the Styria region of Slovenia and its landscapes.
FINE ART LANDSCAPE PHOTOS OF MARIBOR AND ITS SURROUNDING AREA BY UROS LEVA (25 photos)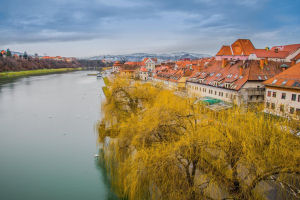 Uros Leva is a versatile freelance artist – photographer, graphic designer and screenwriter. He has been living in Slovenia's second largest city Maribor for his whole life and never fails to be overawed by the beauty of the city. His connection to Maribor began the moment he was born and the more Uros experiences this city, the further he falls in love. When Uros is behind the camera, his goal is to bring out the beauty of Maribor and its surrounding area for all to see.
LANDSCAPE AND NATURE PHOTOS OF THE LAKE BOHINJ AREA AND THE JULIAN ALPS BY GREGOR SKOBERNE (35 photos)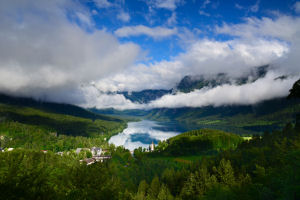 Gregor Skoberne is one of the most talented and passionate landscape and nature photographers in Slovenia. Completely self-taught, Gregor is primarily focused on the unique local landscape and nature found in the Lake Bohinj area with an aim to capture the spirit and the essence of the moment in his photographs.
NATURE AND LANDSCAPE PHOTOS OF THE TRIGLAV NATIONAL PARK BY WALLE GREVIK (35 photos)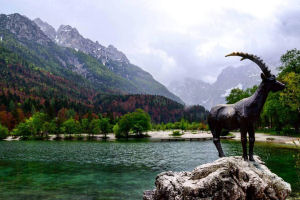 Walle Grevik is a passionate nature and landscape photographer, hiker, and traveler based in Helsingborg, Sweden. He has traveled to many countries around Europe including Iceland, Faroe Islands, Scotland, Ireland, and Greece. This year, he and his hiking partner, Fredrik Vestlund, decided to visit Slovenia and do a 9-day hiking adventure through the Julian Alps and Triglav National Park. Walle took some really beautiful photos during this hiking tour, and he was kind enough to share some of them with us here at Travel Slovenia.
LANDSCAPE PHOTOS OF THE SLOVENIAN ALPS BY MASA VODENIK (20 photos)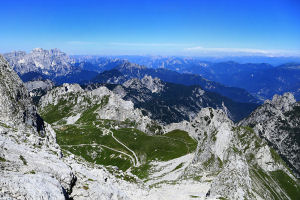 The Slovenian Alps are a part of the Southern Limestone Alps with three high-Alpine mountain ranges, the Julian Alps, the Karawanks and the Kamnik-Savinja Alps. They take up a large part of Slovenia and are full of incredible trails for all levels of hiking ability. They are lower compared with those in Austria and Italy, but with their beauty they surpass anything you may see in the Alps in Europe. All the photos in this gallery were taken by Masa Vodenik. She's an avid hiker who spends most of her weekends in the mountains and she never forgets to take her camera with her.
LANDSCAPE AND NATURE PHOTOS OF THE SLOVENIAN ALPS BY MIROSLAV ASANIN (40 photos)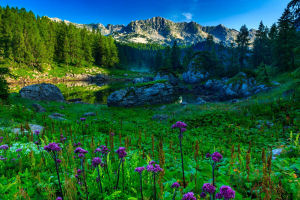 Miroslav Asanin is a very enthusiastic, amateur photographer from Sencur, a small town in the Gorenjska region of Slovenia. His passion for photography began four years ago when he got his first proper camera - a Canon EOS 600D, after that there was no stopping. His primary interests has always been on shooting landscapes and different sceneries found throughout Slovenia and especially in the Slovenian Alps and its Triglav National Park.
FINE ART NATURE AND LANDSCAPE PHOTOS OF THE VRHNIKA COUNTRYSIDE BY ROBI DEBEVC KVOCKA (30 photos)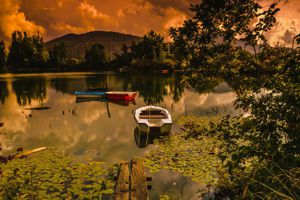 Robi Debevc Kvocka is a self-taught photographer based in Vrhnika, whose fine art nature and landscape photographs celebrate the natural beauty of the Vrhnika countryside. When Robi is behind the camera, his goal is to bring out hidden beauty of the Vrhnika area for all to see. His style, which is recognisable through the artistry of his photographs, is born of a keen eye for the many moods of the natural landscape and a life-long passion for the nature and the great outdoors.
SLOVENIA (30 photos)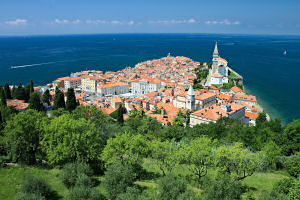 A fascinating capital, charming coastal towns, beautiful alpine villages, stunning natural attractions, and much more - enjoy this wonderful selection of absolutely the most beautiful pictures of Slovenia, taken either by professional photographers or amateur photo enthusiasts.